Ever since we were little, my mother made sure we ate a lot of vegetables. When I think of it, my brother and I were never picky or fussy about eating our vegetables. My mother and my Nana (maternal grandmother) who lived with us, taught us the value of food and ingrained in us how we were lucky to have meals that were lovingly prepared, when there were so many all around the world that had to go without any. And that lesson has staying with us till date. For this we are ever so grateful.
Very often, I find myself with not much in the fridge, especially towards the end of the week, just before grocery shopping. On one such occasion, I had a few veggies, none of them enough to make a dish in itself, so I thought I'd just combine the lot of them. I also had some leftover falafel from a previous trip to Costco so I added them to the mix. What I ended up was this glorious winter veggie bowl.
Putting together a veggie spread like this is so simple and requires very little hands on time. And the best part is you can swap these veggies for any that you have in the fridge. I added a simple salad and dressing over it and topped it with some roasted peanuts. I can't tell you how satisfying it is to dig into a bowl like this – veggies in all their glory. I could live on food like this. You won't even miss the meat and all these beautiful colors are really good for you too. That's a win win. The recipe below is not quite a recipe, just guidelines if you want to whip up something like this. Please feel free to change as you wish.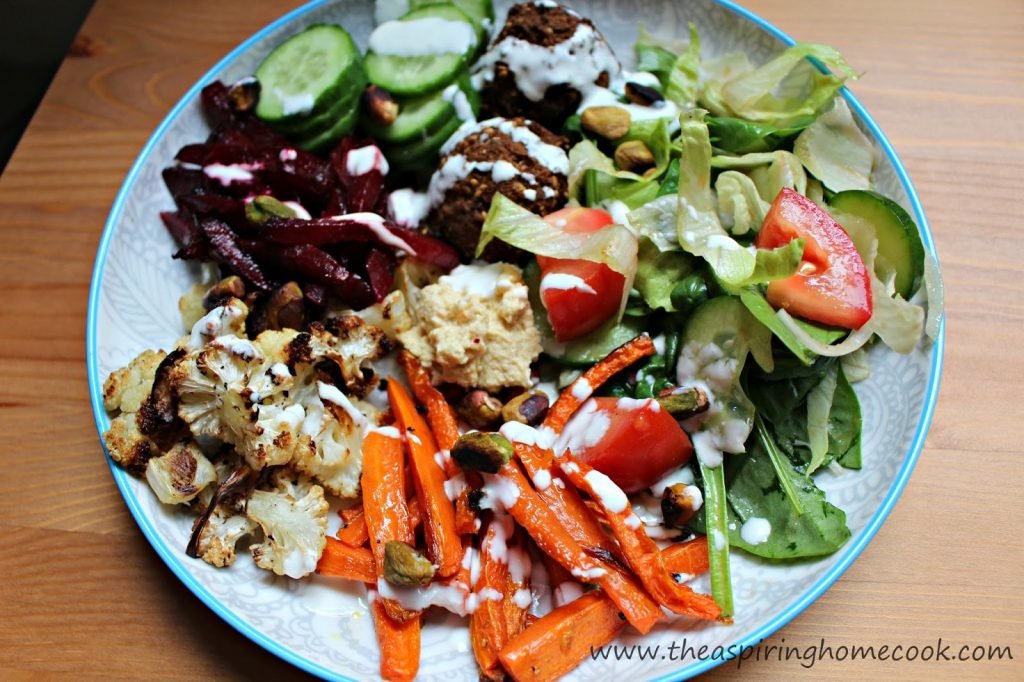 Roasted Winter Vegetable Bowl
Serves 2
1 beetroot, boiled, peeled and cut into pieces
2 carrots, cut into 2″ long pieces
Cauliflower florets (dont waste the stalks, cut the stalk into cubes and use with the florets)
4 pcs. falafel (prepare according to package instructions)
Hummus
Olives, pitted and sliced
Green Salad (recipe follows)
Garlic Yogurt dressing (recipe follows)
A small handful of pistachios
Salt, to taste
Freshly crushed black pepper, to taste
Extra Virgin Olive oil, to drizzle over
When prepping the veggies, try and cut them the same size so that they cook evenly.
I roasted each vegetable in a separate baking dish, but if you prefer, you can use the same dish.
Preheat the oven to 200ºC.
Cut the carrots, sprinkle with salt, pepper and a drizzle of olive oil. Toss well to coat and place in a baking dish in a single layer and bake for 15-20 minutes or till cooked to your liking. Flip the carrots halfway through the cook time.
Sprinkle the cauliflower florets with salt, pepper and a drizzle of olive oil. Toss well to coat and place in another baking dish in a single layer and bake for 15-20 minutes or till cooked to your liking. Flip the carrots halfway through the cook time.
Heat a pan and roast the pistachios on medium flame till they've lightly browned.
For the salad –
1 cucumber, sliced
1 tomato, cubed
1/3 small red / white onion, finely sliced
Salad greens of your choice (lettuce, arugula, rocket, baby spinach)
Salt, to taste
Freshly cracked black pepper, to taste
Lime juice, to taste
Toss all the ingredients.
For the Garlic Yogurt dressing –
1 cup Greek yogurt
Salt, to taste
1-2 tsp sugar, or to taste
1 clove of garlic, finely chopped (Use freshly chopped garlic. Do not use garlic paste because that is too pungent for a salad)
Stir all the ingredients through and set aside.
To assemble the bowls –
Place the cut beetroot, roasted carrots, cauliflower, falafel, hummus, olives and the salad in a bowl.
Drizzle the dressing over it. Serve a little extra on the side for the falafel.
Top with the roasted pistachios.
Enjoy!
How many of you enjoy your dry fruits, nuts and seeds? I'm talking raisins, sultanas, dates, apricots, prunes or almonds, cashewnuts, peanuts and also pumpkin seeds (pepitas) and sunflower seeds. Me, I love them all. They are all known to have health benefits if eaten in small quantities as part of a balanced diet. It is a shame that more people don't include these little gems in the diets. My husband loves nuts, but isn't too keen on the dried fruit or seeds by themselves. So I have to think of ways to include them in our diet. Most often, we usually just nibble on a small handful of an assortment of fruits and nuts / seeds, but I was looking for other ways to enjoy them too.
When I came across a post with these bars, I knew I had found something good. It has dates, apricots, pepitas, chia seeds and a touch of cinnamon, all of which are know to be healthy in their own right. They come together to form these little delicious bars which are so tasty. They are sweet from the dates, a little tangy from the apricots and have the crunch of the chia seeds and pepitas though them. As the original recipe included a small amount of white chocolate chips, I threw them in, but they would be fantastic even with dark chocolate or even without chocolate at all.
The verdict, my husband enjoys them, which is a win for dry fruits in his books. They are small portion sizes, but pack a punch. If you like to reach for a snack bar or a granola bar during the day, I suggest trying these out. They are very satisfying and will keep the hunger pangs away till your next meal. They take all of 10 minutes hands on time. So even if you are time poor, you can still make a batch of these on your day off and enjoy them through the week. Kids will enjoy them too. Go ahead, give them a try. If you do, I'd love to hear what you think of them.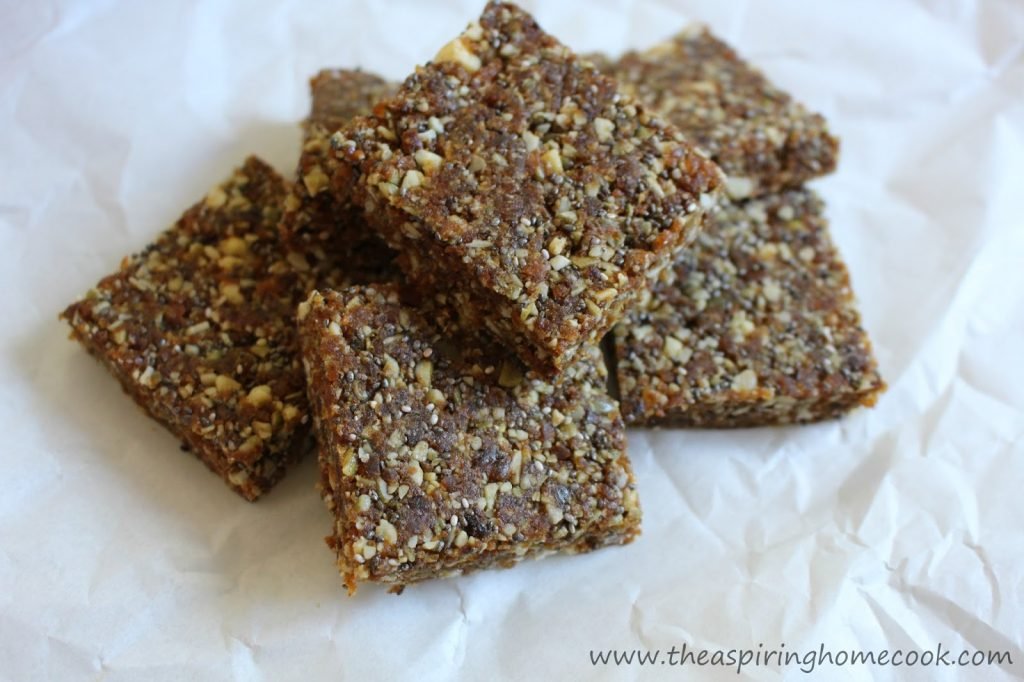 Date, Apricot & Chia Bars
Recipe from: Cupcakes & Kale Chips
Yields: 16 pieces (2 inch squares)
1 cup dates, pitted
1 cup dried apricots
2 tbsp Chia seeds
1/4 tsp ground cinnamon
1 cup raw pumpkin seeds / pepitas
2 tbsp white chocolate chips (optional)
Line an 8×8 inch baking dish or tray with baking paper.
Place the dates, apricots, chia seeds and cinnamon in a food processor and blitz till it has coarsely broken down.
Add the pepitas to the processor and blitz again till the pepitas have broken down to finely chopped.
Now add the chocolate chips, if you're using them and blitz again to break them up to little pieces.
Empty this mix onto the lined baking dish and flatten it down as best as you can, using the back of a spoon.
Next, I used another piece of baking paper on the top and used a large glass jar to flatten it out evenly. You can also use the bottom of a pan or a similar sized baking dish to do this after you place the baking paper on top.
Refrigerate for an hour.
Cut into squares. They are now ready to eat.
To store these bars, place a piece of baking paper between the squares to keep them from sticking to each other. Store in an airtight container in the fridge.
You now have little snack bars that will take you through the week.
Enjoy!!!
If you like this recipe, here's a few more you might enjoy –
Fruit & Nut Balls
Power Packed Snack Bars
Banana Bread Baked Oatmeal
I love snacking. Probably more than I love my meals. There, I said it! I think this is because I grew up in Mumbai, formerly known as Bombay. Mumbai is famous for its street food, which are mostly snacking options. Some light snacks and others can be more substantial and work well as meals in themselves. Its their easy availability and their reasonable prices that makes them so popular.
Since I am not in Mumbai anymore, you can only imagine how much I miss these delectable treats. So out of necessity and a healthy amount of curiosity, in the past couple of years, I've found myself looking out for Indian snack recipes to try out at home. Once you start looking it up, you will be amazed at how much variety there is out there. India is a big country with rich, cultural diversity and that is reflected in its food as well. This has worked very well for me, because it gives me an opportunity to try out heaps of different recipes, like this one. Mungode is a one such treat that I recently stumbled upon. Yes, it is another deep fried treat, like a lot of other Indian snacks, but its not like you'd indulge in this everyday. It is a simple recipe to follow with minimal prep work involved, just the kind of recipes I like. These little deep fried Moong dal (split and hulled mung bean) fritters are crunchy on the outside, full of flavor and are best served hot with some ketchup or your favorite
Mint chutney
.
Serves 3-4 as a snack
1 cup moong dal (Split and hulled mung beans)
1 large onion, finely chopped
1 tbsp ginger, freshly grated
1-2 green/red birdseye chillies, finely chopped (optional)
1-2 tbsp fresh coriander leaves and stems, finely chopped
Salt, to taste
Oil, for deep frying
Wash the moong dal and drain the water. Do this about 3-4 times.
Soak the dal in fresh, tepid water for about an hour.
Grind it to a coarse paste and empty into a mixing bowl.
Add the onion, ginger, green chillies, coriander and salt to the bowl with the dal and mix well.
Heat oil for deep frying.
Drop in little portions of the batter. I used portions a little less than a teaspoonful. (You don't want large fritters or it might not cook through.) Also, keep the fritters uniform sized so that they cook evenly.
Don't overcrowd the pan and fry the fritters in batches.
Let the fritters fry till golden brown on medium heat. Drain using a slotted spoon.
Drain on some kitchen paper to absorb any excess oil for a couple of minutes. Repeat with any remaining batter.
Serve hot with tomato ketchup or mint chutney and a nice hot cup of tea.
Enjoy!!!
Updated with a new picture and the video recipe.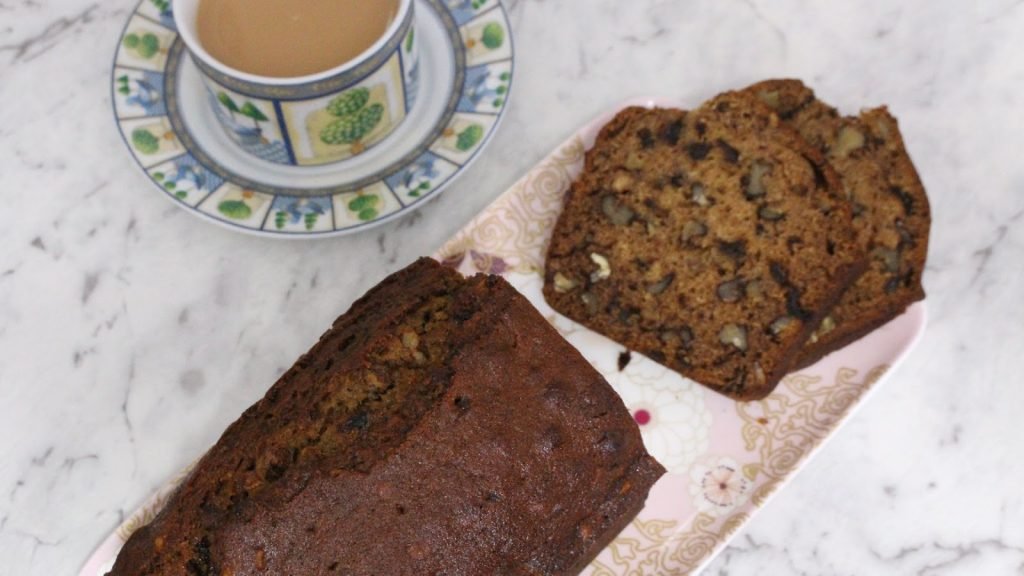 Have you tried a date and walnut cake before? A lot of people haven't. If you've spent some time in Bombay and been a part of celebrations there, every now and then you will find a Date & Walnut Cake pop up. This cake is a beautiful tea cake. It has a lovely flavor from the dates, a crunch from the walnuts and a rich, dark color that the dates lend to it. It has the most beautiful, luscious crumb. I can't praise this cake enough. You have to try it to believe it. Its a shame I don't make this cake more often.
As for keeping it real, I know a lot of food blogs are perfect. Not just picture perfect, but flawless in so many ways. My little blog is far from that. I like that it is human in that way. Even in my kitchen, there are times where I make some boo boos, I have brain farts and sometimes, I just could've planned better. This is one of those times where my brain was on a trip of its own. Maybe I was just over excited about this cake. While this cake batter is really easy to put together, I forgot to put the walnuts in it. I only realized this after pouring the batter into my parchment lined loaf pan. So what did I do? I just poured the walnuts on top and tried to stir it through the batter. That is why, you'll notice the walnuts are mostly near the top of the cake. If you add them to the batter when you are supposed to, it will be better distributed. Now I could've waited till I baked this cake again to post this recipe. But in the true spirit of keeping it real and not wanting to keep this recipe from you any longer, I decided to post it with its tiny imperfection. I cannot tell you how amazing this cake is and I do hope you try it out.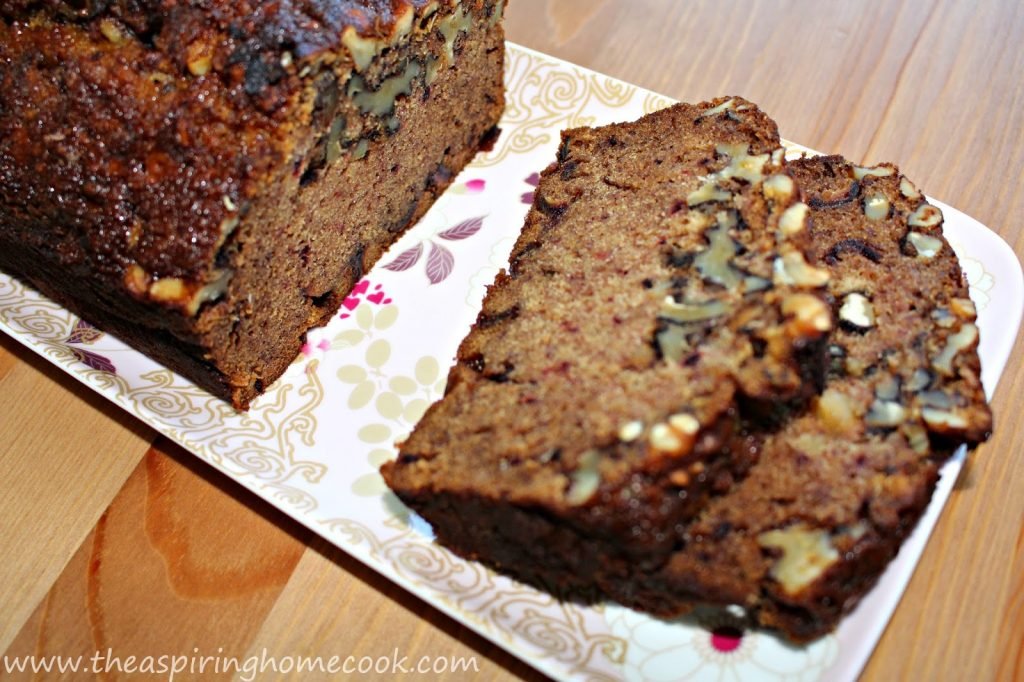 Here's the video recipe, to help you through the process –




Date & Walnut Cake
200g walnuts, chopped
100g dates, pitted and chopped
1 cup boiling water
1 1/2 cup all purpose flour
100g butter
1 cup sugar
3 eggs
1 tsp soda bi carb
1 tsp vanilla essence
Place the chopped dates in a large mixing bowl, sprinkle soda bi carb over the dates.
Place the sugar and butter in the bowl with the dates and pour the boiling water over.
Stir gently and set aside to cool.
In the meanwhile line a loaf tin with parchment paper and grease the base and sides.
Preheat the oven to 180ºC.
When the mix has cooled down, beat the eggs and vanilla in a separate bowl.
Add the eggs and flour in three batches alternating between the two. (Add 1/3 of the eggs and whisk, add 1/3 of the flour and whisk until just combined and continue like this working in thirds.)
Add the walnuts and stir through the batter.
Pour into the prepared baking tray and bake immediately.
Bake for about 30-40 minutes or till a skewer pierced through the centre of the cake comes out clean.
Let it cool down. Slice and enjoy with a steaming hot cup of tea.
As a food blogger, someone who loves learning new things and basically a lover of good food, I have an ever-growing list of 'Recipes to try' and 'food I'd love to learn how to make'. And that list grows like it has a life of its own. Just the other day, my husband, in all innocence asked me what I would do when I ran out of recipes to share on the blog. My response – I laughed. He thought I'd lost it. Then I showed him just a glimpse of these lists and he knew it wasn't going to happen any time soon.
Today's recipe is one I've wanted to try even before I'd started any of these lists. You see, Dal Vadas are easily available street food in Bombay. These aren't as popular as Idlis and Medhu Vadas (South Indian Food), but I've always had a soft corner for this treat. These deep fried dumplings are made from split and hulled chickpeas aka Chana Dal, easily found in any Indian grocery store in the aisle with the lentils. They are everything I love in a snack, small portion size, crispy on the outside and chock full of flavor.
The recipe I tried is a little different from the commonly found Dal Vada. It is amped up with some Garam Masala (an Indian spice blend) and fennel seeds, which you typically don't find in the Street Food variety, I must admit it adds a lot of flavor. You could skip the fennel for a more tradition version of the vada. I couldn't believe how easy it was to make. You could serve this with your favorite chutneys like this Green Mint Chutney (
Pudiney ki chutney
) and this Tamarind and Date Chutney (
Imli ki chutney
), or you could just serve it with some Tomato Ketchup. Or be like me, throw caution to the wind and serve it up with all three for a little variety. Whichever way you decide to go, I hope you try it out.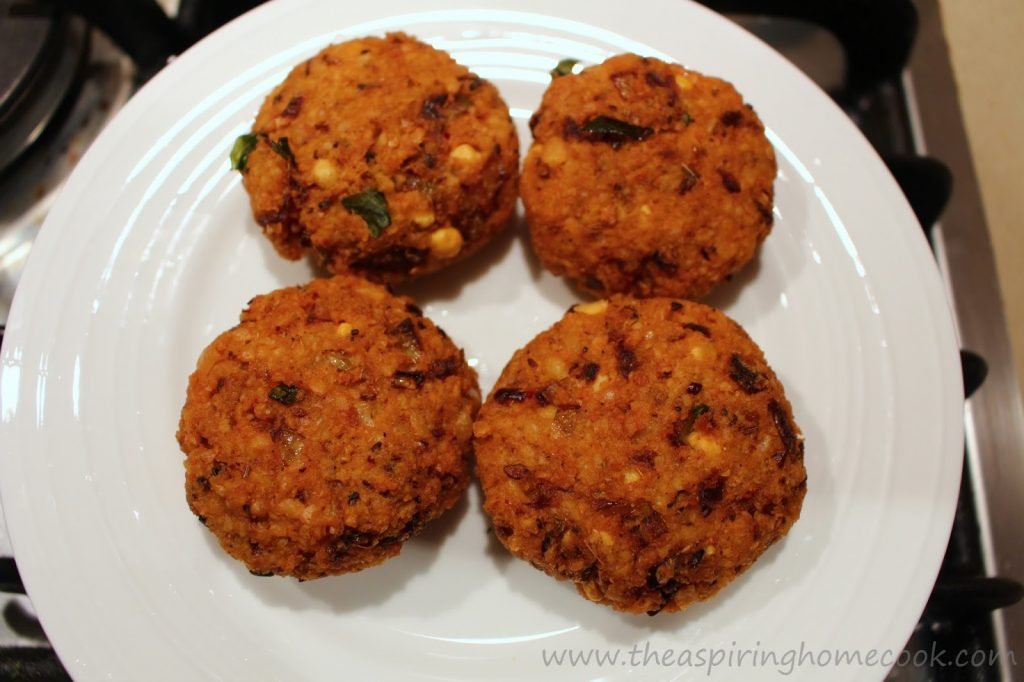 Dal Vada
1 cup chana dal
Salt, to taste
1″ cinnamon
1-2 dried red chillies
3/4 tsp cumin seeds
3/4 tsp fennel seeds
1 medium onion, finely chopped
1-2 sprigs curry leaves, roughly torn / chopped
1/2 tsp ginger paste
1/2 tsp garlic paste
1-2 green chillies, finely chopped
1/2 tsp turmeric powder
Oil, for deep frying
Wash the chana dal a couple of times and drain the water.
Soak the dal in fresh water for an hour and a half. Make sure there is ample water in the bowl. after soaking drain the dal thoroughly using a colander.
Grind the cinnamon, red chillies, cumin and fennel to a coarse powder.
Keep this aside along with 2 tbsp of the chana dal.
Grind the rest of the drained dal and salt by using the 'Pulse' function on your blender to grind it coarsely and transfer to a bowl.
To the bowl, add the curry leaves, onion, coarsely ground spices, green chillies and the reserved dal and mix it all well.
Heat the oil for deep frying.
To shape the vadas, roll a golf ball size of the mix to a ball and flatten them.
Deep fry on medium heat till golden brown on both sides. (Using high heat will just brown the outside and leave the inside uncooked, so be sure to fry it on a medium heat.)
Drain and place on some kitchen paper to absorb any excess oil.
Serve hot with either chutney or ketchup.
Enjoy hot with a steaming cup of tea !!!
Click
here
for some more Bombay Street Food options.
Today we're going to talk pickles. No, not the bread and butter pickles or the dill pickle kind. We're talking Indian pickles. Pickles form a huge part of Indian cuisine. As vast as India is as a country, even more diverse is the food that comes from all different parts. Every region has its own culture, language, cuisine and hence versions of pickles. I have always been a very picky pickle person. (Haha, theres a mouthful of a sentence). Anyway, there are some pickles I just can't deal with (most of these being the spicy store bought ones) but there are others I can't get enough of.
Pickle making has always intimidated me. I always thought of it as a tedious and daunting process. I guess some of this anxiety with pickle making also comes from my Mum. She makes some mean pickles, but inspite of every care, can never get them to last. They'd get spoiled before we could finish them. I always thought that would happen to me too. Don't ask me why, I just thought it would. Until I tried my first homemade pickle – this super yummy Goan Eggplant Pickle. I was surprised at how easy it was to make and we enjoyed it for months after.
I was eager to try out a few more recipes after my success with the eggplant pickle. So a few months ago, when raw mangoes started showing up around Sydney, I just had to try out some mango pickles. Some Indian pickle recipes are long drawn and need to be kept in the sun. I wanted something a little quicker. So, I picked up a few green mangoes at Paddy's Market in Flemington and I narrowed it down to two recipes to try out this time around. One of them was this Instant Mango Pickle. Ofcourse, seeing that it was an instant recipe was a huge bonus. Plus it was so easy to make, I couldn't not try it. Also this is a small batch recipe, which was fantastic, because we're a family of 2 and I had more recipes to try out. I chose to wait for a few months before sharing this recipe, because I wanted to see if it would keep. And I'm happy to report that if you use a clean, dry glass bottle and a clean and dry fork / spoon to serve, this keeps refrigerated for more than 4 months. Moreover, this is a delicious spice blend, unlike those you will find in any store-bought version. I happen to really like this recipe. I'd take that as a win for me and my pickle making.
Spicy Kerala Mango Pickle
Recipe from: Edible Garden
2 cups raw mango, skin on, cut into uniform sized cubes
2 tbsp salt
1/4 cup oil
2 1/2 tsp black mustard seeds
1/2 tsp fenugreek seeds
2 springs curry leaves (leaves only)
2-3 tsp red chilly powder
2 tsp vinegar (optional)
Add salt to the cut mango pieces. Toss well and keep aside for 20-30 minutes.
Combine 2 tsp mustard seeds and the fenugreek seeds and grind them to a coarse powder together.
After the mango pieces have been sitting in the salt for 30 minutes, heat oil in the pan and add 1/2 tsp mustard seeds.
When the mustard seeds pop, turn the flame off. Add the powdered mustard and fenugreek.
Immediately add the curry leaves and the red chilly powder and stir well for about 5 seconds.
Tip in the salted mangoes and add the vinegar, if using.
Stir well. The residual heat of the pan will cook the pickle through as needed.
Let the pickle cool down completely in the pan itself.
Once it has completely cooled, store in a clean, dry glass bottle / jar.
Store refrigerated.
Enjoy!!!
**Serve with your favorite dal and rice.
This recipe has been added to –
Food on Friday @ Carole's Chatter
I can barely remember the last time I enjoyed some good chicken wings. It must have been atleast over 4 years ago when my brother whipped up some at a family BBQ. I had a big hankering for some and picked up some Chicken Wings the other day. Now, I do know how my brother makes his version but I thought it would be a good idea for him to do a guest post around here sometime. Now I just need to get him to do it.
Anyway, I wanted to try making something different and when I came across this recipe, it was a no brainer. I mean it has a concoction called Angry Sauce. How cool is that! I was really excited to try it out. The recipe seemed fairly simple. What I really loved about it is that the wings are baked. There is no frying involved. Yet, you are left with a beautiful crispy skin on the wings and that is just how I like it. It does make this recipe healthier. They are then dunked in a flavorful sauce and tossed. What you end up with is a really tasty, sticky plate of wings that is bound to be a hit at your next party or gathering. There is hardly any hands on time required for this recipe which makes it perfect for a party. And that Angry sauce is so good, a little spicy, tangy and sweet all at the same time. Yummmm. I do hope you try this recipe out. And if you do, I'd love to hear what you think of it.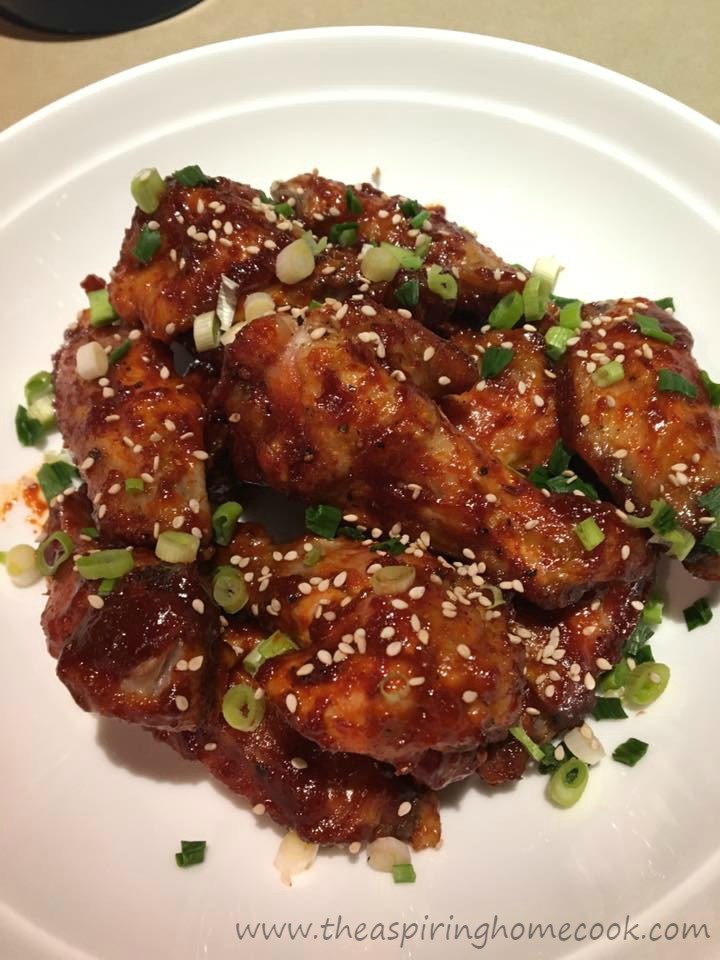 Chicken Wings in Angry Sauce
Adapted from: Food & Wine


2 pounds chicken wings (split the wings and either set the tips aside for a stock or discard. I bought Marco's Wing Nibbles from Woolworths that has this stage dealt with so you use the wings as is.)
1 – 1 1/2 tbsp olive oil
Salt, to taste
Freshly ground black pepper, to taste
1 – 2 tbsp gochujang (Korean red chilly paste) (depending on how hot you want the sauce)
1 tsp tabasco sauce
1 tsp red chilly powder
1-2 tbsp water
1 tbsp sugar
2 tsp rice wine vinegar
2 tsp soy sauce
1 spring onion, thinly sliced
1 tsp sesame seeds
Preheat the oven to 180ºC.
Line a large baking sheet with foil and spray with cooking spray. (I just used a Pyrex baking dish and lightly sprayed with olive oil.)
Toss the wings in the olive oil and sprinkle salt and pepper. Toss well to make sure all the wings are well coated.
Place the wings skin side up on the prepared baking tray and bake for about 40-45 minutes until they are cooked through and the skin is crisp.
While the wings are baking, in a small bowl, mix the rest of the ingredients for the sauce, except the spring onion and sesame seeds. If the sauce is too thick, add a little more water to thin it down a little.
Taste the sauce and adjust the spice, salt, sweetness or sourness, as needed.
Drain off any fat that has rendered from the wings while baking, and toss the wings in the sauce till it is well coated.
Sprinkle with the spring onion and sesame seeds.
Enjoy!!!




*** This post is not a sponsored post and I haven't received any compensation from either Marco's or Woolworths.