Today, after what seems like ages, I have something
crafty
I like to share with you. After moving to Sydney, all I had with me, in terms of craft supplies, was my quilting tool and my crochet hooks. I couldn't get anything else along. I still have some of my stash in my Mother's house in Mumbai and am hoping to have access to it soon.
In the first couple of months after we got here, once we had found a place to stay and had sort of settled in, the job hunt began. It took a while for something to come up and I felt I had some time on my hands and not much to do. So after a search on the internet, I decided to check out a few craft stores. I went to one called Morris & Sons and Lincraft, both of which are in the heart of the city. Honestly, I have never been to craft stores this big and with this much variety all under one roof. Morris & Sons has an overwhelming range of options, but I found them expensive and didn't end up picking anything there 🙁
Lincraft, on the other hand, has products that better suit my budget and a good variety as well. I think I probably went around in circles for the better part of an hour at first and finally settled on the ruffle yarn. I had seen so many ruffle scarves online and this yarn wasn't available in Mumbai. I was so excited that I picked up a ball to try out. And the rest, as they say, is history.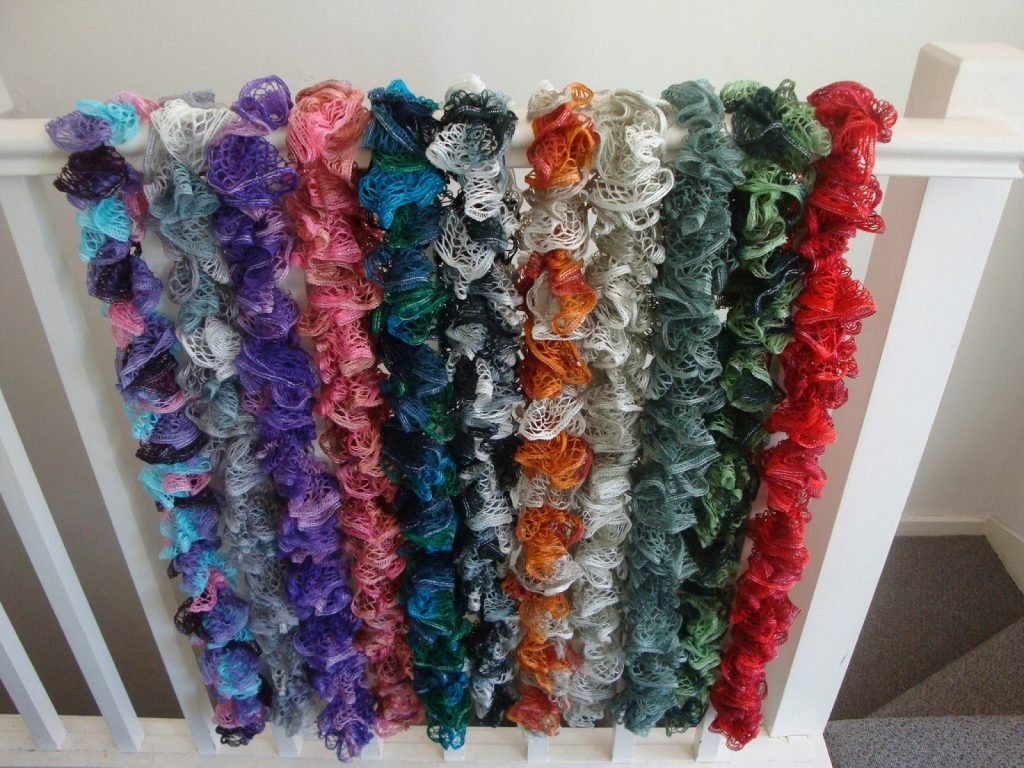 Can you tell that I ended up going there a few more times and picked up a whole bunch of yarn. Fast forward to last weekend, I finally finished registering with www.madeit.com.au – the Aussie take on Etsy and my shop is now live and has products listed and ready to post. We post globally, all you have to do it tell us where you'd like the package sent and we'll send you a quote with the postage. Do stop by.
I have also created my facebook page specially for these products. I'd love for you to stop by and "Like" us – https://www.facebook.com/TrishaVazCreations
The simpler joys in life –
Today I woke up to find a mail from the awesome support team at Madeit, telling me that one of my handmade ruffle scarves were being featured on their Home Page, under the theme – Violet Vibe. This totally made my day.
Of course, I still go to Lincraft for my yarn needs, but am eager to find more options. Do any of you have any suggestions for craft stores or yarn stores in and around Sydney. Leave a comment and let me know please. I'd love to check them out.
Disclaimer: I have not been compensated in any way by Morris & Sons or Lincraft for this post. This is NOT a sponsored post.
Even though I'm not in Mumbai any more, I know there must be atleast a few other cooks and bakers like me, who found amazing recipes online, only to find that they needed sour cream to make it. "What's the big deal?", you ask. Well the deal is you can't find Sour Cream in Mumbai. This is one product that hasn't yet made it to the supermarket shelves. No matter how hard you try, it will be practically impossible to find a tub of it, and if you're really lucky and you do, you'll have to pay an exorbitant amount for it.
It was extremely frustrating for me, until I decided that enough was enough. I was determined to find a way to either make it myself or find a substitute for it. After a lot of reading up and digging through quite a lot of material, I found out that you can easily mix up a concoction that you can use when a recipe calls for sour cream. All you need is some Fresh Cream – I always used Amul Fresh Cream and thick curds (dahi) – this you can either use homemade dahi or Amul Masti Dahi – a brand I preferred to use. I'm pretty sure you could use any other brand available with the same results.
Sour Cream


200g fresh cream
1 heaped tbsp thick curds
A pinch of salt
Beat the cream till slightly thicker and still creamy.
Add the curds and the salt and mix well, till everything is well incorporated.
Use as needed.
And that's it! How easy is that?
I hope you find this little snippet helpful. I sure did.
Disclaimer: This post hasn't been sponsored, nor have I been compensated by Amul in any way. These are products that I use and really love working with and wanted to share with you.
Ok, today's post features my favorite vegetable. Yup, you heard me. My favorite vegetable is the humble potato. I can eat it in any form – baked, fried, mashed, roasted, any which way. I usually have potatoes in the house, for me they are a pantry staple. I rely on potatoes for those days just before I can make my weekly grocery shopping trip, where the fridge is almost bare. You'll see a few potato recipes here like
Batata vadas
,
Bhajiyas
,
homemade Samosas
,
Aloo Cheese Frankies
,
Smokey Potato Salad
,
Shepherd's Pie
,
Potato Chops
,
Garlicky Baked Potato Wedges
,
Fries
,
Aloo Bhaji
,
Hasselback Potatoes
and
Aloo Tikkis
. But I'm pretty sure that these options are just the tip of the iceberg.
Anyway, this is one recipe, that can be made many different ways. You can –
Boil potatoes – on the stovetop or in the microwave
Roast potatoes – I usually pop a couple of potatoes whole and skin on (but washed well / brushed) in the oven, if I'm roasting some meat or baking a casserole or something. I simply wrap it in foil and leave it in till done.
Use raw potatoes, washed, peeled and cubed
What makes it special is the dill. Dill and potatoes go well together. Haven't tried it before, well, you definitely should.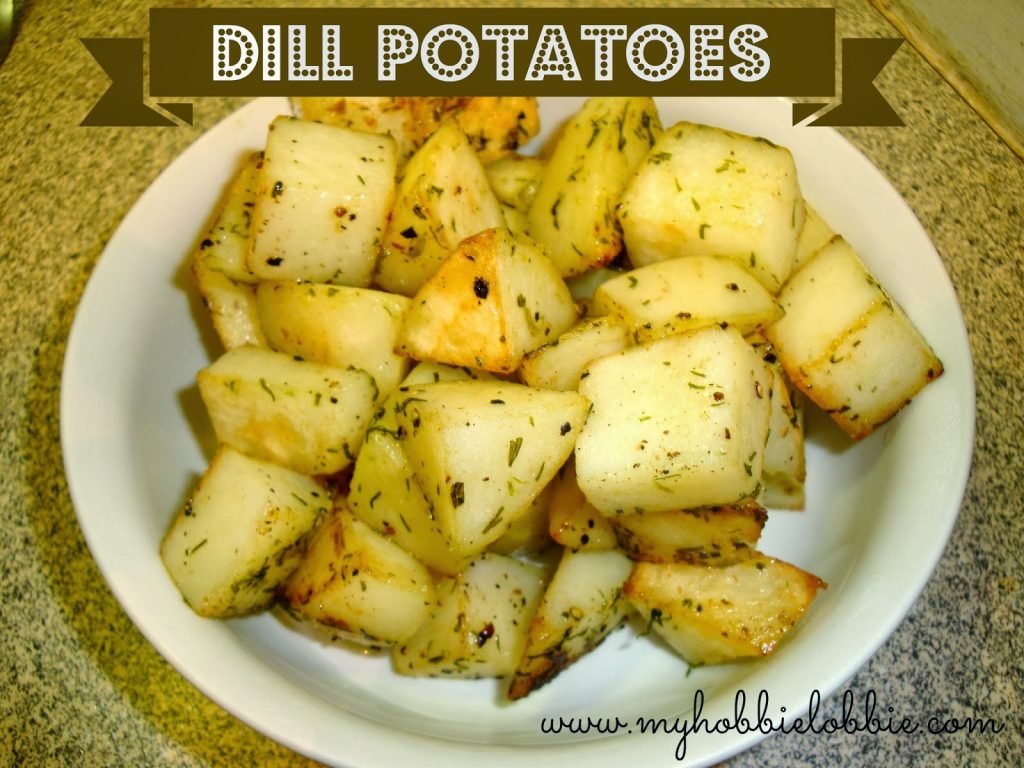 Dill Potatoes


2 potatoes (You could use as many as you think you'll need)
Salt, to taste
Dill leaves (either fresh or frozen), to taste
1 tsp canola oil
Prep your potatoes as desired – either boiled, roasted or raw.
Cut the potatoes into cubes.
Heat oil in a pan and toss the potato cubes in gently. Let it fry till they edges get nice and golden brown and crunchy. (This will take a little longer if you are using raw potatoes – keep it on a medium heat so that it cooks through. If you're using boiled / roasted potatoes you can turn up the heat a bit and heat through till it browns to your liking.)
When the potatoes are done to your liking, season with salt and toss in the dill leaves, as much or as little as you'd like. Toss it up well.
Serve hot.
Ok, here's a quick option for those dinners when you want to have something special, but just don't want to spend too much time or when take-out just won't do. Now I know these are pork fillets, but at home, when we were younger we always called them pork chops, for some strange reason. And the term stuck. To this day, I still call them that.
The other day, I was in the supermarket doing my usual grocery run and I saw these gorgeous packets of pork scotch fillets that were on special. (When things are on special, you want to make sure you have some time before the 'Use By Date' printed). These were well within the time frame and looked good. So I picked up a packet since I hadn't figured out what we were going to have for dinner that day.
The recipe isn't even a recipe per say, just a marinade and then you cook the meat to your liking. But the sheer simplicity that results in something this delicious made me want to share it with you. Once you apply the marinade, you should try and give it atleast half an hour to an hour to let the flavors do their magic. If you don't have that kind of time, you could still make this and have a delicious dinner, but letting the meat sit in the marinade makes it so much better.
Serve it up with some fresh salad and your favorite side and you've got yourself a fantastic meal.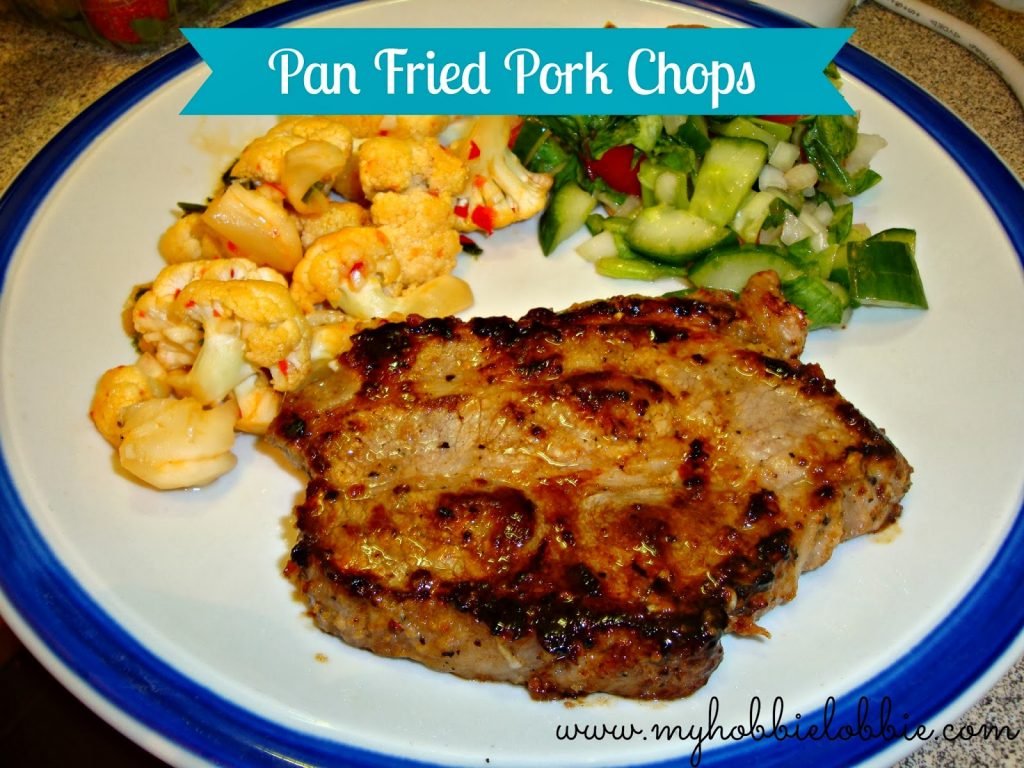 Pan Fried Pork Chops


Pack of 3-4 pork scotch fillets
Salt, to taste
Lime juice, to taste
1 tsp. ginger paste
1 tsp. garlic paste
Freshly crushed black pepper, to taste
1 tsp. oil
Place the pork chops in a large shallow dish or plate.
Sprinkle the salt, lime juice, ginger and garlic paste and the crushed pepper. Rub the marinade into the meat.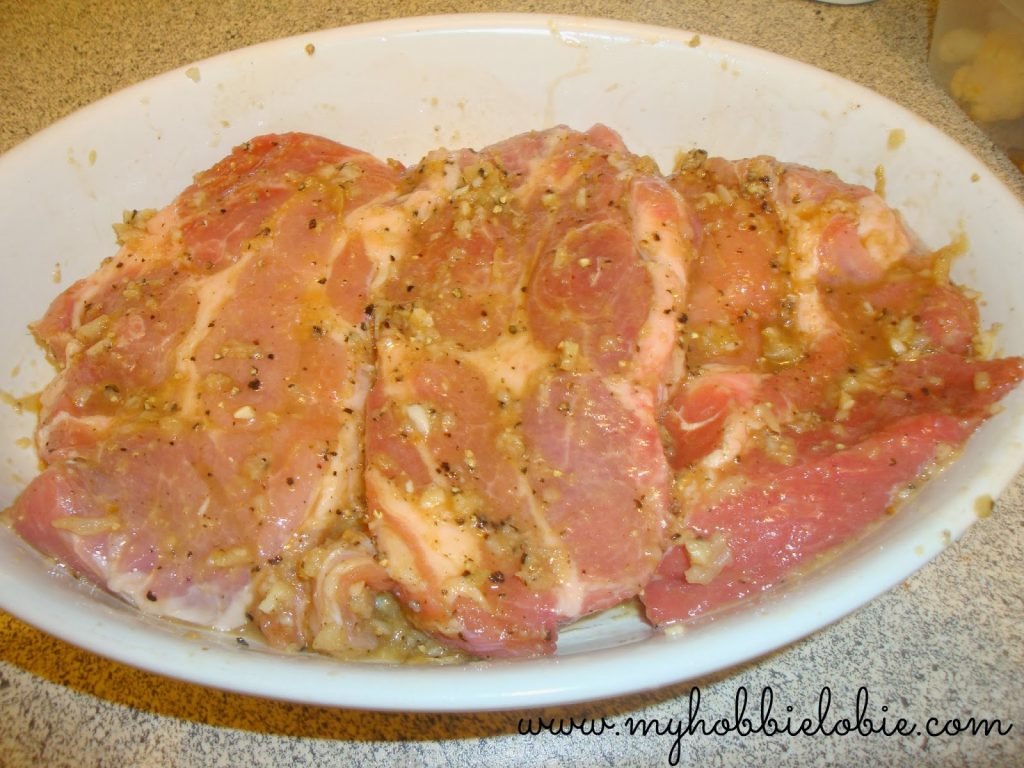 Let the meat sit in the marinade for half an hour to an hour.
Heat the oil in a pan. Place the pork fillets in the pan. Cook to your liking,
I cook it for about 4 minutes on each side.
Take it off the pan and let it rest for a couple of minutes.
Serve up and enjoy!
This is the first
SRC
post of 2014. After a month off, a well-timed break, we are back at the club. I was so very excited when I got my assignment for this month – a blog called
Cupcakes with Sprinkles
. Seriously, how cute a name is that! This blog is authored by Meghan. Meghan and her husband just recently celebrated their 7th wedding anniversary and they have 3 adorable little kids. While being a loving wife and mother, she also finds the time to bake, cook, blog and quilt and runs her own Etsy shop. Don't forget to stop by her blog and show her some love.
Now true to its name, you'll find heaps of cupcake, cake and dessert recipes on this blog. But you will also find some very tempting savory recipes too. I felt I had to try out one of her cupcake recipes and while it was hard to pick, I settled on the Cookies N Cream Cupcakes. These were really easy to make. I love that I have access to an oven again and I'm finally baking again, after more that 6 months. And these cupcakes did not disappoint. The cake itself had a beautiful delicate crumb and the frosting was beautiful. For me the frosting was the absolute star. I'd probably cut down the sugar in the cake itself a little the next time I make it, but thats just a personal preference. The recipe is fine as is. Now that I've eaten a 2nd, maybe even a 3rd one ;), I think the sugar level is just fine, I will stick to the original recipe. We thoroughly enjoyed it with our afternoon cup of tea. Thanks Meghan, for introducing me to a wonderful cupcake recipe.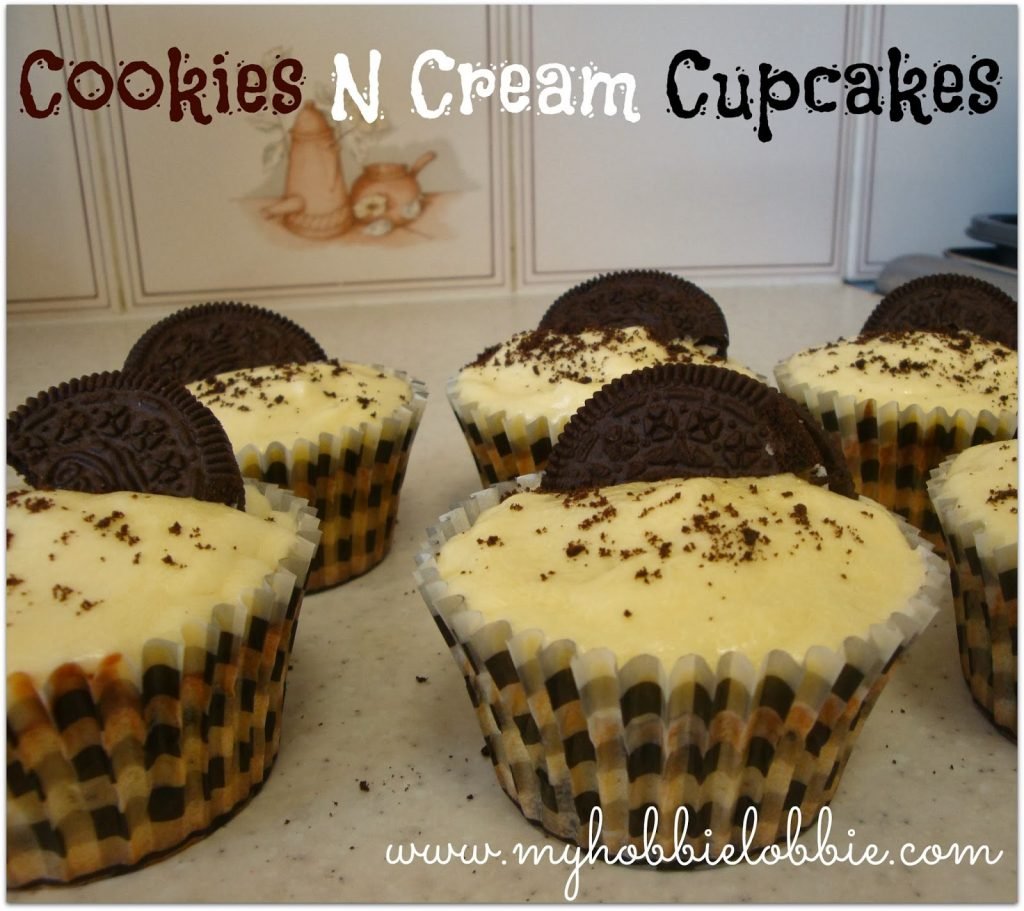 Cookies N Cream Cupcakes


For the cupcakes –
24 Oreo halves, with cream filling attached
2 1/4 cups all purpose flour
1 tsp Baking powder
1/2 tsp salt
8 tbsp butter, at room temperature
1 2/3 cups sugar
3 large egg whites, at room temperature
2 tsp Vanilla extract
1 cup milk
20 Oreos, coarsely chopped
For the frosting –
8 oz Cream Cheese, at room temperature
6 tbsp butter, at room temperature
1 tbsp Vanilla extract
4 cups Icing sugar, sifted
2 tbsp Heavy Cream
To decorate –
12 Oreo cookies, cut into halves
Oreo crumbs
For the cupcakes –
Preheat the oven to 170ºC. Place cupcake liners in the cupcake tins and place one Oreo half in each liner, cream side up.
Place the flour, baking powder and salt (dry ingredients) in a bowl and stir through with a fork and set aside.
Cream the butter and sugar till light and fluffy.
Add the egg whites, one at a time, beating between each addition. Add the vanilla essence and beat again till incorporated.
Add half the dry ingredients and mix until just incorporated.
Add the milk and again mix till incorporated and then add the rest of the dry ingredients and mix till just combined.
Gently fold in the coarsely chopped Oreos. Do not overmix.
Spoon the batter into the cupcake liners and bake for 18-20 minutes or until done. Test by piercing the center with a toothpick or a piece of uncooked spaghetti. If it comes out clean, the cake is cooked.
Let it cool in the pan itself for about 5 minutes after taking it out of the oven, then transfer to a wire rack to cool.
Once it has cooled completely, you can proceed to frosting the cupcakes.
For the frosting –


Combine the cream cheese and butter using an electric whisk, on high speed, until smooth.


Add the vanilla extract and beat until combined.


Add the powdered sugar and beat till smooth.


Add the heavy cream to the mix on low speed till mixed and then on med-high till stiff enough to frost with.


Frost the cupcakes as desired. You could sprinkle the top with some Oreo crumbs and half an Oreo.


Enjoy!!!


document.write(");