For years now, I've envied folks that can make good pickles. In our home we always enjoy a good pickle, but that is one thing my mother never made much of, when we were growing up. She had a few good recipes but seldom made them. She made a real good green chilly pickle and a Goan pickle using prawns and another one using fish. So most of the time we ended up using store bought pickle. We didn't have a choice really. I didn't care much for the store bought variety, expect for a certain kind we got in Goa, but those trips usually happened once a year.
Then one year, a dear friend of mine had to visit her aunt who lived an hour and a half away from where we lived and she asked me to go with her. At lunch, she served up a home made eggplant pickle that I fell in love with. I must have been about 16 years old then, so it never really occurred to me to ask her how she made it, nor did I have access to the tonnes of information that is accessible on the internet in today's day and age. But over the years, I'd think about that wonderful pickle and often wondered if I would every find something similar again.
Fast forward to a few weeks ago. I got a fantastic deal on some eggplant and picked up a couple of large ones. I originally thought I'd grill it and store it in some olive oil with some herbs. But I ran out of time and it got to the stage where we were to leave for our holiday the very next day. What I haven't told you yet is that a few weeks prior to that I came across a recipe for a Goan eggplant pickle, which I glanced at and moved on without making much of it. Since grilling and preserving the eggplant in such a short time frame was out of the question, I thought about that recipe and dug around for it.
I was a little sceptical since I'd never made a pickle before. But I figured I had nothing to lose but trying my hand at it this once. I always thought it was a daunting process. I was amazed at how simple this recipe was. A few spices, a little cooking and a week of maturing. We got back from our holiday to a really fabulous pickle. Very similar to my friend's aunt's version. This recipe is a keeper. I made a few changes to the recipe and the one below, reflects those changes. It's safe to say that I'm very happy with this first attempt and can't wait to try out some more as and when we need to replenish our stock. This pickle is mildly spiced and sweet at the same time and is a wonderful accompaniment to a simple dal and rice or any meal really. 🙂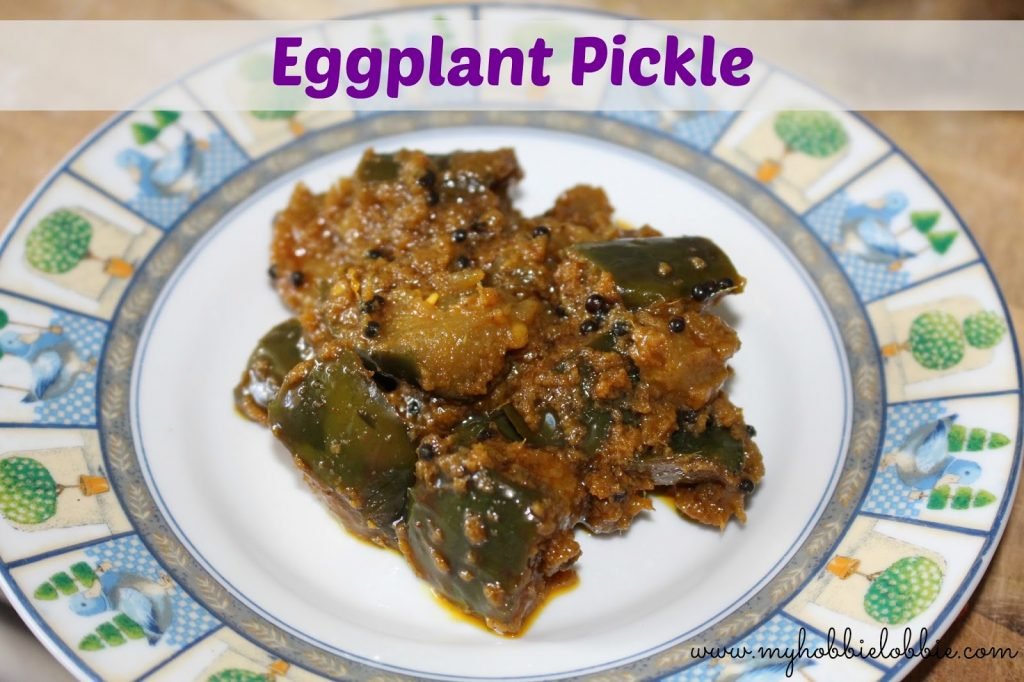 Eggplant Pickle
Adapted from: Erica's Yummy Food


2 large eggplants
20 cloves of garlic
2 pieces of ginger, each about 3″ long
1 tbsp kasoori methi (dried fenugreek leaves)
1 tsp cumin seeds
12 cloves
4 tsp red chilly powder
1/2 cup sugar
1 cup oil
2 heaping tsp mustard seeds
A handful of curry leaves
4 1/4 tsp salt
1 1/2 tsp turmeric powder
3/4 cup apple cider vinegar
Prep a glass bottle but thoroughly washing and making sure it is completely dry. (You could use mason jars if you like.) Any moisture on the bottle will result in your pickle going bad. It will get moudly and you wont be able to eat it. I simply place the bottle in a dishwasher and it is perfectly washed and bone dry.
Cut the eggplant into cubes (about 1/2″).
Sprinkle the eggplant with 4 tsp of salt and toss well. Set this aside for 2 hours.
You can now prep the rest of your ingredients, while you wait for the eggplant to discard all the excess moisture.
Peel and roughly chop the ginger and garlic.
Using a mixer / food processor, grind the ginger, garlic, fenugreek leaves, cumin seeds, cloves, red chilly powder, turmeric powder and vinegar to a paste.
After 2 hours, you will notice that the eggplant has released a lot of moisture. Drain all the liquid from the eggplants and gently squeeze the eggplant to get rid of any liquid. You want to be gentle and let the cubes retain their shape but still discard and excess liquid.
Heat the oil in a large pan. Lower the heat to a medium low.
Add the mustard seeds and let them sputter.
When they are sputtering, carefully add the curry leaves.
Add the spice paste and cook on a low to medium heat for 10 minutes. But cooking the paste first, you are left with a mellow flavour and not a sharp tartness of the vinegar. Stir frequently.
Add the eggplant cubes and cook for another 10 minutes. Stir gently every now and then to mix well, but be careful to not break down the eggplant pieces. After cooking for 10 minutes, the eggplant cubes should be tender but will still somewhat retain their shape and not be too mushy.
Add the sugar to the pan and cook for another 5 minutes and now you will see the oil separating at the sides of the pan.
Take off the heat and spoon the hot pickle into the prepared glass bottles. Cover the bottle and leave it on your counter to cool. (Bottling it when it is still hot creates a vacuum when the mix cools and ensures your pickle has a good shelf life.)
When it has completely cooled, you can store it in the fridge. I left mine to mature for a week while we were away.
Enjoy!!!
Now, do your pickle loving self a favour and try this recipe out soon. You can thank me later. 🙂
It's
SRC
time again. This month I was assigned Katie's blog –
Thyme for Cooking
. I had a lot to look through. I mean, what do you pick and how do you pick one recipe when the blogger you've been assigned has been blogging for over 10 years. That is quite an achievement in itself. I really enjoyed reading Katie's blog. She gives you a little insight into her life. Currently in France, she has also lived in Ireland and Andorra. She has an impressive vegetable garden and grows a lot of the vegetable they consume. I've only just started trying my hand at growing plants and since I live in an apartment, I'm restricted to a few herbs and some chilly plants. But I find growing your own food fascinating and hope to do plenty more of it in the years to come. Obviously, I spent ages reading up Katie's posts on her vegetable garden and I know I'll keep going back for more. Like her, I too try and eat seasonal produce as much as I can and I stay away from processed and pre-packaged foods as much as I can.
With great difficulty, I narrowed down recipes I wanted to try to these – her spinach gratin, this beautiful pickled beets and feta cheese salad, an interesting pickled beets, walnuts and goats cheese tart, another lovely salad – her mini tomato, mozzarella an avocado salad, these parmesan oven fries and corn fritters. You've most like figured that I went with the corn fritters. But I also bought some beetroot to try out Katie's take on pickling them.
These corn fritters were very interesting. They were really easy to make and once I tasted them, I realised they were pretty close to being savoury pancakes. Immediately, my mind started thinking of other things I could add to them. Could you imagine bacon bits in these pancakes. I know that's what I want to try when I make these again. Needless to say, we quite enjoyed these fritters. The goats cheese was a nice addition. This was the first time I tried goats cheese and I really liked it. I couldn't get my hands on the creamy variety like Katie used for this recipe, so I just crumbled some over.
Onto hurdle number 2. For some reason I was under the impression that I had a bottle of balsamic vinegar in my pantry and then when I went to make that delectable reduction, realised I didnt. Frantically looking for options, I found some balsamic salad dressing and decided to use that. I figured worse case scenario, I'd have to make do without the glaze. But it turned out pretty well. Though I would like to try this glaze again using proper balsamic vinegar. In all, it was a really interesting experience. Thank you for introducing me to this recipe Katie.
Corn Fritters with Balsamic Honey Reduction
For the reduction:
2 tbsp honey
2 tbsp balsamic vinegar
Stir both till mixed.
Bring to a boil and then simmer till it reduces to a thick sauce.
For the fritters:
3/4 cup all purpose flour
2 tsp baking powder
3 tbsp sweet corn kernels
1/2 cup milk, approx. (you may need a little less)
A pinch of salt
2 tbsp olive oil
Goat's cheese, to crumble over
Balsamic Honey reduction, to drizzle over
Dried parsley, to garnish
Mix the flour and baking powder.
Add the sweet corn kernels and milk and whisk till combined to a batter.
Cover and set aside for about 15 minutes.
Heat 1 tbsp. olive oil in a pan over medium heat.
Stir the batter and dollop a heaped tbsp. of the batter for each fritter.
Cook till golden brown and then flip. It'll take about 2-3 minutes per side depending on the heat.
Add more oil if needed.
To serve, crumble some goat's cheese over the fritters and drizzle some of the balsamic honey reduction.
Garnish with the parsley, if desired.
These little beauties have been popping up all over the place. Oh yes! Be it bridal flowers, party decor or just to have around your house, these crepe paper roses are very popular at the moment. You can make these in any colour of your choice and are not restricted to the time of year when roses are abundant or the natural colours they are available in.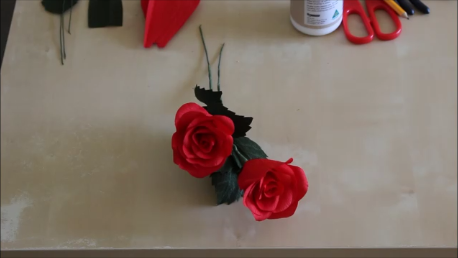 If you haven't tried your hand at it yet, here's a handy dandy video tutorial. You will be amazed at how simple it is to make these pretty flowers.
You can find the template for these flowers here.
And yeah, feel free to share this videos with your friends and other crafters that might enjoy it.
For quite sometime now I've seen so many variants of the Chia pudding pop up all over the place. I've been tempted to try it out and see if we'd like it for a while. But I'm pleased to report that I'm finally part of the Chia pudding lover's clan. I've tried a couple of flavours so far and we've loved them. These are pudding options that are perfect either for breakfast, a snack or dessert. The first one was an Almond Joy inspired one, which we gobbled up before we could get any pictures. But going by how much we enjoyed that one, I wanted to try out a few more options. And that's when I came across this one. I love mangoes. I've been missing the good old Alphonso mangoes that are really popular in Goa and Mumbai. I have not had another mango that can match the Alphonso in taste and texture. As luck would have it, a while ago, when I was picking up a few things from my local Aldi store, I saw these…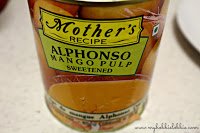 This pulp is sweetened. But it is so good, I could eat it with a spoon and call it dessert. I picked up a couple of cans. One was used for milkshakes and smoothies and one was in the pantry. I ended up using this pulp for the chia pudding. And since this was sweetened, I didn't add any sweetener to the milk. However, if you aren't using a sweetened pulp, you will need to add either honey or dates or sugar; basically any sweetener of your choice. Also, please note that the quantities mentioned below can be adjusted to suit your preference.
These are perfect for make ahead options. You can make them the previous day and have them ready to go in the morning. You could also set these in travel containers to take your breakfast to work. All you need to make now is the chia pudding, which is as simple as stirring the chia seeds into the milk. That's it. I stuck with the whole Goa inspired flavours and topping the puddings with some toasted cashew nuts. It was pretty spectacular – perfect for summer. I can wait to find some more of these cans of mango pulp now.
Have you tried chia puddings before? What's your favourite combination? Leave me a comment and let me know, I'm eager to try out different variations.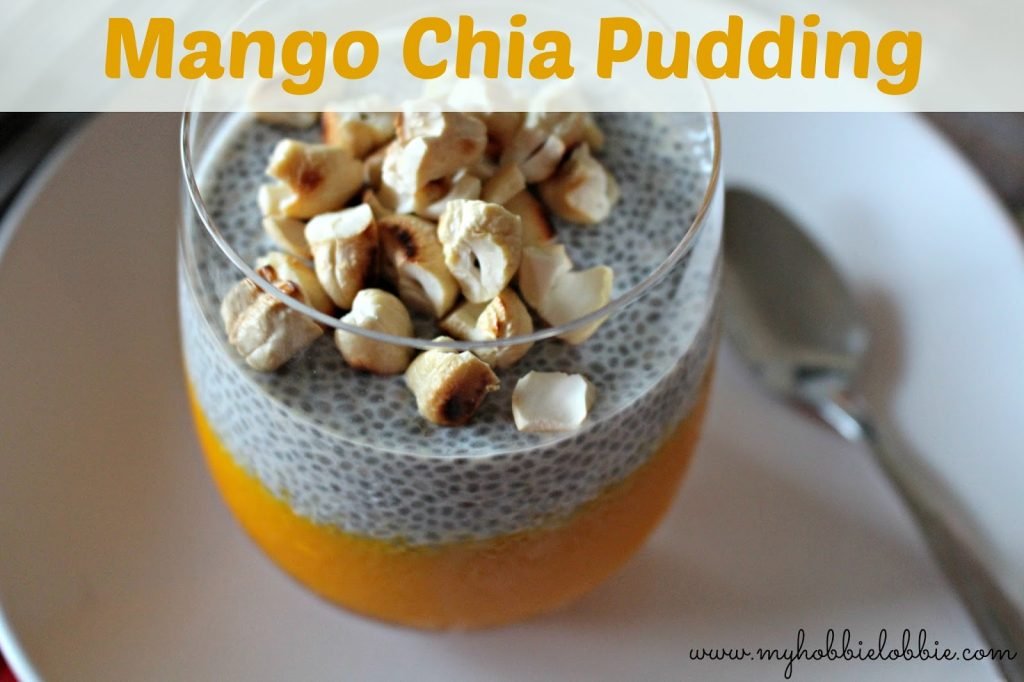 Mango Chia Pudding
Adapted from: Ashley Neese
Serves 2
2/3 cup Mango pulp, sweetened
1 cup milk
1/4 cup chia seeds
1/4 tsp. vanilla extract
A handful of cashew nuts, toasted
In 2 glasses, pour the mango pulp. I filled about 1/3 of the glass with the mango pulp, careful to not let the mango drip down the sides of the glass.
Set aside in the refrigerator.
In a seperate bowl, combine the chia seeds, milk and vanilla and stir for about 3-4 minutes constantly, till it becomes a thick pudding. Let it stand for about 5 minutes to set.
Pour the chia pudding over the mango pulp carefully, in a steady stream.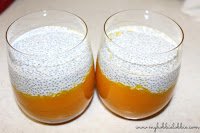 Cover the glasses with cling film and refrigerate for atleast 4 hours or overnight.
When you're ready to serve, top with some chopped up toasted cashewnuts.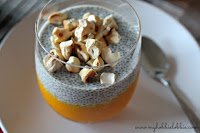 Sit back and enjoy!!!