Two namakpare recipes in two days … strange right? Well, I just wanted to be on the safer side since the ones I made a couple of months ago didn't turn out too well. These are easy to make and I figured if I'm making one portion, I can just as easily make another one in almost the same time with just a tiny bit more effort. I figured that way I'd get atleast one good batch.
The first recipe that I shared with you yesterday for a basic
Namakpare
was fantastic. That being said, this recipe for the methi version is even better. I loved the slight hint of an Aachari (Indian spicy pickle) flavor that the methi lends to these snacks. It is amazing how adding just a few more ingredients can fancy up a humble snack recipe.
These little crackers turn out nice and crunchy. My husband and I loved the flavours so much, it was hard to stop. I will have to double or triple the batch size when I make this next.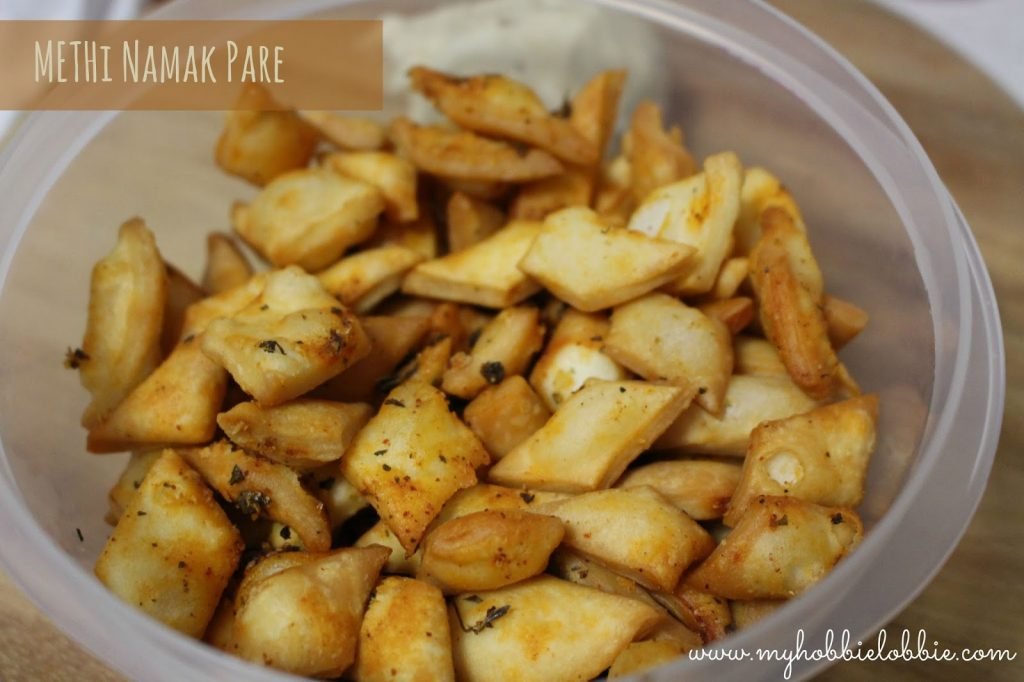 Methi Namakpare
For the dough –
1 cup all-purpose flour
1/4 tsp salt
3 tbsp oil
1/4 cup water, approx.
Oil, for deep frying
For the spice coating –
2 tbsp Kasuri methi (Dried fenugreek leaves)
1 tbsp oil
1/2 tsp red chilly powder
1/4 tsp salt
1 tsp Amchur powder (dried mango powder)
In a large bowl, mix the flour and salt.
Rub the oil into the flour.
Add water gradually, as needed, to knead into a tight dough. Adding too much water will result in a soft dough and we don't want that.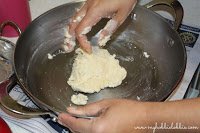 The dough needs to be a stiff dough yet smooth. It will take a little kneading.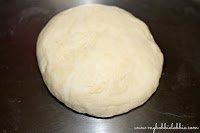 Cover and let the dough rest for about 15 minutes.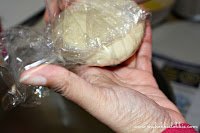 After 15 minutes, heat the oil for deep frying.
Take a couple of drops of oil on your hands and knead the dough a little.
Divide into 2-3 portions
Roll out into a flat disc about 1/8 of an inch thick.
Cut into diamond shapes. You can always re-roll the scraps.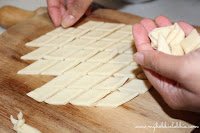 Carefully place the diamond cuts in the hot oil. I usually place the cut pieces on the slotted spoon and carefully place it in the oil.
Fry on medium low heat till the crackers are golden brown and then drain them out on a kitchen paper towel.
Make sure the oil is not too hot, else the crackers will just brown and not cook through and wont be crispy.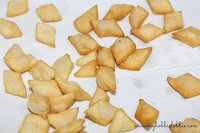 In a small pan, heat the 1 tbsp oil for the spice coating.
Add the rest of the ingredients for the spice coating.
Mix well.
Take the fried crackers off the kitchen paper and place in a plate or a large bowl.
Drizzle all of the spice mix over it and gently mix through using your hands. Be as light handed as you can as you don't want to crush the crackers.
When everything has cooled completely, you can store it in an airtight container.
I can't tell you how glad I am to report that I can finally make a good batch of Namakpare. What is Namakpare? These little gems are delicious, savory deep fried crackers. This Indian treat is found on every Indian festival platter (like a cookie platter). In my household, we never made this at Christmas, but I've always enjoyed them and have always wanted to be able to make some at home.
I made some a while ago, and while they tasted right, the texture wasn't. They were not crunchy. You see they are meant to be crunchy and that's what makes them so addictive. I was a little disappointed with this version and that was the end of it.
Anyway, I forgot about them for a little while and then all of a sudden, out of the blue, I came across a recipe a couple of days ago when I was looking around online. I decided I had to try them out. I was missing Indian flavours and I figured, this would be a good opportunity to try out another recipe.
This recipe simply involves making a tight dough, roll out into a disc, cut into diamonds, deep fry, cool down and … Enjoy! The ingredients required are also very basic ones. There is a good chance you will have all you need in your pantry. This recipe took me back home in a bite. The crackers taste fantastic, they are crunchy and so very yummy. Once completely cooled, you can store them in an airtight container. Enjoy them with a nice hot cup of tea.
Namakpare
Recipe from: Cooks Joy


1 cup all purpose flour
1/2 cup whole wheat flour
Salt, to taste
1 tsp cumin seeds
4 tsp ghee (clarified butter)
Water, as needed
Oil, for deep frying
Mix both flours, salt and cumin seeds.
Add ghee and rub it into the flour.
Using water slowly and gradually, knead into a tight dough. (You want the dough smooth but NOT soft.)
Cover and let the dough rest for an hour.
When you are ready to proceed, preheat oil for deep frying.
Divide the dough into 4 portions.
Working with one portion at a time (keep the rest covered so that it doesn't dry out), roll out to a disc about 1/8 inch thick.
Cut into diamond shapes. In India, they have a really cool cutter with multiple blades that makes the process much quicker. But if you don't have one, use a knife like I did. I forgot to take a picture of this step 🙁
Pictured above is a different dough (the one for methi namakpare …. recipe coming up soon), but the process is exactly the same.
You can always re-roll the scraps and cut them out.
Carefully place the cut pieces in the hot oil. I usually place the cut pieces in my slotted spoon and place the spoon in the oil and gently tip the pieces in. I find that's the only way I can keep from burning my hands.
Fry over a medium low heat. (This low frying ensures they cook through and get crispy later.)
When they are a nice golden brown, drain and set on some kitchen paper to get rid of any excess oil.
When completely cooled, store in an airtight container.
Note:
Because you've used ghee while kneading the dough, you wont need to sprinkle flour to roll it out, the dough will not be sticky.
Fry it over a medium heat. Frying it over high heat will just brown the outside while the inside will still be doughy and won't crisp up.
So unlike most of you reading this post now, we're right in the middle of winter, here in Australia. Not just that, we're in the middle of a polar vortex at the moment. They say this is the coldest its been in the last 20-30 years … brrr!!! A nice warm, hearty bowl of soup hits the spot at a time like this. I've always wanted to try some split pea and ham soup. This recent weather seemed like the perfect opportunity.
After looking around the internet for a recipe, I found one I was happy with. I picked up all the ingredients I needed and got to work. I was happy with the fact that I found a pressure cooker recipe, which meant that I could sit down to a nice bowl of soup in a fraction of the time. Since its the middle of the year, I didn't have any leftover ham. But for those of you that bake a leg of ham around the holidays, using your leftovers would be perfect for this recipe. I bought some smoked ham meat from the supermarket and used it. When I think back, I think I'd be happy even without the ham in the soup. The split pea soup is so flavourful, a vegetarian version would be really delicious as well. All this without the fuss of having to spend hours developing flavour.
I looked at this recipe and this one to get an idea and then from there on I mostly winged it. So here's my homemade almost homemade split pea and ham soup. If you baked your own ham and made your own stock, you've got yourself a made from scratch Split Pea & Ham Soup. 🙂
Homemade Split Pea & Ham Soup


1 onion, finely diced
2 cloves garlic, finely chopped
3 carrots, finely chopped
3 sticks celery, finely chopped
1 bay leaf
1 tsp olive oil
1 lb dry split peas
1 stock cube (chicken, beef, veg – its upto you)
6 cups water
200-250g ham, diced
Rinse the peas under cold water.
Heat oil in a pressure cooker under medium heat.
Add the bay leaf and onion and saute till onions soften up.
Add the garlic, carrots and celery.
Saute for 4-5 minutes.
Add the peas, crumbled cube and water.
Cover and bring to a boil. After it reaches pressure / till the first whistle, simmer on low heat for about 20 minutes.
Take off the heat and let the cooker release pressure on its own.
When it is safe to open, adjust liquid by adding water if needed.
Adjust salt and freshly cracked pepper if need.
Add the ham, remove the bay leaf and let the meat heat through.
If the soup feels like it needs more cooking, cook till it reaches the desired thickness.
Serve hot.
I crack some black pepper over it after serving it up and
Notes:
** You could use stock instead of the cube and water if you have any at hand.
** This soup keeps well in the fridge. My pot lasted us about 10 days. I just took out small portions and heated it up as I needed it.
** I found that the soup thickened after refrigeration. So each time I need to heat up a portion, I added some hot water to the portion I was heating up, to reach the consistency I like and then heated it through.
Fried food is usually delicious, isn't it! I have to agree. We love our
fries
,
pakoras
, fried chicken and oh yes, the good old
corn dogs
… and that's just the start of the list. However, we are trying to adopt slightly healthier eating habits. Let's not get all wound up here. I'm just talking about changes like baking instead of frying where possible, consuming a little less oil and so on. And yes, I will continue enjoying the occasional helping of fried food. So I decided to try a baked version of the corn dogs – Corn Dog Muffins.
This recipe is an absolute star. I was a little apprehensive when I started out. Because I'm sure all of us have found atleast one such baked substitute recipe that seems so promising but is nothing like the original. I know I have. This recipe is nothing like that. It is so delicious and knowing it is baked and not fried lets you enjoy this treat even more. My husband loves these muffins. He is actually happy to skip the sausage in the centre and eat just the cornbread by itself. It is that tasty. Unlike some corn dog batters, this is NOT a sweet one, which works out really well for us. We prefer it savoury.
I hope you give this recipe a try and if you do, don't forget to serve this up with some mustard and ketchup.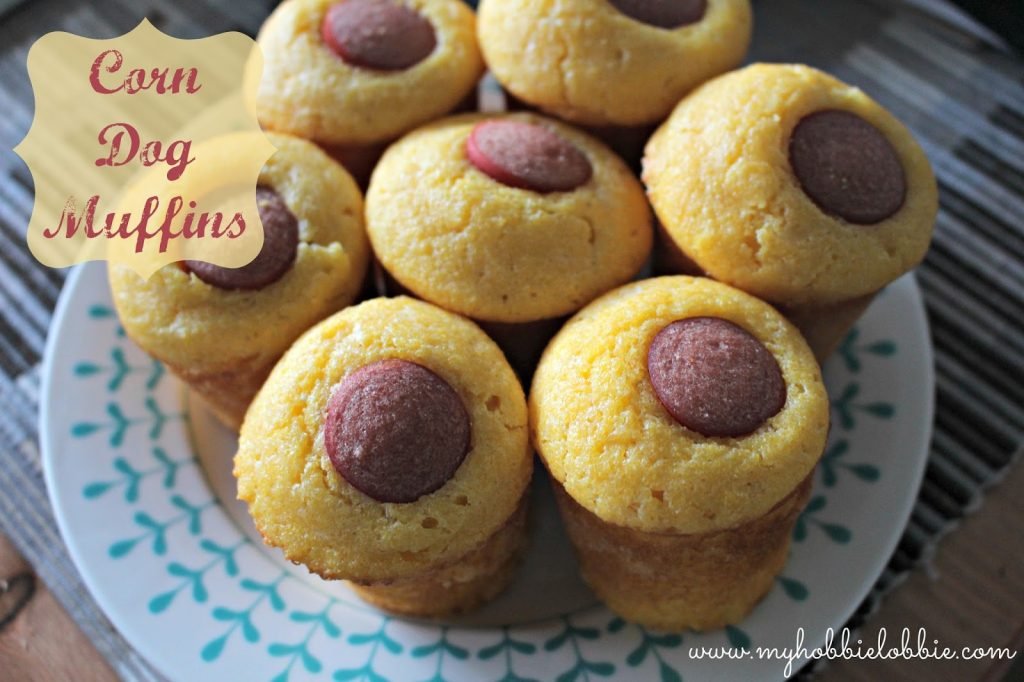 Corn Dog Muffins
1/4 cup butter, melted
1 cup yellow cornmeal
1/2 cup all purpose flour
1/4 – 1/2 tsp salt
1 cup buttermilk
1/2 cup milk
1 egg
1 tbsp baking powder
1/2 tsp baking soda
6 whole hot dogs (I used cocktail franks)
Preheat the oven to 200ºC.
Cut the hot dogs / franks into pieces long enough to stand in the centre of the muffin.
Melt the butter and leave it to cool a little while you get the other ingredients together.
Combine corn meal, flour and salt in a bowl.
In another bowl, combine the buttermilk, milk and egg.
Add the baking powder and baking soda to the milk and egg mix.
Stir the wet ingredients into the dry ingredients.
Add the slightly cooled, melted butter and stir well.
Spray the muffin tray with some oil.
Pour the batter into the muffin tin to fill about 2/3 of the tin.
Place the hot dog / frankfurter pieces in the middle of each muffin.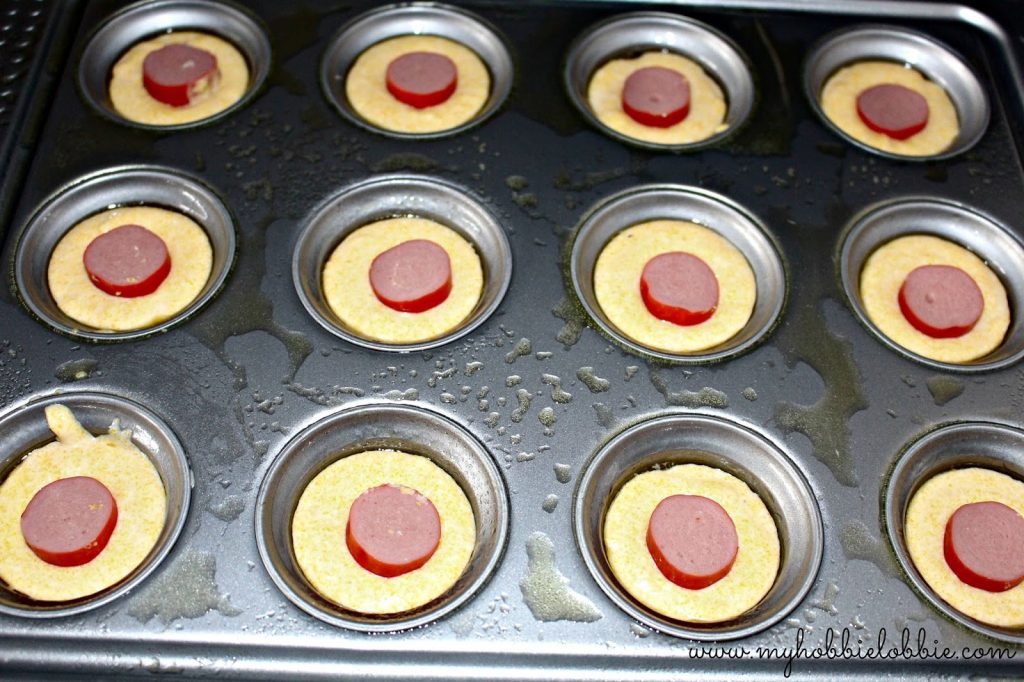 Bake until cornbread is cooked. It should take about 10-12 minutes.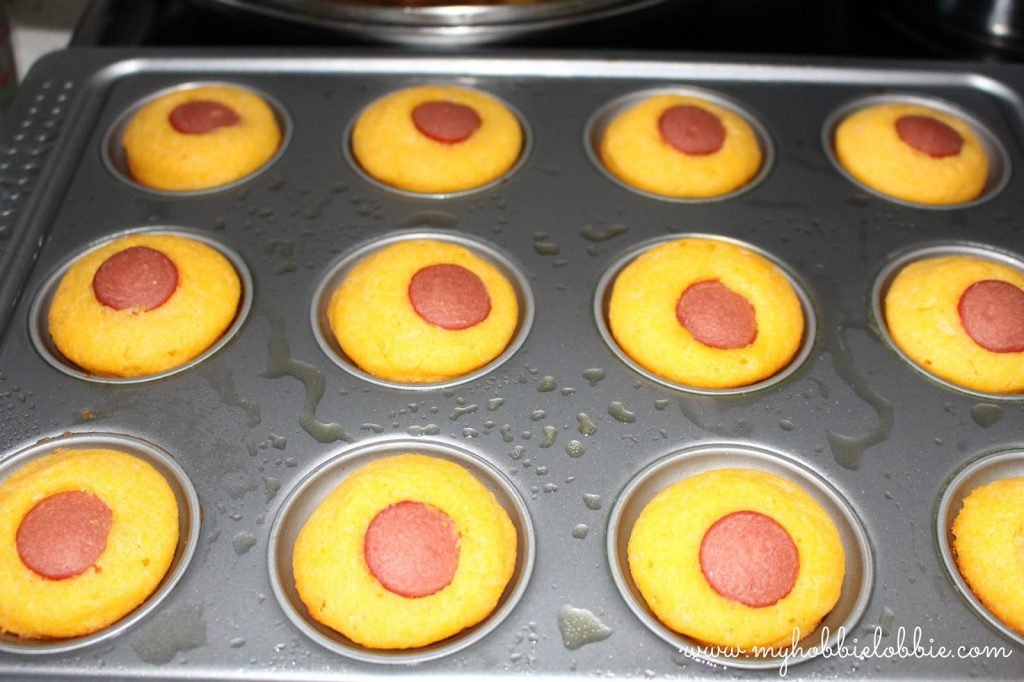 Serve up with some mustard and ketchup.
These muffins keep very well in the fridge. My plan was to use it for a snack through the week. They were finished well before the week was. All we did was warm it up before eating.
Oh it is my favourite time of the month again – its
SRC
reveal day. I tell you, I've been part of the Secret Recipe Club for a couple of years now, and I still feel the same excitement and sense of anticipation that I did at the first few reveal days. For this month's reveal I was assigned the lovely Sara's blog,
Cupcake Muffin
.
It was a hard choice this month. If you're wondering why, just pop over to Sara's recipe list and you'll know why. Sara's been blogging since 2007 and there were hundreds of recipes for me to choose from, each one better than the previous. There were so many delicious things listed that with great difficulty I managed to narrow it down to a few like these Chilli Corn Muffins, Whole Wheat Herby Rolls, Fried Fish Tacos and this Giant Cheddar Cornbread Biscuit, not to mention the winner, her recipe for Carrot Fritters.
I love carrots and I mostly eat them raw. But I also enjoy a good Carrot Cake (I need to post a recipe for this one soon) and Gaajar ka Halwa (carrot pudding). I don't really cook much savoury stuff with carrots. This was a fantastic opportunity to try out one such recipe. I had all the ingredients on hand, which was an added bonus – I love when that happens 🙂 This recipe is really quick and easy to put together. The rice flour adds a wonderful crunch to these fritters and the lemon zest flavours it in its own way. I absolutely loved this recipe. Though I might leave out the lemon zest when I make these again, just so that I can fully appreciate the flavour of the carrots. With the zest or without, this recipe would make a nice addition to any meal routine. Try it out and watch the kiddos eat up their veggies.
Thank you Sara, for a lovely recipe.
Carrot Fritters
Makes 5-6 fritters
3 medium sized carrots (approx. 180g), grated
1/2 tsp garlic powder
1/4 cup finely chopped onion
1/4 – 1/2 tsp red chilli flakes (depending on how spicy you want to make it)
1/2 tsp lemon zest
1 egg white
1 heaped tbsp rice flour
Salt, to taste
Freshly cracked black pepper, to taste
Olive oil, to fry
Combine the carrots, garlic powder, onion, chilli flakes, lemon zest, egg white and rice flour in a bowl.
Season to taste with salt and pepper and mix well.
Heat some olive oil (1/2 to 1 tbsp) in a non stick skillet over medium heat.
Form small patties with your hands and carefully place in the skillet.
Cook for about 2-4 minutes on each side till crispy.
Serve hot.
<!– end InLinkz script —>