This month I had the pleasure of being assigned, Mellissa's blog,
A Fit and Spicy Life
. That's one thing I really love about the
Secret Recipe Club
, each month you are introduced to a blog you are not necessarily familiar with. I had so much fun looking through Mellissa's blog. If you are a dog lover like me, you have got to go over and check out the doggie cuteness on her blog. And yeah, while you're there stay a little longer and check out her recipes. There's something for everyone.
There were two recipes that I was very eager to try. Strangely enough, they were very similar recipes – both munchies. I've been surrounded by sweet food. If you go to a supermarket here, you're bombarded by sweet stuff – cakes, cookies, pies, pastries and so much more. But it is practically impossible to find good savoury treats that are slightly on the spicier side. So when I saw these recipes for Spiced Pumpkin seeds and these Sriracha Peanuts, I was sold. So by now, you've figured that I chose to make the Sriracha Peanuts and I'm so very glad I did. These were super easy to make and they are so addictive, I had to put them in a container and tuck them away before I finished the whole lot. I made a few minute changes to the spice mix, but that's only because the blend called for in the original recipe, is not available in my part of the world. But the resulting peanuts are crunchy and tasty and I'm sure I'll be making many more variants, now that I've figured how to add a spicy glaze to nuts. Thanks Mellissa for the inspiration.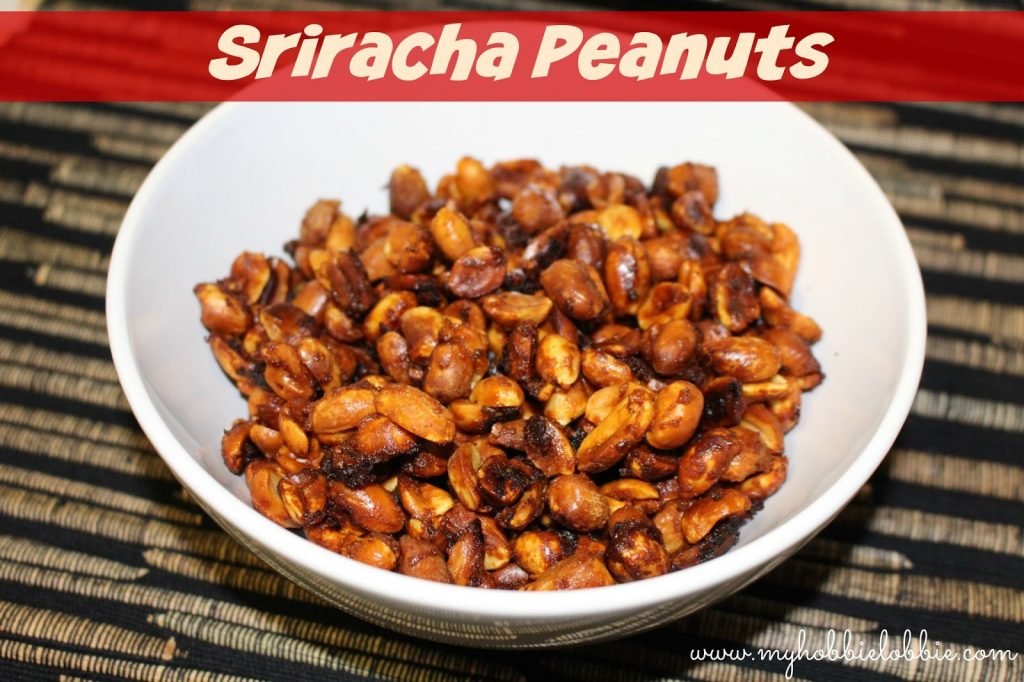 Sriracha Peanuts


2 cups salted peanuts
1 tbsp olive oil
2 tbsp Sriracha sauce
1 tbsp Smokey barbecue sauce
1 tsp Cajun spice blend
1/2 tsp garlic powder
Preheat the oven to 180ºC.
Line a baking sheet with foil and spray with a non stick spray.
Combine all the ingredients together in a bowl and stir to make sure all the peanuts are well coated with the sauces and spices.
Pour the nuts onto the lined baking sheet and spread so that they form an even single layer of nuts.
Bake for about 12-15 minutes till they're toasted. Carefully stir them through once at about the 10 minute mark.
Let the nuts cools completely.
You could either pack these up in an airtight container and nibble on it over the next few days, or serve them right up. If you put a bowl of these nuts in front of company, trust me, you will need to make a double batch and might still not have any left over.
I can't tell you how glad I am to report that I can finally make a good batch of Namakpare. What is Namakpare? These little gems are delicious, savory deep fried crackers. This Indian treat is found on every Indian festival platter (like a cookie platter). In my household, we never made this at Christmas, but I've always enjoyed them and have always wanted to be able to make some at home.
I made some a while ago, and while they tasted right, the texture wasn't. They were not crunchy. You see they are meant to be crunchy and that's what makes them so addictive. I was a little disappointed with this version and that was the end of it.
Anyway, I forgot about them for a little while and then all of a sudden, out of the blue, I came across a recipe a couple of days ago when I was looking around online. I decided I had to try them out. I was missing Indian flavours and I figured, this would be a good opportunity to try out another recipe.
This recipe simply involves making a tight dough, roll out into a disc, cut into diamonds, deep fry, cool down and … Enjoy! The ingredients required are also very basic ones. There is a good chance you will have all you need in your pantry. This recipe took me back home in a bite. The crackers taste fantastic, they are crunchy and so very yummy. Once completely cooled, you can store them in an airtight container. Enjoy them with a nice hot cup of tea.
Namakpare
Recipe from: Cooks Joy


1 cup all purpose flour
1/2 cup whole wheat flour
Salt, to taste
1 tsp cumin seeds
4 tsp ghee (clarified butter)
Water, as needed
Oil, for deep frying
Mix both flours, salt and cumin seeds.
Add ghee and rub it into the flour.
Using water slowly and gradually, knead into a tight dough. (You want the dough smooth but NOT soft.)
Cover and let the dough rest for an hour.
When you are ready to proceed, preheat oil for deep frying.
Divide the dough into 4 portions.
Working with one portion at a time (keep the rest covered so that it doesn't dry out), roll out to a disc about 1/8 inch thick.
Cut into diamond shapes. In India, they have a really cool cutter with multiple blades that makes the process much quicker. But if you don't have one, use a knife like I did. I forgot to take a picture of this step 🙁
Pictured above is a different dough (the one for methi namakpare …. recipe coming up soon), but the process is exactly the same.
You can always re-roll the scraps and cut them out.
Carefully place the cut pieces in the hot oil. I usually place the cut pieces in my slotted spoon and place the spoon in the oil and gently tip the pieces in. I find that's the only way I can keep from burning my hands.
Fry over a medium low heat. (This low frying ensures they cook through and get crispy later.)
When they are a nice golden brown, drain and set on some kitchen paper to get rid of any excess oil.
When completely cooled, store in an airtight container.
Note:
Because you've used ghee while kneading the dough, you wont need to sprinkle flour to roll it out, the dough will not be sticky.
Fry it over a medium heat. Frying it over high heat will just brown the outside while the inside will still be doughy and won't crisp up.