I've only recently had the opportunity to work with asparagus in the kitchen and I must say, I love this vegetable. I've only had it a couple of times and I can't wait for it to come back in season.
This recipe I'm going to share with you is so very simple, but it results is such delicious bites, I had to share it with you. I think if you have access to asparagus, it would make a lovely addition to your Easter table. There's hardly any prep involved and it cooks in the over real quick. You'll be happy to have a dish like this in your arsenal. I know I was.
I've tried sauteing and baking asparagus and I like both methods. But the oven roasted version results in such a lovely nutty flavor. That is something I didn't find with the sauteed version. But if you don't want to fire up the oven, don't hesitate to use a pan. The stove top version comes in a close second.
What I love about this recipe, is you can whip up a slightly larger batch easily. You can refrigerate the left overs and re-heat before serving.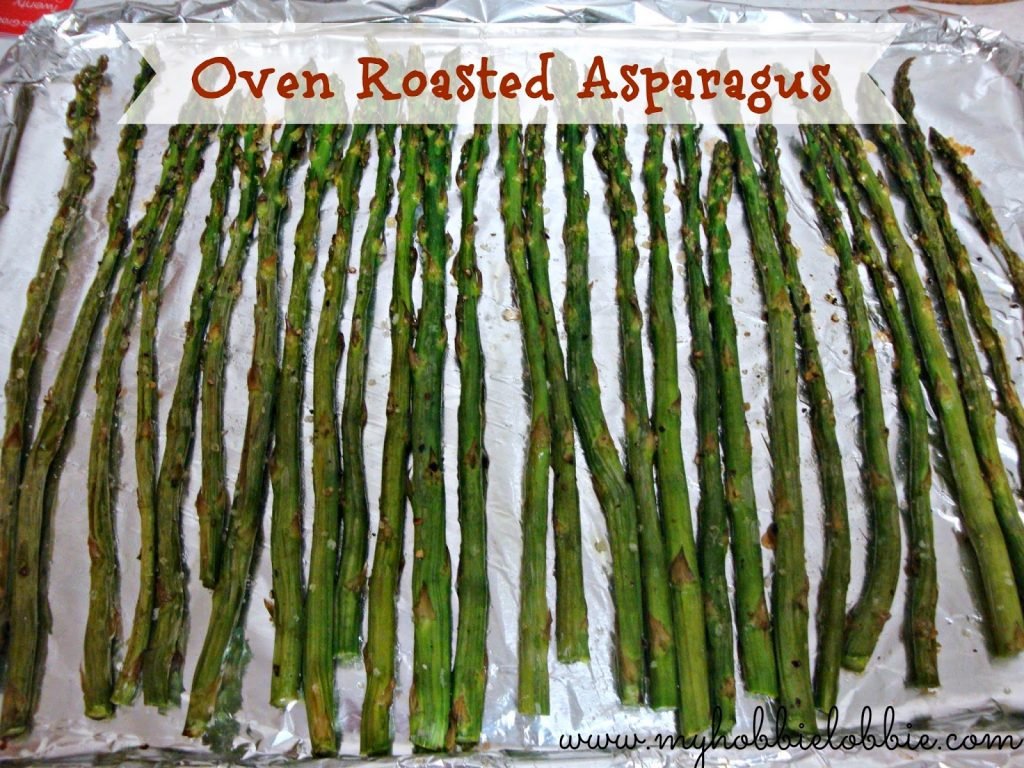 Oven Roasted Asparagus


1 bunch of asparagus (quantity doesn't matter, simply adjust your seasonings accordingly)
Olive oil
Salt, to taste
Freshly crushed black pepper, to taste
Garlic salt, to taste
Preheat the oven to 180°C.
Line a baking tray with some aluminium foil for easy clean up.
Wash and trim the asparagus (cut of the hard, woody ends).
Place the asparagus in a bowl. Drizzle with some olive oil, sprinkle with garlic salt, salt and pepper. Toss well and ensure that the asparagus is well coated.
Place the asparagus on the prepared baking sheet in a single layer and space them out. Bake for about 10 minutes or till lightly browned and tender. You can check by piercing with a fork.
Enjoy!!!
This recipe has been linked @
Hearth and Soul, by Zesty South Indian Kitchen
Picking up where we left off with the Bursting Berry Muffins, I thought it would be a good idea to use up some more of those frozen berries. I've been dying to have a good smoothie for a while now. The days have been consistently getting cooler here and we've had some wet spells too. So when we had a slightly warmer day than usual, I decided to make a Mixed Berry Smoothie, a farewell to Summer, of sorts. But I love the cooler weather. It usually means Christmas is around the corner, atleast it did when we were in Mumbai. The fact that its not is going to take a little getting used to here in the Southern Hemisphere. I still find it a little unusual to have a cooler Easter and a warmer Christmas. Anyway, I digress.
Back to this smoothie. Nothing could be simpler to put together. I used a packet of Nana's frozen mixed berries, a mix of blueberries, blackberries, raspberries and strawberries. I loved the flavors in this smoothie. It seriously made me wonder why I don't make them more often. Well, I guess it gives me something to look forward to when Summer is back. Another thing you mind want to consider is the seeds from the raspberries. I didn't care for the crunch of the seeds. If you're like me, you might want to consider leaving out the raspberries, but I think they add a nice flavor to the drink.
How do you deal with the seeds?
If you want to make a dairy free version, simply leave out the milk and yogurt and replace it with some fruit juice. I think that would be really delicious too.
We sat down to a nice big glass each after a particularly high intensity evening walk. My body was craving for something sweet and this was perfect. So much healthier than a soda and more delicious too.
Mixed Berry Smoothies
1 1/2 cup mixed frozen berries
1 ripe banana
1/2 cup of plain Greek yogurt
A splash of milk, optional (I needed a little to get the mix going in the blender.)
Sugar / Honey, to taste
Place all the ingredients into a blender and blitz till it reaches the desired consistency, nice and creamy.
I needed to add a little milk to get the blender going. Some people choose to use a fruit juice instead. You can use either.
Enjoy!
We're at another delicious reveal for the
Secret Recipe Club
– Group A. This month, my assigned blog was
Renee's Kitchen Adventures
. I had such a fun time looking through Renee's blog which is full of great recipes that are both, delicious and healthy. She is part of the Weight Watchers group and has had a lot of ongoing success with it. I've been trying to add such recipes to my repertoire so it was almost like destiny to receive this blog. For the reveal, I was torn between the
Grilled Jerk Chicken Thighs
, these
Mini NY Style Cheesecakes
, her mouth watering
Lightened up Salisbury Steak
and these little gems called
Almond Joy Shortbread Cookies
among many more. But when I saw her post on these
Bursting Berry Muffins
, I was sold. With a name like that and a picture to go with it, there was no way I could turn it down.
I happened to have some mixed frozen berries on hand and apart from smoothies, I was looking forward to using them in other recipes. This one was perfect. One thing I should mention before we begin is while Renee's recipe is a low fat one, I used the regular versions of yogurt, buttermilk etc. since I already had them on hand and didn't want to let them go to waste. So if you are looking for a healthier take on this recipe, please follow the original recipe on her blog. Also, the recipe calls for almond extract. I didn't have any so I used vanilla instead. I loved how simple and easy these muffins were to put together. The batter came together really quick and after spending 15-20 minutes in the oven, I had a batch of pretty muffins ready. We tried these with a nice hot cup of coffee in the afternoon and they were perfect for the cooler weather setting
in here. They were delicious. They were not too sweet either, just perfect.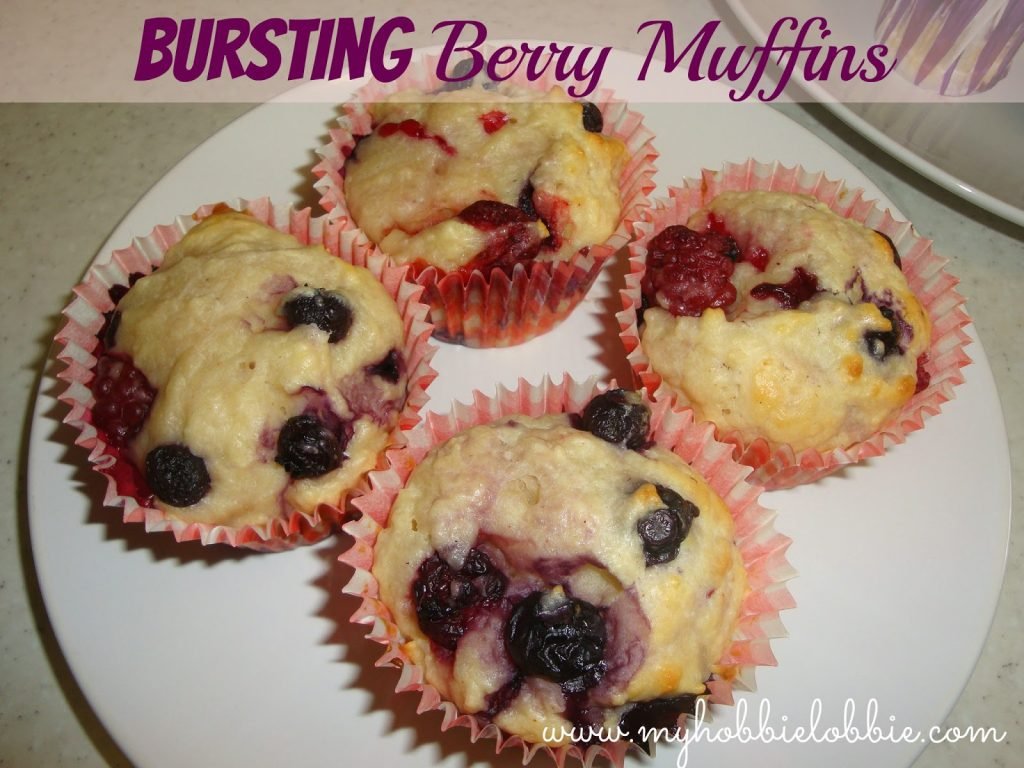 Bursting Berry Muffins


2 cups all purpose flour
1/2 cup sugar
1 tsp baking powder (the original recipe calls for 1 tbsp, but I wasn't sure about adding that much)
1/2 tsp salt
1/2 tsp cinnamon powder
2 eggs
1 cup Greek yogurt
1/4 cup buttermilk
2 tbsp Canola oil
1/2 tsp vanilla extract
1 cup frozen mixed berries (I had a pack of Nanna's mixed berries, but I left out the larger strawberries)
Preheat the oven to 180°C.
Place paper liners in a muffin tin.
Place the flour, sugar, baking powder, salt and cinnamon powder in a large mixing bowl.
In a smaller bowl, add the eggs, Greek yogurt, buttermilk, oil and extract and whisk well till combined.
Gently mix the wet ingredients with the dry. Do NOT over-mix. (Overmixing results in a tougher product.)
Fold in the frozen berries lightly.
Spoon the batter into the muffin tins and bake for 15-20 minutes or till a toothpick inserted in the center of a muffin comes out clean. (If you happen to pierce a berry, wipe the pick and try another spot, you are checking for the doneness of the batter.)
Enjoy!
I also made some mini muffins. They look kinda groovy, don't they? I love the color that the berries add to the muffins. So pretty!