I've always been in awe of Costco outlets. Back in India, we had nothing even close to those kind of outlets. When we moved to Australia, I was eager to get into one. I had also heard that shopping at Costco meant buying huge quantities and it was a while before I had the space for larger quantities. But a few months ago, when we moved, we finally had the space needed and we made our first trip to Costco.
For someone like me, who loves grocery shopping (There, I said it. Please don't hate me), Costco was a grocery shopper's heaven. From the time I set foot in it, I loved it. Fortunately for me, my husband enjoys our trips there too. On our last trip, I found some crab meat there and picked some up.
I've been longing to try some recipes for crab cakes, crab dip and crab rangoon, to name a few crab dishes. And while we always have fresh crabs available, I have been on the look out for some crab meat. It quickens the process and makes it easier. So buying crab meat was a no-brainer for me.
Recently, after a busy day of flower making, I found myself looking for a quick and easy dinner option and decided to make some crab cakes. I found a recipe I thought would be really nice and decided to try it out.
In a few minutes, I was frying up some gorgeous crab cakes. I served these crab cakes up with some sweet chilly sauce, some salad greens and bread. I loved how these crab cakes turned out. They were full of flavor and I had a delicious meal on the table in about 30 minutes. That's a winner of a dish for me. You wanna hear a little secret? They would make fantastic burgers.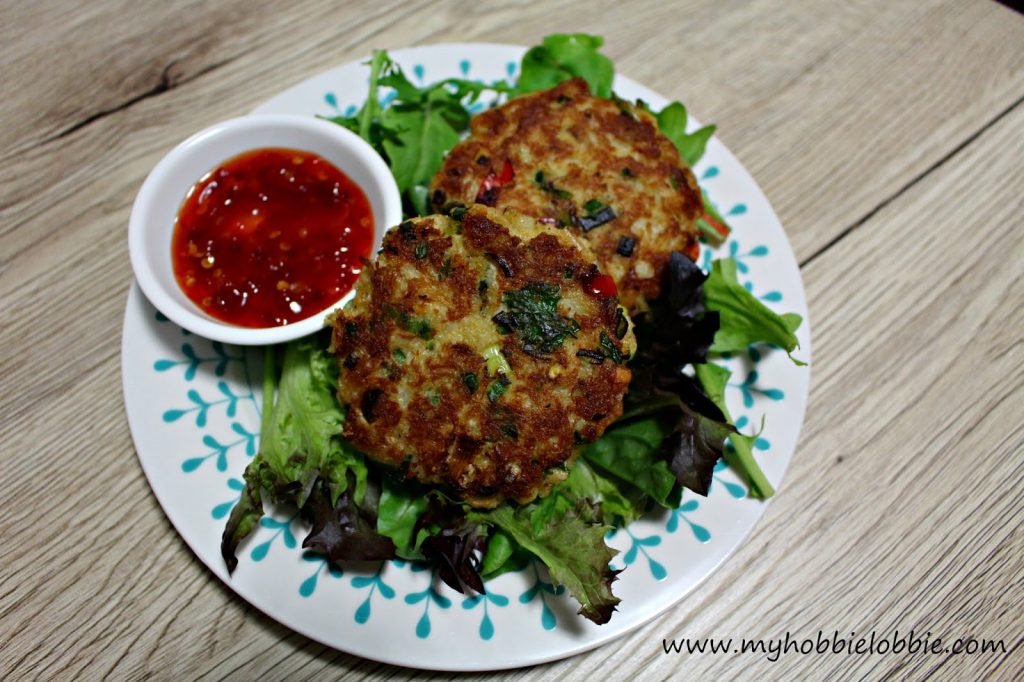 Quick & Easy Crab Cakes
Yields: 10-12 patties (depending on size)
Adapted from: Jo Cooks
12 oz crab meat
3 green onions, finely sliced
1 red birds eye chilli, finely chopped
1 egg
2 tsp lemon juice
3 tbsp mayonnaise
1 tsp Sriracha sauce
2 tbsp fresh coriander leaves and stems, finely chopped
1/2 cup Panko breadcrumbs
Salt, to taste
Freshly crushed black pepper, to taste
A couple of spoons of olive oil, to pan fry the patties.
Salad leaves, to serve with
Sweet chilli sauce, to serve alongside
In a large mixing bowl, place all the ingredients, except the olive oil, salad leaves and sweet chilli sauce.
Mix it all together till everything is evenly distributed. Mix thoroughly but gently.
Heat a spoon of olive oil in a pan on medium heat.
Form the mix into crab cakes and place on the pan. You may need to do this in batches.
Let the crab cakes fry till golden brown, about 3-4 minutes.
Carefully flip the crab cakes and fry on the other side till golden brown as well.
Serve them up with some salad leaves, sweet chilly sauce and some bread, if desired.
I'm glad to have you join me today. This is the last
SRC
reveal for 2015 and how this year has flown by. It's hard to believe that December is here. Its my favorite time of the year. Christmas decorations are starting to appear all over the place. Christmas carols have started playing. Bloggers have started holiday baking and cooking. Everything starts feeling festive. Shoppers are going nuts in most stores. There just is such a buzz this time of the year you cannot replicate at any other time. Have you started your Christmas planning, decorating and shopping yet? I'd love to hear about it.
For this month's SRC reveal, I was assigned Andrea's lovely blog Adventures In All Things Food. I thoroughly enjoyed reading through it. Andrea and her family have moved from the city to her husband's family farm and blogs not just about recipes and the food she cooks, but about life on the farm as well. I loved reading about it. I don't think I ever mentioned this before, but my husband has always dreamt of working the land. So these posts felt really special. I was spoiled for choice this month. She has so many delicious recipes, both sweet and savory. I had a hard time narrowing it down. I can't wait to try out her Gyoza, Tiramisu Cheesecake, Roasted Vegetable Tart, Pea and Leek Risotto and her Cherry Pie Shortbread Thumbprint Cookies, to name a few 🙂
For the reveal I decided to try out her Thai Inspired Chicken Patties. There is so much to love in this recipe. For starters you use ground meat. You sneak some veggies into the patties and you could tell the kids that these are Christmas confetti patties, with the green from the zucchini and reddish orange of the carrots speckling the patties. They are full of flavour and yes, please remember to serve it up with some sweet chilli sauce. That is a combination you will love. These patties will be a part of my weeknight dinner rotation. I stuck to the recipe but used just 1lb ground chicken instead of 1 1/2lb. since thats all I had. And used lemon juice instead of lime zest.
Thanks Andrea, for a lovely recipe.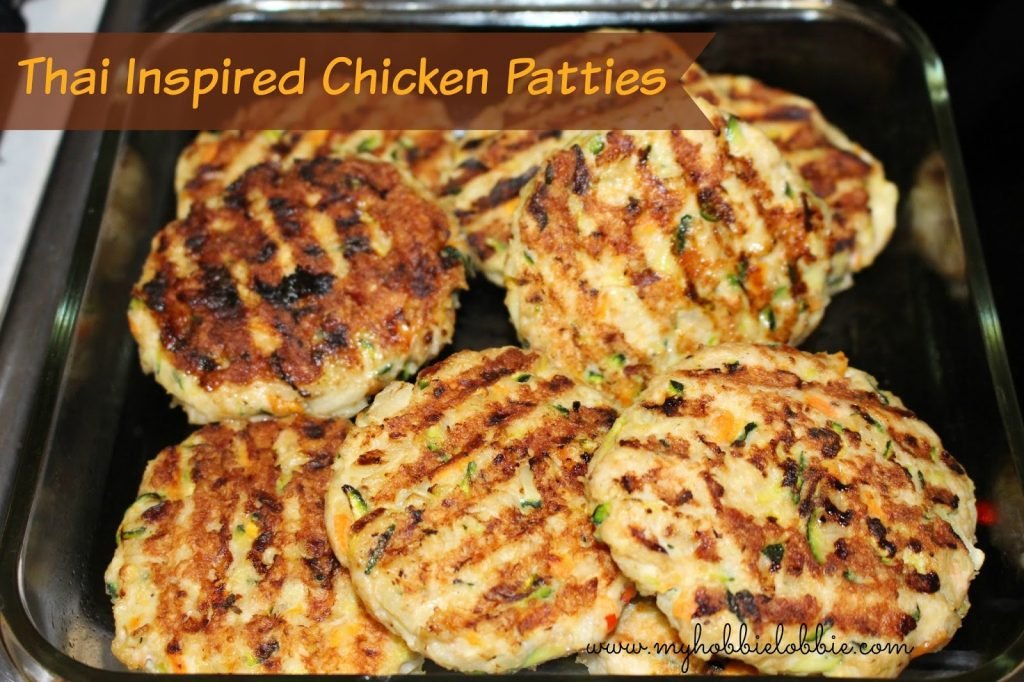 Thai Inspired Chicken Patties


1lb. Ground chicken meat
1/2 large white onion, finely chopped
2 garlic cloves, finely chopped
1 cup zucchini, grated
1 carrot, grated
1 tbsp fresh ginger, grated
1 tbsp lemon juice
1 red/green chilli (I used birdseye because we like our food hot)
2 tbsp fish sauce
1 tsp soy sauce
1 egg, lightly beaten
1/2 cup bread crumbs
Sweet Chilli sauce, for dipping
Salt, to taste
Sprinkle some salt on the grated zucchini and keep aside for about 5 minutes. Drain all the liquid and place in a large bowl.
Mix with all the other ingredients except the sweet chilli sauce.
Heat a griddle pan or the grill.
Lightly spray with some oil.
Form the mix into patties about 1/2 inch thick and sear both sides about a couple of minutes.
Place on a baking sheet and finish off in a 350º oven for about 5 minutes or till they cook through.
Serve with the sweet chilli sauce and a large salad.
<!– end InLinkz script —>
This is another treat, thats really tasty, very moreish and can be served as a side at a meal or coupled with some
homemade fries
or mashed potatoes and a salad, is a meal in itself. Whenever I make these, I always like having a few extra, which I simply refrigerate and keep for another day. It stays good for about 3-4 days, it may last longer, but we always manage to finish it off by then. You simply bring it to room temperature and heat it in a skillet, covered, and you're good to go.
P.S. I won't be posting for the next few days, since I'm headed out of town for a week. See you when I get back. I have so many recipes lined up to share with you guys, I can't wait to get those posted. So make sure you come back. 🙂
Beef Cutlets
(Makes about 10 depending on size)
250g ground beef (beef mince)
1 large or 2 medium onions, finely chopped
2 green chillies, finely chopped
3-4 cloves of garlic, finely chopped
1/2″ ginger, finely chopped
1 tbsp fresh coriander leaves, finely chopped
1 egg
1/4 tsp black pepper powder
1/4-1/3 tsp turmeric powder
1/2 tsp red chilly powder
Salt, to taste
2 slices of bread
Bread crumbs, to coat the cutlets
Vegetable oil, for frying
Soak the slices of bread in water for a few seconds, drain out all the liquid and crumble. Mix together all the ingredients except the bread crumbs and vegetable oil.
Make sure all the ingredients are well mixed and evenly distributed.
Shape into cutlets.
Coat with bread crumbs.
Heat 2 tbsp oil in a pan. Carefully place the cutlets in the pan and let it cook on a medium heat till its done to your liking. Turn over and cook the other side as well.
Repeat till you're done with the meat mix, adding more oil to the pan as and when you need to.
Serve hot with some fries and a salad, and some spicy tomato ketchup.
Enjoy!!!
This recipe is linked to –
What's Cooking Thursdays
Full Plate Thursdays
Thrilling Thursday
It's a Keeper Thursday