…. I'm back home after a 3-week long trip to India and it feels great to be back. I can't wait to try out some yummy Indian treats at home and share it with you. It may take a little while for that to happen. In the meanwhile, as I unpack, get through piles of laundry and dig my way out from under a mountain of emails and such, here's a quick, no-fuss recipe thats perfect for a weeknight or whenever you dont have much time.
You know I'm all for cooking and baking from scratch as far as possible. But, I like having a few cheats on hand for the days when I can't spend too much time in the kitchen or am too tired to. So a while ago, on two separate trips to my local Aldi store, I picked up these bad boys –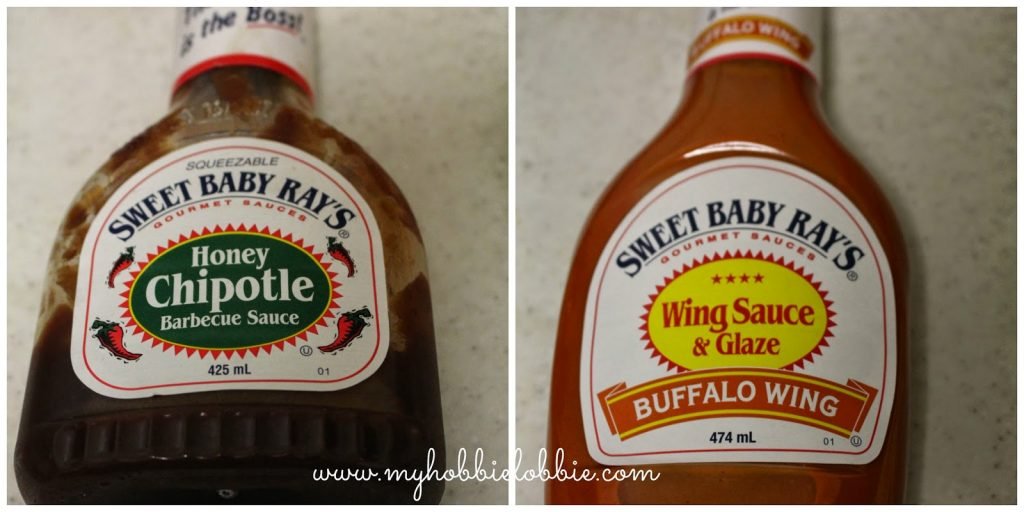 I'd picked up the Barbecue sauce a while back and loved it, so when I saw the Buffalo Wing sauce, I just had to try it out.
This chicken is super easy to put together, literally 3 easy steps – I use my trusty basic chicken marinade and let the drumsticks soak in all the flavour. Fry them in a pan with a little oil and toss with the sauce. Serve up with some salad and enjoy 🙂 I used 8 drumsticks, but you could easily reduce or increase quantities. This time around I used drumsticks with the skin on. You could use skinless drumsticks if you prefer.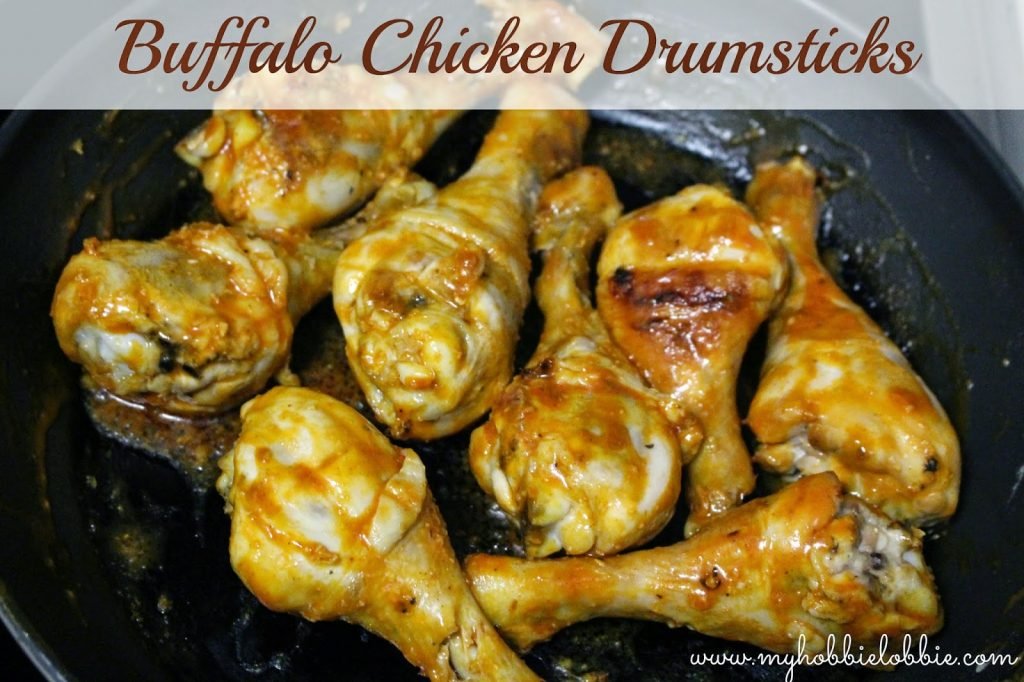 Buffalo Chicken Drumsticks
8 chicken drumsticks
Salt, to taste
Black pepper, freshly crushed to taste
Lime / lemon juice, to taste
1 tsp ginger paste
1 tsp garlic paste
1 tbsp oil
Buffalo / Barbecue sauce, to taste
Mix the salt, pepper, lime juice, ginger and garlic paste.
Add the chicken to this and toss well.
Leave to marinade for about half an hour.
Heat oil in a pan.
Fry the chicken pieces till done.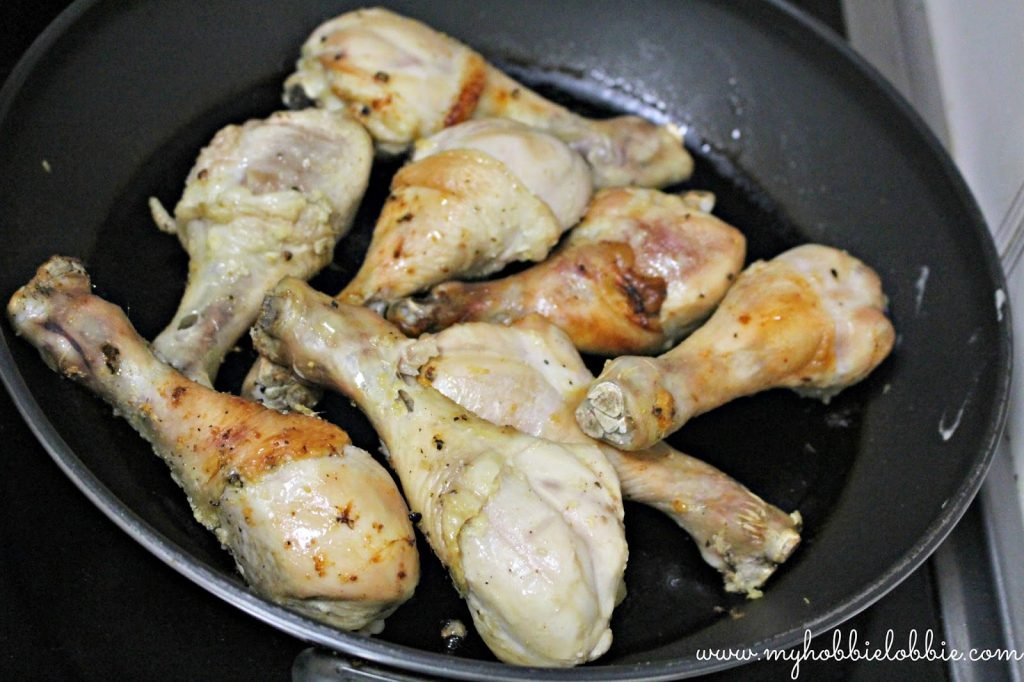 Add the buffalo / barbecue sauce and toss well. I leave it on the heat for about another minute to heat through.
Serve up.
**NOTE** – The picture above shows just the Buffalo Chicken version, but I have tried this with the barbecue sauce and it turns out fantastic.
This is one of my favorite recipe when I have ground meat on hand and want a meal thats warm, hearty and quick. There are a couple of processes involved, but with a little planning, this makes for a good weeknight meal. This time around I've used ground turkey for the meatballs, but I've also used, ground beef and chicken in the past and they work equally well. If I am using beef, I just add a tablespoon of Worcestershire sauce to the mix. These pictures are from when I was restricted to cooking in a kitchenette the size of a box, so if I can do it, you sure can.
To make life a little easier, you can make the meatballs and the sauce ahead of time, if you'd like. Sometimes I fry up the meatballs and store them in the fridge for a few days till I'm ready to use them. They also make a great meatball sub.
Here's how I make this recipe – I start on the sauce and while the sauce is simmering, I prep the meatballs and grate the cheese. When I'm frying up the meatballs, I boil the pasta alongside. At times, I've had all three happening at the same time as well. Just make sure you keep an eye on everything. I usually serve this with a nice fresh salad and at times some garlic bread, and that for me is the perfect meal, or atleast it makes me a very happy camper.
Another thing worth noting, is that while the the sauce and meatballs sitting over a bed of pasta might make a prettier picture, I would recommend stirring the sauce through the pasta before serving up. And its not just me, I was reading up someplace and a lot of people vouch for the fact that the meal is more flavourful when you toss the pasta and sauce together before serving.
If you don't have ground meat at hand, cocktail sausages / frankfurters cut into little slices also do the job. Precooked (grilled or roasted) chicken and shredded, works nicely too. I love how versatile this recipe is.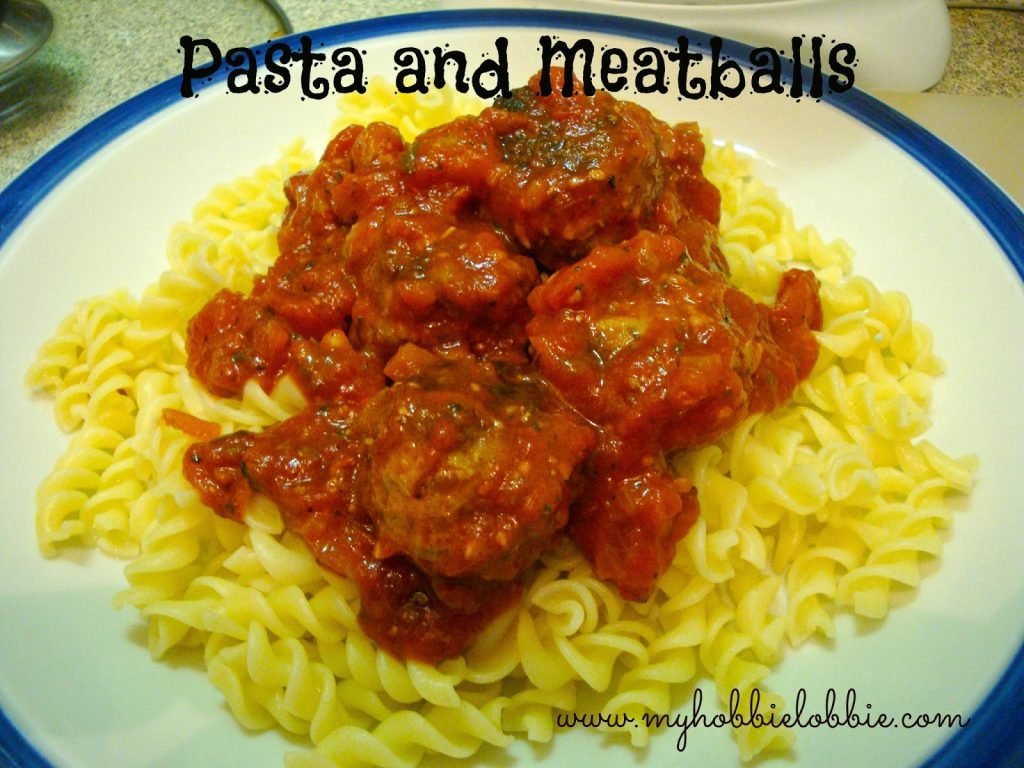 Pasta and Meatballs


For the meatballs –
500g ground turkey
1 onion, finely chopped
1 -2 green / red chillies, finely chopped
Salt, to taste
Freshly cracked black pepper, to taste
1 egg
2 slices of bread, soaked in water for a minute or so, squeeze to drain all liquid and crumble
1/2 tsp turmeric powder
1 tsp red chilly powder
A couple of tbsp Vegetable oil
In a large bowl, mix all the ingredients, except the vegetable oil
Form into meatballs.
Heat a pan with a tablespoon of vegetable oil.
Fry the meatballs till they are golden brown.
Take off the heat and keep aside.
NOTE: You may need to fry the meatballs in batches. Add more oil to the pan between batches as needed.
For the sauce –
2 cloves of garlic, peeled and finely chopped
1/2 onion, finely chopped
1/4-1/2 green capsicum, chopped
1/2 tsp dried mixed Italian herbs (you can use fresh if you have them on hand)
1/2 tsp red chilli flakes, optional
1 tsp smoked paprika powder
1 can whole peeled tomatoes / diced tomatoes
Salt, to taste
Freshly cracked pepper, to taste
1 tbsp olive oil
Place a saucepan over medium heat and pour in the olive oil.
Tip in the chopped garlic and saute for a few seconds till nice and fragrant. You do not want the garlic to burn.
Add the onion and fry off till the onions have softened.
Add the capsicum and stir fry for a couple of minutes.
Add the herbs and spices and stir well .
Add the can of tomatoes. If you are using whole peeled tomatoes, just use your spoon to break them down for a chunky sauce. If you want a smoother sauce, blitz the tomatoes in the food processor and then add it to the saucepan. I like mine chunky. (Also worth noting is they say the quality of tomatoes used to can whole, peeled tomatoes is better. The slightly more compromised / bruised ones go to make the canned crushed / diced tomatoes.)
Add salt to taste. Bring to a boil.
I add about 1/4 can of water (use the tomato can to measure and swirl it around to use up all the rest of the tomato sauce) and add as needed, to give you the desired consistency. Let it come to a boil again.
Cover and let the sauce simmer for about 10-15 minutes on low heat. The flavour in the sauce deepens with simmering.
Add the meatballs / chopped up sausages / shredded chicken. Gently stir and let it simmer till everything has warmed through.
For finishing the pasta –
While the sauce is simmering, boil your pasta according to the package instructions.
Add the sauce to the cooked and drained pasta gradually, depending on how much sauce you like with your pasta.
Toss well and plate up.
Grate some parmesan cheese over the top and serve.
If I have any sauce leftover, I use it as a base sauce for pizza. You could also use it to make some meatball subs. Yummm!
Chicken is a protein that we eat most frequently at home. Whether it is a curry or fried, roasted or in a salad, we love it. What I also love about it is that is easy to prepare and cooks fast. One of many new edible ingredients that I've had access to in the last year is a Cajun spice mix. A lot of the spices I use are Hoyt's including this one.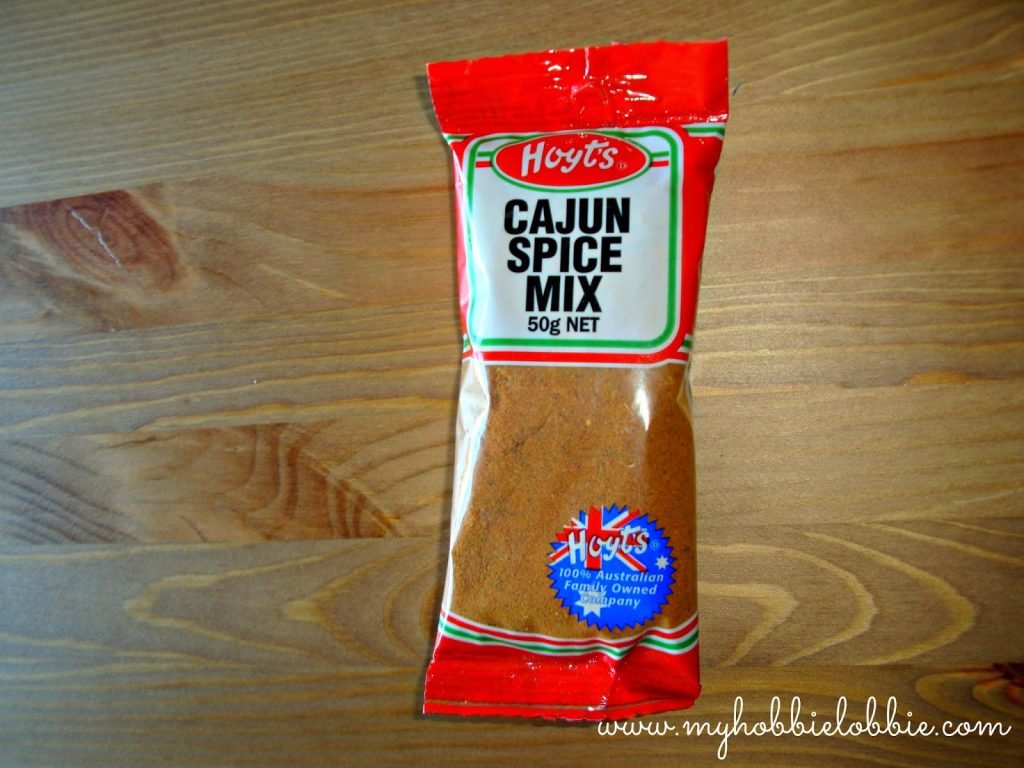 This is the first brand of Cajun Spice that I tried and enjoyed it a lot, so I've just stuck with it. And moreover, it is a 100% Aussie family owned company; I try to buy local whenever possible. I know there are loads of folks who make this blend at home and sometime in the future, I fully intend trying my hand at making it myself. For now, I'll stick with what I have easy access to.
Making Cajun chicken my way, couldn't be easier. I use smaller pieces of boneless chicken. Sometimes I use thigh fillets, other times I use breast fillets. I almost always buy the whole bird and then portion it out and cut it up at home (that is husband's department though). You could use whatever cut you like. Its nice to leave the chicken to marinade for about half an hour, but at times, when I've been pressed for time, I've made it after just 10 minutes and it still turns out pretty good. This is not a recipe as such, more of a guide to some yummy chicken.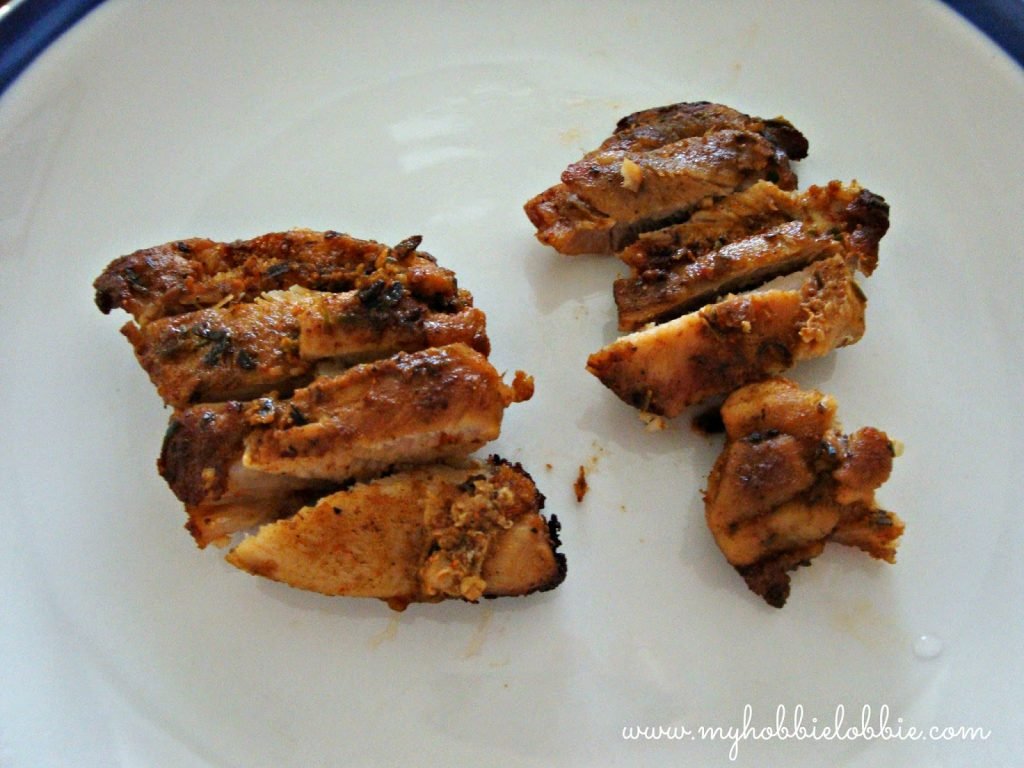 Boneless chicken pieces
Salt, to taste
Lime juice, to taste
Cajun spice blend, to taste
1 tbsp Vegetable oil
Take off the skin and trim the fat, if any, from the pieces of chicken.
Sprinkle the salt and cajun spice mix over the pieces of chicken.
Squeeze the sour lime juice over the chicken. I think the lime juice is what brings out the wonderful flavors of the spice blend. Its definitely not the same without the tang from the citrus juice. If you don't have lime juice at hand, you could use lemon juice too, you'll just need to use a little more.
Toss the pieces well to ensure they are well coated. Rubbing the spices into the pieces of the chicken works really well. Leave the chicken pieces in the spice rub for about half an hour.
Heat the oil in a pan. Carefully place the pieces of chicken in the pan and fry on both sides over medium heat till done. Depending on the number of chicken pieces you are frying, you may need to cook it in batches. Do not overcrowd the pan. You may need to use a touch more oil for each batch. (Tip: I start on a slightly higher heat to seal in the juices and then lower the heat to cook it through.) If you have a grill, I'm pretty sure this would taste fantastic grilled too.
You could serve these chicken pieces as they are with a salad for a fantastic quick weeknight meal. Or you could do what I do – cut up the pieces and use them in wraps and take them to work for a great packed lunch option. Here's how a put the wraps together.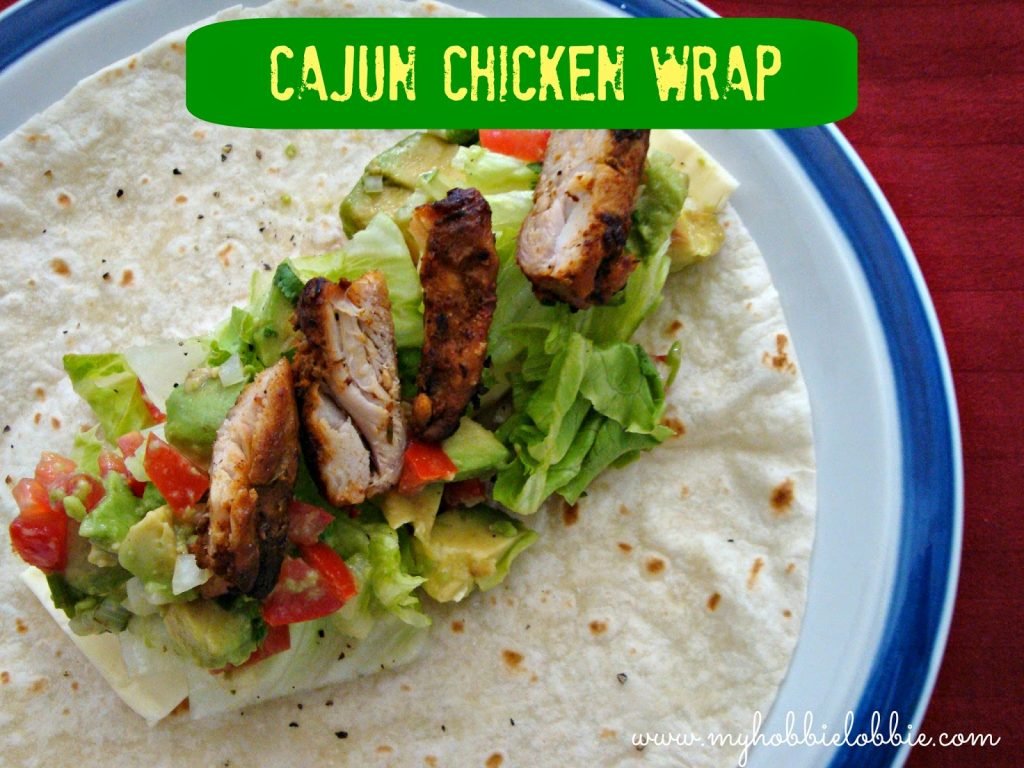 For the Wrap –
Flour tortillas (I used store bought)
Iceberg lettuce, chopped
Cheese slices, optional
Cajun chicken pieces
Lay the cheese in the middle of the tortilla and place some lettuce on top.
Top that with the the chunky guacamole and lay the chicken pieces over it.
Carefully, roll the tortilla to make the wrap.
Tip: If I'm eating the wrap straightaway, I warm the tortilla before making the wrap.
Enjoy!!!
** This is not a sponsored post. I'm just sharing with you a product I really enjoy.
I've been craving some good old Indian food, and not just anything, but something along the lines of Chicken Tikka or Tandoori Chicken. So I picked up a 'heat & eat' version of Chicken Tikka at the local supermarket and let me tell you, it was awful, just awful. It looked like the real thing, but tasted nothing like it. It was so disappointing. I knew the only way I was going to get a decent version was to try making it myself. Now I don't have a coal fired barbecue pit yet, so I would have to make do with the oven. Next, I looked around for a while on the internet till I found a recipe that looked and sounded interesting enough to try.
I marinated the meat in the morning and baked it in the oven that evening. Now I know you're thinking, isn't Chicken Tikka usually in the kebab form, cubes of boneless chicken meat on a skewer? I had a couple of pieces of chicken leg (drumstick and thigh attached) in the freezer and I decided to use that. The marinade is a Chicken Tikka one, but the cut of meat used is more a Tangdi kebab (Tangdi = leg). I loved the way this turned out. The meat actually had a little char on the outside but was moist and tender on the inside. That marinade was fantastic, the flavors were perfect. I was thrilled with the result. Now I don't have to rely on the store bought stuff.
My husband loves a good tandoori chicken, or kebabs of any sort really. He was so excited to see this on his dinner plate. He considers himself a connoisseur of kebabs, of sorts and he loved it. So I know I'm onto something good here. This recipe is a keeper. Serve this with some
naan
and a
raita
and treat yourself to a good homemade Indian meal.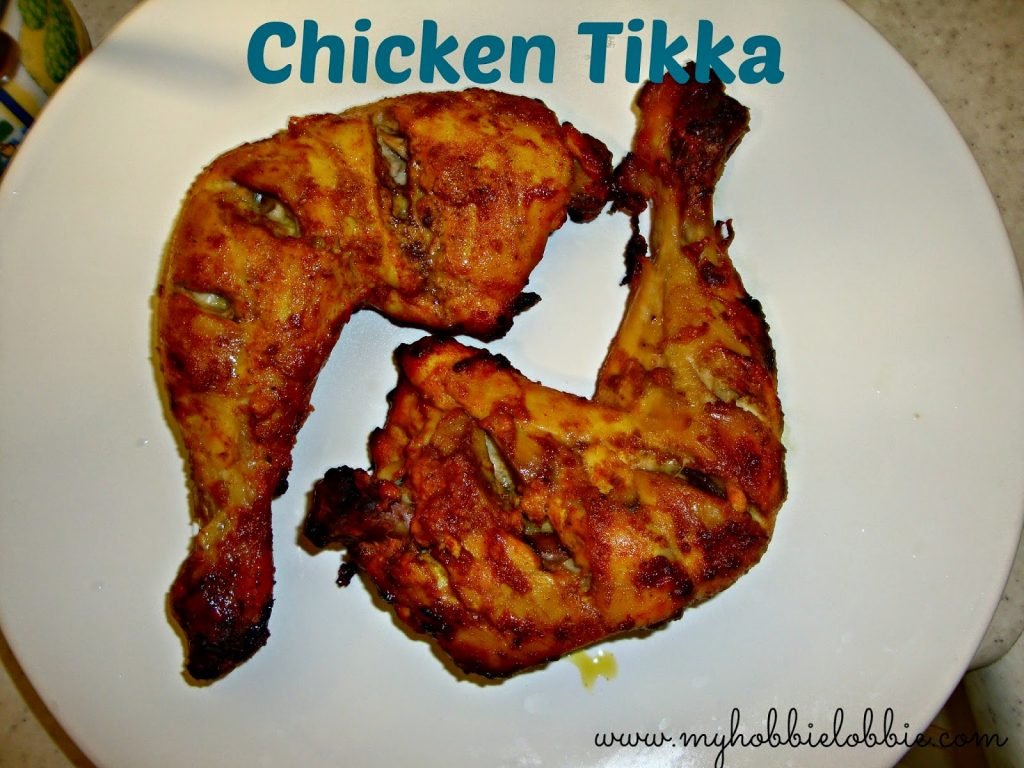 Chicken Tikka
2 chicken legs (you could also use boneless chicken cubes)
1/4 cup plain yogurt
1 tsp garlic, finely chopped
1 tsp ginger, finely chopped
1 tsp coriander powder
1/2 tsp cumin powder
1 tsp Kashmiri chilly powder (or used a mild red chilly powder)
1/2 tsp salt
1/4 tsp garam masala
1/4 tsp turmeric powder
Mix all the spices with the yogurt.
Make a couple of deep slits with a sharp knife in the thigh and the drumstick on both sides. Marinade the chicken with the yogurt and spice mix. Cover with some cling film and leave it in the refrigerator overnight.
When you are ready to cook it, preheat the oven to 180°.
Discard the excess marinade and place the chicken on a foil-lined baking tray, for easier clean up. Bake for about 20 minutes. Baste the chicken with a little olive oil.
Turn over and cook for another 15-20 minutes or till the juices run clear (the time will depend on the size of the chicken pieces), when the flesh near the joint is pierced with a knife. (The internal temperature of the chicken should have reached 165°, if you are using a meat thermometer). Baste midway if needed.
Enjoy!!!
Notes:
1) If you are using boneless chicken cubes, and you intend using bamboo skewers, soak the skewers in cold water for about half an hour to prevent it from burning in the oven.
2) Also, the cooking time for the cubes will be lesser.
Over the years, in my family, a roast chicken (or two) has become a staple at our family gatherings. There's something so familiar and comforting about it. Now that we've moved to a different country, I still find myself longing for those gatherings or maybe, just maybe, what I'm really longing for is a good roast chicken, lol.
I recently picked up a whole bird from the supermarket. I usually pick up an RSPCA approved product. My take on a roast chicken is usually a very simple, yet flavorful marinade. Of course, you can serve this chicken up at a regular weekend meal or even at a more prominent family get together or party, by putting up some clever sides. I will share some ideas for sides over time. For today, we'll stick with the roast chicken. So if you've never made a roast chicken at home before, this is a good recipe to start with. Chances are you'll already have all the ingredients in your pantry. I'm sharing this recipe with you today so that you have a little time to try this out before Easter and then maybe, serve it up for Easter as well.
When roasting a chicken, the cooking time will vary based on the sized of the bird. After doing a little reading up, a common rule of thumb for cooking time is 45 minutes per kilo of chicken + 20 minutes. I use this as a guide and this is something you should keep in mind if you've never roasted a chicken before. How do you work out cooking time required for a good chicken roast?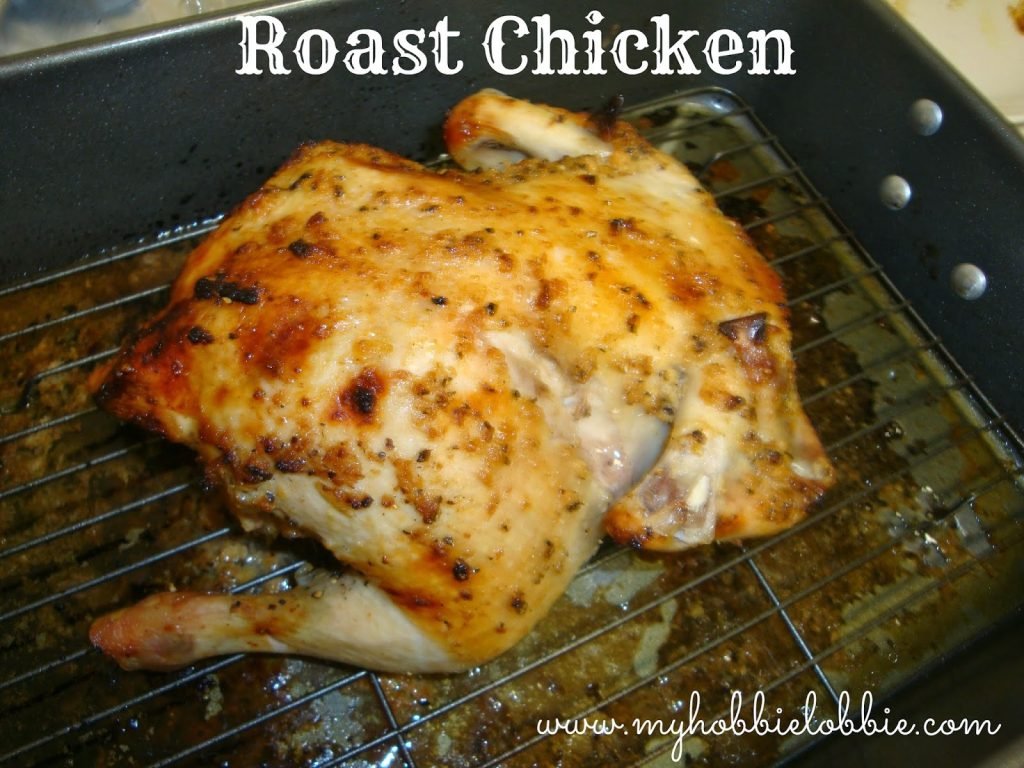 Roast Chicken
1 chicken, whole, skin on (I used a smaller sized one about 1.2kilos )
Salt, to taste
Crushed black pepper, to taste
Juice of half a lemon
1 1/2 tsp Ginger garlic paste
1 – 1 1/2 tbsp Olive oil
Wash and pat the chicken dry using paper towels.
Spread all the marinade ingredients on the chicken as well as in the cavity and rub it in well, almost like a massage. Leave to rest for about an hour.
Heat the oven to 200°C.
This time around, I placed the chicken on the rack in the roasting tray. I think it works well. This way the chicken isn't cooking in the liquids. The skin turns out crisper.
Place the chicken in the hot oven. After about 10 minutes, lower the oven temperature to 180°C. Bake for required time till the chicken is cooked. Halfway through the cooking process, I baste the chicken with the some olive oil.
(If some of the marinade has dripped onto the roasting tray and seems like its burning, carefully add a splash of water to the tray, just a tiny bit to keep it from burning. I had to do this a couple of times.)
Please note the cooking time instructions above. To check if the chicken is cooked well, insert a sharp knife in the joint where the leg joins the body. If the juices run clear, the chicken is cooked. If it is still pink, the chicken needs to cook more.
When the chicken is cooked, cover with foil and let it rest for about 10 minutes.
Serve up with your favorite sides.
Enjoy!!!
What are some of your favorite sides? I'd love to hear from you.
As promised in the last post, here's one on the chicken on skewers. Now this recipe is quick to put together, but the flavors are much better if you get started a few hours before you want to serve up. There is barely any hands-on work other than marinating the chicken pieces, but the flavors get a chance to do their thing and you end up with a lot of deliciousness. However, if your in a rush, try and give the chicken at least an hour to sit in the spices.
When you use wooden skewers, its very important to let them soak in cold water for about 30 minutes to an hour. If they float to the top use a small plate to weigh them down and keep them submerged in the water. This is important since you don't want them lighting up in the oven with the heat. Ofcourse, if you're using metal skewers, simply skip this step. I prefer the wooden / bamboo skewers, because that means a little less washing to do after the meal. 🙂 But feel free to use what you have on hand.
This recipe is very versatile, you can alter spice levels and substitute them for others you prefer. You can also easily double or triple quantities of chicken based on how many people you need to feed.
I served the chicken with some
Baked Cauliflower Poppers
and some plain yogurt and a salad to make a wonderful weeknight meal. It made for a delicious, healthy meal.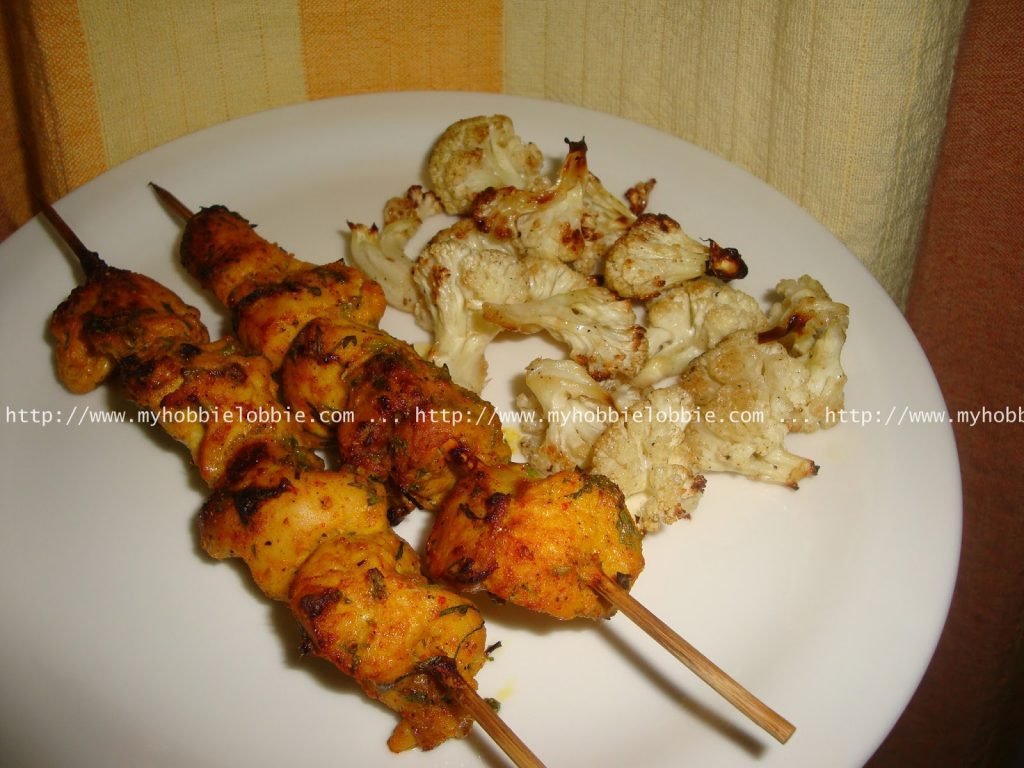 Chicken on Skewers
250g boneless chicken
1/3 cup plain yogurt
Salt to taste
1/4 tsp turmeric powder
1/2 tsp red chilly powder
1/4 tsp coriander powder
1/4 tsp cumin powder
2 tbsp fresh coriander, finely chopped
11/2 tsp ginger garlic paste
Olive oil, to drizzle over the chicken
Soak the wooden / bamboo skewers in some cold water for 30 minutes to an hour.
Cut the chicken into cubes.
Mix the spices in the yogurt in a bowl and check for salt levels and adjust if needed.
Add the chicken pieces to the spice mix and toss well to coat.
Cover the bowl with some cling film and leave it to marinate in the fridge for about 4-6 hours or overnight. If you are in a rush, try and let it marinate for atleast an hour.
When you're ready to bake, carefully thread the chicken pieces onto the wooden skewers. Drizzle some olive oil over the chicken.
I placed the skewers on a foil lined baking dish to catch the drip (since I didn't want to add to the clean up later).
Bake in a preheated oven (about 180ºC) on the top shelf under the grill, for about 8 to 10 minutes on each side, or until golden and cooked through.
Notes:
Don't cut the chicken pieces too small else they'll dry out while cooking.
You may baste the pieces with a little olive oil when you flip them over.
Welcome to this month's installment of the Secret Recipe Club or
SRC
. I can't believe another month has gone by too. My posts on this blog have been rather sparse lately but I absolutely look forward to SRC reveal days every month. Oh! by the way, I have to share whats been taking up so much of my time lately – I've gone back to college – I'm pursuing a course on Baking, Pastry and Confectionery. It has been action packed and very labor intensive, but I've learnt so many new things. This has got to be one of the best things I've done, ever. It makes me feel like I'm another step closer to starting my own cafe. More on that later, when I can spare some time to breathe! 🙂
Back to SRC. This month I was assigned a blog called Avocado Pesto written by Vicky. Vicky is fairly new to SRC, this month being her second. Welcome to the club Vicky! I hope you're having fun here! Do stop by when you get the chance, there's some lovely recipes you can pick from there. Vicky is soon going to embark on a 2 year trip backpacking around Europe and Asia along with her boyfriend D. It sounds really exciting and I can hardly wait to read about their travel exploits. My husband and I have a similar trip in mind, only not so soon. Maybe a few years down the line, fingers crossed. But I can sure use a few tips.
For this months reveal, I found it incredibly hard to stick to just one recipe. So I decided to do two instead. This was a lovely little meal in itself, easy to put together and incredibly flavorful. I made a delightfully Smokey Potato Salad. And guess what made the salad smokey – BACON. Prior to this, I had never tried bacon in potato salad, but it is so good in there, it makes me wonder why I didn't try it out before. I used Vicky's recipe for Grilled Chicken Thighs but pan fried mine instead of grilling it. I had to make a few adjustments due to non availability of a few ingredients. The result was still fantastic. I see myself making this quite a few times. But do forgive the picture quality – I had to use my phone for these pictures since my camera battery had run out of juice. Also, I think exhaustion makes you do some pretty weird stuff. I cannot figure out why I used this plate, you can barely see the chicken. However, do NOT let these pictures fool you. We loved the meal, and if you love fried chicken, bacon and potato salad (not necessarily in that order), I know you will too.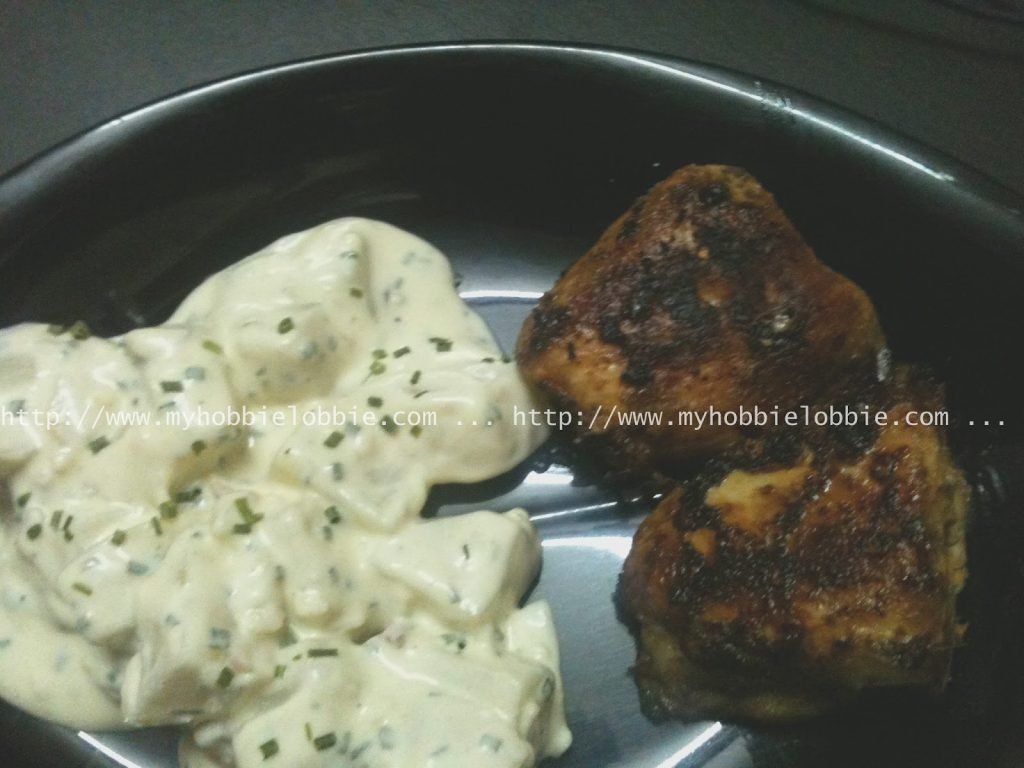 Smokey Potato Salad
(Serves 4-5 as a side)
2-3 potatoes, boiled and cubed
3 rashers of bacon, fried and finely sliced
1 large clove of garlic, minced
3/4 cup yogurt (natural and unflavored)
2 heaped tbsp mayonnaise
2 tbsp chives (I used the dried, bottled variety)
1 tsp Dijon mustard
Salt, to taste
Pepper, to taste
Mix together all the ingredients except the potatoes. Check for seasoning and adjust if needed.
Add the potatoes and stir gently to make sure all the potatoes are well coated with the dressing.
NOTE: This salad makes for great left overs. Keep refrigerated. The smokiness gets more pronounced the next day.
Pan-fried Chicken
1/4 kg chicken pieces (You can use breast, thighs or chunks)
1/2 tbsp lemon juice
1/2 tbsp soya sauce
A sprinkle of red chilli flakes, to taste
1 1/2 tsp ginger garlic paste
Salt, to taste
Mix all the ingredients except the chicken, to form your marinade.
Add the chicken pieces to the marinade and toss well. Keep aside for about 30 minutes.
Heat a tbsp of oil in a pan and fry the chicken pieces till done. (You can also grill them).
Enjoy an awesome weeknight meal!!!
document.write('
Chicken frankies are yet another version of a chicken wrap, but yeah, Mumbai style. I don't know what it is about wraps, but a lot of cuisines seem to have a version of their own. The Americans have the ever so versatile Wrap, the Mexicans have the burrito, the Asians have the spring roll, the Italians the calzone. In India we call wraps Frankies. It is another version of street food. Its not uncommon to see stalls around the city selling these wraps piping hot. Today, I'm going to show you how to make one from scratch in the comfort of your own home.
The street stalls have many varieties on offer. The Chicken, Mutton, Veg., Aloo, Egg are just a few. Then you also have the option of adding cheese to these wraps. And we know cheese makes everything better. I made a couple of these this time around – the chicken one for the meat lovers and the potato or Aloo version for those of you who don't eat meat. We love them both. Today I will focus on the Chicken Frankie and stay tuned for the meatless version tomorrow.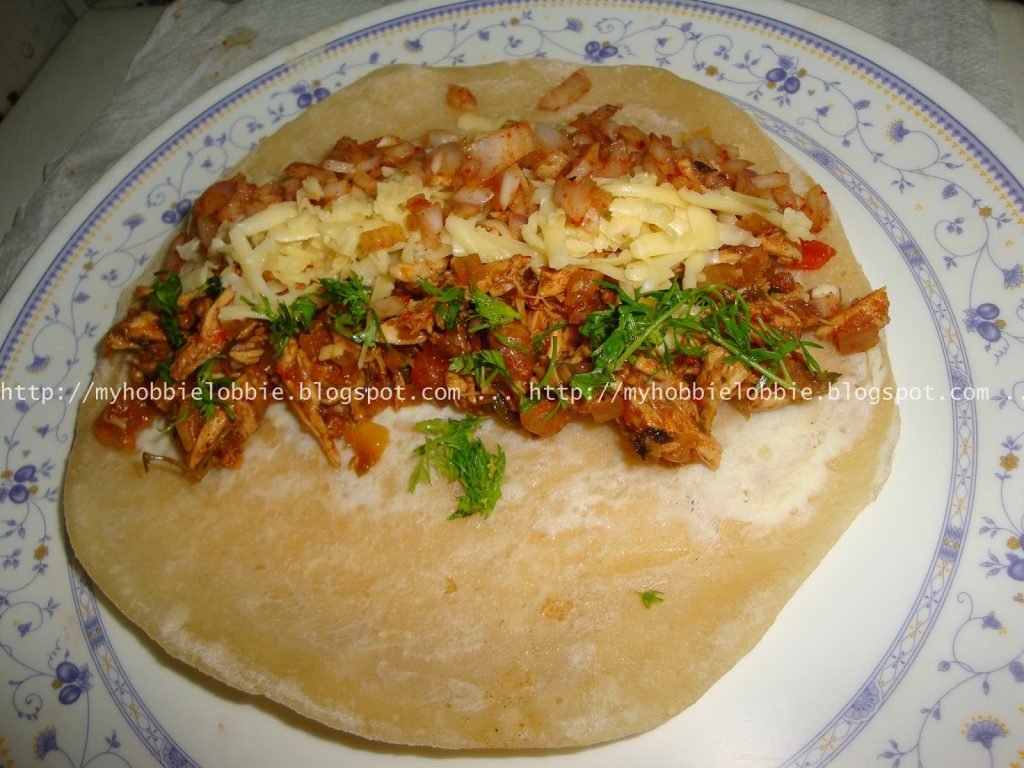 Chicken Frankie
For the naan roti –
Makes 8
1 1/2 cups all-purpose flour
1/2 cup wheat flour
1 tsp salt
4 tsp oil
2-3 eggs, whisked well
Mix the ingredients except the beaten egg in a bowl and using water, bind to a soft, pliable dough.
Divide into portions and roll out into a disk about 6″ in diameter. Make sure you don't roll it out too thin. At the same time, it shouldn't be too thick either.
Place it on a hot griddle or pan. Apply a few drops of oil on the top and spread it lightly using the back of a spoon.
Turn it over. Spread a couple of spoons of the whisked egg on this side. (Some vendors use 1 beaten egg for every roll, you may use as much or as little egg as you like. I find about 2 spoons or whisked egg works fairly well.)
Once the egg has slightly set, turn over and cook on this side as well.
Once both the sides have cooked well, take off the pan and keep aside.
Note: I usually cook off all the rotis and keep aside. You don't want to overcook it, since it needs to be warmed up again, just before you assemble. If you're just making a couple of these, you can assemble them straight on at this stage.
For the filling –
250g boneless chicken, cut into small pieces
1 onion, finely chopped
2 tomatoes, finely chopped
5 cloves of garlic, finely chopped
1″ ginger, finely chopped or grated
1 – 1 1/2 tsp amchur powder (dried mango powder)
1 tsp red chilly powder
1 tsp garam masala powder
1/2 tsp coriander powder
1/2 tsp cumin powder
Salt, to taste
2 tbsp oil
1 tbsp fresh mint leaves, chopped
4-5 tbsp fresh coriander leaves, chopped
Heat oil in a pan. Add the ginger and garlic and saute for a minute or so.
Add the chopped onion and fry off till the onion turns golden brown.
Add the chilly, garam masala, coriander and cumin powders and stir well.
Add the tomatoes and stir fry till the spices and tomatoes cook. The oil will start to separate around the edges of the vessel. The tomatoes should lose some of its moisture by now.
Add the chicken pieces and fry off, stirring well. You may add a tiny bit of water to cook it further. You need a moist filling, not a runny one. (I had some leftover chicken that was marinaded and gently cooked. To make you own, check out this
post
. Since the chicken was already cooked, I simply shredded the chicken and cooked it till it warmed through and absorbed all the flavors. You can add a tiny bit of stock or water if it seems too dry.)
Once the chicken has cooked, add the amchur powder, fresh chopped coriander and mint leaves and salt. Mix well. Taste and adjust seasoning, if needed.
Keep aside.
Onion salad mix –
1 onion, finely chopped
A pinch of salt
1/4 tsp. chilly powder
A few drops lemon juice
Some fresh coriander leaves, chopped
Mix all the ingredients.
I usually keep the coriander leaves aside and use it as a garnish.
To assemble the frankies –
Chaat masala
Cheese, grated
If you've made your rotis in advance. Place them on a pan and gently warm them up.
Spoon some of the filling onto the roti.
Sprinkle some of the onion salad on it.
Sprinkle lightly with some chaat masala if desired.
Sprinkle some grated cheese, if you're making a cheese version.
Top with some fresh chopped coriander leaves.
Wrap it up nice and tight and serve hot.
Here's what they look like all done –
Left – Aloo Cheese frankie
Right – Chicken Cheese frankie
This recipe is linked to –
I can't believe it but here it is, my 100th blog post. I'm so excited. I know for most folks its just a number, but it means a lot to me. There have been a few times where things were so chaotic, I thought I would not be able to continue blogging. But this blog has been such a wonderful journey so far, I couldn't stay away for long. I've met so many wonderful and talented people in the last few months, I've made quite a few things on my "to try" list (which by the way is growing at a crazy rate with each passing day :-o) ) and received so much love through the comments left here, its touching and has very often made my day. I wouldn't give this up easily. I'd like to take a moment to say Thank You to each and every one of you who is following my blog, everyone who takes the time to comment on my posts and every single one who visits the blog. I love hearing from everyone, so I'd love if you could keep the love coming!!!
To mark this occasion, I'm going to share with you a treat I whipped up for my husband over the weekend. He loves Moghlai food, specially Biryani and kebabs. Me, I'll eat it but am not to crazy about it. I have made a mutton biryani in the past, but it was nothing you'd write home about. Anyway, I wanted to make something special for my special man, so over the weekend I decided to try out a different recipe and this time make a Chicken Biryani. When I googled it, I came across a doozy of a recipe over at "Flavors of Mumbai" and decided to try it out. Be warned, this takes some amount of time, so please don't make it in a hurry. The flavors are much much better if you use slow cooking. After a couple of hours, what I had was the most amazing Chicken Biryani I have ever eaten. I actually enjoyed it and I know I will make this again. This recipe is definitely a keeper. It not only tasted great, it looked fabulous, just how it looks if you order it in a restaurant, with a few colored grains of rice, garnished with some caramelized onions and all.
Chicken Biryani
(Serves 6)
500g Basmati rice
500g chicken pieces
500g onions, sliced
250g tomatoes, chopped
200g potatoes, peeled and cubed
250g plain, unflavored yogurt
4 bay leaves
8 cloves
5 pods green cardamom
4″ cinnamon sticks
1 piece of Mace
14 black peppercorns
1 tbsp Shahi jeera
1 tbsp ginger garlic paste
1 tbsp Shahi Biryani Masala
1/2 tsp red chilly powder
1/2 tbsp coriander powder
Leaves from 4-6 sprigs of fresh mint
2 tbsp fresh coriander leaves
3 green chillies
1/2 tsp turmeric powder
4 tbsp ghee or oil
A few strands of saffron added to a little warm milk and kept aside
Orange food color (optional)
Salt to taste
For the marinade –
4 tbsp plain, unflavored yogurt
2 tbsp ginger garlic paste
Salt, to taste
For garnishing –
1 onion, sliced
A few fresh coriander leaves, chopped
Marinade the prepped chicken pieces with the marinade mix and keep aside for about an hour, during which other elements of this dish can be put together.
For the rice –
In a large vessel, bring some water to a boil with 1 bay leaf, 2″ cinnamon, 3 green cardamom pods, 1 mace, 4 cloves, 5-6 black pepper corns. (Please taken sufficient water to boil the rice – to give you an idea its about the same ratio in which you boil water to cook pasta).
When the water comes to a boil, add the rice, let it come to a boil, add salt to taste and cook till it is half done. Remember you only need to par boil the rice, because there is a fair amount of cooking it will still need to go through.
Drain the water completely and keep the rice aside.
For the Garnishing –
Chop a few coriander leaves and keep aside.
Heat some ghee (clarified butter) / oil in a pan and fry the sliced onion on a low flame till the onions have browned and become crispy. (A low flame will caramelize the onion while using a higher flame will simply burn it and make it bitter). Keep this aside.
For the Chicken Masala –
Grind the mint leaves, fresh coriander and green chillies in a blender, using a little water to aid the process. Keep this mix aside.
Heat the ghee in a large vessel.
Add 3 bay leaves, shahi jeera, the rest of cloves, black peppercorns, cinnamon and green cardamom pods. After a couple of minutes, add the sliced onion and fry it off on a low flame till the onions have reached a softened, brown stage which means they are
caramelized
.
Add the ginger garlic paste and stir well. Cook it for a few minutes.
Add the green mix, made above and stir well. Let this cook for another minute or so.
Now add the coriander powder, biryani masala, turmeric powder and red chilly powder. Stir well. Let it cook for a couple of minutes.
Add the chopped tomatoes and stir well. Saut

é

the mix for 2 minutes.
Add the yogurt and stir well, till everything is well combined.
Cook for a couple of minutes.
Add the cubed potatoes. Stir well and let this cook off for a minute or two.
Add the chicken pieces with all the marinade mix. Stir gently and let this cook for about 5-7 minutes. (You don't need to cook the chicken completely at this stage, because like the rice there is still a fair amount of cooking to be done. Overcooking it will result in a dry chicken.)
Check for seasoning and if needed add some salt, to taste. Stir well and let it cook for about a minute. Take it off the gas.
To assemble and for the final cook off –
To arrange the layers for the biryani, take another large vessel.
Place half the chicken gravy at the bottom of the vessel, forming the fist layer.
Gently spread half the par boiled rice over it. Place a few dots of ghee and sprinkle half of the saffron infused milk. If you are using food color, add a few random drops here and there. You just want a few specks of colors rice.
Layer the rest of the chicken gravy over this.
Top with the rest of the rice, dotting with a little ghee, the rest of the saffron infused milk and food coloring.
Place a large heavy bottomed pan / tava / griddle on a low flame. Place the vessel with the layered biryani on it. Cover with a lid.
To cook it dum style, you could seal the edges with some dough, or place the pestle of the grinding stone or any other heavy, fire proof object on the lid.
Let this cook on a low flame for about 30-40 minutes.
Serve hot with some
raita
.
Garnish with the caramelized onion and some chopped coriander leaves.
This recipe is linked to –