When I hear of pancakes, the first things that come to mind is a stack of
American pancakes
with a good drizzle of honey or a typical
Goan Coconut Pancake
or usually something sweet. However, today's post is about pancakes made using oats which is savory and is a wonderful snack that you can have for breakfast or even in the evening with a cup of tea.
Typically, these pancakes are supposed to be spread as thin as you possibly can so that they crisp up. This was my first time with them so I didn't manage to get all of them as thin as I'd have liked, but they were really tasty, so I won't complain. Also, they are supposed to be round, and clearly mine weren't. But that is something I need to try and perfect in the next attempts. These were really good with some coconut chutney.
Savory Oats Pancakes
Recipe from: Bring On The Chef In You
1 cup oats
1/4 cup rice flour
1/4 cup semolina
1 tsp cumin seeds
1 onion, finely chopped
1 small onion, kept whole
1/2 tsp crushed black pepper corns
1 green chilly, chopped fine
Salt, to taste
Enough water to make a runny batter
Oil for frying and to saute the onion
Heat a non stick pan and dry roast the oats till it turns slightly brown.
Cool and powder it in a dry grinder.
In a pan, heat a little oil maybe about a tsp. and saute the chopped onion and green chilly till the onions soften and turn slightly pinkish and keep aside.
Take the whole onion and leaving the skin on, cut it flat at the base so that it can stand. Make sure the broader part of the onion forms the base. Pierce a fork into the opposite end. This will now be used to smear the pan with oil. This lessens the amount of oil used to fry the pancakes.
In a bowl, place the powdered oats, rice flour, semolina, cumin seeds, the sauteed onions, the crushed pepper and salt and mix it up. Add enough water to make a runny batter.
Place some oil (a couple of tbsps) in a small bowl. Heat a non stick pan and using the whole onion on a fork, dip it into the bowl of oil and smear the pan with the oil. For the first pancake, make sure you smear the pan well so that the batter doesn't stick to the pan.
Pour a ladle of batter onto the pan and swirl the pan around to make sure you have a thin layer of batter on the pan. You can use the back of a spoon to help you do this if you'd like. You have to work fast while doing this. Initially you will notice a lot of holes in the pancake while pouring the batter, but swirling the pan should help this a little.
Once a few bubbles appear on the pancake, cover and let it fry. When done one one side, flip over and cook on the other side. When it has cooked to a crisp pancake, take off the pan and serve hot with some chutney.
This recipe has been linked with –
Savory Sunday
My Meatless Mondays
Mix It Up Monday
Mangia Mondays
Yesterday, I had posted about a wonderful
samosa
recipe I had come across at
U.S. Masala
. This amazing blog has a bunch of wonderful recipes that I so want to try. Why perusing this space, I found a recipe for a Green Chutney as well as a Tamarind and Date Chutney, both of which can be used as accompaniments for a large variety of chaat and Indian snacks. I was very pleased with how both of these turned out, just the way I like it. These are going to be my "Go To" recipes for now. And it'll not be easy to knock these off their spot.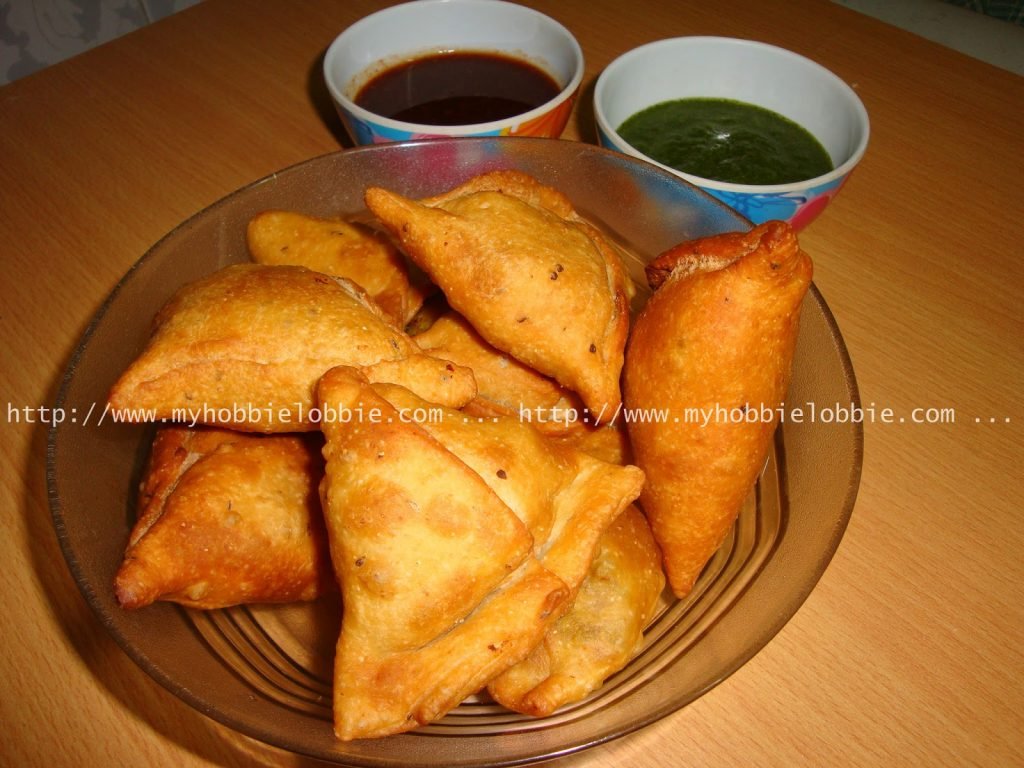 Green Chutney (Pudiney (mint) ki chutney)
1 cup fresh coriander leaves, packed
1/4 cup fresh mint leaves
2 cloves garlic
1/2 tsp cumin powder (I suggest you roast some cumin seeds and crush them on the spot – its a lot more flavorful that way)
2 green chillies
1-2 tsp lemon juice
Salt, to taste
Blend all the ingredients till you get a smooth paste.
Adjust salt and lemon to taste.
You can decant it in a clean glass bottle and refrigerate if you aren't using it immediately.
Tamarind and Date Chutney (Imli ki chutney)
Makes about 1/2 cup
3 tbsp tamarind pulp
3 tbsp dates, pitted and chopped
1/2 cup jaggery, roughly chopped
2 cups water
1 tsp salt
1 tsp red chilly powder
1/2 tsp fennel powder
1 tsp roasted cumin powder
1/4 tsp black salt
In a heavy bottomed pan on medium heat, place the tamarind pulp and water and mix well.
Add the dates and let it come to a boil.
Lower the heat to medium low and add the jaggery and mix. Let it cook on medium to medium low till the jaggery melts and the sauce reduces to half, stirring regularly.
Add the salt and all the spice powders and mix well.
Cook for about 2-3 minutes and turn the heat off when it gets to a ketchup like consistency. Keep in mind that this sauce will thicken as it cools.
Cool down to room temperature and store in a clean and dry glass bottle and refrigerate till you need to use it. It keeps for weeks, if it lasts that long 🙂
Samosas are a big hit in my family. None of us have made it ever, but everyone enjoys this yummy snack piping hot. A couple of weeks ago, I got ambitious and decided to finally try making some on my own, complete with
homemade condiments
. It takes a while to get everything in place. But what I absolutely love about this recipe is that the chutneys can be made ahead and refrigerated and they keep well. That saves a considerable amount of time when you do make the samosas. If you want to take a shorter cut, you can simply serve these samosas with some tomato ketchup. I was really excited when I found the complete set of recipes for the crust, filling and the chutneys at
U.S. Masala
. And I've got to tell you that these recipes did not disappoint. They are definite keepers, though I don't know when I will make these again. It will have to be once the rains kick in. There's no way I will try this again during this insane summer we are experiencing. Getting back to the Samosas, if the weather in your part of the world is slightly more bearable than ours is, go ahead and try making these.
Samosas


For the crust –
1 cup all purpose flour
1 1/2 tbsp semolina
3 tbsp oil
1/4 tsp carom seeds
1/2 tsp salt, or to taste
1/4 cup water
In a mixing bowl, mix the flour, semolina, oil, carom seeds and salt. Make sure the oil is well incorporated in the dough.
Using the water knead the ingredients to a smooth, pliable yet firm dough. Knead for about 5 minutes.
Cover with a damp cloth and set aside for about half an hour.
For the filling –
4 large potatoes, boiled, peeled, cut into small cubes (about 2 cups)
1/2 tsp turmeric powder
1/2 tsp red chilly powder
1 tsp cumin seeds
1/4 tsp fennel seeds
1 green chilly, chopped finely
2 tsp coriander powder
1 tsp garam masala powder
2 tsp amchur powder
Salt to taste
2 tbsp oil
A pinch of asafoetida
1 tbsp fresh coriander leaves, chopped
Oil for deep frying
Heat the 2 tbsp oil in a pan. Add the asafoetida, cumin and fennel seeds and let them sputter. Make sure it doesn't burn.
Add the green chillies and stir for about a minute.
Add the turmeric and coriander powders and salt and stir well for a couple of minutes.
Add the potatoes, stir well and cook for about 5 minutes.
Add the red chilly powder, garam masala and amchur. Mix thoroughly and add the coriander leaves.
Stir well and remove from the heat and let the mixture come to room temperature.
To make the samosas –


Keep a small bowl of water at room temperature at hand.
Divide the dough into 6-7 portions slightly larger than the size of a golf ball.
Roll each portion into a disc and cut into half. This will give you two semicircles.
Working with one semicircle at a time, moisten the straight edge and bring opposite ends together to form a cone, making sure you press the edges firmly to seal them.
Spoon some of the filling into the cone taking care not to over fill.
Moisten the rounded edge and close the cone and press the edges of the dough together sealing it well.
Continue till you've made all the samosas.
Heat oil in a wok for deep frying. You can test the temperature of the oil by placing a small ball of dough in the oil. It should sit at the bottom for a few seconds and then float to the top. If it doesn't float to the top, the oil isn't hot enough. If it rises to the top instantly, the oil is too hot.
When the oil is heated right, deep fry the samosas till they turn golden brown on both sides, carefully flipping them over when one side is cooked.
Serve hot with tomato ketchup or some green chutney and some tamarind chutney.
Stay tuned for those recipes tomorrow.
UPDATE: You can now find the recipes for the Green Mint Chutney or Pudiney ki chutney and the Date and Tamarind Chutney or Imli ki Chutney here.
This recipe is linked to –
Savory Sunday
My Meatless Mondays
Mix it up Monday
Mangia Mondays
Mouthwatering Monday
I haven't been blogging too much during the last month. Here's why –
My husband's sister got married last weekend and among the tonnes of things that needed to be done, here's the bouquet I made for her.
I also made the wedding cake with consisted of a 9″ Madeira cake and 18 mini cakes with the butterfly theme and to go with their theme colors –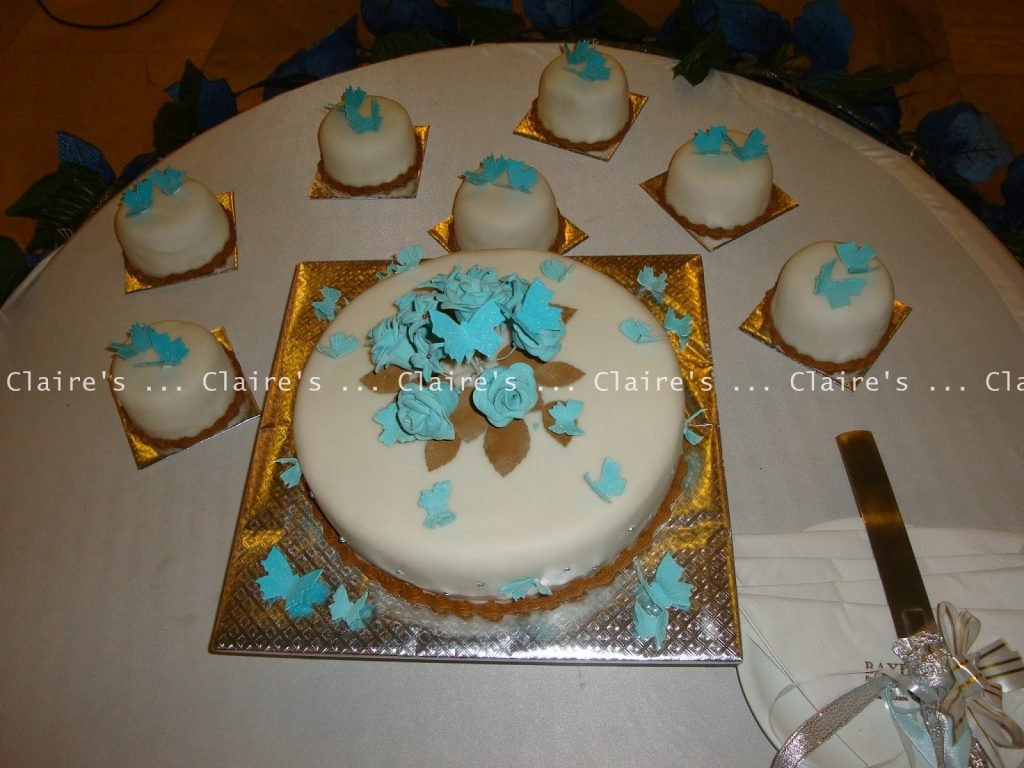 Since this is now done with, we're back to business as usual. Look out for some fun treats to come.
Psst… I've also been working on a few crafts that I'm eager to share with you in a few days.
Phew … I finally have some time on my hands and its back to business as usual around here. The last month has been insane with getting ready for Easter and my husband's sister's wedding (that happened yesterday). The levels of activity in my home has been crazy, not to mention the soaring levels of heat and humidity. Summer's at its peak here and I can hardly wait for the monsoon this year. I've had my fair share of the heat to last me for a life time. I was so happy with this months assignment for
SRC
, Crumbs and Chaos – a wonderful place where you can find tonnes of yummy stuff. Crumbs and Chaos is the effort of 4 wonderful sisters Becca, Emily, Kate and Megan. There are so many things that I want to try out. I enjoyed every moment I spent over there. Unfortunately I didn't have too much of time at my disposal but I know I'll be visiting them frequently from now on. So do go over and pay them a visit. You won't regret it.
This month, I decided to whip up something cool and refreshing and this Orange Julius is just that. It is simple to put together and I really liked the way it turned out. I know I'm going to make this a few times this summer to help beat the heat. Don't be fooled by the simplicity of this drink, it tastes amazing. I'm glad to have this added to my summer coolers arsenal. I just cut down on the sugar in the recipe and was happy with the results. But feel free to change the sweetness of this drink to suit your liking.
Orange Julius
1 cup orange juice
1/2 cup milk
1/2 cup ice
1 tbsp sugar
1/2 tsp vanilla extract
Blend all the ingredients together and serve chilled.
(A big "Thank you" to Amanda of Amanda's Cooking for bringing so many wonderful people together month after month with this Club. Also, Suzanne of Thru Bugs on my Windshield – you are a rocking hostess! Thank you for all you do.)
Don't forget to stop by and check for the other wonderful folks in Group B have posted this month.
document.write('
Hope everyone had a wonderful and blessed Easter! We enjoyed some wonderful moments with family all Sunday.
So you've made your own Easter goodies and have some egg yolks left over. What do you do with them? This time around, I made some egg yolk cake. I added a tinge of lemon to the cake and made a lemon glaze to go over it. This isn't the prettiest cake you've seen, but don't let that fool you. This cake was so, so good. It had a lovely sponge and the tang of the lemon glaze was just perfect. Mind you, this has a powerful lemon punch. The citrus flavor is just perfect for these warm days. It just tastes so fresh. If you're a lemon lover, please try this cake out, I can tell you, you won't be disappointed. Just don't do too many foolish things like I did. If you're wondering what these were, well for starters check out what I got my hands on very recently.
Pretty, isn't it? I was so excited that I was finally using it, that I forgot to grease it and here's the outcome. Be warned, its not pretty, but in the spirit of keeping it real, you should see that there are a few baking disasters that I encounter along the way.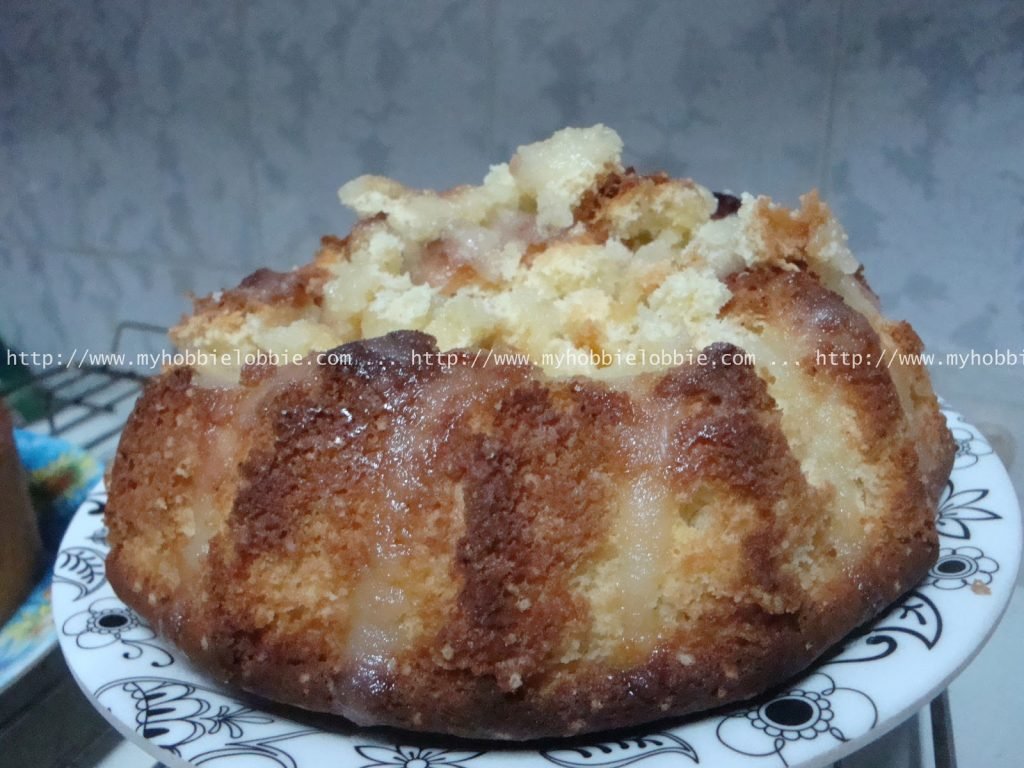 Have you had any baking disasters? Write in and tell me about it, it would be nice to know that I'm not the only one these things happen to. Also, please use superfine sugar or grind your granular sugar to a fine powder or you'll have a cake dotted with granular sugar like I did. I don't know why or how I ended up doing stuff like this. The only reason I can come up with is exhaustion. Note to self – Even though baking is therapeutic, avoid baking when you're exhausted and the weather outside is blistering hot.
Anywho, inspite of all these crazy happenings, I am glad to report that this cake was a great one and I'm definitely going to make this again, minus all the disastrous details though. Thankfully, after using the bundt pan, I still had enough batter for a 6″ cake, that turned out fairly well.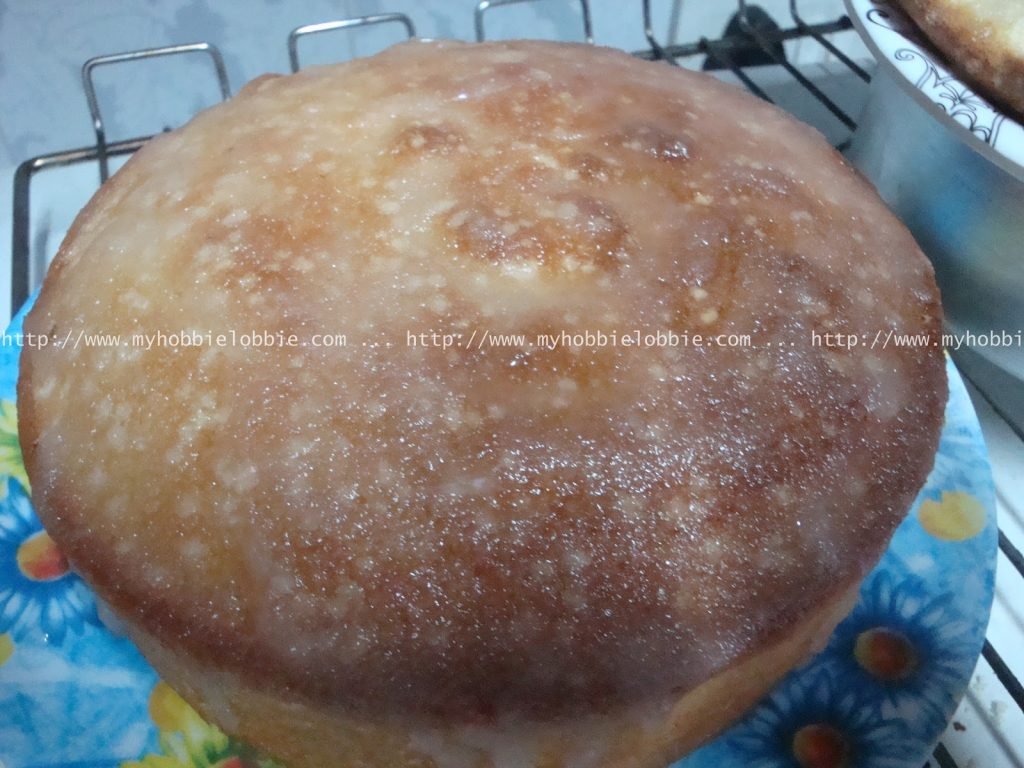 Lemony Egg Yolk Cake
Adapted from: Cooks.com
8 egg yolks
1 1/2 cup sugar
3/4 cup boiling water
1/2 tsp salt
3 tsp baking powder
3 cups sifted all purpose flour
Juice of half a lemon
Rind of a lemon
Preheat the oven to 160ºC.
Beat the egg yolks till light.
Add the sugar gradually, beating well while adding.
Add the hot water gradually, beating continuously.
Add the juice and rind of the lemon.
Sift the flour, baking powder and salt and add it to the batter. Mix thoroughly till well incorporated.
Pour batter into a greased cake pan and bake for 45 minutes to an hour or until done.
For the Lemon Glaze –
2/3 cup of castor sugar
2 tbsp lemon juice
Stir this together and drizzle over cake when it is still hot.
As it cools, the glaze crystalizes in the yummiest possible way.
Enjoy!
Over the last couple of weeks, I've received numerous requests from readers for my marzipan recipe used for my
Easter goodies
. Its taken me this long to post it as I've got it scribbled on a tiny piece of paper and I haven't had much time to hunt for it or type it out. But I finally managed to track it down and type it out. That too, just in time for Easter. So this post is for all of you who've waited so patiently for it.
This Easter, why don't you try making some goodies at home. Marzipan is a little finicky to get right but I've used this recipe that specifies exact time for cooking it. That makes it easier to handle. I've used this for years now and find it easier compared to some of the other recipes. I know that traditionally marzipan calls for almonds to be used, however, cashew nuts are more abundant here than almonds are so this recipe uses cashew nuts.
Marzipan
200gms Cashew nuts, ground to a powder
Melt sugar in the water over the fire on high heat.
After the sugar melts, add the powdered cashew nuts and stir on low
heat for exactly 7 minutes.
Remove on a flat dish and add the almond essence.
Allow it to cool by stirring with a spoon or spatula.
Bind into a dough, color and use as desired.
Note:
– If the marzipan turns too dry add a couple of drops of rose water and knead till it reaches desired consistency.
– If the marzipan is slightly moister than you'd like, knead with some icing sugar till it reaches the desired consistency.
– If the dough is too moist, put in back on the fire for a minute or so and stir. This step is usually not needed. I had to do this just once when using a different stovetop and the lowest flame was way to low than what you'd find on a regular stove top.