I love sprouts. If you do some reading up about moong sprouts, you'll realize what an amazing superfood this is. It has all sort of medical benefits. Once sprouted the moong bean is an amazing source of Vit C that the seed in itself can't provide. It's also a great source of protein. These are just a few benefits that I can remember off hand. I'm quite sure the list goes on.
Here's something that I've had floating around in my head for a while now. Each time I'd pass the sprouts shelf at the supermarket, I'd long to pick it up. For reasons even I'm not aware of, I just never did. So recently when I was buying my grains and pulses at the local store, I decided to pick up some dried whole moong (mung beans) and try sprouting it myself.
It's such a simple process, I wonder why I have never considered sprouting beans at home, before. Better late than never, I'd say. So back to the salad. The only thing you need to ensure is you prep the moong the previous day. If you'd like to omit the sprouting yourself, there's no harm in using store-bought sprouts. This is not so much a recipe but a guide. Feel free to adapt to your liking.
How to Sprout Moong at home –
Soak the dried whole moong in sufficient water. (The water level should be atleast an inch above). Soak for about 8 hours or overnight.
After soaking, drain off excess water. Gently rinse with fresh water. Cover with a wet muslin cloth and keep till the beans have sprouted (approx. 8 hours).
I usually soak the beans in water before going to bed at night, drain and cover with a damp cloth in the morning and its ready for use by the evening.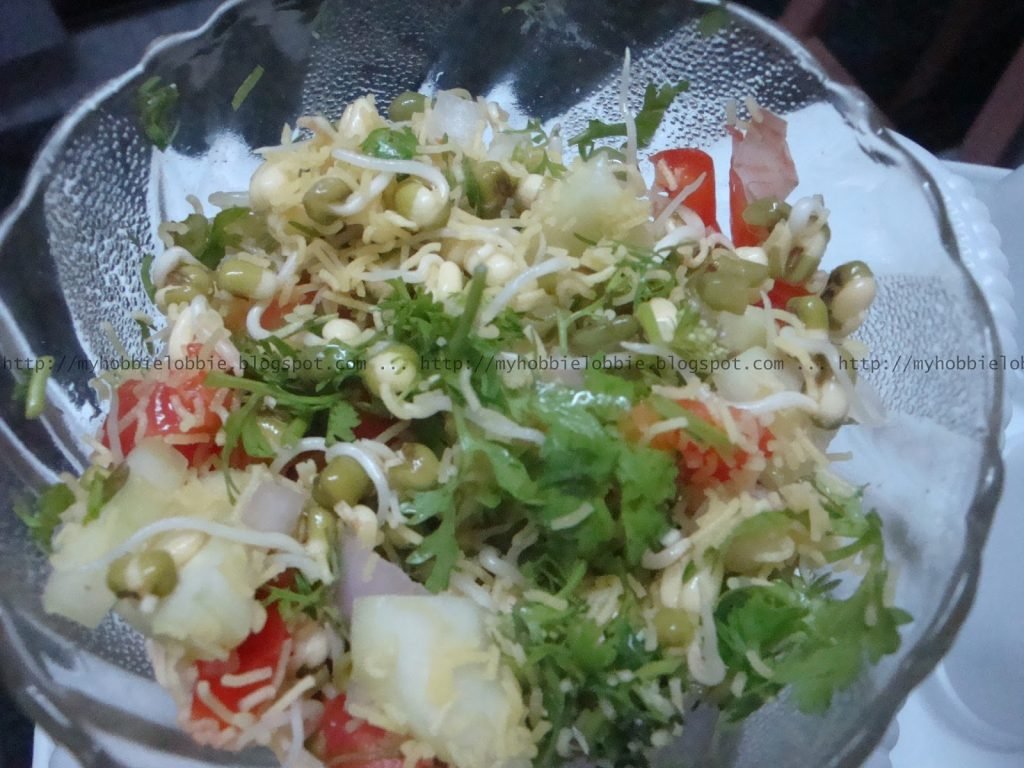 Sprouted Moong Salad
A handful of Sprouted Moong
1 small onion, chopped
1 tomato, chopped
1 cucumber, chopped
1 green chilly, finely chopped (optional)
Fine Sev, for garnishing (optional)

(

Sev is a snack that can eaten just about anywhere at anytime. These are thin noodles of dough made from chickpea flour and deep-fried until they're crispy enough to eat.

)
Fresh coriander leaves, chopped
Salt, to taste
Lime juice, to taste
Mix the sprouts, onion, chilly, tomato and cucumber in a bowl.
Season to taste with salt and lime juice.
Sprinkle some fine sev over it. Garnish with the chopped coriander leaves.
** I tuck it in the fridge till I'm ready to serve it.
You can also switch this salad up a bit by adding some plain unflavored natural yogurt, beaten well, to the salad veggies in the bowl in the first step mentioned above. Continue by seasoning and garnishing it.
Again, refrigerate till ready to serve.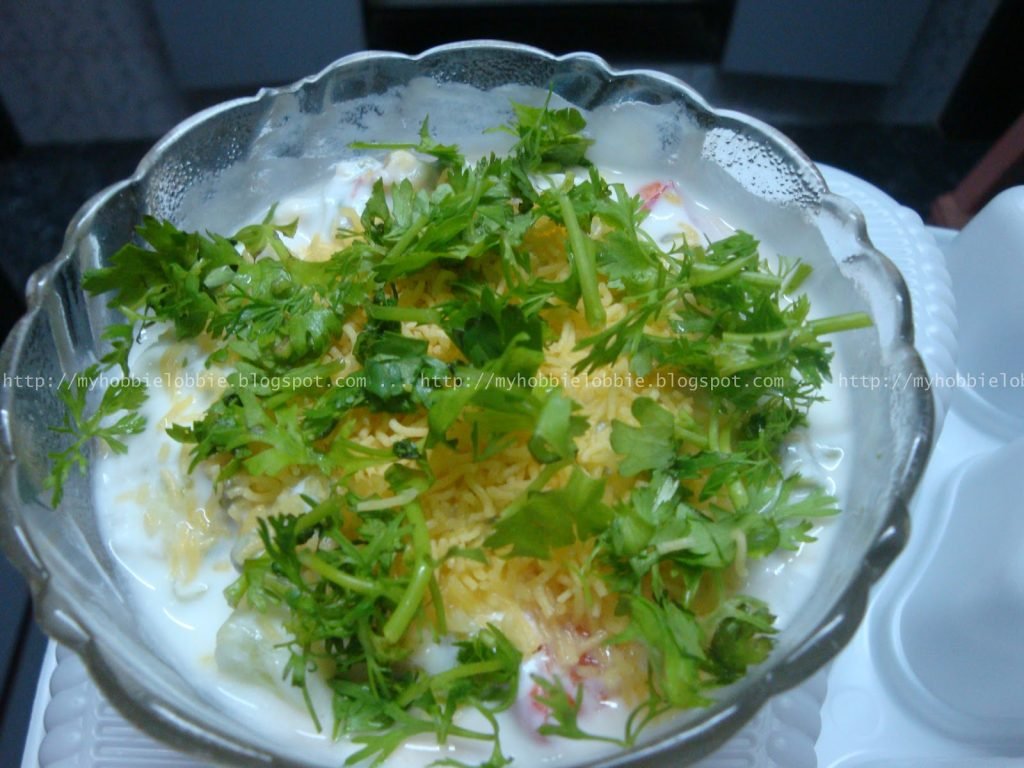 This recipe is linked to –