Something of a sequel to my
thick mango milkshake
, here's my take on a thick strawberry milkshake. Simple, quick and so tasty. Once you try these, you'll be hooked. I used frozen strawberries for this since fresh strawberry season is over here 🙁 These actually worked to my advantage as it resulted in a thicker milkshake, like a gelato. I had to use some milk to thin it down a little. However if fresh strawberries are easily available, by all means please use them. You may not even need to use milk to thin it down. This makes a really pretty drink in my opinion. 🙂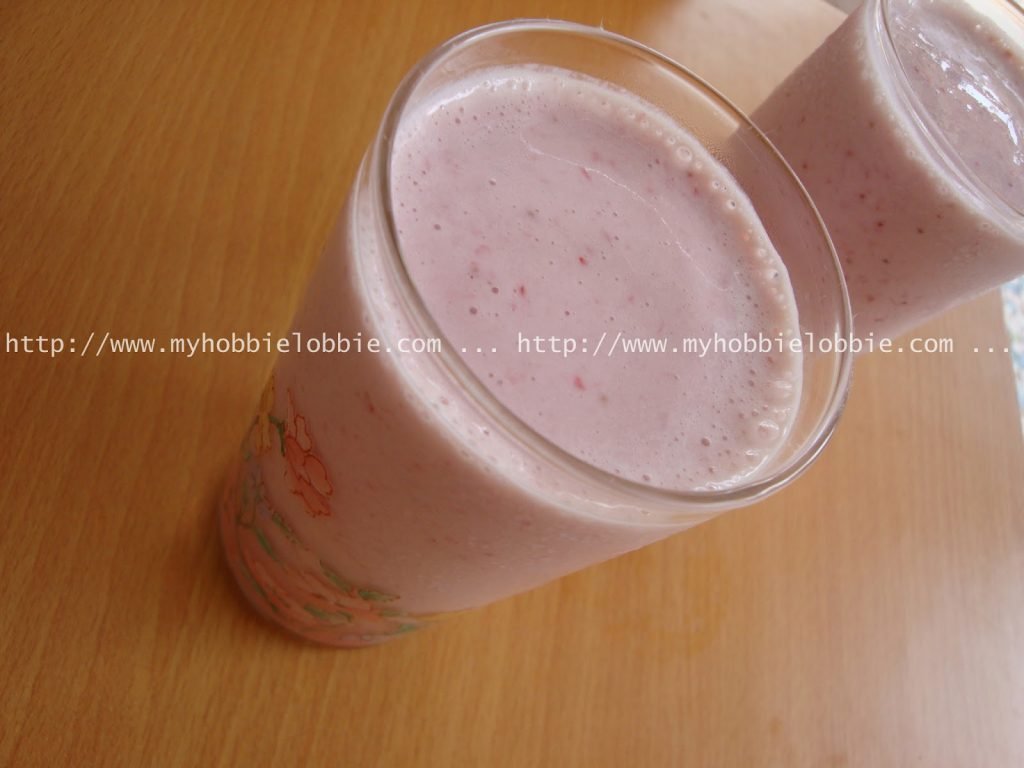 Thick Strawberry Milkshake
Makes 2 glasses
1 1/4 – 1 1/2 cups vanilla ice-cream
12-15 frozen strawberries, hulled
A couple of splashes of milk, if needed
Blend all the ingredients together till you're left with a smooth milk shake.
If you want your milkshake sweeter, feel free to add a sweetener to your liking.
Add more berries for a more fruity flavor or cut down the quantity of strawberries if that suits you better.
Enjoy!
A real treat for those crazy summer days is a good milkshake. In the past, I used to make mine with fruit or berries or chocolate and milk. It acted as a good cooler, but I could never get it to be as thick as the ones found commercially. And we really love a thick milkshake.
A well made, thick milkshake is really hard to come by these days. Don't get me wrong! When you step into a McDonald's outlet or the like, you can sure get what they call a thick milkshake, but honestly it tastes so artificial and who really knows what goes into one. So once I started using the internet to check out recipes and other wonderful resources and how to's on food etc. I realized what I had to do to make a nice thick milkshake was simple freeze the fruit and add some yogurt for a healthy treat or for a more indulgent one use ice cream instead of milk. This changed our whole home made milk shake experience.Sure you still can't be too sure about what goes into commercially made ice cream, but atleast I have the satisfaction of using actual fruit instead of just flavors and sugar. And a homemade milkshake tastes so much better.
I had to make a mango milkshake before my favorite fruit went out of season. This thick mango milkshake that I make uses just 3 simple ingredients. The measures given make 2 glasses, but you can easily adjust the amount to make more or even tweak the flavors or the thickness. So have fun this summer with your very own homemade milkshakes.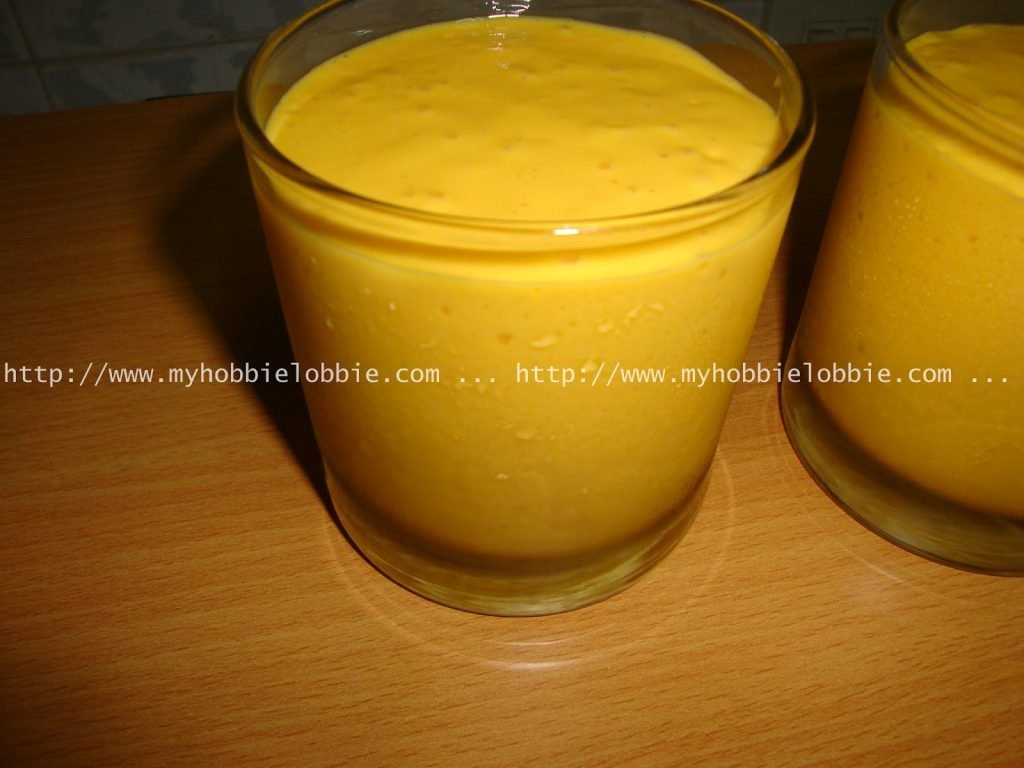 Thick Mango Milkshake

1 1/4 – 1 1/2 cup vanilla ice cream
Pulp of 2 ripe mangoes (You can use any variety you like)
A couple of splashes of milk (Depending on how thick you want your milkshake)
Blend all the ingredients together till you get a smooth milk shake.
If you want your milkshake sweeter, feel free to add a sweetener to your liking.
Add more mango for a more fruity flavor or cut down the quantity of mango if that suits you better.
Most importantly have fun.
This recipe has been linked to –
Mix It Up Monday
Mangia Mondays
Just Another Meatless Monday
My Meatless Mondays
Hearth & Soul
A Little Birdie Told Me
Crazy Sweet Tuesday
Tempt My Tummy Tuesday
Yay, its reveal day for Group B at
SRC
again. SRC or Secret Recipe Club was founded by
Amanda
over a year ago and she has now passed the baton on to
April
who looks after the functioning of the club.
Suzanne
is our Group B hostess and along with the other hostesses makes sure that all the SRC members have a great time every month. If you'd like to join in, check out the
SRC
page now as there is a bit of wait list to get into the club. But its all worth it. I've had so much fun in the last few months. You can check out all my previous submissions
here
.
This month my assigned blog was
BetsyLife
. Hi Betsy! I had so much fun catching up with her blog. She has so many wonderful recipes. You have to check them out. I cant wait to try some of her cookie recipes. And oh, I've been looking for a Kimchi recipe forever, and she has one. I also stumbled upon some
coconut shortbread
and its been stuck in my head since I first saw it over on her blog. I know I will try that out too. Latkes anyone? I know its nowhere close to Hannukah but Betsy has a post on Cilantro Jalapeno Latkes and I can only imagine how good those are. I hope to try all of them out soon. But for this months reveal I picked on these gorgeous
muffins
that are full of wholesome goodness. Just take a look at the ingredients list. I knew right then that I was going to make these. I'd made some
oatmeal and raisin cookies
before and really enjoyed them, so I knew these would be a treat too. The original recipe calls for wheat germ and wheat bran. I didn't have any wheat germ so I just used wheat bran instead. They were good, really good. They will be perfect for breakfast. These are not too sweet and I guess thats why they were a winner in my book. However, if you like your muffins on the sweeter side, you will need to add more sugar, honey or whatever sweetener you prefer.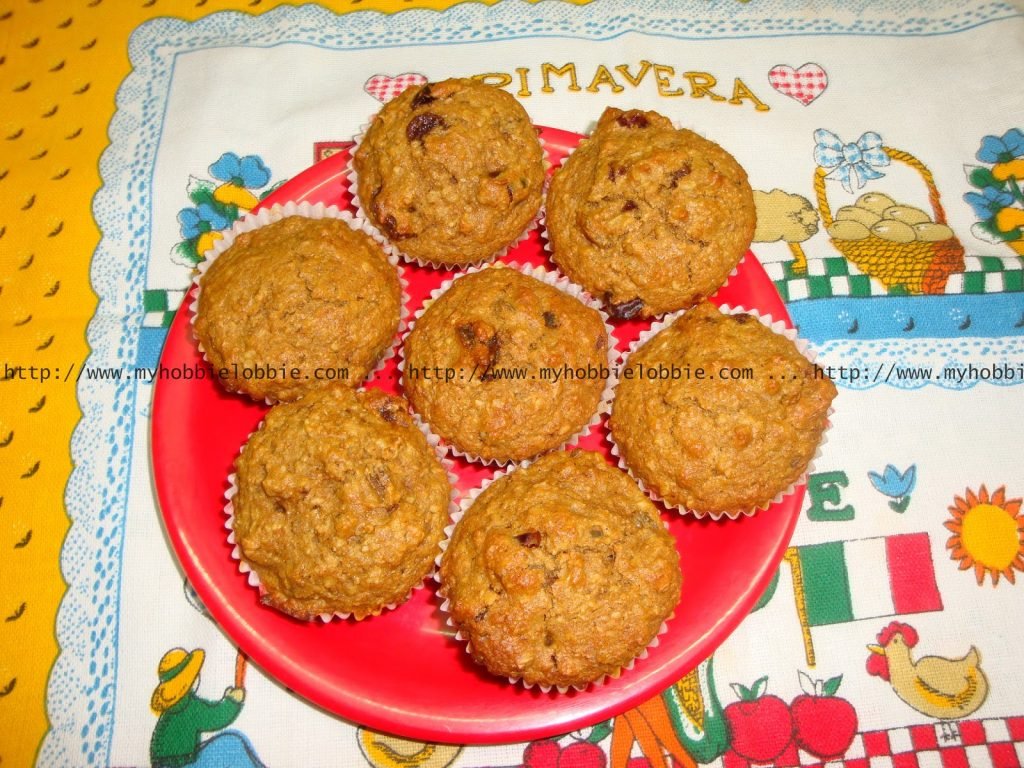 Wholewheat, Oatmeal and Raisin muffins
1 cup whole wheat flour
1/4 cup white sugar
1/4 cup packed dark brown sugar
4 tbsp wheat bran
1 1/2 tsp baking soda
1/2 tsp salt
1 tsp ground cinnamon
1 1/2 cup oats
1/3 cup chopped, pitted dates
1/3 cup seedless raisins
1/3 cup dried cranberries
1 cup buttermilk
1/4 cup vegetable oil
1 tsp vanilla extract
1 egg, lightly beaten
1/2 cup boiling water
In a large mixing bowl place the wheat flour, sugars, bran, baking soda and salt and stir together.
Stir in the oats, dates, raisins and cranberries.
In a seperate bowl, mix the buttermilk, oil, vanilla and egg.
Make a well in the flour mix and pour the wet ingredients in, stirring till just moist.
Stir in the boiling water. (I should let you know that here I just added the water to the other wet ingredients and tipped them all into the flour mix at one go since I somehow missed this little detail while going through the recipe. They turned out perfectly though.)
Let the batter stand for 15 minutes.
Preheat the oven to 180ºC.
Brush the muffin tins with a little oil, butter or some cooking spray.
Spoon the batter into the prepared tins and bake for 15-20 minutes or till muffins spring back when touched lightly in the center.
Don't forget to stop by and check out what the other members of Group B made this month!
document.write('
Today, I'm extremely happy. Wanna know why? It rained this morning and the weather is so pleasant. After months of blistering summer heat, this is a welcome change. I've been waiting for the rains for a while now. I still have a couple of summer recipes that I haven't yet posted, but seeing as to how summer is just kicking in in some parts of the world, I'll post them over the next few days. Get ready to see a few more baked goodies now. I'm so happy I can comfortably use my oven again.
But before we get there, I must tell you about this awesome Vanilla Bean Ice Cream I recently made. I mentioned it here and then almost forgot about it. This morning, while going through some pictures, I happened upon the ones I'd clicked of the ice cream and realized I hadn't posted it yet. So here goes. This is a little more complex than the other ice cream recipes I've made in the past. All the previous ones have been simple, no churn recipes. This, however, requires you to make your own custard. In the past, the thought of making my own custard had intimidated me big time, but I wanted to get over it, so I followed the recipe down to the letter and managed to whip up a wonderful custard. The process really was quite simple and left me wondering what all the fuss was about.
This ice cream was like none I've had in the past. It had a lovely taste, so much more like custard that the commercially available vanilla ice cream. I think it should be called frozen custard or something like that. Needless to say I enjoyed it very much and I hope you do too. Since I don't have an ice cream maker, I simply froze it and when it had almost set I whipped it a couple of times every couple of hours, to try and get a creamier texture. If you do own an ice cream maker, by all means take advantage of it and use according to manufacturer's instructions.
Don't forget to enter my cookbook giveaway, if you haven't yet. The giveaway ends on 10th June 2012.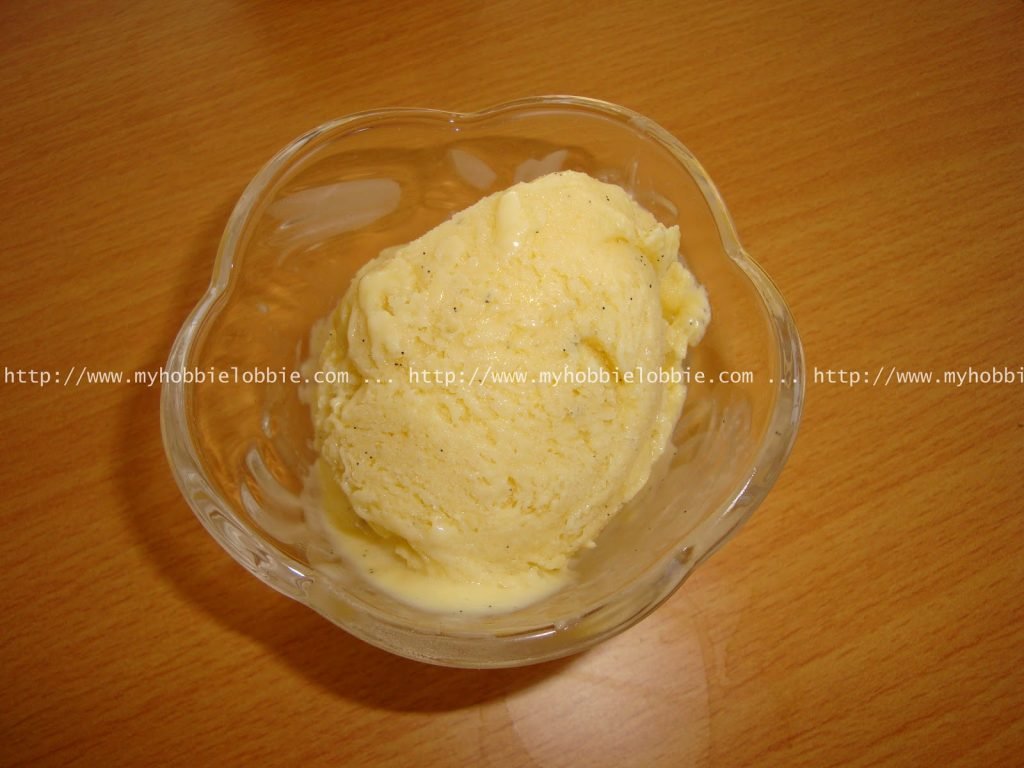 Vanilla Bean Ice Cream
Recipe by: Nigel Slater
600 ml milk
1 plump vanilla pod
6 egg yolks
150g caster sugar
Pour the milk into a saucepan.
Slit the vanilla pod and scrape the beans into the milk, using the blunt edge of the knife and then drop the pod in too.
Bring the mixture almost to a boil – this is known as scalding. Turn the heat off before the mixture comes to a boil. Leave it to rest for about 30 minutes so that the vanilla infuses its flavor into the milk.
Beat the egg yolks and the sugar well. It should be light and fluffy.
Pour the milk through a sieve into the beaten eggs, stirring well till you get a thin custard. Pour this custard into a clean saucepan.
Place the pan on moderate heat and stir continuously using a wooden spoon, bringing it slowly towards a boil.
Once the custard is thick enough to thinly coat the back of the wooden spoon, your custard is ready. Take it off the heat and pour it into a cold container and leave it to cool.
Without ice cream maker – Once it has cooled, freeze for a couple of hours and just before it has set, whisk it up again. You can use a blender for this. Repeat this once or twice again every couple of hours.
With ice cream maker – Once it has cooled, refrigerate for half and hour before churning. Pour into the ice cream maker and follow the manufacturer's instructions.
Note – I thought I should mention the cautionary note by Nigel. Since I don't have any prior experience with custard, I am in no position to offer you my opinion, but I think its important that you have this tip handy. He says and I quote "The custard must not reach boiling point, but should start to thicken before it gets there. If you overheat the custard it will curdle (I guarantee), so make certain that the spoon gets right into the corners of the pan. Your most helpful utensil will be a sink of cold water. If there is even the remotest sign of curdling, quickly dunk the pan into a sink of cold water to cool the sauce down and whisk like you mean it."




I know how erratic my posts have become on the blog lately. Heck, some of you, I'm sure, are wondering how come there's another post so soon. I've been loaded with work lately and that's always a good thing. I'm so eager to show you some of the stuff I've been working on once they're done. But till then, here a quick, simple and yummy smoothie to keep you going. They're perfect for summer. I'm seriously considering putting them into popsicle moulds the next time I make it. I popped all my fruit into the freezer overnight so I didn't need to use any ice.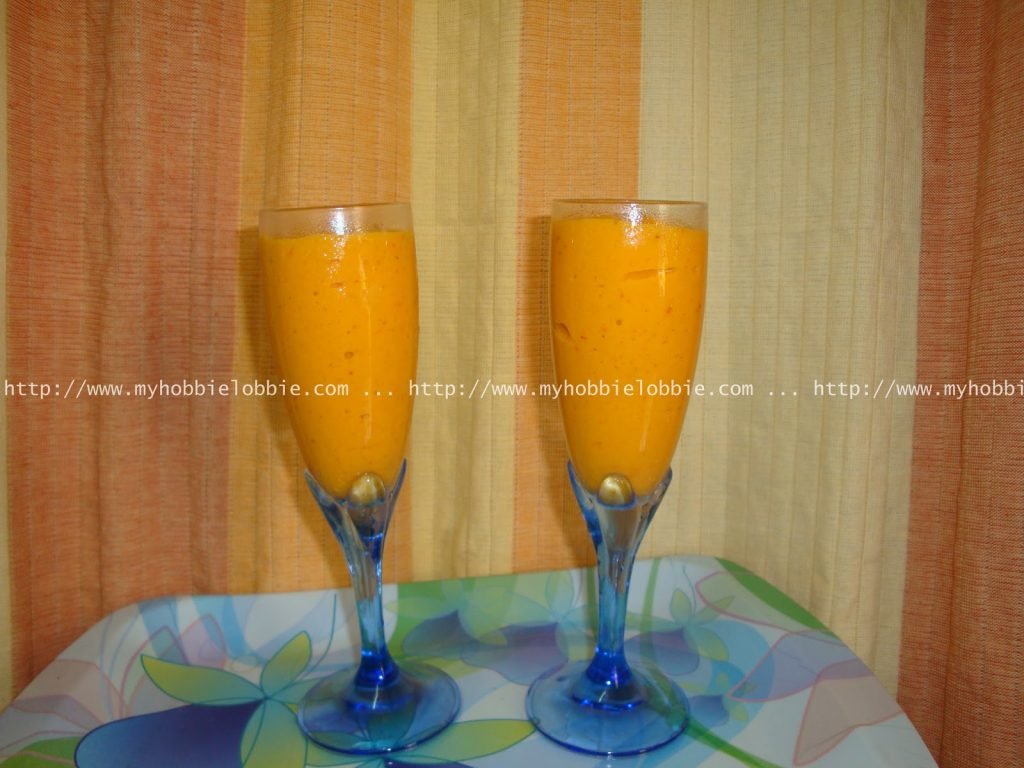 Tropical Summer Smoothie
Makes 2-3 servings
10-12 strawberries, frozen
3 ripe bananas, frozen and chopped into pieces
Flesh of 2 mangoes, frozen
Sugar / sweetener to taste
Approx. 1/4-1/2 cup of unflavored yogurt
Pop all the ingredients into the blender and give it a whiz.
Serve chilled.
Easy peasy, isn't it?
Do check out and participate in my ongoing giveaway. You can find the details
here
.
This recipe is linked to –