As the days warm up, I find myself thinking about having a salad for lunch more and more. I usually take a packed salad to work for lunch, which is why I need my salad to be more than a salad. I need to keep going through the rest of my work day. I have found that when I opt for a salad over other options for lunch, I feel refreshed and ready to go through the remainder of the day. I'm always on the lookout for new combinations and flavours.
This (sort of) Mediterranean Salad came together thanks to a colleague who put me on to the wonderful combination of roasted peppers, grilled eggplant and feta. She was putting together a sandwich for lunch using these lovelies and I thought to myself, I could make this into a salad and see how it works out. So on my way home, I stopped by my local Coles and went straight to their deli section and picked up some Danish feta and grilled eggplant. I have yet to work out how to make this eggplant at home. While I strongly believe that made from scratch is way better than store bought, sometimes you need to be open to using a store bought shortcut, especially when you haven't made anything for lunch and need something real quick. Enter, store bought fire roasted peppers; another thing I want to make at home.
Back to the salad. It essentially is made up of veggies, the condiments mentioned above and feta – that's it! No dressing or anything. The best part is you wont even miss the dressing. The feta is soft, creamy, sharp and salty, so it takes the salad to a whole new level. Feel free to add or take away from this salad and make it your own. I have made this salad a few times and both, my husband and I love it. I made it with and without olives, so feel free to use them, or not. Also, toasted pine nuts on the salad would be divine. I don't know why I didn't think of that sooner, but I fully intend adding them to the salad when I make it next. This salad would make a wonderful addition to any barbecue as well.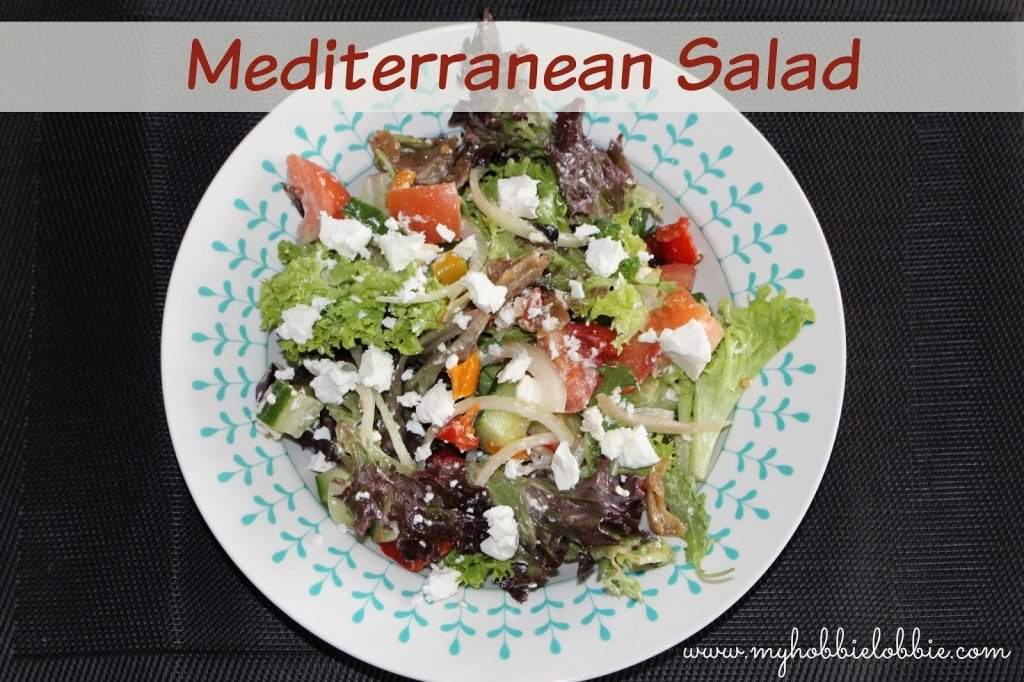 Mediterranean Salad


A couple of handfuls of Salad leaves (I use the 4 leaf mix from Cole's)
1 fresh tomato, cut into chunks
Sliced cucumber (about 1/2 cups worth)
A few slivers of thinly sliced red onion
2-3 slices grilled eggplant, roughly chopped
A few slices roasted peppers, roughly chopped
Freshly cracked black pepper, to taste
Danish feta, to taste
Place all the ingredients except the feta in a bowl and toss together.
Crumble the feta over the salad and lightly toss.
Serve.
** This salad also makes a lovely veg. sandwich.
Disclaimer: I haven't been compensated for this post either monetarily or in kind. I just happen to shop at Coles and that's why the mention.