It's been nice to settle in to my regular routine over the last few days. Truth be told, I do miss being on Holiday and being around family and friends. But there is something deeply pacifying about being back home doing my thing.
I haven't baked in ages. Furthermore, its been about three months since I last shared a baked recipe here. I was tossing between cookies, brownies and tea cakes. And while I was looking, I realized that I had this exotic little gem saved in my massive 'must-try' list. And with a name as exotic sounding as Basbousa, I had to. So as soon as the temperature dipped a tiny bit, I decided to turn the oven on. Basbousa is an Egyptian semolina cake drenched in sugar syrup.
This batter comes together really quick and easily. There's no need to break out the heavy equipment, I just used a whisk. So basically you bake the cake, make a sugar syrup and drizzle it over the cake and top with some sliced / slivered (flaked) almonds and coconut chips and that's it. This is a dense tea cake, so don't expect a light sponge. It has a very different flavor profile compared to a basic sponge too. It has a subtle tang from the yogurt and the lemon in the syrup. Dare I say, it is very deliciously different. My husband really liked this cake. And he is someone who loves a good chocolate cake and the occasional sponge cake. This one though, he has asked me to keep track of, so that we can make it again. Imagine my surprise. But then again, it wasn't overly surprising considering how good this cake is. Try it out for yourself.
Basbousa
Recipe from: The Mediterranean Dish
For the cake –
1/2 cup butter
1 cup sugar
1 cup natural, unflavored yogurt
2 cups coarse semolina
1/2 cup milk
1 tsp baking powder
1/4 cup sliced / flaked almonds
1/4 cup sweetened coconut chips or sweetened shredded coconut
For the syrup –
1 1/2 cup sugar
1 3/4 cup water
2″ cinnamon
1/4 tsp lemon juice
Preheat the oven to 170ºC and grease a 9 inch cake tin and keep aside.
Melt the butter and set aside. You can do this in a little saucepan on the stovetop on in a little microwave safe bowl in the microwave. Set this aside.
In a large mixing bowl, whisk together the yogurt and sugar.
Now add the semolina, milk and baking powder and mix thoroughly.
Next, stir in the melted butter and whisk well. Let the batter rest for a while (about 5-10 minutes or so) for the semolina to absorb some of the moisture.
Pour the batter into the greased cake tin and bake for about 40-45 minutes.
While the cake is baking, make the sugar syrup. Place the sugar water and cinnamon in a saucepan. Bring to a boil on high heat stirring occasionally, but only till the sugar dissolves. Turn the heat down to low and continue to cook for a few minutes till the syrup thickens. Then take off the heat and stir in the lemon juice.
Set aside to cool and then remove the cinnamon.
When the cake is ready, take it out of the oven and immediately pour the cool syrup on the hot cake.
Leave the cake to cool off completely and let the cake absorb the syrup, at least for an hour.
Just before serving, top the cake with the almond and coconut chips.
Serve.
As the days warm up, I find myself thinking about having a salad for lunch more and more. I usually take a packed salad to work for lunch, which is why I need my salad to be more than a salad. I need to keep going through the rest of my work day. I have found that when I opt for a salad over other options for lunch, I feel refreshed and ready to go through the remainder of the day. I'm always on the lookout for new combinations and flavours.
This (sort of) Mediterranean Salad came together thanks to a colleague who put me on to the wonderful combination of roasted peppers, grilled eggplant and feta. She was putting together a sandwich for lunch using these lovelies and I thought to myself, I could make this into a salad and see how it works out. So on my way home, I stopped by my local Coles and went straight to their deli section and picked up some Danish feta and grilled eggplant. I have yet to work out how to make this eggplant at home. While I strongly believe that made from scratch is way better than store bought, sometimes you need to be open to using a store bought shortcut, especially when you haven't made anything for lunch and need something real quick. Enter, store bought fire roasted peppers; another thing I want to make at home. I have made this at home in the past (you can see the post here) and need to whip up another batch.
Back to the salad. It essentially is made up of veggies, the condiments mentioned above and feta – that's it! No dressing or anything. The best part is you wont even miss the dressing. The feta is soft, creamy, sharp and salty, so it takes the salad to a whole new level. Feel free to add or take away from this salad and make it your own. I have made this salad a few times and both, my husband and I love it. I made it with and without olives, so feel free to use them, or not. Also, toasted pine nuts on the salad would be divine. I don't know why I didn't think of that sooner, but I fully intend adding them to the salad when I make it next. This salad would make a wonderful addition to any barbecue as well.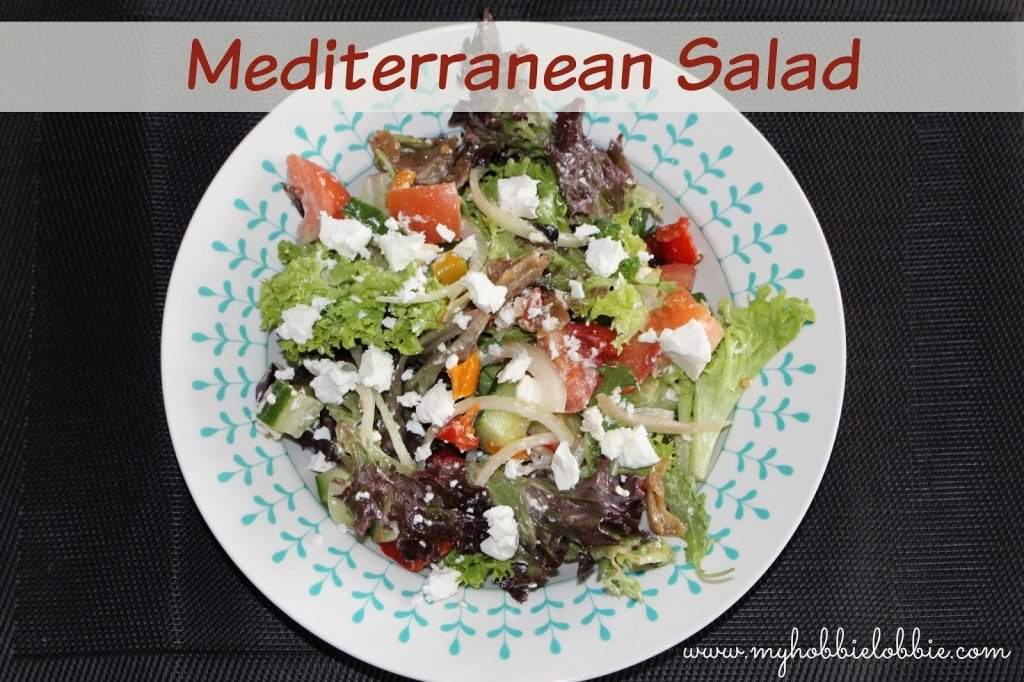 Mediterranean Salad


A couple of handfuls of Salad leaves (I use the 4 leaf mix from Cole's)
1 fresh tomato, cut into chunks
Sliced cucumber (about 1/2 cups worth)
A few slivers of thinly sliced red onion
2-3 slices grilled eggplant, roughly chopped
A few slices roasted peppers, roughly chopped
Freshly cracked black pepper, to taste
Danish feta, to taste
Place all the ingredients except the feta in a bowl and toss together.
Crumble the feta over the salad and lightly toss.
Serve.
** This salad also makes a lovely veg. sandwich.
Disclaimer: I haven't been compensated for this post either monetarily or in kind. I just happen to shop at Coles and that's why the mention.