Here we are – Its already the month of May and the Indian Summer hasn't been kind to us at all. With ever soaring temperatures and insane humidity levels, we've been reeling with the heat. I can't wait for the rains to kick in. However, if there's something that can take my mind of the weather, its got to be the
Secret Recipe Club
. Month after month we have 4 reveals by 4 incredible groups of bloggers, each Group headed by a hostess, Jane, Suzanna, Angela and Sarah for Groups A, B, C and D respectively, and at the head of this massive project, we have our fearless leader April. Thank you ladies for the huge effort you make each month to add this wonderful element of fun to our lives.
For this month's assignment, I had Nicole's blog
The Daily Dish Recipes
. Nicole is a mom to 5 teenagers and a bunch of furbabies – 4 dogs, 2 cats and a hedgehog. I've wanted to be a part of a big family for as long as I can remember. You've got to head on over and check them out. The kids are adorable and do check out the pets – they're cutey-pies too. You think Nicole would have her hands full, just taking care of the household. No can do. Besides cooking, writing, blogging and photography, she does scrapbooking, crafting, DIY and home improvement projects. She also enjoys reading, music and movies. I'll let you in on a personal secret – I think I've partnered with Superwoman for this months SRC. 🙂 🙂 🙂 Nicole, you are my role model. How you get all this done, I can't begin to fathom, but you have inspired me to try getting a few more things done with my time. Its just the nudge I needed, so thanks a ton.
I had such a wonderful time going through this blog. Nicole's got so much to choose from. I'm dying to try out so many things from her blog. You won't believe it, but I've had her post on
Homemade Fruit Irish Cream Sodas
pinned months ago. I was so glad to bump into her blog again, since I'd almost forgotten about these beauties. I'm so gonna try them this summer. She has so many other wonderfully cooling drinks listed that its no surprise that I decided to go with one of her smoothies for this month's reveal. I made a couple of changes to the smoothie based on availability of ingredients. I subbed almond milk for regular dairy and I don't have access to sweet basil, homegrown or otherwise, so I left that out altogether. The recipe below reflect the changes I made. What I ended up with was so good. Healthy and perfect for this never ending heat wave we seem to be going through. I know this drink will make an appearance a few time again before the summer is done.
Melon – Cucumber Smoothie
(Serves about 4)
1 small Cantaloupe, skinned, deseeded and cubed (about 2 1/2 cups)
2 fresh cucumbers, skinned and thickly sliced
1 cup milk
2 tsp honey (you can add this to taste)
2 cups crushed ice
Blend all the ingredients except this ice, till smooth.
Add the ice cubes and blend again.
Pour into glasses and chill out!!!
document.write('
Happy New Year Everbody! I hope each and every one of you is having a wonderful 2013 so far. 2013 has so far been really swell. I have family from New York staying over, a family friend's wedding, partying late into the night and a great impromptu birthday celebration – can you imagine all of this cramped into just the first 6 days of the year. I can't wait to see what the rest of the year has in store.
Its been a couple of months since I've last posted here. And one this I'd like to achieve this year is more regular posting compared to last year. I want to say "Thank you" to each and everyone of you who has continued to visit this space; your support means a lot. To kick of this years posts, do I have a treat for you! For this months
SRC
assignment, I've had the opportunity to peruse through a wonderful blog,
The Weekend Gourmet
, authored by Wendy. There was lots to choose from, but I really wanted to try out her take on hot chocolate. And since the holiday season has been extremely indulgent for me this year, I decided to turn her wonderful holiday treat into a miniature version. I present Peppermint Hot White Cocoa Shots. These would be wonderful to serve at any party. They look so adorable and they taste wonderful. Typically, I'm not too crazy about white chocolate, but this hot chocolate was divine. It was rich, warm, comforting and every so delicious. I know I will make these again.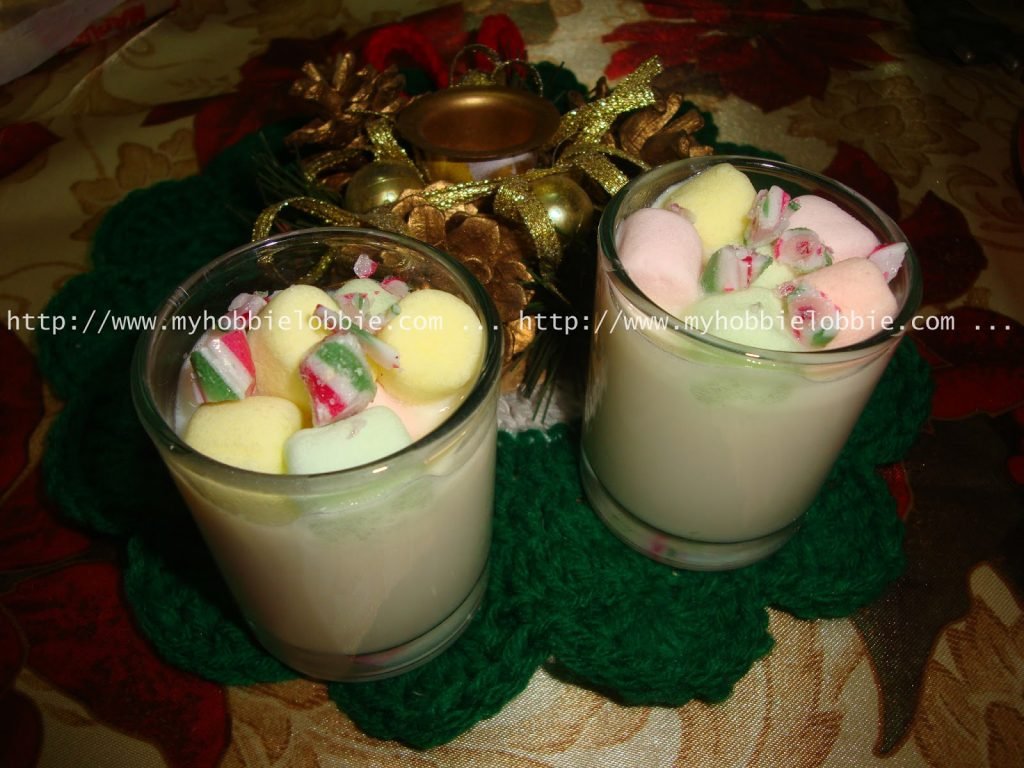 Peppermint Hot White Cocoa Shots
(Makes 3 coffee mugs or a whole bunch of shot glasses)
2 cups Milk (I used toned milk)
1 cup Cream (I used Amul's Fresh Cream)
3/4 cup white chocolate (chopped)
1/2 tsp peppermint extract
Mini Marshmallows, to top
Peppermint Candy Canes crushed, to garnish
Place the milk and the cream in a saucepan and bring to a simmer over medium heat.
Tip in the white chocolate and stir till the chocolate has melted.
Add the peppermint extract and stir to combine.
Pour into mugs / shot glasses.
Top with mini marshmallows and crushed peppermint.
Enjoy!!!
Don't forget to check what the others in Group A have made this month –
document.write('
Something of a sequel to my
thick mango milkshake
, here's my take on a thick strawberry milkshake. Simple, quick and so tasty. Once you try these, you'll be hooked. I used frozen strawberries for this since fresh strawberry season is over here 🙁 These actually worked to my advantage as it resulted in a thicker milkshake, like a gelato. I had to use some milk to thin it down a little. However if fresh strawberries are easily available, by all means please use them. You may not even need to use milk to thin it down. This makes a really pretty drink in my opinion. 🙂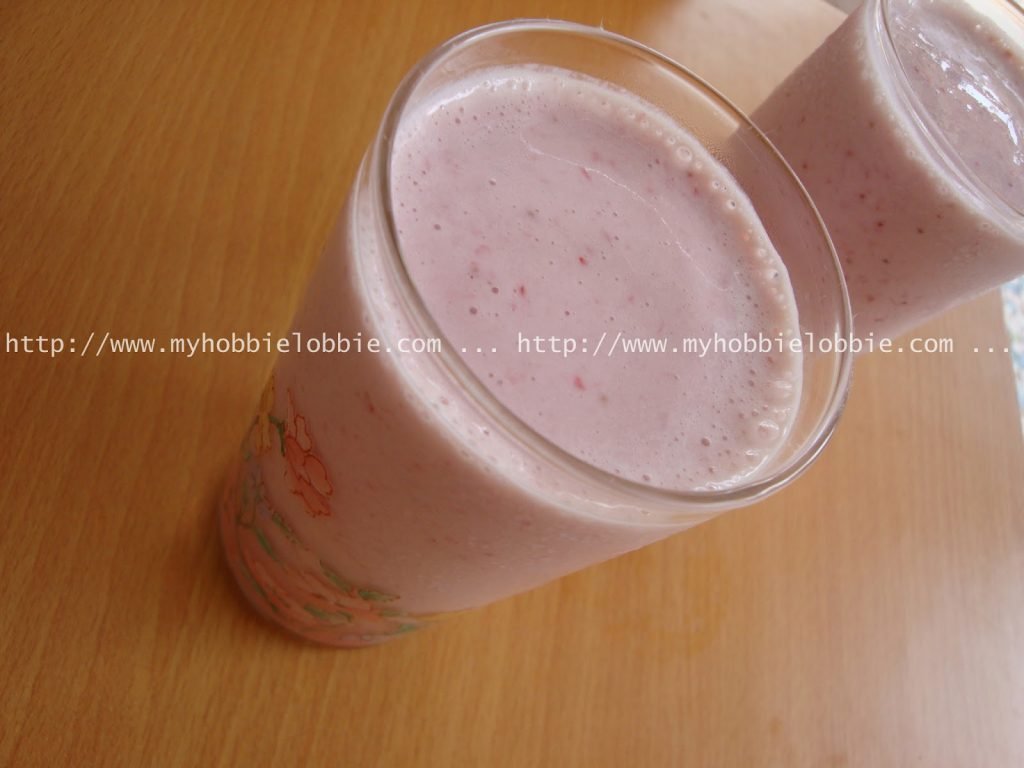 Thick Strawberry Milkshake
Makes 2 glasses
1 1/4 – 1 1/2 cups vanilla ice-cream
12-15 frozen strawberries, hulled
A couple of splashes of milk, if needed
Blend all the ingredients together till you're left with a smooth milk shake.
If you want your milkshake sweeter, feel free to add a sweetener to your liking.
Add more berries for a more fruity flavor or cut down the quantity of strawberries if that suits you better.
Enjoy!
A real treat for those crazy summer days is a good milkshake. In the past, I used to make mine with fruit or berries or chocolate and milk. It acted as a good cooler, but I could never get it to be as thick as the ones found commercially. And we really love a thick milkshake.
A well made, thick milkshake is really hard to come by these days. Don't get me wrong! When you step into a McDonald's outlet or the like, you can sure get what they call a thick milkshake, but honestly it tastes so artificial and who really knows what goes into one. So once I started using the internet to check out recipes and other wonderful resources and how to's on food etc. I realized what I had to do to make a nice thick milkshake was simple freeze the fruit and add some yogurt for a healthy treat or for a more indulgent one use ice cream instead of milk. This changed our whole home made milk shake experience.Sure you still can't be too sure about what goes into commercially made ice cream, but atleast I have the satisfaction of using actual fruit instead of just flavors and sugar. And a homemade milkshake tastes so much better.
I had to make a mango milkshake before my favorite fruit went out of season. This thick mango milkshake that I make uses just 3 simple ingredients. The measures given make 2 glasses, but you can easily adjust the amount to make more or even tweak the flavors or the thickness. So have fun this summer with your very own homemade milkshakes.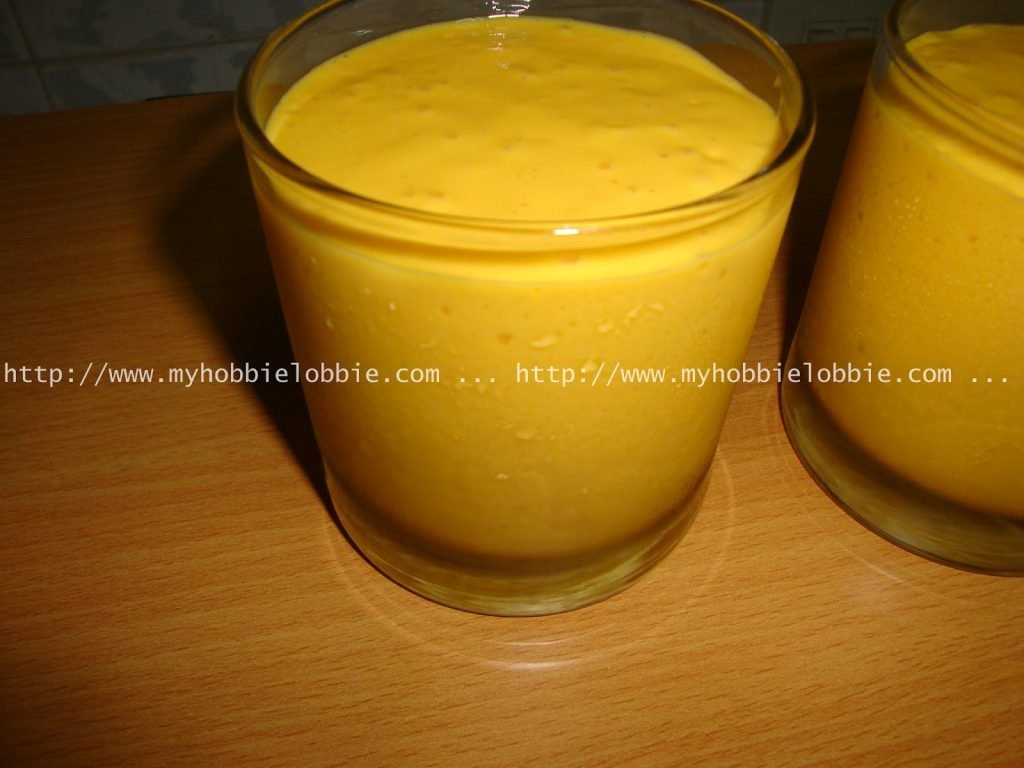 Thick Mango Milkshake

1 1/4 – 1 1/2 cup vanilla ice cream
Pulp of 2 ripe mangoes (You can use any variety you like)
A couple of splashes of milk (Depending on how thick you want your milkshake)
Blend all the ingredients together till you get a smooth milk shake.
If you want your milkshake sweeter, feel free to add a sweetener to your liking.
Add more mango for a more fruity flavor or cut down the quantity of mango if that suits you better.
Most importantly have fun.
This recipe has been linked to –
Mix It Up Monday
Mangia Mondays
Just Another Meatless Monday
My Meatless Mondays
Hearth & Soul
A Little Birdie Told Me
Crazy Sweet Tuesday
Tempt My Tummy Tuesday
I know how erratic my posts have become on the blog lately. Heck, some of you, I'm sure, are wondering how come there's another post so soon. I've been loaded with work lately and that's always a good thing. I'm so eager to show you some of the stuff I've been working on once they're done. But till then, here a quick, simple and yummy smoothie to keep you going. They're perfect for summer. I'm seriously considering putting them into popsicle moulds the next time I make it. I popped all my fruit into the freezer overnight so I didn't need to use any ice.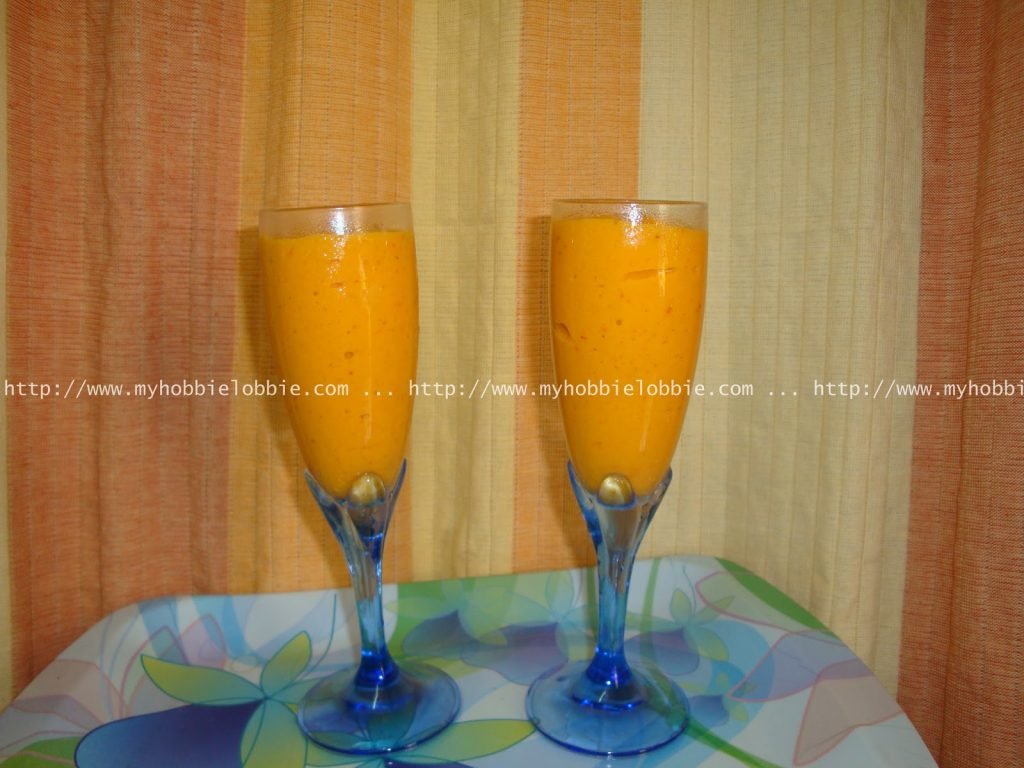 Tropical Summer Smoothie
Makes 2-3 servings
10-12 strawberries, frozen
3 ripe bananas, frozen and chopped into pieces
Flesh of 2 mangoes, frozen
Sugar / sweetener to taste
Approx. 1/4-1/2 cup of unflavored yogurt
Pop all the ingredients into the blender and give it a whiz.
Serve chilled.
Easy peasy, isn't it?
Do check out and participate in my ongoing giveaway. You can find the details
here
.
This recipe is linked to –
Phew … I finally have some time on my hands and its back to business as usual around here. The last month has been insane with getting ready for Easter and my husband's sister's wedding (that happened yesterday). The levels of activity in my home has been crazy, not to mention the soaring levels of heat and humidity. Summer's at its peak here and I can hardly wait for the monsoon this year. I've had my fair share of the heat to last me for a life time. I was so happy with this months assignment for
SRC
, Crumbs and Chaos – a wonderful place where you can find tonnes of yummy stuff. Crumbs and Chaos is the effort of 4 wonderful sisters Becca, Emily, Kate and Megan. There are so many things that I want to try out. I enjoyed every moment I spent over there. Unfortunately I didn't have too much of time at my disposal but I know I'll be visiting them frequently from now on. So do go over and pay them a visit. You won't regret it.
This month, I decided to whip up something cool and refreshing and this Orange Julius is just that. It is simple to put together and I really liked the way it turned out. I know I'm going to make this a few times this summer to help beat the heat. Don't be fooled by the simplicity of this drink, it tastes amazing. I'm glad to have this added to my summer coolers arsenal. I just cut down on the sugar in the recipe and was happy with the results. But feel free to change the sweetness of this drink to suit your liking.
Orange Julius
1 cup orange juice
1/2 cup milk
1/2 cup ice
1 tbsp sugar
1/2 tsp vanilla extract
Blend all the ingredients together and serve chilled.
(A big "Thank you" to Amanda of Amanda's Cooking for bringing so many wonderful people together month after month with this Club. Also, Suzanne of Thru Bugs on my Windshield – you are a rocking hostess! Thank you for all you do.)
Don't forget to stop by and check for the other wonderful folks in Group B have posted this month.
document.write('
A couple of years ago when we were in Hong Kong, we had dinner a couple of times at BLT located at Tsim Sha Tsui. I found this place a little pricey but the set up was lovely and the food was good. Altogether a great dinning experience. We'd usually have a milk shake with our burgers and a side of fries or onion rings. When it comes to milkshakes, I tend to lean towards fresh fruity ones while my husband prefers something chocolatey. We tried out a few of their amazing concoctions and loved every one of them. I miss those kind of milk shakes and so I figured I might as well try and replicate them at home. I mean, its a milk shake! It can't be that hard. Right? And you know what, I was right. My first attempt was to replicate this milk shake called Monkey Business – fun name, don't you think? You can't go wrong with chocolate, bananas and peanut butter. Thats right! With a few basic ingredients on hand, you can treat yourself to this delicious shake in minutes.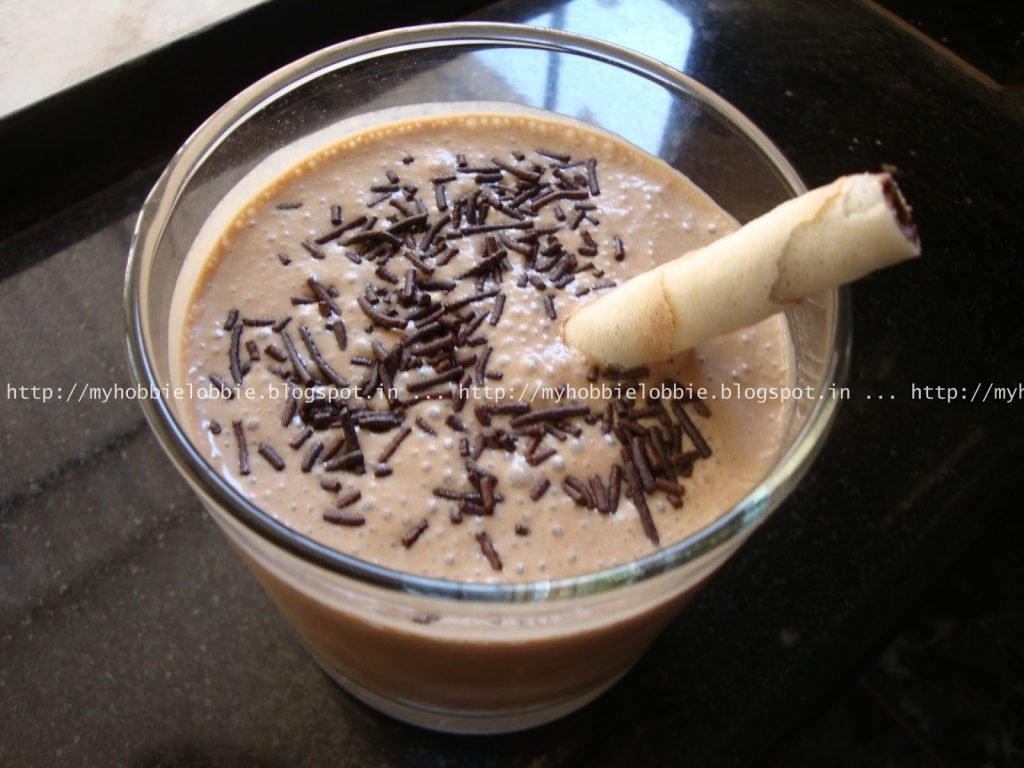 Monkey Business


1 cup approx. chocolate ice cream
1 ripe banana
2 tbsp peanut butter
Blitz everything in a blender until smooth. Taste and adjust the flavors to your liking. Serve in a glass
I used some chocolate sprinkles and a chocolate wafer to dress it up.
This recipe is linked to –
This Week's Cravings
Sweets for a Saturday
Mix it up Monday
My Meatless Mondays
Recipe Sharing Monday
Just Another Meatless Monday
Mangia Mondays
Crazy Sweet Tuesday
Tempt My Tummy Tuesday
It feels so good to be back to blogging. I've missed you my wonderful friends in blogland (Don't tell anyone, but I almost had withdrawal symptoms from being away from this space for so long) and I'm happy to be back. Back from where you may wonder. We just took a 12-day trip to Rajasthan – Mount Abu (awesome weather – colder than any winter here in Mumbai), Kumbalgarh (we stayed 5 minutes away from the actual fort) and Nawalgarh(we stayed at what used to be an actual palace and is now converted to a heritage hotel). I've never been there before so it was a brand new experience for me. I had a blast. Needless to say, I tried to schedule a few posts before going but had to complete a wedding cake order before leaving along with some other cake orders that came in at the last minute, so couldn't put up as many as I hoped to.
Anyway, when I got back a couple of days ago, amidst all the clean up and laundry that results from being away for so long, I went to check out my list of recipes that I had shortlisted for this months SRC. SRC is turning out to be so much fun. Thank you Amanda for coming up with this concept and a big "thank you" to Tina for painstakingly hosting our group month after month. This month, I was assigned Lynne's blog Cafe Lynnylu. If you haven't stopped by her blog yet, you really should. She has tonnes of wonderful recipes. She participates in the Daring Bakers Challenges and I really admire the folks who are part of that group. They come up with stunning stuff always. She also is an amazing photographer, you have to see the pictures on her blog. Simply put, her blog is a treat in more ways than one. Picking out a recipe for this months reveal was a very daunting task for me since I was spoiled for choice. Just to give you a heads up, my final list of recipes to consider for the SRC consisted of 21 recipes. This month, I decided to do something a little different. I have never posted cocktails on my blog before and Lynne has a stunning collection of these. Considering all the chaos and lack of time, not to mention the weather in Mumbai is so hot, its killing me; I decided to whip up a cocktail to help us cool off – I picked the Black Russian.
The Black Russian is a coffee drink and with minimal prep, is really simple to put together. This drink is a coffee lovers delight. I love my morning mug of coffee so I figured I couldn't go wrong with this. I was very happy with the way this turned out. Which reminds me, I had bought a book dedicated to cocktails which I have used only once before and I think trying this drink out has given me the boost I needed to try out some of the concoctions from the book as well as Lynne's blog. Thanks to Lynne I now know how to make a great Black Russian. I can't wait to add to my meager cocktail arsenal.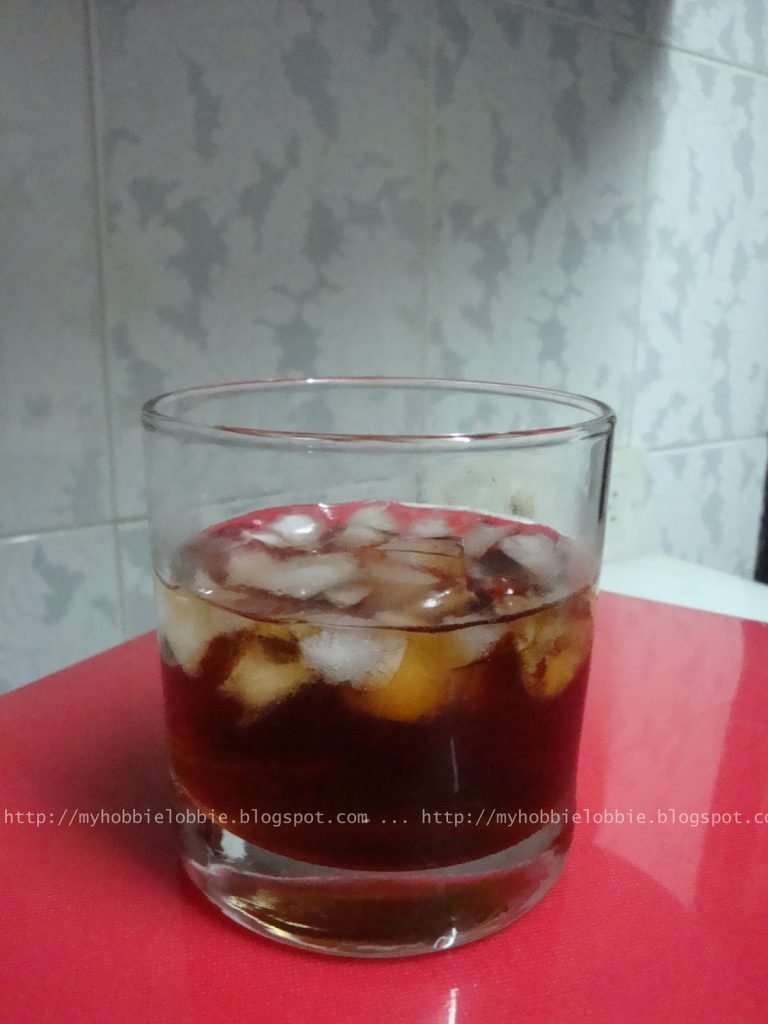 Black Russian
Adapted from: Cafe Lynnylu
60ml Vodka
2 tbsp Kahlua
3 tbsp chilled black coffee, sweetened
Ice cubes, coarsely crushed
Fill a glass with the crushed ice.
Pour the vodka and the Kahlua over it and stir.
Add the chilled coffee and stir to mix well.
Sit back and enjoy your drink.
Cheers!!!
Don't forget to check out what the others have posted –
This recipe has also been linked to –
Food on Friday – Cocktails and Mocktails edition
document.write('
I honestly think that the mango is my favorite fruit. There was a time where our ancestral property in Goa yielded huge amounts of fruits like mango, jackfruit, bananas, papayas, chickoos and cashew to name a few. So back in the day we had access to a seemingly endless supply of some of the most delicious mangoes I've ever had. I haven't been there ever since my grand-aunt and grandmother passed away. I miss them and the good old days terribly.
Just the other day, when my mum came over for lunch, she brought us some mangoes. They were not my favorite variety but I knew that this particular variety was excellent for milk shakes and such. I didn't have too much milk lying around, but I did have a couple of tubs of plain, natural yogurt. So I figured, why not make some mango lassi?
This is a wonderful way to use up fruit. You may remember the strawberry lassi from some time ago. The mango lassi as well is cool and refreshing, perfect for the crazy summer months, not to mention it also has the deliciousness of mango. Its easy to whip up and in a few sheer minutes you'll have a lovely cool treat in hand.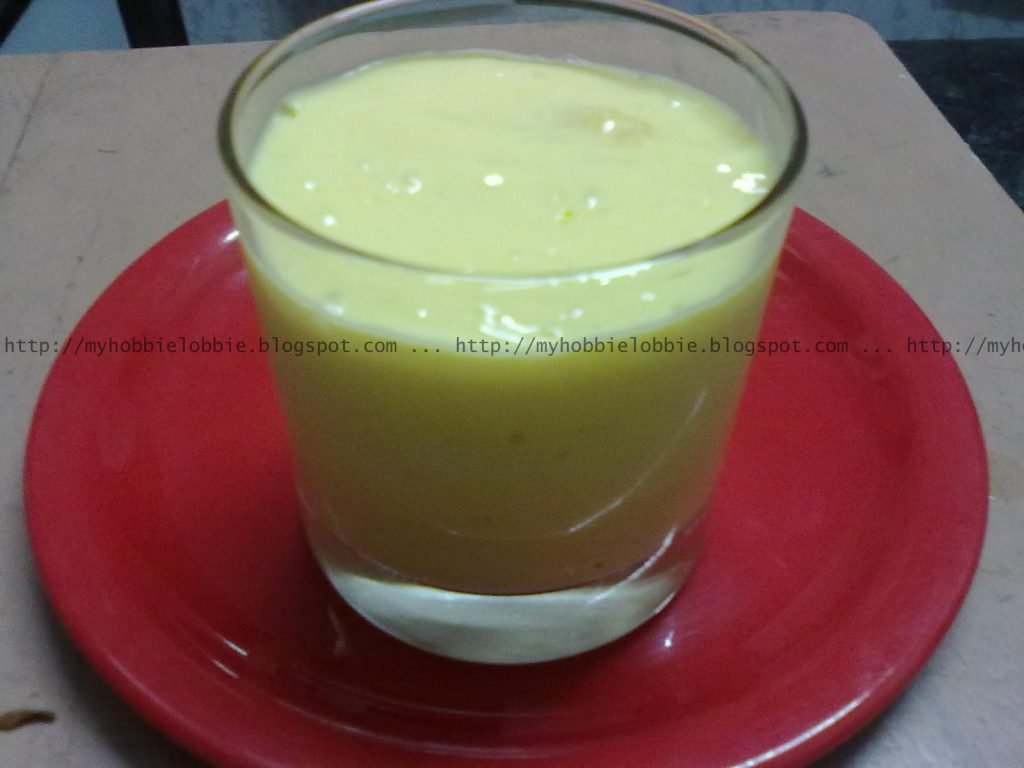 Mango Lassi
(Serves 2)
1 tub natural unflavored yogurt (We get it in 400g tubs)
Flesh of 1-2 mangoes
2 spoons superfine sugar (optional)
A few ice cubes (You wont need this if you can chill the mango before blending)
Place all the ingredients in a blender and blitz till is well incorporated.
Serve.




This recipe is linked to –
Just Another Meatless Monday
Monday, Mmm … Dessert
UPDATE: If you don't have loose tea leaves in your pantry, you don't need to buy some just to make this. Simply use tea bags to make the tea and then proceed as mentioned below. Enjoy!
In my part of the world, summer is upon us in all its glory. Sometimes I think that besides a couple of weeks that we can call the monsoon and an even shorter time span that we call winter, what we experience is varying degrees of summer. How I long for colder weather. Anyway, to help deal with the heat levels around here, we make a good pitcher of Ice Tea. We've tried a couple of flavors and I think they're simply lovely. We've also sampled the ready powdered stuff that you get, brands like Lipton and Nestea and stuff, but let me tell you, there's nothing better than the real deal. It takes a few minutes more to make, but its so worth it.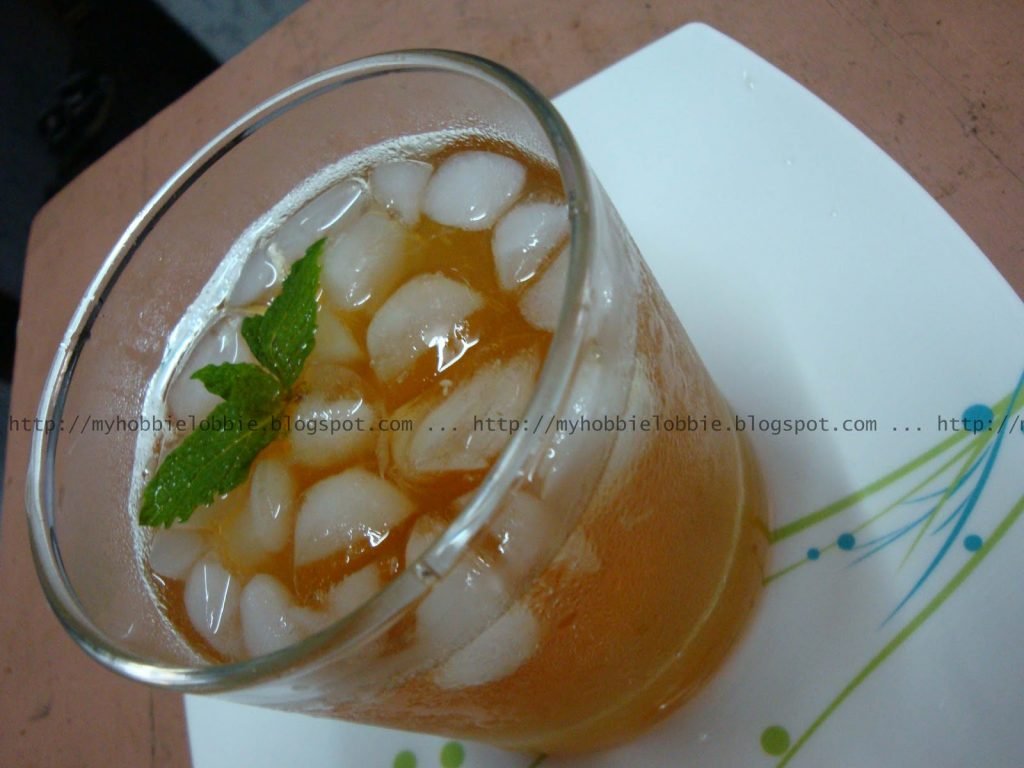 Lemon Ice Tea
3 cups water
1/2 tsp tea leaves
2 lemons / limes
Sugar, to taste
Sprigs of mint, to garnish
Ice cubes, as required
Bring the water to a boil.
Tip in the tea leaves and let it simmer for about 30 seconds to a minute. If you like a stronger tea flavor, let it simmer longer. If you prefer it mild, you should take it off the stove sooner.
Strain the tea to get rid of the tea leaves. Add sugar to taste. (You can substitute with a sweetener of your choice.)
Let the tea cool down.
Add the juice of about 2 limes. Again, taste and see how much citrus you'd like.
Give it a good stir.
Decant in glasses with lots of ice.
Garnish with a sprig of mint or a wedge of lime.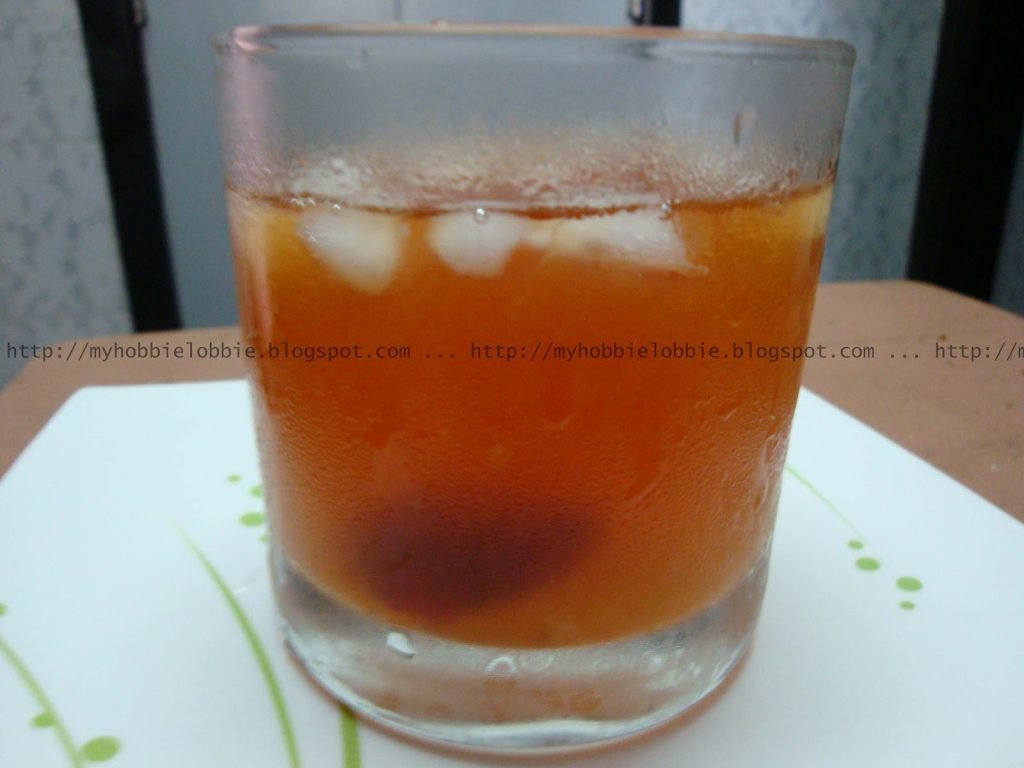 Strawberry Ice Tea
For this variant, make the tea just like you would for the lemon ice tea.
Add the sweetener of your choice.
We like to add some lime juice to this as well. It adds a nice touch. Of course, quantity needs to be adjusted to suit your preference.
Lastly, add some strawberry puree or crush to this and stir well. Don't forget to top the glass with some ice. What you see at the bottom of the glass is a whole strawberry to munch on after you're done with the drink.
Make your own ice tea. You will get hooked, and yeah, in the bargain you'll beat the heat as well.
This recipe is linked to –