Most people usually relate Indian food to a Chikken Tikka or a curry of some sort or basically food loaded with spice and really strong flavors. For the most part it is true, but today I'm going to share with you a recipe that I love. It is a recipe for a Kadhi – a yogurt curry. Because of how large and diverse India is, you find a few variations to this kadhi. Today's recipe is from the state of Gujarat and tends to be a little sweet. For years I have tried to find a recipe I enjoy. It has taken a while because this recipe is a delicate one and has to be well balanced. And I have.
I don't make this kadhi as often as I should. Is is easy, light and delicious. Since yogurt is a main ingredient in this dish, it is cooling and that is perfect for summer. Served over some piping hot plain rice with a little pickle and some papad (poppadoms), and if you're feeling indulgent a few pakoras on the side, it is one of the most satisfying meals you will ever have. If you're trying to cut down your meat consumption, this is a fantastic meal. As an added bonus, kids love this kadhi too. And that's a win-win in my book.
For the curry –
1 1/2 cups plain, unflavored yogurt
2 tbsp besan (chickpea flour)
1/2 tsp ginger, finely grated or ginger paste
3 fresh green / red chillies, finely sliced
1/4 tsp turmeric powder
3 tsp sugar
Salt, to taste
3 cups water
For the tadka / tempering –
2 tsp ghee (clarified butter)
1/2 tsp mustard seeds
1/2 tsp cumin seeds
2 Kashmiri chillies (dry red chillies – kashmiri chillies aren't spicy, they just add flavour)
1 inch Cinnamon stick
4 cloves
A pinch of asafoetida
6-8 curry leaves
Pick a pot you want to cook the kadhi in and add the yogurt, besan, ginger, green / red chillies, turmeric powder, sugar and salt. (I've used a bowl here, for the sake of pictures. Mixing everything in the same pot you will cook the curry in, makes for lesser washing up after.)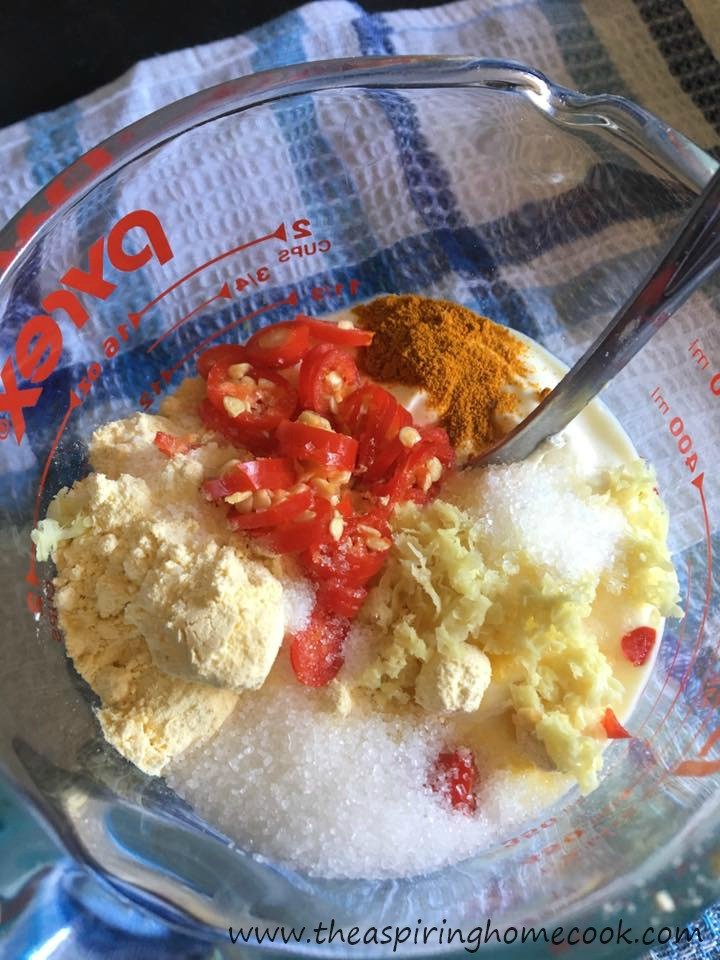 Whisk it well and ensure there are no lumps. I find this is easier with a whisk than a spoon / fork, but if you don't have a whisk, you could use a spoon or fork but mix well.
At this point, I moved the ingredients to the pot I used for cooking. However, if you are mixing ingredients in the cooking pot itself, you can skip this step.
Add the water to the pot and whisk well. (Depending on the turmeric powder you use, you can choose to add a touch more to give it a more golden color, if needed. I added about an extra 1/8 tsp of turmeric powder at this stage and whisked it through.)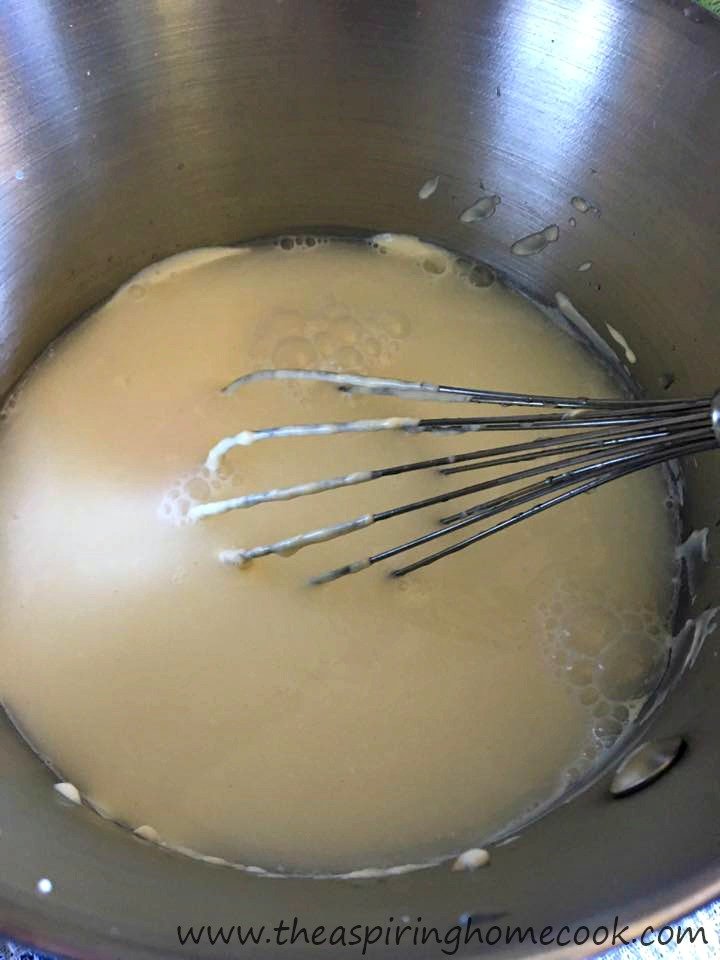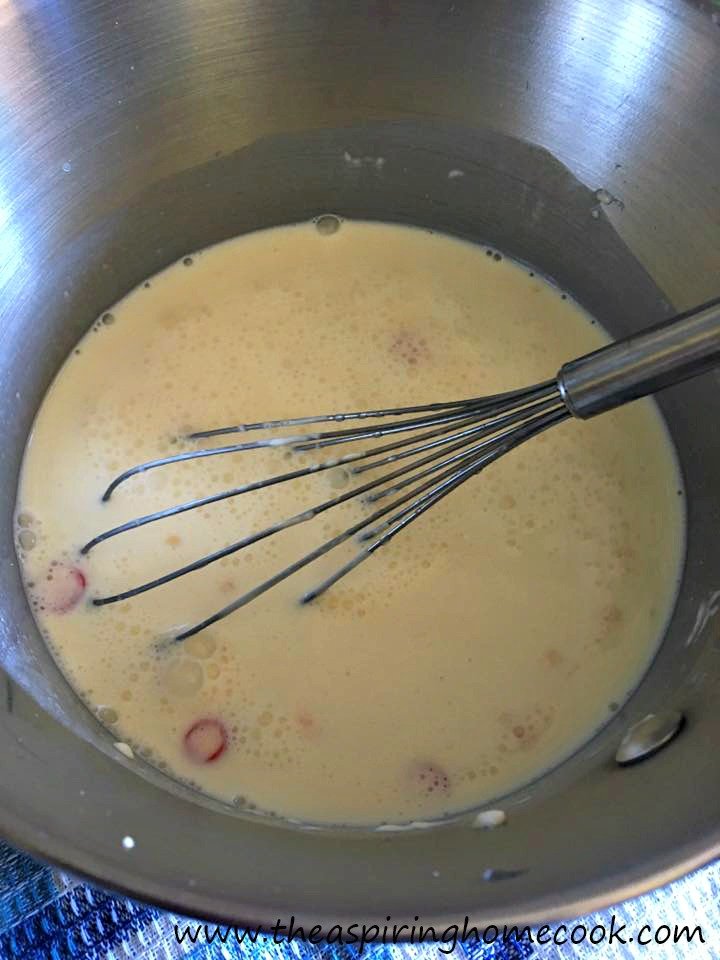 Place the pot on medium heat and bring it to a boil, stirring / whisking continuously.
If you stop whisking, it will cause the yogurt to split, resulting in a not so good looking curry with a weird texture. So make sure you keep whisking.
Once it comes to a boil, lower the heat and let the curry simmer, stirring every now and then.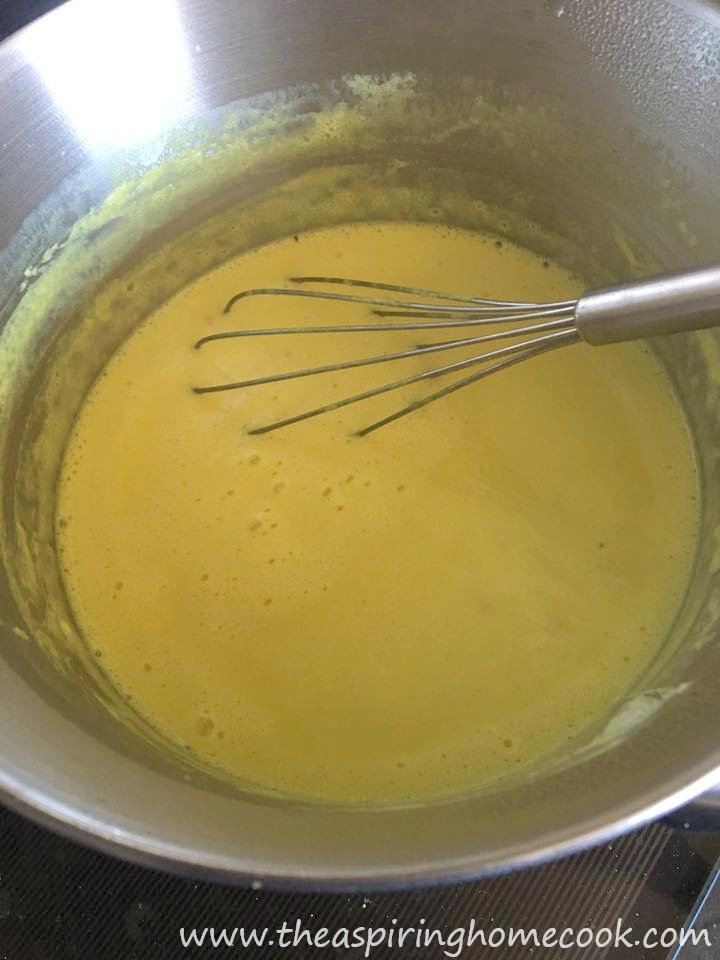 Now work on the tempering or tadka. This is what infuses this curry with all the lovely flavors it is known for.
For the tadka / tempering –
Keep all your spices ready at this stage, because things move really quick now and they can burn really quick if left unattended.
Heat the ghee in a small pan on medium heat.
Add the mustard seeds and let them sputter.
Add the cumin seeds.
Next add the dry Kashmiri chillies, cinnamon stick and cloves. In a few seconds, you will be able to smell the aroma of the tempered spices.
Add the asafoetida.
Roughly tear the curry leaves and add to the spices.
Gently stir.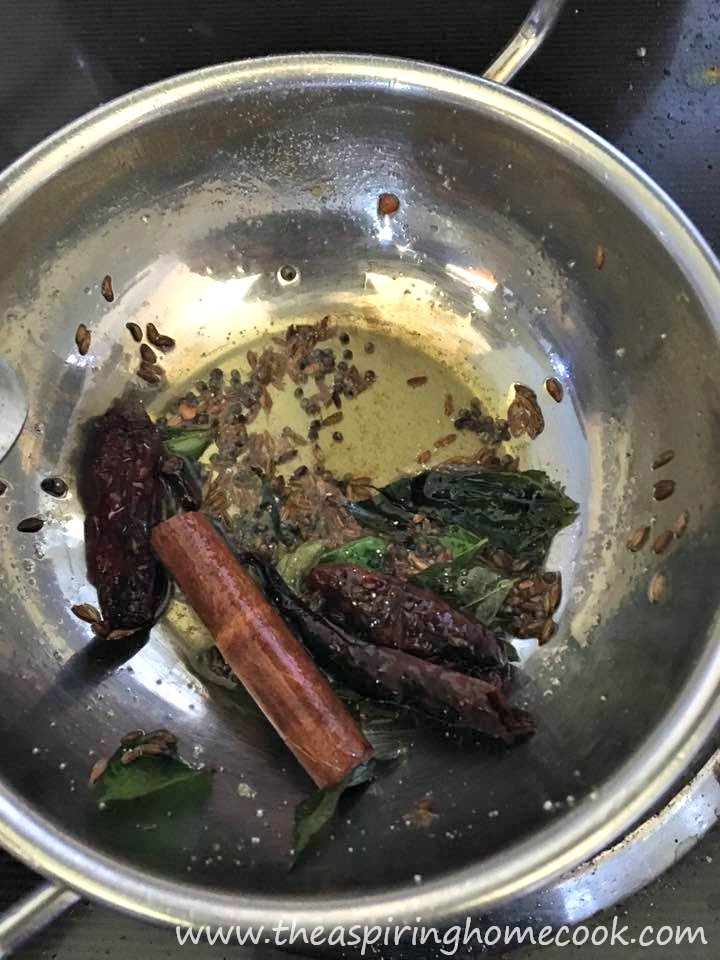 Immediately add these tempered spices and all the ghee used for tempering to the pot of simmering kadhi.
Stir well.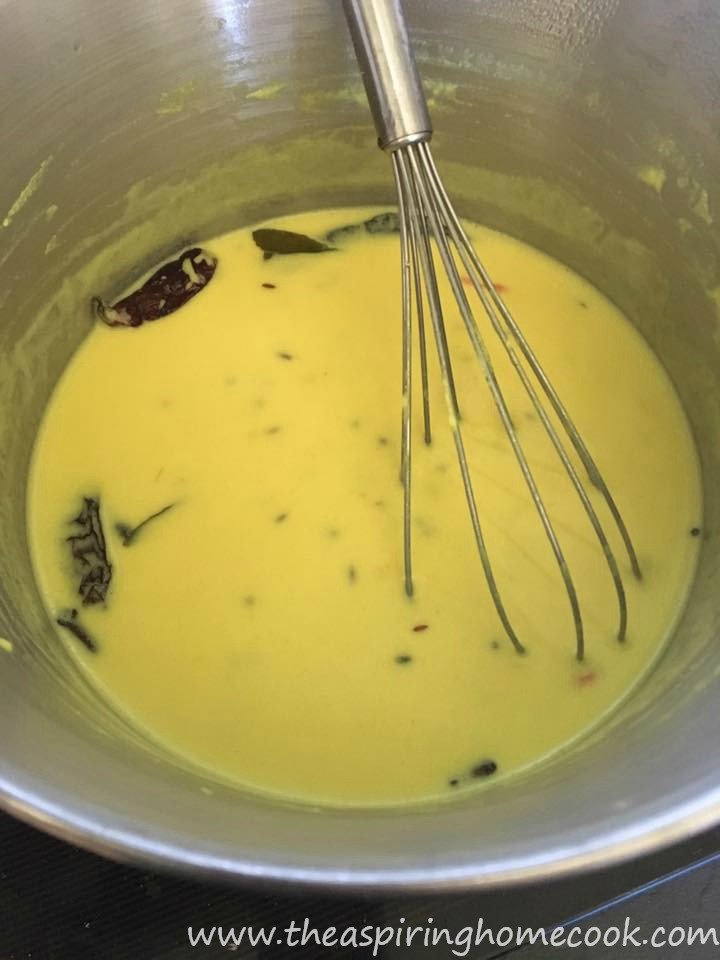 Let the kadhi continue to simmer for another 5 minutes, stirring every now and then.
Serve hot.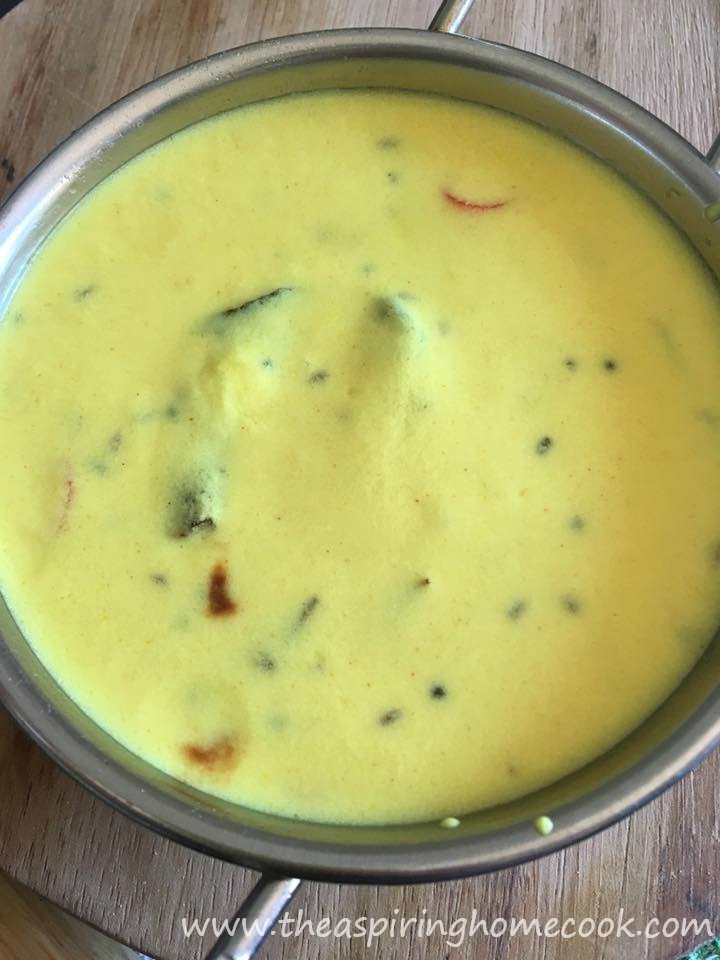 If you need some Pakora / Bhajiya inspiration to serve alongside this kadhi and rice, here you go –
Potato and Onion Bhajias