You're probably wondering why I'm posting an apple crisp recipe in the middle of Spring. Well, you know the last few months have been super busy and I haven't been regular with the posts here. Today, I have a little time on my hands and was looking through some of the pictures I've taken of posts I'm hoping to get done soon and this one jumped out. I realized I hadn't shared this recipe with you yet and I thought it would be a good opportunity to do that. You see, like I've said in the past, I have been cooking and baking, I just haven't gotten around to posting yet.
I know while we're enjoying the slight warming of the weather, most of you are in the middle of autumn / fall and you should have plentiful access to some apples. Now, I've had my share of apple cobblers and pies before, but this little dessert is in a league of its own. The crisp almond topping adds a whole new dimension to the apple-cinnamon mix. Its adds some crunch and pairs with the apples so well, you have to eat it to believe it. In the picture, I've only captured the crisp, but you could serve it up with some vanilla custard or some lovely vanilla bean ice cream.
The only thing I did differently, is I left the skin on the apples. But if you don't like it, you could peel them. Oh yeah, I also left out the nutmeg. This recipe is a sure keeper. I see myself making this over and over again.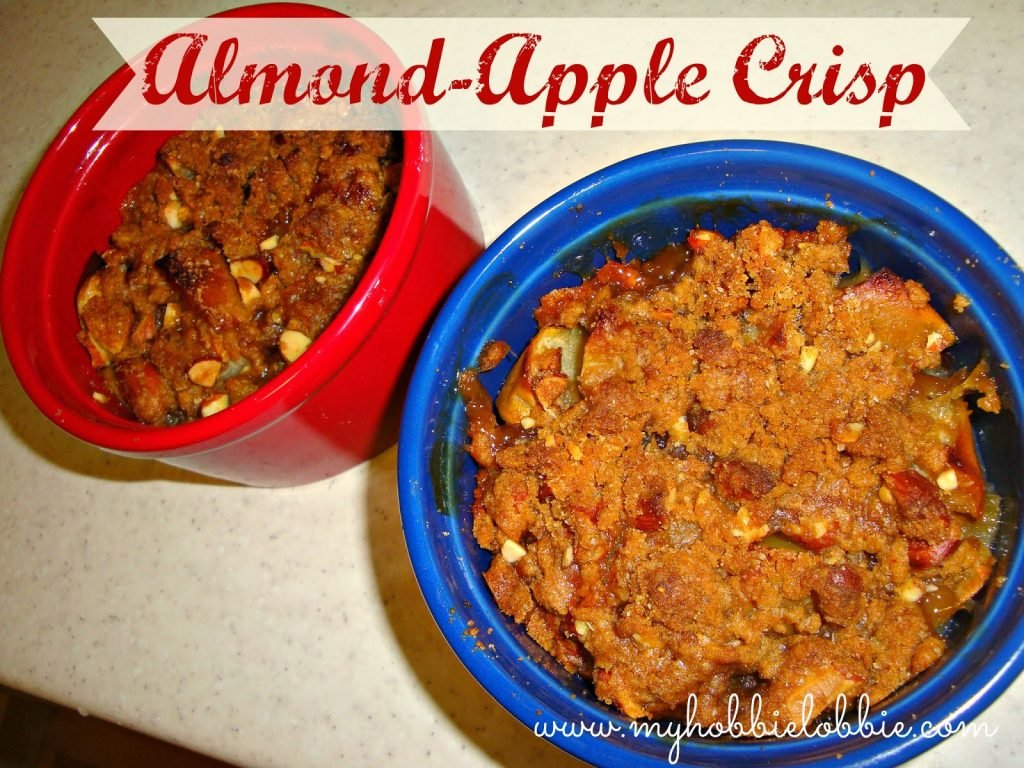 Almond-Apple Crisp
(Recipe from: Brown Eyed Baker)
For the apple filling –
1 1/2 pounds Granny Smith apples, cored and chopped into small pieces
1 1/2 pounds Red Delicious / Gala apples
1/2 tsp cornstarch
4 tsp lemon juice
2/3 cup sugar
A pinch of salt
A pinch of cinnamon powder
For the Almond Crisp topping –
3/4 cup all purpose flour
3/4 cup light brown sugar
1/2 cup slivered almonds, crumbled with your fingers
1/2 tsp salt
1 1/2 tsp cinnamon powder
1/2 cup cold butter, cut into small cubes
Preheat the oven to 180°C.
To make the filling –
Stir the cornstarch and the lemon juice in a large bowl till it dissolves.
Add the apples, sugar, salt and cinnamon and toss well to combine.
Pour the mix into and 8″ square baking dish. I did that and had some left over so I used a couple of ramekins.
To make the topping –
In a medium bowl, whisk the dry ingredients together.
Rub the butter into this mix, by using your fingers till it resembles coarse crumbs.
Sprinkle the topping evenly over the apple mix.
Bake for 50-55 minutes or until the topping is golden brown.
Enjoy!!!
For some more apple inspiration, try these recipes –
Apple Pie
Baked Apple Chips
Cinnamon Sugar Apple Cake
Apple Hand Pies
This has got to be one of the quickest recipes I've come across. Its taken me longer to write up this post than to make this fresh salsa. If you haven't realized by now, I really like my tortilla chips and nachos. You might remember my homemade version from
here
. Even though tortilla chips are easily available all over the place here in Australia, I somehow still prefer the homemade version. For this post, you'll see a store bought option pictured. I just need a little time to whip up a homemade batch, it is so much better; tastier and you know exactly whats in it.
But today we're here to talk not about the chips, but this really yummy salsa dip. A while ago, I'd picked up a jar from the local supermarket, that claimed to be 'Hot'. I love spicy stuff, so I thought this would really hit the spot. What I love about Mexican food is the spice from the chillies and peppers and the tang from the lemon and tomatoes. Much to my disappointment, this store bought salsa was neither 'Hot' nor tangy. I knew I had to figure out a way to get my hands on something better. So when I came across this recipe for a blender version of Salsa, I decided to try it out. It was too quick and easy a recipe to pass up. And am I glad I tried this out. The salsa was fresh, packed full of flavor, you can easily adjust the spice levels to your liking. It was everything a good salsa should be. I sure hope you try it out.
The picture doesn't do it much justice. It was fairly late in the evening when it was taken. I hope to get a better picture up sometime soon.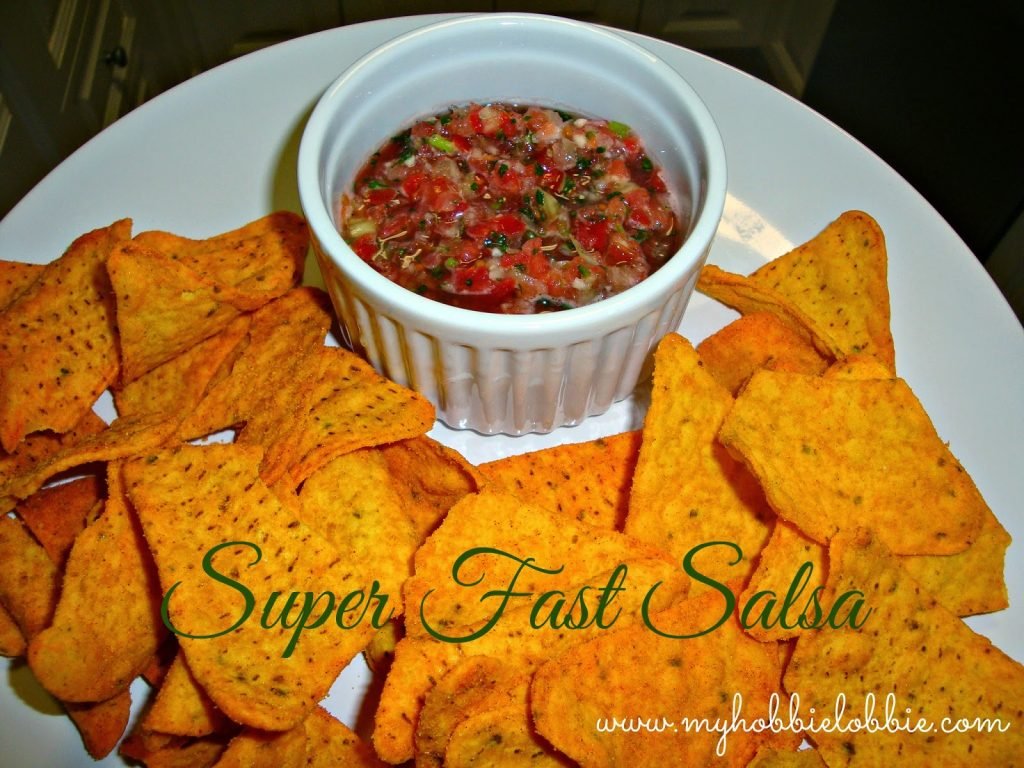 Super Fast Salsa
(Adapted from: Barbara Bakes)
1 clove of garlic
1/4 onion, roughly chopped
2 -3 tomatoes, roughly chopped
Fresh coriander leaves with stalks
Lime juice, to taste
Salt, to taste
Place all the ingredients in the food processor.
Pulse till it reaches the consistency you like and is combined.
Adjust the salt and lime if needed.
Enjoy!
Welcome to this month's edition of the
Secret Recipe Club
, what we lovingly call the SRC. For those of you visiting my site for the first time, SRC is a fun group of bloggers that come together once a month, and prepare one recipe from a pre-assigned blog and write up a post about it on the reveal day. Its sort of a Secret Santa for food bloggers.
This month, I was assigned the blog,
BC Mom's Kitchen
. What a fun blog. Anna, aka BC mom is a girl after my own heart. She looks for recipes that are quick and easy to make, without compromising on flavor. That is my food mantra, the kind of food I love to cook. After looking around for a bit, two recipes caught my eye, one was her recipe for
Stuffed Chicken Breasts
(which I will try soon, I've picked up all the ingredients for it) and a curious recipe called
Iced Caps
.
With summer kicking in here, I decided to go for a nice chilled treat – the Iced Caps. I've never heard of it called by that name before, but it looked like an interesting twist on the good old Cold Coffee, one of my all time favorites and its been that way for a long time. I've just not had one in ages. I couldn't let an opportunity like this pass me by. I had all the ingredients I needed at hand and chances are you will too. So if you're looking for a nice cool treat, you could be sitting down with a nice cool glass in sheer minutes. While it is simple to make, not to mention quick, don't let it fool you. I've made this a couple of times already and I get the feeling that I will make this a few more times, atleast, this summer. I've made it with and without the vanilla and I like it both ways. It turns out surprisingly creamy, yet not too heavy, with a nice kick of coffee. Thanks Anna, for the inspiration. This one is a keeper in my books.
I stuck to the recipe but I did make a double portion, because I knew my husband would want to try it out too. And try it he did. Let's just say we're really happy to have tried this recipe out.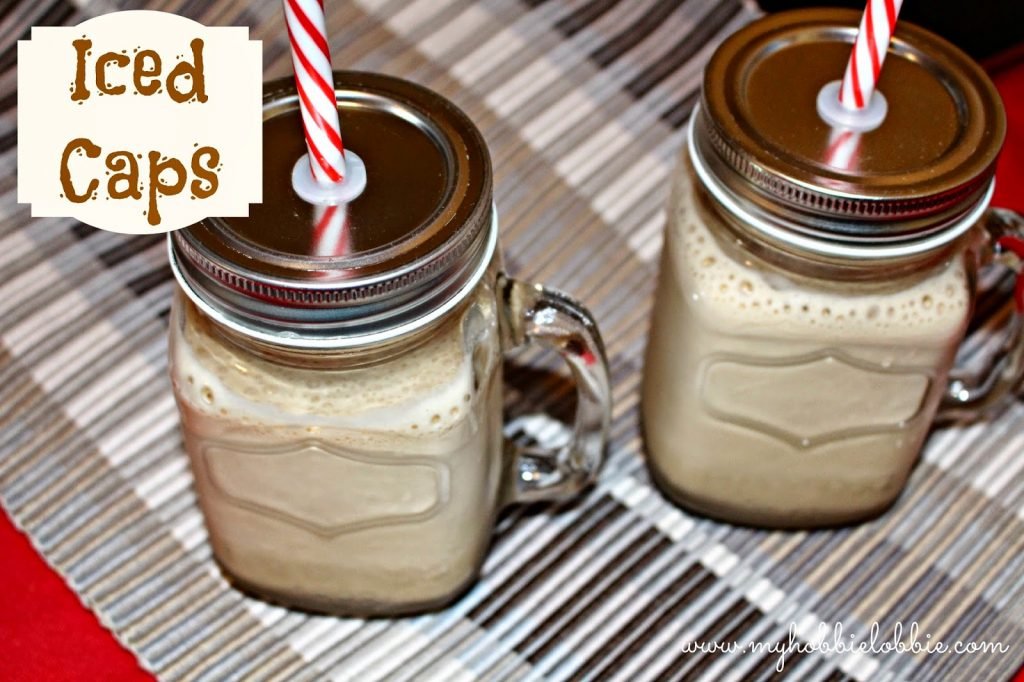 Iced Caps
(2 serves)
2 cups of milk (I used full cream)
2 tsp instant coffee
1 tsp vanilla
8 tsp sugar
12-15 ice cubes
Place all the ingredients in a blender and blitz till the ice has crushed.
Serve up chilled.
Enjoy!!!