Tomorrow we celebrate one of the most solemn national public holidays, Anzac Day. A day of remembrance dedicated to all those who fought (and those who fell) and their families. It seemed fitting to make some Anzac biscuits for the occasion. These biscuits date back to the days of the War. They were made by wives and mothers and sent to the soldiers. They had a long shelf life so that they could withstand the long naval journey. I have bought them from the supermarket on a few occasions, but this is the first time I've made them myself. Being a long weekend, even if you haven't made these cookies yet, I urge you to try them out tomorrow.
They are quick to whip up and would make a nice little project where the kids can help out too. From start to finish these take about half an hour to make. But let me take a moment to tell you how good these biscuits are. Needless to say, these are so much better than the store bought ones. The flavour is unbelievable. And what I love is that these biscuits are both, crunchy and a little chewy at the same time – that is my favourite kind. I used a recipe, I got in a local pamphlet that had been dropped in my mailbox. It is a recipe I am very happy to keep using.
So without any further rambling from me, I present to you, the delicious Anzac bisuit.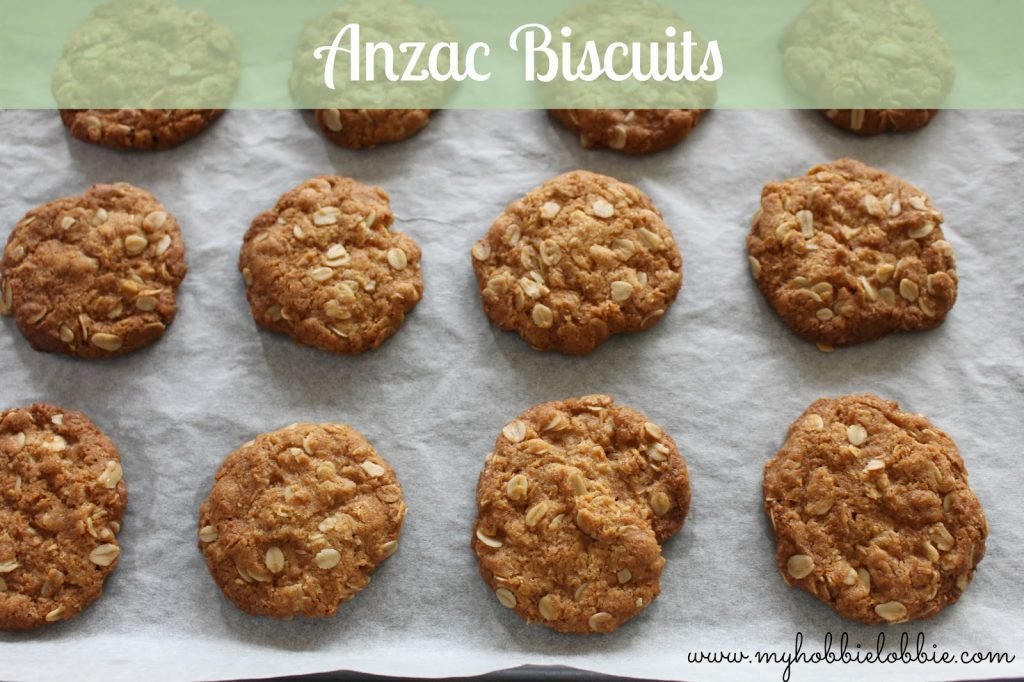 Anzac Biscuits
(Yields: 30 biscuits)
1 cup rolled oats
1 cup sugar
3/4 cup dessicated coconut
1 cup all purpose flour
125g butter
2 tbsp golden syrup
1/2 tsp baking soda
3 tbsp boiling water
Preheat the oven to 180ºC. (Fan forced oven to 160ºC)
Line a couple of baking trays with some baking paper.
Melt the butter and golden syrup in a saucepan.
In a bowl, combine the oats, sugar, coconut and flour and stir well.
In a little bowl, combine the baking soda and boiling water and stir well.
Add the baking soda solution to the melted butter.
Stir through and add this mix to the bowl of dry ingredients.
Mix everything through thoroughly.
Shape into little balls the size of walnuts and flatten slightly and place well spaced on the lined baking tray.
Bake for 10-12 minutes or until golden brown.
Cool on the tray itself. The biscuits come out still soft and will harden as they cool.
When they've completely cooled, store in an airtight container.
You can watch a handy video on how to make these cookies here –
Oh yes! You read that right. I have finally jumped on the bandwagon and tried out a veggie burger. This is a first for me. Don't get me wrong! We love our veggies and have a fair amount of meatless meals. But I've always been a firm believer that burger had to include meat in some form – cheeseburgers, chicken / turkey burgers and even fish burgers.
I still can't figure out how it happened. I think it was the subtle suggestion of seeing veggie burgers pop up in so many places, that one day I decided I had to try them out. I would love to include some more meatless meals in my weekly rotation and was curious to see if this would fit the bill, not as a weekly option, but definitely a regular one.
I was really simple to put together. Since I made my beans from scratch (from dried beans, that is), it did take planning a little ahead of time. But the rest was an absolute breeze. The verdict – We loved it! I don't know why I was so sceptical to begin with. The burger patties cooked up fast and had a light crunchy crust while being tender and nice and flavourful on the inside. These burgers were pretty hearty and I didn't miss the meat at all. I know this will be the first of a few more veggie burgers to come.
Black Bean Burgers
Adapted from: The Pioneer Woman


1- 1 1/2 cup dried black beans (or a couple of cans of beans drained)
1 cup bread crumbs (plain or seasoned)
1 small onion, chopped finely
1 green / red birdseye chilli, finely chopped (optional)
1 egg
1/2 -1 tsp chilli powder (to taste)
Salt, to taste
Freshly cracked black pepper, to taste
Hot sauce (I happened to have a bottle of Choloula)
Cheese slices of your choice (I used crumbled feta)
Olive oil, for frying
4 burger buns
Sliced onion
Sliced tomato
Iceberg lettuce
Any other burger fixin' of your choice
(The original recipe calls for mayonnaise, but the feta was perfect. You could use mayo if you'd like.)
If you are using dried beans, wash and drain the water. Soak in fresh water overnight. Cook till done. I pressure cook mine. Place the beans with salt and the recommended amount of water (your pressure cooker manual should give you an idea.) It takes 5 minutes after the pressure has built up in my WMF pressure cooker.
Let the pressure die down before opening the cooker. I leave it for about 10 minutes.
Drain the beans and place them in a shallow bowl.
Mash the beans roughly. You want some of it fully mashed but also some bigger bits and pieces. So a rough mash is perfect.
Add the breadcrumbs, onion, chilli, egg, chilli powder, salt, pepper and hot sauce to the mashed beans. Mix everything well. Let it rest for about 10 minutes.
Shape into patties the size of your burger bun. These patties don't shrink like the meat ones. They hold their shape and size.
Heat some olive oil in a pan over medium heat.
Place the patties in the pan and let it cook till it has browned and crisped up on one side. This takes 4-5 minutes. Flip and cook for another 4-5 minutes till it browns a little and crisps up on the second side as well.
If you are using cheese slices, place the slices on the patties after you've flipped them so that they can get all melty and gooey while the patty cooks on the second side.
Slit the burger buns and lightly toast them on the pan, cut side down.
I crumbled my feta cheese into a bowl and used a spoon to mash it up and make it more spreadable.
Assemble your burger with the fixings of your choice. For me it was iceberg lettuce, sliced onion and sliced tomato.
Enjoy!!!
Boy! Oh boy! Oh boy! I am so excited about this month's
SRC
assignment. This month, I was finally assigned Sawson's blog,
Chef in Disguise
. I tell you, I have been a fan of this gorgeous blog for years now. Sawson is an "orthodontist by day and food explorer by night". I love that term,
food explorer
sounds so much more exotic than
food blogger.
And food explorer she is. If you go on over to Sawson's blog, you will be treated to a vast array of delicious recipes with beautiful pictures. Her blog mainly focuses on Middle Eastern cuisine, which I have enjoyed getting familiar with. Everything is so flavourful and there is so much variety. In addition to that she participates in the Daring Cooks and Daring Bakers Challenges as well. So you can expect a lot of recipes from other parts of the world too.
I have had my eye on a couple of her recipes for ages now, but when I actually looked through her blog, there was so much more I wanted to try. With great difficulty, I narrowed it down to these spinach and feta mini rolls (I can't wait to try these), these awesome spiral meat pies called Yafawi Sfeeha, these Cheese and Zaatar sticks and cool off with this sweet tamarind drink, and for dessert how about this Harissa! I decided to go with the recipes I've been eyeing since forever – Sawson's Shish Tawook Chicken and this Middle Eastern Garlic sauce called Toum. Both were very easy to make and really delicious. The chicken was succulent and full of flavour and the garlic sauce was nice and garlicky with a nice tangy kick. My sauce turned out a little runny and I'd love to learn how to thicken it up a little more, but the flavour was all there.
I made some wraps with Pita bread, finely cut Cos lettuce, sliced cherry tomatoes, finely sliced red onion and topped it with this gorgeous chicken and the garlic sauce. It was so very good. Thank you Sawson, for sharing these recipes.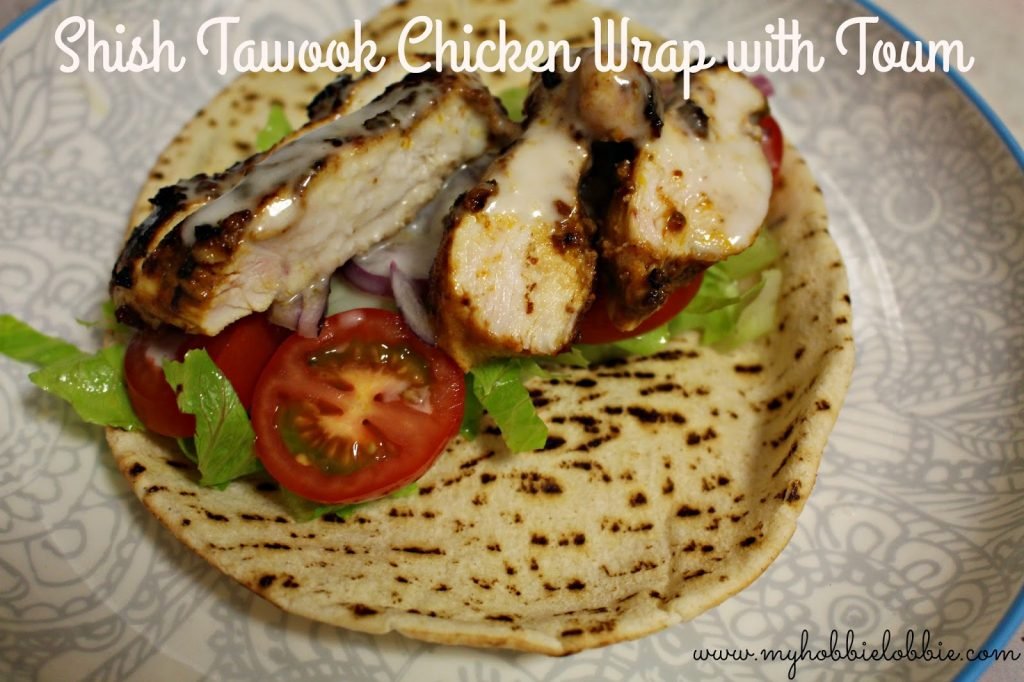 Shish Tawook Chicken


2 chicken breast fillets, skinless
1 tbsp tomato paste
2 tbsp ketchup
2 cloves garlic, minced
3/4 tbsp mustard
1 tbsp soy sauce
1 tbsp dried oregano
2 tbsp olive oil
2 tbsp yogurt
1 tsp smoked paprika
1/2 tsp salt
1 tsp all-spice powder
Cut the chicken breast into strips or pieces.
Mix the rest of the ingredients together and marinade the chicken with it. Make sure all the pieces are well coated with the pieces.
Cover with cling film and leave to marinade for atleast half an hour or in the fridge overnight.
Drip off the excess marinade and grill or pan fry the chicken till done.
Toum


2 tbsp cornstarch
3/4 cup water
3-5 cloves garlic, minced
1 tsp lime juice, or to taste
3-5 tbsp vegetable oil
A pinch of salt
Dissolve the cornstarch in the water.
On a medium low flame, cook the cornstarch solution till it thickens and starts to bubble, whisking continuously. Continue cooking for another two minutes.
Take the solution off the heat and cool down completely.
Place the cooled solution in a food processor or blender. Add the minced garlic, salt and lemon juice.
Blitz till the mix starts turning white.
Drizzle the oil in one spoon at a time, like you would for a mayonnaise till it thickens to the consistency of a mayonnaise. You may not need all of the oil.
Serve immediately or refrigerate in an air tight container.
** My version wasn't as thick as I'd have liked it to be, but I hope to get that fixed soon.
<!– end InLinkz script —>