A while ago, a reader had requested for a traditional Goan Baath recipe. That was a while ago, but eventually I got around to getting a picture of this delicious cake before it disappeared. So I've taken the opportunity to share the recipe with you. Baath or Badca – whatever you are used to calling it, is a delicious traditional recipe for a Goan coconut and semolina cake. Its not your run of the mill light fluffly sponge cake, but a more dense and rich one. A good baath cake should not be dry and should be mildly flavoured with ground cardamom. We typically make this for Christmas and it is a part of our Kuswar (Christmas platter).That being said, there is absolutely no reason you can't eat this any time of the year. It goes down an absolute treat with a cup of tea / coffee.
This is a simple cake to prepare and does not require you to bring out the heavy equipment. A mixing bowl and wooden spoon should suffice. You start of by making a sugar syrup and cook off the coconut and dessicated coconut in it. Then add the eggs and bake.
Baath


200g dessicated coconut
2 cups water
2 cups semolina
2 cups sugar
6 tbsp ghee (clarified butter)
6 eggs
1 tsp baking powder
A generous pinch cardamom seeds, crushed (Seeds from about 6 large pods)
In a heavy bottomed pan, bring the water to a boil.
Add the sugar to the pan and let it melt.
Once the sugar has melted, add the coconut and the ghee and let it come to a boil, stirring frequently.
Add the semolina and let it cook for 5 minutes, stirring frequently.
Add the crushed cardamom seeds.
Take off the heat and cool.
After the mix has cooled
Preheat the oven to 180ºC and line and grease a baking dish / cake pan.
When the mix has cooled, add the baking powder.
Just before baking, add the beaten eggs. Mix well till the eggs have been incorporated well.
Pour the batter into the prepared pan and bake till done. (Till a skewer pierced in the center of the cake comes out clean.)
If the top starts to brown too quickly, cover the top with some aluminium foil.
Cool down and enjoy!!!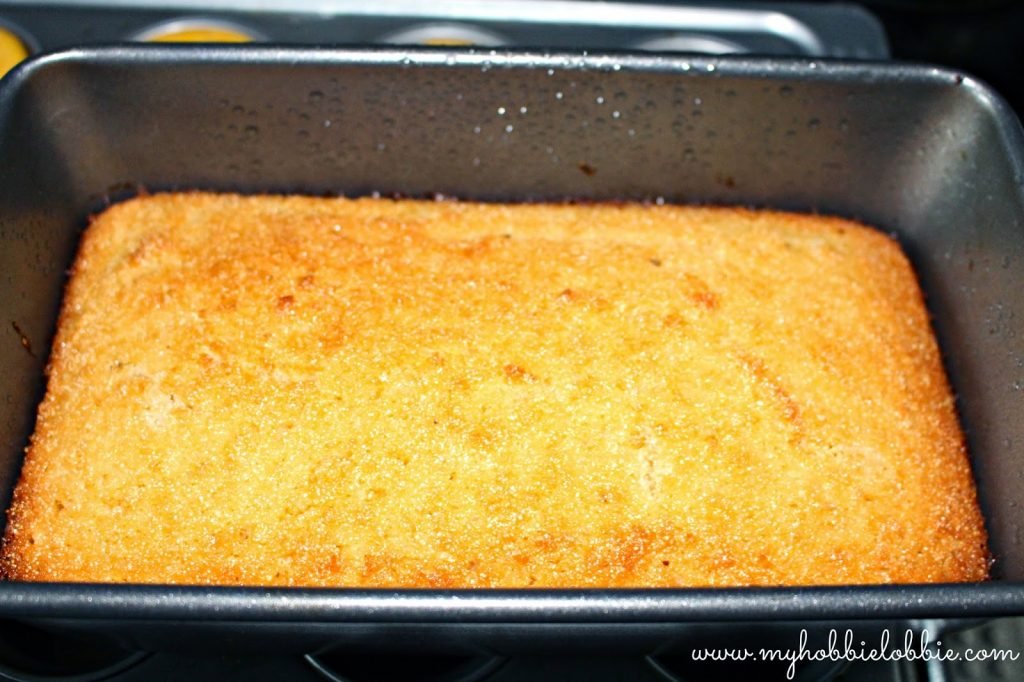 NOTE – Add the eggs only just before you bake the cake and not in advance. Preheat the oven in time to bake the cake.
Watch the video recipe here –
This is a pie we made a while back and I just had to share it with you. A couple of months ago, when cherries were in season, I bought a couple of kilos from the farmers market. Ofcourse, just the two of us found it hard to eat them all up. I decided to try making some cherry pie filling. I've never had cherry pie before, so I figured it was a good time to try it out.
After looking around at a few recipes, I decided to use
this
one. It looked simple and that is exactly what I was looking for. It turned out that the recipe was so simple, the most time consuming part is pitting the cherries. I did buy a brand new pitter for the occasion, not that I need a reason to add something to my kitchen 😉
I didn't can this filling. I just put it in a clean, dry, glass jar in the fridge and it is still intact a couple of months later. So if cherries are plentiful in your part of the world, I hope you try this out.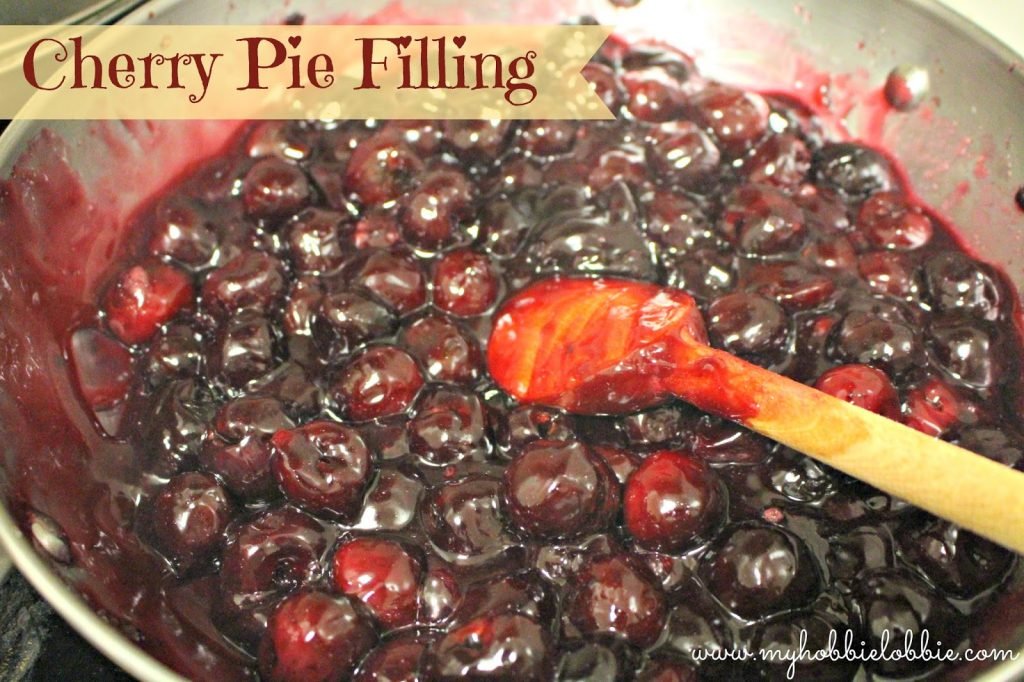 Homemade Cherry Pie Filling –
5 cups cherries, pitted
3/4 cup sugar
2 tbsp lemon juice
1/2 cup water
4 tbsp corn starch / corn flour
Place the pitted cherries in a large pot with the sugar and lemon juice.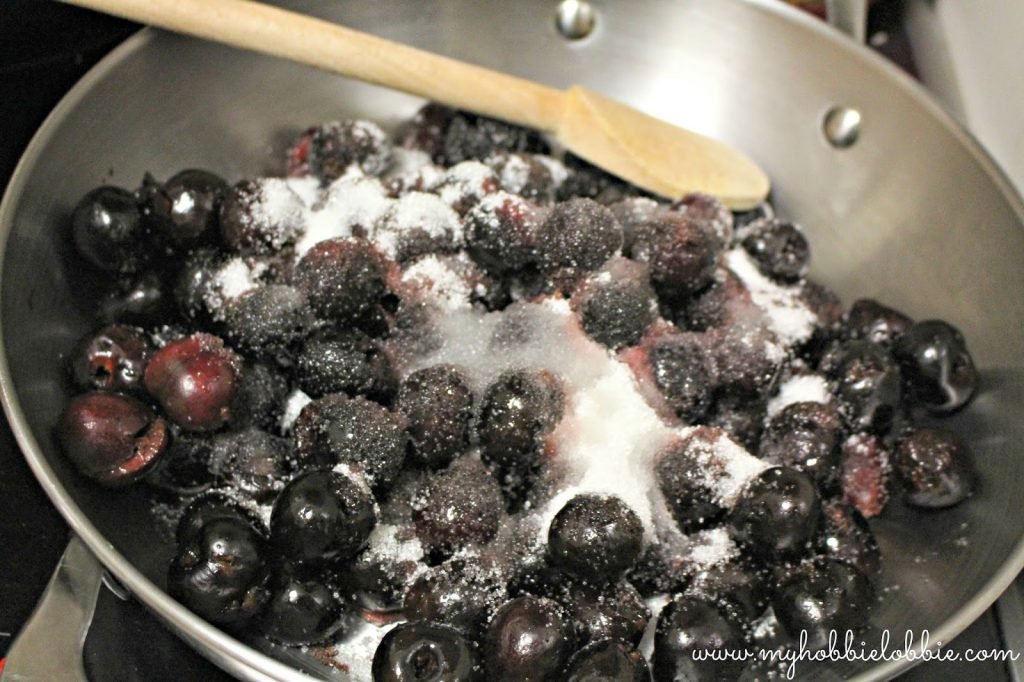 On medium heat, allow the cherries to warm up and start cooking down. Stir frequently.
Mix the cornstarch and water in a small bowl till dissolved.
After the cherries have started releasing their juices and have heated up, add the cornstarch solution and bring it to a boil.
Stirring well, cook till the mixture gets nice and thick.
Cool and store.
After I came back home from work the next day, I found this in the kitchen waiting for me –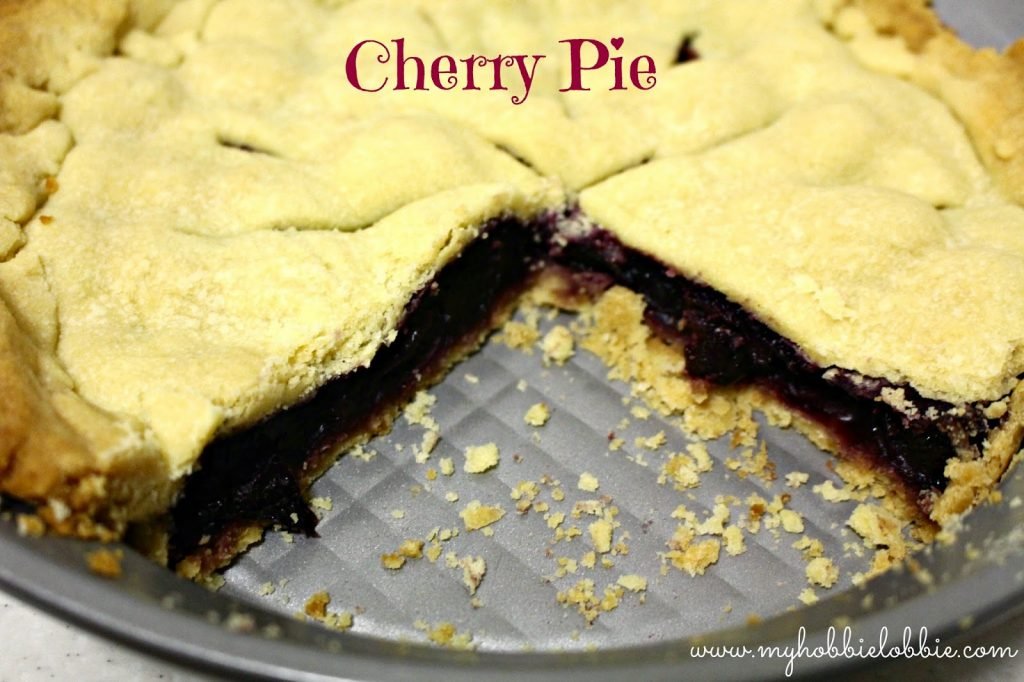 I had previously mentioned to my darling husband that I wanted to use this for a galette or a pie, but I didn't have the time to do it on the day I made the filling. This sweet, sweet man who was home the next day when I was at work, whipped up a beautiful light, buttery and short shortcrust dough and made the pie all by himself. He used our trusty
recipe
for the crust.
The crust was fantastic. Infact the dough was so short, I couldn't get a clean slice for a picture, but it was so very delicious. The simple and unassuming pie filling that was so easy to put together simply blew me away. It was tasty and worked so well with the pastry, without being cloyingly sweet. If you're feeling a little indulgent, serve this up with some vanilla ice cream and sit back and enjoy!
Today's post is a double yippie kind of post.
Yippie no.1- its SRC reveal day
Yippie no.2 – I only just realised that this post will be no.301
I can't believe that I have 300 blog posts done so far. I still remember back when I was contemplating starting this blog, I was concerned I'd run out of things to say. Well, thanks to every single one of you, 300 posts and over four and a half years later (Yikes!!!) I still have a lot more to say and things to share. Thank you for your ongoing support and love, its what keeps me going. I've meet so many wonderful people online and have learned so much, I'm eager to see where we go from here and hope you will continue to share this journey with me 🙂
This months SRC assignment took me to Sarah's blog, Things I Make (for Dinner). Sarah is from Ontario, Canada and loves cooking, travel, baking and trying new things. I do too. We have another thing in common – we both enjoy a good nap …. good to know (I thought I was the only one).
Sarah and her husband J enjoy comfort food just like my husband and I do, so when I saw her recipe for Twice Baked Potatoes I knew I found the recipe I wanted to try. Choosing just this one recipe wasn't easy. I can't wait to try her Buffalo Chicken Wontons, Chicken Taco Calzones and every single sandwich she has listed on her site; there are some super yummy options.
Back to the Twice Baked Potatoes. Its just what the name suggests – potatoes that are baked twice and has a few special add-ins to make everything taste even more incredible. It has a little back, a little spring onions and a little cheese in the mix, and honestly, how can you go wrong with an ingredient list like that. I knew I was onto a delicious recipe and I wasn't wrong. I love potatoes in any form, but I haven't tried potatoes in this form before. They look adorable and would make a lovely addition to a family meal table alongside a nice Sunday roast.
Twice Baked Potaoes


2 potatoes, washed and baked (skin-on)
2 rashers of bacon
2 spring onions, finely chopped
1/3 cup sour cream
1/2 cheddar cheese, grated
1 tsp oil
Salt, to taste
Bake the potatoes whole and skin on till done. (I usually wrap the potatoes in foil and bake them when I've got the oven on for anything else as well)
Heat the oil and fry the bacon till it has lightly browned.
Add the spring onions and cook till the onions have softened.
Cut the potato in half lengthwise and carefully scoop out the flesh, keeping the skin and a little layer of potato under it intact.
Add the scooped out flesh to a bowl and put in the bacon and onion mix. Add the sour cream and cheese and mix well. Taste and add salt if needed.
Carefully spoon the mix back into the potato halves.
Place the stuffed potatoes under the broiler to lightly brown off.
Serve hot.