I'm so glad Blogger is back. I was worried, especially when the latest post and comments went missing. But thankfully all is well now. I couldn't wait to share this delightful treat with all of you. For me, this Japanese cheesecake is humbly plain, yet amazingly glorious. If made correctly, it is light as air, while still somehow maintaining the creaminess of the cream cheese. My husband had picked up one of these a few years ago and it was really hard to not finish the whole thing in one sitting, between the two of us. I was thrilled to bits when I made it myself. And you know something, it was just as good. The lemon juice adds a lovely flavor to it. Sadly, I don't have a picture of a wedge of the cake after it was cut up. It's really hard to stop eating this. 🙂 🙂 🙂
I'd read in a few places that this cheesecake is finicky and a lot can go wrong, but after making it, what I can say is that if you follow the instructions carefully, you will be treated to the most amazing cheesecake you've had in a while and that too, made right in your kitchen. I do hope you try this out. It would be such a shame to miss out on making this. And when you do, I;d love to know how it goes.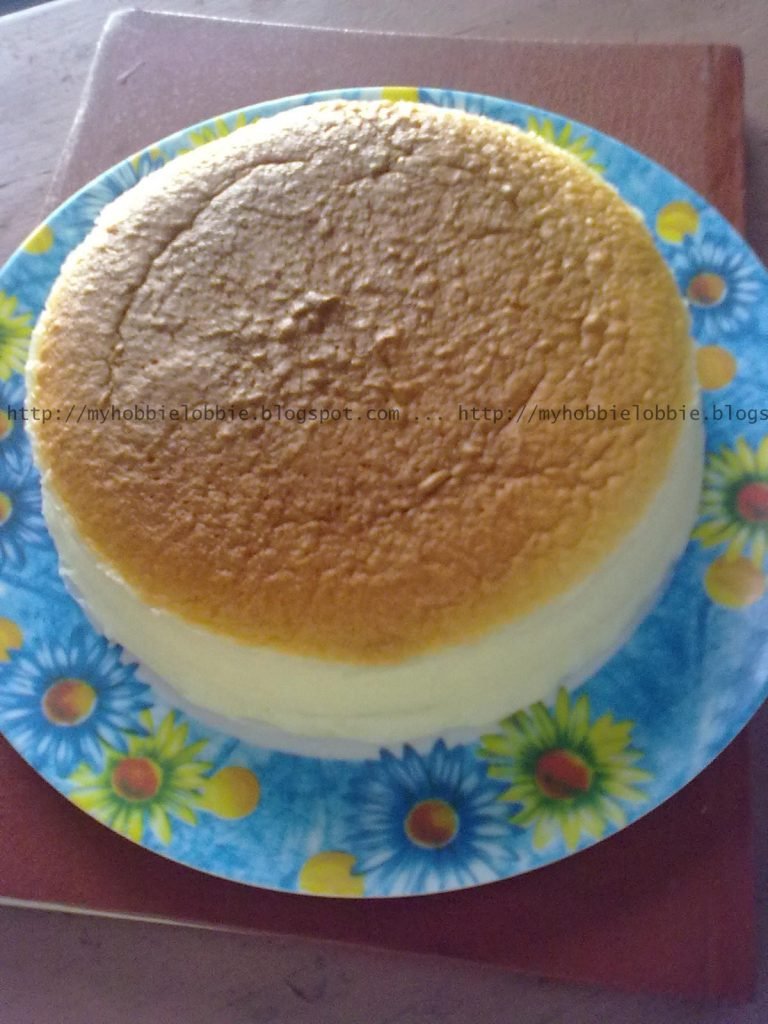 Please excuse the picture quality, my camera was dead and I knew if I waited to charge it, there'd be nothing left to capture. So I just used my phone instead!
Japanese Cheesecake
Recipe from: Diana's Desserts
140g superfine sugar
6 eggs, separated
1/4 tsp cream of tartar
50g butter
250g cream cheese
100 ml milk
1 tbsp lemon juice
60g all purpose flour
20g cornflour
1/4 tsp salt
Line an 8″ round cake pan (bottom and sides) with some lightly greased parchment paper. (I just lined the bottom of the pan and it worked fine too.)
Melt the cream cheese, butter and milk in a double boiler.
Cool this mix down.
Fold in the flour, cornflour, egg yolks, lemon juice and mix well.
Whisk the egg whites with the cream of tartar till it is foamy. Add the sugar and continue to whisk till soft peaks form.
Add the cream cheese mix to the egg white mix and mix well.
Pour the mix into the prepared cake pan and bake it in a water bath at 160ºC for 1 hour and 10 minutes or until set and golden brown.
Note: I halved the recipe and used a 6″ round cake pan.
This recipe is linked to –
Sweet Tooth Friday
Sweets for a Saturday
A Themed Bakers Sunday
Not Baaad
Mangia Mondays
Homespun Bakeshop