Today, I'm bringing on some serious yum! I came across this recipe, went and bought the protein, made it and am posting about in all in a 2 day span, which in itself could be a record. (Mind you I still have atleast a dozen other recipes that are vying for your attention, they've been made and clicked and are just waiting to be posted). This one just had to be shared with you at the earliest. It is simple, doesn't take too long, but it is so tasty, it would be a crime to not share it with you.
I usually make my favourite pork curry and we enjoy it. Apart from that, I've only ever made these pan-fried pork chops and thats how long my pork recipe repertoire is. Now that's just wrong and needed to be fixed. You will see a few more pork recipes coming up. When I was on the lookout for some interesting ways to cook pork, I came across this recipe. I have heard so much about how good pork belly is and also how good a sticky Asian glaze can be, so obviously the two together had to be even better, right? I was so right. The original recipe calls for the pork to be cooked for 2 whole hours. While I've done this before when I didn't have access to my pressure cooker, I knew I wasn't going to slow cook it this time. I used my pressure cooker and in about 15-20 minutes achieved the same lovely tenderness. If you haven't tried using a pressure cooker before, you should. Maybe borrow it from a friend and see if it works for you. I use mine all the time. I use it to cook meat, boil dry beans (instead of buying canned ones), boiling potato and beetroot and so much more. I cannot imagine life without my pressure cooker. Oh wait, I did have to wait for a whole year before I got mine from back home and it wasn't fun. It just cuts down cooking time drastically and you save on gas/energy by cutting down on cooking time. That's a win-win in my book. I hope to share more pressure cooker recipes with you in future.
Back to the pork belly. There's beautiful flavour in the meat and the glaze is just a wonderful bonus. One thing I should mention is be very careful when the meat is in the pan, there is a lot of serious popping that goes on and you don't want to burn yourself. Frying the pork adds some lovely crunchy bits to the pork. So you end up with tender, succulent meat, crunchy bits and a sticky glaze. Yum!!! I served this pork up with a bowl of warm noodles and some stir fried Asian greens.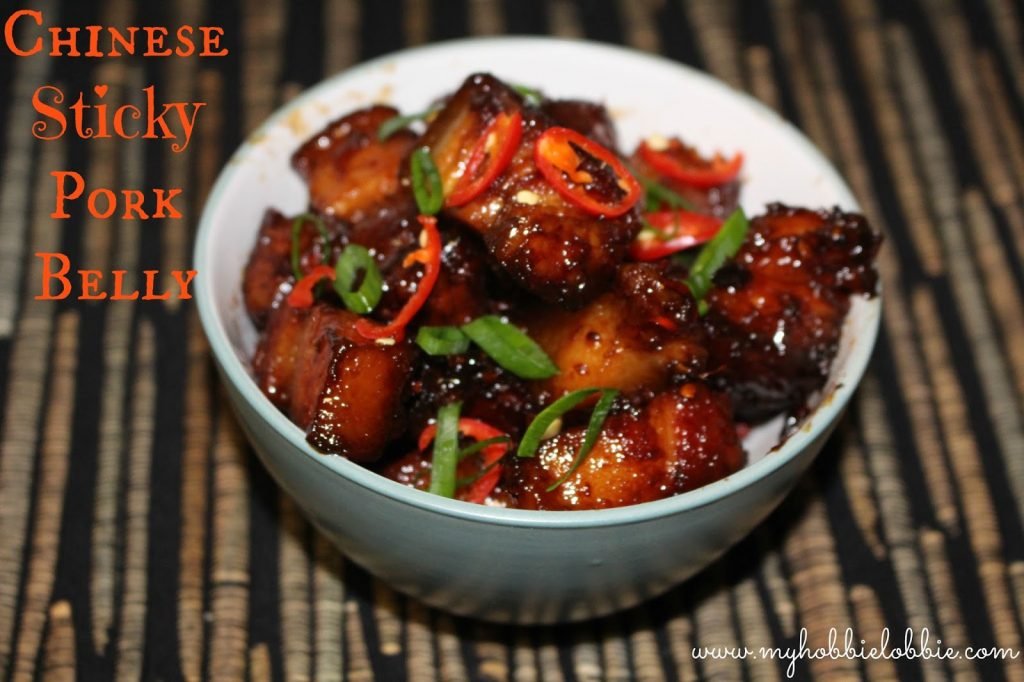 Chinese Sticky Pork Belly
Adapted from: Kitchen Sanctuary
1 kg pork belly
1 heaped tsp ginger paste
1 heaped tsp garlic paste
1 tsp salt
1 tbsp rice wine vinegar
1 tbsp apple cider vinegar (optional, but I find it adds lovely flavour)
1 tbsp sugar
For the glaze:
2 tbsp vegetable oil
A pinch of salt
A pinch of pepper
1″ ginger, peeled and finely chopped
2 red chillies, finely sliced (or to taste)
2 tbsp honey
2 tbsp brown sugar
3 tbsp soy sauce
Cut the pork belly into 4 quarters. Marinade with the ginger paste, garlic paste, salt, vinegars and sugar for 10-15 minutes.
Add 2 cups water and close the pressure cooker. Put the whistle / weight on and bring to a boil over high heat. After a whistle, reduce the heat to low and let it cook for about 12 minutes. After 12 minutes, take it off the heat and let the pressure drop naturally.
Carefully take the pork out. Cut into bite size pieces.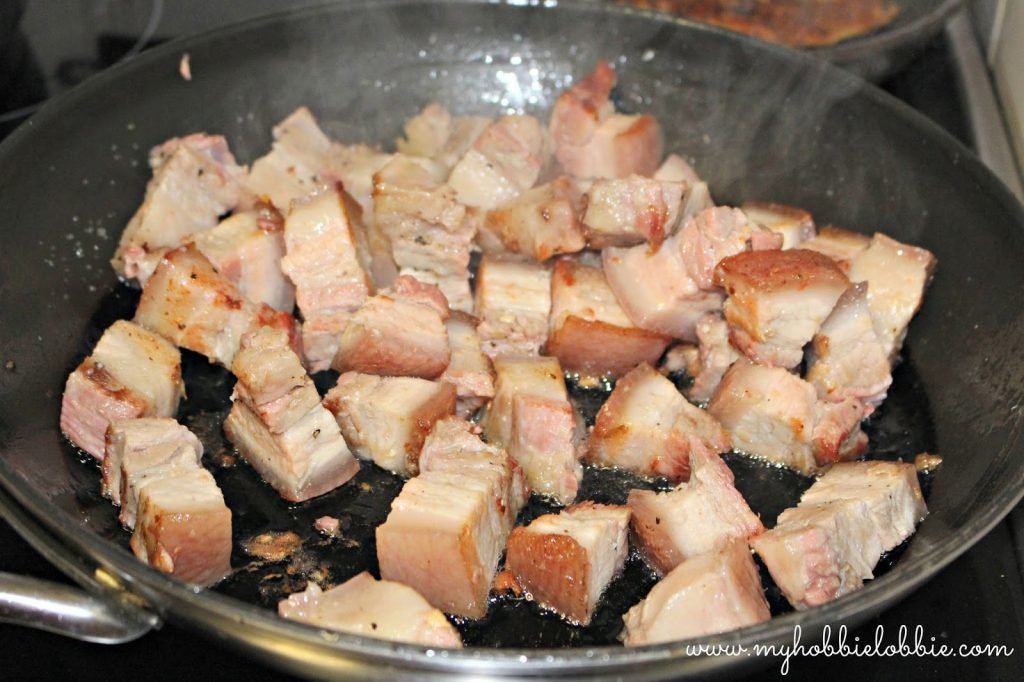 In a large pan, heat 1 tbsp of oil and add the pork pieces, salt and pepper. Fry on a high heat till the pork starts turning golden brown. Be careful while frying the pork as it will pop and sputter while frying.
Mix the remaining glaze ingredients in a small bowl.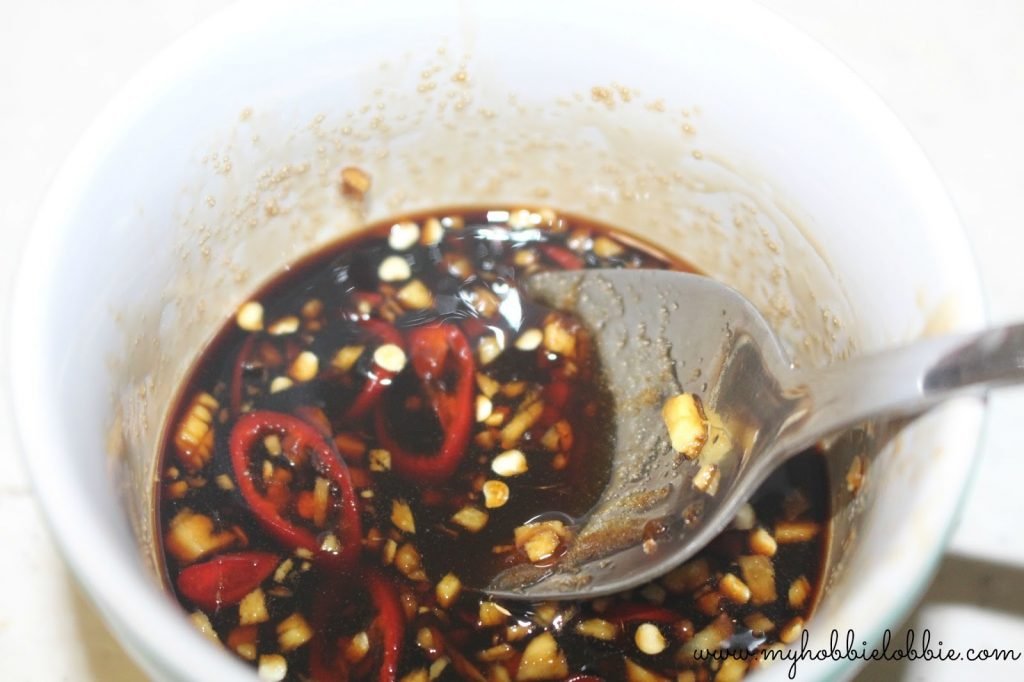 Pour the glaze over the pork and cook till the pork looks dark and sticky. Stir frequently. Do not leave unattended – you do not want the pork to burn.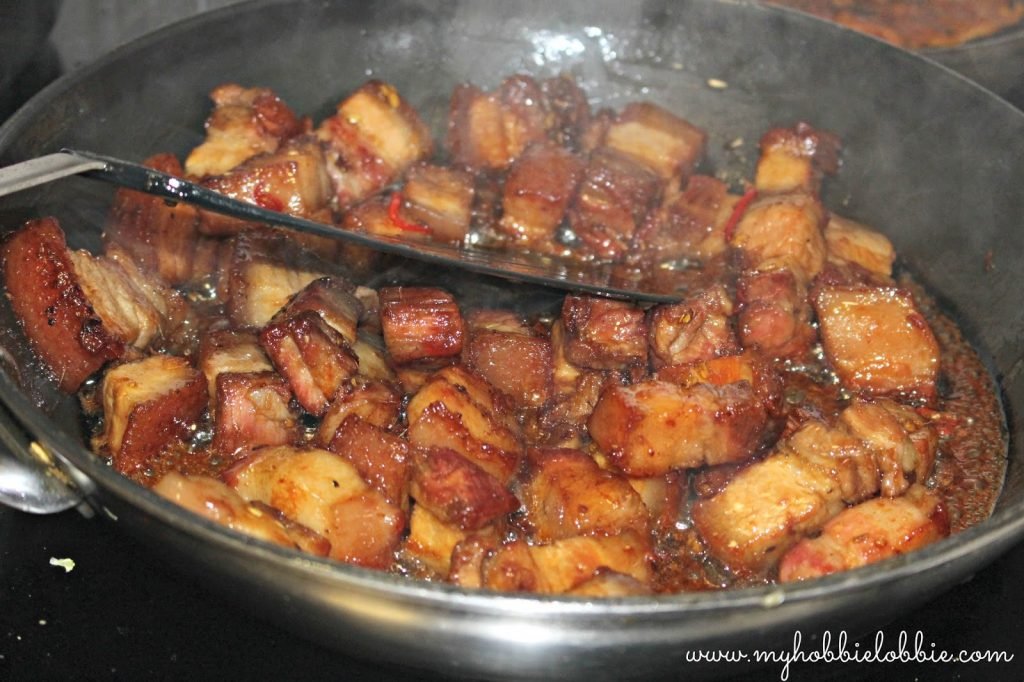 Once the glaze has thickened, garnish with some finely sliced chilly and spring onions and serve with some noodles or rice and greens.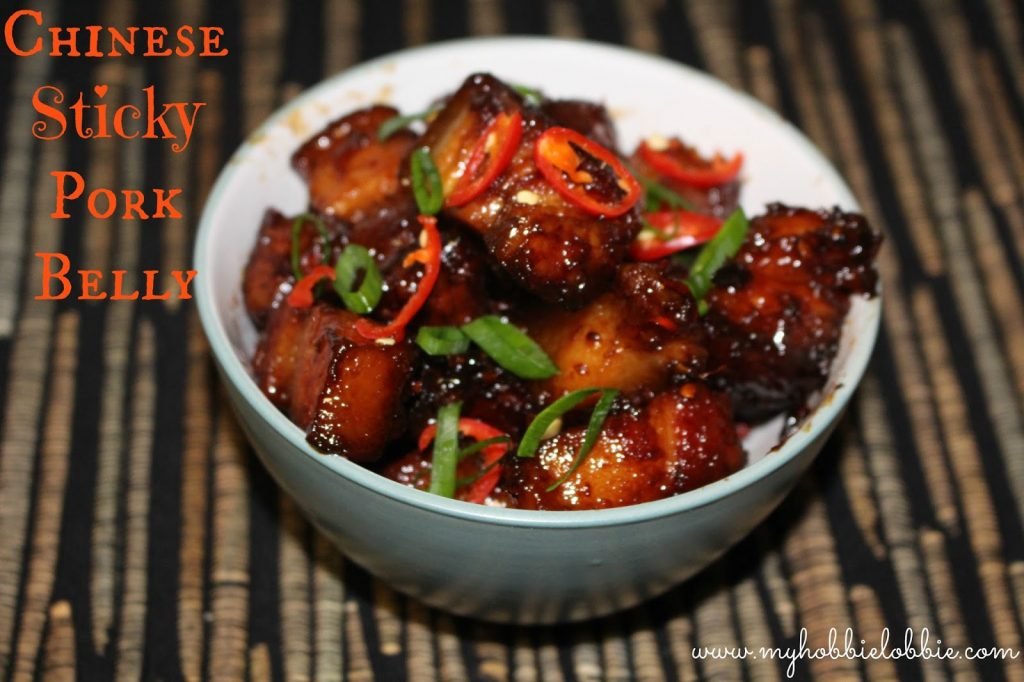 Enjoy!!!
So last weekend I decided I was going to try my hand at making some classic scones. I've always enjoyed the idea of a good scone with clotted cream and jam. I was a little apprehensive while making them, because I heard if you don't do them right, you are left with rocks. While I have made scones before, remember these
Chocolate Chip Banana Bread Scones
(they were fantastic) and these
Chocolate Chip Scones
(which were also good), I had never tried a good old classic vanilla scone recipe.
Turns out this time around, I didn't get them 100% correct. They didn't rise as much as they should have, but they were so tasty. We had the first couple with butter and orange marmalade, since I don't have access to clotted cream until I make my own. They were nice. The next day, my husband nibbled on one of the scones since he was a little peckish and discovered these made really good biscuits. Obviously I had to try one out. They were so good with a cup of hot tea; only slightly sweet, crusty on the outside but slightly crumbly at the same time. I think I know what I did wrong with this recipe. I replaced the self raising flour with all purpose flour and baking powder, but I don't think I added enough baking powder. Also the milk I added to the bowl wasn't as warm as it should have been. These are both minor issues that I can easily sort out in my next attempt and since I was left with just a tasty scone fail, I'm not giving up on this recipe just yet. I will try it out again.
For the benefit of those of you who would like to try the recipe out, I'm posting the original recipe here. Try it out and let me know how it works for you 🙂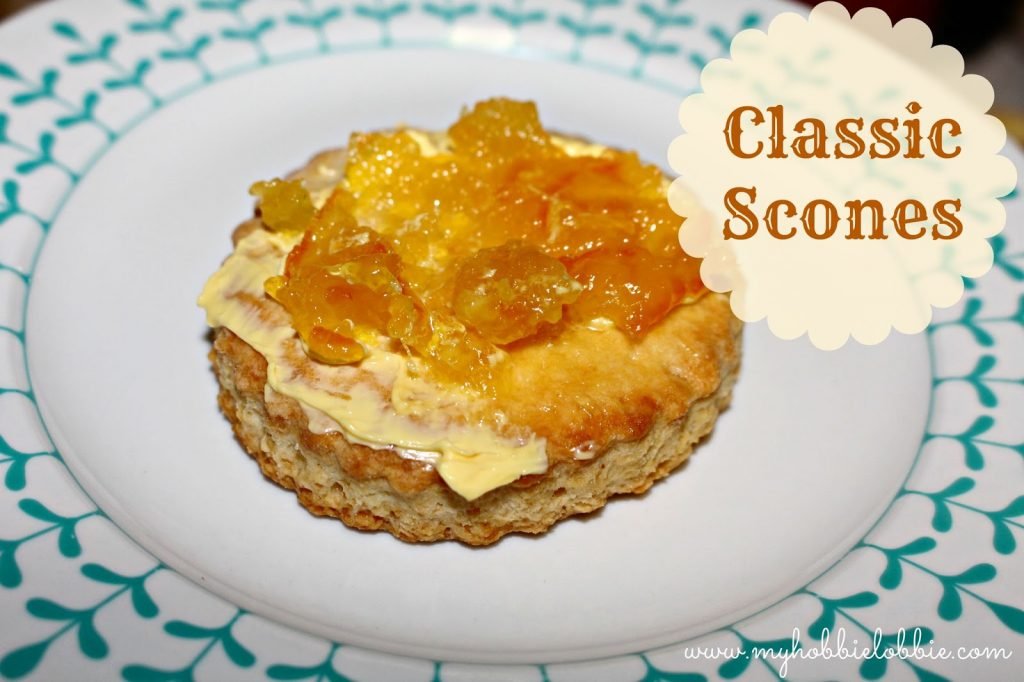 Classic Scones
350g self raising flour
85g cold butter (cut into little cubes)
3 tbsp sugar
1 tsp lemon juice
1 tsp vanilla extract
75ml milk
In a large bowl, rub the butter into the flour till it has just combined. Don't overwork it (or the scones go hard).
Stir in the sugar.
Slightly warm the milk. It should be warm but not hot. Add vanilla and lemon juice to the milk.
Make a well in the middle of the flour and add the milk mixture. Stir in till just combined.
Roll into about 5cm thickness on a floured surface and using a 3″ scone cutter (dusted in flour to prevent sticking), cut out. I got 9 scones.
If you are going to re-roll the scrap dough and cut it out again, don't overmix the dough, it will result in hard scones. You will get about 9 scones from this recipe.
Cook for 12 minutes or until golden.
When slightly cooled, serve with cream and jam or butter.
Note: The original recipe doesn't specify an baking temperature so I just preheated the oven to 180ºC and baked them but the baking time was almost 20 minutes. I will do a little more research on this before attempting it again.
If you have successfully baked scones before, I would love to try your recipe out sometime. Leave me a link in the comment section.
Here's what they look like just out of the oven.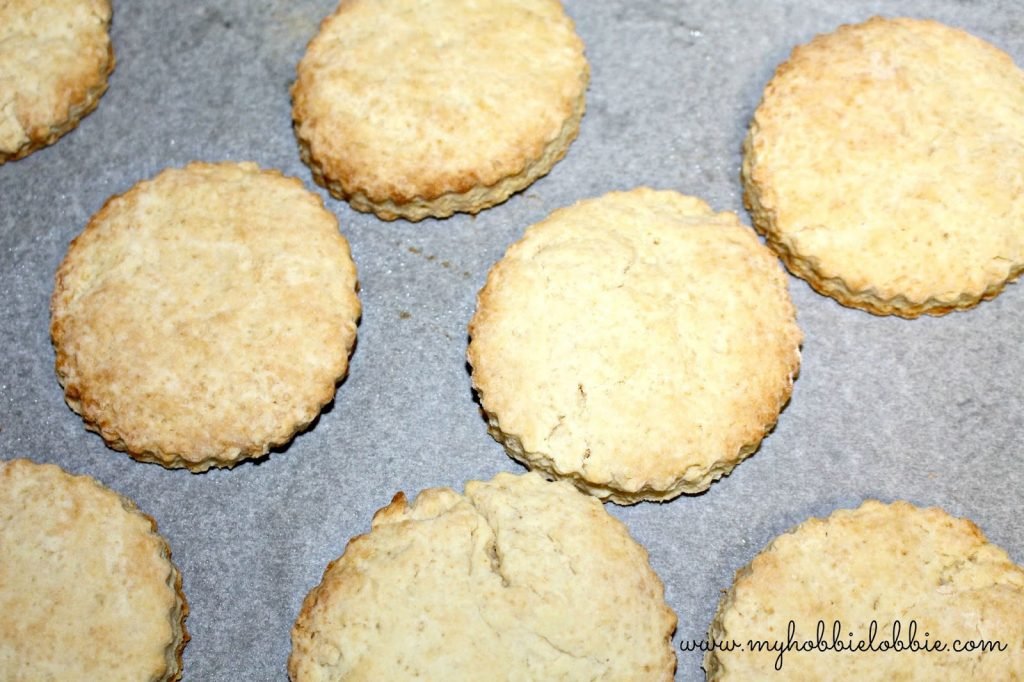 It's time for another
SRC
reveal. I so look forward to these reveal days, it just never gets old. If you haven't heard of SRC or the Secret Recipe Club, read more about it
here
. This month I was assigned Helen's blog –
Casa Costello
. Helen is based in the UK. You won't believe how excited I was to learn that. I was eager to try a few classic British recipes and if you go over to Helen's blog, you will find her
Ultimate Yorkshire Pudding Recipe
, her take on Toad in the Hole, a healthy version of
Fish Chips and Minted Peas
and a whole section on Scones. I did try a basic scone recipe which I will share with you tomorrow. But for today's reveal my love for potatoes won. I found Helen's recipe for
Spicy Herby Potatoes
and knew I had to try it.
This recipe is not your average recipe for baked and spiced potatoes. One element I found very unique is the addition of butter after the potatoes have baked. And you know what, I am a big fan of this step now. Adding the butter later on lets you enjoy a lovely distinctly buttery flavour on these potatoes. It softens the flavour somehow. If you are looking for a tasty side dish to your Sunday roast or for any meal, try these out. You'll be happy you did.
Spicy Herby Potatoes
8-10 small to medium potatoes
1-2 tbsp olive oil
1 tsp red chilli powder
1/2 tsp mixed herbs (I used dried herbs)
Salt to taste
A knob of butter (about a heaped tbsp worth)
Preheat the oven to 180ºC.
Wash and scrub the potatoes. I left the skin on. If you are using baby potatoes, leave them whole. I used medium sized potatoes and I quartered some and halved the smaller ones. What you are looking for are even sized pieces of potatoes so that they cook uniformly.
Place them in a baking dish / roasting tray.
Drizzle the oil over them and sprinkle with the salt, chilli powder and herbs. You can adjust the amount of red chilli powder to suit your liking.
Toss the potatoes to coat them with the oil and spice blend well.
Cover the dish with foil and bake for about 50-60 minutes or till the potatoes are done.
Carefully take the foil off and add the butter to the dish. Toss to help the butter melt and to coat the potatoes with the melted butter.
Serve alongside some roast chicken or any protein of your choice.
Don't forget to check out what the other members of Group A whipped up for this month's SRC reveal.
<!– end InLinkz script —>