If you have more zucchini than you know what to do with, yesterdays savoury
Cheesy Garlic Zucchini Bread
and this vegan chocolate  cranberry zucchini bread should give you a couple of options. It is amazing how versatile zucchini is. It lends itself to both sweet and savoury recipes really well.
I was happy to find a vegan bake recipe, because I have quite a few readers / followers that would love an eggless bake like this. That coupled with the fact that it is so easy to make, makes this a must try recipe. I was glad I tried this recipe and it is a keeper for sure. The bread is nice and moist, light and chocolatey.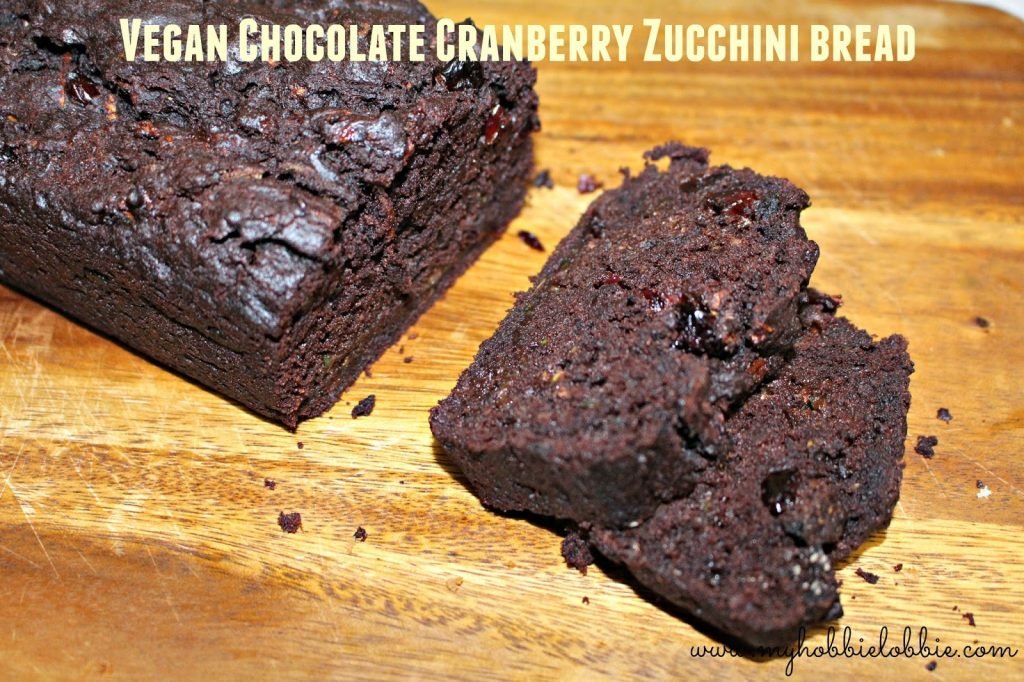 Vegan Chocolate Cranberry Zucchini Bread
Recipe from: Popsugar
1 1/2 cups zucchini, grated
1 cup whole wheat flour
1/2 cup unsweetened cocoa powder
1 tsp baking soda
1/4 tsp baking powder
1/4 tsp salt
1/2 tsp cinnamon powder
1/4 tsp allspice powder
1 large ripe banana
1/2 cup white sugar
1/2 cup canola oil
1 tsp vanilla extract
1/2 cup dried cranberries
Preheat the oven to 180ºC and lightly grease a lined loaf tin.
In a large bowl, mix the flour, cocoa powder, baking soda, baking powder, salt and spices and set aside.
In another bowl, mash the banana and mix in the sugar, oil and vanilla. Fold in the grated zucchini.
Stir in the dry ingredients while being careful not to over mix.
Fold in the cranberries.
Pour the batter into the prepared loaf tin and bake for 40-50 minutes or until a toothpick inserted comes out clean.
Those of you who follow me on
Facebook
, know that I've been meaning for this post to go live for over week now. Well, I've finally gotten to it and let me tell you, it's worth the wait. Recently I picked up some zucchini at a bargain price from Paddy's market at Flemington and was eager to try something different from the
zucchini fritters
I usually make. Don't get me wrong, we still enjoy the fritters every time they are made, but I'd seen so many other recipes around, I was eager to try something new. I went through all my bookmarks and pins and after a little looking, I found 2 recipes that I was going to work with – one savoury and the other sweet. This is the savoury one.
From personal experience, I knew I could not go wrong with a recipe that had cheese and garlic in it. And I was right. This is an easy loaf recipe that is so flavourful. It goes well with a nice big bowl of soup. I found that this bread was best eaten slightly warm. I tried warming the required slices in the microwave as well as on a pan. Both work well. The pan gives you light toasty edges, which I personally find quite yummy. Not to mention, it looks pretty. I love the green flecks throughout the loaf. I followed the recipe to the letter with the exception of swapping the green onion for some chopped onion and was very happy with the result. The only thing I did differently was bake a whole loaf instead of mini loaves. This increased the baking time and when I make this recipe again, I'll make sure I have a mini loaf tin. I think they would be perfect in the smaller sizes.
Cheesy Garlic Zucchini Bread
Recipe from: Emily Shares
3 cups all-purpose flour
4 tsp baking powder
1 tsp salt
1/2 tsp baking soda
1/2 tsp garlic powder
1 cup zucchini, grated
3/4 cup cheddar cheese, grated
1/4 onion, finely chopped (the original recipe calls for 1/4 cup finely chopped green onion)
2 tsp dry dill (or 1 tbsp fresh dill)
2 large eggs
1 cup buttermilk
4 tbsp butter, melted
Preheat the oven to 180ºC.
Line a loaf tin with parchment paper and spray with non-stick baking paper.
In a large bowl, whisk together the dry ingredients – the flour, baking powder, salt, baking soda and garlic powder.
Then add the zucchini, cheese, onion and dill to the bowl and toss to coat them with the flour mix.
In another bowl, whisk the eggs, buttermilk and the cooled, melted butter.
Add the wet ingredients to the flour mixture and gently stir through until the ingredients are just moistened. The batter will still be lumpy and that's alright. Do not over mix the batter.
Pour into the prepared loaf tin and bake for about 50-60 minutes or till a toothpick pierced through the center comes out clean.
If you choose to bake these as mini loaves, bake for 20-30 minutes or till a toothpick comes out clean.
And you have yourself a beautiful loaf of bread.