I don't know if I've admitted it before, but I love my snacks. I'd rather have a couple of light meals that one big one. Back in Bombay, this is very easy to do. We have such a wide variety of snacks from various parts of India. Most of them are readily available at street food carts or other grocery stores and they don't cost the earth. Most of these snacks are savory. After coming to Australia, I often find myself craving this ever so delicious street food. And here, its almost impossible to find these treats as easily as you find it Bombay. If you do find them, they are ridiculously expensive and a lot of times they disappoint. Given these reasons, I try to make some of these delicious snacks at home. Some I am familiar with making, the others I'm trying to learn.
Today's post is about one such recipe. Its a cake recipe, but not your regular, run of the mill cake. This is a savory one. And it is made with chickpea flour. It is called Khaman Dhokla and happens to be one of my favorite street foods. Even though I enjoy this recipe, I didn't know how to make this one. I had to do some reading before I could find a recipe I was happy with. And when I saw this instant recipe, I knew I had found the one. Traditionally, this cake is steamed, but this is a microwave recipe.
This beautiful snack comes together in less than 30 minutes from start to finish. It is absolutely delicious. The cake itself is light and super fluffy. The flavors are well balanced and in all, very moreish. If you've had dhokla before, you probably love it as much as I do. If you haven't, you really should give it a try. It is a unique treat and you won't be disappointed. This treat is served with some Green Mint Chutney and some Tamarind & Date Chutney. You can buy little bottles of the chutneys at any Indian store or click on the links to find the recipes, if you'd like to make some at home. They are very easy to make and taste so much better. Either way, these chutneys are an important part of the dish and not just an accompaniment. Serving it without the chutneys doesn't do the the dhokla justice.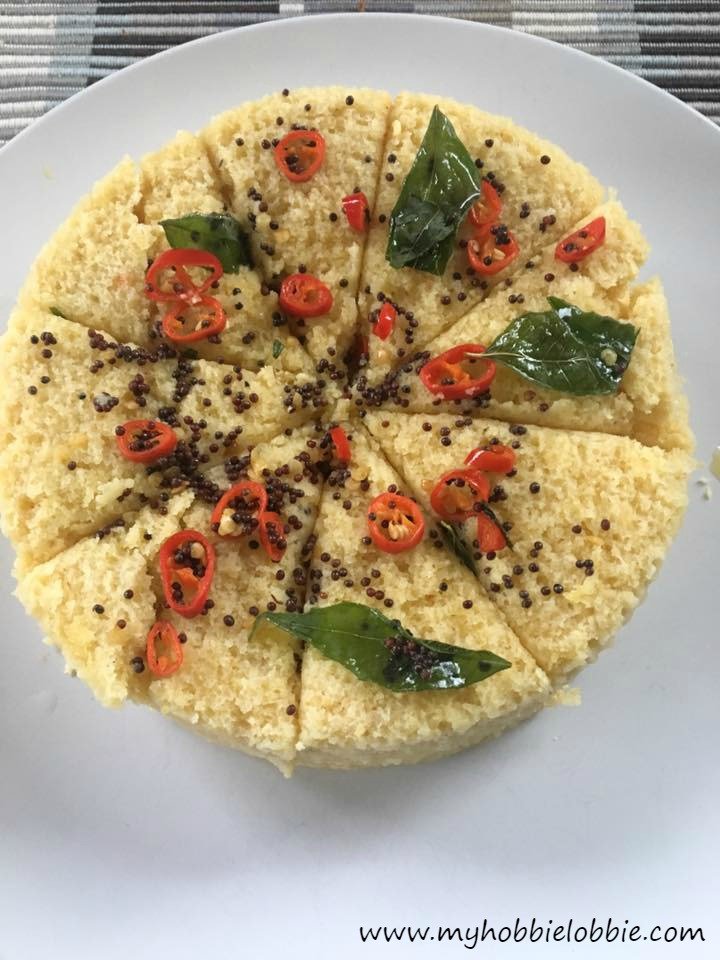 Instant (Microwave) Khaman Dhokla
Recipe from: Ruchi's Kitchen
1 cup besan (chickpea flour)
1 1/2 tbsp semolina
A pinch of asafoetida
1 tbsp sugar
Salt, to taste
1 tsp. crushed ginger and green chillies
1 1/2 tsp Eno (fruit salts – available at any Indian store)
1/2 tsp Citric acid
2 1/2 tbsp Oil
3/4 – 1 cup water (depending on how much is needed to achieve pouring consistency)
For tempering –
1 tsp mustard seeds
10-12 curry leaves
1 tsp sugar
2-3 tbsp water
2-3 green / red chillies, sliced
1 tbsp oil
In a large mixing bowl, mix the besan, semolina, asafortida, sugar and salt.
In a mortar and pestle, pound the ginger and green chilly to a fine paste. (You can leave the chillies out or deseed the chilly if you don't want too much heat from the chilly.)
Add the chilly and ginger paste to the mixing bowl. Add the oil and citric acid.
Add the water and mix everything till well blended.
Whisk the batter well to incorporate air into it. It will make a light and fluffy dhokla.
Add the eno (fruit salts) and whisk the batter till it is well incorporated. The batter will get light and frothy. The batter should be of thick dropping / pouring consistency.
Pour the batter in a greased microwave bowl. (I used an 8″ bowl)
Cook for 5-6 minutes. It may take longer depending on the microwave.
Take it out and insert a toothpick to check if it is done, just like you would a regular cake. If the toothpick comes out clean, it is cooked and if it doesn't microwave for another 30 seconds.
Allow it to cool.
Traditionally, it is cut into squares. But I tried cutting it into wedges this time and it looks much prettier this way.
Now prepare the tempering.
For the tempering –
In a pan, heat the oil.
Lower the flame and add the mustard seeds and green / red chillies and let it sputter.
Add the curry leaves and let it fry up on low heat till crisp.
When they are crisp, add the sugar and water. Mix well.
Pour the hot tempering over the dhokla.
Serve with the Green Mint Chutney and Tamarind & Date Chutney.
Enjoy!!!
I don't know what I'm most excited about – the
SRC
reveal, this 2-minute cake, the Nutella in it or that it uses just 4 ingredients. It's safe to say that I'm super happy with this recipe. For this month's SRC assignment I had Cathleen's blog,
A Taste of Madness
. Picking a recipe for this month's reveal was particularly tough. Cathleen loves baking and is a big fan of anything covered in chocolate, in a nutshell. After spending some time going through her blog, I think we could become good friends. I know we like the same kind of food. How do I know that? Its simple really. I wanted to make (almost) every single recipe I came across on her blog. Seriously, go over to Cathleen's blog and check it out. You can thank me later 🙂 With great difficulty I narrowed my choices for this reveal down to her
Coconut Oatmeal Cake
,
Homemade Caramels
, this crazy
Smores Brownie Pie
, these Gooey
Cinnamon Squares
and the
Nutella Mug Cake
. After a lot of deliberation, serious deliberation, the Nutella Mug Cake won.
4 ingredients, a quick stir and 2 minutes later, your kitchen will smell amazing and you'll have a little mug of deliciousness in the form of this cake ready. This recipe was really the obvious choice for this reveal when I think of it, atleast subconsciously. My first mug cake recipe – this 2-minute Chocolate Mug Cake is one of the more popular recipes on my blog. And I know why. The appeal of instant gratification is hard to turn down. So if you lurve your Nutella, treat yourself to this Mug Cake.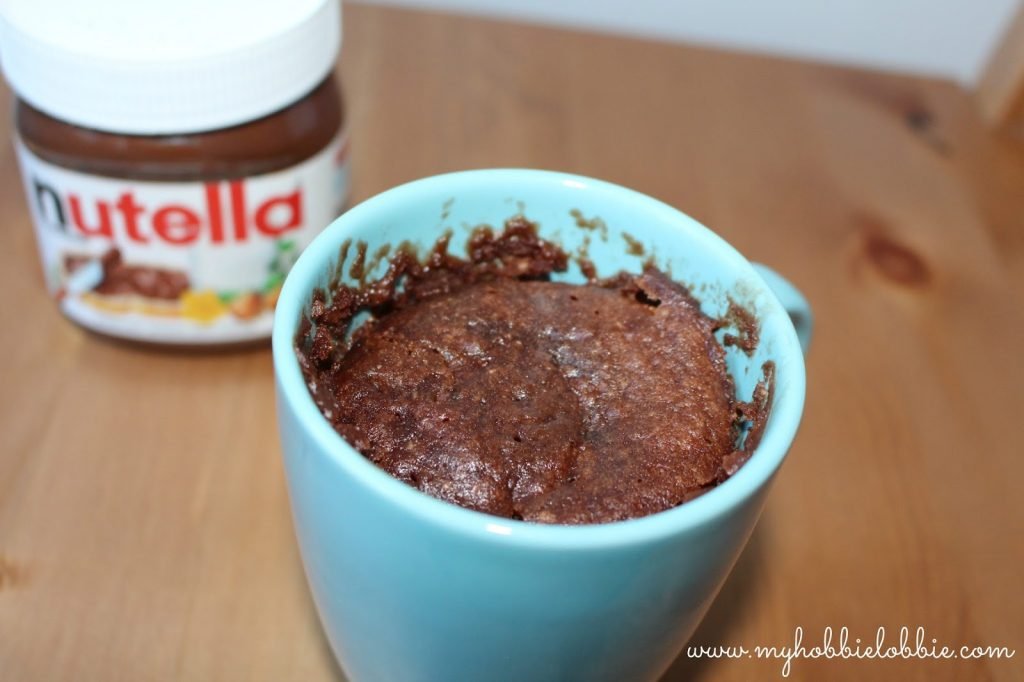 2-minute Nutella Mug Cake


4 tbsp all purpose flour
1/4 tsp baking powder
1/4 cup Nutella
3 tbsp milk
Whisk all the ingredients together. I find it easiest to whisk everything together in a bowl.
Pour the batter into a microwave safe mug.
Microwave for about 90 seconds and see if its done. If its not done, microwave in 30 second increments as needed.
Enjoy!!!