This month's
SRC
assignment was an absolute doozy. I was assigned Erin's blog,
Making Memories with Your Kids
. I was really happy with this assignment, not to mention excited. I've known and admired Erin's blog since 2010. That was when I first came across her blog; we were both participating in the "12 Weeks of Christmas Cookies" bake along. Go over and have a look at all the fun she's got going there. Not only does she have some awesome recipes, but she's also got heaps of fun foods for kids, craft activities and some really amazing gift ideas for pretty much any occasion. I love looking at all the ideas she comes up with.
For this month's SRC reveal, I decided to try out her Deep Fried Zucchini with Garlic Aioli Sauce. Mainly, because that Garlic Aioli sounds so amazing I had to try it out and I needed something to have it with. Enter – Deep Fried Zucchini. Both really simple recipes, but oh so very good. I know I will be making these time and again 🙂
The Aioli is nice and flavorful, but the real star, to my utter surprise was the zucchini. I expected the aioli to be my favorite. The zucchini was so good, it didn't need a dipping sauce. I have some more zucchini in the fridge and I'm going to make another batch for dinner this evening. That's how good it is. Don't take my word for it, go ahead and try it. Erin, thank you so much for this recipe. I LOVE it.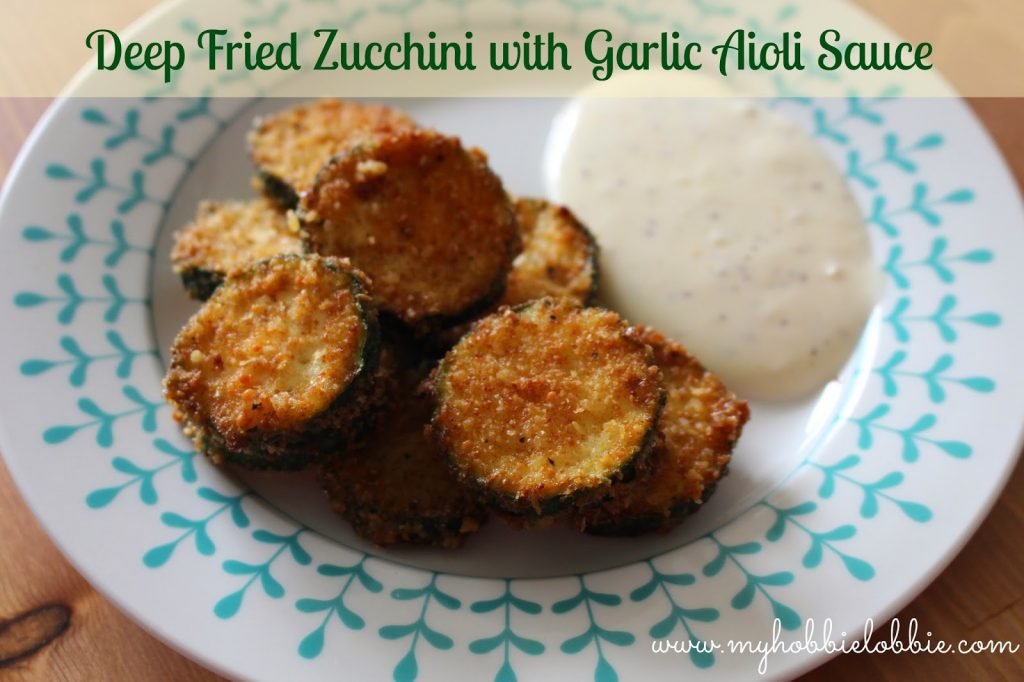 Deep Fried Zucchini
Zuchinni
2 eggs
1/4 cup buttermilk
1 cup breadcrumbs
1/2 cup Parmesan cheese
Salt and pepper, to taste
Oil, for deep frying
Heat the oil for deep frying.
Cut the zucchini into slices about 1/4 of an inch thick.
In a bowl, beat the eggs and the buttermilk.
In another bowl mix the breadcrumbs, parmesan cheese, salt and pepper.
When the oil is hot, dip the zucchini in the egg dip and then in the crumb mixture and then carefully place in the oil.
Fry for a couple of minutes on both sides on a medium flame, till golden brown.
Using a slotted spoon, remove the slices from the oil and place on some kitchen paper to drain any excess oil.
Serve hot.
Garlic Aioli


1 cup mayonnaise
1 tbsp lemon juice
3-4 cloves of garlic, minced / crushed.
Mix it all together and serve.
Here's something I haven't done before – I made dessert too. Nothing fussy but an absolute treat. When I saw this post on Erin's site, I couldn't go past it. I've seen this ages ago and always wanted to try it out. They just look like so much fun. I had absolutely no excuse to not make it. The next time I make these, I will have to leave the soda out a lot longer. I did it this time but evidently it needed to sit out longer. So when you try these out, if you think your soda has been out long enough to cut down the carbonated effect, keep it out a little longer 😉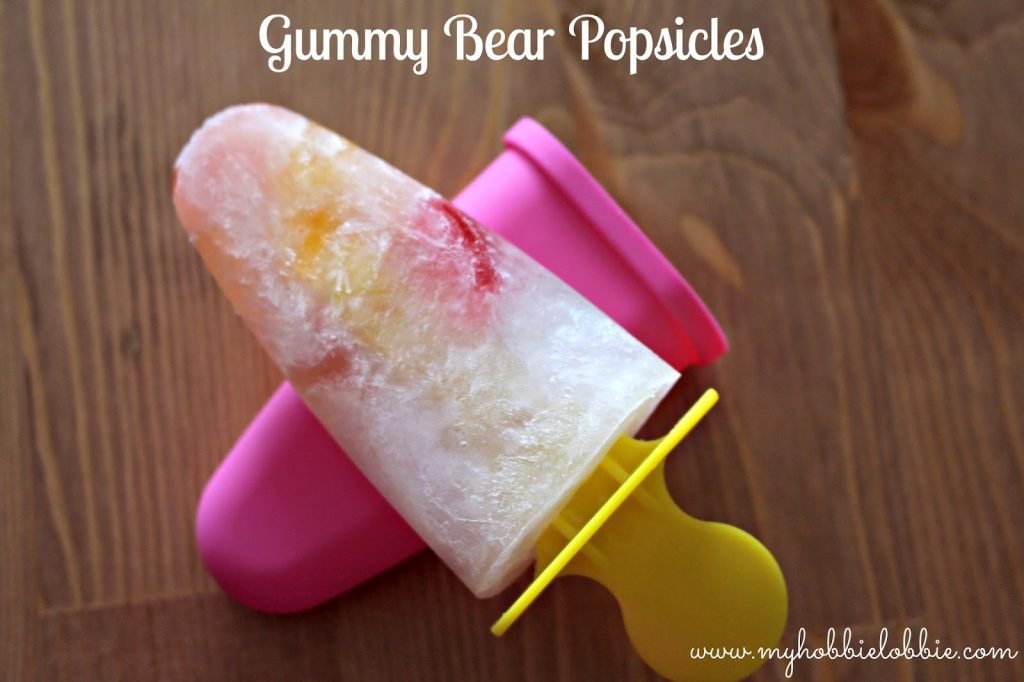 Gummy Bear Popsicles


Sprite
Gummy Bears
Let the soda sit out for a while to let some of the fizz die out.
Drop some gummy bears into your popsicle mould. You can use as many or as few as you like. I went for about the half way mark.
Top up with the Sprite.
Freeze.
Enjoy on a hot summer's day or as it turns out on the first day of autumn here 🙂
The kids will love it and so will the adults.
There are no kids in our household and I still made it and we loved it.
Do stop by and check out what the rest of Group A whipped up this month.
Today, I'm extremely happy. Wanna know why? It rained this morning and the weather is so pleasant. After months of blistering summer heat, this is a welcome change. I've been waiting for the rains for a while now. I still have a couple of summer recipes that I haven't yet posted, but seeing as to how summer is just kicking in in some parts of the world, I'll post them over the next few days. Get ready to see a few more baked goodies now. I'm so happy I can comfortably use my oven again.
But before we get there, I must tell you about this awesome Vanilla Bean Ice Cream I recently made. I mentioned it here and then almost forgot about it. This morning, while going through some pictures, I happened upon the ones I'd clicked of the ice cream and realized I hadn't posted it yet. So here goes. This is a little more complex than the other ice cream recipes I've made in the past. All the previous ones have been simple, no churn recipes. This, however, requires you to make your own custard. In the past, the thought of making my own custard had intimidated me big time, but I wanted to get over it, so I followed the recipe down to the letter and managed to whip up a wonderful custard. The process really was quite simple and left me wondering what all the fuss was about.
This ice cream was like none I've had in the past. It had a lovely taste, so much more like custard that the commercially available vanilla ice cream. I think it should be called frozen custard or something like that. Needless to say I enjoyed it very much and I hope you do too. Since I don't have an ice cream maker, I simply froze it and when it had almost set I whipped it a couple of times every couple of hours, to try and get a creamier texture. If you do own an ice cream maker, by all means take advantage of it and use according to manufacturer's instructions.
Don't forget to enter my cookbook giveaway, if you haven't yet. The giveaway ends on 10th June 2012.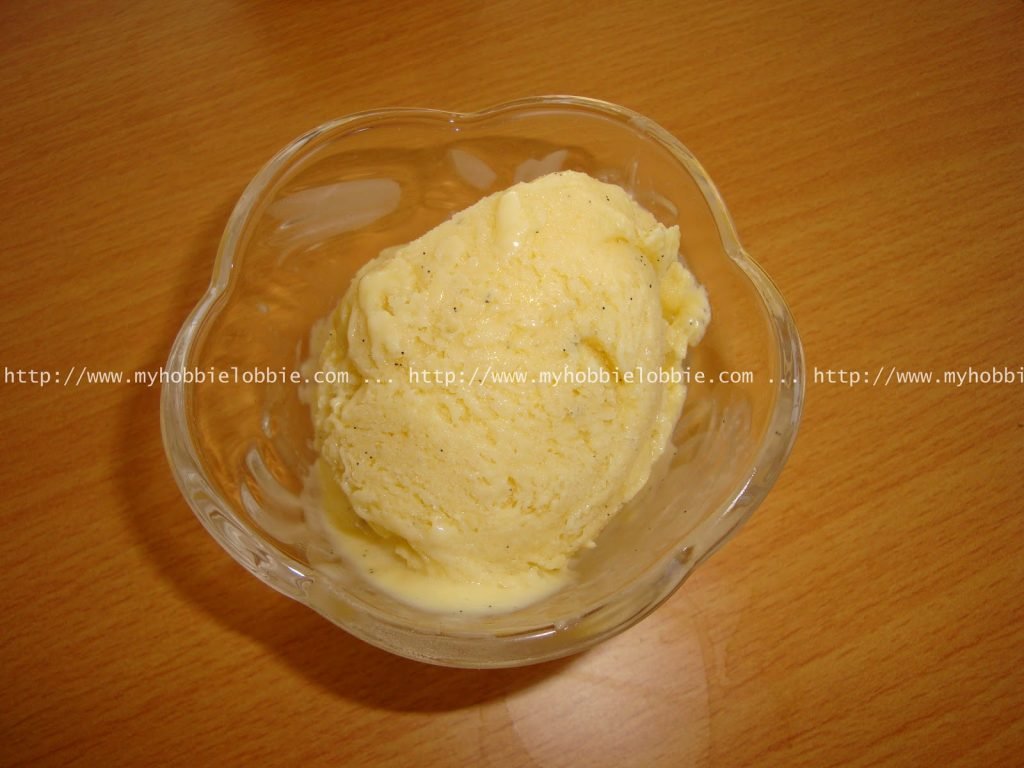 Vanilla Bean Ice Cream
Recipe by: Nigel Slater
600 ml milk
1 plump vanilla pod
6 egg yolks
150g caster sugar
Pour the milk into a saucepan.
Slit the vanilla pod and scrape the beans into the milk, using the blunt edge of the knife and then drop the pod in too.
Bring the mixture almost to a boil – this is known as scalding. Turn the heat off before the mixture comes to a boil. Leave it to rest for about 30 minutes so that the vanilla infuses its flavor into the milk.
Beat the egg yolks and the sugar well. It should be light and fluffy.
Pour the milk through a sieve into the beaten eggs, stirring well till you get a thin custard. Pour this custard into a clean saucepan.
Place the pan on moderate heat and stir continuously using a wooden spoon, bringing it slowly towards a boil.
Once the custard is thick enough to thinly coat the back of the wooden spoon, your custard is ready. Take it off the heat and pour it into a cold container and leave it to cool.
Without ice cream maker – Once it has cooled, freeze for a couple of hours and just before it has set, whisk it up again. You can use a blender for this. Repeat this once or twice again every couple of hours.
With ice cream maker – Once it has cooled, refrigerate for half and hour before churning. Pour into the ice cream maker and follow the manufacturer's instructions.
Note – I thought I should mention the cautionary note by Nigel. Since I don't have any prior experience with custard, I am in no position to offer you my opinion, but I think its important that you have this tip handy. He says and I quote "The custard must not reach boiling point, but should start to thicken before it gets there. If you overheat the custard it will curdle (I guarantee), so make certain that the spoon gets right into the corners of the pan. Your most helpful utensil will be a sink of cold water. If there is even the remotest sign of curdling, quickly dunk the pan into a sink of cold water to cool the sauce down and whisk like you mean it."




Every summer, our consumption of ice cream, yogurt and other frozen yummies goes up like clockwork. I guess its just natural. Given that every summer is exponentially hotter than the last, or atleast seems like it, I'm not surprised. This year as summer kicked it, I knew what was in store. And right enough, we are now in what perhaps is the hottest month of the year. Last year, I'd tried my hand at a couple of ice creams – a delicious
mango ice cream
and a
honey and roasted almonds ice cream
, both no churn, made without an ice cream machine. They were a big hit and this year I wanted to try out a few more. When I checked online there were so very many options, it was impossible to pick. So I went by what I had on hand. I made some vanilla bean ice cream and this yummy blueberry ice cream. More on the vanilla bean ice cream later.
It just so happens that I love blueberries. I think a lot of folks do. But you see, here in Mumbai, finding fresh blueberries is impossible. And its the same with frozen ones too. Back in Goa, these little gems grow wild and till date I remember our annual vacation trips to Goa and how we'd go berry picking every once in a while. I used to look forward to it all year. We don't go there as often anymore, not in the summer atleast. So when I was in Panchgani on one of our weekend getaways, I spotted a Blueberry crush at a Manama factory outlet. I was elated and picked it up at once. I knew this was as close to the real thing that I would get for a while. It tastes divine and even has little berry pieces. And this crush is what I used for this no churn ice cream. However, if you are fortunate enough to have access to the berries, fresh or frozen, I would suggest using it, I can only imagine how much better it would make this ice cream. I didn't use any sugar, since I used Rich's sweetened soya cream.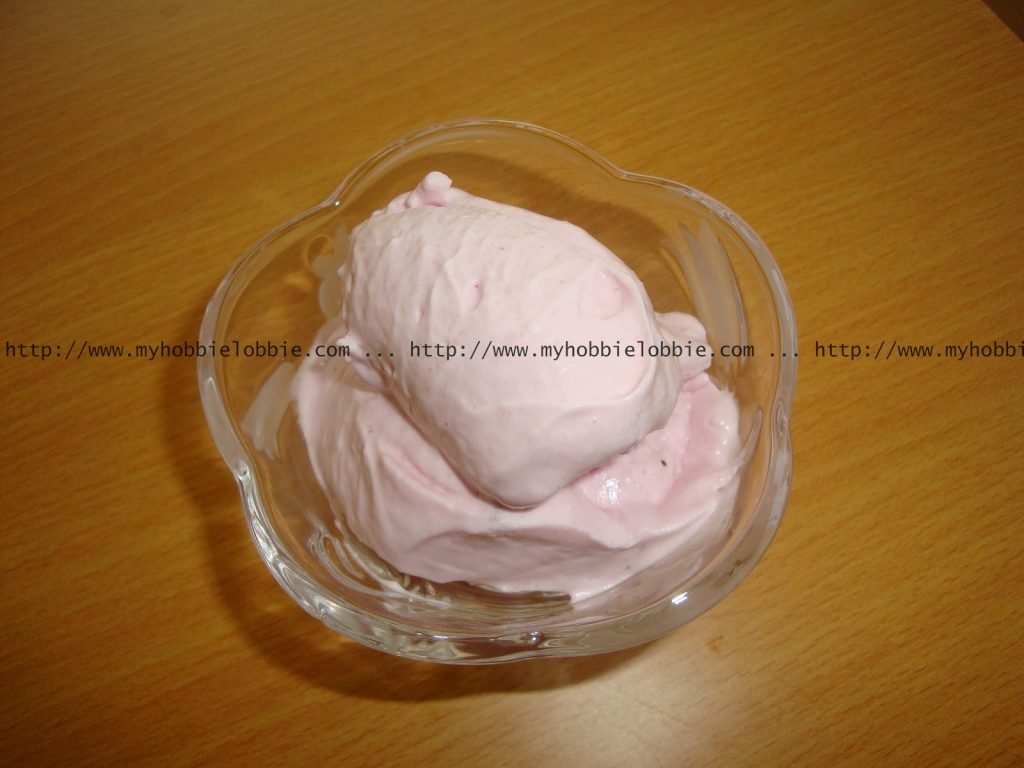 No Churn Blueberry Ice Cream
200g Rich's sweetened soya cream
Manama's Blueberry crush, to taste
Whip the cream till it is nice and light and fluffy.
Add the crush to the cream and stir well to incorporate thoroughly.
Taste and add more crush as required and mix well.
Refrigerate.
This recipe is linked to –
Sweet Tooth Friday
Sweets for a Saturday
Weekend Potluck
My Meatless Mondays
Savory Sunday
Mix it up Monday
Mangia Mondays
Disclaimer – This is not a sponsored post. All views and opinions are my own.
While I was perusing Nomnivorous for my last Secret Recipe Club submission, I came across Emily's recipe for choco fudge pops. I'd never tried these before. And ever since the rains ended a few days ago, the heat has picked up. We will have a month or two or crazy hot weather before winter settles in. I hope winter gets here soon, its my favorite season of them all. Anyway, I thought these fudge pops would be an ideal way to end a meal and cool off these days, so off I went to try my hand at them.
A word of caution! Proceed at your own risk!
These choco fudge pops are sinfully rich and chocolaty. True to its name it is delightfully creamy and there are so many ways to fancy them up even further. Since this was my first time trying it, I went with the basic choco-fudge and it was really good. The next time I make these I want to try dipping them in some melted chocolate and sprinkle roasted, chopped nuts or sprinkles over it like Emily did. I can't wait. In hindsight, there is just one thing I would change – I used the slightly larger Popsicle moulds and got 4 pops out of the recipe. Like I said, these are extremely rich, so I would suggest using smaller moulds, which should yield atleast 6 pops.
Here they are just out of the freezer. This was my first time using this popsicle mould and at this stage I had my fingers crossed, hoping they would unmould easily.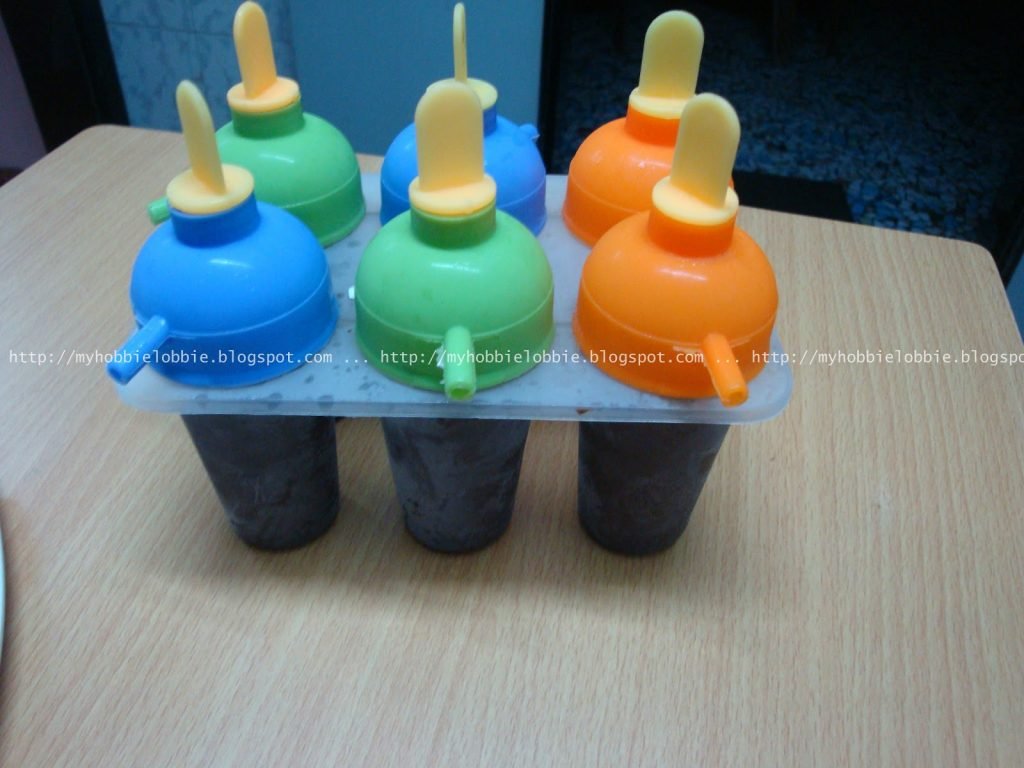 It wasn't too easy, but I managed to get the pops out. Serve them quick, it starts melting soon. Check out that delicious puddle of chocolate fudge starting to form under the pop that was taken out first.
Choco Fudge Pops
Adapted from: Nomnivorous
Yields 4 large or 6 small pops
1/3 cup sugar
1 tbsp cornflour
1 1/2 tbsp unsweetened cocoa powder
3 tbsp dark chocolate, chopped
1 1/4 cups milk
A pinch of salt
1/2 tsp vanilla extract
1/2 tbsp butter or vegetable oil (I used butter)
Place the dark chocolate in a saucepan over low heat.
When its melted almost all the way, add the sugar, cornflour, cocoa powder, milk and salt. Turn up the heat to medium and stir continuously.
In ten minutes, the mixture should have thickened quite a bit to a pudding like consistency.
Take off the heat and add the butter and vanilla and stir till everything has mixed well.
Leave it to cool a little for about 5 minutes and then pour into popsicle moulds.
Freeze for about 3-4 hours or until set. I made these one evening and left them to set overnight.
Enjoy!
This recipe is linked to –
Friday Potluck
Sweet Tooth Friday
Sweets for a Saturday
I can't believe its almost been a week since I last posted. I was just so proud that I'd managed to post regularly over the past couple of months, then the last few weeks took me completely by surprise. So many things came up all of a sudden, I barely had time to cook up our daily meals for us. I did make a few treats that I can't wait to share with you. I'm hoping things will be a bit more
back-to-normal
now. I have my fingers crossed. If you're wondering what I was so busy doing, don't fret, I will let you on to it really soon.
I'd made this ice cream a couple of weeks ago. After the success I had with the Mango Ice Cream, I decided I was definitely going to try out a few more options. I had this sudden craving for a roasted almond ice cream. It was all I could think about for a few days. I had a scoop @ 'Natural's' when we'd gone for a movie and just needed to have some again. After scouting the web for a while, I came across a version of this ice cream to be made in an ice cream maker, that could be easily adapted to make a No Churn version. The best part is that this recipe uses no sugar. You heard me alright, not a grain of sugar. Honey is the only sweetener used. What I realized is that this ice cream tastes best after it has spent a few days in the freezer. The flavors mellow and blend well and the roasted almonds add a lovely flavor and crunch to it. I hope you try this out sometime.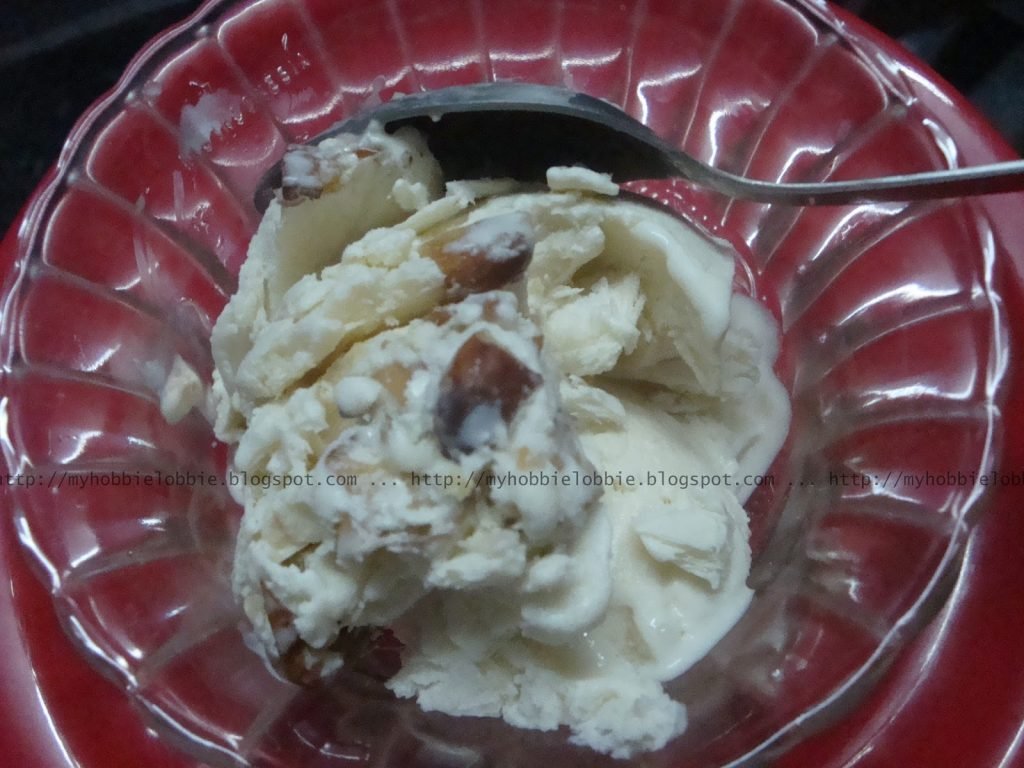 Honey & Roasted Almond No Churn Ice Cream
Adapted from: Chocswirl
500ml single cream
120-150ml honey (or to taste)
50g almonds
Spread the almonds on a baking tray and set it on the top rack of the over and grill till they've browned. Let them cool, then chop them roughly.
Whisk the cream and the honey till it has thickened a little.
Add the chopped roasted almonds and stir it in.
Pour into a freezer container and freeze for a few hours or till set.
Enjoy!
Notes:
The original recipe calls for it to be beaten every 45 minutes or so about 3-4 times. I did it just once and the consistency was nice and creamy. I'm sure it would've been fine even if I hadn't done this, since there was nothing with a high liquid content added to the cream.


This recipe is linked to –
Ice Cream Social 2011
Sweet Tooth Friday
Sweets for a Saturday
This treat is ideal for the summer. It comes together really quick and you don't even have to switch the stove on. I made this ice cream a few days ago and it was lovely. It was so good, that my husband wants me to whip up another batch of the same flavor. That says a lot. I was really pleased with the way this ice cream turned out and I most definitely am going to make another batch, but this time I will try another flavor. What flavor do you think I should try next? Any suggestions? Leave a comment and let me know. For this mango ice cream I used Nigella's no churn ice cream as a guideline and then simply went by taste. But I made a note of the quantities I used, incase any of you want to try it out. I used large pulpy mangoes that are called "Badami" mangoes in Maharashtra. You can use any pulpy, tasty variety.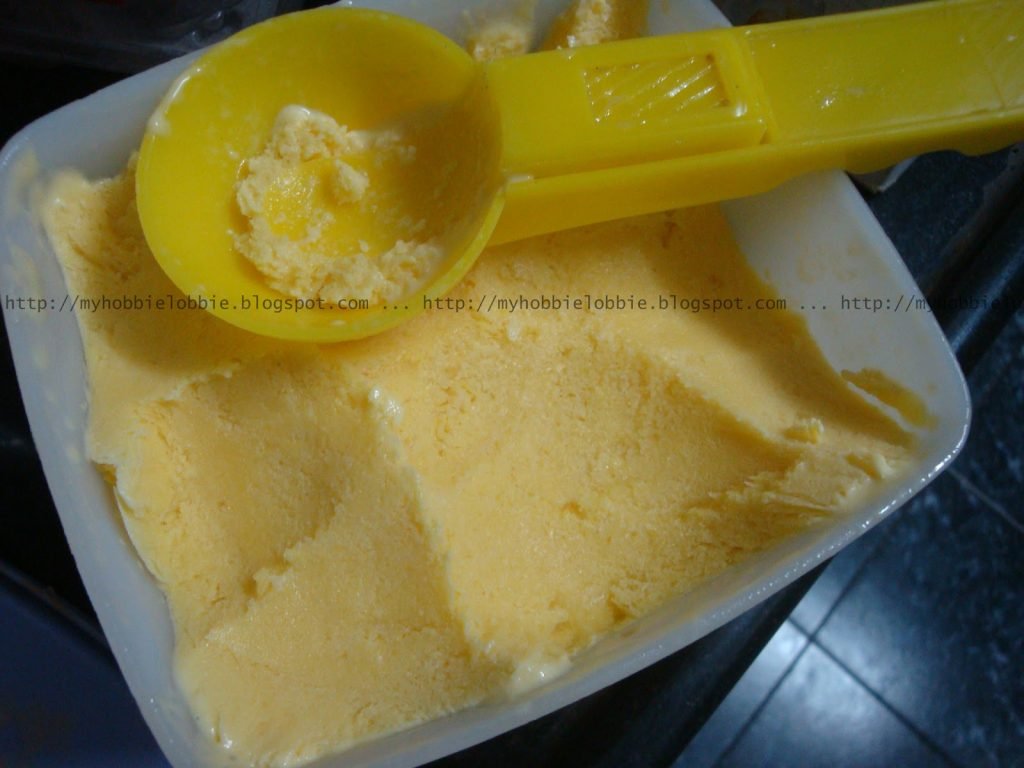 Mango Ice Cream
Flesh of 2 large mangoes (the quantity I used weighed about 350 gms)
100g sugar (or to taste)
400ml heavy cream (I used Amul)
In a blender, blend the mango and sugar to a pulp. Check for sweetness and adjust if needed.
In a bowl, whisk the mango pulp and the cream to a soft peak stage.
Pour into a freezer safe container. Freeze till set.
Keep the container out of the freezer for about 5-10 minutes before serving for a lovely smooth, creamy and luscious ice cream.