We recently took a 2 week long 'time-out' – the longest one since college days, and well, that was a long time ago. We drove to Goa and then to Coorg in Karnataka and then back to Goa for a few days before coming back to Bombay (Mumbai). It was a wonderful experience. I have heaps of pictures and had a hard time picking a few to share on this post. But here are little bits and pieces of our trip.
This was our first trip to Coorg and we stayed at the Club Mahindra Resort over there. Coorg is called "the Scotland of India" according to the local tour operators there. I've never been to Scotland so I wouldn't know, but what I can say is that the place was breathtakingly beautiful. When we were driving down to Coorg, we were fortunate to catch a glimpse of this ….
… a double rainbow. I was delighted. I'd never seen a double rainbow before. We stopped at this gas station so that I could take a few pictures. It was stunning. I'm really glad that we spotted it. Don't know if I'll ever see one again.
We managed to catch a few showers of rain while we were in Coorg. But that made everything so much more pleasant and beautiful. Every direction you looked in was covered in a thick blanket of greenery that was speckled with some of the most beautiful flowers.
This is the entrance to the Reception area of the resort …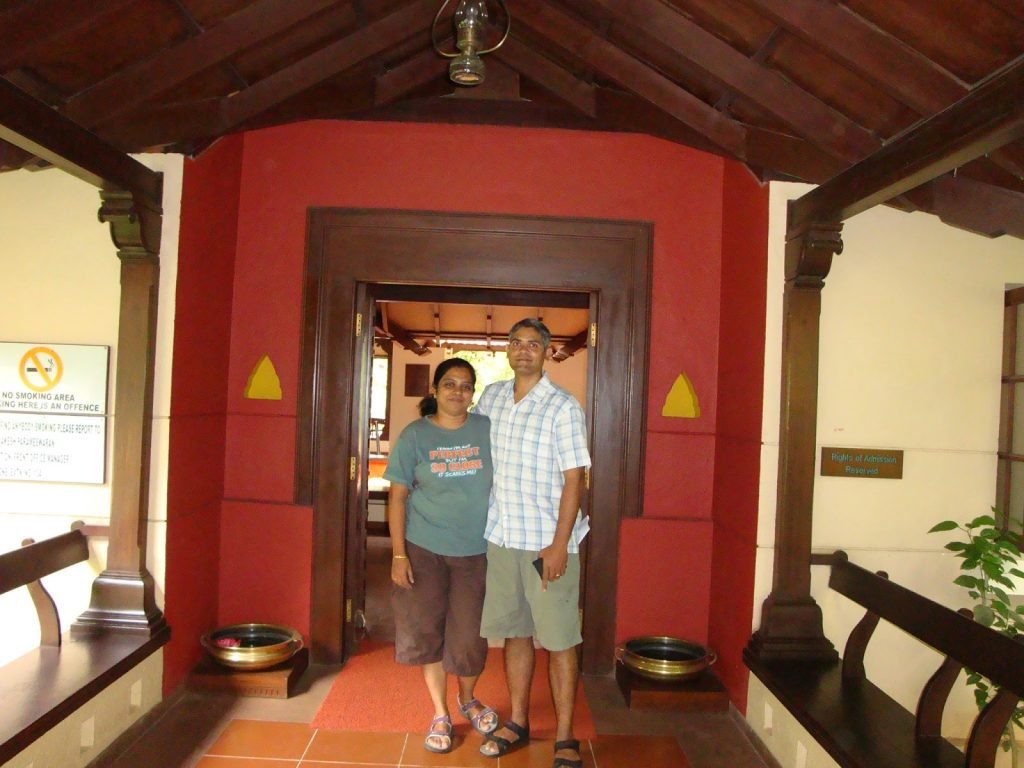 … and when you walk through that door, this is what you see …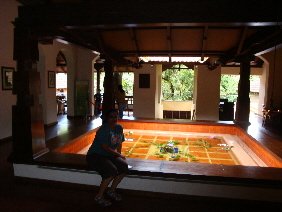 … pretty little water feature that actually uses rain water and has some artificial lotus flowers to add color.
We visited Abby Falls …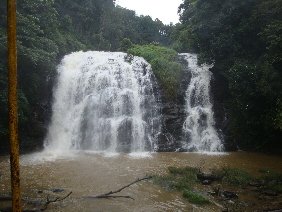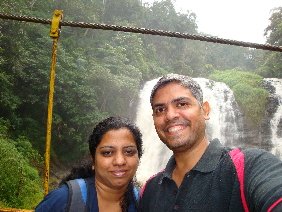 … the little specks of white that you see is the spray from the falls.
While we were trekking down to the falls, we spotted this little guy …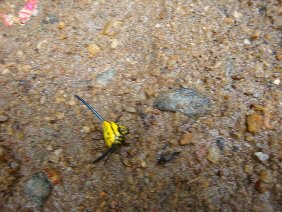 … I've never seen this insect before.
We went on a plantation tour to an estate and got to see how pepper, coffee, cardamom and a whole bunch of other spices grow. I couldn't get too many pictures of the estate because it was raining like crazy and the ground was like slush so we had to be extra careful not to slip.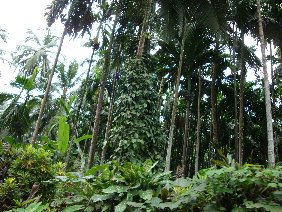 This is how peppercorns grow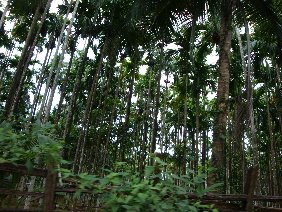 Beetlenut plantation
We also went river rafting. This was a first for me. It was so much fun that I can't wait to do it again. Obviously I couldn't get any pictures of this, but I must say this, if you haven't tried it before because you're a little afraid, don't be, it is an awesome experience. I was a little anxious, so much so that I wasn't too excited by the idea of river rafting, but I'm really glad I tried it out. Did I mention how much fun it was? ;o)
After our stay in Coorg, we spent a few days in Goa. Goa is my favorite holiday spot. We go to Goa at least twice or thrice a year. This time around we spent a few days in a quaint little resort. This is what our room looked like from the outside…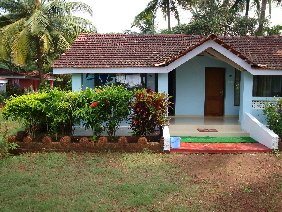 While we were there, we see this chap …
… don't know what it was about this trip and spotting life forms I'd never seen before. Nevertheless, stunning colors, don't you agree?
When we were driving around in Goa we saw them ….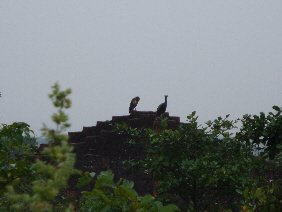 … any guesses? I don't know if you can tell, but that's a peacock and a peahen sitting atop some old ruins. How cool is that? The peacock is our national bird and a gorgeous fellow he is, especially when he's strutting his stuff. So we pulled over and waited, waited and waited some more. I guess he hadn't worn his dancing shoes that day. Anyway, I was happy enough having seen the pair. I've seen peacocks before, but every time you spot them in the wild, its still an amazing feeling.
This has got to be my favorite restaurant in all of Goa …
… and as you enter, you're greeted by the wonderful seafood display …

… the food here is amazing, my husband and I both love the place and we go there more than a couple of times on each trip. If you ever go to 'Martin's Corner', you have got to get the crab. They let you select your own crab, from a bunch of live ones and they prepare it to your liking. Its a fun experience, they give you an apron to protect your clothes from splashes and yes, there will be some splashing. They also give you the tools to crack open the cooked crab shell and pick the crab meat.All in all, a really fun experience.
We had a lovely time and one of the high points of the whole trip is that I bought some of these ….

… some wonderful locally grown
Vanilla bean pods. You have no idea how long I've been waiting for these. Its practically impossible to get them in Mumbai. So when I saw these, I grabbed them. I'm happy to say that now, I know someone who knows some one who will send me some more as and when I need it. That makes me one happy camper. I can't wait to make my own extract and vanilla sugar. There's so many recipes that I've ear marked, but never made for the lack of Vanilla bean pods. Its time to dig them all out.
This was one fun trip and I hope you had fun re-visiting it with me. I'm off to the kitchen now, I've a couple of orders for birthday cakes for this weekend.