This is the first
SRC
post of 2014. After a month off, a well-timed break, we are back at the club. I was so very excited when I got my assignment for this month – a blog called
Cupcakes with Sprinkles
. Seriously, how cute a name is that! This blog is authored by Meghan. Meghan and her husband just recently celebrated their 7th wedding anniversary and they have 3 adorable little kids. While being a loving wife and mother, she also finds the time to bake, cook, blog and quilt and runs her own Etsy shop. Don't forget to stop by her blog and show her some love.
Now true to its name, you'll find heaps of cupcake, cake and dessert recipes on this blog. But you will also find some very tempting savory recipes too. I felt I had to try out one of her cupcake recipes and while it was hard to pick, I settled on the Cookies N Cream Cupcakes. These were really easy to make. I love that I have access to an oven again and I'm finally baking again, after more that 6 months. And these cupcakes did not disappoint. The cake itself had a beautiful delicate crumb and the frosting was beautiful. For me the frosting was the absolute star. I'd probably cut down the sugar in the cake itself a little the next time I make it, but thats just a personal preference. The recipe is fine as is. Now that I've eaten a 2nd, maybe even a 3rd one ;), I think the sugar level is just fine, I will stick to the original recipe. We thoroughly enjoyed it with our afternoon cup of tea. Thanks Meghan, for introducing me to a wonderful cupcake recipe.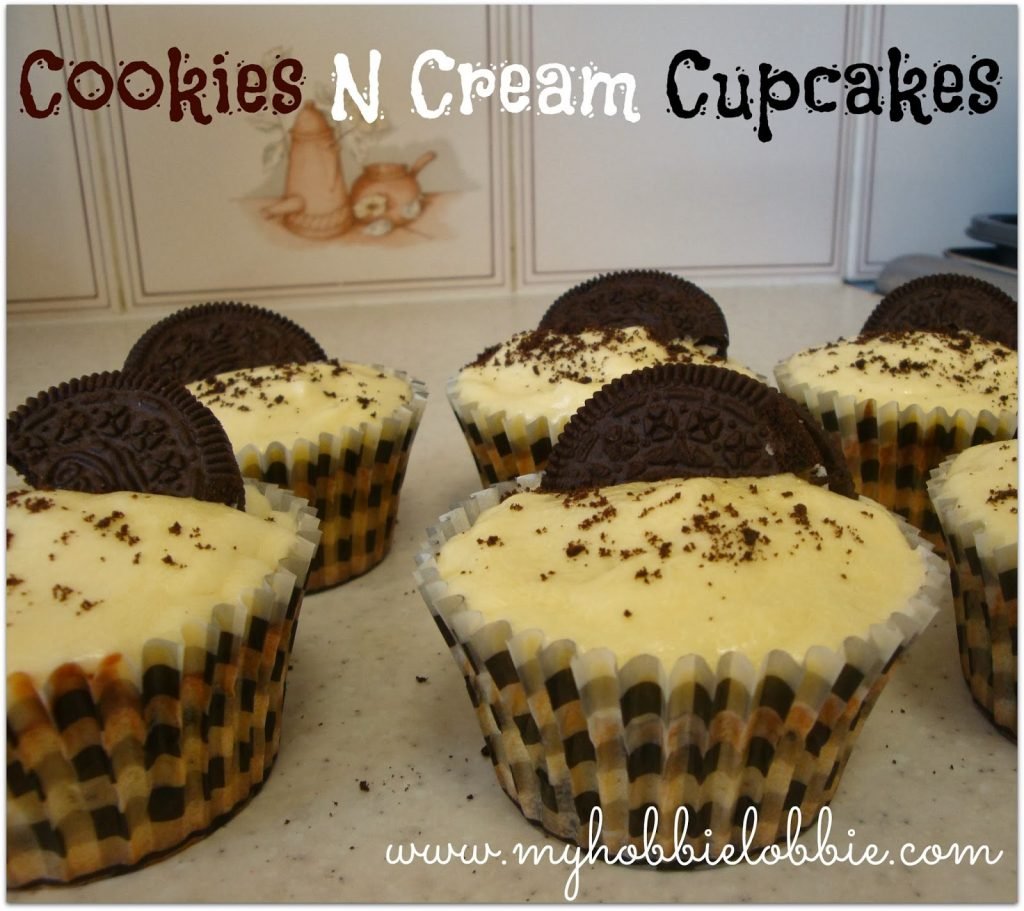 Cookies N Cream Cupcakes


For the cupcakes –
24 Oreo halves, with cream filling attached
2 1/4 cups all purpose flour
1 tsp Baking powder
1/2 tsp salt
8 tbsp butter, at room temperature
1 2/3 cups sugar
3 large egg whites, at room temperature
2 tsp Vanilla extract
1 cup milk
20 Oreos, coarsely chopped
For the frosting –
8 oz Cream Cheese, at room temperature
6 tbsp butter, at room temperature
1 tbsp Vanilla extract
4 cups Icing sugar, sifted
2 tbsp Heavy Cream
To decorate –
12 Oreo cookies, cut into halves
Oreo crumbs
For the cupcakes –
Preheat the oven to 170ºC. Place cupcake liners in the cupcake tins and place one Oreo half in each liner, cream side up.
Place the flour, baking powder and salt (dry ingredients) in a bowl and stir through with a fork and set aside.
Cream the butter and sugar till light and fluffy.
Add the egg whites, one at a time, beating between each addition. Add the vanilla essence and beat again till incorporated.
Add half the dry ingredients and mix until just incorporated.
Add the milk and again mix till incorporated and then add the rest of the dry ingredients and mix till just combined.
Gently fold in the coarsely chopped Oreos. Do not overmix.
Spoon the batter into the cupcake liners and bake for 18-20 minutes or until done. Test by piercing the center with a toothpick or a piece of uncooked spaghetti. If it comes out clean, the cake is cooked.
Let it cool in the pan itself for about 5 minutes after taking it out of the oven, then transfer to a wire rack to cool.
Once it has cooled completely, you can proceed to frosting the cupcakes.
For the frosting –


Combine the cream cheese and butter using an electric whisk, on high speed, until smooth.


Add the vanilla extract and beat until combined.


Add the powdered sugar and beat till smooth.


Add the heavy cream to the mix on low speed till mixed and then on med-high till stiff enough to frost with.


Frost the cupcakes as desired. You could sprinkle the top with some Oreo crumbs and half an Oreo.


Enjoy!!!


document.write(");
My mother celebrated her birthday last weekend and I was looking for a cake recipe to try. I usually make some variant of a chocolate cake, a devils food cake and a vanilla cake fairly often. But I'm dying to add to my repertoire. I'd like to think that I have started adding to this list by way of these
strawberry cupcakes
and the
pineapple upside down cake
. My mum loves all things chocolate, she really doesn't care for fresh cream and fruit kinda cakes. With that in mind, I was browsing through the web looking for suitable options. I remember a while ago, I'd seen some Kahlúa cupcakes on Casey's blog. Casey no longer adds to this blog but, along with her mother, has started her own bakery now; something I hope to do one day. The recipe sounded great, I simply halved it because 24 seemed like a bit too many for just 5 people, the only thing I switched was the cream. I used a non dairy cream instead. The results were perfect, the cupcake was not too sweet and the frosting was just right. And please don't skimp on the frosting, it takes the cupcake to another level altogether. We enjoyed these little gems so much, I know they will make frequent appearances.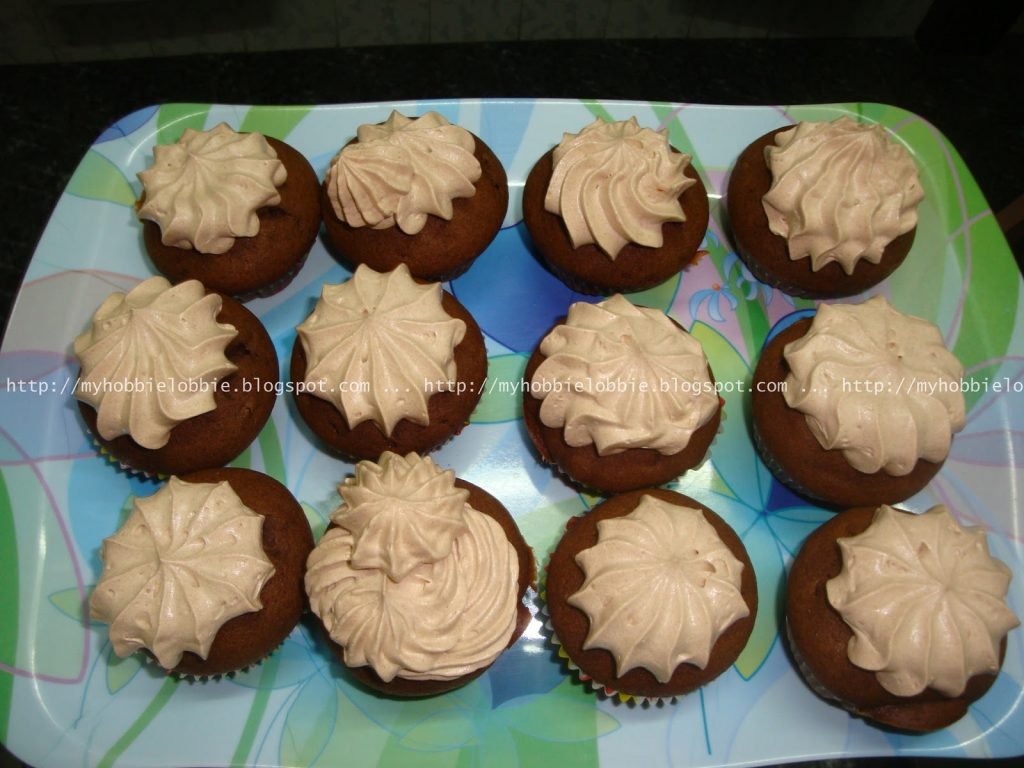 Kahlúa Cupcakes
Adapted from: How to Eat a Cupcake
Makes 12 cupcakes
6 tbsp butter
1/4 cup cocoa powder
3/4 cup sugar
1 1/2 tsp vanilla extract
2 small eggs
1/4 cup cold water
1/4 cup Kahlúa
1 1/8 cup all purpose flour
1 1/2 tsp baking soda
Preheat the oven to 170ºC. Insert paper liners in a cupcake pan.
Beat egg whites till soft peaks forms.
Beat the butter, sugar, cocoa and vanilla till light and creamy.
Add the egg yolks and beat well again till it is well incorporated and the mixture becomes light.
In a small bowl, mix the water and Kahlúa.
In another bowl, combine the flour and baking soda.
Add half of the flour mix to the creamed butter-sugar mix and mix well to incorporate. Add half of the Kahlúa and water solution. Mix again. Repeat with the other half of the dry ingredients and finally the remaining Kahlúa and water solution.
Mix till everything is well combined.
Gently fold in the beaten egg whites.
Pour the batter into the cupcake liners.
Bake for 20-25 minutes or until done.
Cool the cupcakes completely before frosting.
Chocolate Kahlúa Whipped Cream
1/2 cup cold heavy cream (I used a non dairy whipping cream)
1/2 tbsp cocoa powder
1/6 cup confectioners sugar (I simply used a cup that measures 1/3 of the cup and halved it)
1 tbsp Kahlúa
Sift the cocoa and the confectioners sugar and keep aside.
Beat the cream till it thickens slightly.
Add the Kahlúa, cocoa and sugar and beat until soft peaks form.
Use this to frost the cupcakes.
(Don't overbeat your frosting or you'll end up with butter. This frosting needs to be kept refrigerated.)
This recipe is linked to –
Sweet Tooth Friday
Friday Potluck
Sweets For a Saturday
Mouthwatering Mondays
Mangia Mondays
A Little Birdie Told Me
Hearth and Soul
Finally, I've got a start on it. I've always wanted to try out a whole bunch of cupcakes, other than the
vanilla
and
chocolate
ones that I make. And every single time I wanted to, something or the other kept me from it. Then the other day, packed with some steely resolution, I decided that I had to do something about it. I had some frozen strawberries and I decided that this was the perfect start point.
These strawberry cupcakes are really lovely. I think I love the cake just by itself as well. It has some lovely flavors. The cake is a delicate pink with the strawberry puree added to the batter and just a hint of lemon which the lemon zest add to it. On the whole a good cake. The frosting is also speckled pink with the strawberry puree and has that tangy touch that you can get only by using the real fruit. If pink is your favorite color, you shouldn't miss these. For that matter, if strawberries top the list of fruits for you, you should try these. What the heck, if you like cupcakes, you should definitely whip up a batch of these. I'm glad I made these cupcakes. I know I will make them each time strawberries come around.
Here are the pink cuppies before the frosting went on.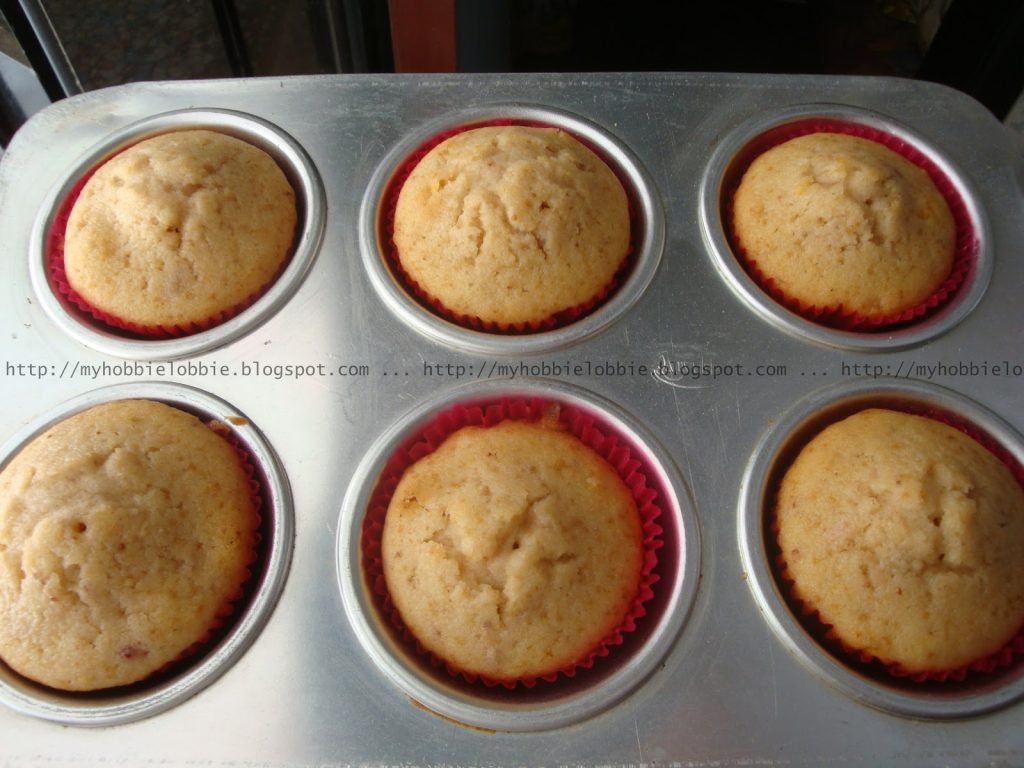 Here's what they look like with the frosting. In hindsight, one thing I would do the next time, is use the electric whisk to whip through the frosting after refrigerating it. I'm pretty sure that would give the frosting a smoother look. No regrets though, these cupcakes turned out really well.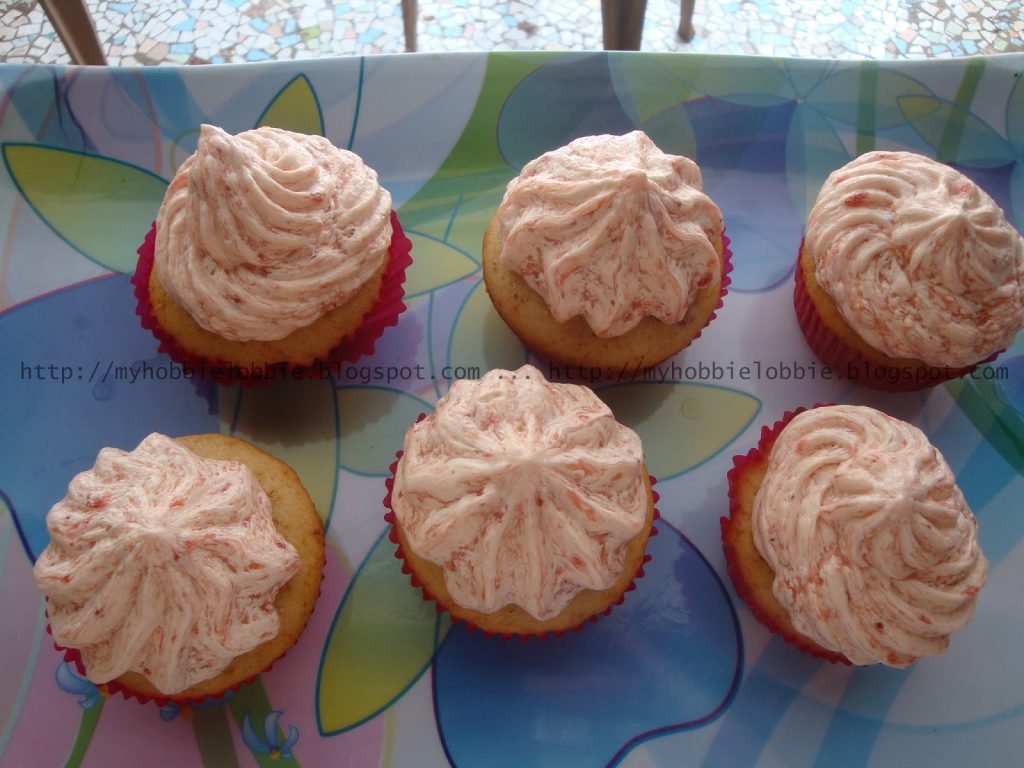 Strawberry Cupcakes
Makes 12
For the cupcakes:
2/3 cup Whole Fresh or Frozen Strawberries, thawed (I usedfrozen)
1 1/2 cup All purpose flour
1 tsp baking powder
1/4 cup milk at room temperature
1 1/2 tsp vanilla extract
Zest of 1 lemon
1/2 cup Butter
1 cup sugar
1 egg2 egg whites

Preheat the oven to 160ºC.
Line a cupcake pan with cupcake liners.
Puree the strawberries. (Its a good idea to puree the strawberries that you will need for the frosting at the same time)
Sieve the flour and baking powder into a bowl and keep aside.
In another bowl, mix the milk, vanilla extract, lemon zest and the strawberry puree.
In yet another bowl, cream the butter till light and fluffy. Add the sugar and continue to beat till you get it to the light and fluffy stage.
Add the eggs and egg whites and mix until just blended.
Add half the flour mixture to the bowl, mix, then add the milk mixture and mix well. Add the remaining flour and mix till just combined.
Pour batter into the cupcake liners. Bake for about 17-20 minutes or till done.
Let the cupcakes cool completely before frosting.
For the frosting:
1/2 cup frozen strawberries (3 tbsp strawberry puree)
1 cup unsalted butter, firm and slightly cold
A pinch of salt (I used salted butter and left out the salt)
3 cups icing sugar
1 tsp vanilla extract (I used a clear vanilla extract)
Cream the butter till light and fluffly.
Gradually add the icing sugar and beat till well combined.
Add the vanilla extract and strawberry puree and beat till just blended.
Use this to frost the cupcakes.
I put the container of frosting in the refrigerator and let it cool down and stiffen a little since I wanted to pipe the frosting on. After taking it out of the fridge, you will need to beat it a little to get the right consistency.
This recipe is linked to –
Sweet Tooth Friday
Sweets for a Saturday
This Week's Cravings
This event is hosted by Sonia of Dinner Recipes from Sonia's Kitchen
this month and was originally started by Nivedita of
Nivedita's Kitchen
.
Here are some other cakes that I'm submitting for this event –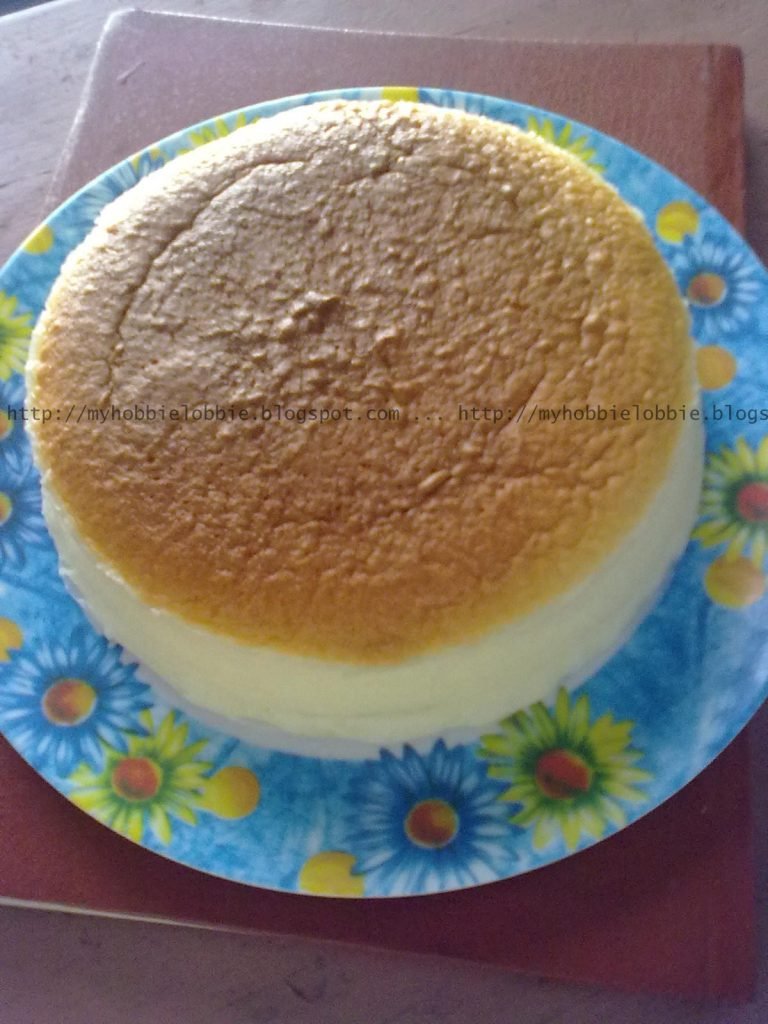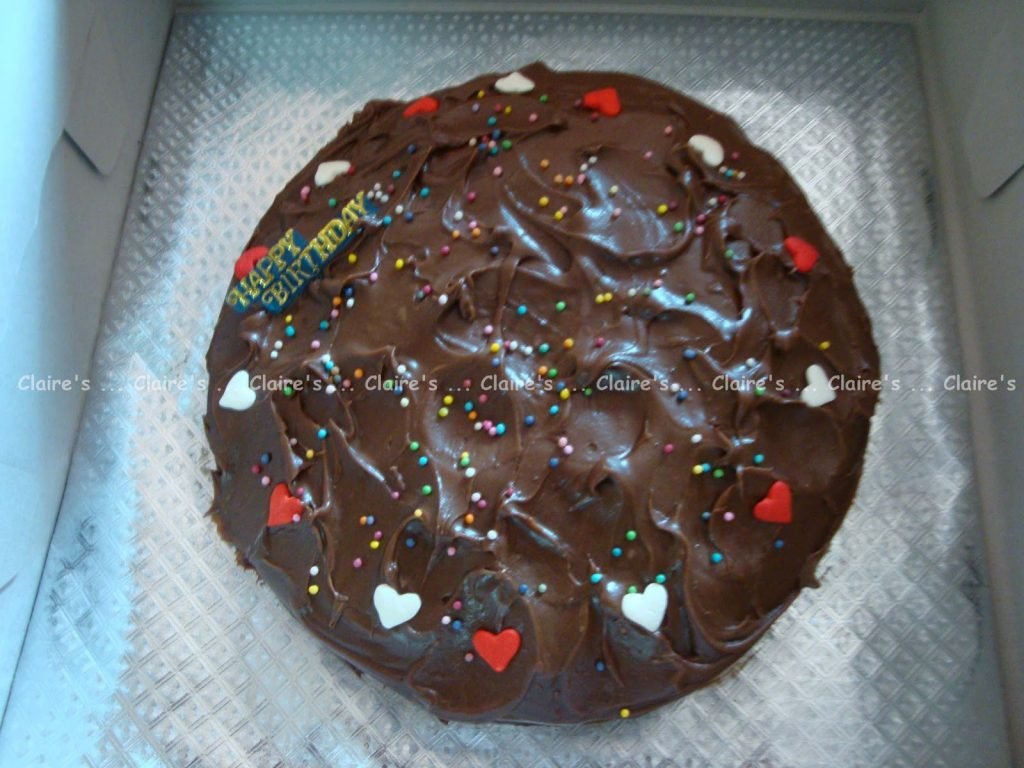 Vanilla Cupcakes: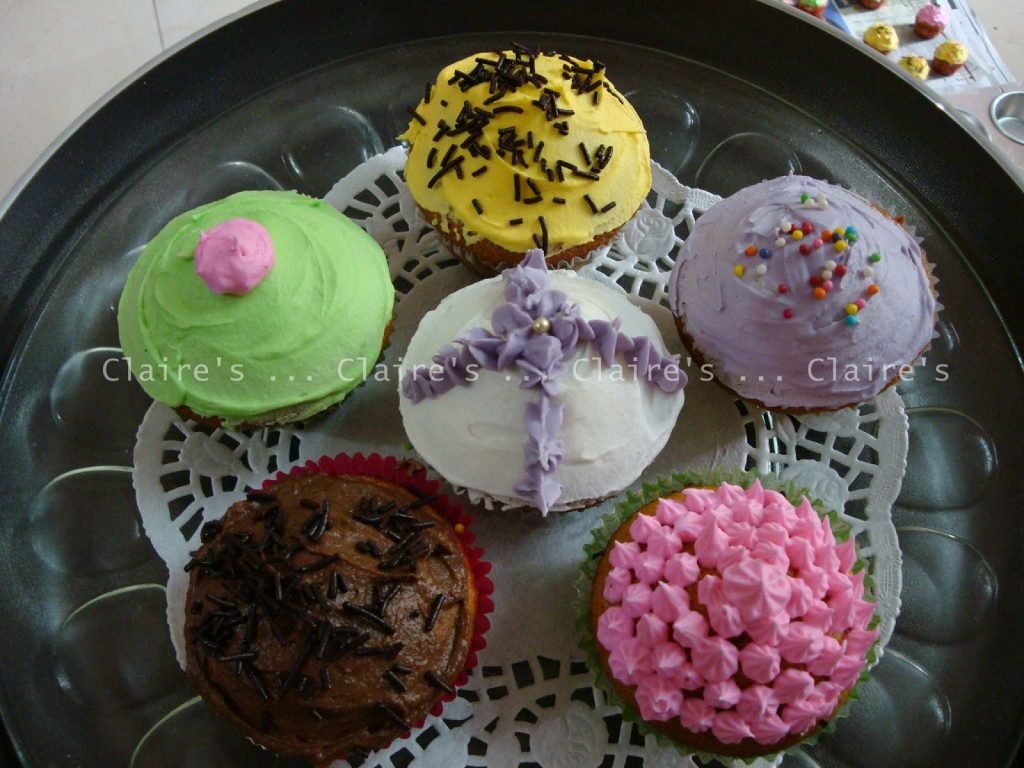 I've decided to take you through a few of the treats that I've made for Easter in the past. Some of them were made to order. The others, for friends and family. I hope you enjoy them!!!
This is a very short post on my version of Easter Cupcakes. Last Easter, I made a ton of marzipan chicks, eggs, bonnets etc. to order. When I was done with those, I decided that I needed a change from all that. So I turned to my favorite Chocolate cake recipe – its a Nigella Lawson recipe, my no-fail, go-to recipe for a great chocolate cake. I made some chocolate cupcakes topped it with Chocolate frosting and placed 3 marzipan eggs on the top. I like how they turned out. The only thing I will do differently when I make them next, is reduce the size of the eggs a little.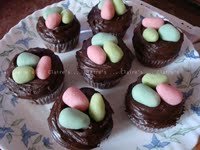 Truth be told, I am yet to meet someone who doesn't like cupcakes. Sure, some prefer vanilla, others chocolates while a few feel adventurous and don't mind trying out other flavors.
Recently, I had to make 4 doz. cupcakes to order for a young man's birthday party. Yes, you heard me right, I said a young man, whoever said that cupcakes were a girly thing had no idea what they were talking about. You can pretty much use any cake and frosting recipe and make cupcakes with it but this time around, I used one of Nigella Lawson's. They were an absolute hit and everybody loved them. I made them in two sizes. The larger ones for the party and some bite sized ones for us at home.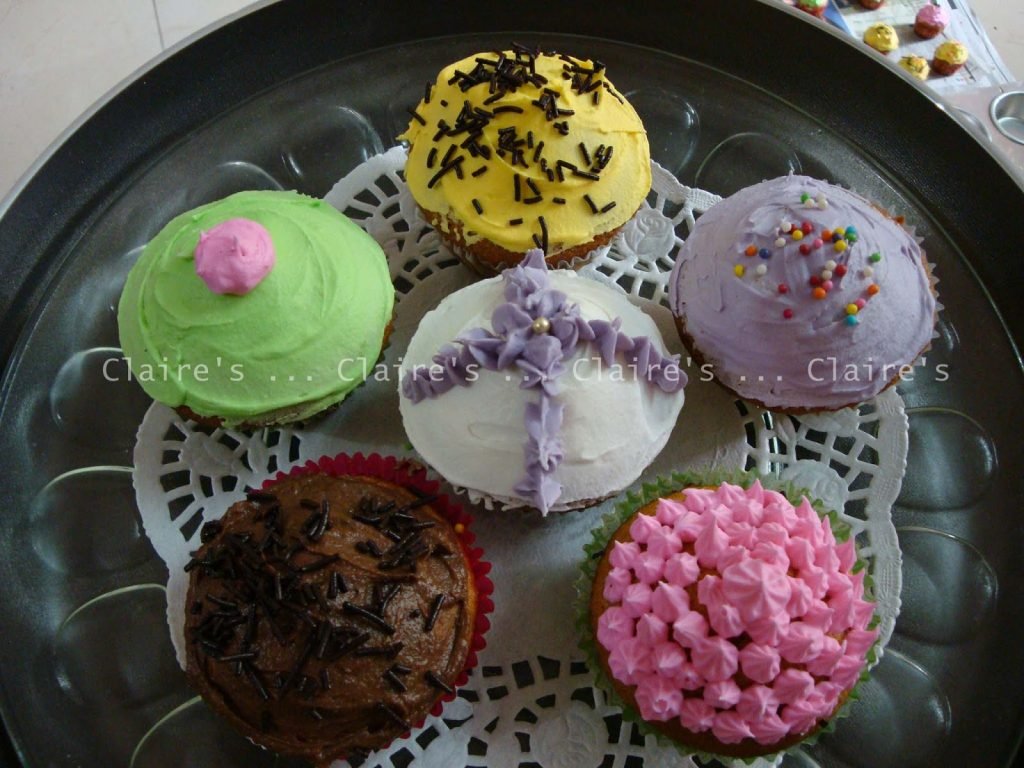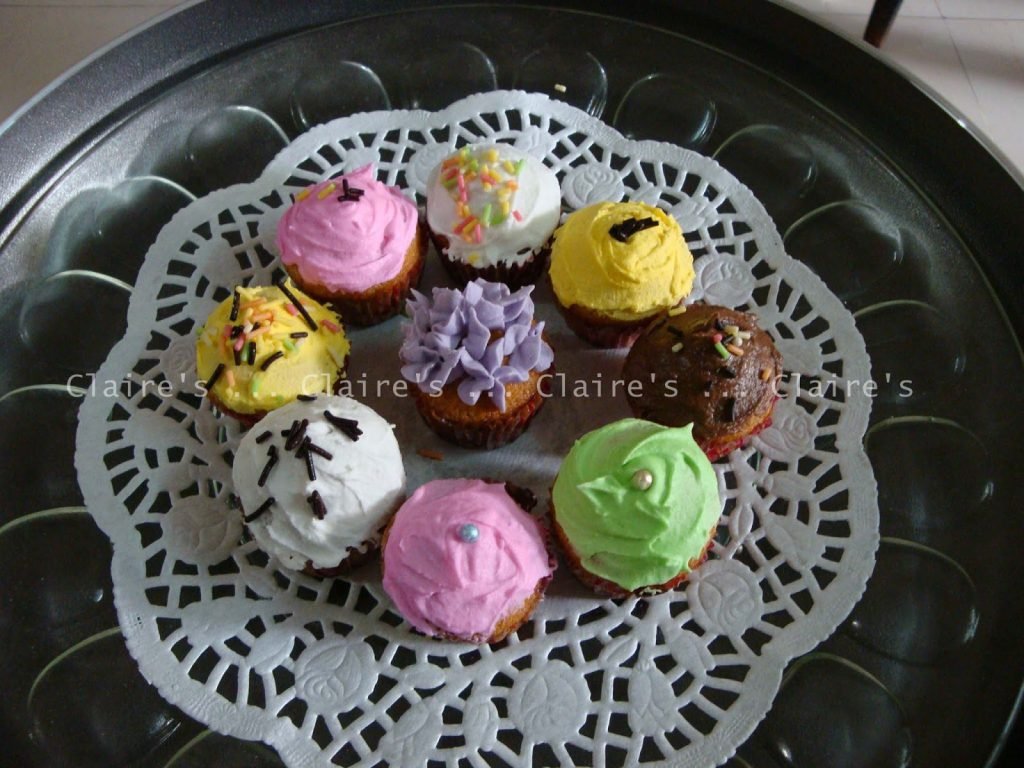 Here's the recipe if you want to try it out –
Cupcakes
Adapted from: Nigella Lawson
Ingredients
125gms. butter
125gms. sugar
125gms. all-purpose flour
2 eggs
1/2 teaspoon baking soda
1 teaspoon baking powder
2 teaspoons vanilla extract
2 to 3 tablespoons milk
Directions
Preheat the oven to 200C.
Put all of the ingredients for the cupcakes except for the milk in a bowl and whisk with an electric whisk until smooth. You can also use a wooden spoon instead but you'll have to work it a bit. Add the milk and whisk again to make a smooth dropping consistency.
Divide the mixture between a 12-bun muffin tin lined with muffin papers, and bake in the oven for 15 to 20 minutes. They should have risen and be golden on top. Let them cool a little in their tins on a rack, and then take them carefully out of the tin to cool in their papers, still on the wire rack.
Ice with Royal Icing.
Royal Icing:
2 egg whites
350 gms. icing sugar (approx.)
1 teaspoon lemon juice
Combine the egg whites and confectioners' sugar in a medium-size mixing bowl and whip with an electric mixer on medium speed until opaque and shiny, about 5 minutes. Whisk in the lemon juice, this will thin out the icing. Beat for another couple of minutes until you reach the right spreading consistency for the cupcakes.
Please note, depending on the weather, you may need to increase or decrease the amount of icing sugar used. So I would strongly suggest that you add the icing sugar to the beaten egg whites in stages till you have the right consistency.