Today, after what seems like ages, I have something
crafty
I like to share with you. After moving to Sydney, all I had with me, in terms of craft supplies, was my quilting tool and my crochet hooks. I couldn't get anything else along. I still have some of my stash in my Mother's house in Mumbai and am hoping to have access to it soon.
In the first couple of months after we got here, once we had found a place to stay and had sort of settled in, the job hunt began. It took a while for something to come up and I felt I had some time on my hands and not much to do. So after a search on the internet, I decided to check out a few craft stores. I went to one called Morris & Sons and Lincraft, both of which are in the heart of the city. Honestly, I have never been to craft stores this big and with this much variety all under one roof. Morris & Sons has an overwhelming range of options, but I found them expensive and didn't end up picking anything there 🙁
Lincraft, on the other hand, has products that better suit my budget and a good variety as well. I think I probably went around in circles for the better part of an hour at first and finally settled on the ruffle yarn. I had seen so many ruffle scarves online and this yarn wasn't available in Mumbai. I was so excited that I picked up a ball to try out. And the rest, as they say, is history.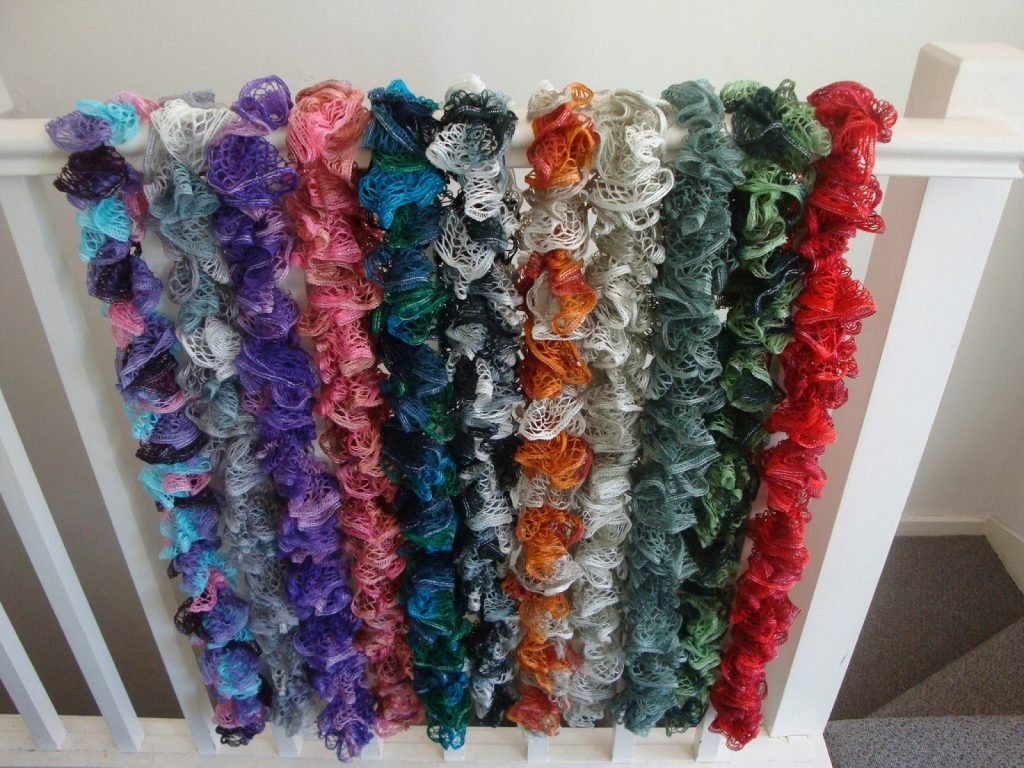 Can you tell that I ended up going there a few more times and picked up a whole bunch of yarn. Fast forward to last weekend, I finally finished registering with www.madeit.com.au – the Aussie take on Etsy and my shop is now live and has products listed and ready to post. We post globally, all you have to do it tell us where you'd like the package sent and we'll send you a quote with the postage. Do stop by.
I have also created my facebook page specially for these products. I'd love for you to stop by and "Like" us – https://www.facebook.com/TrishaVazCreations
The simpler joys in life –
Today I woke up to find a mail from the awesome support team at Madeit, telling me that one of my handmade ruffle scarves were being featured on their Home Page, under the theme – Violet Vibe. This totally made my day.
Of course, I still go to Lincraft for my yarn needs, but am eager to find more options. Do any of you have any suggestions for craft stores or yarn stores in and around Sydney. Leave a comment and let me know please. I'd love to check them out.
Disclaimer: I have not been compensated in any way by Morris & Sons or Lincraft for this post. This is NOT a sponsored post.
We were baby sitting our nieces last weekend. I had made these lovely little headbands for them some time ago and this seemed like the perfect time to give it to them. I must say, these were made sometime last September or so, when I first started experimenting with crochet. Even though I had hardly crocheted before, these came together quickly and the patterns are really easy to follow. The headbands were received with a lot of excitement and giggles and explicit instructions from the younger one to whip up a colorful blouse or top for her, to go with the headband. I was thrilled that they liked them and am now looking for patterns for a kiddie top that I need to get started with. If anyone has any suggestions, I'd love to hear them.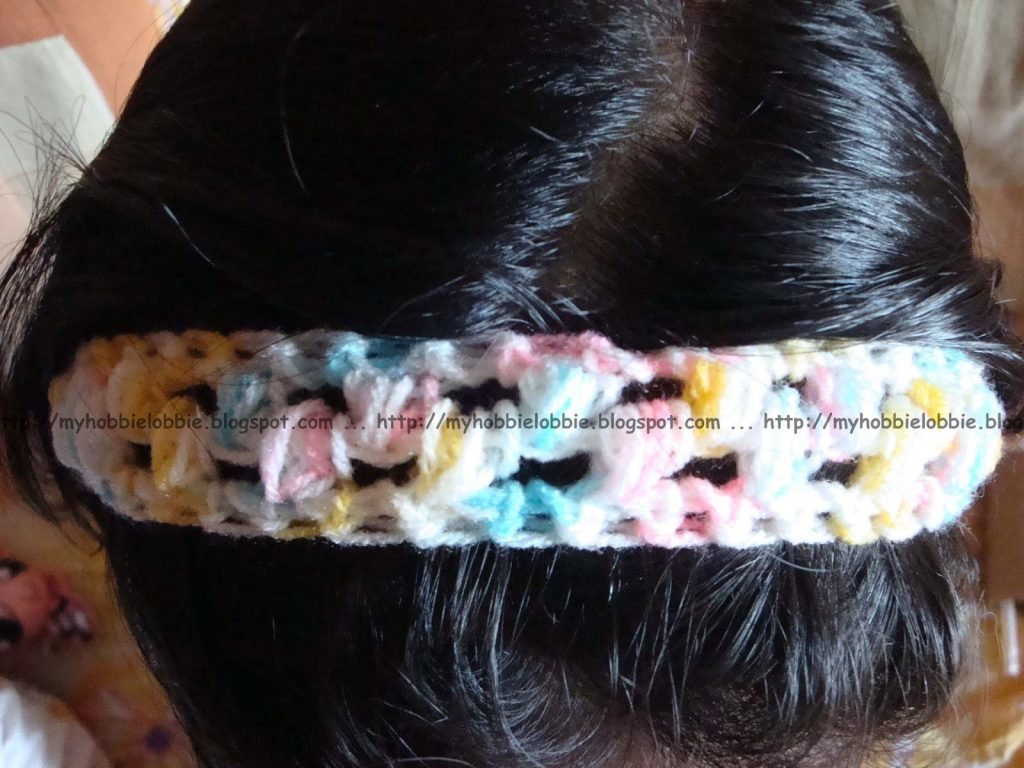 Puff Stitch Headband
For the free pattern, please visit the Art of Crochet by Teresa blog. I must say, I learned almost all of my crochet skill watching Teresa's video tutorials on You Tube. She's an amazing instructor. For a video tutorial for this headband, click here.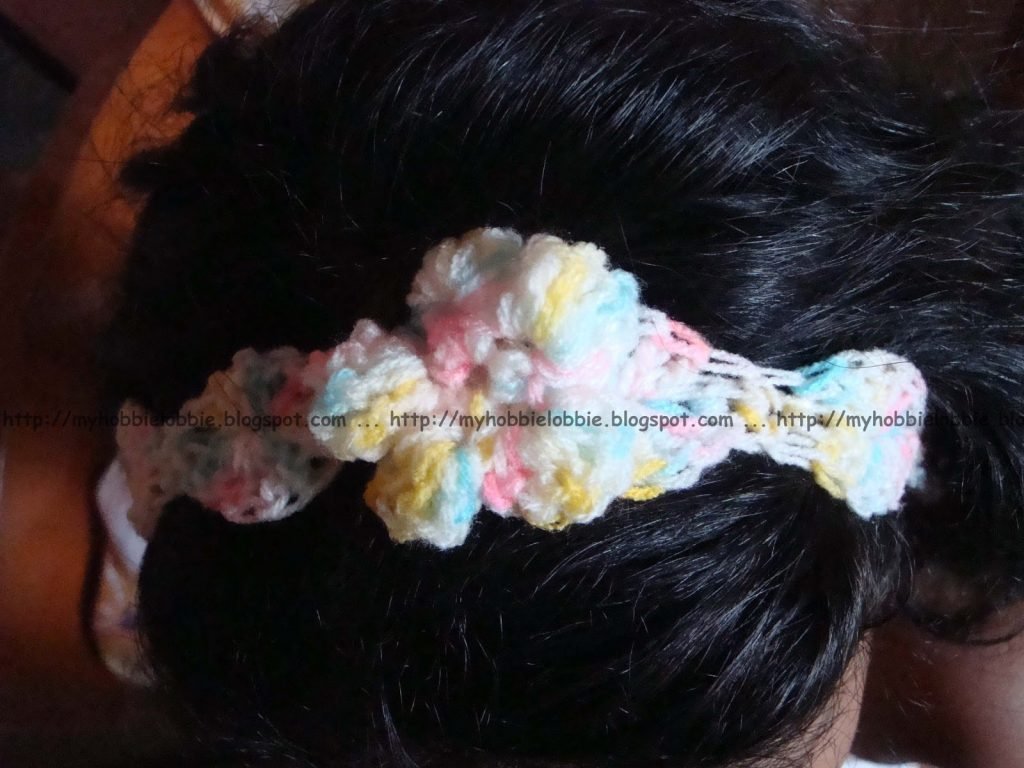 Small Crochet Wheel headband with Flower
This is another pattern that you will find on Teresa's blog. Click here for the free pattern.
I hope you enjoy making them as much as I did.
This post has been linked to Thrilling Thursday @ Paisley Passions
I'd like to share with you a couple of my crochet projects that finally saw completion in 2010. I was working on 2 blankets for my adorable nieces. I gave it to them as Christmas presents. The blankets took a while to come together, but I'm really glad I decided to make them. They turned out really well.
Granny Ripple Blanket
This one was inspired by Lucy's work at attic24. You should stop by her blog. She has some amazing stuff to share.
You will find a detailed explanation of how to work the pattern on her blog here.
For those of you who are more familiar with the US crochet terminology, I've made a note of it here. One thing that I did differently was changing color every 3 rows and not 2 like the original pattern suggests.
NEAT RIPPLE PATTERN
dc2tog = work two incomplete dc stitches, keeping last loop of each stitch on the hook, as follows ::
YO, into stitch, YO, back through stitch (3 loops on hook)
YO, draw through 2 loops (2 loops on hook)
YO, into next stitch, YO, back through stitch (4 loops on hook)
YO, draw through 2 loops (3 loops on hook)
YO, draw through all 3 loops.
To begin, chain multiples of 14, plus 3 for turning.
ROW 1
1 dc into 4th chain from hook
1dc into each of next 4 chs
dc2tog
dc2tog
1 dc into each of next 4 chs
*2dc into next ch
2 dc into next ch
1dc into each of next 4 chs
dc2tog
dc2tog
1 dc into each of next 4 chs*
Repeat between ** ending last rep with 2 dc into last chain, turn.
ROW 2
ch3, 1 dc into same stitch,
1dc into each of next 4 chs
dc2tog
dc2tog
1 dc into each of next 4 chs
*2dc into next ch
2 dc into next ch
1dc into each of next 4 chs
dc2tog
dc2tog
1 dc into each of next 4 chs*
Repeat between ** ending last rep with 2 dc into the top chain of the chain-3 from previous row.
Repeat row 2 for length required.
I hope you have as much fun as I did using this pattern.
Granny Square Blanket
While scouring the internet for another blanket idea, I stumbled upon
Retro Mummy
. I've always wanted to try out Granny Squares. What better way to try out a new idea with something simple to begin with. I love the idea of one large granny square. It saves time having to join little squares together. Though this year, I hope I can try out something with little granny squares.
I worked with an array of colors, using 1 row of white between every 3 rows of a color. But you can work with whatever combination takes your fancy.
Here's the pattern.
Ch4 and sl st into a ring.
1st round – Ch3, then 11dc into the ring. (You should have what looks like 12dc as the 1st ch3 counts as 1dc).
2nd round – With a new color, sl st into any space between the dc.
Ch3, 2dc, ch3, 3dc, ch1. (This is your first corner).
Skip 3 dc from the 1st round and do 3dc, ch3, 3dc, ch1.
Repeat so that you complete 4 corners with 2 sets of 3dc.
Sl st into the 3rd ch you did at the start.
3rd round –
Ch3, 2dc, ch2, 3dc, ch1.
Skip the next 3 dc on the previous round and 3dc in that space, ch1.
Skip the next 3dc, and do the corner stitch (3dc, ch3, 3dc).
Repeat this till you have filled in your corners and spaces to complete a round.
4th round
continue as you have done before. In each corner you are doing 3dc, ch3, 3dc and have 1 chain separating each set of stitches. When you are in a space that isn't a corner you are doing 3dc with 1 chain separating! When you are starting a new round your first double crochet is actually a 3 chain which gives you the height of the round!
Keep repeating this till you have achieved the size of blanket you want.
When changing colors, sl st new color into any space and continue as mentioned in the pattern.
After scouring the internet for Christmas projects that I could use, I stumbled upon this post. I immediately knew that I wanted to try this out. So I gave it a shot. The only difference is I used this as doilies for my side tables rather than dish cloths. I didn't get around to adding the little red berries, but I think it turned out really pretty anyway. I used the pattern found here.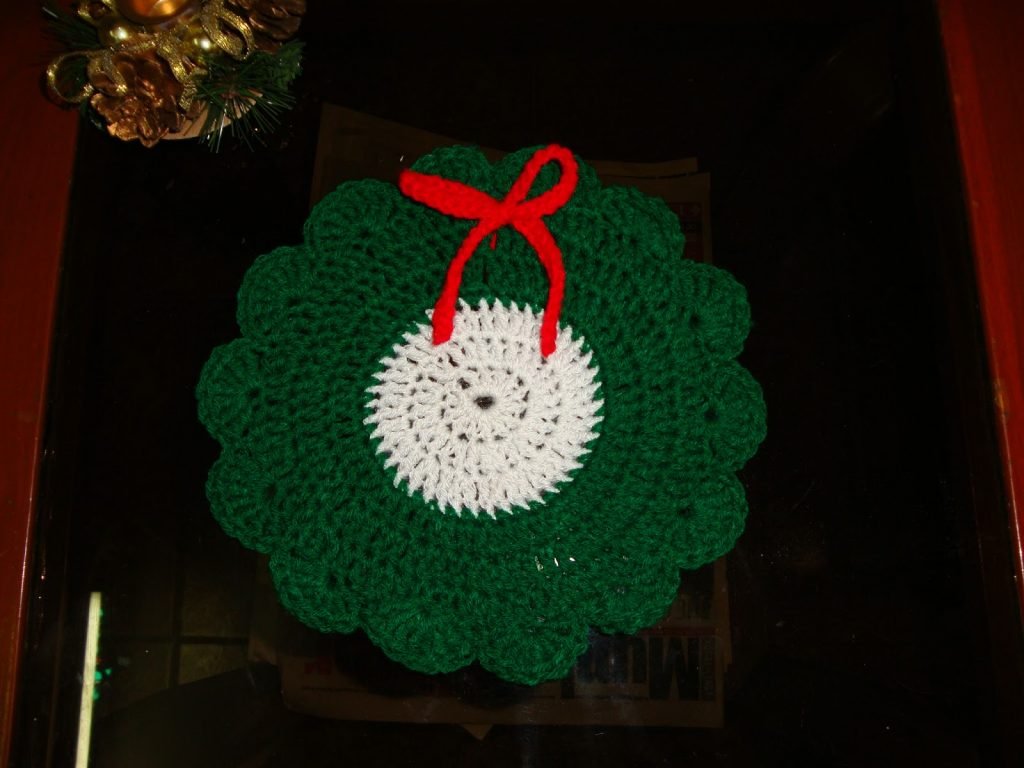 Materials: 100% cotton Sugar & Cream yarn in the colors of red, white and green
Large Tapestry Needle for making french knots & weaving in the ends
Rnd 1: With white, ch 5, sl st in first ch to form ring, ch 3 (counts as dc), 13 more dc in ring. Join with sl st in top of ch-3. (14 dc).
Rnd 2: (Ch 3, dc) in first st, 2 dc in each st around, join (28).
Rnd 3: (Ch 3, dc) in first st, dc in next st, (2 dc in next st, dc in next st) around, join. (42) Fasten off white.
Rnd 4: Join green with sc in any st, sc in each st around, join with sl st in first sc.
Rnd 5: (Ch 3, dc) in first st, dc in next 2 sts, (2 dc in next st, dc in next 2 sts) around, join. (56)
Rnd 6: (Ch 3, dc) in first st, dc in next 3 sts, (2 dc in next st, dc in next 3 sts) around, join. (70)
Rnd 7: (Ch 3, dc) in first st, dc in next 4 sts, (2 dc in next st, dc in next 4 sts) around, join. (84)
Rnd 8: Ch 1, sc in first st, skip next 2 sts, 7 trc in next st, skip next 2 sts, (sc in next st, skip next 2 sts, 7 trc in next st, skip next 2 sts) around. Join with sl st in first sc. Fasten off green yarn.
For bow — use red yarn. Chain 60. Slip stitch in 2nd chain from hook and slip stitch in each chain across. Fasten off. Weave in ends. Fold red chain in shape of a bow. Then, wrap two separate strands of red around center. Sew bow to the wreath fastening with the two separate strands of red yarn.
With more red yarn, make 6 french knot berries in the wreath. (I left out this step)
This morning I decided to go through what I thought were just a couple of crochet projects in my stash that were a Work In Progress. To my surprise, I find a little under a dozen projects sitting there, looking up at me, begging for completion. These include 2 Hello Kitty bags, 2 other little bags, a set of mittens, a colorful ripple blanket, a baby bib, a bootie set (made one piece but not very happy with it – looking for a better pattern) and 3 headbands. Some of these will take a very short amount of time to complete, I just cant figure out why I didn't in the first place. I will post the pictures and the patterns once they are done.
So stay tuned for more crochet fun. Don't tell anyone, but I have my eye on a couple of other projects. I just hope I don't give in to the temptation of starting those off before I complete the ones in progress.
Does this happen to you as well? Do drop me a line, I'd love to hear what you're working on at the moment.
I've been in awe of people who can knit and crochet, ever since I was a little child. I had always wanted to learn to do this amazing stuff too. I remember on one birthday, my dads sister presented me with a crochet kit. I must've been about 8 or 9 and as much as I wanted to get started with it I couldn't figure it out. No one in my household could crochet. My mum knew some basic knitting but hadn't done too much of it. So the most I could do was long swatches of knit and purl.
A few years ago, I was on a trip with my husband (who was then my fiance) and his sister. She has a good hand at crochet. So I took this as a sign and decided to learn crochet. She was in the middle of a project but was kind enough to take the time to demonstrate the basic stitches. I had a go and tried them out myself and it was ok. But as luck would have it when I returned from the trip and tried it out again it was a harried attempt. So I put that on the back burner yet again.
Then a couple of months ago, a very dear friend told me that she and the family was moving to Canada for good. I was determined to give wool work another go and make it a success. Since knitting was familiar territory I decided to try my hand at a scarf. I was very pleased with the outcome. You can find the pattern here.
Since this project turned out well, I took a chance with crochet. Armed with video tutorials on You Tube, I made these –
1) Little Girls' Favorite Throw – Click here for the pattern.
2)A couple of ponchos. The green one was made by my sis-in-law – I don't have a pattern for that one. I made the cream one and you can find the pattern here.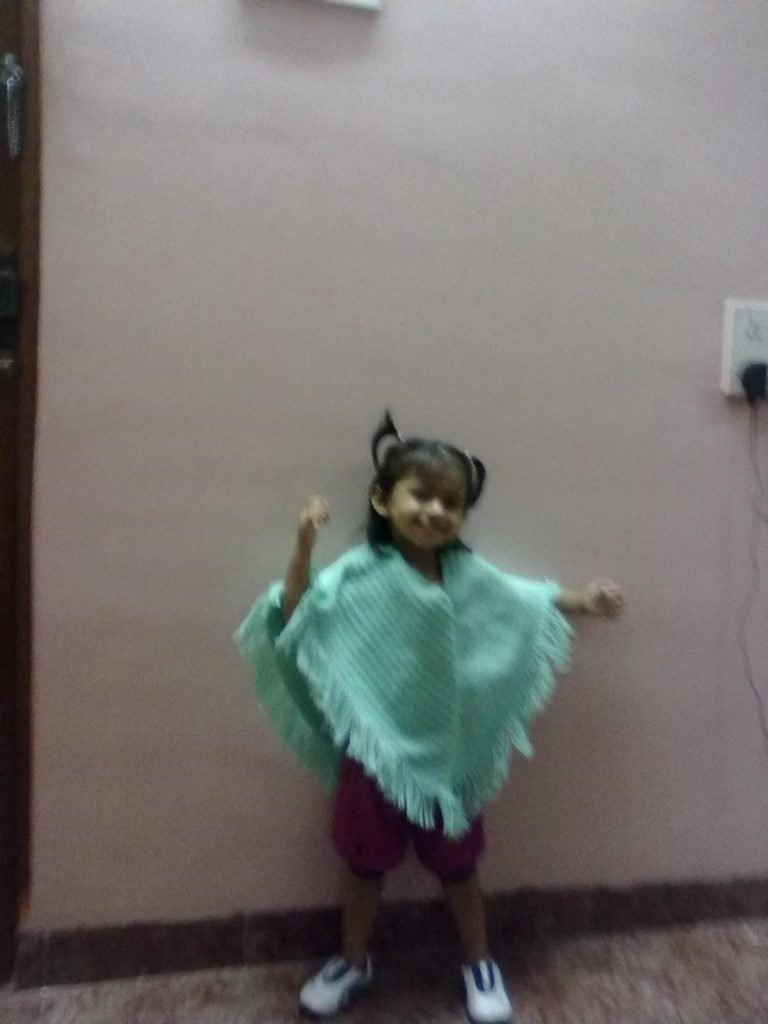 The green poncho was made for this little doll and the cream one was for her mum. I'm already missing the both of them loads *sniff sniff*.
3) A little cap
After this, I've decided that I definitely prefer crochet. Crochet projects finish so much faster than knit. Though I'm pretty sure that if I find something adorable in knit, I'll surely give it a go. All these projects got worked pretty fast. The throw and the cream poncho took me about 3-4 days each and the cap took a couple of hours.