How many of you enjoy your dry fruits, nuts and seeds? I'm talking raisins, sultanas, dates, apricots, prunes or almonds, cashewnuts, peanuts and also pumpkin seeds (pepitas) and sunflower seeds. Me, I love them all. They are all known to have health benefits if eaten in small quantities as part of a balanced diet. It is a shame that more people don't include these little gems in the diets. My husband loves nuts, but isn't too keen on the dried fruit or seeds by themselves. So I have to think of ways to include them in our diet. Most often, we usually just nibble on a small handful of an assortment of fruits and nuts / seeds, but I was looking for other ways to enjoy them too.
When I came across a post with these bars, I knew I had found something good. It has dates, apricots, pepitas, chia seeds and a touch of cinnamon, all of which are know to be healthy in their own right. They come together to form these little delicious bars which are so tasty. They are sweet from the dates, a little tangy from the apricots and have the crunch of the chia seeds and pepitas though them. As the original recipe included a small amount of white chocolate chips, I threw them in, but they would be fantastic even with dark chocolate or even without chocolate at all.
The verdict, my husband enjoys them, which is a win for dry fruits in his books. They are small portion sizes, but pack a punch. If you like to reach for a snack bar or a granola bar during the day, I suggest trying these out. They are very satisfying and will keep the hunger pangs away till your next meal. They take all of 10 minutes hands on time. So even if you are time poor, you can still make a batch of these on your day off and enjoy them through the week. Kids will enjoy them too. Go ahead, give them a try. If you do, I'd love to hear what you think of them.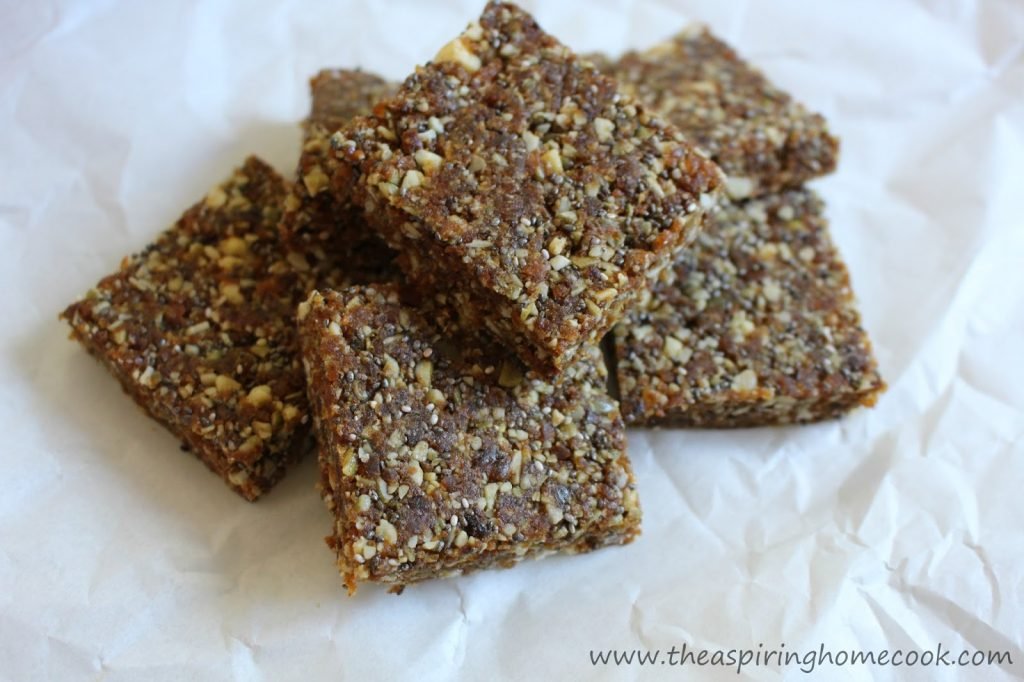 Date, Apricot & Chia Bars
Recipe from: Cupcakes & Kale Chips
Yields: 16 pieces (2 inch squares)
1 cup dates, pitted
1 cup dried apricots
2 tbsp Chia seeds
1/4 tsp ground cinnamon
1 cup raw pumpkin seeds / pepitas
2 tbsp white chocolate chips (optional)
Line an 8×8 inch baking dish or tray with baking paper.
Place the dates, apricots, chia seeds and cinnamon in a food processor and blitz till it has coarsely broken down.
Add the pepitas to the processor and blitz again till the pepitas have broken down to finely chopped.
Now add the chocolate chips, if you're using them and blitz again to break them up to little pieces.
Empty this mix onto the lined baking dish and flatten it down as best as you can, using the back of a spoon.
Next, I used another piece of baking paper on the top and used a large glass jar to flatten it out evenly. You can also use the bottom of a pan or a similar sized baking dish to do this after you place the baking paper on top.
Refrigerate for an hour.
Cut into squares. They are now ready to eat.
To store these bars, place a piece of baking paper between the squares to keep them from sticking to each other. Store in an airtight container in the fridge.
You now have little snack bars that will take you through the week.
Enjoy!!!
If you like this recipe, here's a few more you might enjoy –
Fruit & Nut Balls
Power Packed Snack Bars
Banana Bread Baked Oatmeal
Finally, finally I got around to making these beauties. I've wanted to make these for a few years now. Yes, you heard me, a few years. See, here's something I have to admit. I have a 'must try' list of recipes that gets longer with time and I can barely decide which one to make first. So finally, while juggling with all of what life has to throw at me, I got around to make these cookies.
See, here's the thing. I've sorta lost my baking mojo recently. But, I'm glad to say that has changed with these cookies. I just woke up one day and decided that I was going to make them. They were really easy to make. I stuck to the recipe, or atleast that was the intention, but as luck would have it I didn't have the light brown sugar that this recipe calls for. I thought I did, but what I had was 2 packets of dark brown sugar. I was dead set on making these cookies and I wasn't going to let the brownness of the sugar get in the way 🙂 That is why these cookies don't look like the typical Snickerdoodles, but I'm sure that had no impact on the taste. These cookies were really good. I'm so happy that I finally got around to trying them out. They outer crust was perfect and cinnamony (pretty sure I just made that word up) while the inside was light and pillowy soft. Go ahead and try it out. It is a recipe that's perfect for the holidays.
I had almost forgotten how good it is to bake at home. Nothing compares to home baked goodies. Having found my absconding baking mojo, I hope to bake a few more yummies soon.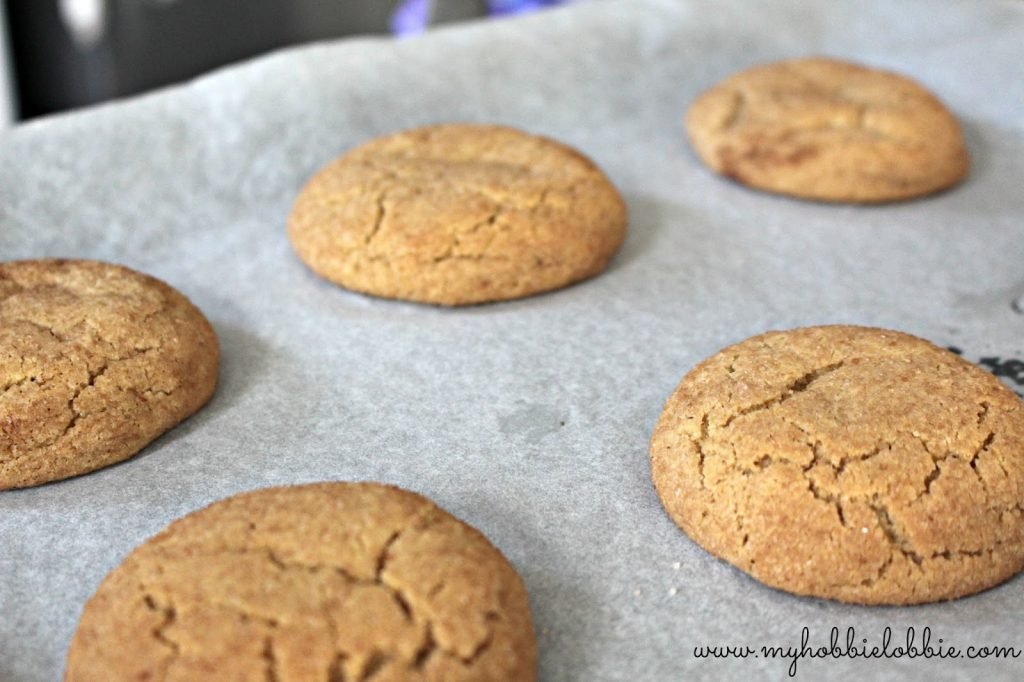 Snickerdoodles
Yields 20
1 cup butter, at room temperature
3/4 cup granulated sugar
1/2 cup dark brown sugar (the original recipe calls for light brown sugar)
1 egg
1 egg yolk
1 tbsp vanilla extract
1 tsp baking soda
1 tsp cream of tartar
1/2 tsp salt (I just added a pinch since I used salted butter)
1 tsp cinnamon powder
2 3/4 cup flour
Cinnamon Sugar –
1/4 cup granulated sugar
1 tbsp cinnamon powder
Preheat the oven to 180ºC.
Line a cookie sheet with some parchment paper and set aside. You could use a silicone mat if you have one.
Beat the butter and sugars till light and fluffy.
Add the egg, egg yolk and vanilla and beat again. Scrape down the sides while you're mixing the dough.
Add in the baking soda, cream of tartar, salt and 1 tsp cinnamon powder and mix well.
Add the flour and mix it slowly only till just combined.
In another small bowl mix the sugar and cinnamon powder to make the cinnamon sugar and stir till well combined.
Using a cookie scoop or a spoon, measure about 2 tbsp of the cookie dough and roll into a ball.
Roll the ball in the cinnamon sugar mix and place on the prepared cookie tray. Place the balls about 2 inches apart on the tray.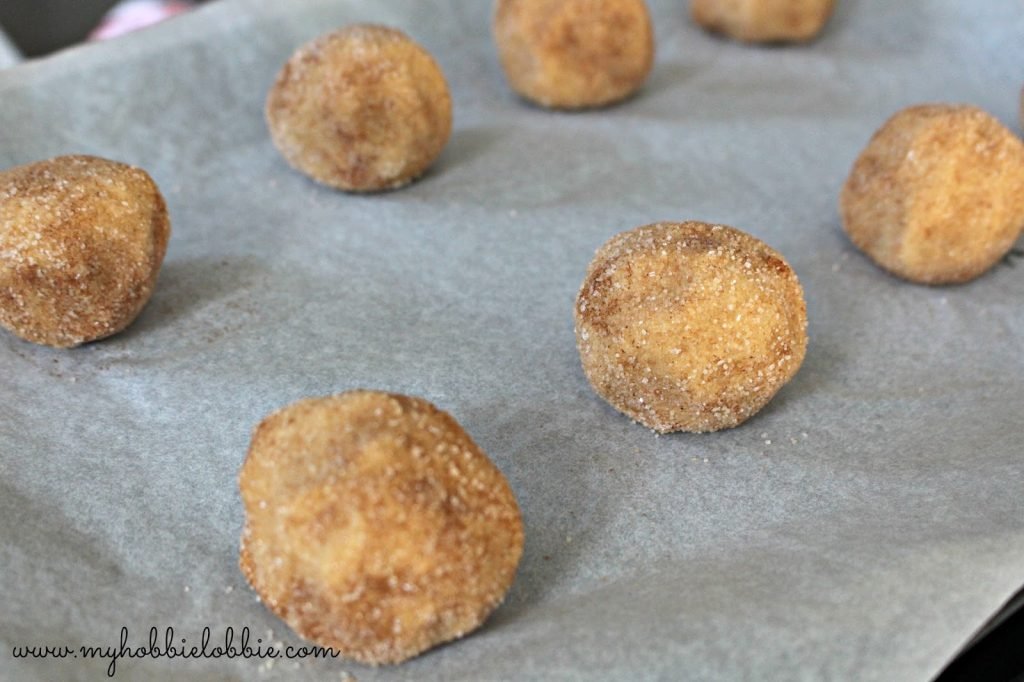 Bake for 10 minutes or till the edges are slightly golden. The centers may seem undercooked but they will set as the cookies cool.
If you like your cookies crisper then bake for an additional 2 minutes.
I baked them for 10 minutes and the cookies were perfect.
Is it too early to be starting with Holiday goodies? Is a milkshake even an appropriate holiday treat? Well the answer is 1) Its never too early to start trying out Holiday goodies and 2) Yes – especially when you live in a place that has a Summer Christmas.
This month for the SRC reveal, I was assigned Nicole's blog, Daily Dish Recipes. I've admired Nicole's blog for years and then somehow in the recent past I lost touch with it. I was so excited to learn that I was assigned her blog this month. Choosing a recipe to make for the reveal was not easy. After shortlisting a few, I was left with 23 recipes and after tossing to and fro between them for a few days I was no closer to picking one. The only thing that helped me decide this month was the weather Gods. We're smack bang in the middle of our first heat wave of the season, and we still have 2 months of Spring to go, Yikes!!! I needed to pick a recipe the would cool us down and would involve little or no cooking. I quickly looked through my shortlist and I was down to 2 recipes – Homemade Fruit Irish Cream Sodas and Gingerbread Milkshakes. I had pinned the Irish Cream Sodas to try a couple of years ago and I fully intend trying it out. But in the end, my love for Christmas won and I went with the Gingerbread Milkshakes. I wanted to have a nice cool drink to serve up around the holiday season. This milkshake was really delicious, I can see myself serving this at other times of the year too. There are just two components to this recipe, making the gingerbread syrup and then blending everything together. Making the syrup was really easy and my whole house smelled like Christmas. The flavours were beautiful, but I will make the syrup stronger the next time, that way I wont need to add too much and will be able to control the sweetness. But its an absolute winner of a recipe. Thank you Nicole 🙂 I halved the recipe and those are the quantities mentioned below. I made absolutely no changes (except leave out the whipped cream for the topping) and was very happy with the result.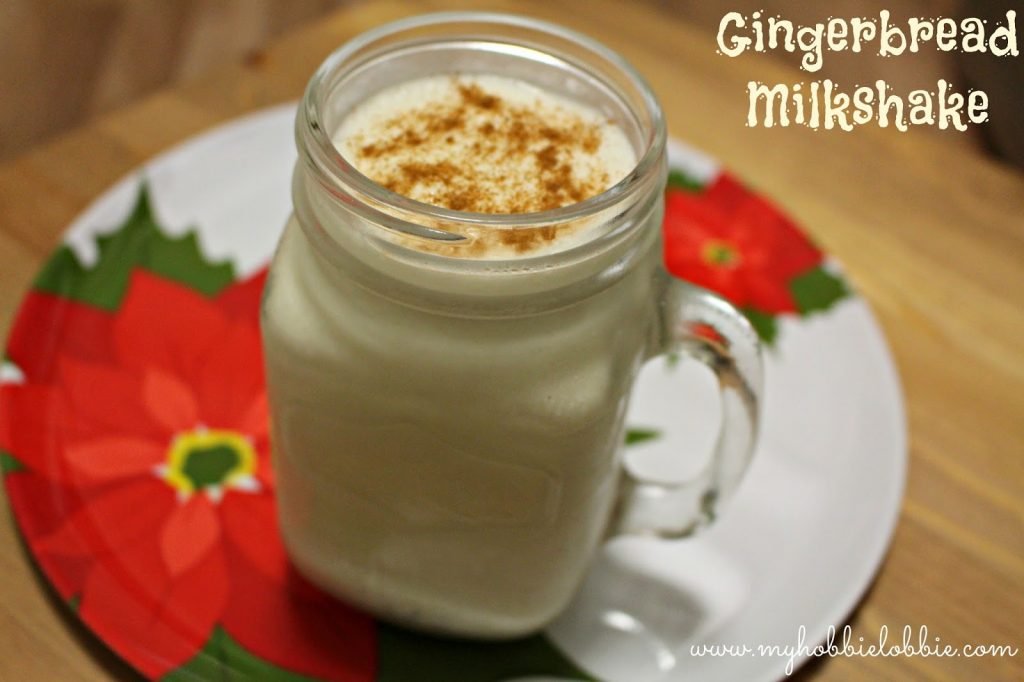 Gingerbread Milkshake


For the syrup:
1 cup water
3/4 cup sugar
1 1/2 tsp ground ginger
1/4 tsp vanilla extract
1/4 tsp ground cinnamon
For the milkshake:
30 ml milk
210 ml French Vanilla ice cream
Ground cinnamon, to sprinkle over
In a large saucepan, mix the water, sugar, ground ginger, vanilla and ground cinnamon and bring the mixture to a boil.
Once it has started boiling, lower the heat to a simmer and let the syrup simmer for about 20 minutes, stirring occasionally.
Store in syrup in a jar as you will have syrup left over.
In a blender, mix 1-2 tbsp gingerbread syrup, the milk and the ice cream and blend well. Taste and add more syrup if needed and blend well.
Pour into glasses and spinkle ground cinnamon on top to pretty it up.
Serve up!
Don't forget to check out what the other Group A members have posted this month.
With another month simply flying by, we find ourselves at yet another
SRC
reveal. I still can't believe it is June already, the first half of this year has sure gone by really fast. Is anyone else thinking about Christmas? I am, see its winter here in Sydney and my brain still hasn't gotten used to a Summer Christmas. So with this beautiful cooler weather, I find myself thinking of Christmas more often than I should.
Anyway, back to SRC. This month I was assigned an amazing blog called "The Pajama Chef", written by Sarah. Please go over and say Hi to Sarah. She loves cooking, baking and running. Along with her husband Ben, she has 2 precious kitties, Sheba Genevieve and Misty Morning Fog. How cute are those names! And just wait till you see their pictures. 🙂
Sarah has some wonderful recipes. I was truly inspired. She has a bunch of quick, healthy packed lunch ideas, and since I've just started a new job, I know I'll have a chance to try them soon. I had a wide variety of recipes to choose from, but I was drawn to her coffee cake recipes, like this Royal Berry Coffee Cake, and this Lemon Blueberry Bread and this Cinnamon Sugar Apple Cake. I had some apples at hand from my last trip to the Flemington Markets, so I decided to try out the Cinnamon Sugar Apple Cake and you can imagine how wonderful my house smelt while this cake was in the oven. That was a good start but what came after was better than I could ever imagine. The cake was beautifully moist and light and the topping flavorful and crunchy. This one is a definite keeper. I'm happy I can use apples for something other than my usual Apple Pie. Thank you Sarah, for sharing this wonderful recipe.
Like Sarah, I didn't have any buttermilk. I thought I did, but I was wrong. Anyway, I did the next best thing, in a one cup measuring cup, put in one tbsp fresh lemon juice and top with milk to fill the one cup. Let it stand for 2 minutes and use it in the recipe.
Also I didn't have a 9×13 pan so I used a smaller pan. It resulted in a taller cake and slightly longer baking time. But I think the 9×13 pan would result in a nice sheet cake.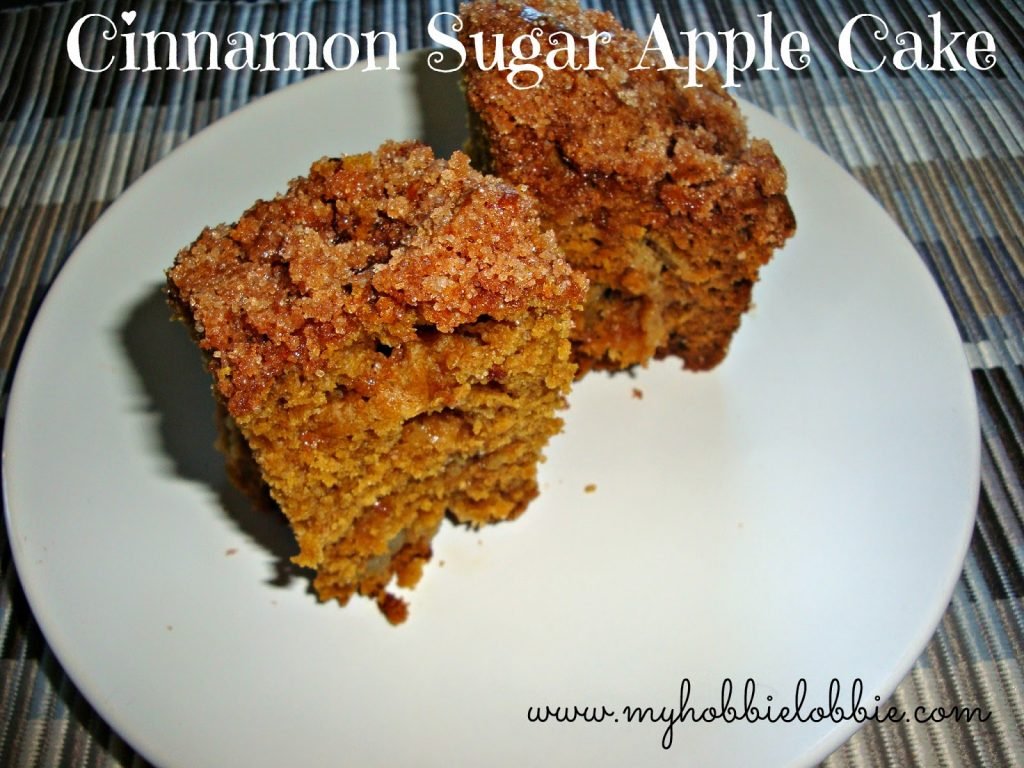 Cinnamon Sugar Apple Cake


For the cake –
1 1/2 cups brown sugar
1/3 cup Canola oil
1 egg
1 cup buttermilk (I was out, so I used the substitution mentioned above)
1 tsp Vanilla
1 tsp baking soda
2 1/2 cups all-purpose flour
1 1/2 cups chopped apples (I used 1 large Granny Smith with the skin on)
A pinch of salt (The original recipe doesn't use it, but I think it makes the flavors pop)
For the topping –
1 tbsp butter, melted
1 tsp cinnamon powder
1/2 cup sugar
Preheat the oven to 180°. Lightly grease the cake pan you are using.
In a large mixing bowl, whisk together the brown sugar, oil, egg and buttermilk and salt.
Add the vanilla and baking soda.
Fold in flour and chopped apples.
Pour the batter into the prepped cake pan.
To make the topping, in a small bowl mix the sugar and cinnamon. Add the melted better and mix through with a fork. Evenly sprinkle over the batter.
Bake for about 40-45 minutes or till done.
I struck gold with this one. These are healthy, tasty and so very addictive you can't stop munching on them. I decided to participate in "Eating The Alphabet Series" hosted by Brenda of
Meal Planning Magic
. Its a meatless event and I think its a fun way to include more veggies and fruits in our meals. If you'd like to join in, you can find the details and sign up here. This month its we're working with A or B. I'd seen these apple chips a long time ago and this was the perfect opportunity to try them. With minimal prep work and a little patience you can have yourself a little box of these yummies.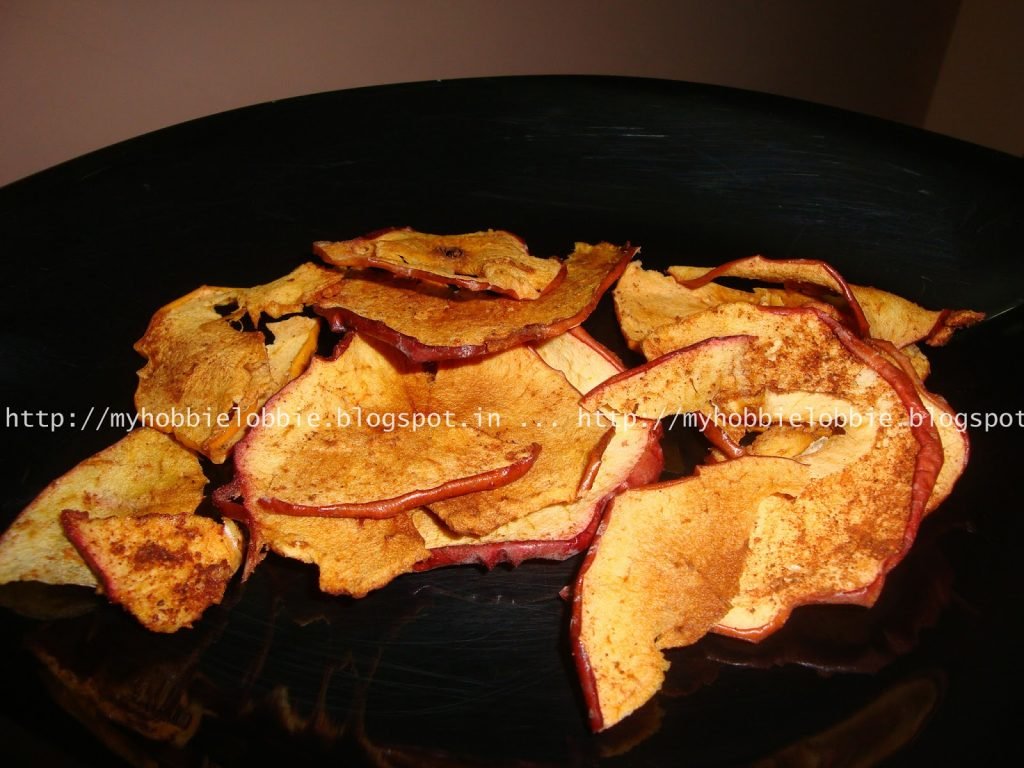 Baked Apple Chips
Adapted from: Half Squeezed Lemon


2 apple, any crisp and slightly tart variety
1 tbsp granulated sugar
1 tsp cinnamon powder
A pinch of salt
Wash the apples thoroughly and slice thinly. (If your slices are not thin, they won't crisp up.) Discard both ends of the apple and the seeds.
Mix the sugar, cinnamon and salt thoroughly and sprinkle on the sliced apples.
Toss well to make sure that there's some of that sweet cinnamon goodness on all the slices.
Place the slices in a single layer on a parchment lined baking sheet, making sure that there is no overlap.
Bake at 100ºC for about 30 minutes. Flip the slices over and bake for another 30-60 minutes or till they crisp up. Keep a watch, you don't want these to burn.
Let them cool down and get ready to enjoy them.They will continue to crisp up as they cool.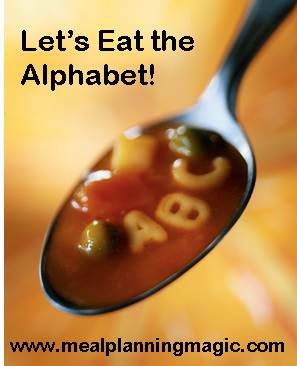 Check out what the others have cooked up this month –