So like I promised on SRC reveal day
here
, here is the bonus post from my assigned blog.
We recently moved houses and while I didn't have a microwave in the previous place, this place came with a microwave. I've have wanted to add a few microwave recipes on the blog for some time now, but I really didn't want to buy one to do this. Now microwave cooking is not my method of choice. But I believe that anyone should be able to enjoy home made food. I know that there are folks out there that don't own an oven so here's how you can make small portions of cake at home without an oven. I have shared one recipe before for a 2 minute chocolate mug cake. We enjoyed it a lot. And looks like you did too. It is one of the most popular posts on the blog. I know, right? Who would've thought that a humble microwave cake recipe would be this popular. Certainly not me. So while I was looking at posts on Burnt Apple, I spotted this 2-minute mug cake recipe.
Now this may come as a little bit of a surprise to you, but this was also meant to be a chocolate cake recipe. The original recipe uses chocolate chips and I followed the recipe to the letter but I didn't end up with a chocolate cake but something more like a layered cake. The top was a plain sponge but as you dig in you see little specks of chocolate from the chocolate chips and right at the base of the mug you will find this ooey-gooey molten chocolate. Totally not intentional, but pretty darn amazing. Also, did I mention that this is like an instant cake fix. That's the part I really love. Another plus is the portion control. These are individual serves, so you really can't go overboard. I was very pleased with this happy little accident. I think I might have to look for a few more such recipes.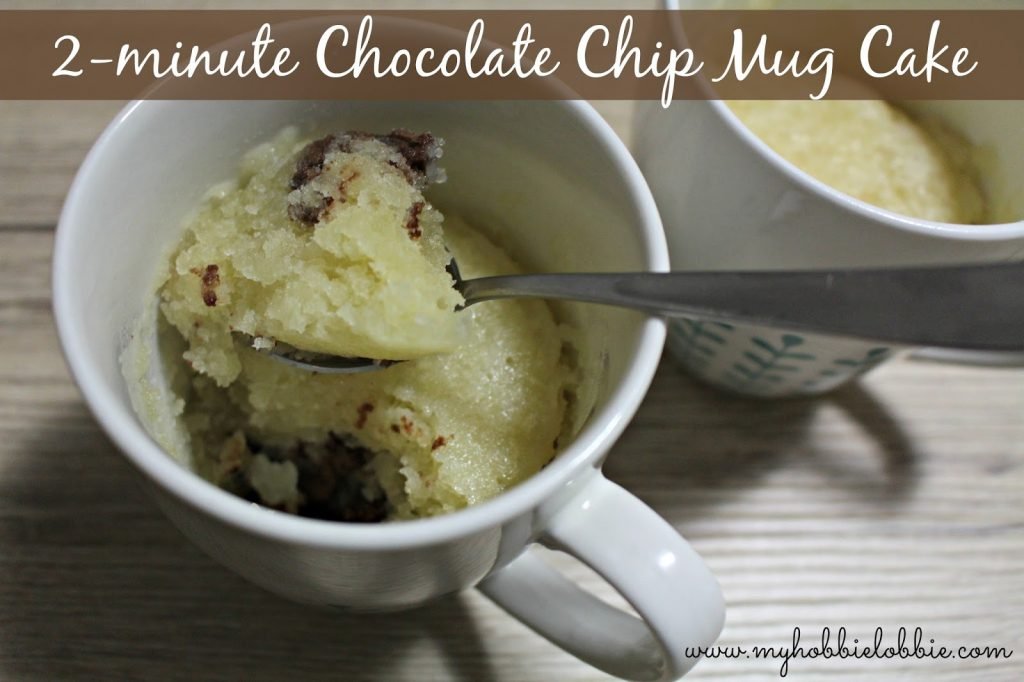 2-minute Chocolate Chip Mug Cake
(This makes one portion. Feel free to double the recipe to make two portions.)


3 tbsp all purpose flour
3 tbsp sugar
1/4 tsp baking powder
3 tbsp milk
3 tbsp vegetable oil
3 tbsp chocolate chips
Place all the ingredients in a microwave safe mug.
Stir the mix till smooth.
Microwave on high for 90 seconds. (This was the recommendation of the original recipe. I had to keep mine in for another 60 seconds. Every microwave is different, so please check at the 90 seconds mark and use 30 second increments, if needed.)
The cake will be scalding hot. Let it stand for 2-3 minutes before eating.
For a slightly more indulgent treat, serve with a scoop of ice cream or with some whipped cream.
Enjoy!
The deeper your spoon goes, the more chocolate you find 🙂