The last couple of months have somehow seemed to sneak past. It is hard to believe that it is May 2016 already. The good part about coming into a new month is the
SRC
reveal day. This month, I was assigned Sally's blog,
Bewitching Kitchen
. I was so excited when I got this assignment. I've always been a huge fan of Sally's blog. Sally is a fascinating person. By day, she is a Biochemist. She also is an exercise fanatic. Originally born in Brazil, she has spent time living in Paris and now is in the USA. You can see delicious influences from all these places in her cooking and on her blog. If you love bread like I do, you are in for a treat. Go and have a look at Sally's blog. She has a plethora of bread recipes. While you are there, don't forget to check out the antics of 3 of the most adorable little doggies you have ever seen. I had an amazing time getting to know Sally a little better. And there are so many recipes I can't wait to try, like this
Baked Coconut
, these
Coconut Brigadeiros
, a delicious
Cappuccino Panna Cotta
and a savoury Brazilian delicacy called
Coxinha De Galinha
, just to name a few. The Bewitching Kitchen is one blog where you want to try out pretty much every recipe you see. I finally settled on a savoury one this month.
The weather has started cooling down here and when that happens, I find myself longing for soup. In the past, I have to admit, I've almost always ripped open a packet of instant soup and made do with that. In the last couple of years though, I have tried out a couple of homemade soups and I've enjoyed them so much, I have decided to make a few more this year and to get that started I picked Sally's Zucchini Spinach Soup for this month's reveal. Oh what a recipe this is – delicious, warm and hearty. It is hard to believe that a recipe this simple can be so comforting. I'm enjoying the discovery that making soups at home, from scratch is not as complicated as I thought it would be. Thanks Sally, for a beautiful soup, which will make an appearance on our dinner table on many more occasions.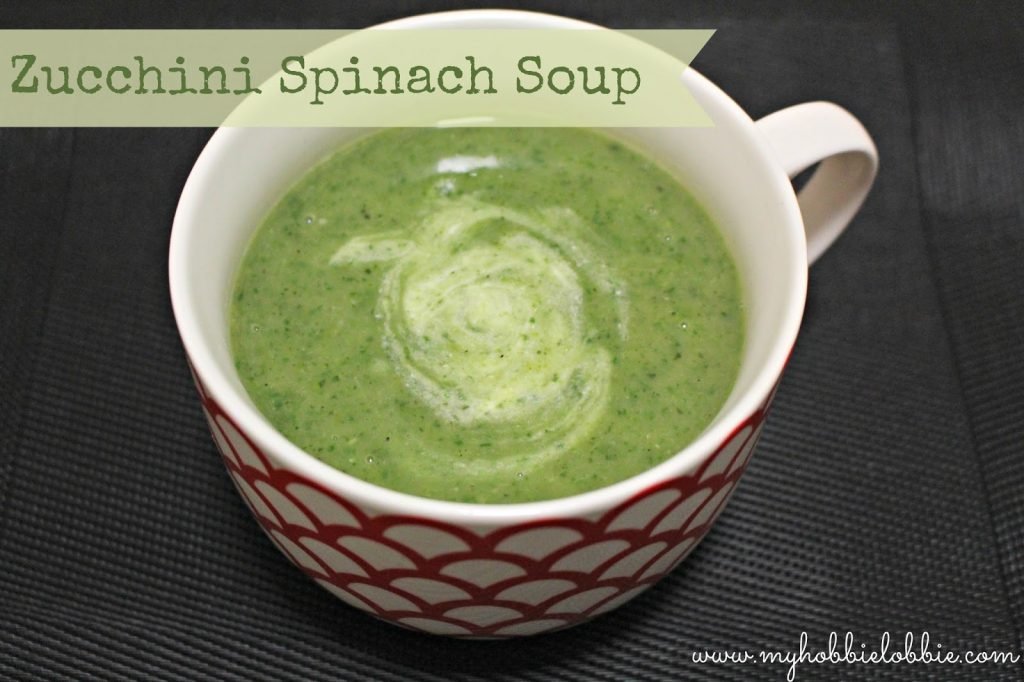 Zucchini Spinach Soup


1 tbsp olive oil
1 leek (white part finely sliced)
3 medium sized zucchini, slice thickly
1 can butter beans
4 cups water
2 cups baby spinach
Salt, to taste
Black pepper powder to taste
A dollop of yogurt
A squeeze of lemon juice
In a pot, heat the olive oil and add the sliced leek. '
Saute till the leek turns golden.
Add the zucchini slices.
Season with salt and pepper and saute till the slices get some colour on them, stirring every now and then.


Add the beans and let it cook for a couple of minutes.
Add the water (you could also use vegetable stock if you like).
Cover the pot and let it come to a boil over high heat.
Lower the heat and let it simmer for about 15 minutes or till the zucchini slices are tender.
Add the baby spinach leaves and stir. When the leaves wilt, you can take the soup off the stovetop.
I used an immersion blender to blitz this into a nice luscious soup. You could also use a blender if you don't have an immersion blender. Irrespective of what gadget you use, please, please, please be cautious while blending the soup, because it is scalding hot.
Serve up hot with a squirt of lemon juice and a little dollop of yogurt.
Enjoy!!!
So a few days before we left for our trip, I found a great deal on some beautiful zucchini. Obviously, I couldn't resist it and bought some. Now, whenever I see fresh fruit and veg at good prices, I end up buying a bunch. I know I'll eventually figure out what to do with it. For those of you who don't know, that's how I plan my menu. I go by what's in season and what appeals to me on the day I'm shopping. Not very organised, I know, but it works well for me. I like to be surprised. On the day we were leaving, I realised I still had the zucchini and some eggplant. I couldn't leave it till we got back, it just wouldn't last. So I made a beautiful pickle with the eggplant. I will share that recipe soon. With the zucchini I made these muffins. I figured we could just take them with us to snack on.
The muffins are really simple to make. My husband helped with these. Now I have to be honest. We usually work well together in the kitchen. But on this given day, we were trying to get things done quick and there was a little confusion. We ended up using half the quantity of flour that the recipe called for. Fortunately for us, it wasn't a disaster. With extra baking time, the muffins were fine. I would love to try these again with the right measurements. However, the muffins turned out pretty well. They were light and spongy, savoury with a hint of cheese. I might even try using a sharper, vintage cheddar the next time. I was pleasantly surprised when these tasted even better a couple of days later. I can happily report that these muffins keep well for a week refrigerated. When you want to eat them, simply warm them up in the microwave and you've got yourself a nice, little snack.
The recipe I've listed below, is the original one with the right measurements, just incase you'd like to try these out too.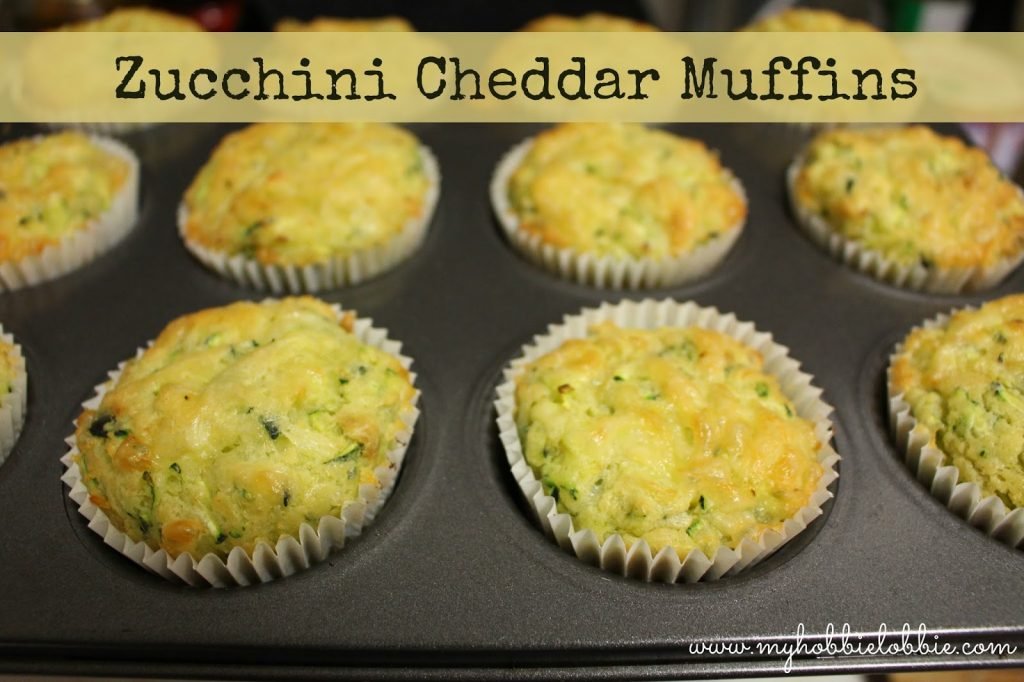 Zucchini Cheddar Muffins
Adapted from: Will Cook for Smiles
Yield: 12 muffins


3 eggs
3/4 cup vegatable oil
1/4 cup sour cream
1 1/2 tsp salt
2 cups all-purpose flour
2 tsp baking powder
1/2 tsp baking soda
2 cups shredded zucchini
100g cheddar cheese, grated (30g reserved for topping)
Preheat the oven to 180ºC and place muffin liners in the cavities in the pan.
In a large mixing bowl combine the dry ingredients, the flour, salt, baking powder and baking soda. Set aside.
Whisk the eggs, oil and sour cream till combined.
Add the wet ingredients to the dry ingredients and whisk until just incorporated.
Add the zucchini and mix well.
Add 70g of shredded cheese and whisk till it has evenly combined.
Spoon batter into the muffin pan and top with the reserved 30g of shredded cheese.
Bake for 18-20 minutes or till a toothpick inserted in the centre of the muffins comes out clean.
Enjoy!
If you want to keep these for later, let them cool off completely and store them in an airtight container in the fridge. Warm in the microwave when you are ready to eat them. (It lasted us a week. It might've lasted longer, but we got through this batch.)
If you have more zucchini than you know what to do with, yesterdays savoury
Cheesy Garlic Zucchini Bread
and this vegan chocolate  cranberry zucchini bread should give you a couple of options. It is amazing how versatile zucchini is. It lends itself to both sweet and savoury recipes really well.
I was happy to find a vegan bake recipe, because I have quite a few readers / followers that would love an eggless bake like this. That coupled with the fact that it is so easy to make, makes this a must try recipe. I was glad I tried this recipe and it is a keeper for sure. The bread is nice and moist, light and chocolatey.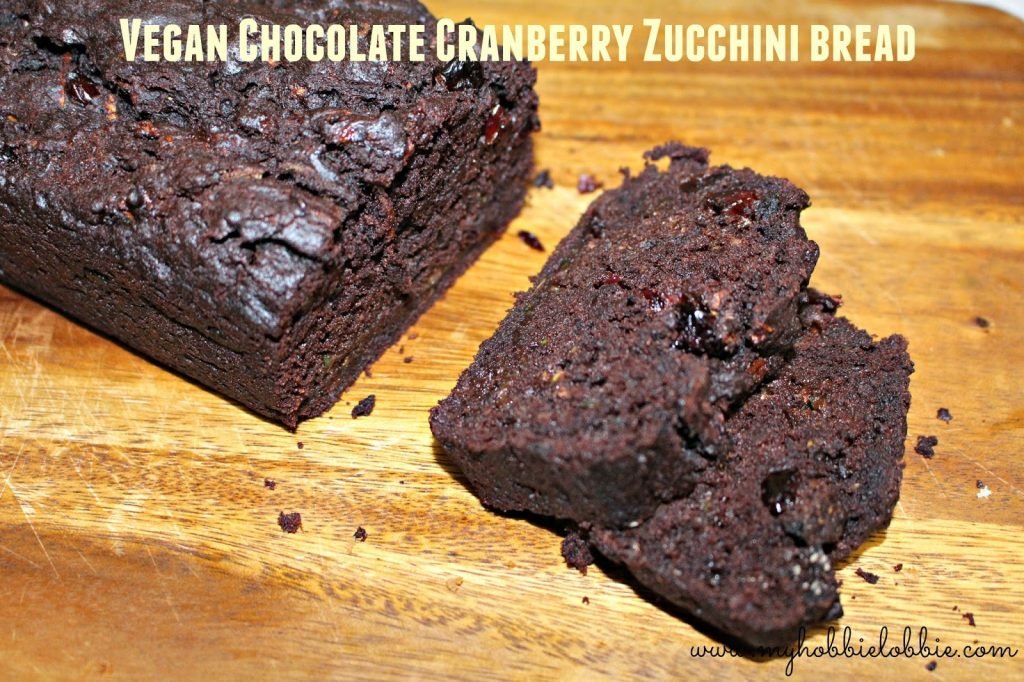 Vegan Chocolate Cranberry Zucchini Bread
Recipe from: Popsugar
1 1/2 cups zucchini, grated
1 cup whole wheat flour
1/2 cup unsweetened cocoa powder
1 tsp baking soda
1/4 tsp baking powder
1/4 tsp salt
1/2 tsp cinnamon powder
1/4 tsp allspice powder
1 large ripe banana
1/2 cup white sugar
1/2 cup canola oil
1 tsp vanilla extract
1/2 cup dried cranberries
Preheat the oven to 180ºC and lightly grease a lined loaf tin.
In a large bowl, mix the flour, cocoa powder, baking soda, baking powder, salt and spices and set aside.
In another bowl, mash the banana and mix in the sugar, oil and vanilla. Fold in the grated zucchini.
Stir in the dry ingredients while being careful not to over mix.
Fold in the cranberries.
Pour the batter into the prepared loaf tin and bake for 40-50 minutes or until a toothpick inserted comes out clean.
Those of you who follow me on
Facebook
, know that I've been meaning for this post to go live for over week now. Well, I've finally gotten to it and let me tell you, it's worth the wait. Recently I picked up some zucchini at a bargain price from Paddy's market at Flemington and was eager to try something different from the
zucchini fritters
I usually make. Don't get me wrong, we still enjoy the fritters every time they are made, but I'd seen so many other recipes around, I was eager to try something new. I went through all my bookmarks and pins and after a little looking, I found 2 recipes that I was going to work with – one savoury and the other sweet. This is the savoury one.
From personal experience, I knew I could not go wrong with a recipe that had cheese and garlic in it. And I was right. This is an easy loaf recipe that is so flavourful. It goes well with a nice big bowl of soup. I found that this bread was best eaten slightly warm. I tried warming the required slices in the microwave as well as on a pan. Both work well. The pan gives you light toasty edges, which I personally find quite yummy. Not to mention, it looks pretty. I love the green flecks throughout the loaf. I followed the recipe to the letter with the exception of swapping the green onion for some chopped onion and was very happy with the result. The only thing I did differently was bake a whole loaf instead of mini loaves. This increased the baking time and when I make this recipe again, I'll make sure I have a mini loaf tin. I think they would be perfect in the smaller sizes.
Cheesy Garlic Zucchini Bread
Recipe from: Emily Shares
3 cups all-purpose flour
4 tsp baking powder
1 tsp salt
1/2 tsp baking soda
1/2 tsp garlic powder
1 cup zucchini, grated
3/4 cup cheddar cheese, grated
1/4 onion, finely chopped (the original recipe calls for 1/4 cup finely chopped green onion)
2 tsp dry dill (or 1 tbsp fresh dill)
2 large eggs
1 cup buttermilk
4 tbsp butter, melted
Preheat the oven to 180ºC.
Line a loaf tin with parchment paper and spray with non-stick baking paper.
In a large bowl, whisk together the dry ingredients – the flour, baking powder, salt, baking soda and garlic powder.
Then add the zucchini, cheese, onion and dill to the bowl and toss to coat them with the flour mix.
In another bowl, whisk the eggs, buttermilk and the cooled, melted butter.
Add the wet ingredients to the flour mixture and gently stir through until the ingredients are just moistened. The batter will still be lumpy and that's alright. Do not over mix the batter.
Pour into the prepared loaf tin and bake for about 50-60 minutes or till a toothpick pierced through the center comes out clean.
If you choose to bake these as mini loaves, bake for 20-30 minutes or till a toothpick comes out clean.
And you have yourself a beautiful loaf of bread.
This month's
SRC
assignment was an absolute doozy. I was assigned Erin's blog,
Making Memories with Your Kids
. I was really happy with this assignment, not to mention excited. I've known and admired Erin's blog since 2010. That was when I first came across her blog; we were both participating in the "12 Weeks of Christmas Cookies" bake along. Go over and have a look at all the fun she's got going there. Not only does she have some awesome recipes, but she's also got heaps of fun foods for kids, craft activities and some really amazing gift ideas for pretty much any occasion. I love looking at all the ideas she comes up with.
For this month's SRC reveal, I decided to try out her Deep Fried Zucchini with Garlic Aioli Sauce. Mainly, because that Garlic Aioli sounds so amazing I had to try it out and I needed something to have it with. Enter – Deep Fried Zucchini. Both really simple recipes, but oh so very good. I know I will be making these time and again 🙂
The Aioli is nice and flavorful, but the real star, to my utter surprise was the zucchini. I expected the aioli to be my favorite. The zucchini was so good, it didn't need a dipping sauce. I have some more zucchini in the fridge and I'm going to make another batch for dinner this evening. That's how good it is. Don't take my word for it, go ahead and try it. Erin, thank you so much for this recipe. I LOVE it.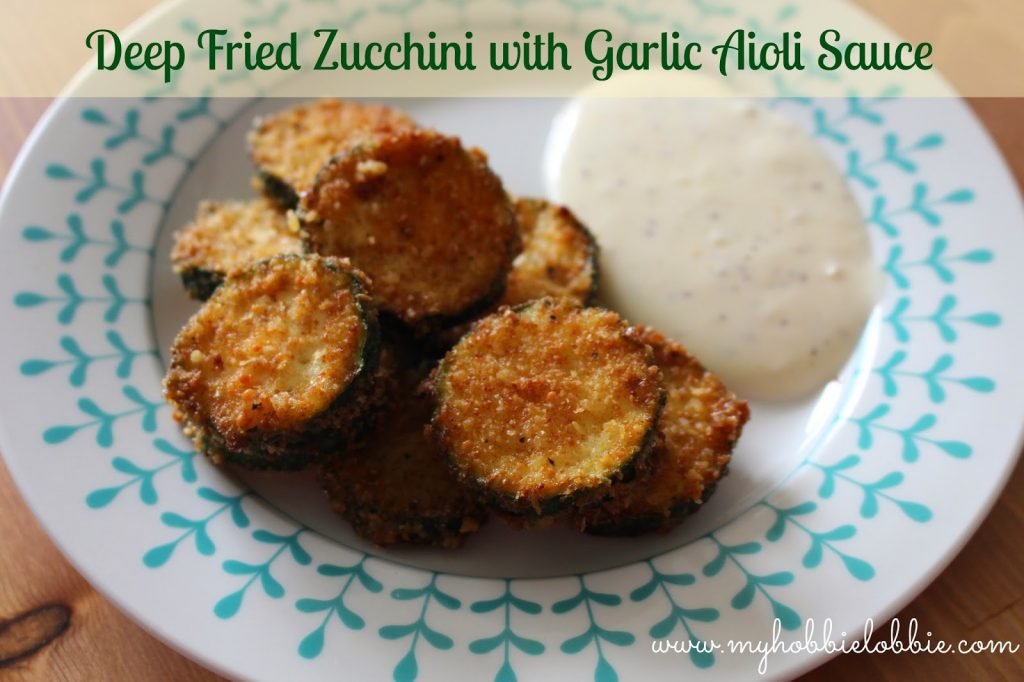 Deep Fried Zucchini
Zuchinni
2 eggs
1/4 cup buttermilk
1 cup breadcrumbs
1/2 cup Parmesan cheese
Salt and pepper, to taste
Oil, for deep frying
Heat the oil for deep frying.
Cut the zucchini into slices about 1/4 of an inch thick.
In a bowl, beat the eggs and the buttermilk.
In another bowl mix the breadcrumbs, parmesan cheese, salt and pepper.
When the oil is hot, dip the zucchini in the egg dip and then in the crumb mixture and then carefully place in the oil.
Fry for a couple of minutes on both sides on a medium flame, till golden brown.
Using a slotted spoon, remove the slices from the oil and place on some kitchen paper to drain any excess oil.
Serve hot.
Garlic Aioli


1 cup mayonnaise
1 tbsp lemon juice
3-4 cloves of garlic, minced / crushed.
Mix it all together and serve.
Here's something I haven't done before – I made dessert too. Nothing fussy but an absolute treat. When I saw this post on Erin's site, I couldn't go past it. I've seen this ages ago and always wanted to try it out. They just look like so much fun. I had absolutely no excuse to not make it. The next time I make these, I will have to leave the soda out a lot longer. I did it this time but evidently it needed to sit out longer. So when you try these out, if you think your soda has been out long enough to cut down the carbonated effect, keep it out a little longer 😉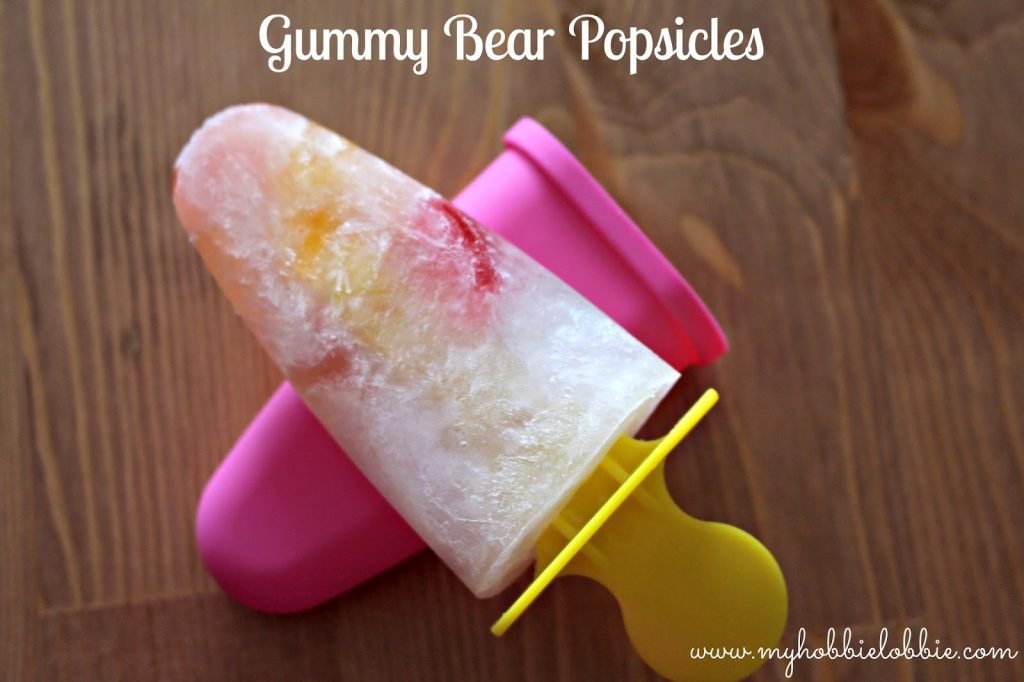 Gummy Bear Popsicles


Sprite
Gummy Bears
Let the soda sit out for a while to let some of the fizz die out.
Drop some gummy bears into your popsicle mould. You can use as many or as few as you like. I went for about the half way mark.
Top up with the Sprite.
Freeze.
Enjoy on a hot summer's day or as it turns out on the first day of autumn here 🙂
The kids will love it and so will the adults.
There are no kids in our household and I still made it and we loved it.
Do stop by and check out what the rest of Group A whipped up this month.
So, on one of my previous trips to the Sydney markets (Paddy's Markets) at Flemington, I got a really good deal on zucchini. After the success with the
zucchini fritters
, I decided to try and use them in other recipes too. Ofcourse, I made another batch of the fritters, but I also decided to try out these oven baked zucchini fries. I've seen them so often on other blogs and was curious to see how they'd turn out.
Lets get something straight, a zucchini is no potato. Obviously if you're expecting this to taste like the more familiar French Fries, it won't. That being said, these are pretty good in their own right. They made an interesting side and you know they're healthy. These were served with some ketchup and they were gobbled up. 🙂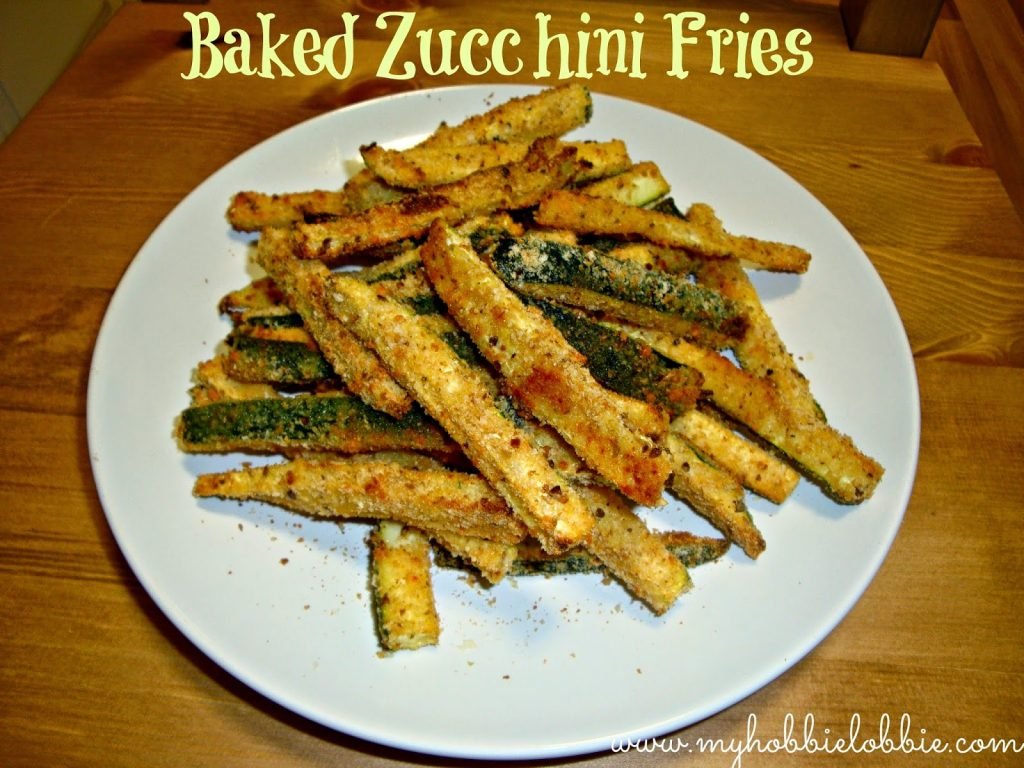 Oven Baked Zucchini Fries
Adapted from: Six Sisters' Stuff


3 zucchinis (weighing about 1lb.)
1/2 cup bread crumbs (approx.)
1/4 cup Parmesan cheese (the recipe recommends the crumbly not the shredded type)
2 eggs
A little salt, to taste
Freshly crushed black pepper, to taste
Preheat the oven to 200°C. Line a baking tray with some aluminium foil.
In a wide and shallow bowl or plate, combine the bread crumbs, cheese, salt and pepper.
In another shallow bowl, whisk the eggs lightly.
Wash the zucchini and trim the ends. Cut into fries. Remember the larger fries will be softer, the thinner fries will have more flavor and be crunchier. I tried to keep them thin. The thinner ones were the best.
Once you've cut them all up, dab with some kitchen paper to absorb all the moisture.
Next, set up a little assembly line starting with the zucchini, the whisked eggs, an empty plate (for the crumbs) and the prepped baking tray.
Work with 2-3 spoons of the bread crumbs at a time to avoid the whole lot getting soggy while you dip the zucchini in it. Put 2-3 spoons of the crumbs into the empty plate.
Working with a few pieces of zucchini at a time, dip them into the egg, shake off the excess, dip into the crumbs and make sure they are well coated and then place them on the baking tray.
Once you are done with all the zucchini, bake for 10-12 minutes. Flip the pieces over and bake for another 10-12 minutes or till the fries are golden brown and crispy.
Serve hot with some ketchup (optional).