In last few weeks have been an absolute blur for us. We'll soon be moving from Mumbai where both my husband and I were born and brought up to Sydney, Australia. We were so excited when our paperwork came through and since then things in our home have been absolutely crazy. With travel arrangements, shopping, packing and selling off things we're not taking, I've hardly had any time to focus on cooking. This month I was assigned Jackie's blog Rediscovering Lost Arts From Our Mothers. This blog was new to me and I was thrilled to see the ideology behind it. I agree with Jackie all the way, there's so much we're missing out on in the form of tradition, practices and culture all because of the convenience of today's world, where were always in a hurry, short of time and running. You should stop by Jackie's space and check it out, she's got loads of recipes on canning, smoking, preserves and wonderful home cooked goodness.
To my absolute delight, that not all she has. Even though I didn't have much time, I managed to make 2 recipes from her blog using stuff that I had in the pantry. I've always wanted to try Spaghetti Alio Olio after watching David Rocco make it on his cooking show. This seemed like the perfect opportunity since Jackie has a version of it on her blog and while I was going through her space, I noticed a post on Onion straws. Like her I love me some onion. Whether is onion rings, sauteed onions, onions in a salad or these onion fritters, I love cooking with onion and enjoy eating it in its many different forms too. I was intrigued by her recipe and it seemed simple and quick enough for me to try. Both these dishes came together so quickly and can I tell you, they were both yummy. The spaghetti was simple but so flavorful. I loved it. The onions straws, may I add, was an absolute hit. I had a hard time keeping my husband away from it long enough to get pictures. There are crisp, delicious and very addictive. They'd be a fantastic addition to some grilled or roasted meat, but I think they make for some very yummy party munchies too. The only thing I'd do differently next time is use larger onions. These ones were rather small so the onion straws don't particularly look like straws, but were delicious nevertheless. In all I was very happy with the way both recipes turned out. Thanks Jackie, for introducing me to these yummy treats. The only changes I made was I used fresh coriander instead of parsley since that is what I had on hand and I upped the garlic content. I love garlic and if you don't please remember to cut down on the quantities mentioned.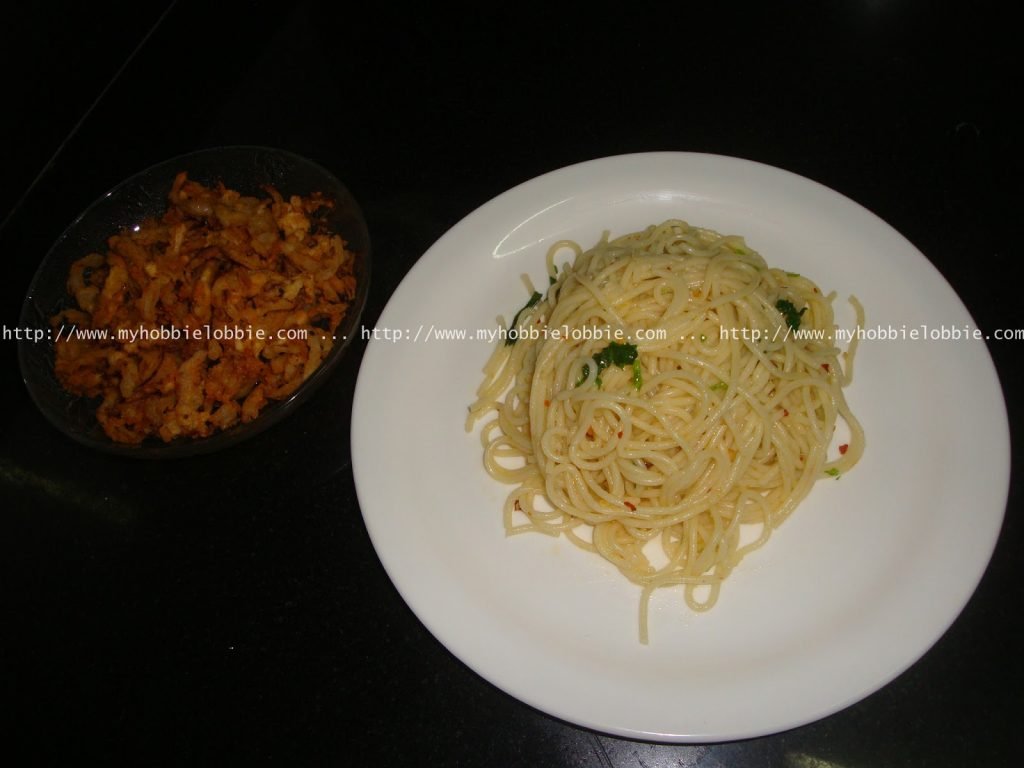 Spaghetti Alio Olio


1/2 lb. spaghetti
1/4 cup olive oil
1/8 cup butter
3 cloves garlic, chopped fine
1/2-1 tsp. red pepper flakes, to taste
2 tbsp. fresh coriander, chopped (Original recipe calls for parsley)
Salt, to taste
Pepper, to taste
Boil the spaghetti till its al dente and drain. (You may want to reserve some of the boiling liquid and add a little back if you feel that the spaghetti has dried up when adding the herbs – I didn't need to)
In a small pan, add the oil and butter and the garlic and saute for a few seconds on medium low heat till the garlic releases flavor and aroma. Add the red pepper flakes and pepper and saute for a few seconds more. Make sure the garlic doesn't brown, else its burnt and will be slightly bitter.
Add this back to the pasta and place on the stove for a little while on low heat. Toss the pasta well and make sure the oil and herbs are evenly distributed.
Add the chopped coriander and toss well. Serve hot.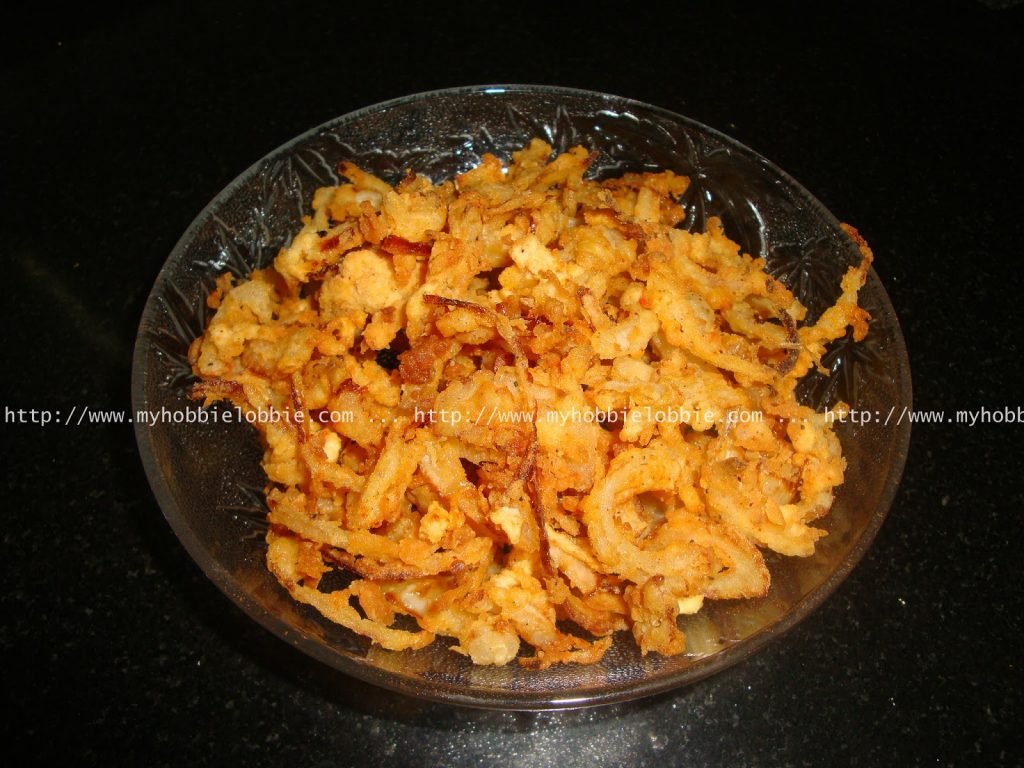 Onion Straws
2 onions, finely sliced
1 cup buttermilk
1 cup all purpose flour
Salt, to taste
Crushed black pepper, to taste
Red chilly powder, to taste
Oil for deep frying
Peel and slice the onions and soak it in the buttermilk.
Heat the oil for deep frying.
In the meanwhile, add the salt, pepper and red chilly powder to your flour and mix well.
Shake off the excess buttermilk from the resulting onion straws and dredge it in the flour mix.
Carefully place it in the oil and deep fry till golden brown and beautifully crispy.
Enjoy!!!
Thank you Jutta (Hungry Little Girl) for hosting this fun event month after month. Its been a blast. If you'd like to join in on the fun, click here.
Those of you who've followed my blog for a while are familiar with the fact that I regularly participate in the SRC or what we call the Secret Recipe Club. I'm sure you're wondering if you're seeing a typo in SRS. No you're not.
A couple of weeks ago when I was jumping around from one blog to another, taking a look around, I came across
SRS
– Surprise Recipe Swap hosted by Jutta of Hungry Little Girl. I was so excited when I was accepted to participate in this group. You are assigned a blog and you pick up a recipe from there to try out and everyone posts on the 20th of the month. Oh! and another thing, you're not allowed to inform the author of the blog you're assigned that you have them for them month. Its a surprise. I like linkies like this.
For my first SRS reveal, I was assigned Sheena's blog –
Hot Eats and Cool Reads
. Sheena reads and posts reviews on loads of books and you'll find some pretty interesting recipes there too. Like this
Savory French Toast
. This was a quick little number to put together with hardly any fussing around. Chop up a few things, place them in a baking dish, pop them in the oven to bake and in a little while, you'll be sitting down to a lovely, warm and hearty breakfast. Its a winner in my book. We heated up some leftovers in a pan the next morning and it tasted fantastic. So you can make this in advance too. I made half of the original recipe and those are the quantities I've listed below.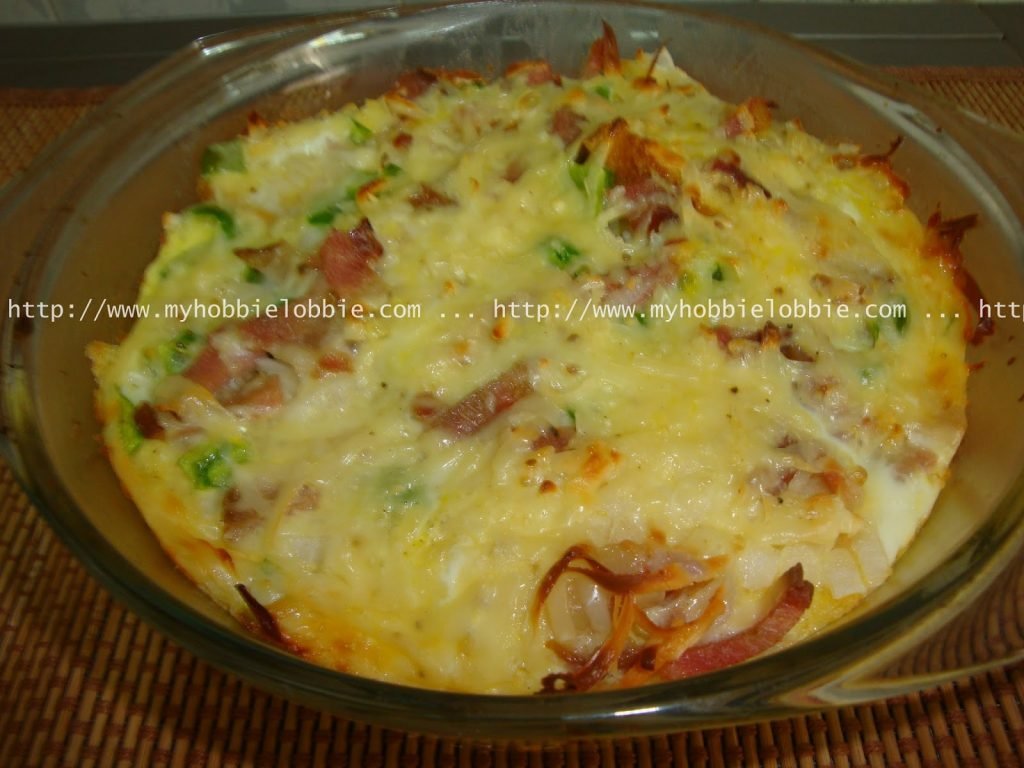 Savory French Toast Breakfast Bake
1 tsp. butter
3 slices of bread, torn into cubes
3 slices of bacon, chopped
1 medium white onion, chopped
1 green pepper/capsicum, chopped
1/3 cup grated cheese
3 eggs
3/4 cup milk
Salt, to taste
Freshly crushed black pepper, to taste
Preheat the oven to 170ºC.
Grease a glass baking dish with the butter and layer the pieces of bread at the bottom.
Sprinkle the chopped onion, capsicum, bacon and cheese over the bread to distribute well.
Whisk the eggs, milk, salt and pepper and pour this mix into the baking dish.
Bake for about 30 minutes or till the egg has set.
Enjoy it warm!
If you'd like to join the Surprise Recipe Swap too, fill up the form
here
and you will receive the necessary details. I hope you join in next month 🙂 Thank you Jutta for hosting this wonderful party and for letting me be a part of it.