We're in for another scorching week ahead. I think the hot days are my least favorite things about summer. I love the beach days, all the frozen treats and grilling, the amazing fruit and veg that summer brings, but I cannot deal with the heat. And we seem to get a fair bit of it. One of the main reasons is I cannot cook or bake as much as I'd like to when its this hot.
It is especially at times like this that I love big salads. While I'm quite happy to put together a tossed garden salad a few times a week, I think I need to add a few new salads to my repertoire. We're trying to cut down our meat intake and substitute it with as much vegetarian food as possible. So salads like this Lemon, Sun-dried Tomato & Almond Quinoa Salad are perfect. Its all vegetarian yet hearty, involves minimal cooking and so very tasty. And its not just my opinion, my husband had a second helping of this salad for dinner.
I have tried cooking with quinoa before, but it was a total fail. So I was very skeptical about trying it out again. But I decided that trying something once and never trying it again, wasn't giving it a fair chance. So on my last trip to Costco, I just picked up a bag of quinoa. Now that I have this great big bag of quinoa, I was going to have to use it. So recently when I was looking for a salad recipe with Italian influences to pair up with my eggplant patties, I decided to look for one with quinoa in it. And when I stumbled upon this recipe, it sounded perfect. There was just one problem. I didn't have any parsley at home. So I just used the next best thing, coriander leaves. Personally I love the flavor that coriander leaves add to any dish and I thought it worked very well with this salad. But I also know there are folks out there that cant stand it. If you are one of them, feel free to use parsley instead. I can't wait to try it out with parsley the next time. I'm very happy to have another wonderful salad to include in my meal rotation now.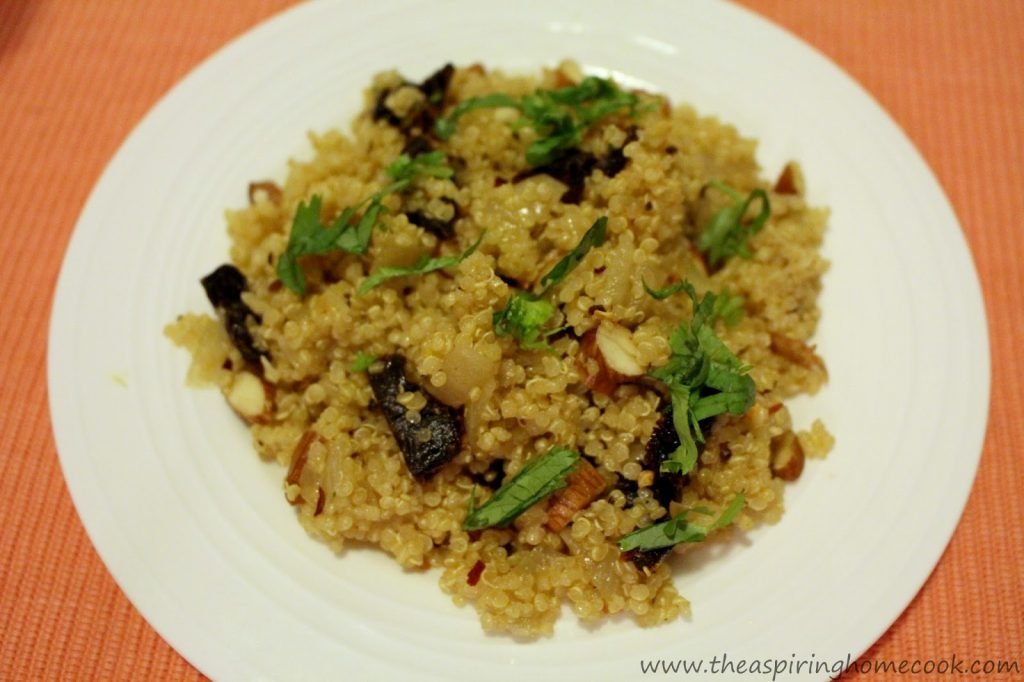 Lemon, Sun-dried Tomato and Almond Quinoa Salad
Adapted from: Averie Cooks
2 tbsp olive oil
1 large onion, finely chopped
1 cup quinoa
1 1/4 cups of water
2 tbsp apple cider vinegar
1/2 tsp lemon zest
2 tbsp lemon juice
1 tsp salt, or to taste
1/2 tsp freshly cracked lack pepper, or to taste
1/2 cup sun-dried tomatoes, sliced (I used the ones bottled in oil and drained them before slicing)
2 tbsp coriander leaves and stems, finely chopped
1/2 cup roughly sliced almonds
1 tsp red chilly flakes (optional)
Heat the olive oil in a large pan over medium high heat.
Add the onions and cook till the onions have softened and have just started browning.
Add the quinoa and stir. Let it toast for about 30 seconds.
Now add the water, apple cider vinegar, lemon juice, salt and pepper. Stir. Reduce the heat to low, cover the pan and cook for about 12-15 minutes or until all the liquid has been absorbed.
While the quinoa is cooking, chop up the rest of the ingredients.
Place the quinoa in a large bowl, add the rest of the ingredients and toss well.
Taste and add more salt or pepper or lime if needed. If, at this stage, you find the salad too sour, add a tiny bit of sugar to balance it out. I just stuck with the quantities listed above and I didn't need to add anything at this stage.
It stores well in an airtight container in the fridge for 2-3 days. This can be served either as a warm or cold salad.
Serve up this salad either as an accompaniment at a meal or a slightly larger portion as a meal in itself.
Enjoy!!!