This is a recipe I came across by pure chance. Last week I bought a big basket of fresh ricotta, not for the ricotta, but for the basket. Has anyone else done something as crazy as that? I needed the basket for a project I'm working on and if all goes well, I will share that with you. But I must admit, I was quite stoked to have the fresh ricotta to play with. And play I did. This is one of the things I made using that ricotta. I made a batch of these amazing Savory Ricotta Scones. I used a bunch of dried herbs I had in the kitchen, but I can only imagine how much more amazing these would taste with fresh herbs. One of the things I want to do, is grow my own herbs. And if I have any luck with that, I will make this recipe using fresh herbs.
Have you tried making scones before? I've tried these Chocolate Chip Banana Scones, Double Chocolate Scones and some Classic Scones – all sweet ones, out of which my favorite one is the Chocolate Chip Banana Scone. That being said, I do want to try my hand at a few more recipes. So this time, I decided to try out a savory scone and when I saw this recipe for Savory Ricotta Scones, I was thrilled. It would be the perfect way to build on my scones list as well as use up that amazing Ricotta.
The recipe itself was very simple and the scones turned out really well. They were tender and delicate and beautifully flavored. They would pair fantastically with a soup. I want to try these with a roasted tomato soup when the weather cools down. So whether or not you've tried scones before, I do hope you try these out. Serve them with a soup, or for brunch or with some tea and let me know what you think of them.
I've made a little video to help you through the process –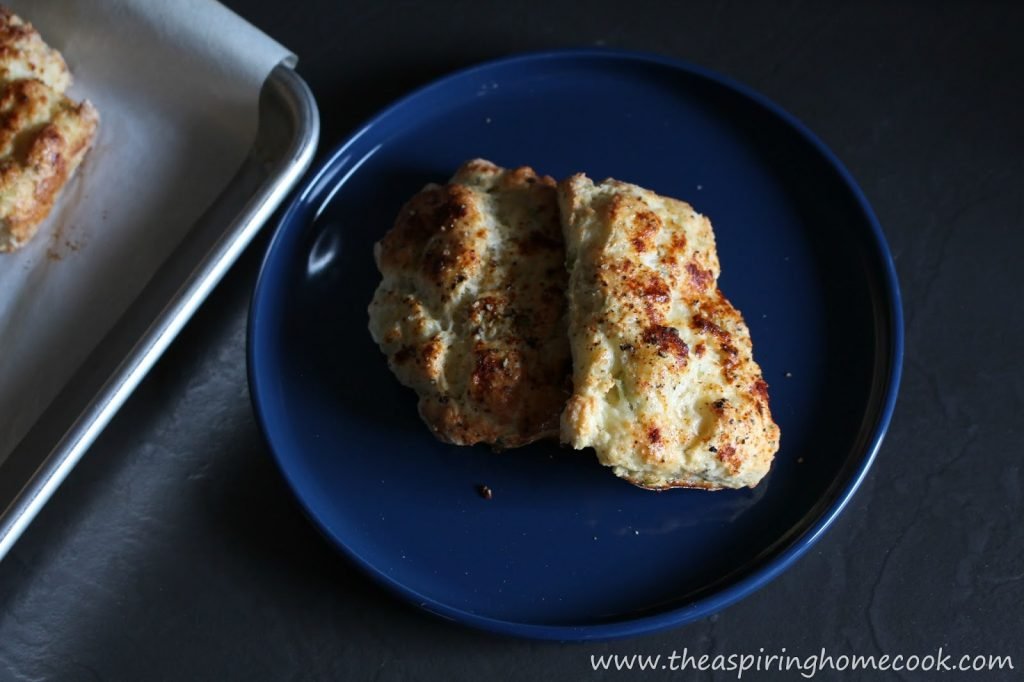 Savory Ricotta Scones
Adapted from: Love Life and Good Food
2 cups all-purpose flour
1 tbsp baking powder
2 tsp sugar
1/2 tsp salt
5 tbsp chilled butter
1/2 cup sliced spring onions
1/2 tsp dried mixed herbs
1/4 tsp dried parsley
1/8 tsp dried thyme
1 cup ricotta cheese
2/3 cup milk
1 egg
Sea Salt
Black pepper, freshly cracked, to taste
Smoked paprika, to sprinkle over
Preheat the oven to 220ºC.
Line a baking tray with some parchment / baking paper and lightly grease the paper.
Whisk the flour, baking powder, sugar and salt in a large bowl.
Cut the butter through the flour mix or grate it and mix it till you get a coarse crumb texture.
Add the spring onions and herbs. Stir through.
Add the Ricotta cheese and milk and stir through just until combined.
Turn out on a lightly floured surface. Lightly bring the dough together. Do not knead.
Pat the dough into a rectangle. Dip the cutter or knife in some flour and cut into 10-12 equal pieces.
Place on the parchment lined baking tray.
In a small bowl, whisk the egg with 1 tsp water. Use a silicone / pastry brush and brush the egg white on the scones. Sprinkle some salt, freshly cracked black pepper and smoked paprika over the tops of the scones.
Bake for 20 minutes.
Serve while still warm with a little butter.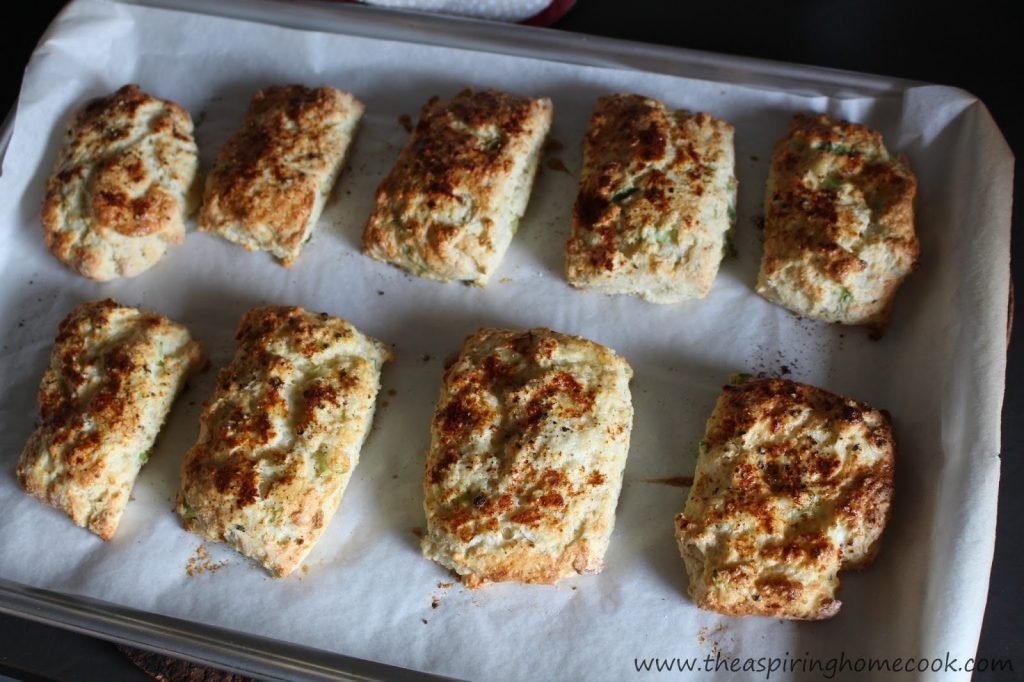 If you're making these in advance or if you have leftovers, they reheat well either in a covered pan on low heat or wrap them in foil and warm in a 180ºC oven for about 5-10 minutes.
So last weekend I decided I was going to try my hand at making some classic scones. I've always enjoyed the idea of a good scone with clotted cream and jam. I was a little apprehensive while making them, because I heard if you don't do them right, you are left with rocks. While I have made scones before, remember these
Chocolate Chip Banana Bread Scones
(they were fantastic) and these
Chocolate Chip Scones
(which were also good), I had never tried a good old classic vanilla scone recipe.
Turns out this time around, I didn't get them 100% correct. They didn't rise as much as they should have, but they were so tasty. We had the first couple with butter and orange marmalade, since I don't have access to clotted cream until I make my own. They were nice. The next day, my husband nibbled on one of the scones since he was a little peckish and discovered these made really good biscuits. Obviously I had to try one out. They were so good with a cup of hot tea; only slightly sweet, crusty on the outside but slightly crumbly at the same time. I think I know what I did wrong with this recipe. I replaced the self raising flour with all purpose flour and baking powder, but I don't think I added enough baking powder. Also the milk I added to the bowl wasn't as warm as it should have been. These are both minor issues that I can easily sort out in my next attempt and since I was left with just a tasty scone fail, I'm not giving up on this recipe just yet. I will try it out again.
For the benefit of those of you who would like to try the recipe out, I'm posting the original recipe here. Try it out and let me know how it works for you 🙂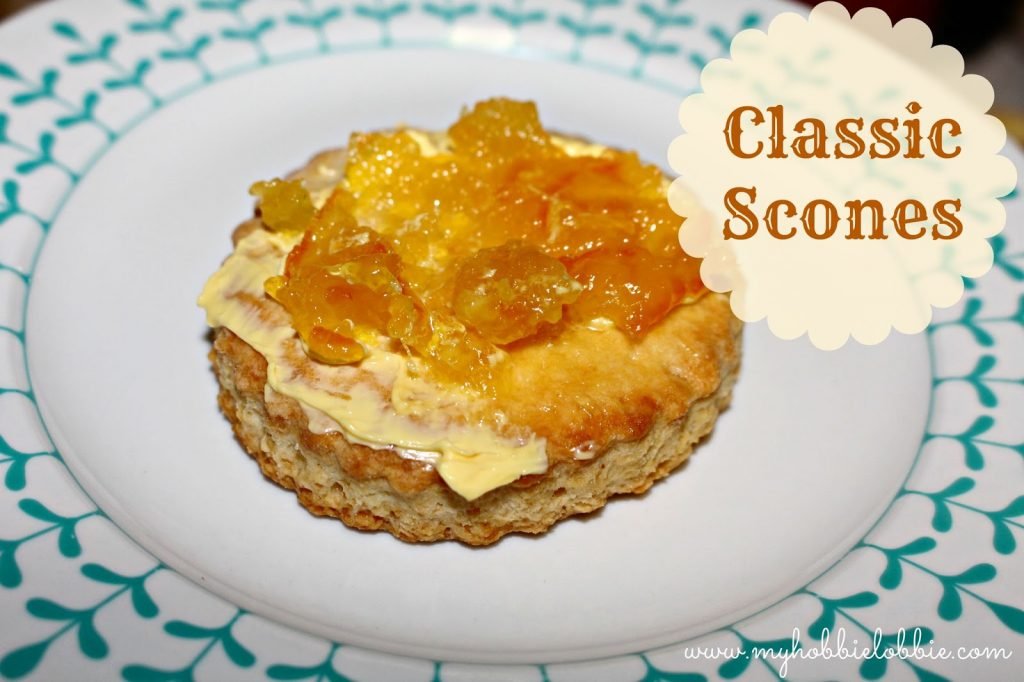 Classic Scones
350g self raising flour
85g cold butter (cut into little cubes)
3 tbsp sugar
1 tsp lemon juice
1 tsp vanilla extract
75ml milk
In a large bowl, rub the butter into the flour till it has just combined. Don't overwork it (or the scones go hard).
Stir in the sugar.
Slightly warm the milk. It should be warm but not hot. Add vanilla and lemon juice to the milk.
Make a well in the middle of the flour and add the milk mixture. Stir in till just combined.
Roll into about 5cm thickness on a floured surface and using a 3″ scone cutter (dusted in flour to prevent sticking), cut out. I got 9 scones.
If you are going to re-roll the scrap dough and cut it out again, don't overmix the dough, it will result in hard scones. You will get about 9 scones from this recipe.
Cook for 12 minutes or until golden.
When slightly cooled, serve with cream and jam or butter.
Note: The original recipe doesn't specify an baking temperature so I just preheated the oven to 180ºC and baked them but the baking time was almost 20 minutes. I will do a little more research on this before attempting it again.
If you have successfully baked scones before, I would love to try your recipe out sometime. Leave me a link in the comment section.
Here's what they look like just out of the oven.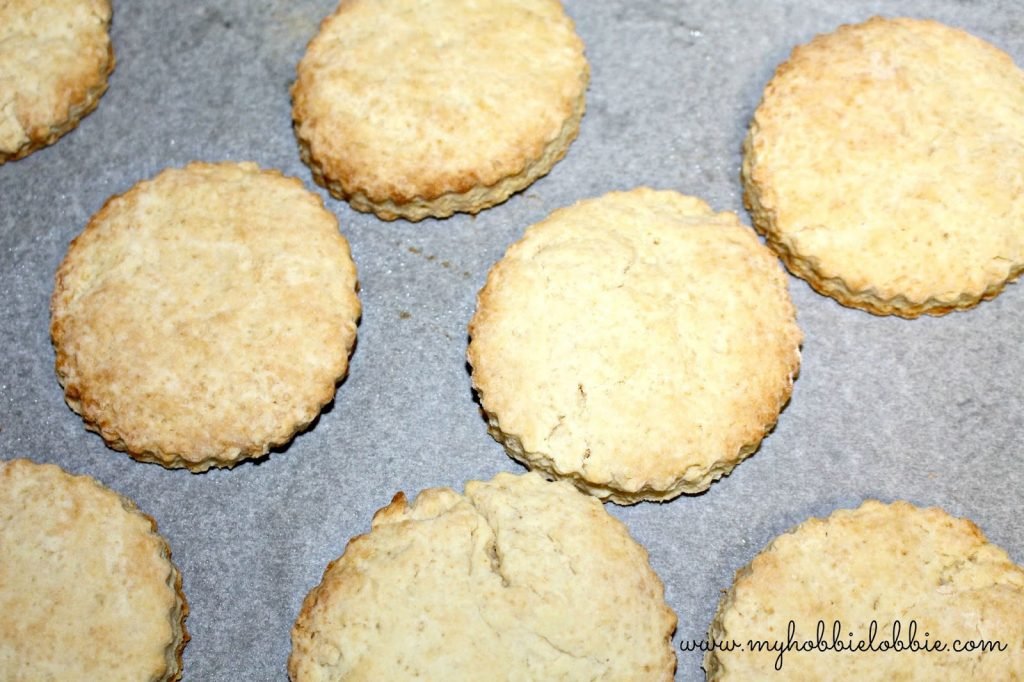 Its
SRC
reveal time again. What a ride The Secret Recipe Club has been! I've been a part of it for more than a year now and have had a blast. I've been a part of Group B since the member were first split into groups and have gotten to know some wonderful people there. This month though, is my first month with Group A and at the helm is Jane Evans Bonacci a.k.a
The Heritage Cook
. I'm looking forward to meeting all the wonderful folks in Group A; I can't wait.
This month, I was assigned Noelle's blog – Opera Singer in the Kitchen. Hi Noelle!!! You can head over to check out some of her performance videos. She is mommy to the gorgeous little Julianne and is currently expecting her 2nd little bundle of joy. Oh and she blogs regularly. I'm in awe of her ability to do it all. I had the most wonderful time going through her blog this month and have made a nice little list of things I'd like to try. For this months reveal, I picked the Double Chocolate Scones. Things have been insane around here lately and I needed a chocolate fix. This seemed perfect. It was so simple to put together and in no time I was sitting back with some lovely warm scones.
I didn't make any changes to the recipe except for swapping the heavy cream for yogurt, since I was out of cream and cut down on the amount of chocolate chips. The scones still turned out really well. As a personal preference, I think I will make these with Vanilla extract the next time and maybe add some toasted chopped hazelnuts to switch things up.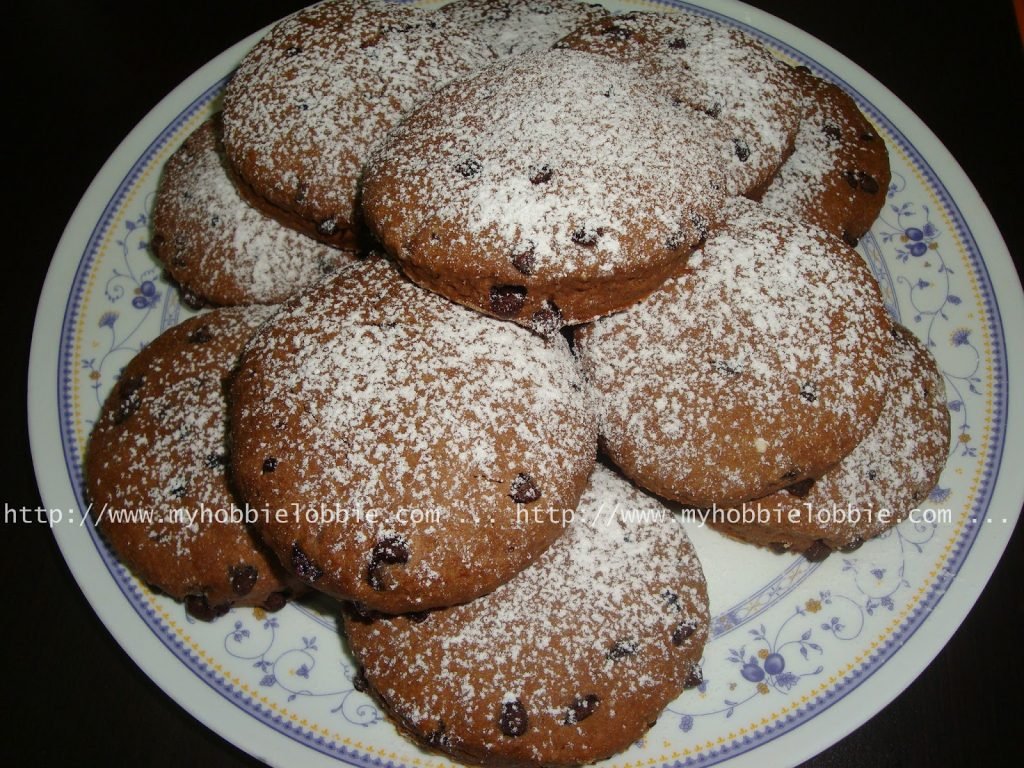 Double Chocolate Scones
Makes 8
1 3/4 cups all purpose flour
1/4 cup cocoa, unsweetened
1 tbsp baking powder
A pinch of salt
1/3 cup cold butter, cubed (I used salted and reduced the amount of salt)
1/2 cup sugar
1 large egg
1/2 cup yogurt, unflavored (The original recipe calls for cream)
1 tsp almond extract
1/2 cup bittersweet chocolate chips
Icing sugar for sprinkling, optional
Line and grease a cookie sheet with baking paper.
Preheat the oven to 180ºC.
Sift the flour, cocoa, salt, baking powder together to make sure they've mixed well.
Place these dry ingredients in a bowl and add the sugar. Stir to incorporate well.
Rub the cold butter into the dry ingredients till it reaches a crumb stage.
In a separate bowl, whisk the eggs, yogurt and the extract to blend them well.
Pour the wet ingredients over the dry ones, add the chocolate chips and stir with a wooden spoon to form the batter.
On a floured surface, roll out the dough to an 8″ disc and cut into 8 wedges or cut using a biscuit cutter. Place on the prepared cookie sheet and bake for 12-15 minutes.
Serve them warm or cool completely and store. Sprinkle with icing sugar (if using) when the are cool.
Do you wanna see what they look like on the inside? Absolutely yummmmm!!!