On our recent Road Trip from Sydney to Mornington Peninsula, we spend a day in the Melbourne CBD. While it wasn't nearly enough time to check out the wonders that Melbourne has to offer, it gave us a little peek into what the city centre is. Safe to say, we'll be making a trip straight to Melbourne and live in the city so that we can explore it a little more.
The drive to Melbourne from Rye in the Peninsular was smooth. We hit a little traffic once we got closer to Brighton and St. Kilda, but made it in good time. After wandering around the streets of Melbourne, it was time to pick out a spot to have lunch. There are so many options, it is hard to choose. Initially we were in a part of town which had options, but weren't to interesting. Just when we were ready to settle, we stumbled onto gold, better know as Swanston Street. After checking out the options on the street, which seemed endless, we settled on Rice Paper, specialising in Vietnamese street food. It was a great choice, because my husband and I both love Asian flavours. Oh and this time I remembered to take a few pictures.
Its was really crowded even though we got there at about 2 in the afternoon, but we got seated immediately. The staff were really friendly and on the job. The place seemed very open and airy and I liked that. We were starving after all that walking around, so we decided to try out a few menu options. That wasn't easy. There were so many things I wanted to try.
We simply had to try the rice paper rolls. I mean, come on! that's what they're called! How could we not try them. So we got a couple of prawn rice paper rolls with the spicy hoisin sauce.
The rolls were fresh and tightly packed with succulent prawns, rice vermicelli noodles and fresh greens. We loved the mint leaves in there, it lightened and freshened the rolls up. I would have liked a little more acidity in the sauce though. It was a good thing then that we had also ordered the crab claws.
Now the crab claws themselves, we just okay. I have had better at a takeaway joint on the Gold Coast, QLD (unfortunately I cannot remember the name). But these were crunchy and more importantly came on a bed of gloriously pickled veggies, namely carrot and daikon radish. I absolutely loved the pickled veggies. They were more than just basic pickled vegetables. There was an unmistakable hint of garlic too, which I loved. The dipping sauce was sweet chilly sauce. I preferred this sauce with the rice paper rolls too. But that's probably just me.
For mains, we called for the Saigon Curry Chicken on rice and the Crispy Skin Chicken on rice.
The Saigon Curry Chicken on rice was this big bowl of Chicken curry with succulent pieces of chicken and this was served with some coconut rice. A beautiful combination, one that any curry lover would be very happy with. The curry was also coconut based and perfectly spiced and flavourful.
The Crispy Skin Chicken on rice came with some fresh salad greens, the pickled veggies (Yay!) some sweet chilly dipping sauce and a huge portion of coconut rice topped with some tiny dried, roasted shrimp (I'm pretty sure that's what it was). I personally found the rice a little dry to be eaten just as is. It's a good thing the Saigon Curry Chicken was a generous portion. But that Crispy Skin Chicken was fantastic. Crispy skin as promised with some nice charred, smokey flavour and the meat inside was still moist and flavourful.
We washed all this wonderful food down with a tall glass of Tropical Iced Lychee …
… and a Tropical Iced Longan
The whole meal cost us $44 bucks. However, I think we overdid it and if we had to opportunity to eat here regularly, we'd probably pace ourselves. That being said, I think it was good value for money. The portions were generous, the food flavourful and the ambience was relaxed. I know I'd go back for sure.
Disclaimer: This post is not a sponsored post. I haven't been compensated for it in cash or kind. This is just a meal we really enjoyed, and all of the comments above, my humble opinion.
I have a secret to share with you! I think I've found the best meat pie's in all of Australia.
For those of you who aren't from this part of the world, you should know, meat pie's are serious business. There are a lot of places that sell them, but they don't all taste good. Heck, some of them have no taste at all. I've had a few pie's since I got here. I bought some of the store bought frozen ones that you bake at home and they taste okay, but who knows what kind of nasties are in them. I've also tried the meat pies at Heatherbrae's, QLD (en-route to the Gold Coast), and I loved their pastry but found their filling lacking in flavour. I've also had some at coffee shops around the place and at Pie Face, but they were all pretty average. I'm waiting to try making them from scratch at home and see how they turn out. But that's not what today's post is about.
Very recently my husband and I drove from Sydney to Melbourne and back. I will post more about the trip later. But on our way from Merimbula to Mornington Peninsula, via the coastal road, we passed through Lakes Entrance in Victoria. We must've stopped there for about an hour, maybe less, but what we saw in that hour was gorgeous. If you haven't been to Lakes Entrance, here are some glimpses.
The beach was stunning. Its a shame we couldn't spend any more time there.
Now, it's probably just me, but a few hours stuck in the car had my brain fogged up a bit and I didn't get pictures of the pies and the sandwich we ordered, but I did get a glimpse of the place for you. In the heart of town, just opposite the waterfront, is this quaint looking shop, that from the outside, doesn't look overly special.
When we passed by it the first time, I had a feeling it would be worth the visit. So after checking out a few other not so interesting options, I decided to come back to this little bakery, called The Lakes Bakery. Seriously … best decision ever. We ordered for a Steak & Onion Pie, a Burgundy Beef Pie and a Chicken Delight Sandwich.
The pies were out of this world. The pastry was perfect and the fillings were flavourful and just simply delicious. I couldn't believe it but I was very happy we stopped there for lunch. Both the pies were amazing and while I was looking around at their other goodies I realised that on the window, in big letters, the fact that their Pies were award winning. No surprise there at all. Now on to the sandwich, a humble chicken sandwich, lightly toasted. Again one of the best sandwiches I have every eaten. The tops of the sandwich were lightly seasoned with chives and it took this sandwich from being pretty darn good to out of this world. Right from the bread to the filling, everything was perfect… and believe me, I am very hard to please (atleast where food is concerned). I just wish I had remembered to take some pictures.
The prices were fairly reasonable too. The pies were around $4-$4.50 a piece, the sausage rolls (which we didn't try) were $3 and the sandwich was about $10 (not too sure about this one). I was very happy with the pricing. It was really good value for money. Here's what their hot shelf full of pies and sausage rolls looked like.
So do me a favour and if any of you every visit the area, do stop by and check them out for yourself. You can thank me later 😉
Disclaimer: I haven't been compensated for this post. I'm just sharing a great find. All the opinions expressed in this post are my own.
I was going through some pictures we took on our recent trip to Kerala and I realized I had forgotten to share this little piece with you. We did a Mumbai – Kerala – Goa – Mumbai road trip; my husband simply loves driving (not in the city though). On our way from Mumbai to Kerala, our first stop was at Belgaum, on the Karnataka border. If we're travelling south and need to break a journey that's more than a day long we always stop here. We stay at Hotel Sankam Residency every single time. This has got to be the only place that was great to begin with, and actually gets better each time we go there. And just do you know, I'm a pretty hard customer to please. I'm not unreasonable, but I just think a lot of places could have better standards, if you know what I mean. But this place is great. The rooms are spotless, the rates are great and they serve up some good food at the in-house restaurant.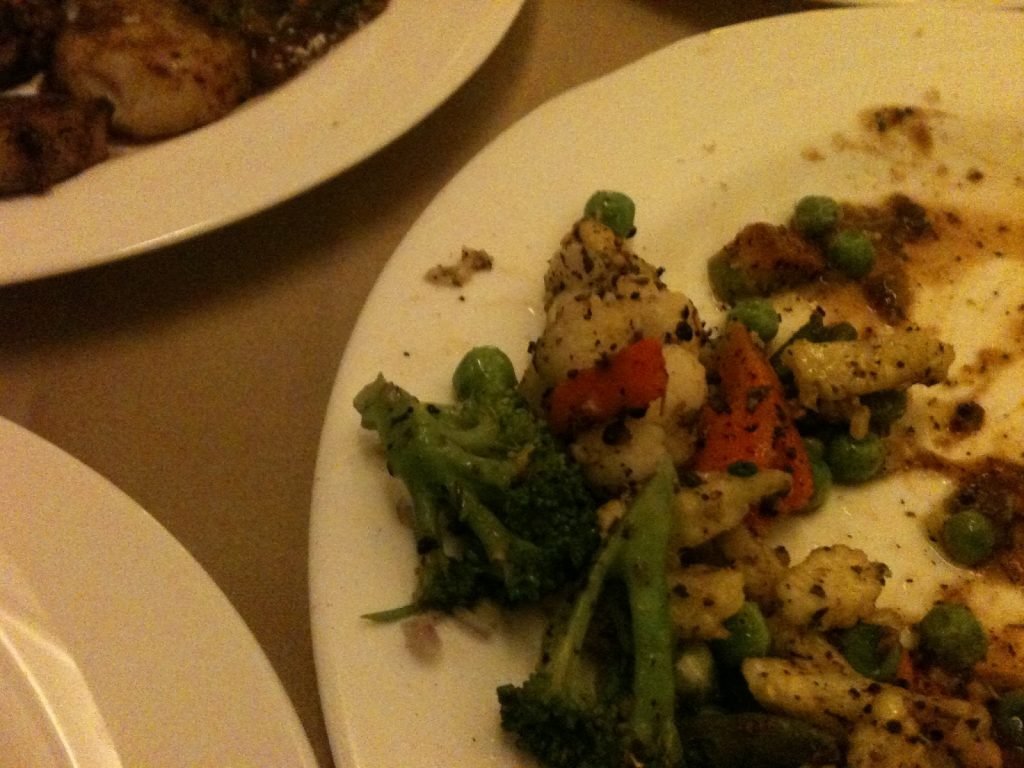 The dinner we had there was spectacular. These pictures don't do the meal any justice. This is the best Continental meal I've ever EVER had. Even the stuff we get in Mumbai at places like Jughead's, Candies, Out of the Blue and the like, pales in comparison. To say the least I was very pleasantly surprised. We had some roast chicken with roasted rosemary potatoes and some Veg. au gratin. Both dishes came with a side of garlic bread. Again, I can't remember the last time I had garlic bread that was so yumm!!! The bread in itself was a beautiful loaf, before it got sliced. I'm pretty sure it was baked in-house and reminded me of a lovely loaf of Ciabatta. The roast chicken also came with some pepper sauteed veggies on the side. Everything was well seasoned, which doesn't usually happen and the veggies and the meat was cooked to perfection. In all it was a great start to our holiday. If you're ever passing through Belgaum and want to stop for a meal I would strongly recommend Hotel Sankam. If you do, I'd love to know what you think of it.
Happy travels!!!
Disclaimer – I haven't been compensated for this review in any way. The views and opinions shared here are my own!!!