** This post contains affiliate links.
Looking at my collection of recipes on this blog, it might be hard to tell that I actually love pasta. Nothing specific, just about all shapes and sizes and all kinds of sauces too. There is just one condition, they need to have flavor. Unfortunately, I've had pasta at too many restaurants, including a couple of Italian restaurants around Sydney and it has been disappointing, to say the least. So I usually end up eating the pasta I make at home. And I can't to that too frequently, because my husband is not the biggest fan of pasta. What then is this pasta-loving soul supposed to do?
Here's what I do. Ofcourse, I make pasta atleast once a fortnight, but I try and switch up the sauces each time I make it. So with lesser retpetition, I seem to get away with a big bowl of pasta for dinner. Happy hubby and happy me!!!
Because of this, I'm always on the look out for new ways to serve pasta. And when I saw this pasta, I knew I was onto something. I have two versions of this pasta. Today, I will share with you the basic version, which I happen to really like. Sometime soon, I will share a more dressed up version, something my husband and I came up with while eating a bowl of this gorgeous green. The sauce comes together in sheer minutes and the only cooking it needs, is blanching the spinach. So you can easily serve this up on a busy weeknight in under half and hour. That is one of the many things I love about this recipe. If you have 'littles' in the house who might be a little skeptical about eating green pasta, call it something fun like 'an alien dinner / alien pasta' or 'the Hulk's pasta' or something fun like that, and watch it get gobbled down. An extra sprinkle of cheese on the top doesn't hurt either.
So, now that we know how quick, easy and fun this pasta is, let's get on to the actual recipe.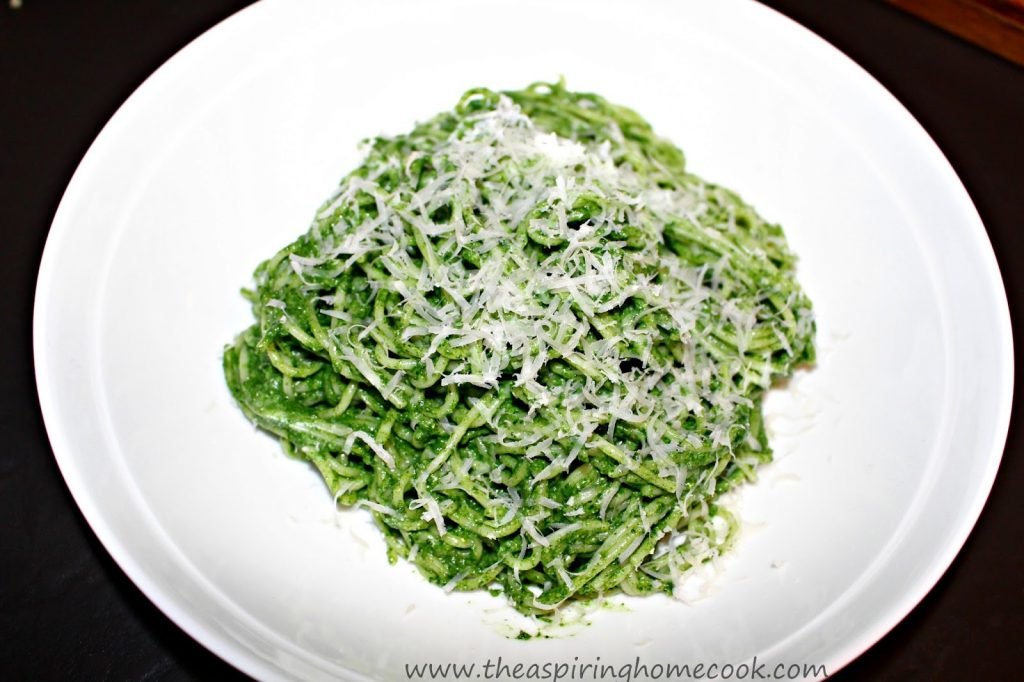 Pasta with Spinach Pesto
Serves 4 -5
8 nests of Vermicelli, or any pasta of your choice
200g fresh spinach
1/2 clove of garlic, chopped
1 heaped tbsp
pine nuts
3 tbsp freshly grated parmesan cheese
3 tbsp extra virgin olive oil
200g ricotta cheese
Salt, to taste
Freshly cracked black pepper, to taste
Bring a large pot of water to the boil.
While the water comes to a boil, keep a large bowl of ice cold water ready.
Place the spinach in the boiling water for a minute or two, till it turns a shade of darker green and is wilted and slightly softened. Immediately, take the spinach out of the water (a large pair of
tongs
works well) and immerse in the ice cold water. This will stop the cooking process immediately and help the spinach retain a vibrant shade of green. You may need to do this in batches. Repeat the process till all the spinach has been blanched.
Use the same pot of water to boil the pasta. You may need to top up the water in the pot. Add a generous teaspoon of salt and when the water has reached a rolling boil, add the pasta to the pot and cook it till al dente.
While the pasta is cooking, drain the spinach from the ice cold water and squeeze out and discard as much liquid as possible. Roughly chop the spinach and set aside.
I place the spinach in a bowl, along with the pine nuts, garlic, parmesan cheese, salt, pepper and the extra virgin olive oil and puree using an
immersion blender
. If you don't have one, a food processor or a regular blender would work well too.
Then add the ricotta cheese to the puree in the bowl and blend till smooth. Check for seasoning and add the salt and pepper, if needed
Drain the pasta when it is done and add the pesto to it. Stir gently or toss with a large pair of
tongs
to coat the pasta evenly.
Portion out on plates and generously grate some parmesan cheese over the pasta. I find that a
Microplane zester
does the job well.
Enjoy!!!