I've been in awe of people who can knit and crochet, ever since I was a little child. I had always wanted to learn to do this amazing stuff too. I remember on one birthday, my dads sister presented me with a crochet kit. I must've been about 8 or 9 and as much as I wanted to get started with it I couldn't figure it out. No one in my household could crochet. My mum knew some basic knitting but hadn't done too much of it. So the most I could do was long swatches of knit and purl.
A few years ago, I was on a trip with my husband (who was then my fiance) and his sister. She has a good hand at crochet. So I took this as a sign and decided to learn crochet. She was in the middle of a project but was kind enough to take the time to demonstrate the basic stitches. I had a go and tried them out myself and it was ok. But as luck would have it when I returned from the trip and tried it out again it was a harried attempt. So I put that on the back burner yet again.
Then a couple of months ago, a very dear friend told me that she and the family was moving to Canada for good. I was determined to give wool work another go and make it a success. Since knitting was familiar territory I decided to try my hand at a scarf. I was very pleased with the outcome. You can find the pattern here.
Since this project turned out well, I took a chance with crochet. Armed with video tutorials on You Tube, I made these –
1) Little Girls' Favorite Throw – Click here for the pattern.
2)A couple of ponchos. The green one was made by my sis-in-law – I don't have a pattern for that one. I made the cream one and you can find the pattern here.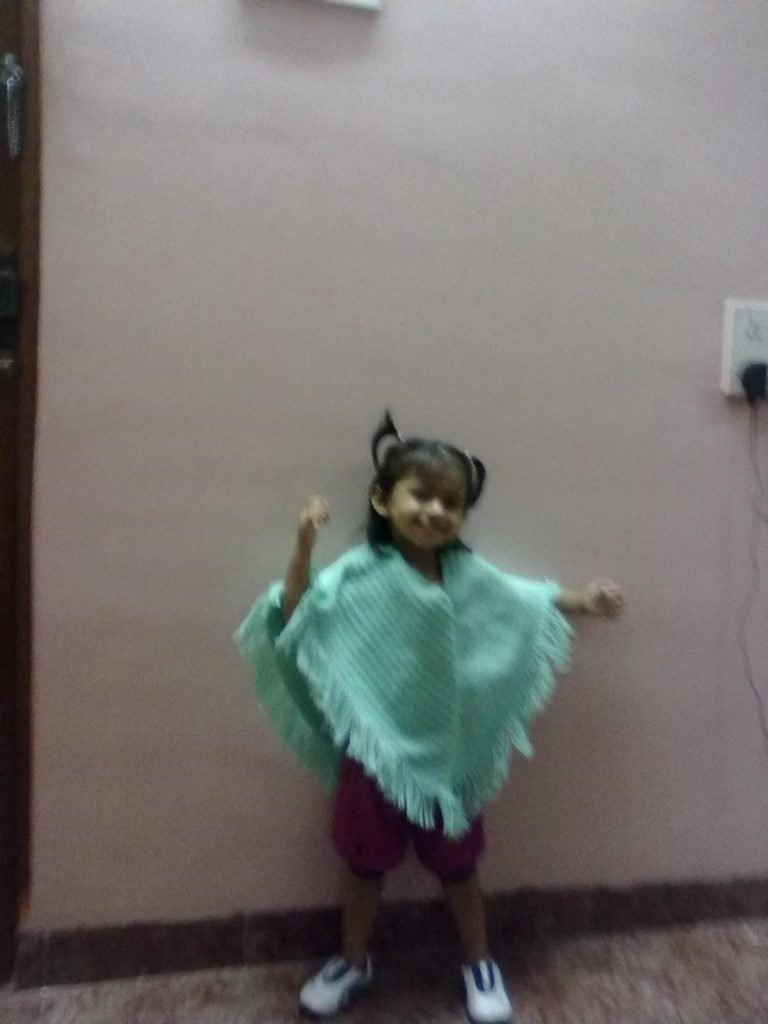 The green poncho was made for this little doll and the cream one was for her mum. I'm already missing the both of them loads *sniff sniff*.
3) A little cap
After this, I've decided that I definitely prefer crochet. Crochet projects finish so much faster than knit. Though I'm pretty sure that if I find something adorable in knit, I'll surely give it a go. All these projects got worked pretty fast. The throw and the cream poncho took me about 3-4 days each and the cap took a couple of hours.