The last couple of months have somehow seemed to sneak past. It is hard to believe that it is May 2016 already. The good part about coming into a new month is the
SRC
reveal day. This month, I was assigned Sally's blog,
Bewitching Kitchen
. I was so excited when I got this assignment. I've always been a huge fan of Sally's blog. Sally is a fascinating person. By day, she is a Biochemist. She also is an exercise fanatic. Originally born in Brazil, she has spent time living in Paris and now is in the USA. You can see delicious influences from all these places in her cooking and on her blog. If you love bread like I do, you are in for a treat. Go and have a look at Sally's blog. She has a plethora of bread recipes. While you are there, don't forget to check out the antics of 3 of the most adorable little doggies you have ever seen. I had an amazing time getting to know Sally a little better. And there are so many recipes I can't wait to try, like this
Baked Coconut
, these
Coconut Brigadeiros
, a delicious
Cappuccino Panna Cotta
and a savoury Brazilian delicacy called
Coxinha De Galinha
, just to name a few. The Bewitching Kitchen is one blog where you want to try out pretty much every recipe you see. I finally settled on a savoury one this month.
The weather has started cooling down here and when that happens, I find myself longing for soup. In the past, I have to admit, I've almost always ripped open a packet of instant soup and made do with that. In the last couple of years though, I have tried out a couple of homemade soups and I've enjoyed them so much, I have decided to make a few more this year and to get that started I picked Sally's Zucchini Spinach Soup for this month's reveal. Oh what a recipe this is – delicious, warm and hearty. It is hard to believe that a recipe this simple can be so comforting. I'm enjoying the discovery that making soups at home, from scratch is not as complicated as I thought it would be. Thanks Sally, for a beautiful soup, which will make an appearance on our dinner table on many more occasions.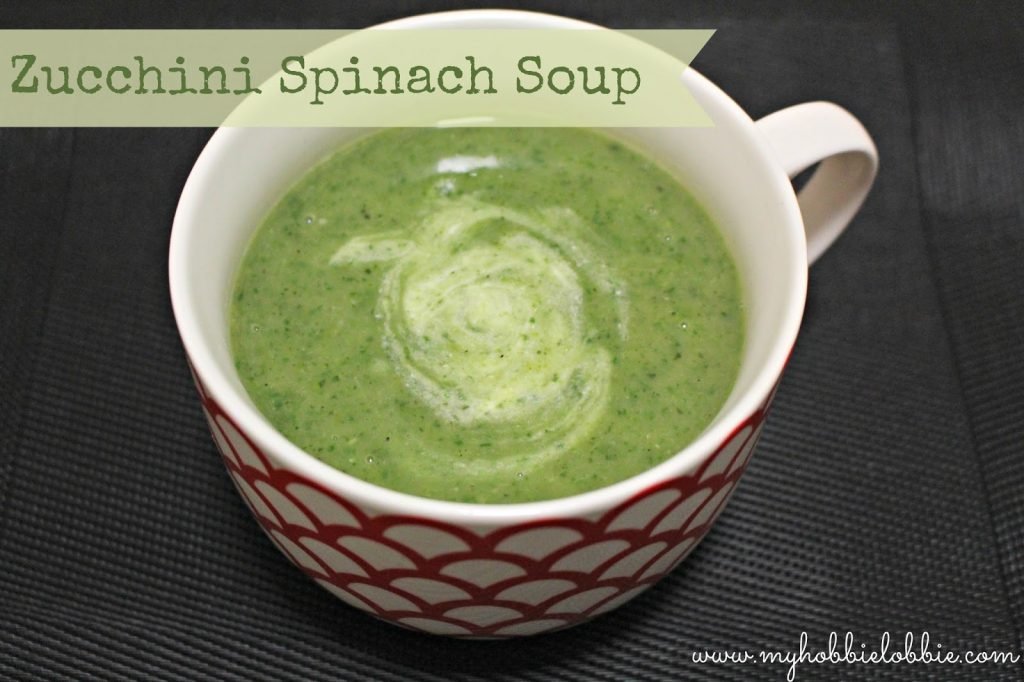 Zucchini Spinach Soup


1 tbsp olive oil
1 leek (white part finely sliced)
3 medium sized zucchini, slice thickly
1 can butter beans
4 cups water
2 cups baby spinach
Salt, to taste
Black pepper powder to taste
A dollop of yogurt
A squeeze of lemon juice
In a pot, heat the olive oil and add the sliced leek. '
Saute till the leek turns golden.
Add the zucchini slices.
Season with salt and pepper and saute till the slices get some colour on them, stirring every now and then.


Add the beans and let it cook for a couple of minutes.
Add the water (you could also use vegetable stock if you like).
Cover the pot and let it come to a boil over high heat.
Lower the heat and let it simmer for about 15 minutes or till the zucchini slices are tender.
Add the baby spinach leaves and stir. When the leaves wilt, you can take the soup off the stovetop.
I used an immersion blender to blitz this into a nice luscious soup. You could also use a blender if you don't have an immersion blender. Irrespective of what gadget you use, please, please, please be cautious while blending the soup, because it is scalding hot.
Serve up hot with a squirt of lemon juice and a little dollop of yogurt.
Enjoy!!!
Oh yes! You read that right. I have finally jumped on the bandwagon and tried out a veggie burger. This is a first for me. Don't get me wrong! We love our veggies and have a fair amount of meatless meals. But I've always been a firm believer that burger had to include meat in some form – cheeseburgers, chicken / turkey burgers and even fish burgers.
I still can't figure out how it happened. I think it was the subtle suggestion of seeing veggie burgers pop up in so many places, that one day I decided I had to try them out. I would love to include some more meatless meals in my weekly rotation and was curious to see if this would fit the bill, not as a weekly option, but definitely a regular one.
I was really simple to put together. Since I made my beans from scratch (from dried beans, that is), it did take planning a little ahead of time. But the rest was an absolute breeze. The verdict – We loved it! I don't know why I was so sceptical to begin with. The burger patties cooked up fast and had a light crunchy crust while being tender and nice and flavourful on the inside. These burgers were pretty hearty and I didn't miss the meat at all. I know this will be the first of a few more veggie burgers to come.
Black Bean Burgers
Adapted from: The Pioneer Woman


1- 1 1/2 cup dried black beans (or a couple of cans of beans drained)
1 cup bread crumbs (plain or seasoned)
1 small onion, chopped finely
1 green / red birdseye chilli, finely chopped (optional)
1 egg
1/2 -1 tsp chilli powder (to taste)
Salt, to taste
Freshly cracked black pepper, to taste
Hot sauce (I happened to have a bottle of Choloula)
Cheese slices of your choice (I used crumbled feta)
Olive oil, for frying
4 burger buns
Sliced onion
Sliced tomato
Iceberg lettuce
Any other burger fixin' of your choice
(The original recipe calls for mayonnaise, but the feta was perfect. You could use mayo if you'd like.)
If you are using dried beans, wash and drain the water. Soak in fresh water overnight. Cook till done. I pressure cook mine. Place the beans with salt and the recommended amount of water (your pressure cooker manual should give you an idea.) It takes 5 minutes after the pressure has built up in my WMF pressure cooker.
Let the pressure die down before opening the cooker. I leave it for about 10 minutes.
Drain the beans and place them in a shallow bowl.
Mash the beans roughly. You want some of it fully mashed but also some bigger bits and pieces. So a rough mash is perfect.
Add the breadcrumbs, onion, chilli, egg, chilli powder, salt, pepper and hot sauce to the mashed beans. Mix everything well. Let it rest for about 10 minutes.
Shape into patties the size of your burger bun. These patties don't shrink like the meat ones. They hold their shape and size.
Heat some olive oil in a pan over medium heat.
Place the patties in the pan and let it cook till it has browned and crisped up on one side. This takes 4-5 minutes. Flip and cook for another 4-5 minutes till it browns a little and crisps up on the second side as well.
If you are using cheese slices, place the slices on the patties after you've flipped them so that they can get all melty and gooey while the patty cooks on the second side.
Slit the burger buns and lightly toast them on the pan, cut side down.
I crumbled my feta cheese into a bowl and used a spoon to mash it up and make it more spreadable.
Assemble your burger with the fixings of your choice. For me it was iceberg lettuce, sliced onion and sliced tomato.
Enjoy!!!