You're probably wondering why I'm posting an apple crisp recipe in the middle of Spring. Well, you know the last few months have been super busy and I haven't been regular with the posts here. Today, I have a little time on my hands and was looking through some of the pictures I've taken of posts I'm hoping to get done soon and this one jumped out. I realized I hadn't shared this recipe with you yet and I thought it would be a good opportunity to do that. You see, like I've said in the past, I have been cooking and baking, I just haven't gotten around to posting yet.
I know while we're enjoying the slight warming of the weather, most of you are in the middle of autumn / fall and you should have plentiful access to some apples. Now, I've had my share of apple cobblers and pies before, but this little dessert is in a league of its own. The crisp almond topping adds a whole new dimension to the apple-cinnamon mix. Its adds some crunch and pairs with the apples so well, you have to eat it to believe it. In the picture, I've only captured the crisp, but you could serve it up with some vanilla custard or some lovely vanilla bean ice cream.
The only thing I did differently, is I left the skin on the apples. But if you don't like it, you could peel them. Oh yeah, I also left out the nutmeg. This recipe is a sure keeper. I see myself making this over and over again.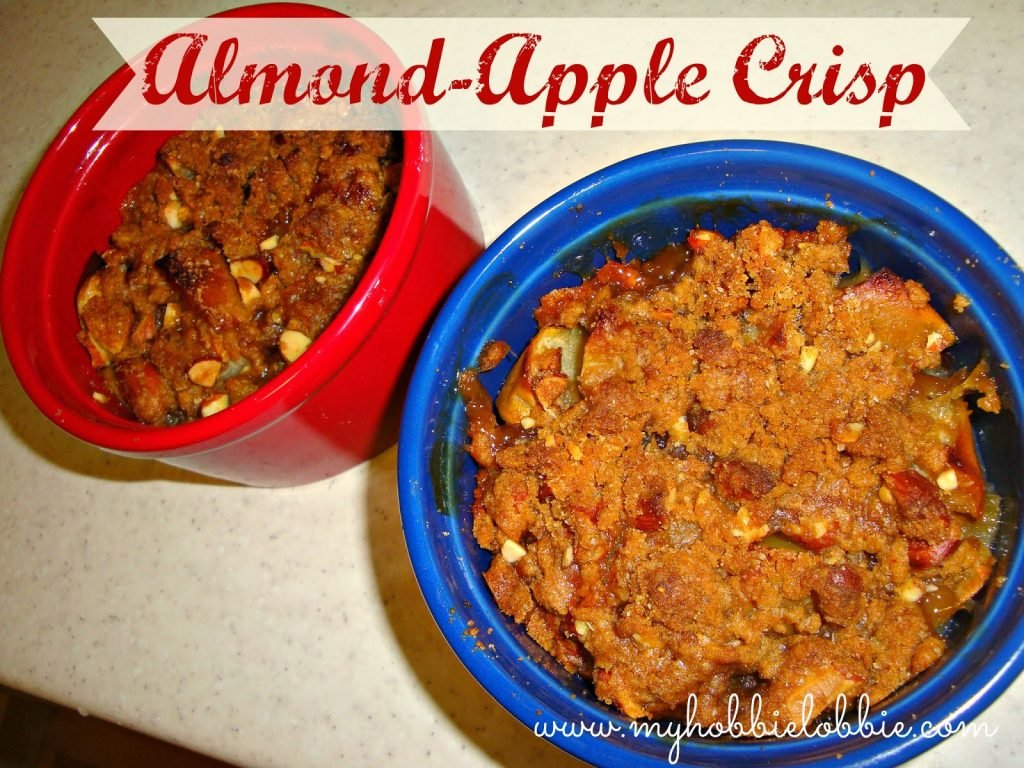 Almond-Apple Crisp
(Recipe from: Brown Eyed Baker)
For the apple filling –
1 1/2 pounds Granny Smith apples, cored and chopped into small pieces
1 1/2 pounds Red Delicious / Gala apples
1/2 tsp cornstarch
4 tsp lemon juice
2/3 cup sugar
A pinch of salt
A pinch of cinnamon powder
For the Almond Crisp topping –
3/4 cup all purpose flour
3/4 cup light brown sugar
1/2 cup slivered almonds, crumbled with your fingers
1/2 tsp salt
1 1/2 tsp cinnamon powder
1/2 cup cold butter, cut into small cubes
Preheat the oven to 180°C.
To make the filling –
Stir the cornstarch and the lemon juice in a large bowl till it dissolves.
Add the apples, sugar, salt and cinnamon and toss well to combine.
Pour the mix into and 8″ square baking dish. I did that and had some left over so I used a couple of ramekins.
To make the topping –
In a medium bowl, whisk the dry ingredients together.
Rub the butter into this mix, by using your fingers till it resembles coarse crumbs.
Sprinkle the topping evenly over the apple mix.
Bake for 50-55 minutes or until the topping is golden brown.
Enjoy!!!
For some more apple inspiration, try these recipes –
Apple Pie
Baked Apple Chips
Cinnamon Sugar Apple Cake
Apple Hand Pies
With another month simply flying by, we find ourselves at yet another
SRC
reveal. I still can't believe it is June already, the first half of this year has sure gone by really fast. Is anyone else thinking about Christmas? I am, see its winter here in Sydney and my brain still hasn't gotten used to a Summer Christmas. So with this beautiful cooler weather, I find myself thinking of Christmas more often than I should.
Anyway, back to SRC. This month I was assigned an amazing blog called "The Pajama Chef", written by Sarah. Please go over and say Hi to Sarah. She loves cooking, baking and running. Along with her husband Ben, she has 2 precious kitties, Sheba Genevieve and Misty Morning Fog. How cute are those names! And just wait till you see their pictures. 🙂
Sarah has some wonderful recipes. I was truly inspired. She has a bunch of quick, healthy packed lunch ideas, and since I've just started a new job, I know I'll have a chance to try them soon. I had a wide variety of recipes to choose from, but I was drawn to her coffee cake recipes, like this Royal Berry Coffee Cake, and this Lemon Blueberry Bread and this Cinnamon Sugar Apple Cake. I had some apples at hand from my last trip to the Flemington Markets, so I decided to try out the Cinnamon Sugar Apple Cake and you can imagine how wonderful my house smelt while this cake was in the oven. That was a good start but what came after was better than I could ever imagine. The cake was beautifully moist and light and the topping flavorful and crunchy. This one is a definite keeper. I'm happy I can use apples for something other than my usual Apple Pie. Thank you Sarah, for sharing this wonderful recipe.
Like Sarah, I didn't have any buttermilk. I thought I did, but I was wrong. Anyway, I did the next best thing, in a one cup measuring cup, put in one tbsp fresh lemon juice and top with milk to fill the one cup. Let it stand for 2 minutes and use it in the recipe.
Also I didn't have a 9×13 pan so I used a smaller pan. It resulted in a taller cake and slightly longer baking time. But I think the 9×13 pan would result in a nice sheet cake.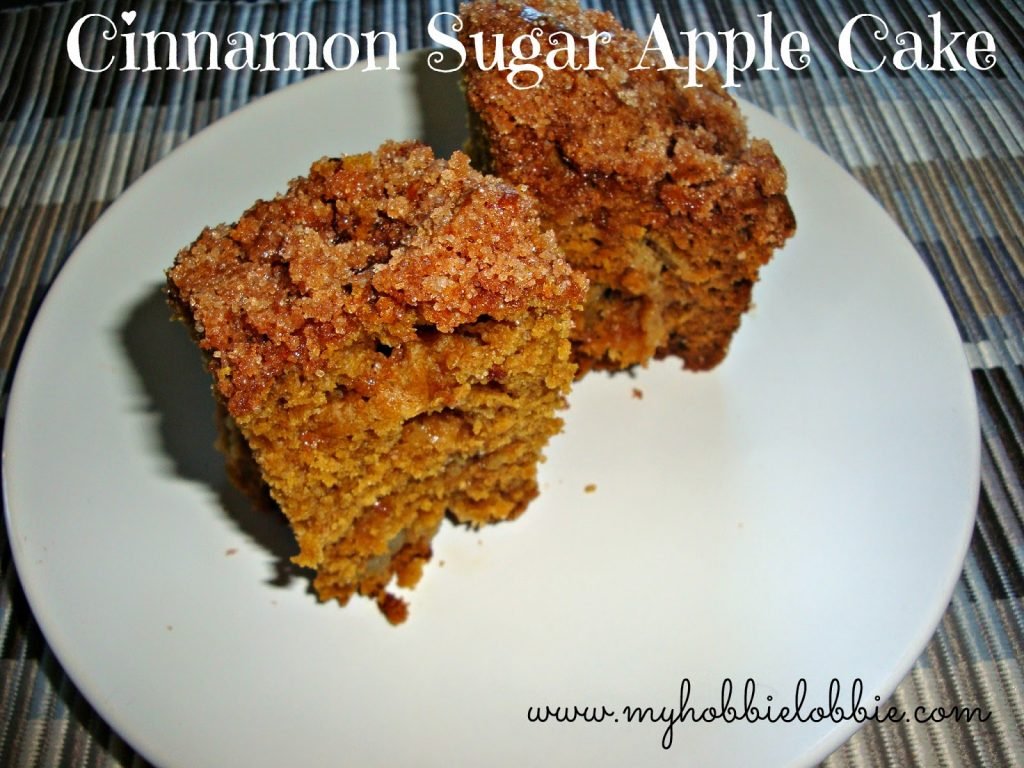 Cinnamon Sugar Apple Cake


For the cake –
1 1/2 cups brown sugar
1/3 cup Canola oil
1 egg
1 cup buttermilk (I was out, so I used the substitution mentioned above)
1 tsp Vanilla
1 tsp baking soda
2 1/2 cups all-purpose flour
1 1/2 cups chopped apples (I used 1 large Granny Smith with the skin on)
A pinch of salt (The original recipe doesn't use it, but I think it makes the flavors pop)
For the topping –
1 tbsp butter, melted
1 tsp cinnamon powder
1/2 cup sugar
Preheat the oven to 180°. Lightly grease the cake pan you are using.
In a large mixing bowl, whisk together the brown sugar, oil, egg and buttermilk and salt.
Add the vanilla and baking soda.
Fold in flour and chopped apples.
Pour the batter into the prepped cake pan.
To make the topping, in a small bowl mix the sugar and cinnamon. Add the melted better and mix through with a fork. Evenly sprinkle over the batter.
Bake for about 40-45 minutes or till done.
I struck gold with this one. These are healthy, tasty and so very addictive you can't stop munching on them. I decided to participate in "Eating The Alphabet Series" hosted by Brenda of
Meal Planning Magic
. Its a meatless event and I think its a fun way to include more veggies and fruits in our meals. If you'd like to join in, you can find the details and sign up
here
. This month its we're working with A or B. I'd seen these apple chips a long time ago and this was the perfect opportunity to try them. With minimal prep work and a little patience you can have yourself a little box of these yummies.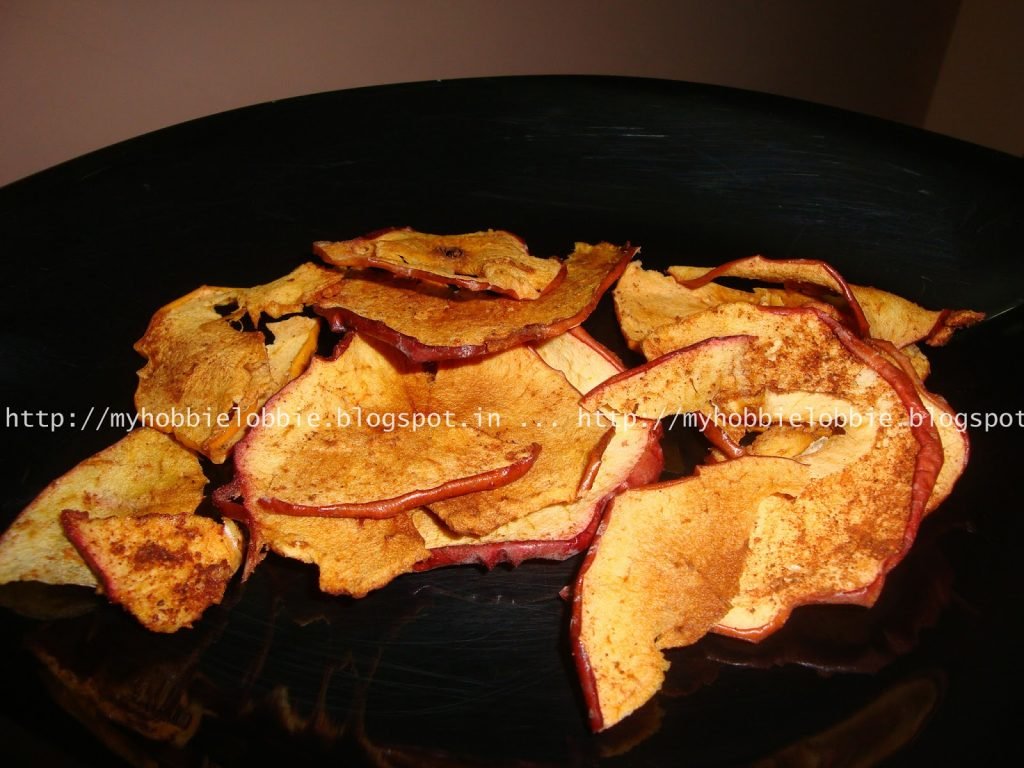 Baked Apple Chips
Adapted from: Half Squeezed Lemon


2 apple, any crisp and slightly tart variety
1 tbsp granulated sugar
1 tsp cinnamon powder
A pinch of salt
Wash the apples thoroughly and slice thinly. (If your slices are not thin, they won't crisp up.) Discard both ends of the apple and the seeds.
Mix the sugar, cinnamon and salt thoroughly and sprinkle on the sliced apples.
Toss well to make sure that there's some of that sweet cinnamon goodness on all the slices.
Place the slices in a single layer on a parchment lined baking sheet, making sure that there is no overlap.
Bake at 100ºC for about 30 minutes. Flip the slices over and bake for another 30-60 minutes or till they crisp up. Keep a watch, you don't want these to burn.
Let them cool down and get ready to enjoy them.They will continue to crisp up as they cool.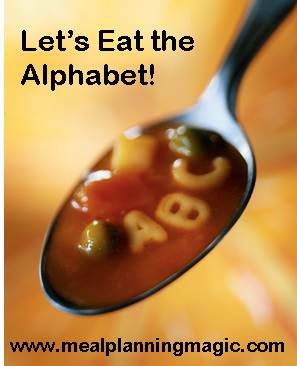 Check out what the others have cooked up this month –