Today we're going to talk pickles. No, not the bread and butter pickles or the dill pickle kind. We're talking Indian pickles. Pickles form a huge part of Indian cuisine. As vast as India is as a country, even more diverse is the food that comes from all different parts. Every region has its own culture, language, cuisine and hence versions of pickles. I have always been a very picky pickle person. (Haha, theres a mouthful of a sentence). Anyway, there are some pickles I just can't deal with (most of these being the spicy store bought ones) but there are others I can't get enough of.
Pickle making has always intimidated me. I always thought of it as a tedious and daunting process. I guess some of this anxiety with pickle making also comes from my Mum. She makes some mean pickles, but inspite of every care, can never get them to last. They'd get spoiled before we could finish them. I always thought that would happen to me too. Don't ask me why, I just thought it would. Until I tried my first homemade pickle – this super yummy Goan Eggplant Pickle. I was surprised at how easy it was to make and we enjoyed it for months after.
I was eager to try out a few more recipes after my success with the eggplant pickle. So a few months ago, when raw mangoes started showing up around Sydney, I just had to try out some mango pickles. Some Indian pickle recipes are long drawn and need to be kept in the sun. I wanted something a little quicker. So, I picked up a few green mangoes at Paddy's Market in Flemington and I narrowed it down to two recipes to try out this time around. One of them was this Instant Mango Pickle. Ofcourse, seeing that it was an instant recipe was a huge bonus. Plus it was so easy to make, I couldn't not try it. Also this is a small batch recipe, which was fantastic, because we're a family of 2 and I had more recipes to try out. I chose to wait for a few months before sharing this recipe, because I wanted to see if it would keep. And I'm happy to report that if you use a clean, dry glass bottle and a clean and dry fork / spoon to serve, this keeps refrigerated for more than 4 months. Moreover, this is a delicious spice blend, unlike those you will find in any store-bought version. I happen to really like this recipe. I'd take that as a win for me and my pickle making.
Spicy Kerala Mango Pickle
Recipe from: Edible Garden
2 cups raw mango, skin on, cut into uniform sized cubes
2 tbsp salt
1/4 cup oil
2 1/2 tsp black mustard seeds
1/2 tsp fenugreek seeds
2 springs curry leaves (leaves only)
2-3 tsp red chilly powder
2 tsp vinegar (optional)
Add salt to the cut mango pieces. Toss well and keep aside for 20-30 minutes.
Combine 2 tsp mustard seeds and the fenugreek seeds and grind them to a coarse powder together.
After the mango pieces have been sitting in the salt for 30 minutes, heat oil in the pan and add 1/2 tsp mustard seeds.
When the mustard seeds pop, turn the flame off. Add the powdered mustard and fenugreek.
Immediately add the curry leaves and the red chilly powder and stir well for about 5 seconds.
Tip in the salted mangoes and add the vinegar, if using.
Stir well. The residual heat of the pan will cook the pickle through as needed.
Let the pickle cool down completely in the pan itself.
Once it has completely cooled, store in a clean, dry glass bottle / jar.
Store refrigerated.
Enjoy!!!
**Serve with your favorite dal and rice.
This recipe has been added to –
Food on Friday @ Carole's Chatter
About the same time I spotted the recipe for
pickled jalapeños at
The Purple Foodie, I also spotted her version of marinated sweet peppers. If you are a fan of garlic, you will enjoy this. Roasting the peppers, enhances their sweet flavor and leaves it with a little smokiness. The garlic marinade just adds to all the fun. This is another accompaniment that I served up at our
Barbecue party. This keeps really well refrigerates so you can make it in advance and store it. You can throw it into some salad, sandwiches or even onto pizzas.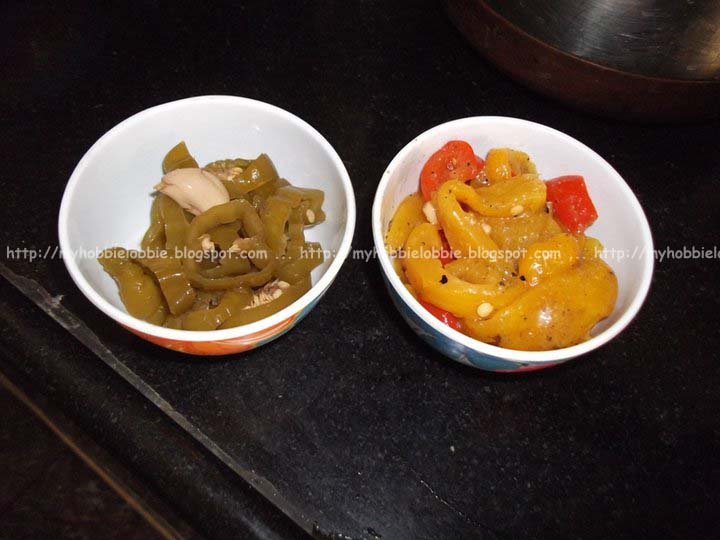 Roasted Red & Yellow Bell Peppers in a Garlic Marinade
Adapted from: The Purple Foodie


4 large bell peppers (I used 2 red and 2 yellow)
3 cloves garlic, peeled and roughly chopped
Salt, to taste
Freshly crushed black pepper, to taste
2 tbsp olive oil
2tsp apple cider vinegar


Brush the whole peppers with a little bit of olive oil. This helps them char sooner. Roast the peppers over an open flame. I simply pierced a fork through the stalk portion of the peppers and turned the peppers around to char on all sides.


Once it blisters and chars on all sides, place in a bowl, cover with a lid and let it rest a little. This will cool it down so it can be handled as well as the skin will peel off easier.


Peel the peppers, cut them in half, deseed them and slice them lengthwise.


Mix the rest of the ingredients in another bowl. Add the peppers to the mixture. Toss well and check for seasoning. Adjust the salt and pepper if needed.


Store in a sterilized glass jar.


Keep refrigerated.


This recipe is linked to –
Meatless Mondays
Mouthwatering Monday
Recipes I Can't Wait to Try
Rook No.17
Decidedly Healthy or Horridly Decadent
Fun with Food Friday


I was going through one of my favorite blogs a while ago,
The Purple Foodie
and I saw a homemade version of pickled jalapeños. I was thrilled because I really love jalapeño peppers in a sandwich, a salad and sometimes I just serve it as an accompaniment with the meal itself and that is exactly what I did for the
Barbecue party
that we had some time ago. Since we had kids over, I couldn't spice up the salads as much as I normally do. So I left out the green chillies and simply served a bowl of pickled jalapeños along with the meal. That way anyone who wanted a little extra punch simply added some to their salads. Anyway, I made a jar of this some time ago. They were super yum, and if say so myself, so much better than the store bought variety. The best part is that I know exactly what is in the jar, since its made from scratch. Also, the peppers taste better with time, thats if it lasts that long. The recipe is simple and easy and can be made way ahead of time. If you love pickled jalapeños as much as I do, give this a try. You won't regret it.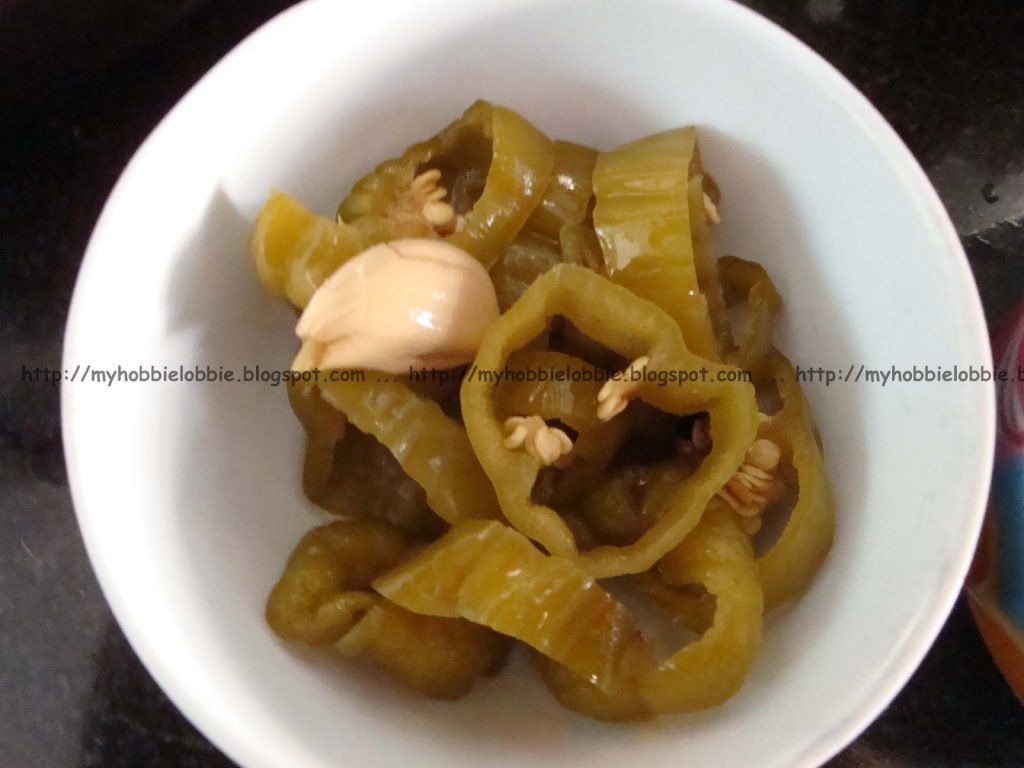 Pickled Jalapeños
330g Jalapeño peppers, sliced
1 tbsp. pepper corns
1 tbsp. sugar
2 tbsp. coarse sea salt
2 bay leaves
3 cloves of garlic, dashed under the flat blade of a knife
1 cup apple cider vinegar
1 cup water
Place the sliced jalapeños in a glass jar.
Place the rest of the ingredients in a saucepan. Bring to a boil and simmer for about 5 minutes.
Let the brine cool a little but while its still hot pour over the jalapeños in the jar and let it rest for a few hours.
Cove the jar and shake a little to distribute the spices evenly.
I keep the jar refrigerated so that it lasts longer.
Note: If you are pickling a different quantity of jalapeños, all you need to to is wash the whole peppers and place them in the glass jar you will be storing the pickle in. Fill it with water. Measure the quantity of water used and substitute half the quantity of water for the apple cider vinegar and add the spices.
This recipe is linked to –
Meatless Mondays @ Midnight Maniac
Mouthwatering Mondays @ A Southern Fairytale
Meatless Mondays @ My Sweet and Savory
Whats Cooking Thursday @ Feeding Four
Decidedly Healthy or Horridly Decadent @ Ceo a's draiocht
Fun with Food Friday @ Paisley Passions