Black Bean and Sweet Corn kernels come together to make amazing flavor-packed tacos, using a taco-seasoning made from scratch.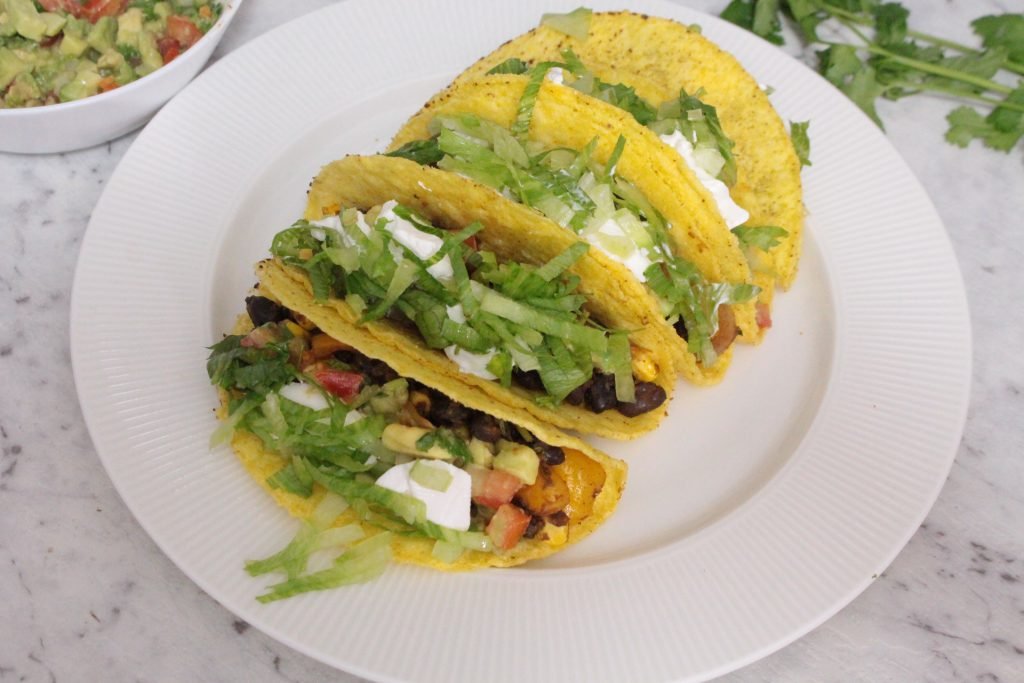 Today I'm sharing with you a recipe that is so simple and easy to put together, and results in such an extremely flavorful dish, you are going to be blown away.
That was a bold statement to start off with, right? Well, that's because it's the truth. Everybody needs a few recipes like this in their arsenal, because let's face it, life can get hectic and recipes like this make it easy to get dinner on the table in a hurry. I know a lot of folks do 'Taco Tuesday'. We personally don't, but that's just because we enjoy Tacos whenever we feel like it.
Tacos are usually associated with meat fillings, usually chicken, beef, pork and sometimes even fish or shrimp. But this doesn't mean you can't enjoy a really good taco if you follow a plant-based diet. And today's recipe is going to show you just that.
We'll be making a quick black bean and corn taco mix and a chunky guacamole to fill our tacos with. For the black bean mix, I use half a cup of dried black beans. These beans are soaked overnight and then pressure cooked the next day. I have a stovetop pressure cooker that gets the job done in under ten minutes. This works out so much better than buying canned beans because there is less waste, it works out to be more economical and I feel the beans are so much tastier. Try it out, if you have a pressure cooker or an instant pot. If not, you can simply use a can of black beans.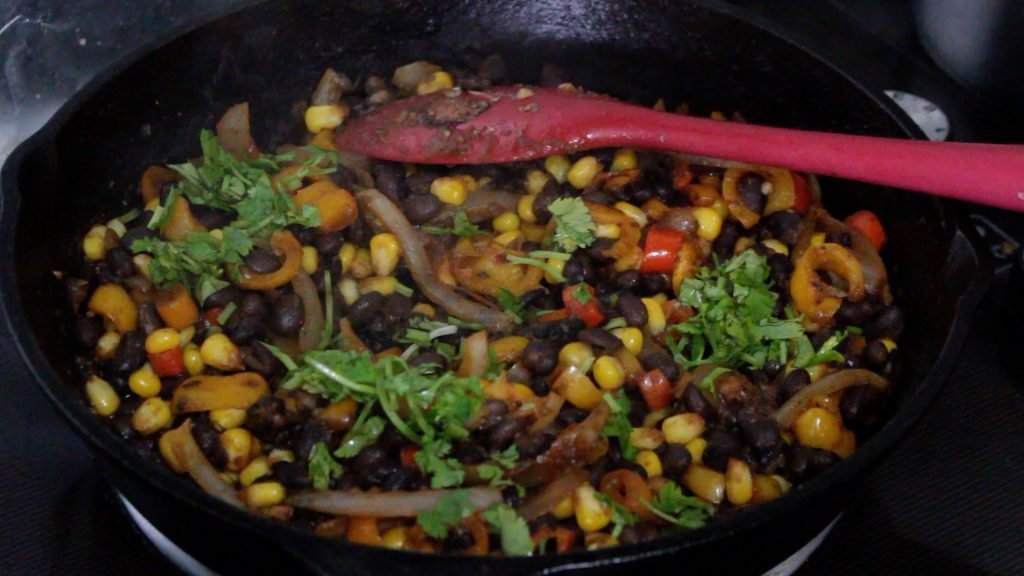 My chunky guacamole is also a very basic and simple recipe. It combines the richness of the avocado with the punchy flavors of a pico de gallo or a salsa. And like me, if you just need to serve 1 or 2 people, save the half of the avocado that has the pit still in it, squeeze some lime juice all over the cut surface, pop it into an avocado saver if you have one, or simply cover it with some cling film and pop it into the fridge for the next meal or the next day. This reduces the browning of the avocado. Do you have any tips for storing half an avocado? Leave me a comment and let me know. I'd love to be able to store it without having to use any single use plastic.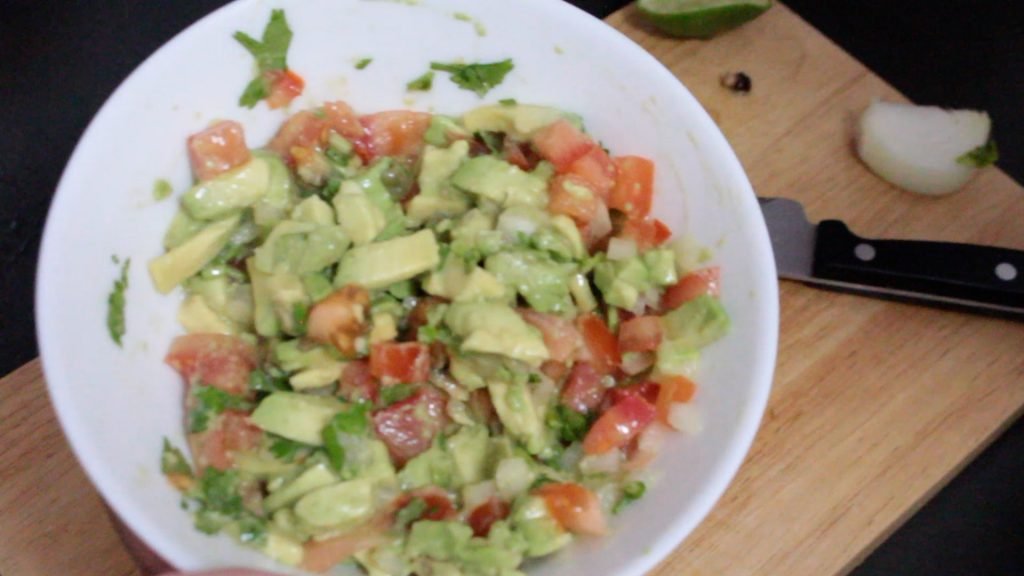 Assembling your tacos is one of the most fun parts of this recipe. You can add whatever your heart desires to your taco. Here's what I use to make up my tacos –
Hard corn taco shells
Black bean and corn mix
Chunky guacamole
Pickled jalapenos
Plant based sour cream
Finely shredded lettuce
If you love a good taco, you simply have to try it out and I hope you love it as much as we do. This recipe makes enough of the bean mix for 12-15 tacos. If you're serving 12-15 tacos in one sitting, double the guacamole recipe.
Black Bean and Corn Tacos
Course: Main
Cuisine: Mexican
Difficulty: Easy
Black Bean and Sweet Corn kernels come together to make amazing flavor-packed tacos, using a taco-seasoning made from scratch.
Ingredients
For the Black Bean and Corn Taco Mix –

1/2 cup dried black beans OR 1 can black beans

1/2 cup sweet corn kernels

1/2 onion, sliced

1/2 capsicum, sliced (See note)

1 large clove of garlic, finely chopped

1 tbsp oil

1/4 tsp smoked paprika

1/2 tsp ground cumin

A pinch of extra hot cayenne pepper powder (optional)

1/4 tsp dried oregano

2 tbsp Chipotle Sauce

1-2 tbsp fresh coriander leaves and stalks

For the guacamole –

1/2 large avocado

2 tbsp of chopped onion

1/2 large tomato, diced

1 tbsp coriander leaves and stalks, chopped

Salt, to taste

Lime juice, to taste

For the Tacos –

Hard corn taco shells

Pickled jalapenos

Sour cream

Shredded lettuce
Directions
To make the black bean and corn mix –
Wash and soak the black beans for 6-8 hours or overnight. Drain the water, rinse through and cook till beans are done. (I cooked the beans in a stovetop pressure cooker and they get ready in under 10 minutes.)
Heat oil in a pan and saute the onions till they've slightly softened.
Next, add the capsicum and let them saute for about a minute.
Add in the garlic and stir fry well till the garlic is nice and fragrant. Be careful and make sure the garlic doesn't burn.
When the garlic turns fragrant add the paprika, cumin and cayenne pepper powders and the dried oregano. Stir well.
Add in the chipotle sauce and stir thoroughly.
Add the black beans (that have been previously cooked) and the corn (I use frozen corn) to the pan and stir well.
Let this cook off for a couple of minutes or until the beans and corn has heated through.
Check for seasoning and adjust as needed.
Once most of the liquid from the pan has been absorbed, take the pan off the heat.
Top it off with the chopped coriander.
To make the guacamole –
Add all the ingredients to a bowl and mix well.
To make the tacos –
Heat the taco shells according to the packet instructions.
Layer the black bean and corn mix, the guacamole, pickled jalapenos, sour cream and shredded lettuce and serve up.

Enjoy!
Recipe Video
Notes
The 2 servings mentioned at the start of the recipe is for 2 servings of 4 tacos each (Roughly about 8 tacos). This recipe makes enough of the black bean mix for 12-15 tacos. If you are serving 12-15 tacos in one sitting, you may want to double the guacamole recipe.
The black bean and corn mix works really well in burritos and quesadillas too.
You can use 1/2 a capsicum of your choice or you can use smaller sweet peppers instead. In all you'll need about 1/2 a large capsicums worth of peppers. You can adjust this amount to suit your liking.
This Thai Chilli Basil Fried Rice is packed with vegetables. It uses all plant-based ingredients but still has all the flavors found in Thai cuisine.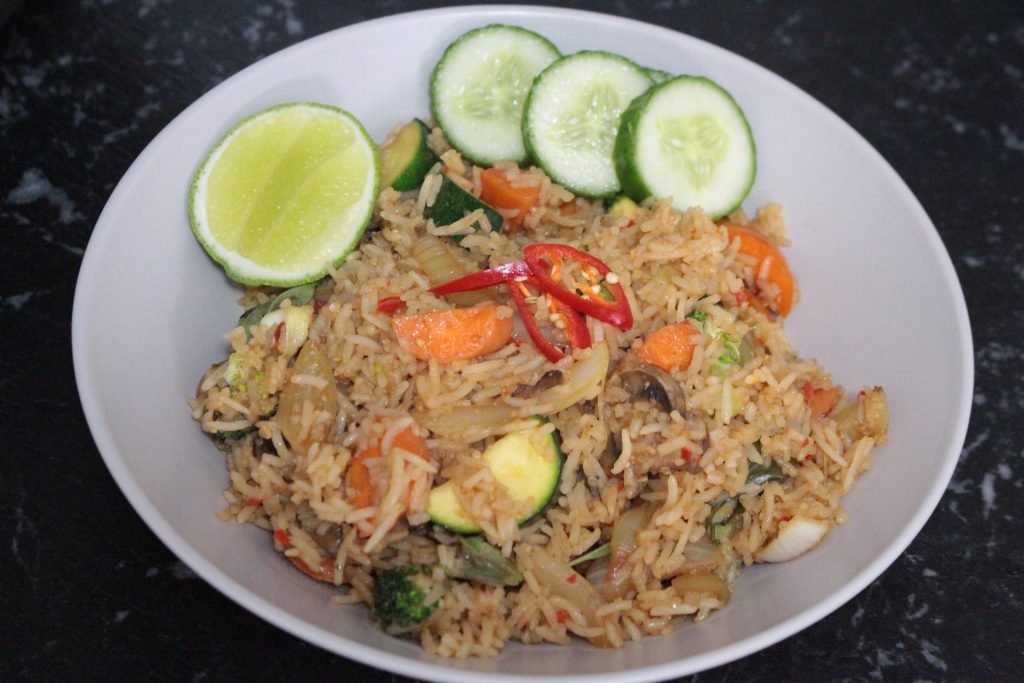 A good fried rice is a must have in every aspiring home cook's arsenal. I enjoy fried rice a lot. Sometimes, I think, maybe a little too much. But in my defense, what's not to love about it? While I love a good Chinese style fried rice, this Thai Chilli Basil Fried Rice has become a new favorite.
Its a simple meal in itself that is super versatile. You can use a lot of different vegetables, whatever you have on hand. It requires just a little advance planning in the form of cooking the rice ahead of time. Combine that with a clever use of some sauces that I always keep on hand and I can sit down to a nice, hot, home cooked meal in a jiffy.

In the past, I've always relied on a Chinese style fried rice. But a couple of years ago, when I tried a Spicy Thai Chilly Basil Fried Rice at a local Thai restaurant, I was smitten. All this flavor and spice – this fried rice blew my socks off. I ordered it every time we went out for Thai food. After a few such instances, I knew that I simply had to learn to make this at home and so with some experimentation, I ended up with a recipe that was really close to my favorite version.
Fast forward to December 2019. Just a few weeks before Christmas, my husband and I decided to switch to a more plant-based diet. And I'm happy to report that we're loving every bit of this new plant based diet. The last couple of months have involved a lot of experimentation and researching substitutes to make my favorite recipes vegan-friendly. And I have finally found the ever elusive 'mushroom oyster sauce' that always seems to be sold out at my local Asian grocery store. Obviously, the next step was to try a vegan version of my Thai Chilli Basil Fried Rice.
It took a little tweaking, but OMG, this fried rice is phenomenal. I think I may like it a little more than the original recipe. So if you like Thai food, whether or not you follow a plant based diet, you must try this recipe out. Its a simple recipe, but is so flavorful and packed with veggies, that I promise you won't even miss the meat.
So let's talk about the recipe. There are a few steps involved but they are all really easy to follow. The fried rice is ready in minutes and its best to have all the components prepped and ready to go.
Step 1 – Making the rice
I used some Basmati rice as that's what I had on hand. Wash the rice out a couple of times and soak it in some water for about 30 minutes. Drain the water, rinse with some fresh water. Bring a large pot of water to a boil, season with salt, add the rice and cook it till is done about 80%. The rice should still have a little bite and shouldn't be too soft. Let it cool completely.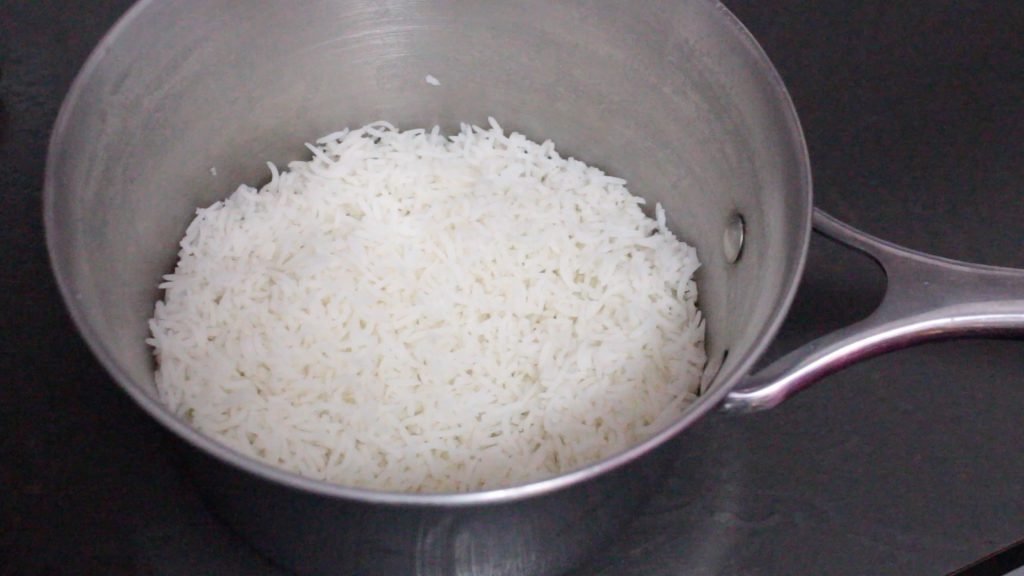 It's best to cook the rice atleast a few hours before you need to make the fried rice. You can even make the rice the previous day. Let it cool completely and refrigerate till you need to use it.
Step 2 – The spice paste
This couldn't be simpler. Its a combination of some Thai birdseye chillies and garlic. We like our food spicy and this recipe is no exception. If you like Thai food but want to cut down on the spice, you can use a combination of birdseye chillies and some cayenne peppers or any other milder chilly. Grind this to a coarse paste.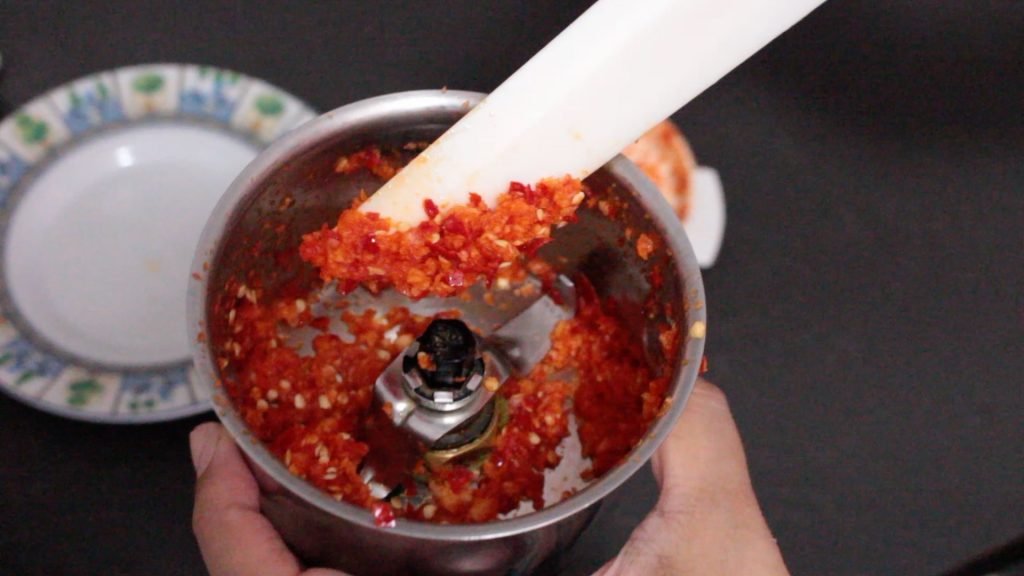 Step 3 – The sauce
This sauce makes this fried rice what it is. I have had to make a few substitutions to make this recipe vegan friendly but I believe this combination of sauces comes really close.
Simply stir together all the ingredients for the sauce – the miso paste, soy sauce, mushroom sauce, white pepper powder and sugar. Set this aside to use once we start cooking.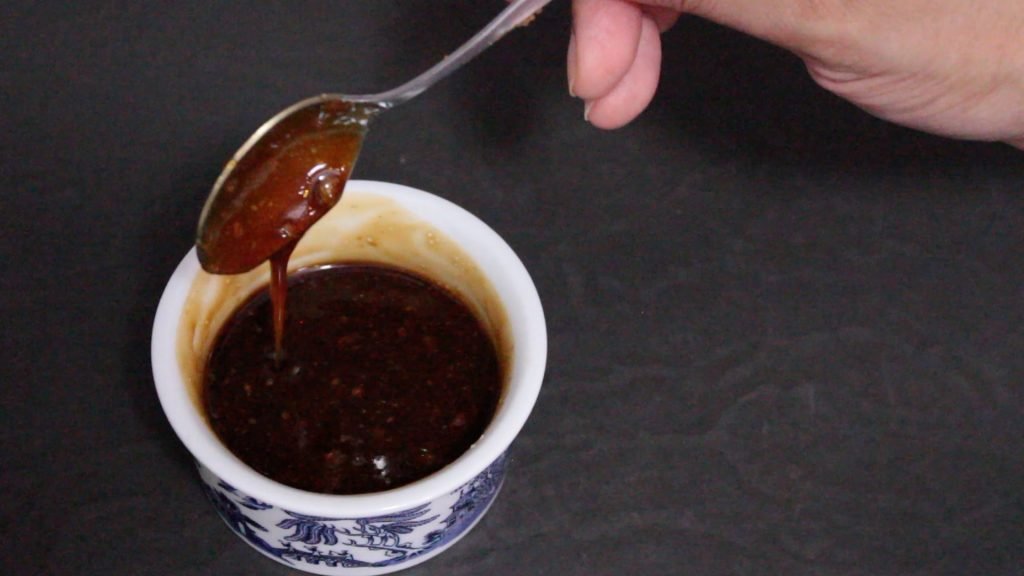 Step 4 – Prepping the veggies
Clean and cut all the vegetables and keep them ready. I use onions, carrots, zucchini, mushrooms and broccoli.

Pick the Thai basil leaves and keep them in a separate bowl.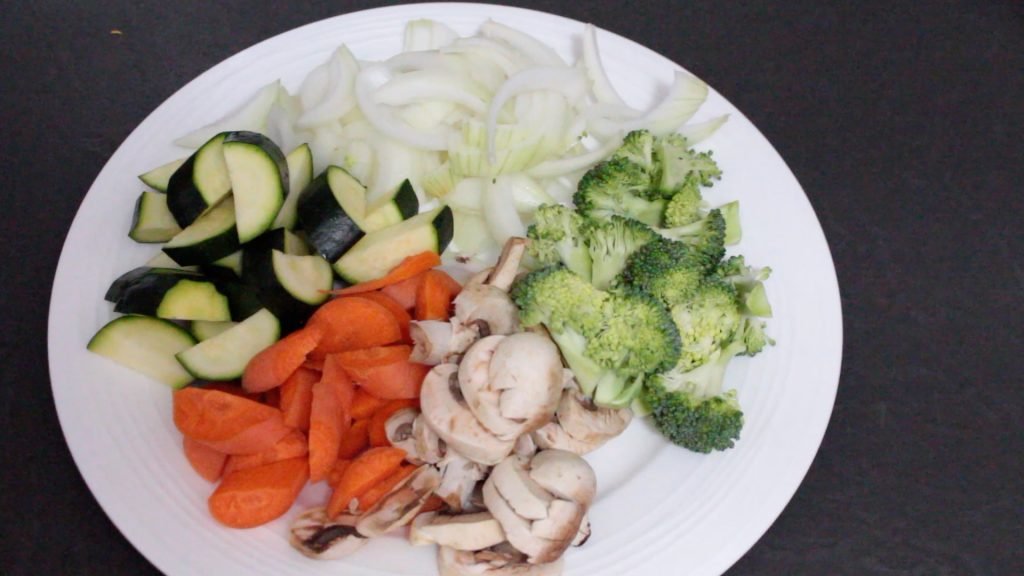 Step 5 – Making the fried rice
This is by far the easiest part of the recipe. Now that all our prep work is done, the rest is just a matter of stir frying our ingredients in stages. Make sure you use a large wok or a large enough pan. At this stage, all the cooking is done on a high heat.
Now that you're familiar with the process, let move on to the recipe.
Vegan Thai Chilli Basil Fried Rice
Cuisine: Thai
Difficulty: Medium
This Vegan Thai Chilli Basil Fried Rice is packed with vegetables. It uses all plant-based ingredients but still has all the flavors found in Thai cuisine.
Ingredients
2/3 cup basmati rice

3 Thai birdseye chillies

4 large cloves of garlic

A small handful of Thai basil leaves

A small wedge of lime

2-3 tsp. peanut oil

For the sauce –

1 tsp red Miso paste

2 tbsp soy sauce

1 1/2 tbsp Mushroom Oyster Sauce

1/2 tsp White pepper powder

1 scant tbsp raw cane sugar

Vegetables –

1 onion

1 zucchini

1 carrot

5 cup mushrooms

1/2 cup broccoli florets
Directions
Wash and soak the rice for 30 minutes. Drain and rinse with some fresh water and drain again. Bring a large pot of water to a boil, season with salt. Add the drained rice and boil till the rice is cooked about 80% of the way. Drain and rice and cool completely.

**See Note 1.
Prep the spice paste. Grind the chillies and garlic to a coarse paste and set aside.
Make the sauce. Place all the sauce ingredients in a bowl and stir together till well combined.
Prep the vegetables. Peel and cut the onion into thick slices and separate the onion layers.

Cut the zucchini and carrot in half lengthwise and cut into thick slices.

Slice the mushrooms. Cut the broccoli into small florets to help it cook faster.
To make the fried rice –
Heat a large wok on high heat. Add 1 tsp peanut oil and fry the mushrooms till they develop a little color.

Add another spoon of oil and add the onion. Stir fry till the edges of the onion slices start caramelizing.
Add the broccoli and stir fry till it has cooked about half the way.
Add the carrots and saute.
Then add the zucchini and saute till the veggies cook through to your liking.

** See note 3.
When the vegetables are cooked, add the chilli garlic paste and stir through well.
Stir the sauce and add to the wok. Stir through to distribute well.
Immediately add the rice and gently stir through to coat the rice with the sauce.
At this stage, let the rice cook through for about 20-30 seconds or till the sauce has been absorbed by the rice and the rice has heated through well. Gently stir fry the rice while it is heating through.
Take off the heat and add the Thai basil leaves and stir through.
Serve hot with some cucumber and a wedge of lime.

Enjoy!
Recipe Video
Notes
1. Boil the rice atleast a few hours before you need to make the fried rice. You can boil the rice the previous day. Cool it completely and refrigerate till you need to make the fried rice the next day.
2. You can use regular white sugar to replace the raw cane sugar. If using white sugar, reduce the amount of sugar used.
3. I prefer my veggies a little on the crunchy side. You can choose to cook the vegetables a little more till they are done to your liking.
Chickpeas! If you've been around this space a bit, you'll know that I love my beans and lentils. Chickpeas happen to be right on top of that list. The best part is, they are so easy to work with. And No! I'm definitely not talking about using the canned stuff. While you can use canned chickpeas in most recipes that call for chickpeas, and I have too (when I didn't have access to my pressure cooker), there is nothing like cooking your chickpeas or any other beans for that matter, from scratch. I haven't bought the canned stuff for years now. I buy dry beans and lentils by the kilo.
To cook the beans, simply wash and soak them for 6-8 hours, drain and refresh the water. I use a pressure cooker to cook my beans in my stovetop pressure cooker with water, salt and a couple of whole Kashmiri chillies. It takes me just 5 minutes of cooking time after the pressure has built up to cook my beans through. However, each pressure cooker is different. Please refer to the user guide for your cooker, to see how long you need to cook the beans. If you done have a pressure cooker, cook it in a pot with sufficient water till tender.
Once, you've boiled your chickpeas, you can use them in so many different ways. I have shared a recipe for
Chole
on the website previously. That is still a great recipe but I have since tweaked it a little and I'm going to share that new version of the recipe today. I will call it Chana Masala to avoid any confusion. You can also use the boiled chickpeas in a
simple chickpea salad
, make some
Hummus
or use the kala chana (a darker version of the chickpeas) to make this amazing stir fry called
Black Chana Fugad
. They are all delicious.
Chana Masala
1 cup dry chickpeas (Wash, soak for 6-8 hours and cook till tender. Reserve the boiling liquid.)
1 bay leaf
2 inches of cinnamon
5-6 cloves
8-10 peppercorns
2 green cardamom pods
1 black cardamom pods
1 tsp cumin seeds
1 onion, finely chopped
2 green/red chillies, split lengthways
1/2 tsp ginger paste
1 tsp garlic paste
1/2 tsp turmeric powder
1 1/2 tsp Kashmiri chilly powder
1 1/2 tsp garam masala powder
1 cup tomato puree / passata
1 tbsp oil
Salt, to taste
1/2 tsp sugar
Fresh coriander leaves and stalks, finely chopped, to garnish
Heat the oil in a large vessel.
Add the bayleaf, cinnamon, cloves, peppercorns and cardamom pods.
When the spices turn aromatic, add the cumin seeds and stir.
Immediately add the chillies and onion. Saute till the onions have softened and have starting getting a little brown around the edges.
Add the ginger and garlic paste and stir through. Saute for another minute.
Add the turmeric powder, chilly powder and garam masala powder and stir well.
Add a couple of tablespoons of the stock from cooking the chickpeas to deglaze the pan and prevent the spices from burning. Stir through thoroughly.
Now add the tomato puree and cook for 3-4 minutes stirring every once in a while.
Add some more stock to bring the curry to the desired consistency. Please note, the curry will thicken a little as it cooks.
Bring it to a boil. Cover the pot and simmer for 5 minutes.
After 5 minutes, stir and check for seasoning. Add more stock if needed. Add more salt, if needed. Add 1/2 tsp of sugar. (Depending on the tomatoes you're using, you may need to add a little more sugar. Add to taste.) Stir through. Cover and simmer for another 5-7 minutes.
At this stage your curry should be cooked. Lastly add in the boiled chickpeas. Cook for another couple of minutes till the chickpeas have heated through.
Garnish with chopped, fresh coriander and serve hot.
Enjoy!!!
This recipe takes me way back to when I'd first enjoyed some Tava vegetables. It was at a party that had a huge buffet offering, both non-vegetarian and vegetarian. While the non-vegetarian spread was really impressive, I was intrigued by a live stall happening over on the veggie side of the table. There was a massive tava (cast iron griddle) and it had a variety of vegetables on it. The aroma was deliciously intoxicating and I knew I had to try some. I helped myself to a small assortment, some salads and took some naan bread to go along with it. Little did I know that this dish would have me hooked for a long time to come. This was about 7 years ago, I think. To this day, the thought of those tava vegetables has me yearning for some.
After a lot of searching, high and low, I found a recipe, that I tweaked to try and replicate the flavors I so vividly remember. Since I cook for just my husband and I, this recipe is scaled down. I also just use my favorite veggies from that day – okra (bhindi) and potatoes (aloo). I found that these are also some of the easy ones to work with. I don't make this recipe very often, because the veggies start off by getting deep fried and are then tossed with a spice mix (tava masala), and the deep frying tips this to the slightly indulgent side.
The spice mix, or my version of the tava masala is hot a very hot mix. The spices used are warm and flavorful. The chaat masala is an integral part of this recipe. If you haven't tried it before, it is a blend of a few spices like cumin, pepper and a few others with some powdered mango. So it has a unique flavor profile, you get a slight hit of salt, tang from the mango and delicious flavor from the blend of other spices. You can easily find this at any Indian grocery store. (This chaat masala also works well with other chaat recipes you find on my blog.)
So try this easy stir fry recipe. This is best enjoyed served hot with some chapatis, rotis, naan or other flatbread of your choice. It would also work well as a side dish to some hearty Dal & Rice.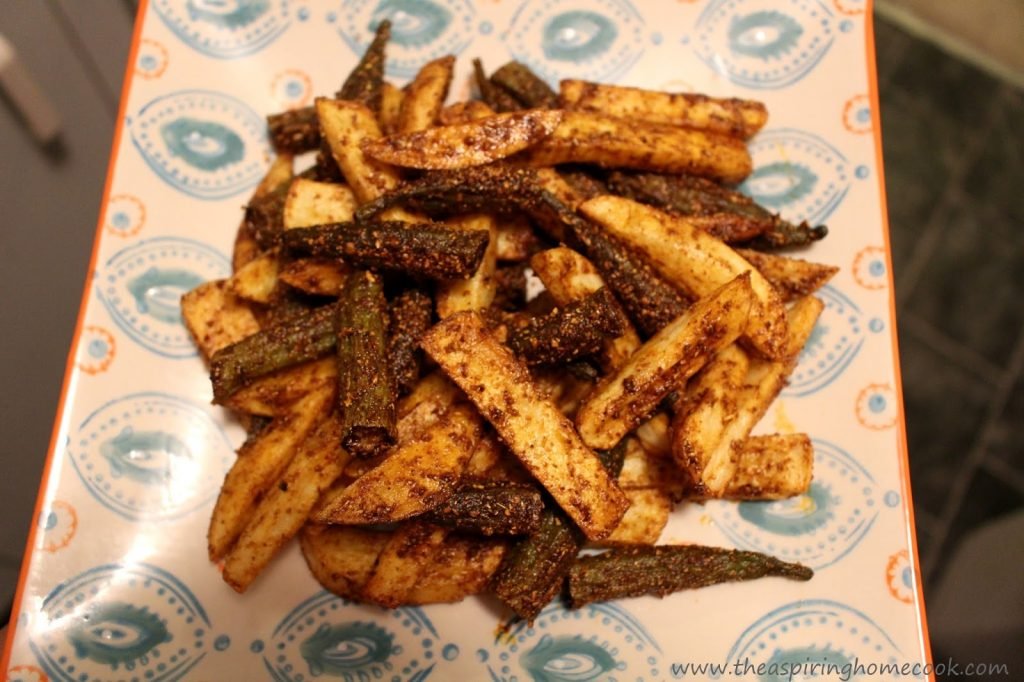 Tava Style Aloo Bhindi


3 medium potatoes
20-25 okra
1/4 tsp turmeric powder
1/2 – 1 tsp Kashmiri chilly powder (or any other mild chilly powder)
1 tsp coriander powder
1/4 tsp cumin powder
1/4 tsp chaat masala
Salt, to taste
1 1/2 – 2 tbsp oil, plus oil for deep frying
Place a pan with the oil for deep frying on medium high heat.
Wash and peel the potatoes and cut into evenly sized fries / chips.
Wash the okra and pat dry. Chop the stalks off the okra and discard. Try and use okra that is similar in size, if not, cut them down to about the same size as the potato pieces.
By now, the oil should be hot. Carefully, and in batches, add the potatoes to the oil. Don't overcrowd the pan or the oil will froth over and spill.
Deep fry the potatoes on medium heat till they've cooked through. Drain using a slotted spoon and set aside on some kitchen paper to get rid of any excess oil.
Deep fry the okra on medium heat till they have start getting a little darker in color and have started crisping up.
Drain using a slotted spoon and set aside on some kitchen paper to get rid of any excess oil, like you did the potatoes.
Take the oil for deep frying off the heat.
Heat 1 tbsp oil in a large pan on medium heat. When the oil is warm, NOT hot, add in the turmeric powder first and then add the rest of the spice powders.
Stir that through for about 20-30 seconds or till the spices get aromatic.
Add the okra to the pan and toss well. Lastly add the potatoes and toss to coat the veggies with the spices evenly.
Check for seasoning and add salt, to taste. Toss well.
Serve hot.
You can watch the video recipe here –
It's been a while since I posted an Indian recipe. Especially a savory one. And today, I'm going to do just that. Indian recipes often get a bad rep for being notoriously complicated, or mind numbingly spicy or involving too many ingredients. Today's recipe will prove all of that wrong. Today, I am going to share with you my Mum's recipe for a vegetable Sambhar. My mother has always been a fantastic cook and when she visited us last year, I was lucky enough to learn how she makes it. There's a couple of steps to follow, but they are so easy and quick, you'll be pleasantly surprised at how easy some Indian recipes are.
Here, on The Aspiring Home Cook, I love to make things from scratch. I have tried a made from scratch version of Sambhar too, and it was okay, but didn't turn out like my Mother's did. So for this one, I'm following her recipe and since she's uses a store bought blend called a Sambhar Masala, I did just that. This Sambhar Masala is a delicately balanced blend of spices and gives a beautifully complex depth of flavor to the dish. Now, I always have a box of this masala in the pantry. I've used a couple of brands in the past like Everest and MDH, both of which you should be able to find at your local Indian grocery store, and they are both good. This time around, I've used the Everest Sambhar Masala.
Moving on to the vegetables. I use a mix of all sorts of veggies. This time around, I used some sweet potato, carrots, eggplants (I grew these ones in my own backyard, so I'm thrilled about them), okra / lady fingers and drumsticks. You can also use bottle gourd (white pumpkin), pumpkin and potato if you like. Use what you have on hand. Typically a sambhar always has drumsticks, eggplant and some bottle gourd. For those of you who aren't familiar with drumsticks, its the fruit of the moringa plant and supposed to be very good for you. They come in long canes ranging from 1 to 2 feet in length. They are chopped into smaller pieces, about 2 inches long and you don't eat the outer hard skin. Your after the pulp on the inside and the seeds. It is eaten much like how you would scrape the icing from the inside of an oreo cookie with your teeth.
This sambhar can be served up with some plain, boiled rice and a side of papad (poppadums) and Indian pickles of your choice. This sambhar pairs very well with idlis or dosas. I also enjoy a bowl of this stew with some crusty bread.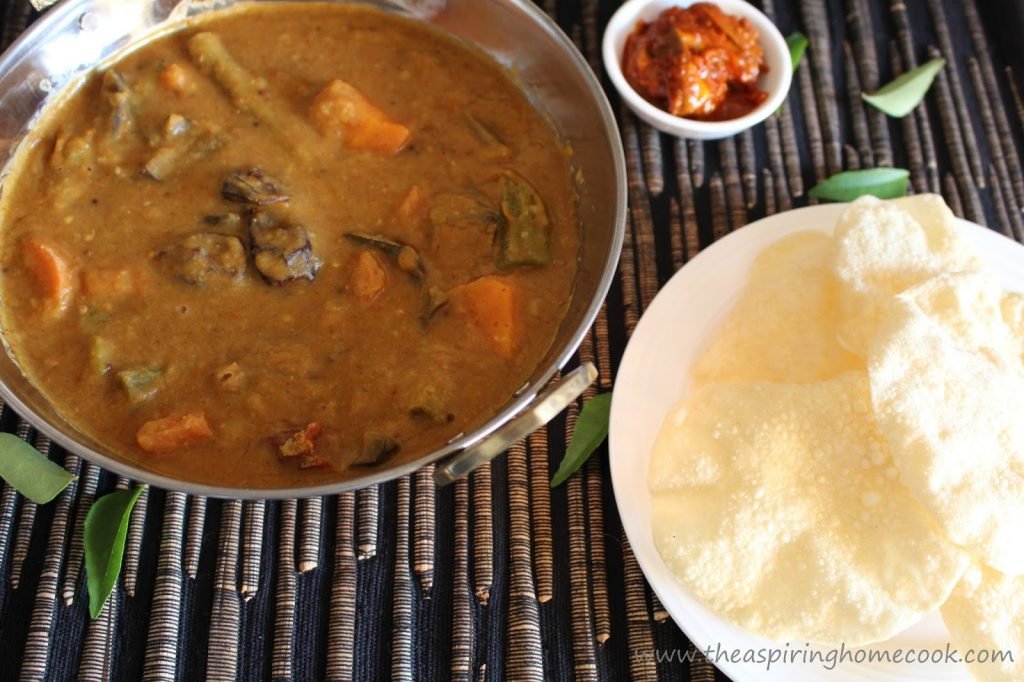 If you want to see this being made, check out the video version of the recipe here –





Vegetable Sambhar


1 cup toor dal (pigeon peas)
1/2 sweet potato
2 carrots
A handful of okra
2-3 small eggplants
A couple of drumsticks (A handful of frozen pieces)
8-10 curry leaves
1/2 tsp black mustard seeds
3 dried Kashmiri chillies
1 tbsp Sambhar masala
1/2 tsp Kashmiri chilly powder, or any mild red chilly powder
1 tbsp olive oil
Salt, to taste
Tamarind, the size of a small walnut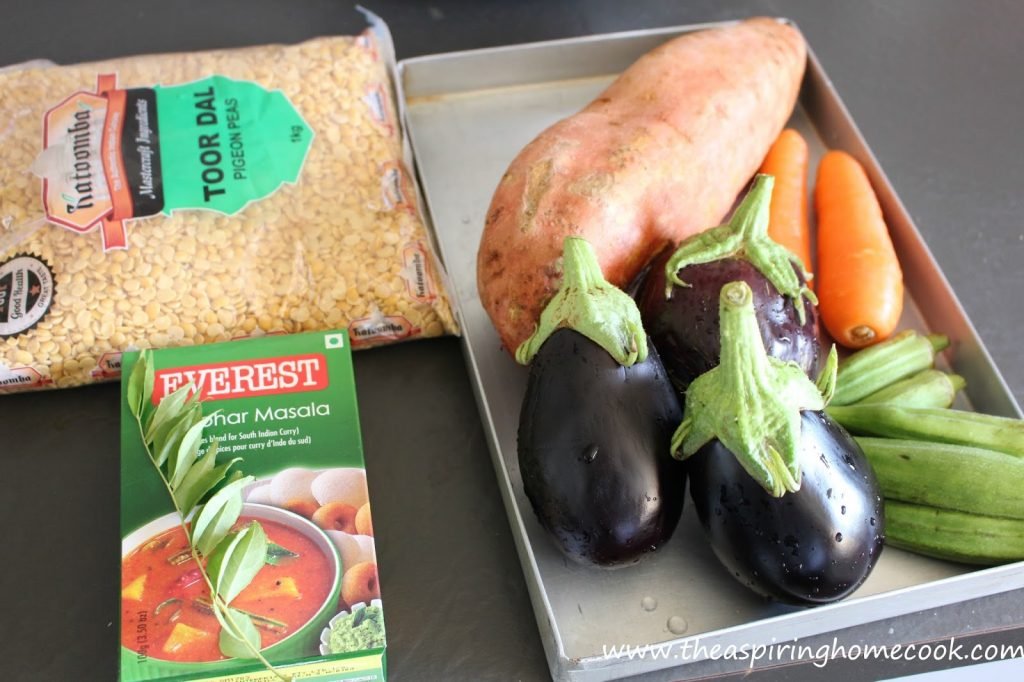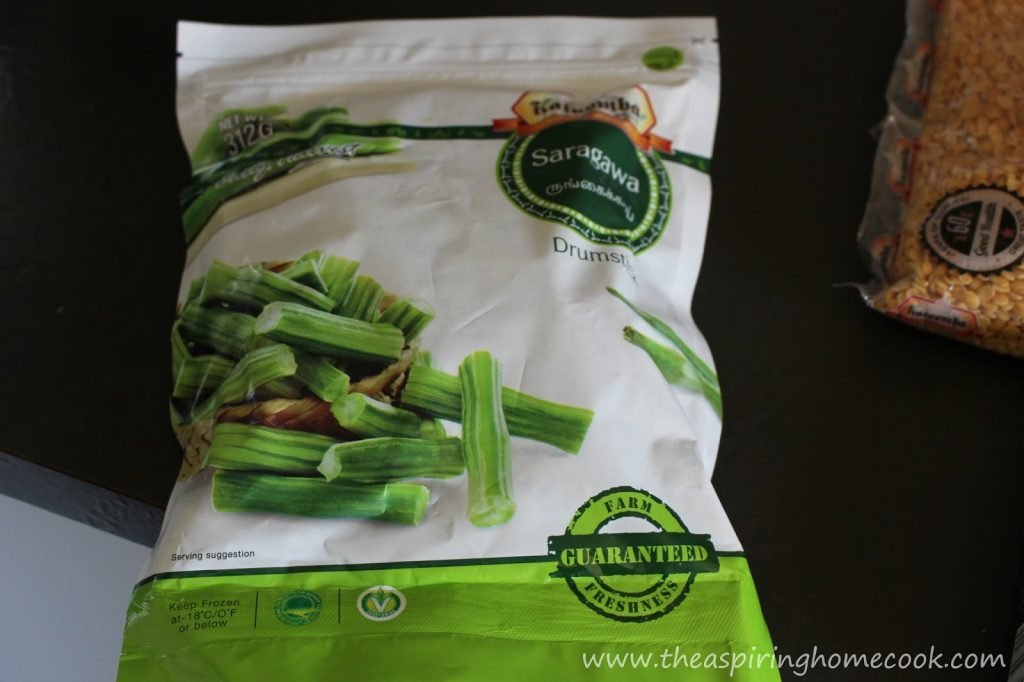 Cooking the lentils –


Wash through the toor dal with cold water and drain. Do this 2-3 times.
Cover the dal with fresh water till the dal is fully submerged and set aside to soak for about 10 minutes.
While the dal is soaking, chop up the vegetables you are using into similar sized cubes.
Drain the dal, and rinse through with fresh water and drain again. Pressure cook the dal with 2 cups of water and 1 tsp of salt. Cook till tender, almost mushy. It takes about 5 minutes in my WMF pressure cooker. Follow your manufacturers instructions to get you the best results. If you don't have a pressure cooker, simply boil it in a pot with plenty of water till it is well cooked.
Once the pressure dies down, open the pressure cooker.
Cooking the vegetables –
While the dal is cooking, place the chopped vegetables in a large pot, top off with water from a recently boiled kettle and 1/2 tsp salt. Boil the veggies till they're almost done. Don't over cook the vegetables, because they will continue to cook in the sambhar. When the veggies are ready, drain them and set them aside. Reserve the water the vegetables were boiled in.
To make the sambhar –


Soak the tamarind in a small bowl with about 1/8 cup of warm water. Set aside till later.


Heat 1 tbsp of olive oil in large pot on medium heat.
When the oil is hot, carefully tip in the mustard seeds. When they start to sputter, add the curry leaves and the Kashmiri chillies.
When they have warmed through and released their flavors and aromas into the oil, lower the heat and add the cooked lentils and the water it was cooked in. Stir through.
Now add the sambhar masala and red chilly powder and stir through.
Add 1/2 – 1 cup of the vegetable stock to loosen the lentil curry as needed. You can add as much or as little of the stock as you need, depending on the consistency you'd like the sambhar to be. Keep in mind, the sambhar tends to thicken a little as it cooks.
Bring this back to a boil and add the cooked vegetables.
Once everything has heated through, check for seasoning and add more salt, if needed.
Now, mash the tamarind with your fingers in the water it was soaking in to extract the pulp. Pass this through a sieve into the pot of sambhar. Add this tamarind extract to taste.
Let it simmer for a couple of minutes.
Serve hot!!!
Back when I was in Bombay, Christmas time was always pretty hectic. Who am I kidding? Hectic doesn't even start to describe it. It used to be insanely manic. See I used to run a home based business and take orders for Christmas sweets. And come December, activity levels in the kitchen would kick into overdrive. Okay so you're probably wondering why I'm headed with this. Well during these insanely busy periods, I was fortunate enough to have my parents cook for us and on one such day my Dad brought over a bunch of yumminess and this Black Chana Fugad was one such dish.
A Black Chana Fugad is simple and humble dish. That being said, I loved it. What is this Black Chana Fugad? Black Channa is just Black (dark) chickpeas. Fugad is a Goan version of a stir fry with grated coconut. Now, I haven't been able to get the recipe that my Dad used, but with a little help from the internet, I found a recipe that actually came quite close. Maybe when I visit my parents next, I will get my Dad's version of the recipe, but for now, I'm happy to use this recipe.
You could use canned black chickpeas if you can find any. I use the dried version.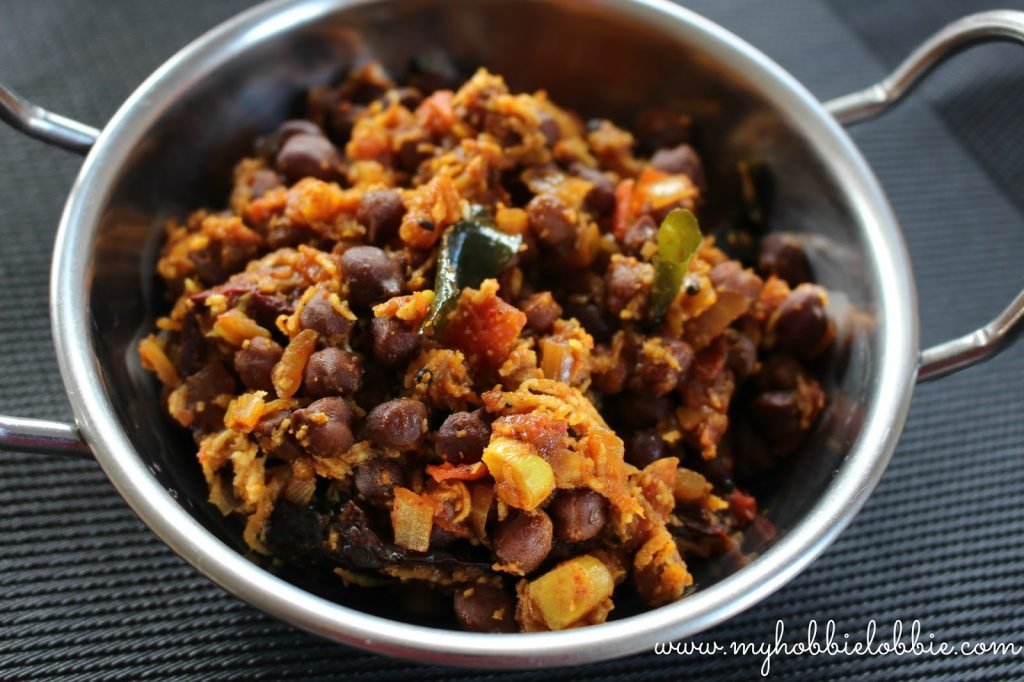 Black Chana Fugad / Black Chana Sukkhe
1 cup (dried) black chickpeas
1 tbsp vegetable oil
1/2 tsp mustard seeds
8 curry leaves
5 cloves of garlic
1 large onion, finely chopped
1 large tomato, finely chopped
1 tbsp Kashmiri Chilly powder (this is a mild red chilly powder, if you don't have access to this use a smaller quantity of red chilly powder, to taste)
1 tbsp coriander powder
1 tsp cumin powder
1/4 tsp black pepper powder
1/4 tsp turmeric powder
1 tsp tamarind extract
1 tsp jaggery / palm sugar
1/4 cup grated coconut
Salt, to taste
Wash the black chickpeas in water and drain a couple of times.
Soak the dried chickpeas in water overnight (or about 8 hours). Make sure the water is about 2 inches over the chickpeas and use a large bowl because the chickpeas will expand in size.
Drain the water and rinse the chickpeas fresh water and drain again.
Place the chickpeas in the pressure cooker with the water level about 1 inch over the chickpeas. Add 1 tsp of salt and 2 whole dried red chillies (preferable Kashmiri chillies) and pressure cook till tender.
**Every pressure cooker is different so I can't give you an accurate amount of time it will need to cook. I use a WMF pressure cooker and when the pressure builds to the gentle cooking pressure point, I turn it down to a simmer and leave it to cook for about 4 minutes. If you do not have a pressure cooker, just cook the chickpeas in ample amount of salted water till tender. Use your manufacturers instructions to gauge how long to pressure cook the chickpeas.
Release the pressure and after the pressure has completely died down, carefully open the cooker.
Drain the chickpeas and reserve about a cup of the stock.
To make the fugad –


Heat the oil in a pan on a medium heat.
Add the mustard seeds and let them sputter.
Now add the curry leaves and crushed garlic cloves. (You just want the cloves bruised and popped open, you do not want to mince it or make a paste.)
Now add the onion and saute till soft and translucent.
Add the chilly, coriander, cumin, black pepper and turmeric powders and stir well.
Now add the chopped tomato and stir well. Cook this till the tomato has softened a little.
Add the drained chickpeas and stir well.
Add the tamarind paste gradually and to taste. (You may or may not need all of it, depending on the tartness of the tomato you have used.)
Add a couple of tablespoons of the stock and let it all cook down for a minute or so.
Check for salt and add more, if needed.
Add the grated coconut and stir well. If you want more gravy you could add a little more stock.
We usually have this dish on the dry side, so we let the stock cook down completely.
Once the coconut has cooked for a couple of minutes, take off the heat and serve hot.
This dish goes beautifully with chapatis or rotis.
Enjoy!
I sometimes find myself trying to plan my meals for the week and nothing I can think of sounds appealing. Has that happened to anyone before? This was one such week. I had a few things in the fridge but I wanted to whip up something new with them, not the same old stuff I've tried before. So I went off to scout on Pinterest (which, by the way is one of my most favourite sites in the whole world … lol) and the internet at large. After tossing up a few ideas, I found exactly what I was looking for. Turns out I wanted some good comfort food but didn't feel like spending all the time the traditional versions require.
This is a 2-part meal idea. Part one is all about the lemon orzo with asparagus. All I will say about part 2 is YUM. That's the next post. You should definitely come back for that one. Its a new favourite for me. This lemon orzo is a combination of some of my favourite things – pasta, asparagus and lemon. I love the vibrant colours and beautiful flavours. This is something you can serve up with a nice Sunday / holiday roast or as a side dish for your next lunch / dinner party. I can also see this working really well at your next backyard barbie (BBQ). Try it out and you'll be glad to have something so simple but so delicious to add to your recipe box.
I have tried to shop for Orzo before, but have never been able to find any. I did the next best thing and bought Risoni instead. From what I understand they are very similar except for a slight difference in the size. One is made to resemble an unprocessed grain or barley and the other rice. You could use either. I should have just titled this Lemon Risoni I guess, but I'll leave it as is, for now. I substituted the parsley with some fresh cilantro as thats all I had. Also, the next time I make these, I might either cut down or leave out the lemon zest. I love lemon zest in certain things but this time we personally found it too strong a flavour.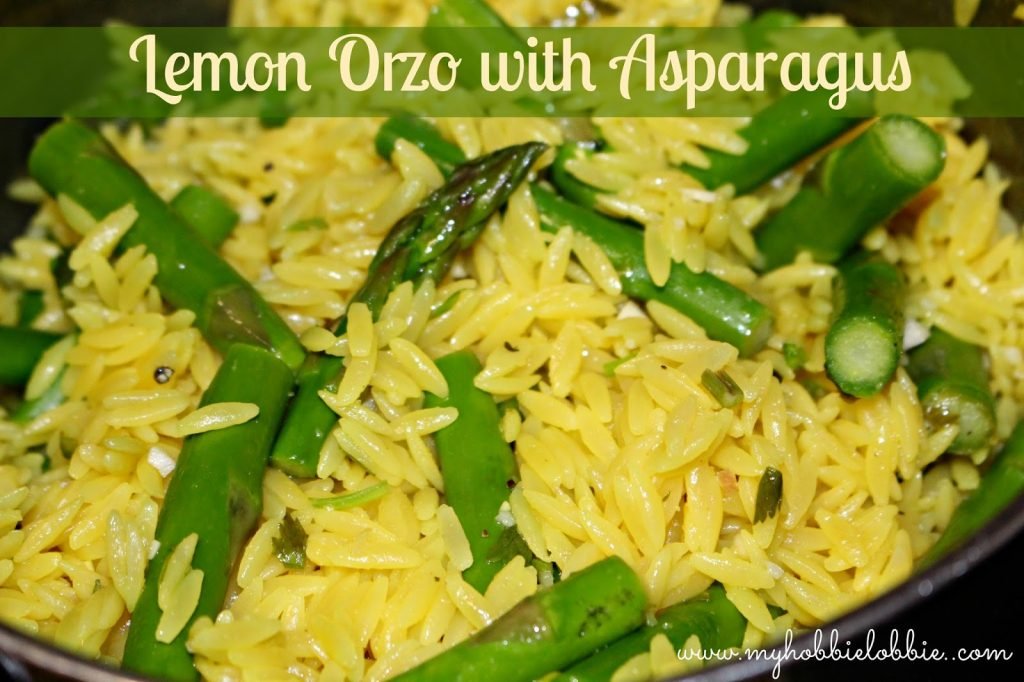 Lemon Orzo with Asparagus
Adapted from: Jo Cooks
Yields: 4 portions
1 bunch asparagus (about 1/2 lb or thereabouts)
1 cup chicken stock (use vegetable stock for a vegetarian version)
1- 1 and 1/2 cup water
1 tsp salt
A pinch of turmeric powder
1 cup dry uncooked pasta (orzo or risoni)
1/4 cup fresh cilantro, chopped
For the dressing –
Zest and juice of 1 lemon
3 cloves garlic, minced / grated
Salt, to taste
Freshly cracked black pepper, to taste
2 tbsp extra virgin olive oil
To cook the asparagus –
Trim the asparagus and lay the spears in a shallow dish (a baking tray works best), pour enough boiling water over it to cover it.
Season with a little salt, to taste.
Cover with some cling film or another tight fitting lid and leave aside to till the water is just warm to the touch. (You can cook your pasta and prepare your dressing in the meanwhile.)
Drain out the water and cut the spears into about 2 inch long pieces.
For the dressing –
In a bowl, place the zest and juice, garlic, salt and pepper.
Add the oil and whisk till it emulsifies a little into a nice dressing. Set aside.


For the pasta –
In a large pot, bring the stock and water to a boil.
Add the salt and turmeric and bring back to a boil.
Add the pasta to the pot and cook till the pasta is done. (I like to leave it a little al dente.)
Drain the pasta.
Place the hot pasta in a large bowl with the asparagus and cilantro.
Whisk the dressing a little, if needed and add to the bowl.
Mix well.
Top with a little butter. (This is optional.)
Enjoy!!!
This post comes with a little bit of a back story. One, that made me very sceptical about trying it out. Back in the day when we stayed over at my in-laws place for a short while, a chana dal with spinach would ever so often appear in the dinner rotation. I usually am very tolerant with food and will eat anything gratefully. So, I somehow ate what was essentially a bland mash of spinach and chana dal. Not one of my favorite food memories. Turns out this dish used to be made very well by my late mother in law, but the gang hasn't been able to replicate or even come close to the dish she used to prepare. My husband often asked my to try it out. Between you and me, I was not very eager, after tasting the infamous mush.
Eventually I gave in to his requests and decided to look online for a version that might appear like it would be better than what I'd had in the past. A recipe I found on Taste.com.au piqued my interest and I decided to give it a try. I am so glad that I did. My version is very loosely based on that recipe. The resulting chana dal with spinach is really good. It packs a good amount of flavour and textures and has worked its way into my heart and my dinner rotation.
It is a simple dish and you can choose to serve it with some rotis / chapatis or as a side to your favourite meat dish.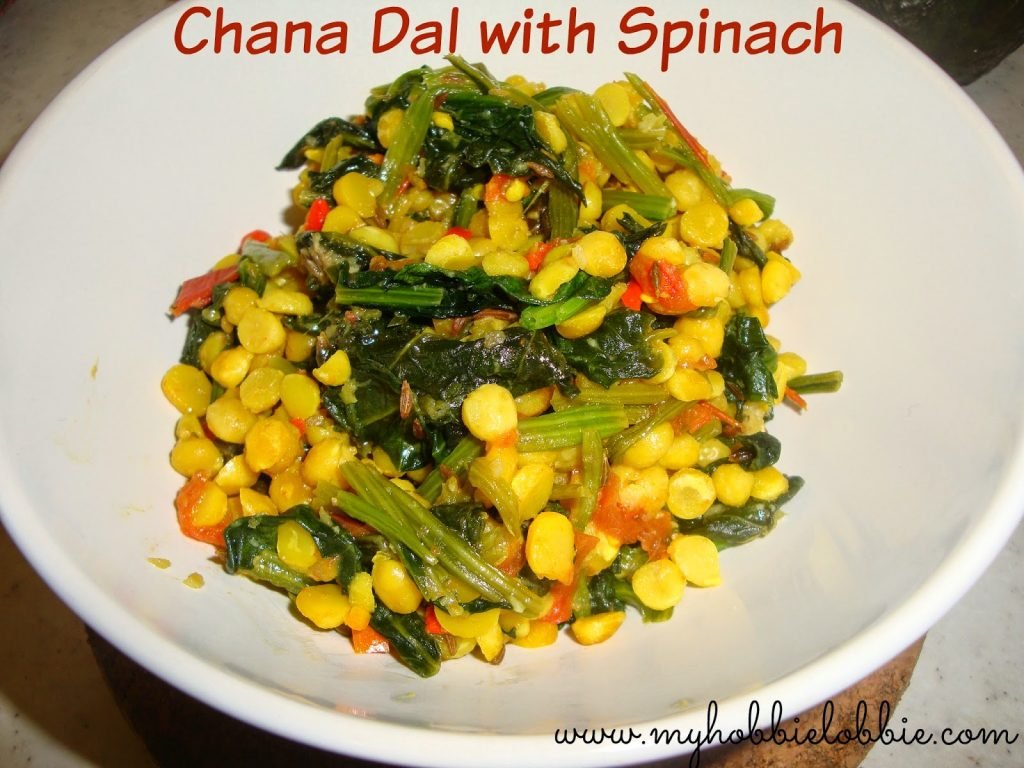 Chana Dal with Spinach
Adapted from: Taste.com.au
125g Chana dal
1 tsp freshly grated ginger
2 green chillies, finely chopped (You can use just one if you'd like)
1/2 tsp turmeric powder
1 tomato, chopped
1 tbsp ghee (clarified butter)
1 tsp cumin seeds
6 fresh curry leaves
3 garlic cloves, finely sliced
2 cups spinach leaves, roughly chopped (You can also use baby spinach)
Salt, to taste
Wash the chana dal a couple of times in water and drain.
Soak the chana dal for about an hour. Drain the water.
Boil the chana dal in some fresh water (about 3 cups) and a tsp of salt. After it comes to a boil, reduce the heat and simmer for about 30 minutes. Cook the dal till it has softened but still has some bite to it. You DO NOT want a mush.
Drain and reserve some of the liquids.
Heat the ghee in a large pan over medium high heat.
Add the curry leaves, garlic and cumin.
Once the cumin sputters, add the ginger, chilli and turmeric and stir to mix well.
Once the spices have turned fragrant and have mixed well (should take about a minute or so).
Add the chopped tomato and stir. Cook for a couple of minutes, till the tomato softens and breaks down a little.
Add the chopped spinach / baby spinach and stir it into the spices till it has just wilted.
Add the drained chana dal and stir through. You can add a tablespoon or 2 of the reserved liquid, if you think it is too dry.
You want the liquid to all mostly dry up. Add it one tbsp at a time. You just want enough liquid to help warm the dal through without burning. You may not need any of the liquid at all.
Check the seasoning and add more salt if needed.
Serve hot.
Is anyone up for quick, easy, one pot meals? I though so! Like so many of you, I too am constantly on the look out for one pot meal wonders. For me, its a tad easier when I have the option of using meat or seafood to flavor it up. This tava pulao took me by complete surprise. Tava means griddle and pulao means a savory rice preparation, so the name doesn't really talk about how wonderful this vegetarian one pot meal is. Tava pulao is also considered street food and can be found at street food carts in most parts of the city. I've seen a couple of such carts, and although I'm not a snob where street food is concerned (I love chaat), I just haven't been able to get myself to eat a portion. However, I did manage to sample this a few times at the office cafeteria. Those of you who've been subject to cafeteria food atleast in Mumbai, know exactly what I'm talking about. While being edible, their version of this pulao wasn't spectacular or even flavorful. You need a curry to go through it.
While I was on the hunt for some vegetarian recipes that I could add to my arsenal, I came across a recipe for Tava Pulao. I hadn't thought about this in a while and when I saw it, I decided that this was as good a time as any to try it out. So this was our Sunday lunch a while ago. Looking at the ease of putting this together, initially, I was a little skeptical about how it would turn out. But we enjoyed this so much, that I've made it on two other occasions since then. It has a lovely assortment of vegetables and is beautifully spiced. You can use whatever assortment of vegetables you have at hand. As far as the spices go, the original recipe calls for Pav Bhaji Masala. I didn't have any, so I just left it out and it turned out fine. I was questioning the practicality of having to buy an ingredient to use in just one dish and that kept me from buying it for a while. But I now want to try making my own Pav Bhaji (which is another favorite in our house), so I picked up a box of the masala yesterday. I'm eager to see how it impacts the flavor of this dish. So stay tuned to see how my Pav Bhaji making endeavor fares, but in the meanwhile, here is the recipe for the Tava Pulao.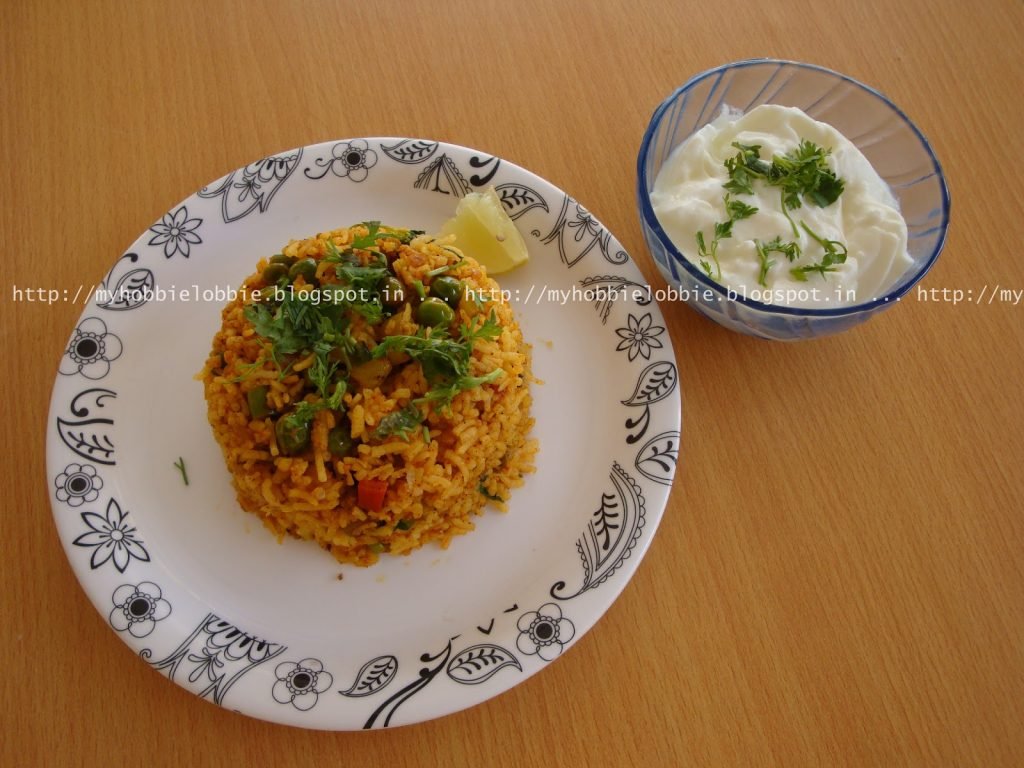 Tava Pulao
Adapted from: Sizzling Tastebuds
Serves 2
1/2 cup long grained rice
2 tbsp vegetable oil
1/2 tsp cumin seeds
1 large onion, finely chopped
1 cup mixed vegetables (I used green peas, diced carrot and chopped up french bean)
Salt, to taste
1 tsp coriander powder
1/2 tsp red chilli powder
1/2 tsp turmeric powder
1/2 tsp amchur powder (dried mango powder)
1 tsp garam masala powder
Lemon juice, a few drops over the rice
1 tbsp fresh coriander leaves, chopped
Wash and soak rice for about 10-15 minutes, then boil the rice till done. Don't overcook it, you don't want it to turn mushy. Using a fork, fluff up the grains of rice and let it cool down a little.
In a large pan (originally a tava is used, but I didn't have a large enough one, so I just used a pan instead), heat some oil and tip in the cumin seeds. Let them sputter while making sure they don't burn.
Add the onions and stir fry till slightly browned.
Add the chopped vegetables and saute for about 5 minutes. They should be cooked about 3/4 the way now.
Add the powdered spices and mix well, taking care that you don't mash the vegetables while stirring.
Add the cooked rice to the veggies and toss well to mix.
Add a dash of lemon juice and coriander leaves to finish off.
Serve this with some raita. I served it with a plain yogurt sprinkled with some chopped coriander leaves, but you could also serve a mixed vegetable raita instead.
This recipe is linked to –
Hearth & Soul
Trick or Treat Tuesday
Totally Tasty Tuesdays
Tempt My Tummy Tuesday
Sometimes, when I'm just not in the mood to cook something elaborate, I like to opt for easy and quick meals with pack maximum flavor with minimum fuss. I'd rather have something home cooked than have to order out. Once such meal is Nigella's Sesame Peanut Noodle Salad. Its not just a salad, but a slightly larger portion can make it a meal in itself, and a very satisfying one at that.
The dressing is super easy to make and the only actual cooking involved in boiling some noodles. You can pretty much alter this salad to accommodate the salad veggies that you have at hand. In the past I've also added some leftover grilled pork and it was fabulous. I think shrimp or even chicken would make good additions to this salad. This time around, I kept it vegetarian.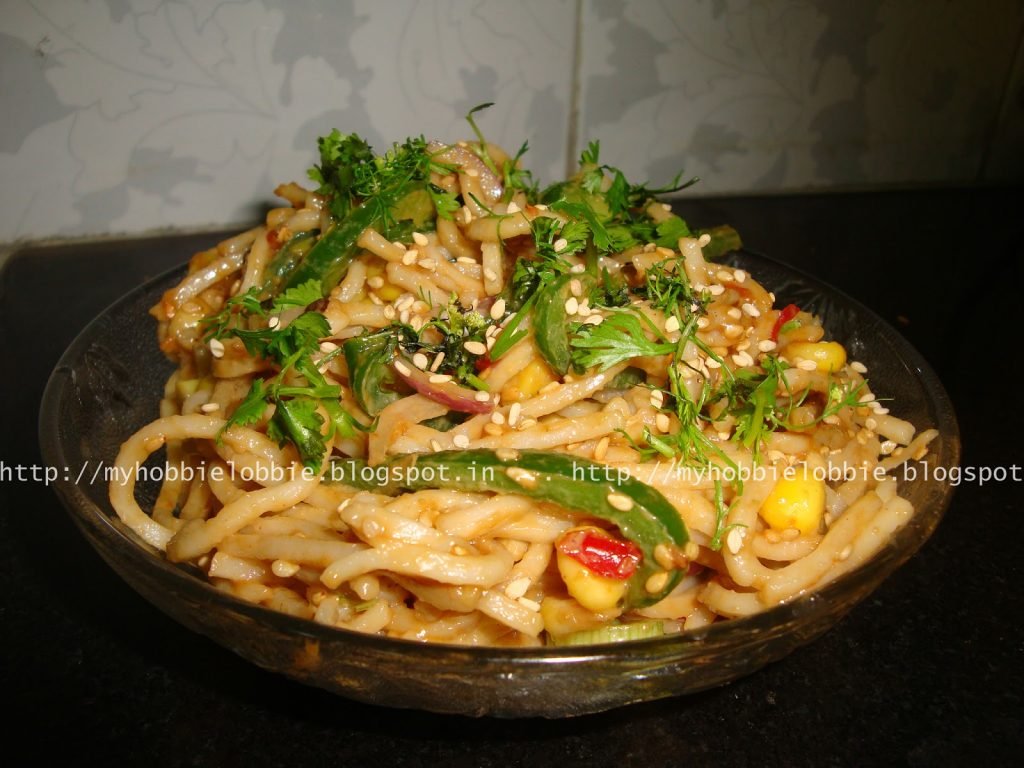 Sesame Peanut Noodles
Recipe by: Nigella Lawson
1 packet noodles, boiled, drained and cooled
A handful of bean sprouts (I didn't have any so I used corn kernels. Learn how to make you own bean sprouts here.)
2 spring onions, finely sliced (If you don't have any, use 1 finely sliced onion)
1 green pepper, sliced (the original recipe calls for red pepper)
4 tsp white sesame seeds
4 tbsp fresh coriander leaves, chopped
For the dressing –
1 tbsp sesame oil
1 tbsp garlic infused olive oil (I din't have this so I used some extra virgin olive oil instead)
1 tbsp soya sauce
2 tbsp lime juice
2 tbsp sweet chilli sauce
3 tbsp smooth peanut butter (chunky works just as well)
Mix all the ingredients for the dressing together.
Toss all the salad ingredients in a large bowl reserving a little chopped coriander and some sesame seeds for garnishing.
Add the dressing and toss well to make sure that the noodles are coated well.
Garnish with some of the chopped coriander leaves and sesame seeds and serve.
Any leftovers can be refrigerated and had the next day as well.
This recipe is linked to –
Full Plate Thursday
A Little Birdie Told Me
It's a Keeper Thursday
Weekend Potluck