A good, rich, dark and sometimes boozy Christmas Fruit Cake is a must-have on every Christmas platter. Studded with dry fruit soaked in rum and spiced with beautiful holiday flavours, this recipe is sure to win you over.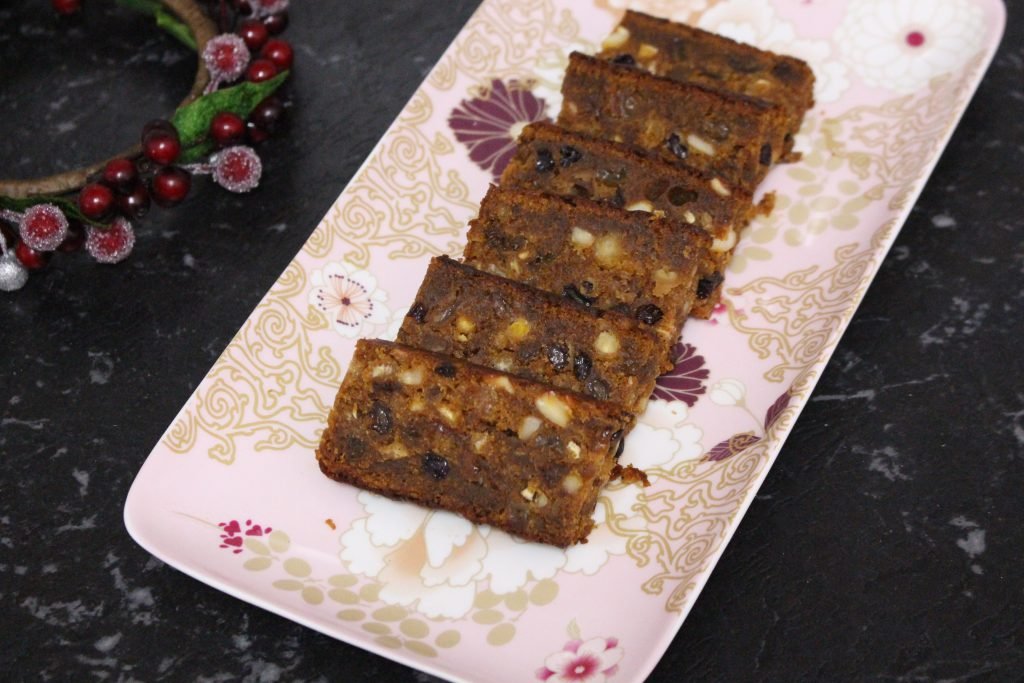 In most Christian homes along the south west coast of India, a good Dark Fruit cake makes an appearance at Christmas and all special occasions like engagement parties, weddings, anniversaries, Communion celebrations and so on. It also holds a very prominent spot on a typical Christmas platter, or what is locally referred to as a Kuswar platter. (Kuswar=Christmas sweets)
Most people I know enjoy a good fruit cake, but very often, find it too tedious to make one at home. They settle for a commercially made cake, which very often has a number of additives including caramel colour to give it a deep, dark colour.

Today, I'm sharing with you, my favourite Fruit Cake recipe. This recipe is a little longer than most other cake recipes. However, I can assure you it is a fairly simple process and the end result is so good, it's well worth all the extra effort. To help make the process easier, I've broken this recipe down into a few parts. Some of them can actually be done days before you'd like to bake this cake. The best part is, this cake tastes best if it's allowed to rest for a couple of days, so it's a perfect one to make ahead.
Step 1 – Soaking the fruit
This recipe calls for 500gms of mixed dry fruit. In my assortment, I've used raisins, sultanas, currants, mixed peel, candied / glacéd cherries and candied ginger. You can use any dry fruits of your choosing, in the proportion you'd like them. It just needs to add up to about 500 grams all together.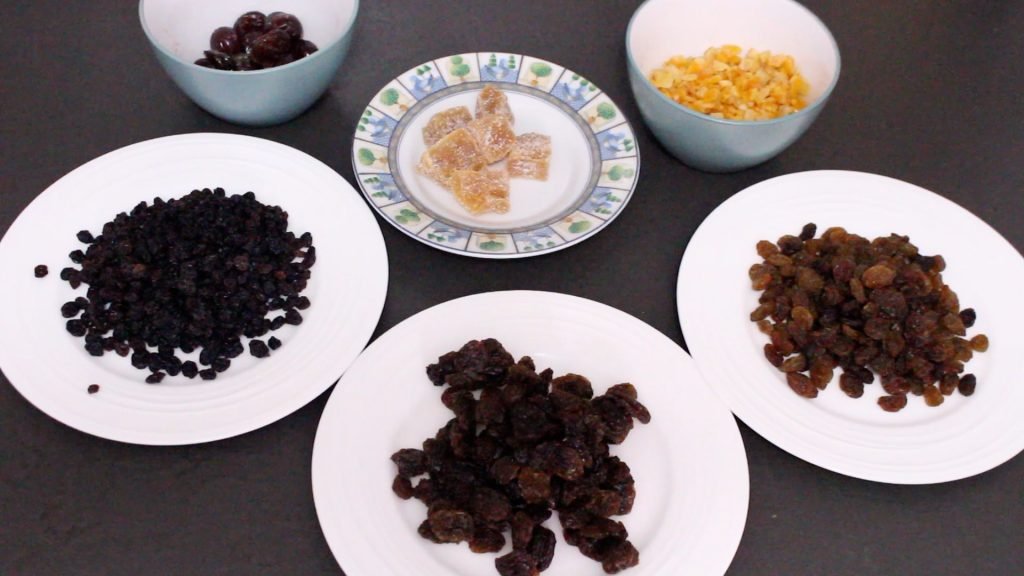 Chop the larger pieces of fruit down to make slicing your finished cake easier. Doing this also makes for a better eating experience, in my opinion. Place all the fruit in an airtight glass jar, top it off with some rum and set it aside in a cool dark place. The fruit needs atleast 24 hours to soak and rehydrate. The longer is steeps in the rum, the better the results. This can be done upto a year in advance.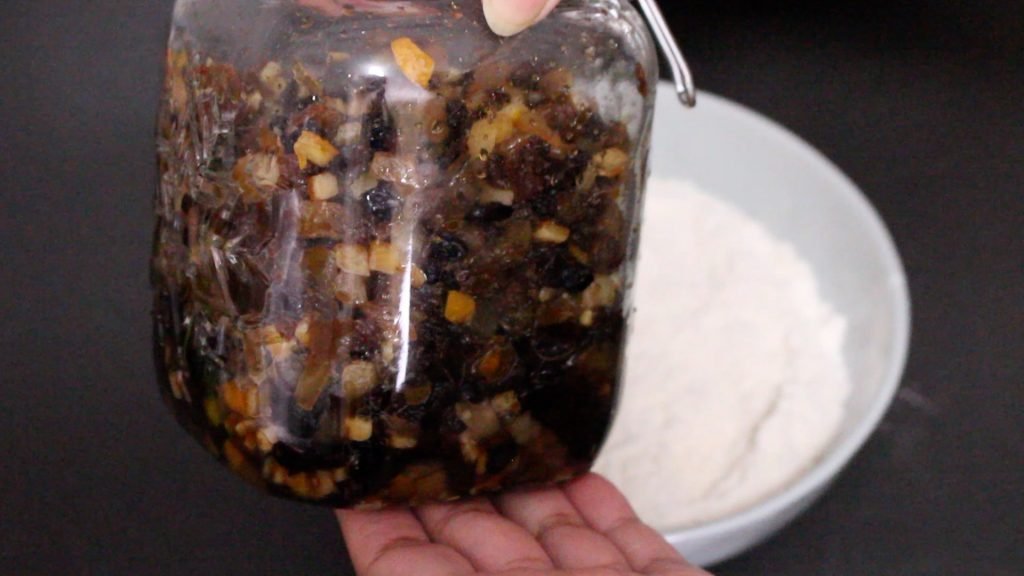 Step 2 – Making the caramel
The 2nd step is making the caramel. There are many ways to make a caramel. For this recipe, you're looking for one that gives you a slightly more fluid consistency. I'm using a 2:1 ratio – 2 parts sugar to one part water and I find that this gives me the perfect results for this recipe. You can make this caramel even a few days before you want to bake your cake. Simply let it cool down completely and store in an airtight glass jar. If you're making this the caramel, the day that you're baking the fruit cake, make sure the caramel has cooled down completely before you add it to the batter.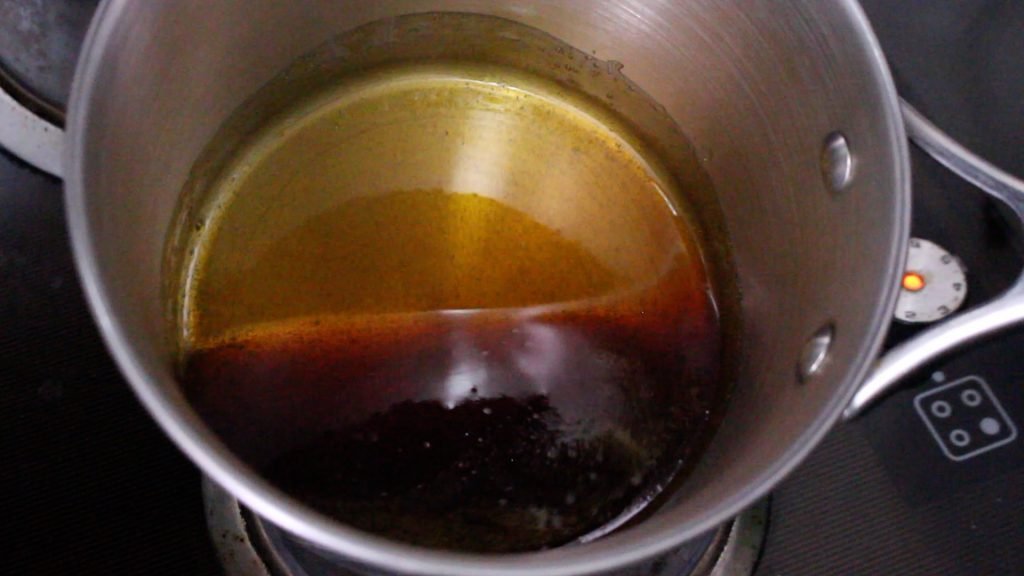 Step 3 – Making the cake
Making the batter is a very simple process. It's just like making any other cake. You need to ensure all your ingredients are at room temperature. In this recipe, I'm using dark brown sugar to help lend a darker colour to the cake. If you can't find dark brown sugar, regular white sugar will work too. Just make sure you use a fine grain sugar or simply powder your regular white sugar before adding it to the batter.
Sometimes, you find that the fruit in a fruit cake like this one isn't evenly distributed. Mix the fruit into the flour – baking powder mix to ensure that the fruit doesn't sink to the bottom of the cake.
Also, in this recipe, I'm using treacle to darken my cake and give it an added boost of flavour. If you can't find treacle, use some molasses instead. I'm not using any artificial colours. A lot of the commercially available dark fruit cakes use caramel colour. If you'd like to, you can add some to the batter.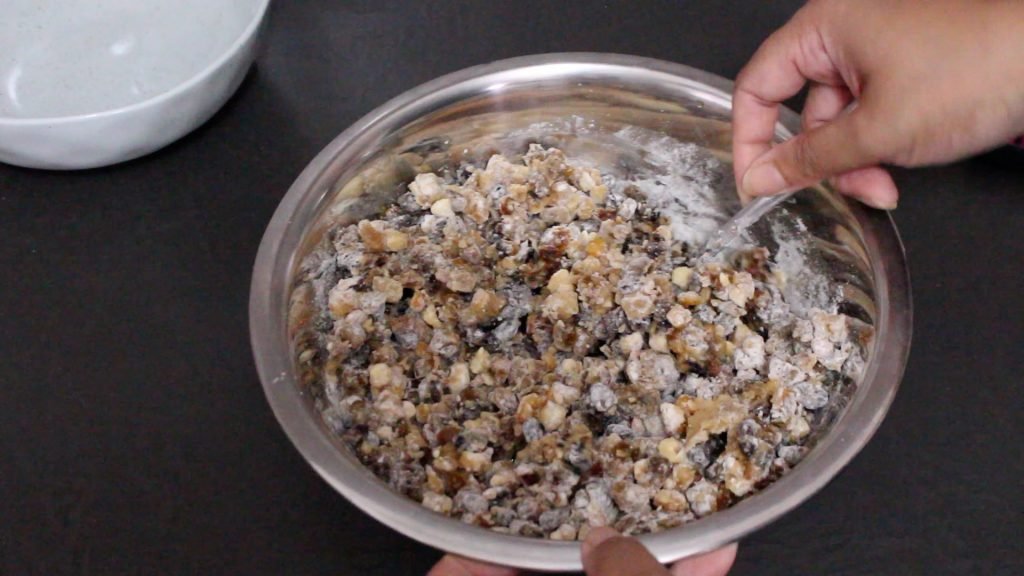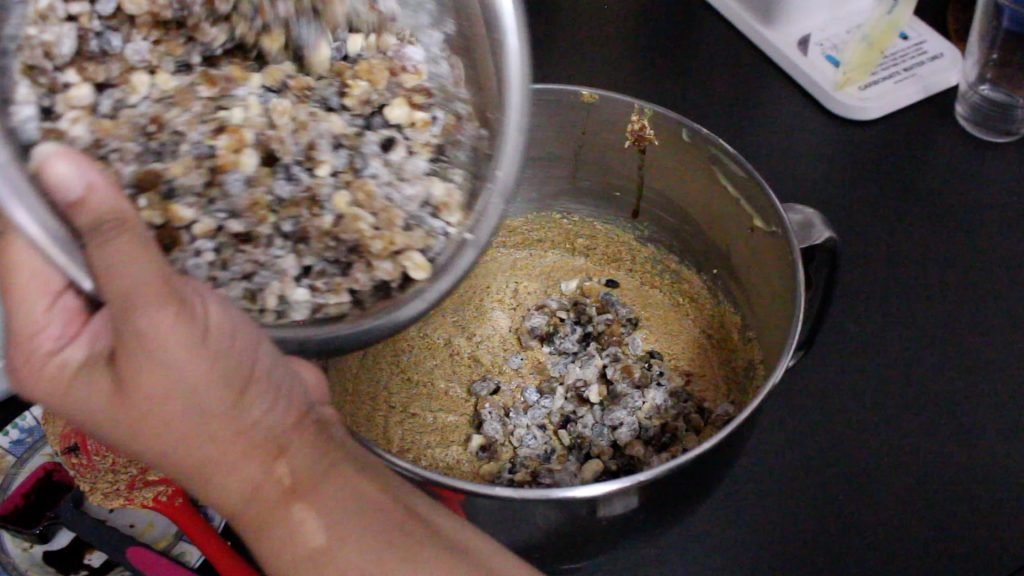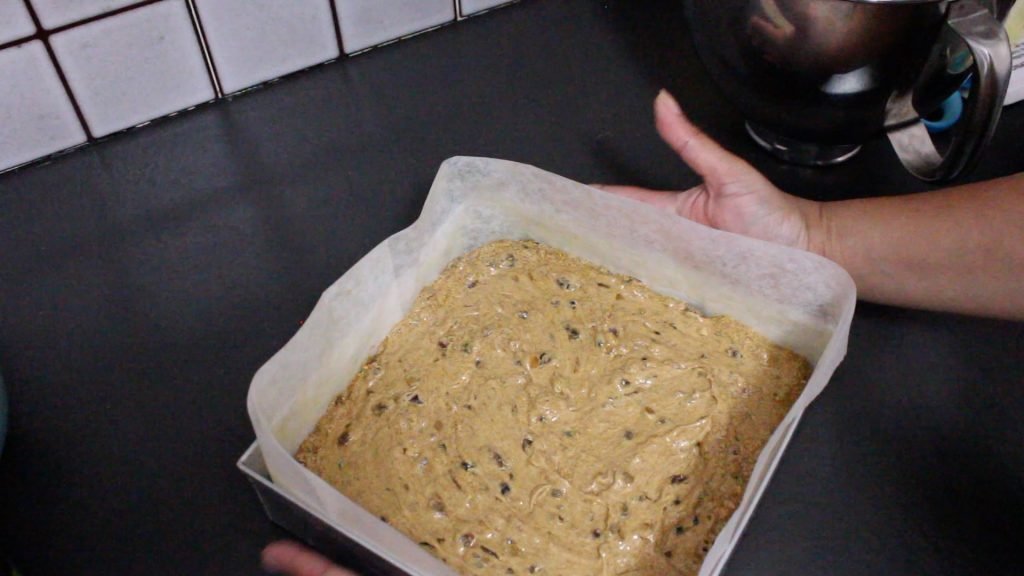 I'm going to feed this cake only once with some dark rum, just as it comes out of the oven. This will help the cake soak up all the rum.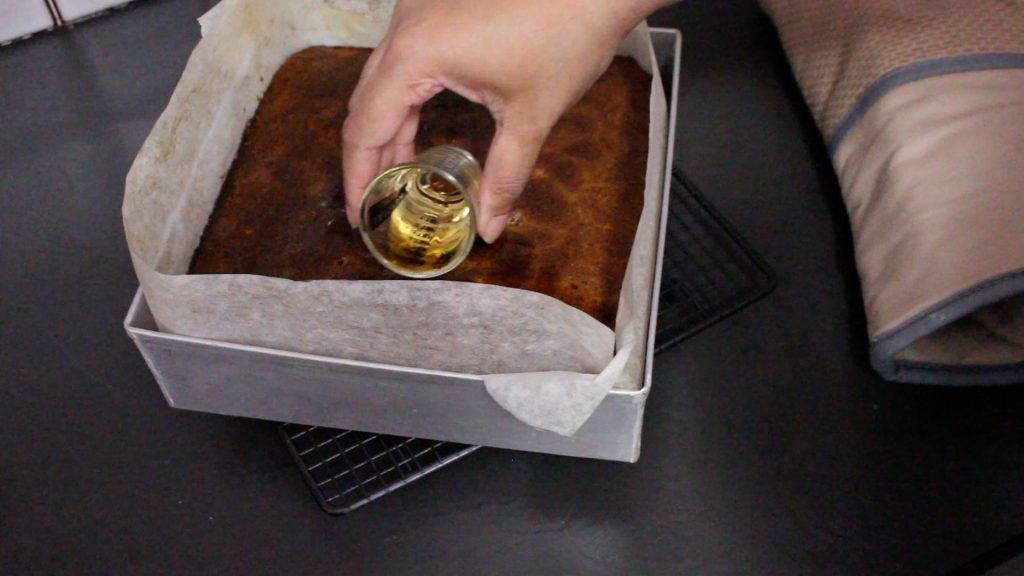 While you can cut into the cake as soon as it cools dow, for best results, I recommend atleast letting it stand overnight before you cut into it.
Once all the Hard Yakka's out of the way, sit back and enjoy your stunning Fruit Cake.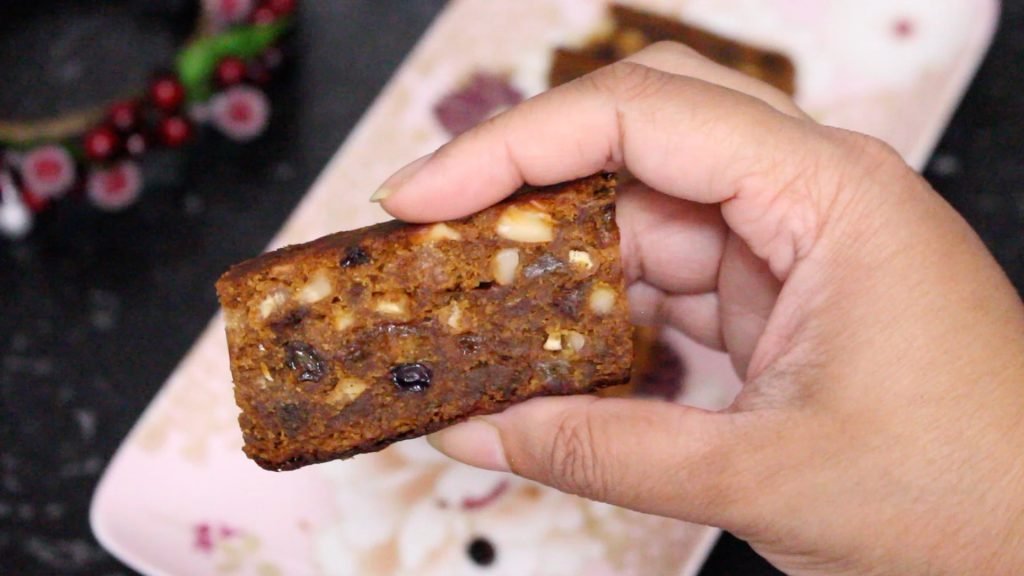 With Christmas fast approaching, today I thought I'd share with you a recipe for Rose Cookies. Rose Cookies, Kokkisan or Achu Murukku – these are a few names these little treats go by in different parts of the South of India. If you've not had these before, imagine amazingly crisp, deep-fried, sweet cookies. They are so more-ish. Which is why it's a good thing this batch yields quite a few cookies.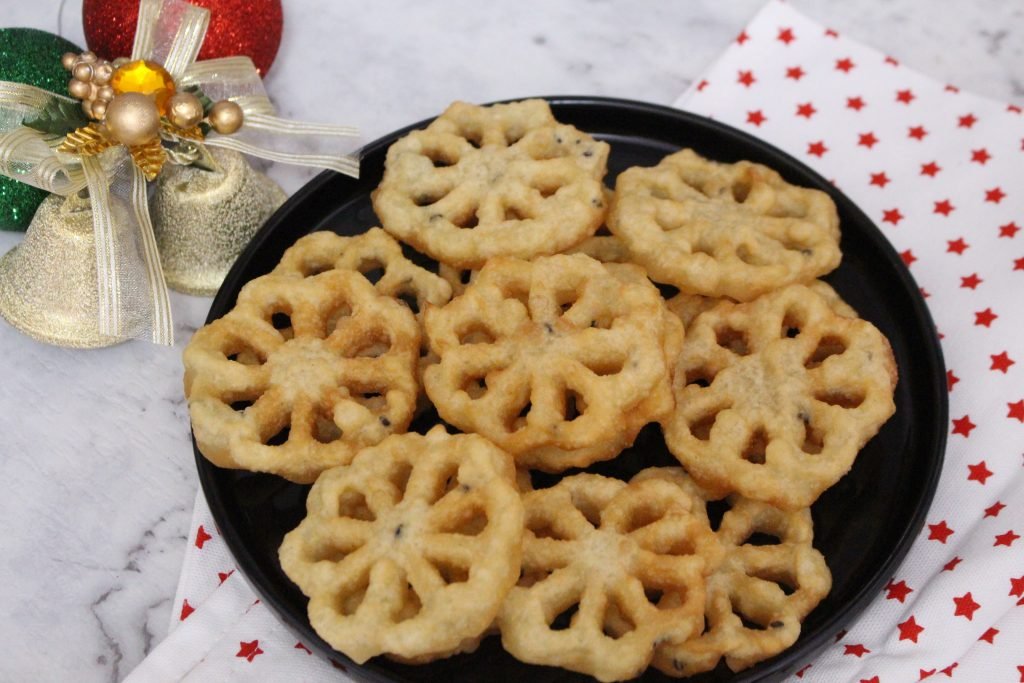 Let's move on to the cookies themselves, shall we? While they're not difficult to make, the batter can be very temperamental and finicky. This is one Kuswar treat I personally find the most trying. The most important part of this recipe is the batter. It takes a little patience and tweaking to get it to just the right consistency. But boy, once you do, churning these cookies out is a breeze.
The batter –
Are you ready to give these a try. Let me walk you though the process. Putting the batter together initially is a very simple process and it just a matter of whisking all of the ingredients together. The one thing you need to watch out for, is the amount of liquid that goes into it. You're looking for a batter that isn't too thick or too thin. It's a Goldilocks kinda situation; you have to get it just right. A huge saving grace is that the batter is forgiving and can be easily fixed.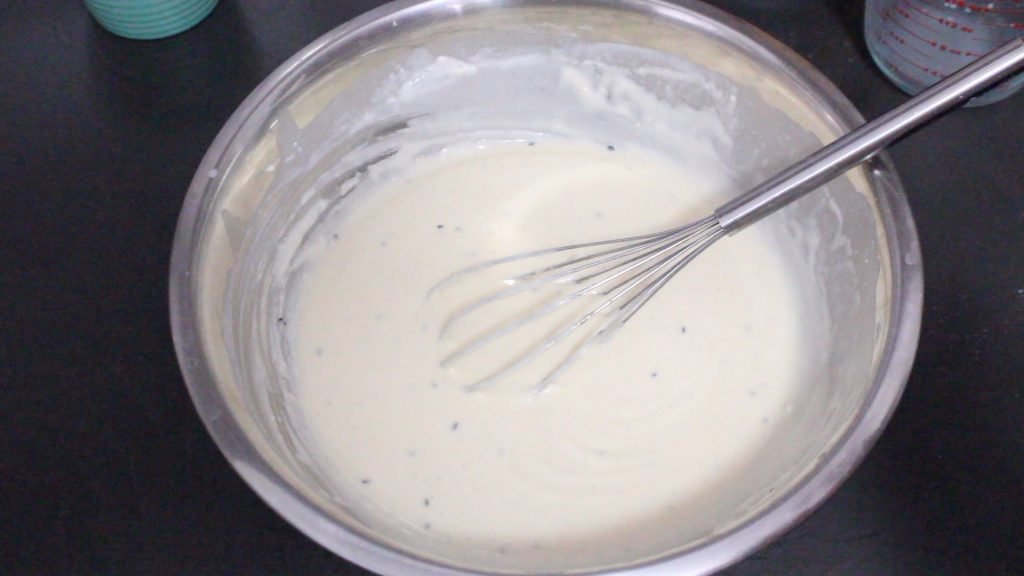 If its too thick, it wont cling to the cookie iron at all. When this happens, gradually add small amounts of coconut milk (if you're out of coconut milk, you can use water) and whisk it in. On the other hand, if its too thin, it'll stick to the iron and won't release into the oil, even after you try to separate it using a fork or a skewer. To fix this, simply add a little all purpose flour to the batter, a little at a time and whisk it through and try frying it again.
The frying process –
Now that you have you're batter sorted out, you need to keep a few things in mind while frying these cookies. Once the oil heats up, maintain it by using a medium to medium low heat. If the oil is too hot, the cookies will brown too quickly. The cookie iron needs to be heated well for it to release the cookies into the oil. The first few cookies are like a tester batch. You may have to sacrifice a couple of them while you figure out the right consistency.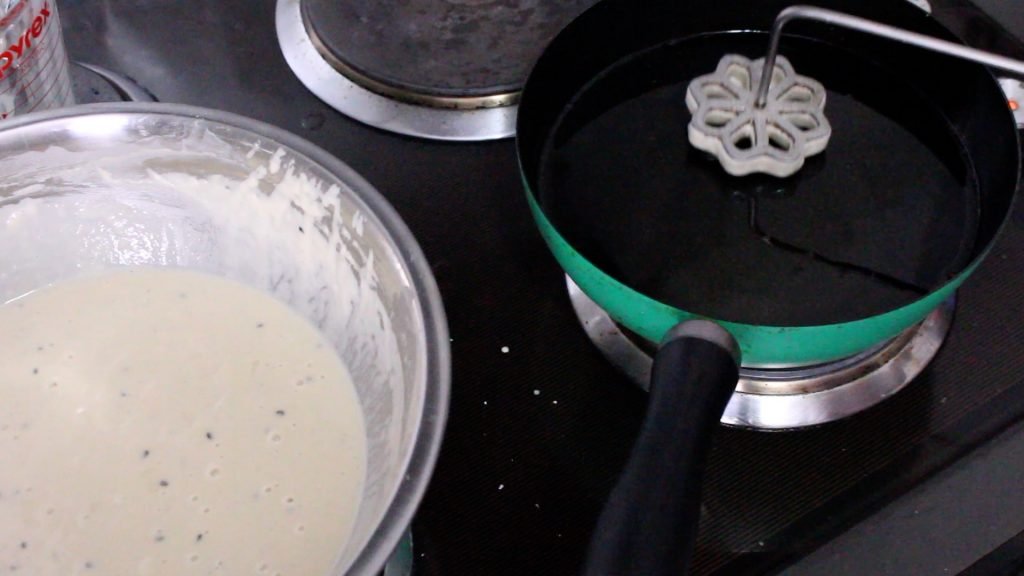 Take the cookies out of the oil when they're a little lighter than you'd like it. They tend to darken as they cool.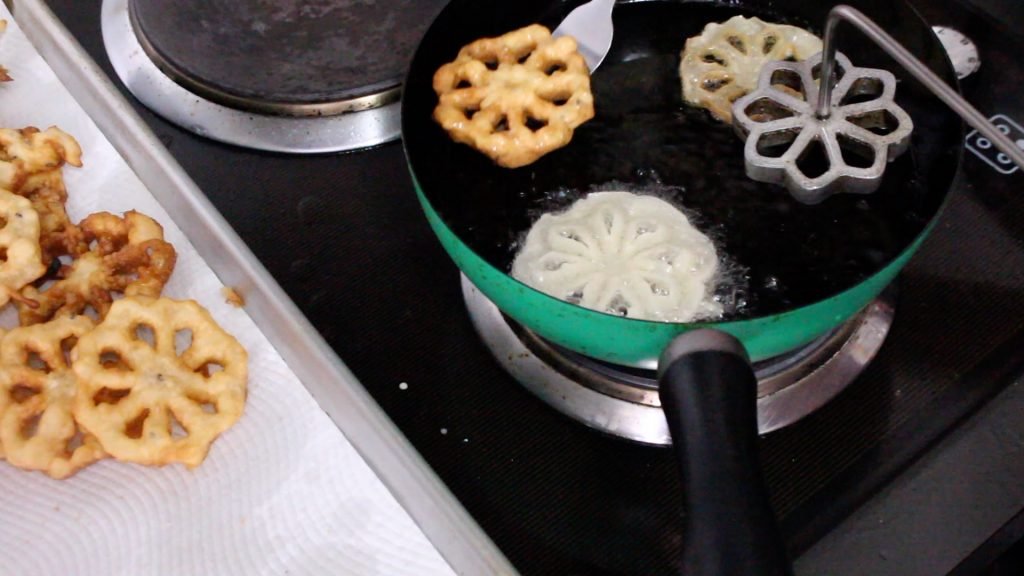 With these pointers in mind, you are now equipped to make a beautiful batch of these Rose Cookies.

If you're looking for more Kuswar recipes to make this Christmas, here are a few of my favorite recipes you might enjoy too –
1) Kulkuls
2) Date Rolls
3) Baath / Badca
4) Coconut Toffee
5) Milk Cream
6) Coconut Ladoos
7) Guava Cheese / Perad
8) Nankatais (Eggless)
9) Marzipan (Eggless)
10) No-cook Almond Marzipan
11) Marzipan – My favorite recipe
12) Chocolate Hazelnut Fudge
13) Chana Doce
When you think of Chickpeas, a lot of people think of savory recipes. Have you tried making sweets with a chickpea base? If you haven't, you really ought to. This Chana Doce is a Goan sweet served at Christmas time, weddings and special occasions. It is made with chana dal and coconut and mildly flavored with cardamom. There are heaps of Indian sweets that use some form of chickpeas as a base, like these Besan Laddoos or even these sweet flatbreads called Puran Poli. These two are just the tip of the ice berg and I hope to try and bring you some more Chickpea deliciousness in the future.

Today, I'm sharing with you a Goan sweet recipe. This Chana Doce is a Goan delicacy and makes an appearance at Christmas time, weddings and special occasions. The recipe calls for chana dal, which is hulled and split chickpeas. Everytime we visit Goa, we always bring some back home with us. A good Goan bakery is paradise if you have a sweet tooth. Our typical haul would include this Chana Doce and a Coconut variant, the ever popular Bebinca, Dodol, Baath, Bolinhas and Pinag. I think that about covers it. Our favorite place to buy these treats is a quaint little bakery in Mapusa called Simona's. They also have outlets in Porvorim and Sinquerim. What's your go-to place to buy your favourite Goan treats?

It's hard for us to get back to Goa as often as we did when we were in Mumbai, so I've decided to try and make these delicacies at home. And after some experimenting, I've finally got a recipe for Chana Doce that I'm happy with. This is a softer version of the sweet and just melts in your mouth. The commercially available one is a little harder and has a slightly longer shelf life, but its slightly more difficult to make. We actually quite like this softer version and hope you do too.
This version of marzipan is made using cashew seeds and is shaped into little colorful bites. It is the crowning glory of every Indian Christmas platter.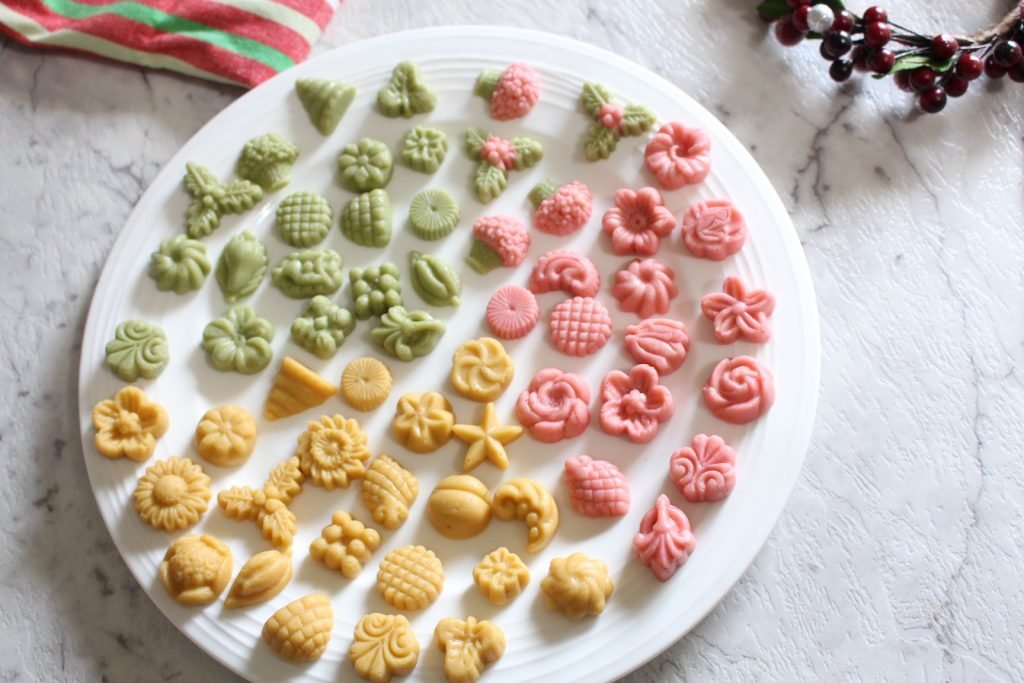 Today, I want to take a minute, right at the onset, to say "Thank you" from the bottom of my heart for all your support on my YouTube Channel. I am overwhelmed that so many of you want to watch my videos and try my recipes. A lot of you lovely folks have asked me to share my Marzipan recipe. 
The recipe that I'm sharing with you today, is my absolute favourite. Typically, Marzipan is made using Almonds. But in Goa(and India, in general), Cashew nuts / Cashew seeds are more easily and abundantly available than Almonds. So the Goans / Indians have simply swapped one for another. And the results are pretty spectacular. I always make my version using cashew seeds. You can use this recipe to form little shapes like you will see me do today, you can cover a cake with it, and I've also made
Marzipan tarts
in the past. The possibilities are endless. 


Marzipan
Yields: 1/4 kilo or 250g Marzipan
125g Cashew Nuts 
200g Sugar
1 egg white
1/2 tsp Almond essence
1/4 cup water
Food colours, as required
Soak the cashew nuts in some (room temperature) water for about 10 minutes. Drain, run some fresh water through the nuts, and drain them again.
Grind the cashew nuts, egg white and water to a fine paste.
Pour the ground paste, the almond essence and sugar into a large heavy pan. Place the pan on low-medium heat and stir to combine.
Cook the paste on a medium low heat, stirring continuously till it thickens and starts coming away from the pan. 
Use the water test to check if it is ready. Place some ice cold water in a small bowl and drop a 1/2 teaspoon of the sweet on it. If it firms up on cooling it is done. If it is still soft or too sticky, it needs more cooking.
As soon as it has cooked, pour the marzipan on a large plate and spread it out a little and leave it to cool down a little. Knead it to a dough while it is still warm.
Portion and colour the marzipan as desired. 
You can now shape it as needed or use it in any recipe that calls for it. 
If you making little shapes with the marzipan, once you de-mould it, place it on a plate and leave it to air dry for a while till it sets and is slightly firm to the touch. You can then place it in an airtight container and store. This should last you a couple of weeks if stored well. 
If the temperature is too high where you are, consider refrigerating it till needed.
UPDATE: I've finally had an opportunity to take new pictures. The recipe used is still the exact same one. You can watch the entire Kulkul making process in the video at the end of this post. Enjoy!
(I will still keep the old pictures on the post as it shows you the step by step process.)
As Christmas comes closer, I see so very many posts of Christmas cookies and treats pop up all over the place. A lot of the treats that you now see have evolved over the years. In the last couple of years, I have seen and tried out a few that are brand new to me and I wouldn't have known of if it wasn't for the internet. These were so much easier and quicker to make than the kind of Christmas sweets I am used to making, not to mention absolutely delicious. Today, however, I'm going to share with you a Christmas treat that I've grown up with, these gorgeous Kulkuls. This is a traditional Goan sweet and if you haven't had them before these are little deep-fried, sweet, pastry bites.
This sweet called Kulkuls (cuhl-cuhls), is something I've grown up with. Every year, at around this time the family would gather to make these little treats. And yes, it is a family affair. This little bites of fried, sweetened pastry take a while to make. Since, many hands make for light work, my Grandma, my Mum, my Father (whenever he was on leave from work), my brother and I would sit down to make these sweets. We'd make a massive batch of this every year and it would take a whole evening from start to finish. That being as it is, we'd make Kulkuls every single year. These little fried dumplings can be sweetened to your liking and they have a long shelf life. The batch that we used to make around this time, would last till the end of Jan. In all honesty, they'd probably keep much longer, but they are so tasty and addictive, they'll be finished long before that.
Most of my family recipes, the old Goan ones have been handed down from one generation to another. The weird part is almost all of these recipes, never had fixed quantities of ingredients mentioned. The recipe is very forgiving and I've managed to chart down some quantities for reference. This quantity is a much more manageable batch size than what I'm used to, but you could cut it down further, if you need to. The process should take a couple of hours but I think its all worth it. While I did manage to get step by step pictures of the process, I didn't manage to take a picture of the batch after it was done frying. So for the time being, I am putting up a picture of our platter of traditional Goan Christmas sweets from last year which has some kulkuls on it. I"ll try and get a better one this year.
L-R: Date Rolls, Nankatais, Kulkuls, Chonya Doce, Perad, Milk Cream
Kulkuls


1/4 kg Semolina (rava)
1/4 kg All purpose flour (maida)
1 egg
A splash of milk
3 tbsp clarified butter (ghee)
1/3 can coconut cream (400ml can) (You could also use about 150 ml freshly extracted coconut juice)
2 fat pinches of salt, or to taste
Superfine (or powdered) sugar, to taste (Start with a couple of heaped tablespoons and add more as needed)
Oil, for deep frying
Knead all the ingredients to a dough using milk as needed.
Kneading the dough once its done, should leave a slight trace of ghee on your hand, but only just. If your dough is on the dry side, add a little more ghee and knead again. This ensures that the dough doesn't stick to the forms we're using to shape the kulkuls.
Taste a little pinch of the dough for sweetness. I tend to not make these too sweet so that it cuts through all the other sweetness on the plate. If you think you want the kulkuls sweeter, add some more sugar and knead into the dough.
Cover the dough with a damp cloth and let it rest for about half and hour.
To shape the kulkuls, you can use a variety of things. We now use these paddles that are specifically used for kulkuls. If you don't have these paddles, you can use the back of a fork or a new, clean haircomb.
Work with a small portion of the dough at a time. Keep the unused dough covered with a damp cloth while you work with the rest. Roll into a long sausage shape and cut into pieces.
Working with one piece at a time, place the piece of dough on the paddle.
Using your thumb, flatten the dough into a rectangular piece as shown in the pictures below.
Starting with the end closest to you, gently life the dough and roll away from you, keeping the roll fairly tight.
Lightly press the edge of the roll to seal it up so that it doesn't open up while frying.
Adjust the size of the pieces of dough to suit the size of the kulkuls you need.
Repeat with the rest of the dough. As you shape the kulkuls, keep them on a flat tray. I turn a cookie sheet upside down and use the back of the tray.
When they are all done, heat some oil for deep frying.
Test that the oil is hot enough by gently dropping a small bead of dough into the oil. If it bubbles in the oil, instantly and comes to the top, the oil is hot enough.
Keep the oil on medium heat.
Gently tip the kulkuls into the oil. Don't overcrowd the pan. Fry them in small batches as the oil may froth a little and bubble up and spill over. Start with the ones that were shaped first.
When the kulkuls are golden brown, drain using a slotted spoon and place on some kitchen paper to drain off any excess oil.
Repeat with the rest of the kulkuls until they are all fried up.
When the kulkuls have completely cooled down, store in an airtight container.
Enjoy this lovely addition to your Kuswar platter.
** I'm hoping to get more pictures this year and will add them to this post.
If you're looking for other Kuswar recipes, you can find them here –
1) Marzipan
2) Date Rolls
3) Nankatais
4) Chaklis
5) Baath / Badca
6) Peraad
7) Coconut Toffee
8) Milk Cream
9) Jujups
10) Coconut Ladoos / Coconut Snowballs