I was just thinking back about my previous posts and experiments in the kitchen and what struck me was that a great many of them actually happened because of lack of availability of store bought options in India. Needless to say, I don't need an excuse to make things from scratch at home, I actually prefer it that way so that I know exactly what I'm eating. Having said that, sometimes its nice to have the store bought variants to compare with. This time around though, it wasn't going to happen since we don't get girl scout cookies here. I've been drooling over posts of these treats popping up all over the place now and then and finally decided to try them out myself. This recipe for thin mints is perfect to start of with, since it uses store bought Ritz crackers and so is fairly simple and quick to put together. Now, finding Ritz crackers itself it an impossible task here, but we do get a local variant called Monaco crackers and that's what I used today.
Nothing could be simpler than making these treats. But the end result is so satisfying. You get the subtle mintiness from the dark chocolate and the crunch from the crackers and all in all, I think its a fantastic combination. I know I'll be making these often.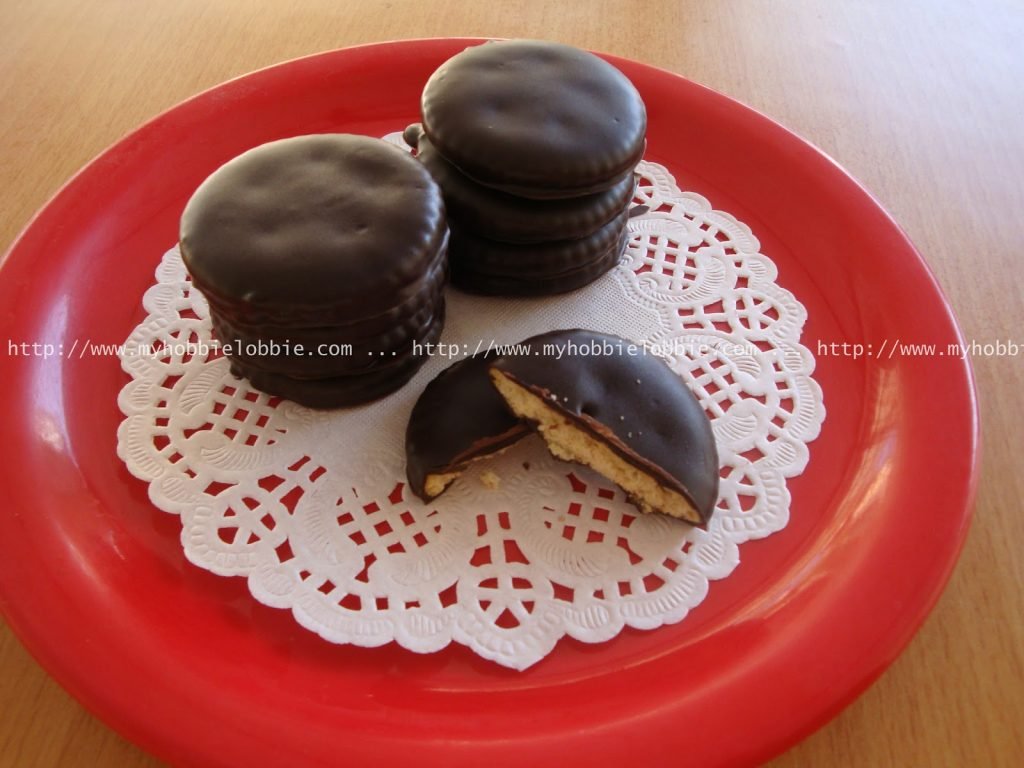 Thin Mints
Recipe from: Averie Cooks
Makes a dozen
120-150g good quality dark chocolate
A few drops of peppermint extract (Its fairly strong, so start with a couple of drops and add gradually till you get the strength of flavor you're looking for)
12 crackers (Ritz / Monaco)
Melt the dark chocolate in a double boiler.
Add the peppermint extract and stir well. Taste and adjust flavoring if needed.
(Note: If you accidentally add too much extract, you can still salvage the chocolate, simply add more melted chocolate to the bowl and mix. This should dilute the flavor.)
Dip the crackers in the chocolate and lift up using a fork. Let the excess chocolate drip off.
Place on a sheet of parchment paper and refrigerate for about 20 minutes to set. Alternatively, you could also leave these to set at room temperature.
Enjoy your very own almost homemade Thin Mints.
Don't forget to stop by and check out what the others have brought to the table for Week 6 of our 12 Weeks of Christmas Treats series, hosted by Brenda of Meal Planning Magic.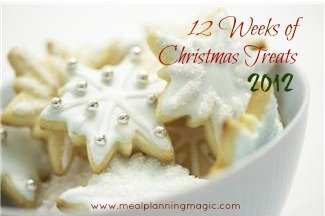 Week 4 is here and this week I decided to finally get my act together and try out some delicious biscotti. Can you believe I've been eyeing biscotti posts and saving recipes for about 2 years now and still hadn't made it at home? Thats something I tend to do, there's so many yummy posts and sources of inspiration out there that I end up saving tonnes of recipes but its usually a while before I try some of them 🙁
Anyway, I am so glad that I finally tried these out and needless to say, I'm hooked. I loved this recipe. It was simple to make and resulted in a nice crisp cookie, studded with little green jewels in the form of the pistachio. It tasted pretty great too, chocolaty and not too sweet. I think that's what I like about it the most. If you tend to like your cookies sweeter, you may want to add more sugar. I think I'll keep these just the way they are. And I know I'll be making more of these. They'd be perfect for the holidays.
Chocolate Pistachio Biscotti
Recipe from: Skinny Taste
1 2/3 cup all purpose flour
1/2 cup unsweetened cocoa
1 1/2 tsp baking powder
A pinch of salt
3/4 cup whole pistachios
1/4 cup butter, softened
3/4 cup superfine sugar
2 large eggs
Preheat the oven to 180ºC. Prepare a cookie tray. I used my brand new silicone mat. 🙂 It was perfect, no more greasing tins or paper for me atleast while making cookies.
Combine the flour, cocoa, salt and baking powder. Add the nuts and stir.
Cream the butter and sugar for 1 1/2-2 minutes on medium speed. I used an electric hand blender.
Add the eggs, one at a time, mixing between each addition.
Add the dry ingredients and mix on low speed until just combined to make a dough.
Divide the dough into 2-3 pieces and shape them into long, flattish logs about 8″ long and 1 1/2-2″ wide.
Place these logs on the prepared baking sheet and bake for 20 minutes.
When its cool enough to handle, using a sharp knife, gently cut the loaf at an angle into thin slices. (If you don't use a sharp knife, your loaf will end up crumbling all over the place.)
Place the slices on the baking sheet, fitting as many as you can on the sheet. Bake it for about 4-5 minutes on each side. (Little shorter time if you like a softer cookie.)
Enjoy them with a hot cup of coffee.
Do check out what the others have made this week and will continue to do so every Thursday for another 8 weeks 🙂 If you'd like to join in on the baking fun, visit our hostess Brenda's blog – Meal Planning Magic and fill out this form and she'll send you the details.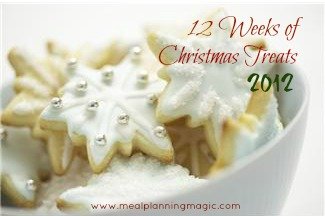 ** This post contains affiliate links.
It is indeed Week 2 of our 12 week party. I think this ones going to fly by faster that the previous ones. This week, I used a recipe from "The Cookie Book
", the original one being a Pecan Toffee Shortbread. Well pecans aren't available here, so I used the next best thing – Walnuts. I've wanted to try this recipe for a while. It has a hint of coffee, some toffee, some nuts for crunch and is in all quite a treat. This is quick and easy to put together. A few things I will do when I make these next is chop up the walnuts into smaller pieces and probably cook the toffee for a couple of minutes more, I would've liked it a little thicker. But overall, I like the cookie, it goes well with my afternoon cup of tea. My sister in law and her husband dropped by the day after these were made and I served these bars up with a hot cup of tea and they were wiped off – isn't it the best when that happens? If you like walnuts, you'll like these.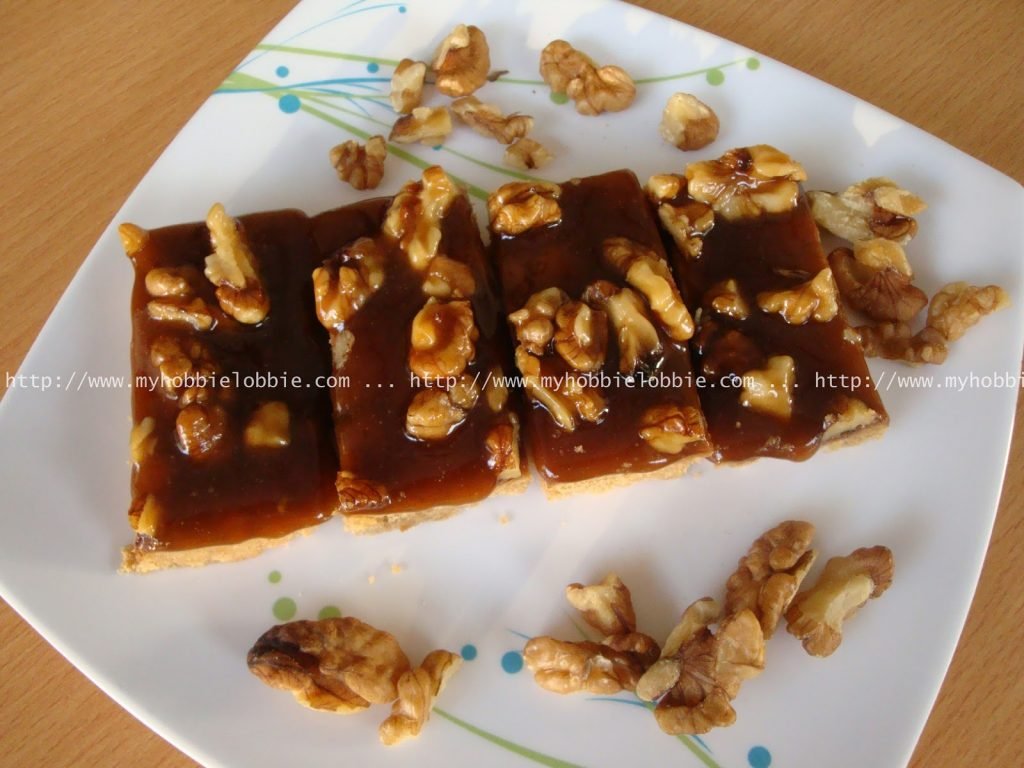 Walnut Toffee Shortbread
Makes 20
For the cookie base –
1 tbsp coffee powder
1 tbsp recently boiled water (still hot)
1/2 cup butter, softened
1/2 cup castor sugar
2 tbsp creamy peanut butter
2/3 cup cornflour
1 2/3 cup all purpose flour
Preheat the oven to 180ºC. Grease and line a 7″ x 11″ pan with grease proof paper.
Pour the coffee powder in a small bowl and pour the water over it and dissolve. (I used instant coffee, if using ground coffee, leave to steep for 4 minutes, then strain and keep aside.)
Cream the butter, peanut butter, coffee and sugar until light. Sift in the flour and cornflour together and mix well to make a smooth dough.
Press into the base of the tin evenly and prick all over the base with a fork. Bake for 20 minutes.
For the topping –
3/4 cup butter
3/4 cup soft light brown sugar
2 tbsp golden syrup / light corn syrup
1 cup shelled walnuts, chopped
Put the butter, sugar and syrup in a pan and heat until melted.
Bring the mixture to a boil and simmer for 5 minutes.
Stir in the nuts and spread the topping evenly over the cooked base.
Leave to cool in the tin itself.
Cut into bars or squares, remove from the tin and serve.
12 Weeks of Christmas Treats is hosted by Brenda of Meal Planning Magic. We'd love for you to participate with us. If you'd like to join up, please fill up this form and Brenda will send you the necessary details.
Time sure does fly by real fast when you're having fun. And it is time for this months
SRC
reveal. This month I was
Secrets from the Cookie Princess
. Such a pretty name and such a pretty blog. I've spent hours going through The Cookie Princess' a.k.a Colleen's blog. I've had my eye on this blog for a while. Colleen has a huge collection of cookie posts. When I say huge, I mean HUGE. Saying "I was spoiled for choice" would be an understatement. I had such a hard time narrowing it down to one recipe for reveal day. In addition to her cookies, she has some other yummies too. I can wait to try this
Pita Bread
, her
Roasted Garlic Flatbread
and these
Mini Fritttatas
. However, since her blog is called
Secrets from the Cookie Princess
I knew from the start that I was going to try out a cookie recipe to being with. Also, its been ages since I made cookies at home. One glance at the Recipe Archive and I knew I was in trouble. I have a whole list of cookies and bars that I want to try out.
Coming back to today's post, I decided to try out Colleen's Cinnamon Bars. I'm not too sure if they're supposed to be softer like a blondie or crisper like a cookie. Mine ended up more on the crisper side like a cookie. Don't get me wrong, I'm not complaining, just curious. Either way, the kitchen smelled wonderful while these were baking. These bars tasted wonderful. We absolutely loved them. The original recipe calls for pecans and I wanted to use almonds, but ended up using walnuts. I can't wait to see what these will be like with almonds. I know I'll be making these every now and then. Maybe the next time I'll try baking them for a slightly shorter while and see what they turn out like. Maybe I'll add some chocolate chips or even drizzle them with melted chocolate. The possibilities seem endless. All I know is that I've found a good base recipe and I intend keeping it. Thank you Colleen.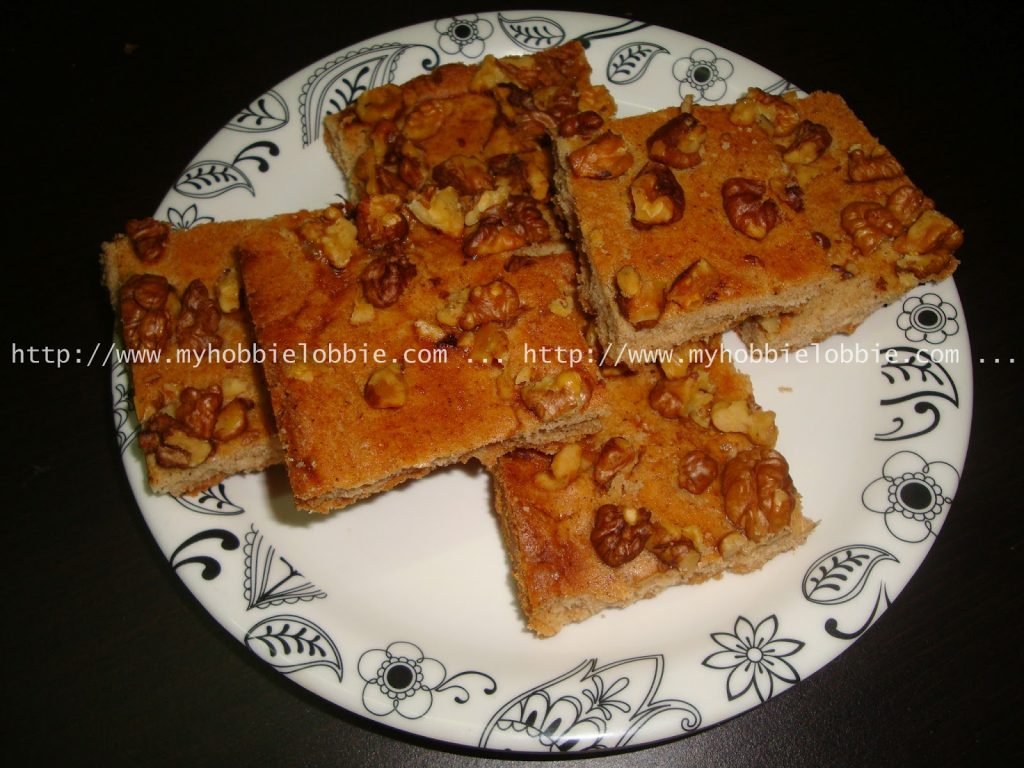 Nutty Cinnamon Bars
(Yields 24 bars)
1 cup butter, softened
1 cup sugar
1 egg, separated
2 cups flour
1 1/2 tbsp cinnamon powder
1 cup walnuts, chopped
Preheat the oven to 170ºC.
Grease a 9″ x 13″ pan and keep aside.
Cream the butter and sugar in a large bowl till light and fluffy.
Add the egg yolk and the cinnamon powder and mix well, scraping down the sides of the bowl.
Sift the flour and add it to the bowl 1 cup at a time and mix until combined. You should end up with a crumbly dough.
Press the dough evenly into the greased pan.
Pour the egg white over it and spread it around making sure it has coated the entire surface. Drain off any excess.
Sprinkle the chopped walnuts over this base and lightly press into the dough.
Bake for about 25-30 minutes.
Let it cool in the pan itself. When cool, cut into bars.
document.write('
Today's treat is something a lot of you will definitely be familiar with. It is my husband's favorite snack. It is a delicate, buttery treat that can be put together really quick and can be tweaked to suit your tastes. What's amazing is that these crackers are made out of scraps of shortcrust pastry. Yup, you heard me. Everytime I make some shortcrust pastry for a pie, I double the quantity and use the spare pastry to make these crackers. I usually make them plain, just the way they are, but this time I decided to dress them up a little. I made a bunch of them some plain, some with a sprinkling of chopped rosemary, some with a sprinkling of red chilly powder, some with carom seeds and others with sesame seeds sprinkled on them. The possibilities are endless. You can top these little treats with almost anything. So feel free to experiment. It was fun trying out each of these varieties.
You can check out the recipe I use for shortcrust pastry here. I sure hope you try making these crackers sometime. Let me know what you topped your crackers with. I'd love to hear from you.
Here's what my platter of crackers looked like –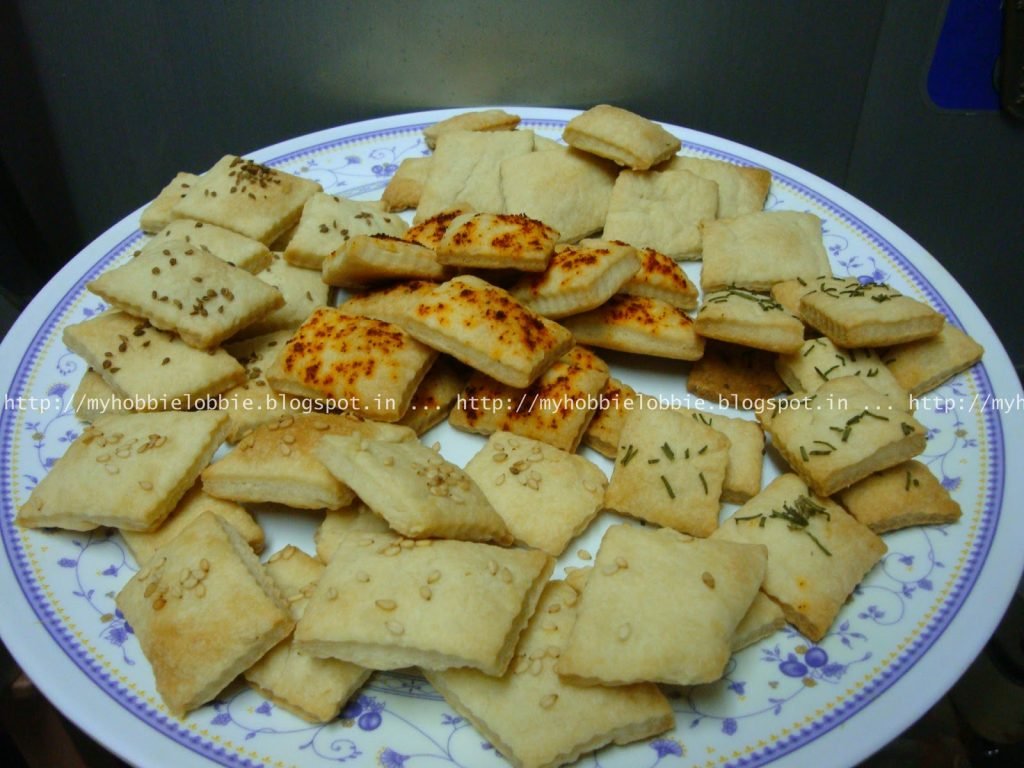 Savory Crackers


Shortcrust Pastry
Toppings of your choice (I used sesame seeds, carom seeds, red chilly powder and chopped fresh rosemary)


Roll out the shortcrust pastry and cut into diamond shapes or any other shape you fancy.
Sprinkle the herbs or seeds of your choice and lightly press them down into the dough using your hand.
Place on an ungreased baking sheet at bake at 170ºC for about 10 minutes or till lightly browned on the edges, making sure not to let them brown too far.
Cool and store in an airtight container.
This recipe is linked to –
A Little Birdie Told Me
My Meatless Mondays
Bake with Bizzy
Mangia Mondays
Mouthwatering Mondays
Full Plate Thursdays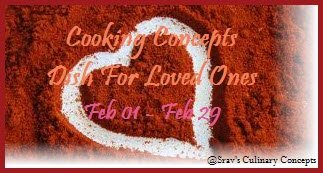 After a month long break, we're back to our monthly
SRC
reveals and that makes me very happy. This month onwards, we in group B have a new hostess, Suzanne of
Thru Bugs on my Windshield
. If it wasn't for the wonderful idea that Amanda of
Amanda's Cookin'
had a while ago, we wouldn't have been here in the first place.
I can't wait to share this months assignment with you. I was assigned Heather's lovely blog this month, Join Us, Pull Up a Chair. What a warm, welcoming name, isn't it? Hi Heather!!! And I tell you you should listen to her. When you stop by you'll be spoilt for choice. She has so many wonderful recipes there, I had the hardest time trying to pick one for this months reveal. She has the cutest little helper, Madeline who makes guest appearances every now and then. Do stop by. There's something for everyone. For this month's reveal, I picked a classic, the Oatmeal Raisin Cookie and yes, this was my first time making an oatmeal raisin cookie. I know, where have I been all this while? Stuck under a rock, I think! 🙂 Anyway, I'm glad I finally got around to trying these because these were awesome. The oats keep you going for a while, the raisins in it are just yummy and there's cinnamon in it and that's always, always a good thing. My brother who'd come over a couple of days after I whipped these up, couldn't stop even after wolfing down a few. He actually had me take them away, warning me that I may not have another one left if it was upto him. They were seriously that good. I love how you have the option to leave them soft and chewy or make them a little more crisp, based on how you like your cookies. They tasted better the next day – it seems like the flavors had time to come together overnight. Even though this recipe makes a huge batch, I'm down to my last 2. My husband being the chocoholic that he is, thinks I should thrown in a few chocolate chips the next time around and I just might. Thanks Heather for sharing this wonderful recipe. It's definitely a keeper.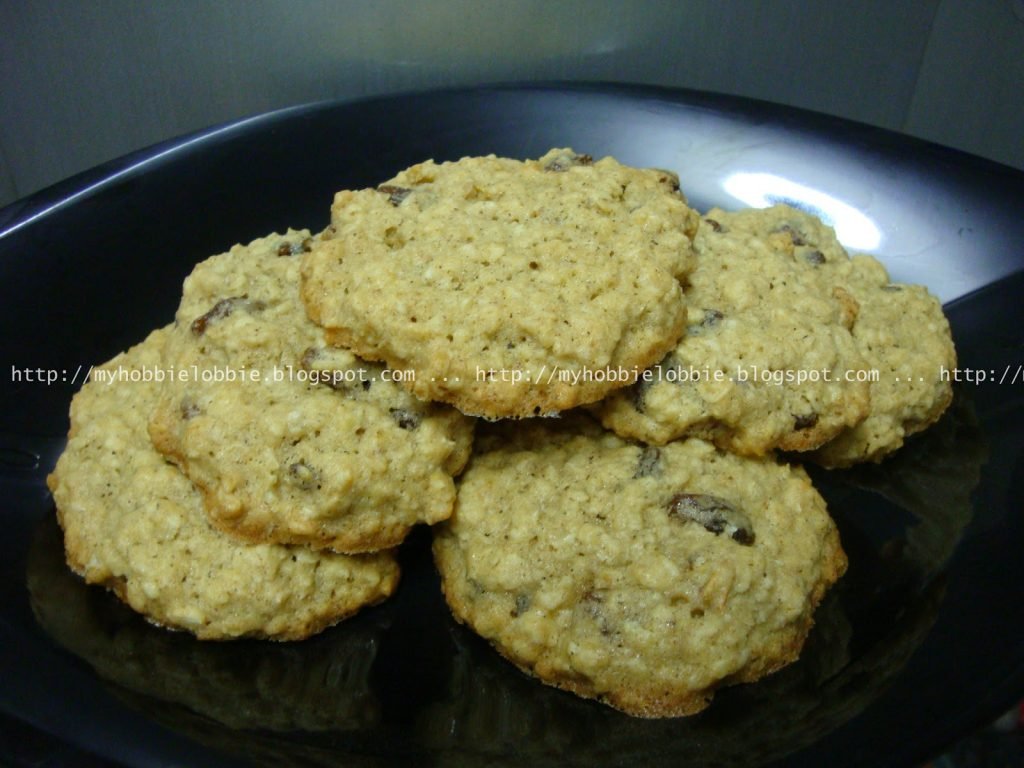 Oatmeal Raisin Cookies
Yields 36 to 40 cookies
1 1/4 cup all purpose flour
1 tsp baking soda
1/2 tsp salt
1 tsp cinnamon powder
1 cup butter, softened
3/4 cup granulated sugar
3/4 cup brown sugar
2 eggs
1/2 tsp almond extract
1 tsp vanilla extract
3 cups quick oats
1 1/2 cups raisins
Preheat the oven to 180ºC.
In a bowl, combine the flour, baking soda, salt and cinnamon powder and keep aside.
In another large bowl, beat the butter, sugars, eggs and extracts well until blended.
Gradually add the flour mix to the wet ingredients stirring to incorporate.
Lastly add the oats and the raisins and mix well to make sure they're well distributed through the batter.
Drop the batter by rounded tablespoonfuls onto an ungreased baking sheet. (I flattened these out a little to make sure they cooked through.)
Bake for 7-8 minutes for chewy cookies or for 9-10 minutes for a more crispy version.
Cool on the baking sheet for a couple of minutes and then move the cookies to a cooling rack to cool off completely. Store in an airtight container.
Don't forget to check what the rest of the group has prepared for today's reveal.
document.write('
You read that correctly. This post will feature not one but 2 holiday treats. I've missed out on week 5, 6 and 7 of the 12 Weeks of Christmas Cookies blog hop hosted by Brenda from
Meal Planning Magic
, since I was busy enjoying my holiday. But I intend making it up to you by posting 2 treats this week, the next week and the week after that as well.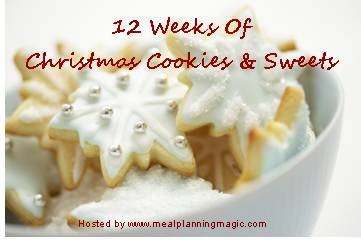 The first treat I'm going to share with you today is a traditional Goan Christmas sweet called Perad (pronounced Peraad)or Guava Cheese. This is one of my favorites. But then again, I think I enjoy all the traditional Christmas sweets. I hope to share a few with you this year. What I love about this is the same recipe can be used to make the most amazing guava jam as well. As you cook this recipe when its still a loose consistency, you can use it as a guava jam and on cooking it further, what you end up with is guava cheese. When I was younger, my grandmother would faithfully make both, the jam as well as the sweet every year. We would have it with bread, chapatis and even spoonfuls of it just by itself. I haven't made the jam for quite a while so I don't have a picture. But I do have a picture of the guava cheese or Perad from 2 years ago – before my blogging days. I will try and get a few better pictures this year. Don't let the pictures fool you, this is good stuff.
Perad (Guava Cheese)


250g ripe guavas (Guavas should be ripe but slightly firm, not mushy)
350g sugar
Juice of 1 big sour lime or 2 small sour limes
1 tbsp ghee (clarified butter)
Red color / caramel color (optional)
Wash the guavas and cut out the stalk portion. Take off any brown portions of the skin as well. Cut into halves breadth-wise.
Bring some water to a boil in a steel vessel. Add the guavas and make sure that the water covers the guavas after you put them in. Cook till the seeds are just about popping out.
Drain and keep aside. Scoop the seeds out. Dice the fruit into cubes. Weigh it and grind it to a pulp.
Sieve the seedy portion to extract some more pulp. Place the pulp, sugar and lime juice in a thick bottomed vessel on a slow flame and cook till it starts leaving the vessel. You have to stir continuously and thoroughly, making sure none of the mix is sticking to the bottom of the vessel. If you stop stirring, the mix gets agitated and you'll end up with a bubbling mix that is difficult to handle and may burn.
(If you want to make guava jam, when it has taken on a good jam like consistency, you can take it off the fire, cool and bottle it. If you're making Perad or guava cheese, continue cooking.)
Test to see if done. (Use water test – Place some cold water in a small bowl and drop a teaspoon of the sweet on it. If it firms up on cooling it is done. If it is still soft or too sticky, it needs more cooking).
When done, add ghee and color (if using) and mix well. Addition of the ghee adds sheen to the end product.
Grease a cookie pan (or thali) with ghee and pour the mixture on it. Use a palette knife to smoothen it out. Spread while still warm. Leave it to cool a little and set. Cut into pieces after it sets.
When it has cooled off completely, you can store it in a container.
NOTE: If you want to make a larger quantity, DO NOT double this recipe. If the guavas weigh 500gms., use 650gms. sugar. Whatever the weight of the fruit add 150 grams to it to get the sugar quantity.


These traditional Goan sweet dishes are usually passed on from one generation to the next and there usually aren't too many written versions of the recipe. Also, it takes a couple of attempts to perfect. But if you follow the instructions closely, you shouldn't have any trouble. In any case, don't hesitate to clarify any doubts you may have.
The second treat I have lined up for you today, is much simpler in comparison. So if you don't have the time or inclination to whip up a labour intensive guava cheese, try these no bake cookies. It takes 5 minutes to make them and about an hour of refrigeration is called for.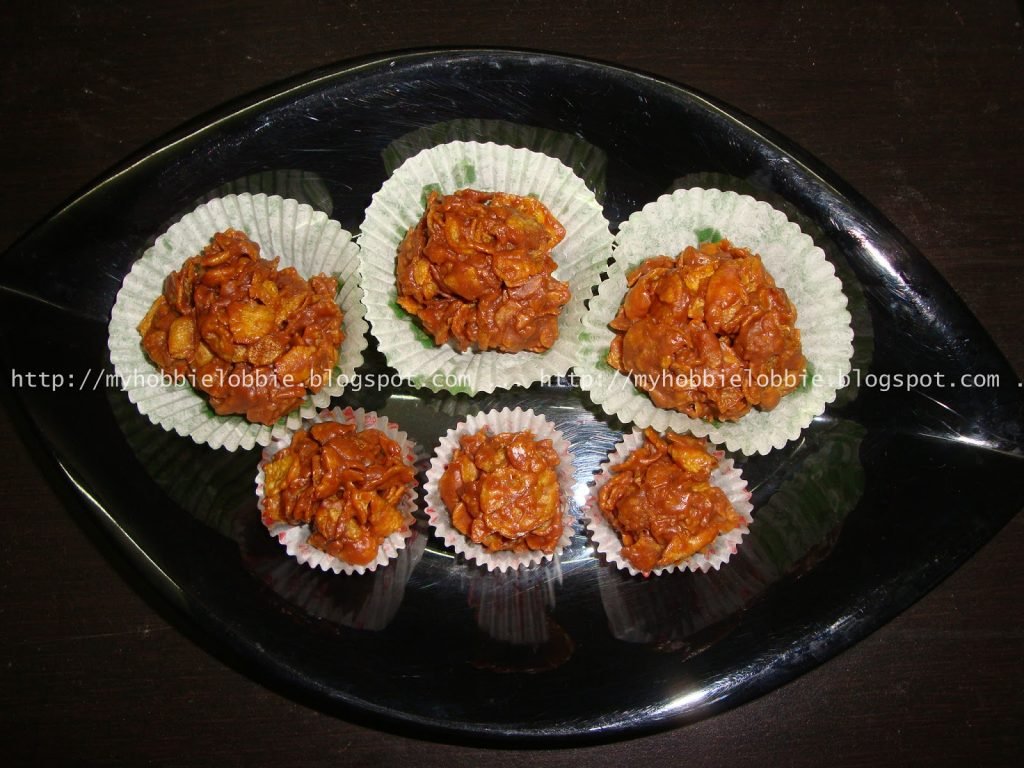 Choco-Caramel Crispy Cakes (No bake cookies)
4 (2oz.) Mars or Milky Way candy bars
1/4 cup unsalted butter
2 1/2 cups corn flakes
Approx. 40 mini cupcake paper liners
Break the candy into smaller pieces and place it in a saucepan along with the butter on low heat, stirring frequently.
When everything has melted, add the cornflakes and mix well, until it is well coated with the chocolate mixture.
Scoop out the mix into the mini cupcake liners.
Place them on a tray in the refrigerator to set for at least an hour.
Enjoy!!!
Note: I made both sizes, but in hindsight I would strongly recommend going with the mini liners, the regular ones are too big.
Join me next week for 2 more treats and don't forget to check what the others have brought to the table this week.
This week I bring to you a treat like none I've ever tasted before. I've heard of love at first sight, but for me this was love at first bite, literally. The only thing I remember thinking as I savored every bite of this was "OH MY GOODNESS!!! OH MY GOODNESS!!! And you know what, it wasn't me. I wasn't going crazy. My husband also thought this was one of the best treats we'd eaten ever. That is the highest honor and treat can every get in my home. And mind you, these little devious treats are addictive. For the fist time in a very long time, I found myself thinking of these bars every now and then and it took massive restraint to keep from wolfing these down.
I can't really decide whether this is a cracker or a candy, but what I know is that this recipe is going to be treasured. I was really excited while making these bars because I got to use my new toy – the candy thermometer. Yes, I arrived at the decision that I had gone without one for too long. There were just so many wonderful delights out in blog land that called for a candy thermometer and I was done passing them by. So stay tuned and see what else I use this little magic wand of the sugar world for.
The Chocolate Toffee Cracker Bars are really quick and easy to put together. The most difficult part of this recipe was waiting for it to cool. By now you know, if there's one thing I always struggle with, its the waiting 😉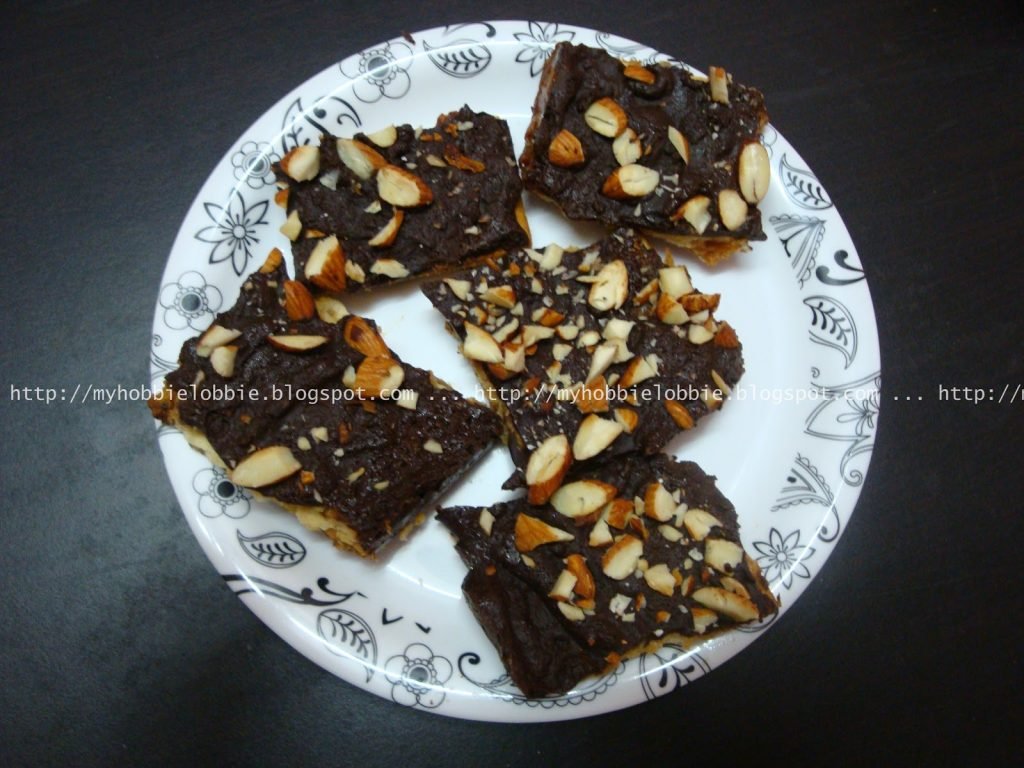 Chocolate Toffee Cracker Bars
Adapted from: Baking with Lisa
Makes 35 bars
1 1/4 cups butter
35 Saltine crackers
1 cup dark brown sugar, firmly packed
1 can condensed milk (14 oz.)
350g semisweet chocolate chips (I used a bar, chopped into small pieces)
1 cup toasted almonds, roughly chopped
Preheat the oven to 200ºC.
Line a 10″x15″ Jelly Roll pan with aluminium foil, shiny side up.
Melt 1/4 cup butter and brush the foil thoroughly with this melted butter. I didn't need all of it though.
Line the pan with the crackers.
Combine the remaining butter and the sugar in a saucepan and bring it to a boil over medium heat. Boil the mixture till it registers 248ºF on the candy thermometer.
Remove from the heat immediately and carefully whisk in condensed milk. Once the condensed milk has been incorporated well, pour it over the crackers, making sure they are all covered.
Bake for 10 minutes. The top should be all brown and bubbly.
Scatter the chocolate all over the top and pop it bake into the oven for 5 minutes.
Using an offset spatula or the back of a spoon spread the melted chocolate to make sure it covers the surface completely.
Sprinkle the coarsely chopped nuts all over and gently press down into the chocolate to make sure they stick.
Cool down and then refrigerate till the chocolate sets.
Invert the pan on a clean surface, peel back the foil and cut into bars. Keep refrigerated.
Cutting options –
1) Cut along the cracker edges for generous cracker sized bars.
2) Cut into quarters for little bites
3) Cut in half for fingers
Here's what the others have brought to the table this week –
I've seen crinkle cookies all over the place on a number of blogs and sites and I decided to try them out myself. While I was looking around for a recipe to use I came across
this
one. It seemed fairly simple and looked really delicious. So I decided to try it out. Let me tell you right this minute that these were really good, this recipe is definitely a keeper for me. My husband is a absolute chocoholic and he loved them. He actually told me that they were addictive and he found it hard to stop at one or two. That's a compliment enough for me. These are really good.
I followed the recipe to the T with the only change being, I used butter instead of margarine and the first tray I baked, really spread. I'm guessing that it has something to do with the difference in humidity levels and altitude. Sara mentioned that she rolled the dough into balls before placing on the baking sheet. My dough was not as stiff, so when I saw it spread this much, I added a couple of heaped tablespoons of flour to the rest of the cookie dough and this batch turned out much better. I didn't sprinkle icing sugar over it, but if you'd like to, you can. Despite the difference in the appearance, I think this is a really good cookie to have on your platter. Head over to Sara's blog to see what they are actually supposed to look like.
Chipper Crinkle Cookies
Adapted from: Simply Sara
Makes 2 1/2 dozen cookies
6 tbsp butter
1 cup sugar
2 eggs
1 1/2 tsp Vanilla extract
1 cup semisweet chocolate, roughly chopped
1 1/2 cup all purpose flour (I used about 2 tbsp extra flour)
1 1/2 tsp baking powder
1/4 tsp salt
1 cup semisweet chocolate chips (I just used some chopped up chocolate)
Icing sugar for dusting, if desired
Preheat the oven to 170ºC. Line a cookie sheet with some greased baking paper and keep aside.
Place 1 cup of the roughly chopped chocolate in a small saucepan and place it on gently heat. When melted, stir till smooth. Keep aside to cool a little.
In the meanwhile, cream the butter and sugar. Add the eggs one at a time, beating well between each addition.
Add the vanilla and beat well until smooth.
Add the melted chocolate and beat until smooth.
Add the flour, baking powder and salt to the bowl. Mix till well incorporated.
Add the chocolate chips to the cookie dough. Mix well.
Drop spoonfuls of the batter on the prepared cookie sheet.
Bake for 10-12 minutes until the edges firm up. The centers may still be a little soft and that's okay.
Cool for 5 minutes on the sheet itself, then transfer to a wire rack to cool completely.
You can dust with icing sugar, if you'd like.
Let me know if you'd like to join in on the fun for the remainder of this wonderful event. We still have 10 weeks to go!
Don't forget to check what the others have made this week!
Can you believe it? Christmas will be here soon enough. Yes, its just about 13 weeks away. And you know what that means. It means that once again, its time for our "12 Weeks of Christmas Cookies" party. Last year, just a few days after I started this blog, I got to know that April of
Abby Sweets
was hosting this amazing 12 week long event where each week, the participating bloggers made a cookie or candy of their choice to fill their platters for the holiday season. It was so much fun. If you are like me and sometimes like to take a little walk down memory lane, you will find my submissions for last year
here
.
Believe it or not, this year in August itself I started sifting through my "to try" list, which by the way seems to be growing at an alarming rate. There's just so much out there that I'd like to try. So when I couldn't wait any longer, I checked with April and Barbara of Barbara Bakes, I got to know that Brenda of Meal Planning Magic is hosting our Christmas bake along this year. I got in touch with her immediately and she promptly sent me the details (She's also designed a button just for this occasion). And so here we are, at week 1 of 12 fun weeks of Christmas Cookies. I do hope you stop by to check out the weekly party. And if you'd like, you can be part of the fun too. Simply leave me a comment and I'll send you the details. The more the merrier. So put on those aprons and bring out those mixing bowls and let the festivities begin.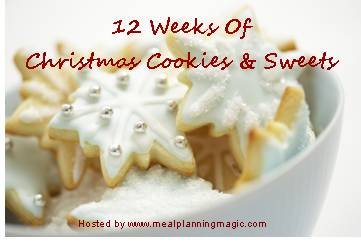 For this week, I decided to try out these White Choco-Cherry Cookies. They looked so festive and I had all the ingredients handy, which made it easier. The dough is very easy to make and I think its a fairly versatile cookie. You can switch the type of chocolate, fruit as well as nut to suit your liking. I stuck with the original recipe and just made one change, I didn't have macademia nuts so I used pistachios. I think the green of the nuts and the red that the cherries added made for a very Christmassy looking mix, don't you think?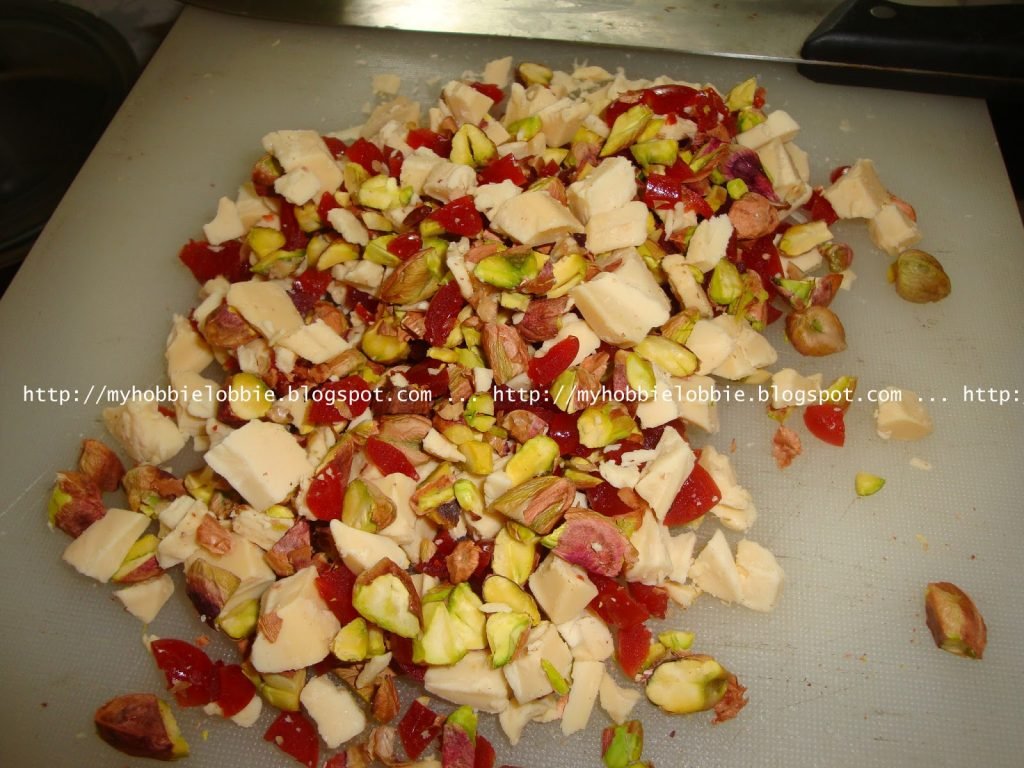 The cookie turned out to be a nice soft one, slightly chewy on the outside and a little softer and cake like on the inside, which made for a nice change from the crunchy cookies. I loved the textures that the chocolate chunks, candied cherries and roasted nuts gave it. When I make these again, I will just cut down on the sugar a bit since I don't like my cookies too sweet and the white chocolate and candied cherries add a fair bit of sweetness to it. I'll probably try some bitter chocolate instead of white next time. What do you think?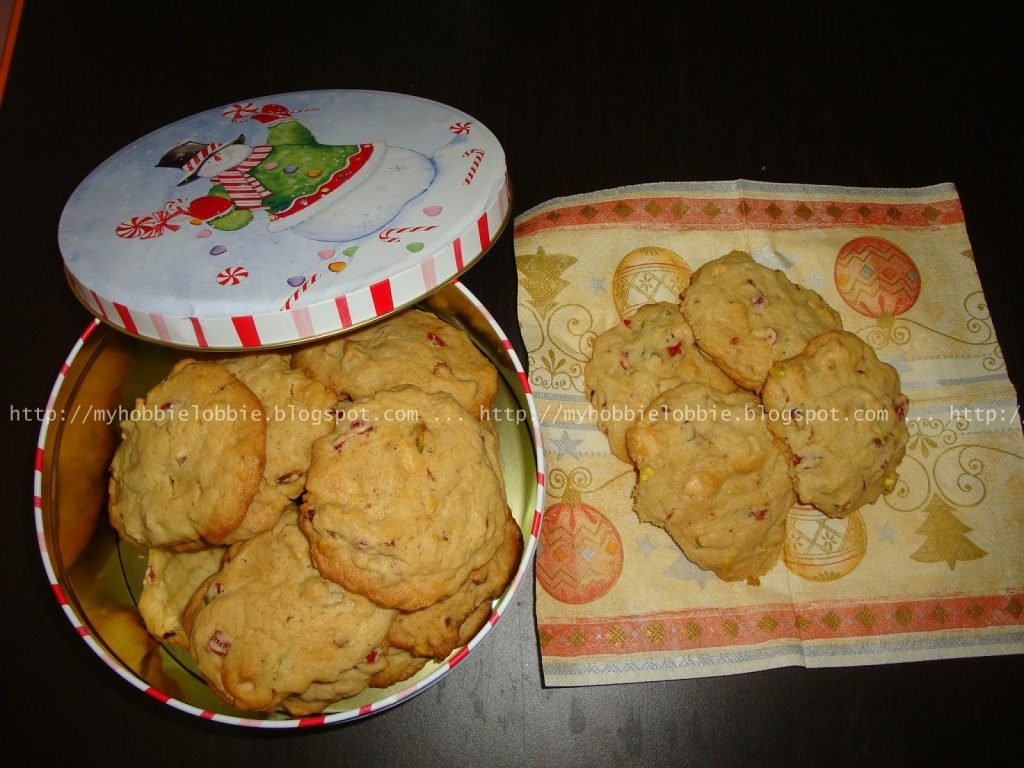 White Choco-Cherry Cookies
Adapted from: Mom's Crazy Cooking
Yields about 16-18 cookies
1/4 cup butter, softened (not melted)
1/2 cup brown sugar
1/2 cup white sugar
1 large egg
1/2 tsp Vanilla extract
1 1/2 cup all purpose flour
1/2 tsp baking soda
1/4 tsp salt (Since I was using salted butter, I just added a pinch of salt)
1 tbsp milk
1/2 cup pistachios, chopped
1/4 cup candied cherries, chopped
3/4 cup white chocolate chunks
Preheat the oven to 170ºC.
Line a cookie sheet with some baking paper that has been greased.
With an electric whisk, cream the butter and sugars together till light and creamy.
Add the egg and vanilla extract and beat until just combined.
Add the milk and mix.
Sift in the flour, baking soda and salt. Mix until just combined. The batter will be a little stiff.
In another bowl, combine the chocolate chunks, cherries and nuts and then add to the dough, stir gently only till the ingredients are well distributed.
Using a tablespoon, drop cookie dough onto the greased cookie sheet about 2″ apart.
Bake for 12-15 minutes.
Enjoy!
This recipe is linked to –
Crazy Sweet Tuesday
Recipes I Can't Wait To Try
Friday Potluck
Sweet Tooth Friday
Sweets for a Saturday
Do stop by and check what the others have whipped up this week.