This version of marzipan is made using cashew seeds and is shaped into little colorful bites. It is the crowning glory of every Indian Christmas platter.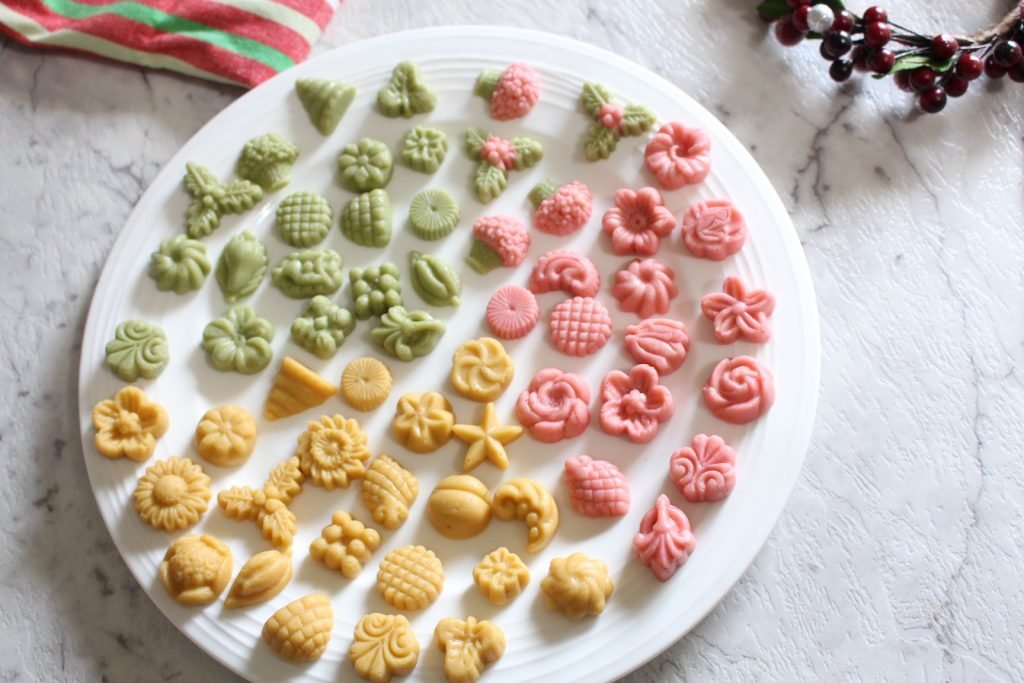 Today, I want to take a minute, right at the onset, to say "Thank you" from the bottom of my heart for all your support on my YouTube Channel. I am overwhelmed that so many of you want to watch my videos and try my recipes. A lot of you lovely folks have asked me to share my Marzipan recipe. 
The recipe that I'm sharing with you today, is my absolute favourite. Typically, Marzipan is made using Almonds. But in Goa(and India, in general), Cashew nuts / Cashew seeds are more easily and abundantly available than Almonds. So the Goans / Indians have simply swapped one for another. And the results are pretty spectacular. I always make my version using cashew seeds. You can use this recipe to form little shapes like you will see me do today, you can cover a cake with it, and I've also made
Marzipan tarts
in the past. The possibilities are endless. 


Marzipan
Yields: 1/4 kilo or 250g Marzipan
125g Cashew Nuts 
200g Sugar
1 egg white
1/2 tsp Almond essence
1/4 cup water
Food colours, as required
Soak the cashew nuts in some (room temperature) water for about 10 minutes. Drain, run some fresh water through the nuts, and drain them again.
Grind the cashew nuts, egg white and water to a fine paste.
Pour the ground paste, the almond essence and sugar into a large heavy pan. Place the pan on low-medium heat and stir to combine.
Cook the paste on a medium low heat, stirring continuously till it thickens and starts coming away from the pan. 
Use the water test to check if it is ready. Place some ice cold water in a small bowl and drop a 1/2 teaspoon of the sweet on it. If it firms up on cooling it is done. If it is still soft or too sticky, it needs more cooking.
As soon as it has cooked, pour the marzipan on a large plate and spread it out a little and leave it to cool down a little. Knead it to a dough while it is still warm.
Portion and colour the marzipan as desired. 
You can now shape it as needed or use it in any recipe that calls for it. 
If you making little shapes with the marzipan, once you de-mould it, place it on a plate and leave it to air dry for a while till it sets and is slightly firm to the touch. You can then place it in an airtight container and store. This should last you a couple of weeks if stored well. 
If the temperature is too high where you are, consider refrigerating it till needed.
My Christmas Tree is up, the carols are playing and the air at home, especially in my kitchen is full of lovely aromas of Christmas sweets being made. This literally is the best time of the year. If you haven't figured it out yet, I love all things Christmas. Christmas sweets in my house, like any other Goan household, includes all sorts of traditional Goan recipes. Over the last few years, I've found myself including a couple of recipes that are more 'recent' for lack of a better word. Like this little gem I'm sharing with you today.
Most Goan Sweet recipes are a labor of love and usually require either hours of stirring on the stovetop or take hours to shape and form. And while I love them all and make most of them every year, I love having recipes like this Chocolate Hazelnut Fudge on hand. This recipe is a great one to have on hand. It uses just 4 ingredients and the cooking time is just a few minutes. And, after leaving it to set in the fridge for a few hours, you end up with a super delicious, decadent chocolate fudge. This time around, I'm using hazelnuts in the fudge and I'm happy to report that this fudge tastes very similar to the Ferrero Rocher chocolates you find in the shops, albeit, without the wafer. You can customize this fudge to suit your liking by swapping hazelnuts for any nuts that you prefer.
Chocolate Hazelnut Fudge


350g dark chocolate
100g hazelnuts
1 tin condensed milk (we get 395g tins here)
30g butter
Line a 9 inch square baking tray with some foil, leaving a little overhang on the sides and set aside.
Lightly roast the hazelnuts. Carefully remove any pieces of skin / peel that may have been left on. Let the nuts cool down completely.
Roughly chop the nuts or place them in a ziplock back and crush the nuts with a rolling pin. You will be left with a rough chop.
Add the butter, condensed milk and chocolate pieces to a heavy bottomed pan. Stir over medium heat till the chocolate has melted and everything in the pan has combined to form a rich, luscious mix.
Add the hazelnuts and stir through to incorporate well. You will notice the mix starting to thicken.
Quickly pour into the foil lined tray. Leave it on the countertop to cool down a little. Once it comes to room temperature, pop the tray into the fridge and leave it to set for 4-6 hours or overnight.
Carefully peel back the foil. Cut the fudge into squares and serve.
If you're not serving this up immediately, place in an airtight container and refrigerate till needed.
Enjoy!!!
Its December folks! Anyone who knows me, knows I'm a bit Christmas crazy. I love everything about the Holiday season. I'm going to kick off this years Christmas recipe posts with a lovely little cookie – the Indian Nankatai. This is an eggless recipe and is so easy to put together. What you end up with is a delicate and really delicious little treat. I like making a big batch of Nankatais closer to Christmas. I add these on my Christmas platter of sweets to share with family and friends and I also have some in the cookie jar to serve up with some tea.
Let's talk about the dough for a bit. It is such a ridiculously simple recipe, you will be surprised at how tasty the nankatais turn out. I find that this dough can be a little finicky and it usually works beautifully on a slightly warm day. While that works beautifully for us in Australia and anyone in the Southern Hemisphere, it could be a challenge in the Northern Hemisphere, where its the middle of winter. If its cold where you are, you might find that the dough ends up a little crumbly and you may have a little difficulty shaping it into a cookie. When that happens, I pop the dough in an ovensafe bowl and pop it into a slightly warm oven (about 100 degrees) for a couple of minutes. This helps the ghee warm up and helps bind the dough.
Nankatais
Yields: 1/2 kilo (approx 30 cookies)
1 1/3 cup all purpose flour
1/3 cup besan (chickpea flour)
1 cup sugar (superfine. You can also powder larger grain sugar and then use it in the recipe)
2/3 cup of ghee (clarified butter)
1/4 tsp baking soda
Preheat your oven to 180 deg. Celsius and line a baking tray with some baking / parchment paper.
Mix the ghee and sugar till it is light and creamy. Scrape down the edges and bottom of the mixing bowl halfway through the process.
Add the rest of the ingredients (baking soda, all purpose flour and chickpea flour) to the mixing bowl and continue mixing till it forms a dough.
Shape into little cookies by rolling portions of the dough into a little ball and flatten it slightly. Place the cookies on the lined baking tray.
Bake for 12-15 minutes or till done. Your looking for a light colour on the edges.
Take it out of the oven and leave the cookies to cool on the tray itself.
When completely cool, store in an airtight container.
Enjoy!
You can watch the video recipe here –