It seems like I've been on a bit of a Goan food trip lately. For the past couple of days, we've enjoyed a whole lot of it. This is my 3rd consecutive Goan seafood recipe on the blog. And that too, in a matter of a couple of days. But I must say, I've enjoyed every single bite of it.
This sort of food takes me back to a simpler time. Back when I was in school (and that was a looooong time ago), every summer holiday was spent at the family home in Goa. I looked forward to those trips. The bus journey each way took aound 18 hours and was great fun. We'd pack a variety of munchies for the way. Bus journeys always made me hungry and sleepy. But I loved those long hours on the road. We actually looked forward to the journey almost as much the holiday in Goa itself. Have you every made that trip? What's your favorite part? My late aunt was a fabulous cook. Unfortunately, I was very young then. Too young to be interested in learning about cooking from her. To this day, I wish I had. Back then, it was 2 months of Goan fare. And I never tired of it. Cooking was a labor of love then. Even though we had a modern Gas kitchen, my aunt chose to cook on a wood fired stove in clay pots. And the food, was absolutely out of this world. I have not tasted food like that ever again. Who knows? Someday, I may go back to Goa for a couple of months to relive those days. One of the dishes my Aunt cooked really well was a Tisreo Sukhem – a Goan Clam stir fry. And this is a dish my mother cooks really well too and it is very similar to the one my Aunt made. Fortunately, I have learnt how to make it too. Clams are more commonly known as Pipis in Sydney.
On my last grocery shop, I picked some up from the fish monger. Now, you can cook the whole shell and you know its cooked once the shells have opened up. But both, my Aunt and my mother always make it on the half shell. So I did the same. Once the clams are halved, the entire dish probably takes about 15 minutes to put together. I hope you decide to try this Goan delicacy some time. You can serve it up as a side dish to a typical Goan Fish Curry and rice meal, or serve this with some chapatis or even with bread. However you choose to serve it, you will love it.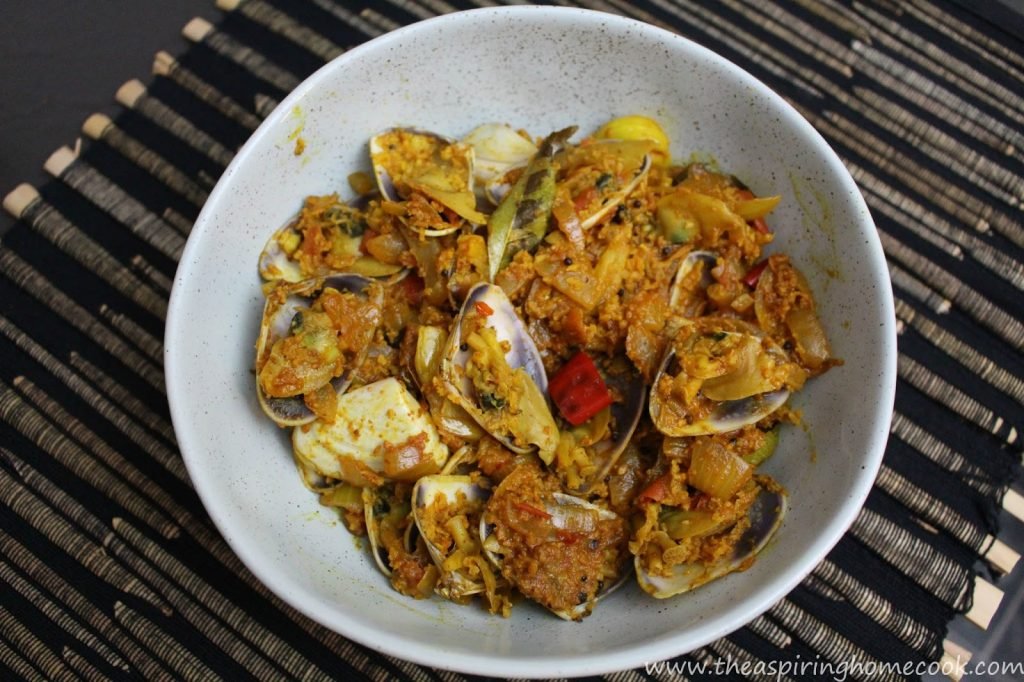 Watch the step by step process here –
Tisreo Sukhem


40-50 fresh clams / pipis
1/2 tsp black mustard seeds
6-8 curry leaves
4 cloves garlic, lightly bruised / crushed
1 medium onion, chopped
2 green / red chillies, cut into 1/2 inch pieces
1 tomato, chopped
1/4 tsp turmeric powder
1/2 tsp red chilly powder
1 heaped tsp coriander powder
2-3 tbsp grated coconut
1 tbsp coconut oil
Salt, to taste
Wash and halve the clams / pipis. (You can also chose to leave them whole.)
Heat the oil in a pan on medium heat.
Add the mustard seeds. When the seeds start to sputter, add the curry leaves and the chillies.
Stir that around and add the garlic cloves. Let that fry off for a few seconds.
Now add the chopped onions and saute them till they have softened and the edges have just started to brown.
Add the turmeric, chilly and coriander powders to the pan and stir well. Add a dash of water (about 1 tbsp) to deglaze the pan. The prevents the spices from burning.
Now add the chopped tomatoes and stir fry that for a couple of minutes.
Now add the clams and gently stir them through the spice mix in the pot.
Add salt to taste.
Add a small splash of water to help the clams steam through. (2-3 tbsps worth)
Switch to a low heat, cover the pan and cook for about 5-8 minutes, or till the clams have cooked through. Stir at the halfway mark and add more water, if needed. Just a little to prevent if from burning. If you find that there is too much liquid in the pan, cook it uncovered for the rest of the time.
(You are looking to have most of the liquid absorbed into the dish.)
(If you are using the clams whole, you'll know they are cooked, when the shells open up.)
About a minute before you take it off the heat, add the grated coconut and stir though. When the coconut has warmed through, take off the heat.
Serve hot!
Ok, so on Sunday, we took a culinary trip to Goa. Lunch and dinner was Goan fare. My previous post tells you about the amazing dried prawn
Kismur
we had. But that was just the accompaniment to the meal. It was served alongside a great Goan Fish Curry and rice and some Fried fish too. That meal, right there, is the way to every Goan's heart.
Today, I'm going to share with you the recipe for that amazing Goan Fish curry. This is a coconut based curry and combined with a few spices, you will be rewarded with the most gorgeous bowl of Fish curry. A good Goan Fish Curry is known for its color. They key to great color is good Kashmiri chillies. Kashmiri chillies are dried red chillies, very widely used in Indian cuisine. They are mild chillies so you won't get much heat from them, but they are known for the vibrant color they lend to the dish in which they are used. You can find Kashmiri chillies in any Indian store. In Sydney, I have used a few brands and a lot of them don't meet the mark at all. That was until I tried the 'Uttam' brand of Kashmiri chillies. Now, for the first time in years, I've managed to get a delicious curry with fantastic color. That made me very happy. Another important factor to a good curry is the curry paste. You need to grind the masala (spices) to a fine paste. Grind it for 3-4 minutes with a couple of breaks every now and then, so that your mixer (blender) doesn't overheat and trip. Lastly, sourness or tang is very important to a great curry. The curry needs to be balanced, but without enough sourness, it just won't taste right. That being said, add sourness to taste.
If you're in the mood for a great Goan meal, try out this curry.
Goan Fish Curry


1/2 kg fish of your choice (I used Mackerel)
1 medium onion, thinly sliced
A ball of tamarind, the size of a walnut
2-3 fresh green / red chillies, slit (optional)
Salt, to taste
2-3 pieces of Kokum / Mango sol (dried mango) (These are souring agents, use as much or as little as you need. If raw mango is available, use a few pieces of it and you curry will be even better)
** If you are using Mackerel, 4-5 tefla berries are added to the pot along with the curry paste and water and cooked. (I haven't been able to find it in Sydney yet, so I left it out. But it makes a huge difference to the flavor of the curry, so try and get your hands on some, if you can.)
For the curry paste / masala –
8 dried red Kashmiri chillies
6 large cloves of garlic or 10 small ones
8 black peppercorns
1 tsp coriander seeds
1 tsp turmeric powder
1/2 coconut, grated
Water, as required
Cut the fish into pieces and season them with a little salt and set them aside.
Soak the tamarind in about 1/4 cup of warm water and set aside for about 5 minutes.
Grind the tamarind and the water it was soaking in and all the ingredients listed under "For the curry paste" to a find paste using water as needed.
Place the sliced onion, tefla (if using), the curry paste and 2 cups of water in a pot and bring to a boil. Lower the heat and simmer for 30 minutes. You need to maintain the liquid content to have the right consistency. So top up with water, as needed.
Add the kokum / mango (if using), whole slit chillies and the fish pieces. Bring the curry to a boil again. Let this simmer on low heat for 5-10 minutes (depending on the size of the pieces of fish) or till the fish is cooked.
Check the seasoning and add more salt / sourness, if needed.
Serve with hot boiled rice.
To complete the meal, serve some fried fish and Kismur with it.
Enjoy!!!
Guys, I finally got down to trying this recipe out myself. I have wanted to make Kismur (pronounced Kis – moor) for months. The only thing holding me back was the availability of dried prawns in Sydney. Most (if not all) Indian stores I've been to, don't stock dried prawns and fish. I had once bought a packet from a Chinese store and I wasn't too happy with it. I was researching Sri Lankan cuisine a few days ago and I read that they use dried prawns too. So yesterday I popped into my local Sri Lankan grocery store, and lo and behold, sitting proud on its shelves were so many varieties of dried fish and prawns. I grabbed a bag and knew exactly what I was going to try with it.
Kismur is a Goan prawn and coconut salad of sorts. It's not your typical salad with dressing, but its more like a stir fry that is served at room temperature. And I use the term stir fry very loosely here as the ingredients are all sauteed before tossing together. In Goa, sun dried fish is very commonly found and used. In the summer, when fresh fish is abundant, they are prepped, salted and sun dried and this fish can then be stored for months at room temperature. You can find big mounds of dried fish and prawns at any Goan market. This dried fish is best purchased in the summer when everything is nice and dry. The fish is then stored for use during the monsoon, when fresh fish is not easily available. A lot of Goan homes serve this dried fish (also called salt fish because of the way it is cured) along with a Sorak (plain Goan curry) or a dal or a vegetable curry as a condiment. You can't really eat as much of the salt fish as you would fresh fish but it makes for a very tasty accompaniment to a vegetarian meal. Dried prawns on the other hand, are used to make warm chilly fries / stir fries, salads and this Kismur. Now that I've found good dried prawns, I see a chilly fry coming up in the near future.
But today, I'm going to share with you a quick and simple version of Kismur. It is ridiculously simple to make and if you're anything like me, you will absolutely love it. Please note, that since this is almost like a salad, the quantities listed below are approximates of what I used.
Goan Dried Prawn Kismur
1/3 cup dried prawns
1/2 a large onion, chopped
1/3 cup freshly grated coconut
1 red / green chilly, split in quarters lengthwise
1/8 tsp turmeric powder
1/4 tsp red chilly powder
1 tbsp coconut oil
Salt, to taste
Lemon wedges, to serve
Wash the prawns under cold running water and drain.
Dry roast them on a pan till crispy again, stirring frequently, so that it doesn't burn.
Tip the prawns onto a plate and set aside.
Heat the coconut oil over medium high heat in a pan.
Add the chopped onion and saute for a minute or so till the onions have only slightly warmed through.
Add the roasted prawns and stir.
Now add the chilly, coconut, turmeric powder, chilly powder and salt. Mix well.
Place into a serving bowl and serve with some wedges of lime for those who might want to squeeze some lime over.
Serve at room temperature with some steaming hot rice and curry. (Fish curry recipe to follow. Watch this space.)
Enjoy!!!
It's been a while since I posted an Indian recipe. Especially a savory one. And today, I'm going to do just that. Indian recipes often get a bad rep for being notoriously complicated, or mind numbingly spicy or involving too many ingredients. Today's recipe will prove all of that wrong. Today, I am going to share with you my Mum's recipe for a vegetable Sambhar. My mother has always been a fantastic cook and when she visited us last year, I was lucky enough to learn how she makes it. There's a couple of steps to follow, but they are so easy and quick, you'll be pleasantly surprised at how easy some Indian recipes are.
Here, on The Aspiring Home Cook, I love to make things from scratch. I have tried a made from scratch version of Sambhar too, and it was okay, but didn't turn out like my Mother's did. So for this one, I'm following her recipe and since she's uses a store bought blend called a Sambhar Masala, I did just that. This Sambhar Masala is a delicately balanced blend of spices and gives a beautifully complex depth of flavor to the dish. Now, I always have a box of this masala in the pantry. I've used a couple of brands in the past like Everest and MDH, both of which you should be able to find at your local Indian grocery store, and they are both good. This time around, I've used the Everest Sambhar Masala.
Moving on to the vegetables. I use a mix of all sorts of veggies. This time around, I used some sweet potato, carrots, eggplants (I grew these ones in my own backyard, so I'm thrilled about them), okra / lady fingers and drumsticks. You can also use bottle gourd (white pumpkin), pumpkin and potato if you like. Use what you have on hand. Typically a sambhar always has drumsticks, eggplant and some bottle gourd. For those of you who aren't familiar with drumsticks, its the fruit of the moringa plant and supposed to be very good for you. They come in long canes ranging from 1 to 2 feet in length. They are chopped into smaller pieces, about 2 inches long and you don't eat the outer hard skin. Your after the pulp on the inside and the seeds. It is eaten much like how you would scrape the icing from the inside of an oreo cookie with your teeth.
This sambhar can be served up with some plain, boiled rice and a side of papad (poppadums) and Indian pickles of your choice. This sambhar pairs very well with idlis or dosas. I also enjoy a bowl of this stew with some crusty bread.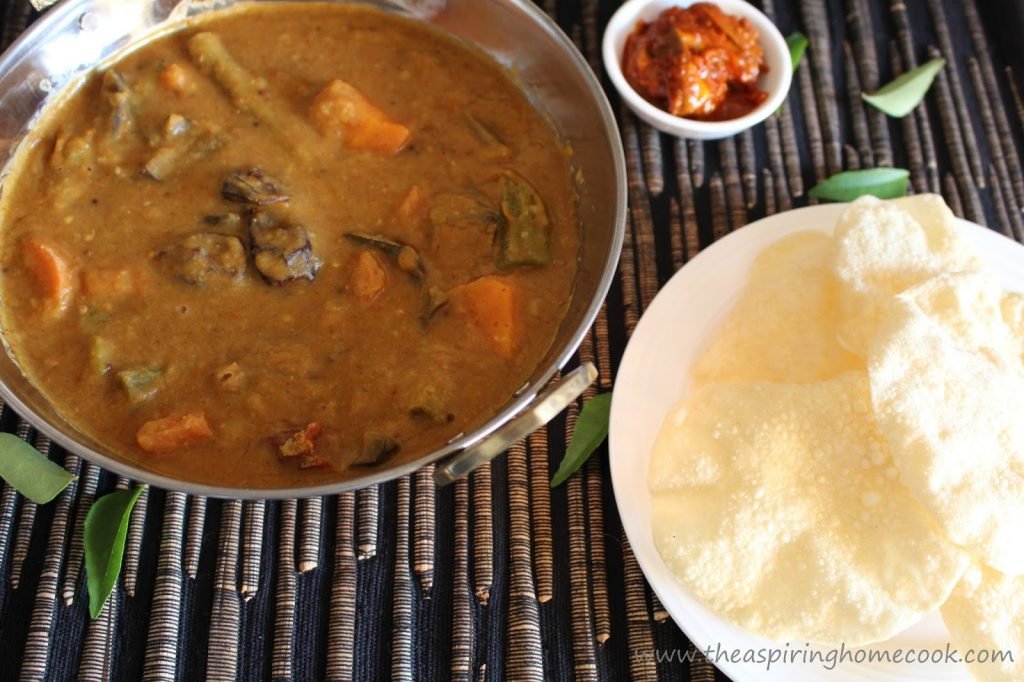 If you want to see this being made, check out the video version of the recipe here –





Vegetable Sambhar


1 cup toor dal (pigeon peas)
1/2 sweet potato
2 carrots
A handful of okra
2-3 small eggplants
A couple of drumsticks (A handful of frozen pieces)
8-10 curry leaves
1/2 tsp black mustard seeds
3 dried Kashmiri chillies
1 tbsp Sambhar masala
1/2 tsp Kashmiri chilly powder, or any mild red chilly powder
1 tbsp olive oil
Salt, to taste
Tamarind, the size of a small walnut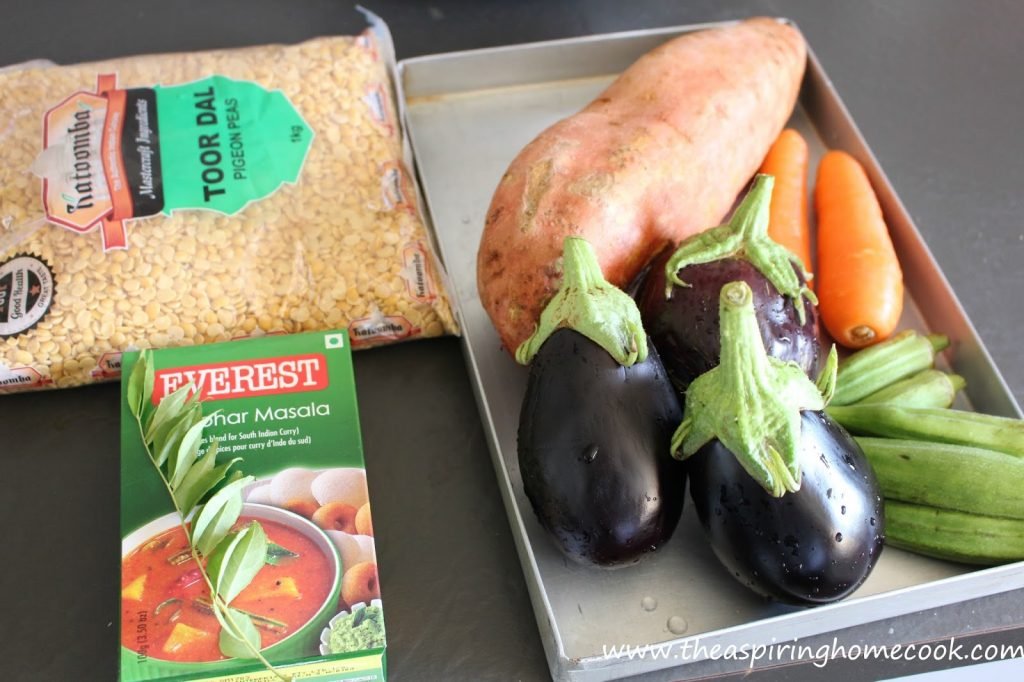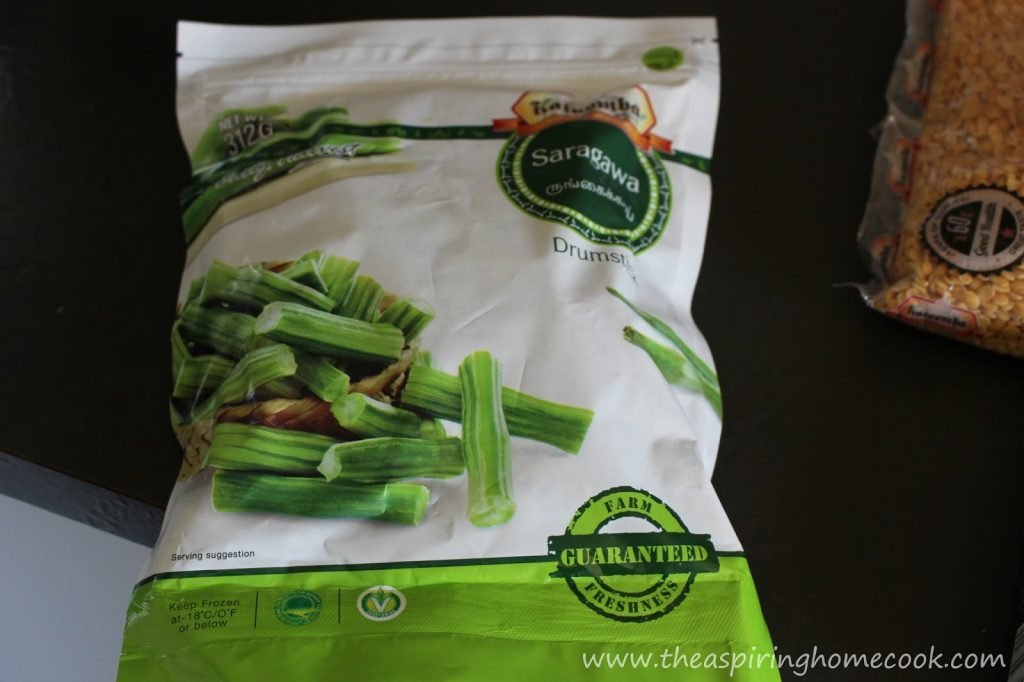 Cooking the lentils –


Wash through the toor dal with cold water and drain. Do this 2-3 times.
Cover the dal with fresh water till the dal is fully submerged and set aside to soak for about 10 minutes.
While the dal is soaking, chop up the vegetables you are using into similar sized cubes.
Drain the dal, and rinse through with fresh water and drain again. Pressure cook the dal with 2 cups of water and 1 tsp of salt. Cook till tender, almost mushy. It takes about 5 minutes in my WMF pressure cooker. Follow your manufacturers instructions to get you the best results. If you don't have a pressure cooker, simply boil it in a pot with plenty of water till it is well cooked.
Once the pressure dies down, open the pressure cooker.
Cooking the vegetables –
While the dal is cooking, place the chopped vegetables in a large pot, top off with water from a recently boiled kettle and 1/2 tsp salt. Boil the veggies till they're almost done. Don't over cook the vegetables, because they will continue to cook in the sambhar. When the veggies are ready, drain them and set them aside. Reserve the water the vegetables were boiled in.
To make the sambhar –


Soak the tamarind in a small bowl with about 1/8 cup of warm water. Set aside till later.


Heat 1 tbsp of olive oil in large pot on medium heat.
When the oil is hot, carefully tip in the mustard seeds. When they start to sputter, add the curry leaves and the Kashmiri chillies.
When they have warmed through and released their flavors and aromas into the oil, lower the heat and add the cooked lentils and the water it was cooked in. Stir through.
Now add the sambhar masala and red chilly powder and stir through.
Add 1/2 – 1 cup of the vegetable stock to loosen the lentil curry as needed. You can add as much or as little of the stock as you need, depending on the consistency you'd like the sambhar to be. Keep in mind, the sambhar tends to thicken a little as it cooks.
Bring this back to a boil and add the cooked vegetables.
Once everything has heated through, check for seasoning and add more salt, if needed.
Now, mash the tamarind with your fingers in the water it was soaking in to extract the pulp. Pass this through a sieve into the pot of sambhar. Add this tamarind extract to taste.
Let it simmer for a couple of minutes.
Serve hot!!!
Cashew Chicken on Lettuce
Recipe from: As Easy As Apple Pie
Serves 3
250g boneless, skinless chicken
2 tbsp low sodium soy sauce (Use a little lesser if you're using regular soy sauce)
2 tbsp oyster sauce
1/2 – 1 tsp red chilly paste
1/2 tbsp olive oil (cooking oil of your choice)
1/2 tbsp sesame oil
1 large clove garlic, finely chopped
1/2 tsp ginger, finely chopped (fresh ginger is best but you can also use lightly dried ginger like I did here)
1/2 cup raw cashew seeds
Iceberg lettuce leaves (or any lettuce of your choice)
Sesame seeds, to garnish
Cut the chicken to bite size pieces.
In a bowl, mix the chicken, soy sauce, oyster sauce and chilly paste and toss well. Set this aside for about 10 minutes to marinade.
While that is happening, chop the ginger and garlic. (Fresh ginger is best, but I didn't have any so I used some from Gourmet Garden.)
Chop the lettuce leaves into bite size pieces and place them on serving plates.
Now, heat the olive oil in a pan over medium heat. Add the ginger and garlic and saute for about 30 seconds or till they release a lovely aroma and are gently sizzling.
Turn the heat up to medium high and add the chicken and the marinade liquids. Add the sesame oil to the pan.
Stir fry for about 4-5 minutes or till the chicken has cooked through. (Please note, the cook time will depend on the size of the chicken pieces, so watch the pan and make sure the chicken pieces are cooked on all sides and have cooked through.) Stir the contents of the pan frequently, so ensure they don't burn.
When the chicken is cooked, add the cashew seeds and stir through for about a minute or till they've heated through.
And that's it. Your cashew chicken is ready to serve.
Spoon some of the chicken on the bed of lettuce. Make sure you have a few cashew seeds on each plate.
Sprinkle some sesame seeds on top and serve.
Enjoy!!!
NOTE: This is NOT a sponsored post.
Pin now for later –