In my last few posts, you may have heard me complain about the heat and unfortunately not much has changed. This has been one of the fiercest summers I've seen since coming to Australia. I am definitely not a an extreme summer person. I love the milder temperature of spring and autumn, I enjoy the rains and I love winter.
When its this hot, all cooking and baking activity in my kitchen drastically falls. We mostly have salads, some sandwiches and any cooked dishes are usually quick and easy ones. I've been eager to increase my repertoire of such dishes and after some searching online, I came across this amazing Satay Chicken Noodle Stir Fry recipe. There are a few stages in the recipe, but they're all really easy and come together very quickly. The beauty of this recipe is that you can serve this either cold as a salad or like I did, slightly warm as a Stir Fry. I can't tell you how immensely flavorsome and delicious it turned out. You get the nuttiness from the peanuts, the flavor from the curried chicken pieces, the tang from the fresh lime juice, the creaminess from the coconut milk and the freshness from the fresh coriander. In all, it is a beautifully balanced dish. I am so very glad I tried out this recipe and it sure is a keeper.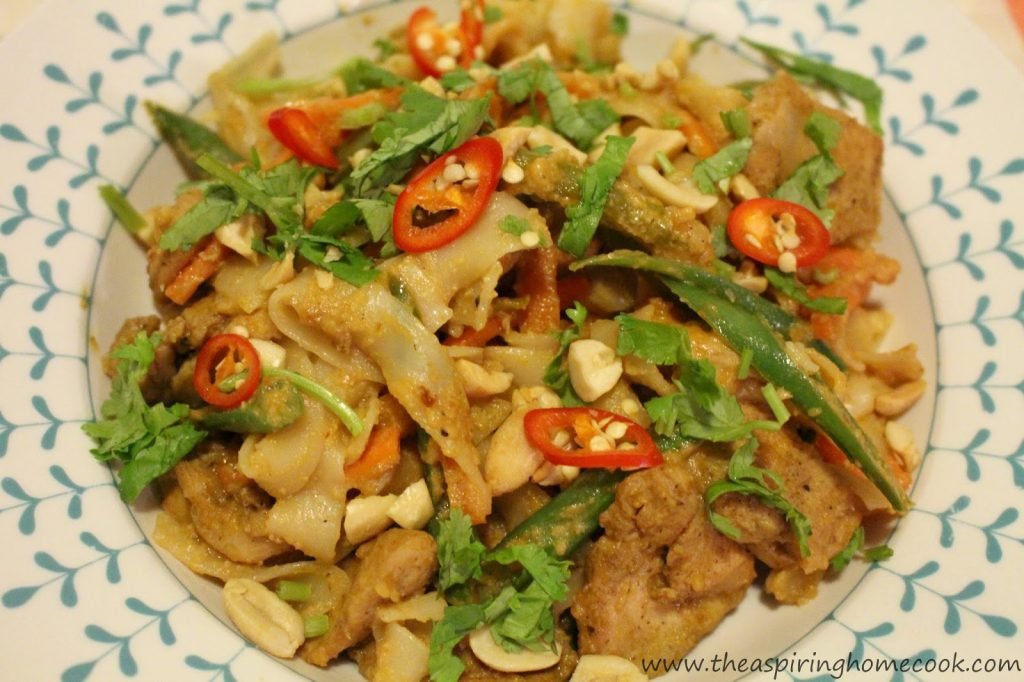 Satay Chicken Noodle Stir Fry
Adapted from: Recipe Tin Eats
Serves 3-4
For the dressing –
1/3 cup roasted peanuts (you could also use 1/4 cup peanut butter instead)
1 garlic clove, peeled
1 tbsp sesame oil
2 tbsp soy sauce
2 tsp palm sugar
1 1/2 tbsp Sriracha sauce
2 tbsp sour lime juice
6 tbsp coconut milk
2 tbsp water
1/4 tsp salt, or to taste
For the Satay chicken –
350g chicken breast, cut in half lengthwise and then slice thinly
Salt, to taste
Freshly cracked black pepper, to taste
1 1/2 tsp curry powder
1 tbsp soy sauce
1 1/2 tsp palm sugar
1 tbsp peanut oil (You can use any cooking oil you have)
For the Stir Fry –
1 pack flat dried rice noodles (I used a 200g packet of Pad Thai rice noodles)
1 large or 2 small carrots, julienned
12-15 green beans / french beans, edges trimmed and thinly sliced on the diagonal (Use this only if you are serving this as a stir fry. If you are serving it as a salad, leave it out and just use carrots, cabbage and spring onions)
2 spring onions, finely sliced on the diagonal
(You can use 1 cup of finely sliced green / red cabbage or a combination of both. I didn't have any, so I left it out this time.)
To serve –
1 red Birdseye chilly, finely sliced on the diagonal (optional)
3 tbsp roasted peanuts, roughly chopped
2 tbsp fresh coriander stalks and leaves, finely chopped
A wedge of sour lime
In a bowl, place the sliced chicken and all the satay chicken ingredients except the oil. Toss well and set aside for about 10-15 minutes to marinade.
While the chicken is marinading, make the dressing. Place all the dressing ingredients into a blender or food processor and blitz till you are left with a smooth dressing.
Cook the noodles according to the package instructions.
While the noodles are cooking, heat another pan over medium heat. Heat 1 tbsp peanut oil and gently tip in the marinaded chicken pieces and the marinade. Toss around a little and saute till the chicken pieces have cooked through. Take out the pieces of chicken onto a plate and set aside.
In the same pan, add about 1 tsp more peanut oil. Add the french beans and carrot and stir fry for about a minute. Now add the cabbage and the spring onion. Stir well and stir fry for about another minute. The veggies should have softened a bit by now. I like to leave my veggies on the crunchy side. If you like your veggies softer, cook for a little longer till they are done to your likeness.
Tip in the dressing and the chicken pieces. Stir through.
If it is too dry, add a tiny splash of water (1-2 tbsp of water) and heat through and toss well. (I didn't need to do this.)
Add the cooked noodles and gently toss through making sure that all the noodles are coated in that yummy dressing.
Take off the heat.
Portion out into serving bowls or on plates.
Sprinkle some roughly chopped peanuts, chopped coriander and sliced chilly (if using) over each bowl / plate.
Lastly squeeze some freshly squeezed sour lime juice over and serve or serve with a wedge of lime on the side.
Enjoy!!!
Hello lovelies!
I'm in a particularly good mood today. I know it's a Monday and I'm not usually a Monday person. It probably has something to do with the fantastic beach day we had yesterday. The hubby and I drove down south of Sydney and stopped at Thiroul beach for the day. The weather was just beautiful and water was amazing. Such a stark contrast to the scorchers we've been having the past few days. It was pure bliss. I simply love that part of NSW. Have you been there? I'd love to know what your favorite spots are? For all you beautiful people that are still dealing with winter, here's a little sunshine coming your way 🙂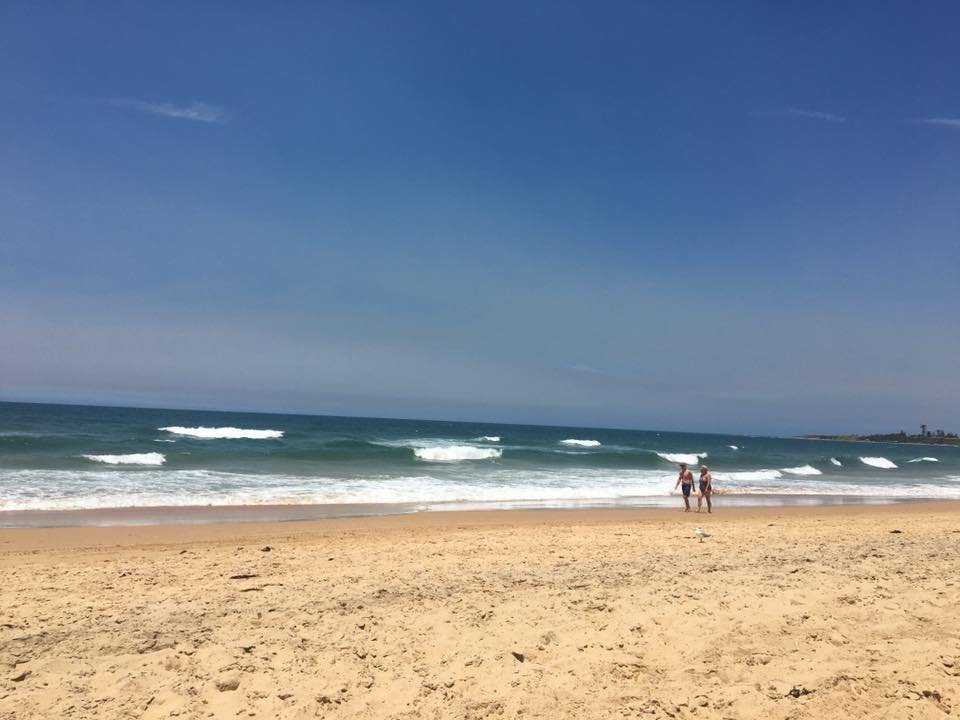 Speaking of sunshine, today's recipe is just like a little sunshine on a plate. It's a sweet potato mash. I love sweet potatoes. I almost always make these Baked Sweet potato fries. But at times I also just boil them with a pinch of salt till tender and snack on them, or roast them, or if I'm feeling a little indulgent, whip up a batch of these Sweet Potato Brownies. But last week, when I wanted to use up a sweet potato, it was just too hot to switch the oven on. So I decided to try making a mash. It was as easy and quick as a regular batch of mashed potatoes, but just a touch sweet and a little savory at the same time. It was glorious. I might just like a Sweet Potato Mash a little more than I like a regular mash.
So, if you haven't yet tried a sweet potato mash, don't wait any longer. Get your hands on a sweet potato and get to work. You won't regret it.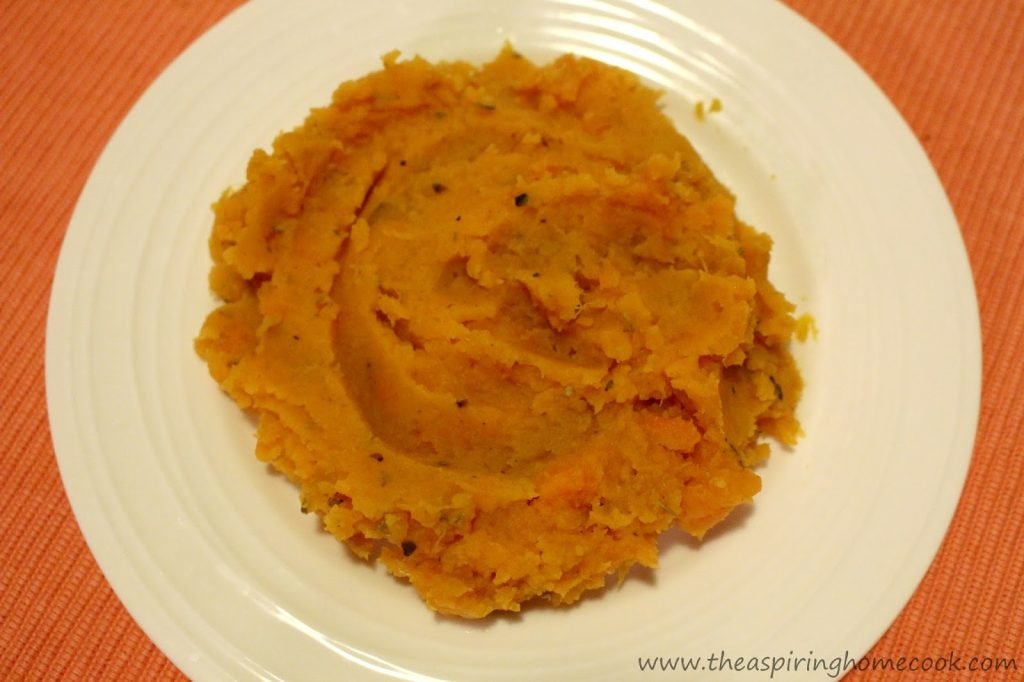 Sweet Potato Mash
Recipe from: Cooking Light
Serves 4
1 1/2 pound sweet potatoes (about 650-700g)
1 1/2 tbsp butter
1 tbsp extra virgin olive oil
A large pinch of dried thyme or 2 tsp chopped fresh thyme, or to taste
1/4 cup milk
Salt, or to taste
Freshly crushed black pepper, to taste
Peel and cube the sweet potato. Place the potato in a large pan with about 1/2-1 tsp of salt and water till it reaches about 2 inches above the level of the potatoes.
Bring to a boil and simmer till tender. This usually takes about 15-20 minutes depending on the size of the pieces.
Take off the heat, drain and place the potatoes back in the pan.
In another little skillet or pot, heat the olive oil and butter over medium heat. Cook till brown and fragrant. Be alert as this can burn quick.
Once it has browned, take off the heat and stir in the thyme.
Add the milk, salt and pepper to the hot sweet potatoes and mash till it reaches the desired consistency.
Now drizzle the browned butter mix over and stir through the mash.
Garnish with some more crushed black pepper or thyme leaves as desired.
Enjoy!!!
I served this up with some Eggplant patties and a Lemon, Sun-dried Tomatoes and Almond Quinoa Salad for dinner.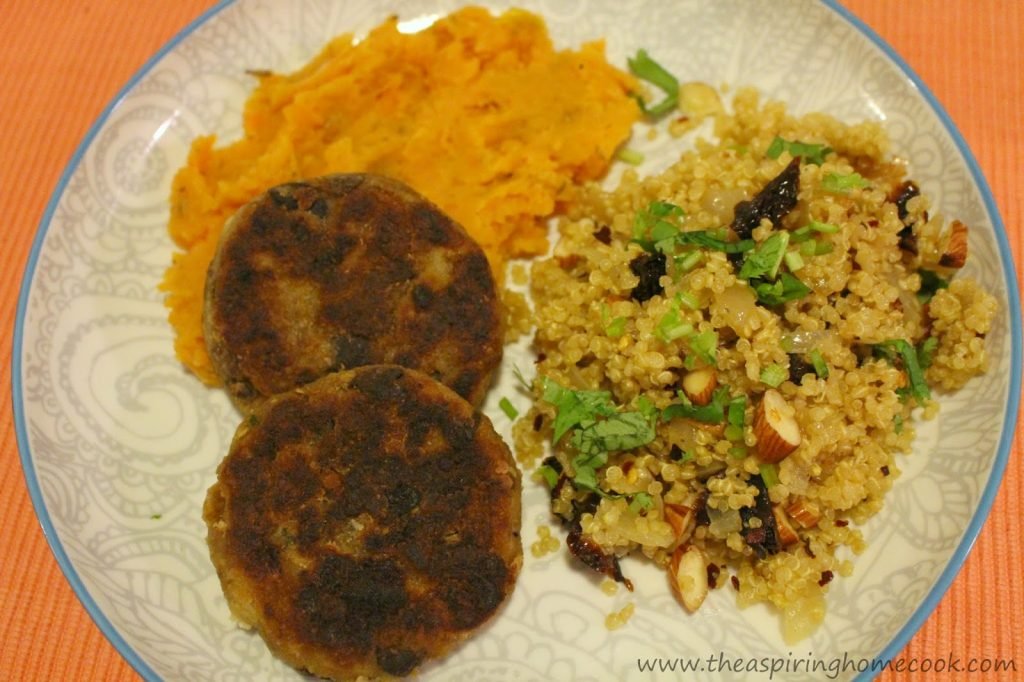 Find the other recipes to make this meal here –
Eggplant Patties
Lemon, Sun-dried Tomato and Almond Quinoa Salad
We're in for another scorching week ahead. I think the hot days are my least favorite things about summer. I love the beach days, all the frozen treats and grilling, the amazing fruit and veg that summer brings, but I cannot deal with the heat. And we seem to get a fair bit of it. One of the main reasons is I cannot cook or bake as much as I'd like to when its this hot.
It is especially at times like this that I love big salads. While I'm quite happy to put together a tossed garden salad a few times a week, I think I need to add a few new salads to my repertoire. We're trying to cut down our meat intake and substitute it with as much vegetarian food as possible. So salads like this Lemon, Sun-dried Tomato & Almond Quinoa Salad are perfect. Its all vegetarian yet hearty, involves minimal cooking and so very tasty. And its not just my opinion, my husband had a second helping of this salad for dinner.
I have tried cooking with quinoa before, but it was a total fail. So I was very skeptical about trying it out again. But I decided that trying something once and never trying it again, wasn't giving it a fair chance. So on my last trip to Costco, I just picked up a bag of quinoa. Now that I have this great big bag of quinoa, I was going to have to use it. So recently when I was looking for a salad recipe with Italian influences to pair up with my eggplant patties, I decided to look for one with quinoa in it. And when I stumbled upon this recipe, it sounded perfect. There was just one problem. I didn't have any parsley at home. So I just used the next best thing, coriander leaves. Personally I love the flavor that coriander leaves add to any dish and I thought it worked very well with this salad. But I also know there are folks out there that cant stand it. If you are one of them, feel free to use parsley instead. I can't wait to try it out with parsley the next time. I'm very happy to have another wonderful salad to include in my meal rotation now.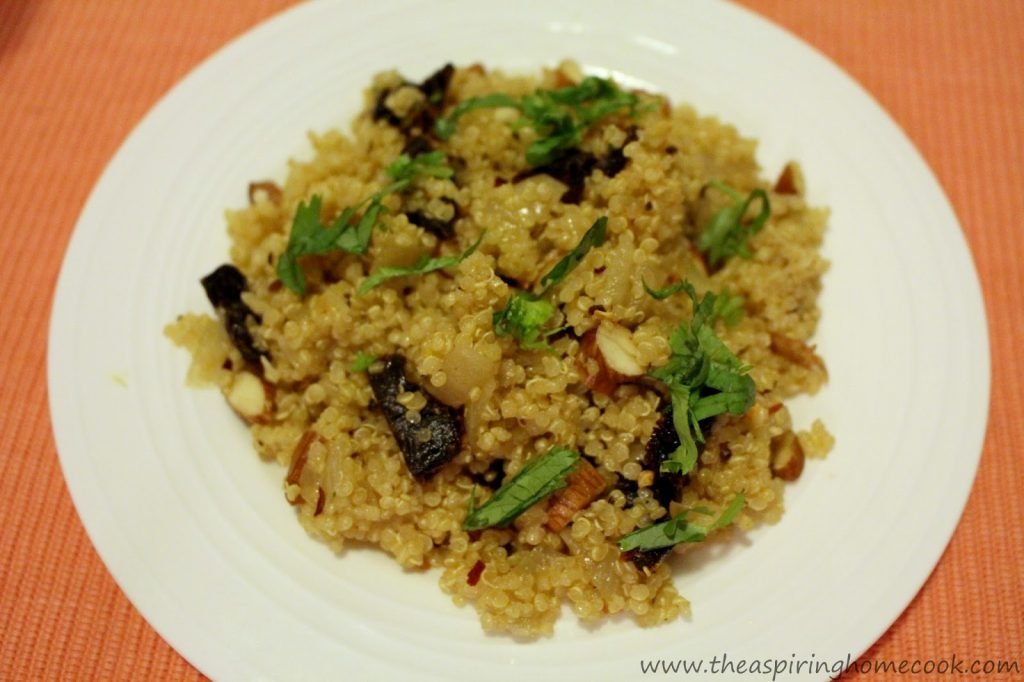 Lemon, Sun-dried Tomato and Almond Quinoa Salad
Adapted from: Averie Cooks
2 tbsp olive oil
1 large onion, finely chopped
1 cup quinoa
1 1/4 cups of water
2 tbsp apple cider vinegar
1/2 tsp lemon zest
2 tbsp lemon juice
1 tsp salt, or to taste
1/2 tsp freshly cracked lack pepper, or to taste
1/2 cup sun-dried tomatoes, sliced (I used the ones bottled in oil and drained them before slicing)
2 tbsp coriander leaves and stems, finely chopped
1/2 cup roughly sliced almonds
1 tsp red chilly flakes (optional)
Heat the olive oil in a large pan over medium high heat.
Add the onions and cook till the onions have softened and have just started browning.
Add the quinoa and stir. Let it toast for about 30 seconds.
Now add the water, apple cider vinegar, lemon juice, salt and pepper. Stir. Reduce the heat to low, cover the pan and cook for about 12-15 minutes or until all the liquid has been absorbed.
While the quinoa is cooking, chop up the rest of the ingredients.
Place the quinoa in a large bowl, add the rest of the ingredients and toss well.
Taste and add more salt or pepper or lime if needed. If, at this stage, you find the salad too sour, add a tiny bit of sugar to balance it out. I just stuck with the quantities listed above and I didn't need to add anything at this stage.
It stores well in an airtight container in the fridge for 2-3 days. This can be served either as a warm or cold salad.
Serve up this salad either as an accompaniment at a meal or a slightly larger portion as a meal in itself.
Enjoy!!!
With the Holiday season done, I know a lot of us are trying to get back to regular eating habits. We're trying to eat a little healthier after all the Holiday indulgences. We've also had a family wedding in early January, so for us the indulgences have been a little more that usual this time around. Now that I'm back and mostly unpacked and back to business as usual, the focus is on healthier food.
I love trying out new recipes and cuisines. Now I know Mexican food is hardly a new cuisine, but for me, this was a new recipe. My ground beef recipe is a little more involved than this one. I love the simplicity of it. The method was a little different than what I was used to, but by the time this taco meat was ready, it looked and smelt great and tasted fantastic. I can guarantee this tastes so much better than any packaged taco meat that you buy from the store. And you know exactly what has gone into the pot.
You could, as the name suggests, use this in tacos, but since we are trying to eat healthier, we enjoyed this with some iceberg lettuce and a bean salad on the side. Who said healthy eating had to be boring or tasteless. This was healthy and delicious and is going to make quite a few appearances on our dinner table. I do hope you try it out too.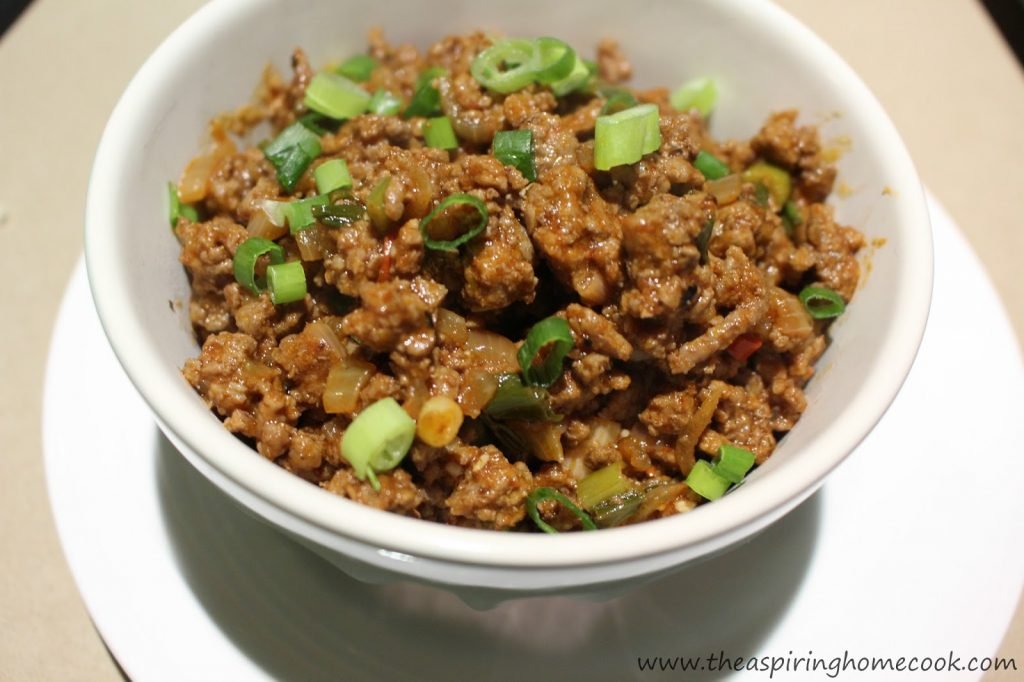 Homemade Seasoned Taco Meat
Recipe from: Premeditated Leftovers


1/2 kg lean ground beef
1 tbsp olive oil
1 cup onion, finely chopped
1/2 cup tomatoes, chopped
2 cloves garlic, finely chopped
1 1/2 tsp cumin powder
1 1/2 tsp chilli powder
1 tsp paprika
1/4 tsp salt
1/4 tsp crushed black pepper
1/2 tsp dried oregano
1 cup water
2 green onions, sliced
Heat the olive oil in a skillet over medium high heat.
Add the ground beef to the pan and cook the meat till it is browned and no longer pink. This should take about 4-5 minutes.
Now add the onions and tomatoes and cook for about 2-3 minutes or till the onions have started to soften.
Add the rest of the ingredients except the water and the green onions. Stir everything together and saute for a couple of minutes. By now all the spices should have started doing their job and should be fragrant.
Now add the water and bring the pot to a simmer.
Cover the pot and let it simmer for about 5 minutes.
Now uncover the pot and cook the meat uncovered till almost all the liquid has evaporated.
Take the pan off the heat and stir in the green onions.
Enjoy!