** This post contains affiliate links.
So it's almost Diwali. Even though we don't celebrate it, we enjoy the food that comes with it. After trying out a few sweet and savory recipes for Diwali over the last five years, I've come to realize that a lot of recipes are fairly quick and easy to make, compared to most of the traditional Goan sweets. That makes me happy because I know I can whip up so many treats in a jiffy. However, there are a few recipes that are time consuming and tedious when made from scratch, like a good peda. A peda, for those of you who aren't familiar with the term, is a hand shaped piece of fudge made and enjoyed all over India. Now, I have made fudge before but had never tried making Pedas at home. That is, until I recently came across a recipe for an Instant version. Yup, you heard me, there is an instant version of the good old peda.
This Instant Kesar Peda requires a few basic ingredients and about half an hour of your time. That's how easy and simple it is to make. A lot of the commercially sold pedas use food coloring and artificial flavoring, but I decided to keep mine simple. I have used actual Saffron strands in this recipe for flavor and a mild coloring too. If you want your pedas to have the 'oh-so-popular' color, use some yellow food color. You can choose to imprint a design on the top of the peda or use a mould to shape it and you have the option to garnish the shaped pedas with some finely slivered nuts as well. So if you still haven't whipped up anything for Diwali, don't let that get you down. You can still make a bunch of homemade sweets and savories for your Diwali platter in no time at all. Besides this peda recipe, I have a few fantastic recipes to help you out. You can find them at the end of the post
here
.
So here's to another Indian delicacy, even though its a cheat version. I can tick this one of the my ever-growing list of recipes I want to try.
Wish you and your family a Happy and Prosperous Diwali!!!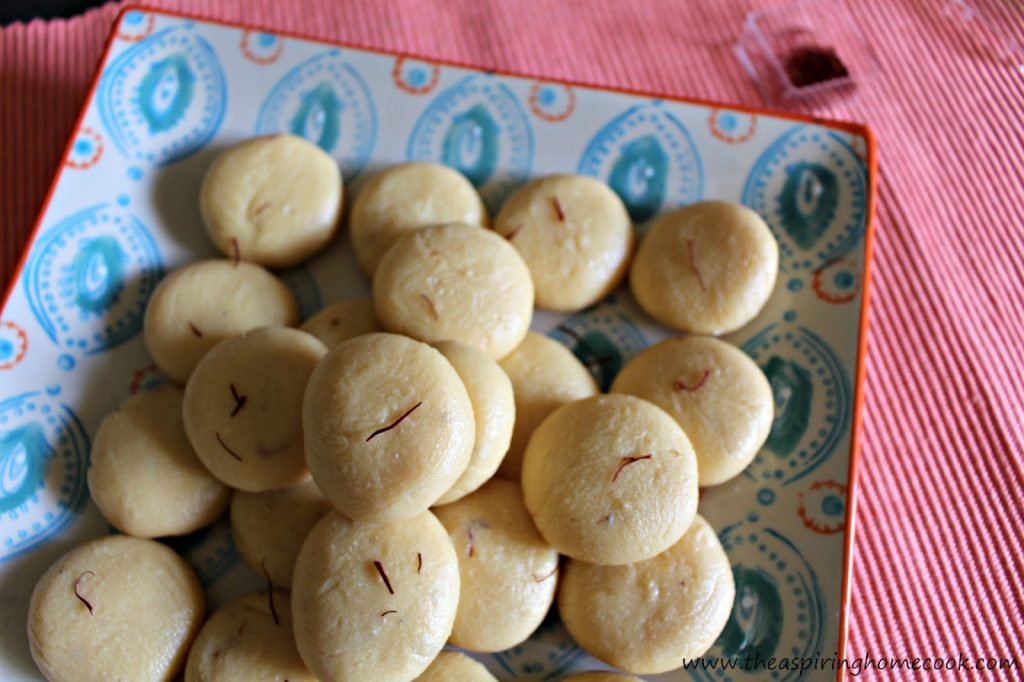 Instant Kesar Pedas
Yields: 25 pieces
1 cup condensed milk
1 cup + 2 tsp milk powder
1/2 tsp
green cardamom
seeds, crushed/powdered
2 tsp
ghee
A generous pinch of
saffron
strands
2 tsp warm milk
Extra ghee, to grease your palms while shaping the pedas
Add the saffron strands to the warm milk and set aside to infuse.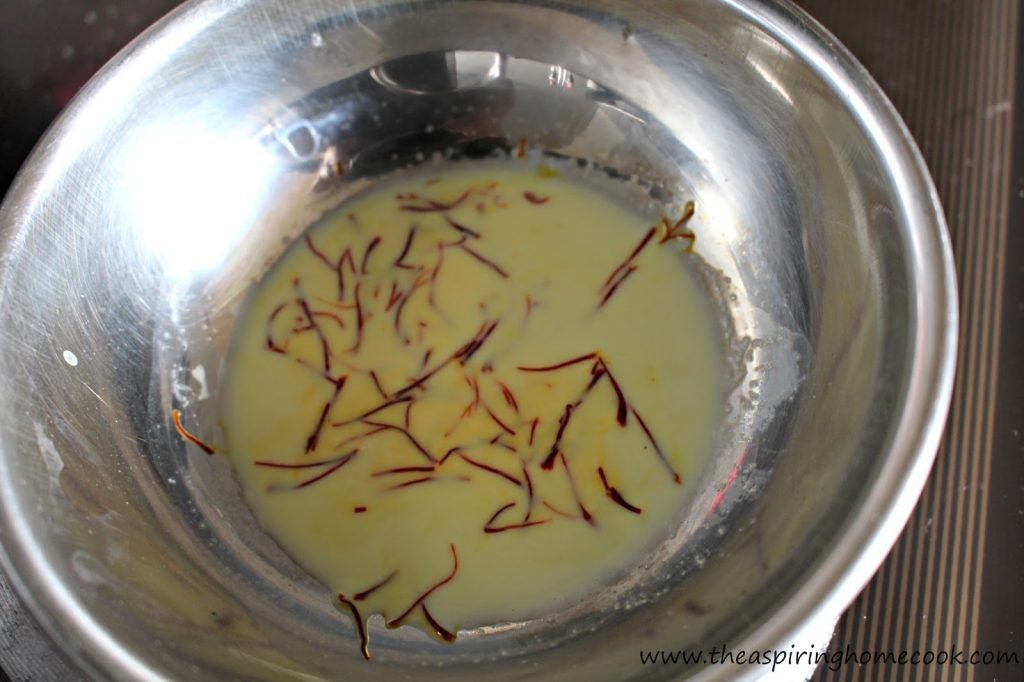 Grease a large plate with a tiny bit of ghee and set aside.
In a wide, preferably heavy bottomed pan, heat the ghee on a medium flame till it melts.
Add the condensed milk and the milk powder to the pan and stir well, making sure you dissolve any lumps that form. Any lumps left will not give you a smooth finish.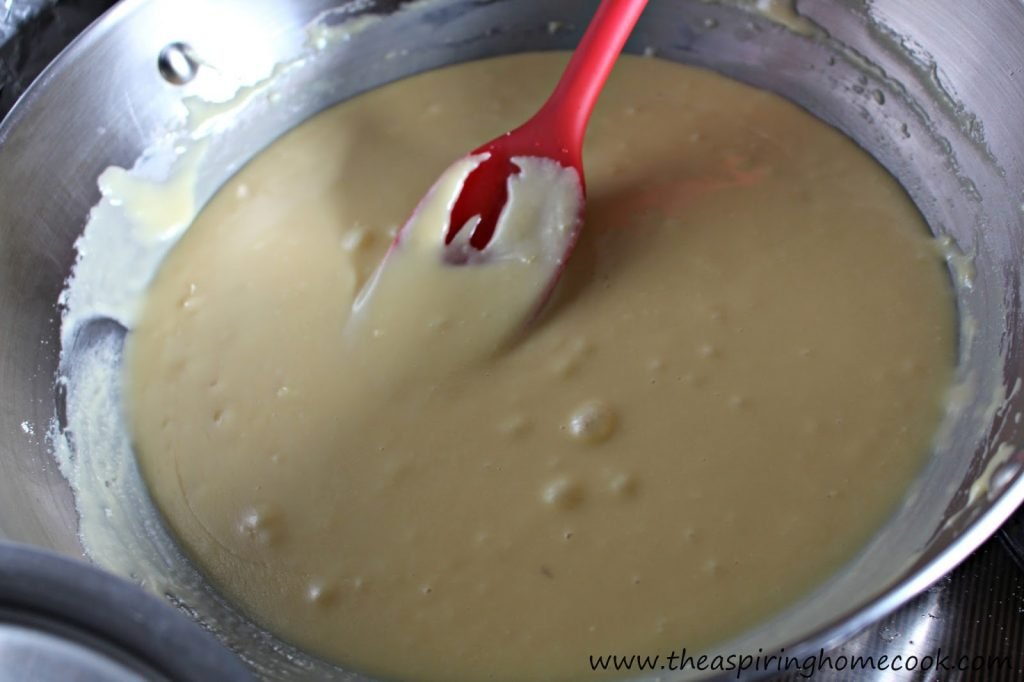 Continue cooking the mix, stirring frequently (with a wooden or a silicon spoon) for about 8-10 minutes. You will find the mix coming together at this stage.
Add the saffron infused milk and strands and the crushed cardamom to the pan and stir well. This will cause the mix to loosen in consistency a little and that's exactly what we want.
Continue cooking for a few more minutes, stirring continuously and the mix will start pulling away from the sides of the pan.
At this stage carefully check to see if the mix is still sticky. I picked a tiny portion with the spoon and touched it lightly to see if it is sticky. My hands can tolerate a fair amount of heat, please exercise caution when doing this. You want to make very little contact with the mix and not dip your finger in it too deep because it is super hot at this stage. If it still feels too sticky, continue cooking for a couple minutes more.
Once it is not sticky, take off the heat.
Immediately turn the mix onto the greased plate and leave it to cool a little.
When it is cool enough to handle, grease your palms with a little ghee, pinch of a small portion of the mix and roll into a ball and flatten slightly. Place on a platter and leave to set. If you choose to garnish the pedas, do it at this stage just after you shape it and then set aside in a single layer to set.
Serve up and enjoy!!!
Pin now and try later –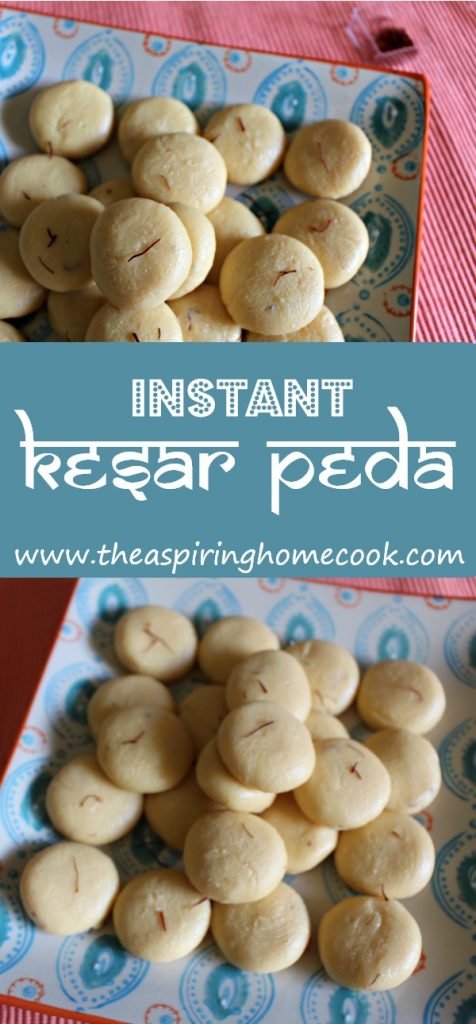 So continuing from my last Halloween post, here's another quick and easy savory treat I put together for the same party. If you haven't yet read that one, go check out the Monster Eye Crackers I posted about
here
.
If you've been around these parts before you know the most important part of food for me is taste. It helps if it is quick and easy to make and bonus points if it is cute and quirky too. This little treat ticks all those boxes. I found this one in quite a few places on the internet and decided that I had to try them out. They are perfect to make for a Halloween themed party. I will admit that the cheese stringers were a little fiddle to begin with, but eventually things started moving along much faster. And, considering there was zero cooking involved, I still give this little snack a thumbs up. Kids will love the novelty of these 'Witches Broomsticks'. I made these to serve at an office party and the adults couldn't keep their hands of them either.
These snacks also use only 3 ingredients – pretzel sticks, cheese stringers and fresh chives. There is not much of a process involved either, so let's get straight to the instructions.
I hope you make these savory treats this Halloween and enjoy them as much as we did.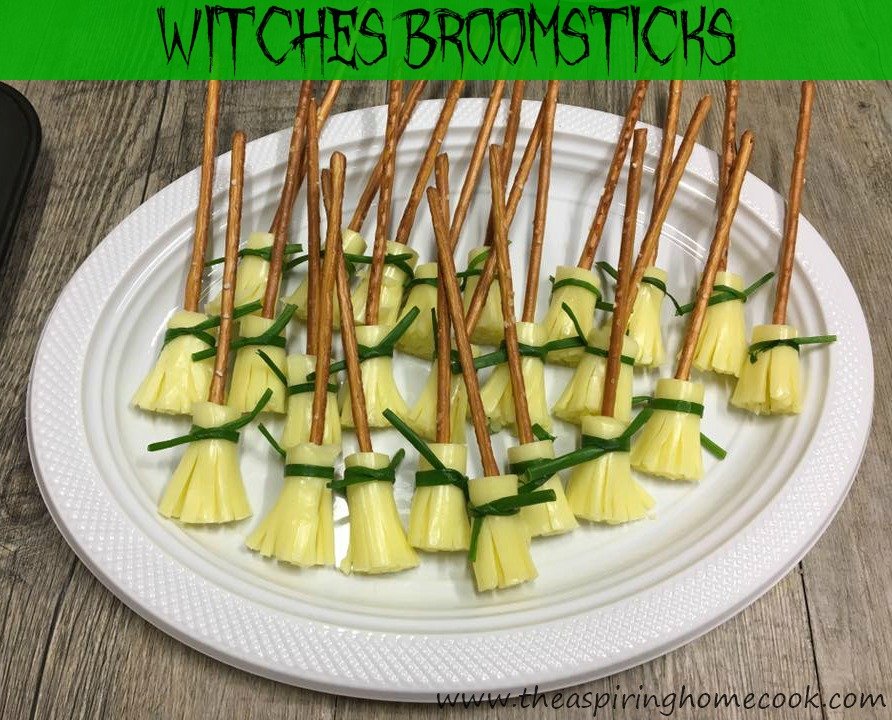 Witches Broomsticks


Pretzel sticks
Cheese stringers
Fresh Chives
Start with the cheese. Cut the cheese stringer sticks into about 1 inch pieces or one thirds.
For each of these pieces, cut up or pull apart two thirds of the length of it to make the bristly edge of the broomsticks.
Now simply pierce the uncut end with a pretzel stick.
Finish them off but tying with a piece of fresh chives.
Serve up.
What treats are you planning for this Halloween???
** This post contains affiliate links.
Around this time of the year, especially if you partake in the Halloween festivities, you will find yourself inundated with candy and other sweet treats and bakes. In a nutshell, a sugar overload. While I love my cakes and sweets / candy as much as the next guy or gal, if you are like me, you will need a little bit of savory to cut through all that sweetness.
Last year, I was really excited about Halloween. We were supposed to have a big Halloween party at my workplace. However, as luck would have it I quit that job in early October to focus on building up a little business. When my colleagues threw me a small farewell party, they decided to roll with the Halloween theme. I couldn't pass up on the opportunity to whip up a few treats. These little cracker bites were one of them. I will share the rest of them with you over the next few days. My job was extremely physically demanding and boasted quite a few really long days. So I had to come up with treats that were quick and easy to put together. I knew the candy part of the party would be taken care of, so I stuck with the savories.
These Monster Eye crackers are perfect for a party or get together. They are a Halloween Play on cheese and crackers. They can be whipped up really quickly with all of 3 ingredients. So, I knew I was going to make them. I was a little skeptical about them considering how simple they are, but let me tell you, they vanished really quickly. I wish I had made more. If you decide on making these, make sure you make a big batch. So to make these, all you need are crackers. I love the Eton crackers found in Aldi stores locally, but if you cannot get your hands on them, Ritz Crackers
will work just as well. You can use any other crackers you'd like. Now that the crackers are sorted, the next ingredient is the cheese. I used Kraft Cheese Slices
, but again, you can use any cheese slices you like. The last ingredient you need are olives. You can use Pitted Kalamata olives
or pitted Green olives, if you prefer.
The process is fairly simply, and works fastest if you create an assemble line. I hope you enjoy these little snacks this Halloween as much as we did.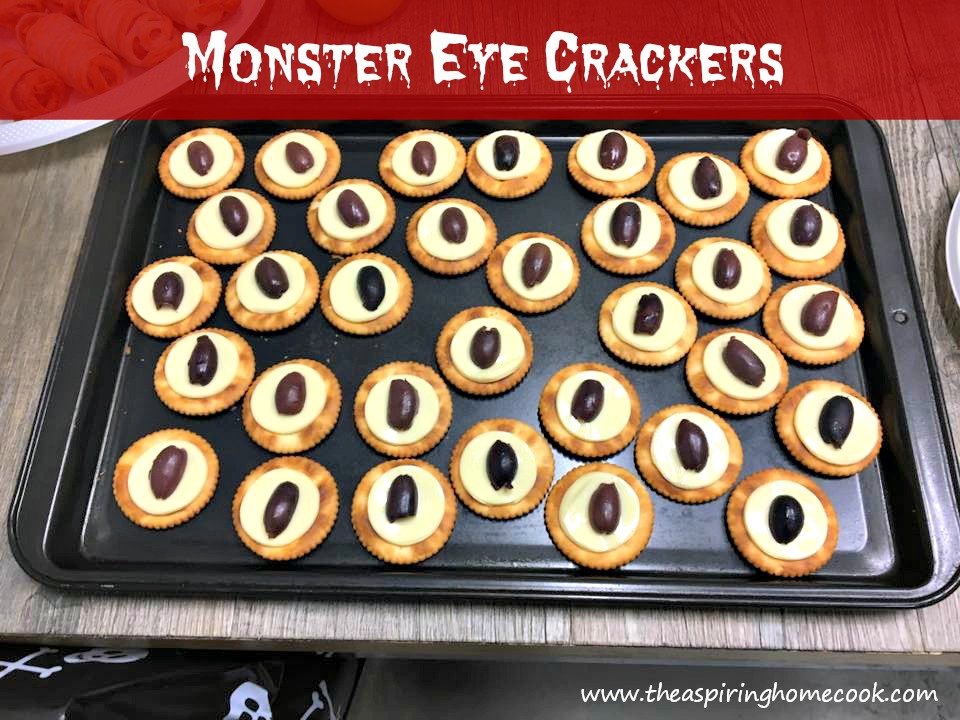 Monster Eye Crackers


Eton crackers (You can also use Ritz Crackers
)
Kraft Cheese Slices
Pitted Kalamata olives
You will also need a circle cookie cutter, just a little smaller than the size of the crackers you choose to use.
Cut the cheese slices into circles using the cookie cutter and keep aside.
Cut the pitted olives in half and keep aside.
On a serving platter, place the crackers in a single layer.
Top the crackers with a circle of cheese and top that with half an olive.
And that's basically it. Serve up.
Enjoy!!!
**This post contains affiliate links.
Diwali, the Indian festival of lights, is fast approaching. In the run up to Diwali, most Hindu households are busy preparing for the festival. It is during this time that a number of Sweets and Savories are cooked up to serve Family and visitors and put on platters to give to neighbors and friends. Even though we don't celebrate Diwali, the food and the fire work displays are my favorite part of the festival. Back in India, we had a few neighbors who put together the most fantastic platters full of homemade Indian sweets (called Mithai) and savories (called Namkeen / Farsaan) and I'd look forward to them every single year.
After moving to Sydney, I have tried to replicate a few of these recipes and I was pleasantly surprised with how easy a lot of them are to make. I will list all the Diwali recipes I've tried and loved at the end of the post. Over the weekend I decided to try out some Ragi Sev. Ragi = Finger Millet and Sev = crispy fried noodles. So this Ragi sev is a savory option for Diwali. With a few ingredients you could be sitting down to a bowlful of these to serve up in about half an hour. I've been meaning to try out some snacking options using Finger Millet for a while now. And I'm glad I started with this recipe. It was so easy to make and the flavor was unbelievably yummy. So if you are looking to try out some different recipes this Diwali, try these out. I promise you, it'll be hard to keep eager hands off the place as you fry them up and wait for it to cool. I had to chase my husband out of the kitchen on a number of occasions, just so that I'd have enough left to photograph for the post. That, according to me, is a very successful recipe.
Make a batch or 2 over the weekend and serve it up with a hot cup of tea. They'd even be ideal as "Chakna" (nibbles to serve along with Beer or other drinks).
1/2 cup rice flour
1 tsp sesame seeds
2 tbsp ghee / clarified butter
Salt, to taste
Oil, to deep fry
Heat oil in a kadhai / wok large enough to deep fry. (If you don't have one, you can also use a large saucepan / pot.) The oil level should be about 1/3 the height of the vessel, approximately. (Note, this is just a guide, incase you have never deep fried anything before. If you have, use the quantities that work well for you.)
In a large pan over medium heat, dry roast the finger millet flour till you start getting a mild nutty aroma. This typically takes a couple of minutes.
Place the finger millet flour, rice flour, gram dal powder, asafoetida, sesame seeds, ghee and salt in a bowl. Mix the ingredients thoroughly.
Using a little water at a time, mix and knead to form a soft dough.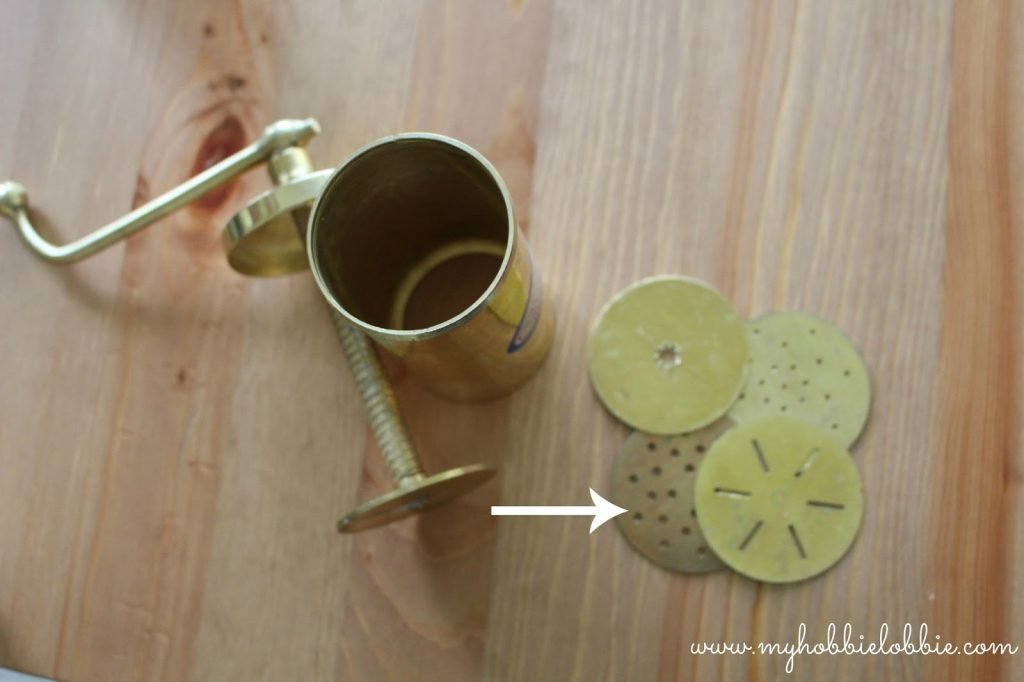 This is the plate I used to make the sev
Do not over crowd the pan. You may need to fry the sev in batches. When the sizzle and bubbles subside in the oil, carefully remove the sev using a slotted spoon. Drain the excess oil off and place on a platter lined with kitchen paper to get rid of any excess oil.
Cool completely and store in an airtight container.
Enjoy!!!
Pin now and try later.
As promised, here is a list of tried and tested Diwali recipes just for you.
Sweet Diwali recipes –
Savory Diwali Recipes –
Almost everyone around the globe appears to be embracing the approach of fall. Falling leaves, cooler days, soups and sweaters and all things pumpkin. In my part of the world though, we are well on our way to Summer. But, since we're so blessed with great weather and an abundance of fruit and veg all the year round, we are still getting a fair bit of pumpkin. But I think it is nearing the end of pumpkin season. I realized I had never made or tasted pumpkin pie. I know right! That, I am glad to report, has officially changed.
Over the weekend, I bought some pumpkin, made my own pumpkin puree, the filling and the pastry from scratch. Hang on, don't run away. It sounds like a lot of work, but it really wasn't. I roasted the pumpkin late one evening and the next day I made the pie. The pastry and the filling comes together in the food processor. The food processor was used mainly out of necessity. I'd sprained my wrist a few days ago and there was no way I could have knead the dough or mashed the pumpkin by hand. I was amazed at how easy it was. I may never go back to making shortcrust pastry any other way. I do hope you try baking a pumpkin pie from scratch this year, especially if you haven't done so before. It is so satisfying, you'll be glad you did.
I left the pie just as it was baked and didn't even cover the little knife test mark, because I didn't want to over sweeten it by adding any icing sugar on top. You could dust it with some icing sugar if you'd like. If you want to make it more indulgent, top it with some whipped cream or serve it with some ice cream if you'd like. We tried that, but loved how it tasted by itself. And trust me, it tasted even better the next day. So make it a day or two before you need it (think Thanksgiving dinner), and once it has completely cooled down, refrigerate till you are ready to serve. The pie is beautiful – the pastry is perfectly flaky and the filling spiked with warm spices is silky smooth.
How to make Pumpkin Puree at home –
1 – 1 1/2 kilo pumpkin
You can either use small pumpkins or a wedge of a larger one, whatever you can get your hands on. I used about 1/3 of a Kent Pumpkin.
Preheat the oven to 180ºC.
Cut into equal sized wedges. Leave the skin on. Scoop out the insides – the seeds and the membrane.
Place the pumpkin skin side down on a roasting tray and bake for 45 minutes to an hour or till a knife pierced through the flesh of the pumpkin goes through without any resistance. (I did this while we were having dinner)
Let the pumpkin cool. (I left it to cool overnight and made the puree the next day.) Peel the pumpkin or scoop out the flesh, whatever you find easier, and place the pumpkin in a food processor and blitz till done. If it looks too dry, add a couple of spoons of water and blitz again.
What you are left with is a glorious bowl of fresh pumpkin puree.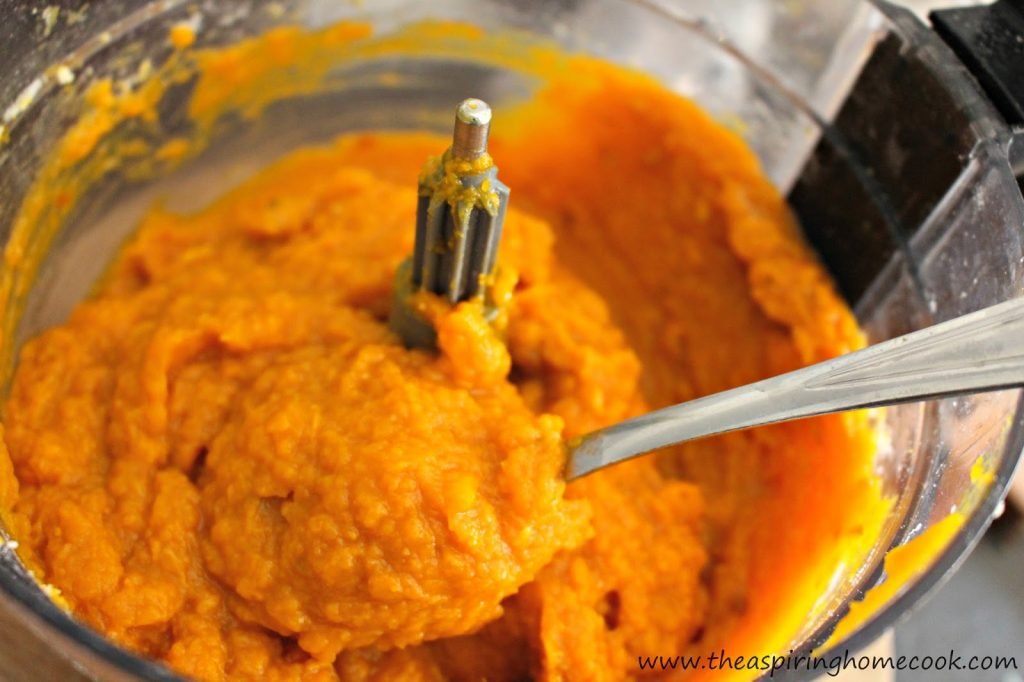 Once you have your pumpkin puree, you can use it to make anything pumpkin you'd like – Pumpkin pie, pumpkin doughnuts, pumpkin cake / cookies, pumpkin rolls and the list goes on.
Now, let's get on to making the Pumpkin Pie.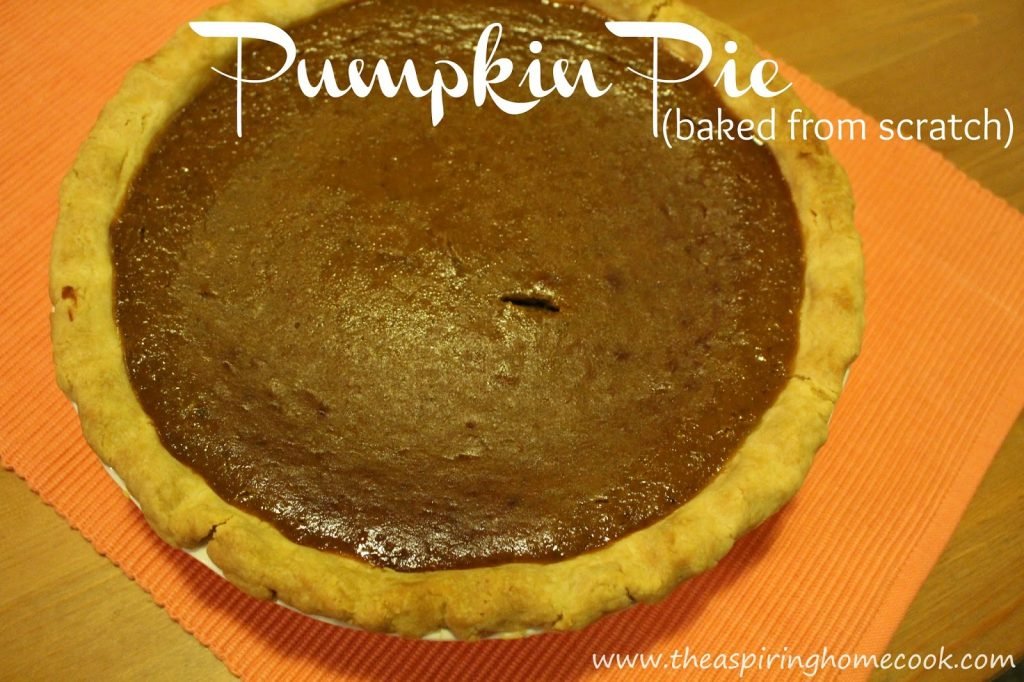 Pumpkin Pie
Recipe from: Tabler Party of Two
For the pie crust –
250g all purpose flour
125g cold butter, cubed
A couple of tablespoons of cold milk
(If you're using unsalted butter, add a pinch of salt. If you're using salted butter, leave out the salt.)
Place the flour and butter in the food processor.
Pulse a few times till the butter has broken down and you're left with a mix that looks like this.
Add a couple of spoons of cold milk to help bind the pastry and pulse a couple of times till you are left a mix that looks like this. Start with a spoon or two and add more if needed.
Place some clingfilm on your work surface (lesser clean up this way) and tip this mix on top.
Press together to form a dough. Don't knead or overwork the dough.
Wrap it up in the same cling film and refrigerate for about half an hour.
While the dough is chilling, make the pie filling.
For the pie filling –
2 cups fresh pumpkin puree
1 can evaporated milk (a 12 ounce can)
3 eggs
3/4 cup sugar
1/2 tsp salt
1 1/2 tsp ground cinnamon
1 tsp ground ginger
1/2 tsp ground nutmeg
1/2 tsp ground cloves
Place all the ingredients in the food processor and blitz till everything is well incorporated and smooth.

Preheat the oven to 180ºC.
Take the dough out of the refrigerator and roll to a disc large enough to cover a 9 inch pie dish. Line the pie dish with the dough and pour in the filling.
Cover just the edges of the pie crust loosely with foil to keep it from burning.
Bake for 50-60 minutes or till a knife pierced through the center comes out clean. Take the foil off in about the last ten minutes to let it evenly brown.
Cool and cut into wedges and serve.
Enjoy!!!
Pin now and try later.