** This post contains affiliate links.
Looking at my collection of recipes on this blog, it might be hard to tell that I actually love pasta. Nothing specific, just about all shapes and sizes and all kinds of sauces too. There is just one condition, they need to have flavor. Unfortunately, I've had pasta at too many restaurants, including a couple of Italian restaurants around Sydney and it has been disappointing, to say the least. So I usually end up eating the pasta I make at home. And I can't to that too frequently, because my husband is not the biggest fan of pasta. What then is this pasta-loving soul supposed to do?
Here's what I do. Ofcourse, I make pasta atleast once a fortnight, but I try and switch up the sauces each time I make it. So with lesser retpetition, I seem to get away with a big bowl of pasta for dinner. Happy hubby and happy me!!!
Because of this, I'm always on the look out for new ways to serve pasta. And when I saw this pasta, I knew I was onto something. I have two versions of this pasta. Today, I will share with you the basic version, which I happen to really like. Sometime soon, I will share a more dressed up version, something my husband and I came up with while eating a bowl of this gorgeous green. The sauce comes together in sheer minutes and the only cooking it needs, is blanching the spinach. So you can easily serve this up on a busy weeknight in under half and hour. That is one of the many things I love about this recipe. If you have 'littles' in the house who might be a little skeptical about eating green pasta, call it something fun like 'an alien dinner / alien pasta' or 'the Hulk's pasta' or something fun like that, and watch it get gobbled down. An extra sprinkle of cheese on the top doesn't hurt either.
So, now that we know how quick, easy and fun this pasta is, let's get on to the actual recipe.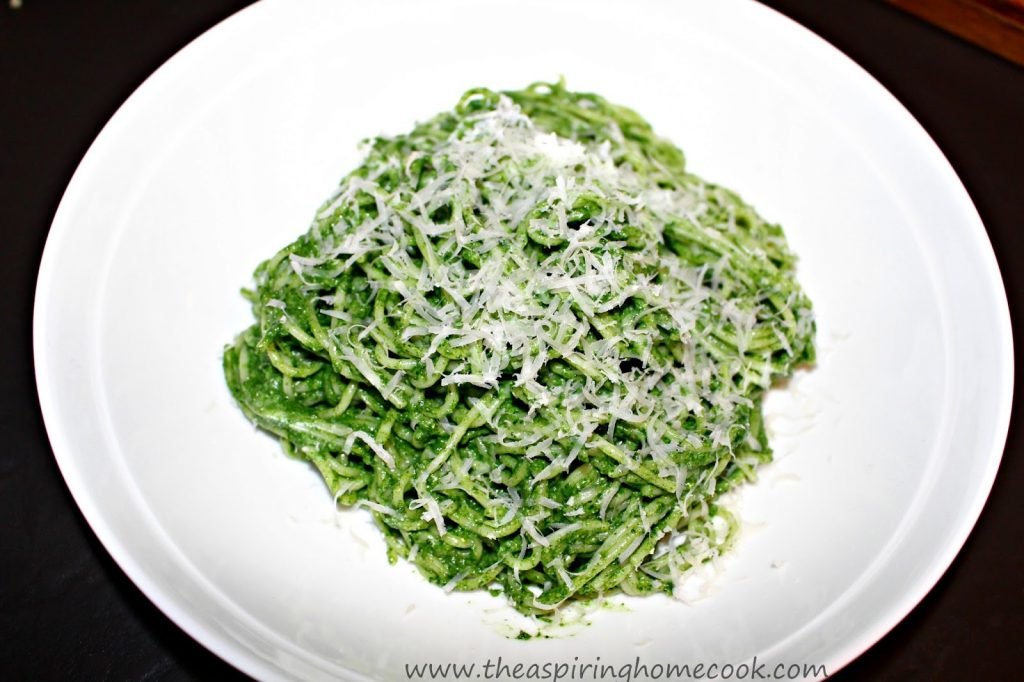 Pasta with Spinach Pesto
Serves 4 -5
8 nests of Vermicelli, or any pasta of your choice
200g fresh spinach
1/2 clove of garlic, chopped
1 heaped tbsp
pine nuts
3 tbsp freshly grated parmesan cheese
3 tbsp extra virgin olive oil
200g ricotta cheese
Salt, to taste
Freshly cracked black pepper, to taste
Bring a large pot of water to the boil.
While the water comes to a boil, keep a large bowl of ice cold water ready.
Place the spinach in the boiling water for a minute or two, till it turns a shade of darker green and is wilted and slightly softened. Immediately, take the spinach out of the water (a large pair of
tongs
works well) and immerse in the ice cold water. This will stop the cooking process immediately and help the spinach retain a vibrant shade of green. You may need to do this in batches. Repeat the process till all the spinach has been blanched.
Use the same pot of water to boil the pasta. You may need to top up the water in the pot. Add a generous teaspoon of salt and when the water has reached a rolling boil, add the pasta to the pot and cook it till al dente.
While the pasta is cooking, drain the spinach from the ice cold water and squeeze out and discard as much liquid as possible. Roughly chop the spinach and set aside.
I place the spinach in a bowl, along with the pine nuts, garlic, parmesan cheese, salt, pepper and the extra virgin olive oil and puree using an
immersion blender
. If you don't have one, a food processor or a regular blender would work well too.
Then add the ricotta cheese to the puree in the bowl and blend till smooth. Check for seasoning and add the salt and pepper, if needed
Drain the pasta when it is done and add the pesto to it. Stir gently or toss with a large pair of
tongs
to coat the pasta evenly.
Portion out on plates and generously grate some parmesan cheese over the pasta. I find that a
Microplane zester
does the job well.
Enjoy!!!
I have to admit, I joined the Avocado Toast movement much later than I should have. No, no, I didn't wait till yesterday. I've had a few orders of these at cafes around the city. And finally, I got around to trying them out at home.
I don't know if I've mentioned it here before, but I'm totally smitten with avocado. I can eat them plain, maybe topped with a tiny sprinkling of salt and a squeeze of lime. I love the way an avocado lends itself to so many recipes and uses. It is creamy, picks up flavors so well and can cool down an otherwise spiced up meal. I have tried a
chunky guacamole
before and I can just eat that stuff by the spoonful. Throw in a few tortilla chips and I can have a party for one (**wink, wink). I have also attempted a quick and easy
Chocolate Avocado Mousse
– so very delicious and it makes a perfect eggless mousse option. I can't wait to try out many more recipes using avocado. What is your favorite way to enjoy an avocado? Leave me a comment and let me know. I'd love to try it out too.
Now, onto the Avocado toast I made for breakfast over the weekend. Since this was a first attempt for me, I decided to keep it simple. I've seen some pretty extravagant avocado toast options around and maybe someday I will try them out too. But there's nothing wrong with simple. And simple and yummy makes it even better. So if you love ordering avocado toast at a cafe, I urge you to get into the kitchen and try whipping some up yourself. You will save yourself a heap of cash (which means more avocado for you.) The Lord knows these little green gems cost an arm. Speaking of which, if you find yourself around a Harris Farm Markets outlet, check out their Imperfect Picks range. They have mini avocados for $7.99 a kilo, when I saw them last. A lot of fruit and veg is discarded because of ridiculous aesthetic standards maintained by large supermarket chains and anything that doesn't meet those specifications usually ends up in a landfill. These minis are so tasty but would typically be discarded because of their size. And how wrong is that. I love the Imperfect Picks range and urge you to support them too if you have the option.
Back to the avocado toast. I made two options for hubby and me. One savory and one sweet. It made for a very satisfying breakfast and couldn't have been simpler to put together. Our savory one had a fried egg on top and our sweet one had some banana and maple syrup. There are no strict quantities for this recipe, so feel free to have some fun with it.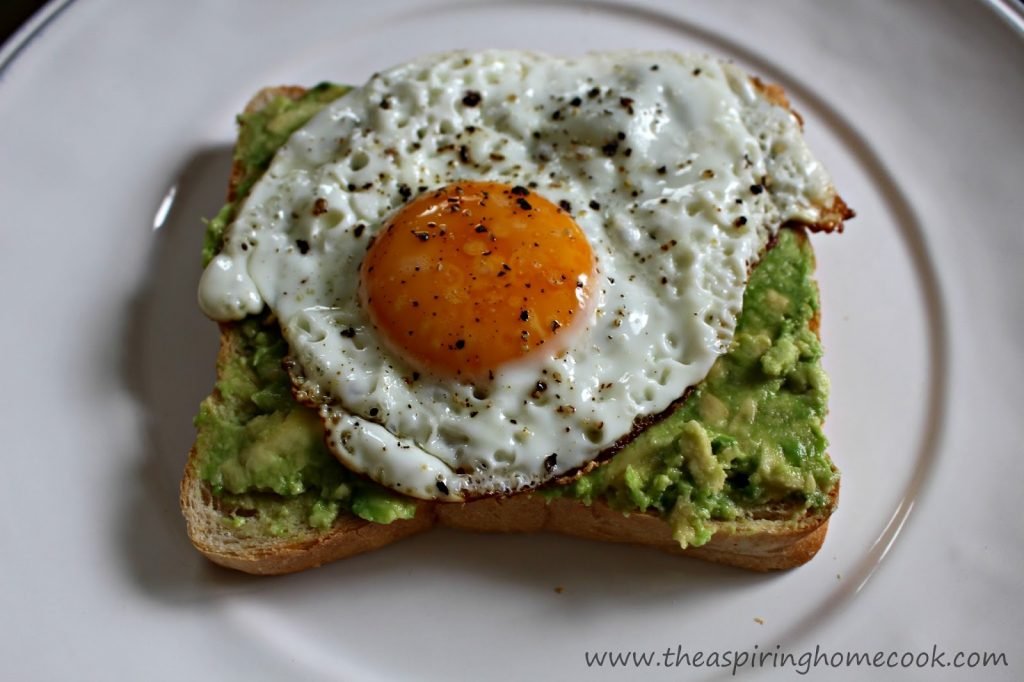 Avocado Toast with Egg
1 slice of bread, toasted to your liking
1/2 small avocado or 1/4 large
1 egg, fried to your liking (you could also use a poached or a boiled egg, if you prefer)
Salt, to taste
Freshly cracked black pepper, to taste
Cut the avocado in half and discard the seed.
Scoop out the flesh and roughly mash it up with a fork.
Spread the avocado over the toast.
Top that with an egg. I used a fried egg, sunny side up.
Sprinkle a little salt and pepper on top.
Enjoy!!!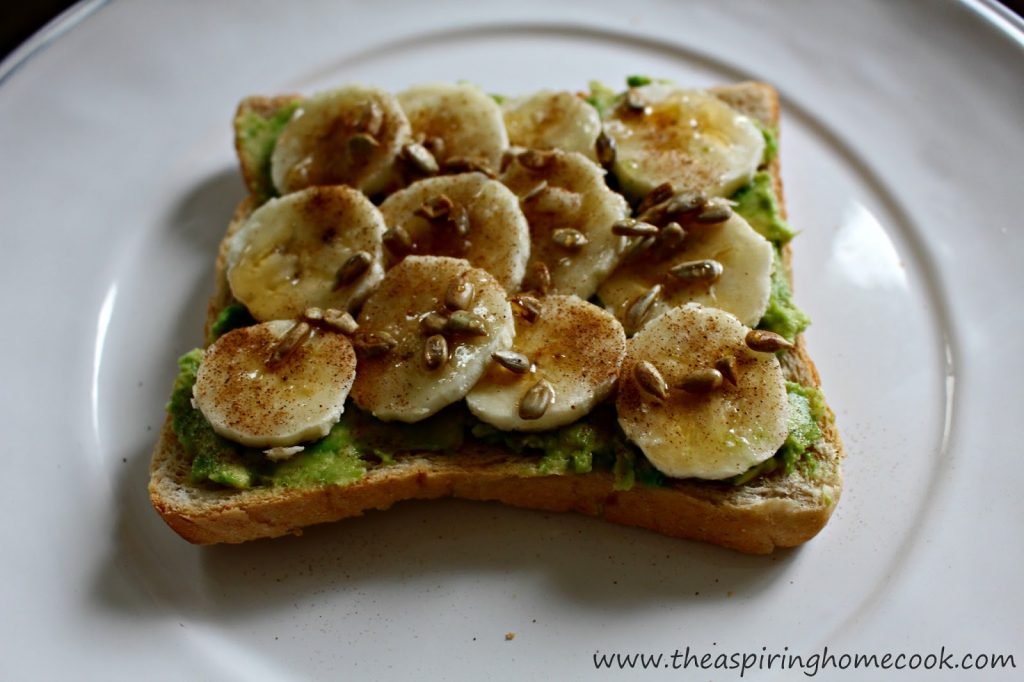 Avocado Toast with Banana, Maple Syrup and Sunflower Seeds
1 slice of bread, toasted to your liking
1/2 small avocado or 1/4 large
1/2 banana, sliced
1 tbsp sunflower seeds
Maple syrup, to drizzle over, to taste
Cinnamon powder
Cut the avocado in half and discard the seed.
Scoop out the flesh and roughly mash it up with a fork.
Spread the avocado over the toast.
Top that with the banana slices, a sprinkle of cinnamon powder, the sunflower seeds and lastly, a drizzle of maple syrup.
Enjoy!!!
Note: I haven't been compensated by Harris Farm Markets for this post. The opinions stated here are my own and I've shared it with you because I strongly believe we can cut down waste as a society by just being more aware.
Most people usually relate Indian food to a Chikken Tikka or a curry of some sort or basically food loaded with spice and really strong flavors. For the most part it is true, but today I'm going to share with you a recipe that I love. It is a recipe for a Kadhi – a yogurt curry. Because of how large and diverse India is, you find a few variations to this kadhi. Today's recipe is from the state of Gujarat and tends to be a little sweet. For years I have tried to find a recipe I enjoy. It has taken a while because this recipe is a delicate one and has to be well balanced. And I have.
I don't make this kadhi as often as I should. Is is easy, light and delicious. Since yogurt is a main ingredient in this dish, it is cooling and that is perfect for summer. Served over some piping hot plain rice with a little pickle and some papad (poppadoms), and if you're feeling indulgent a few pakoras on the side, it is one of the most satisfying meals you will ever have. If you're trying to cut down your meat consumption, this is a fantastic meal. As an added bonus, kids love this kadhi too. And that's a win-win in my book.
For the curry –
1 1/2 cups plain, unflavored yogurt
2 tbsp besan (chickpea flour)
1/2 tsp ginger, finely grated or ginger paste
3 fresh green / red chillies, finely sliced
1/4 tsp turmeric powder
3 tsp sugar
Salt, to taste
3 cups water
For the tadka / tempering –
2 tsp ghee (clarified butter)
1/2 tsp mustard seeds
1/2 tsp cumin seeds
2 Kashmiri chillies (dry red chillies – kashmiri chillies aren't spicy, they just add flavour)
1 inch Cinnamon stick
4 cloves
A pinch of asafoetida
6-8 curry leaves
Pick a pot you want to cook the kadhi in and add the yogurt, besan, ginger, green / red chillies, turmeric powder, sugar and salt. (I've used a bowl here, for the sake of pictures. Mixing everything in the same pot you will cook the curry in, makes for lesser washing up after.)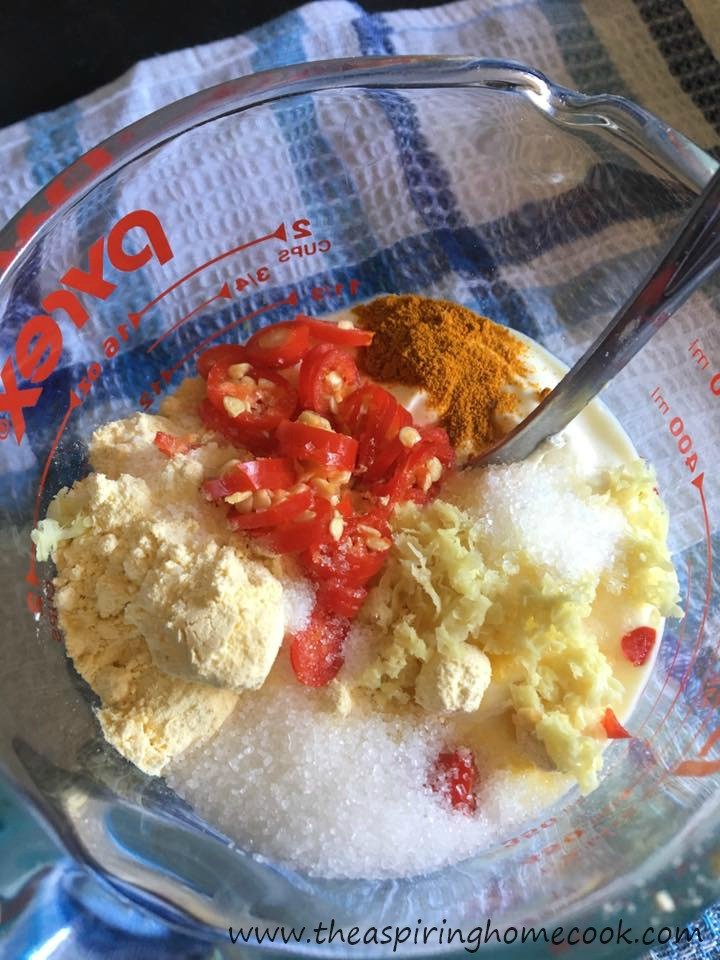 Whisk it well and ensure there are no lumps. I find this is easier with a whisk than a spoon / fork, but if you don't have a whisk, you could use a spoon or fork but mix well.
At this point, I moved the ingredients to the pot I used for cooking. However, if you are mixing ingredients in the cooking pot itself, you can skip this step.
Add the water to the pot and whisk well. (Depending on the turmeric powder you use, you can choose to add a touch more to give it a more golden color, if needed. I added about an extra 1/8 tsp of turmeric powder at this stage and whisked it through.)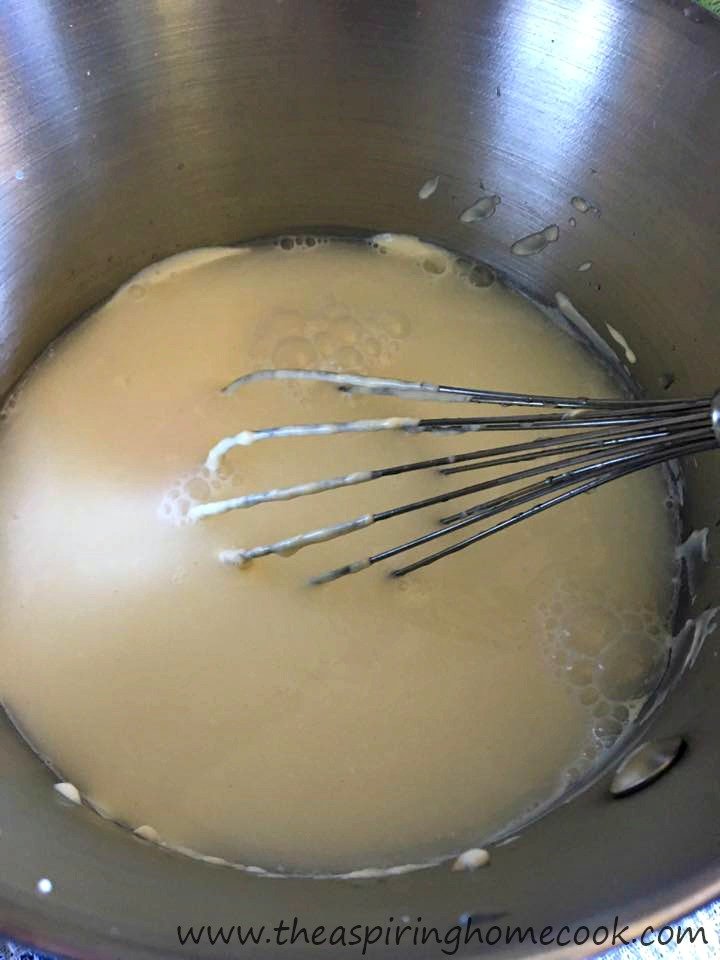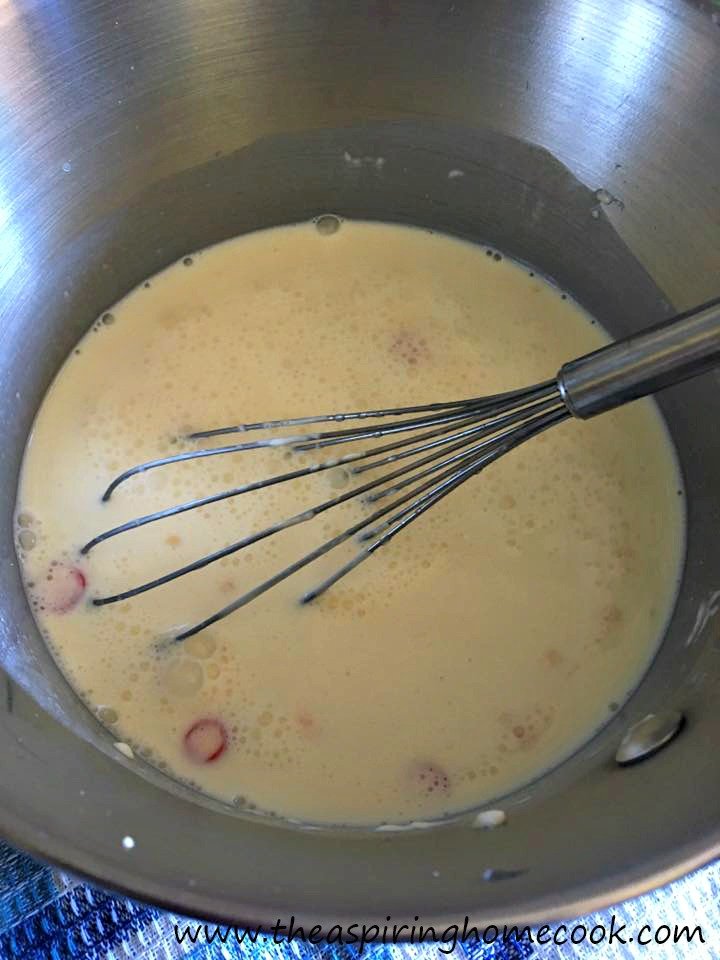 Place the pot on medium heat and bring it to a boil, stirring / whisking continuously.
If you stop whisking, it will cause the yogurt to split, resulting in a not so good looking curry with a weird texture. So make sure you keep whisking.
Once it comes to a boil, lower the heat and let the curry simmer, stirring every now and then.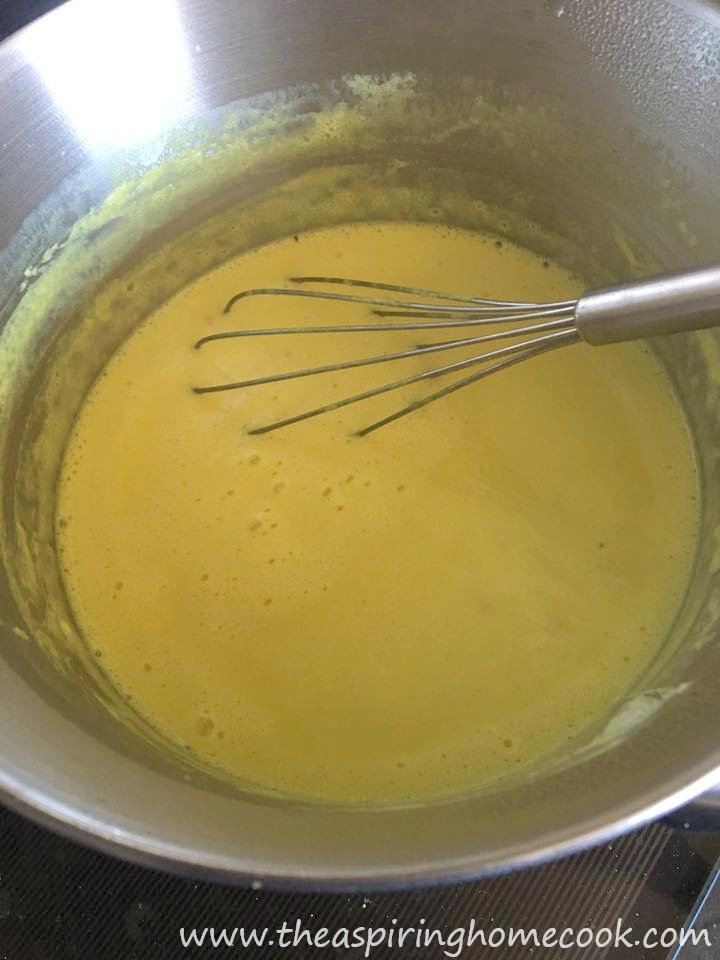 Now work on the tempering or tadka. This is what infuses this curry with all the lovely flavors it is known for.
For the tadka / tempering –
Keep all your spices ready at this stage, because things move really quick now and they can burn really quick if left unattended.
Heat the ghee in a small pan on medium heat.
Add the mustard seeds and let them sputter.
Add the cumin seeds.
Next add the dry Kashmiri chillies, cinnamon stick and cloves. In a few seconds, you will be able to smell the aroma of the tempered spices.
Add the asafoetida.
Roughly tear the curry leaves and add to the spices.
Gently stir.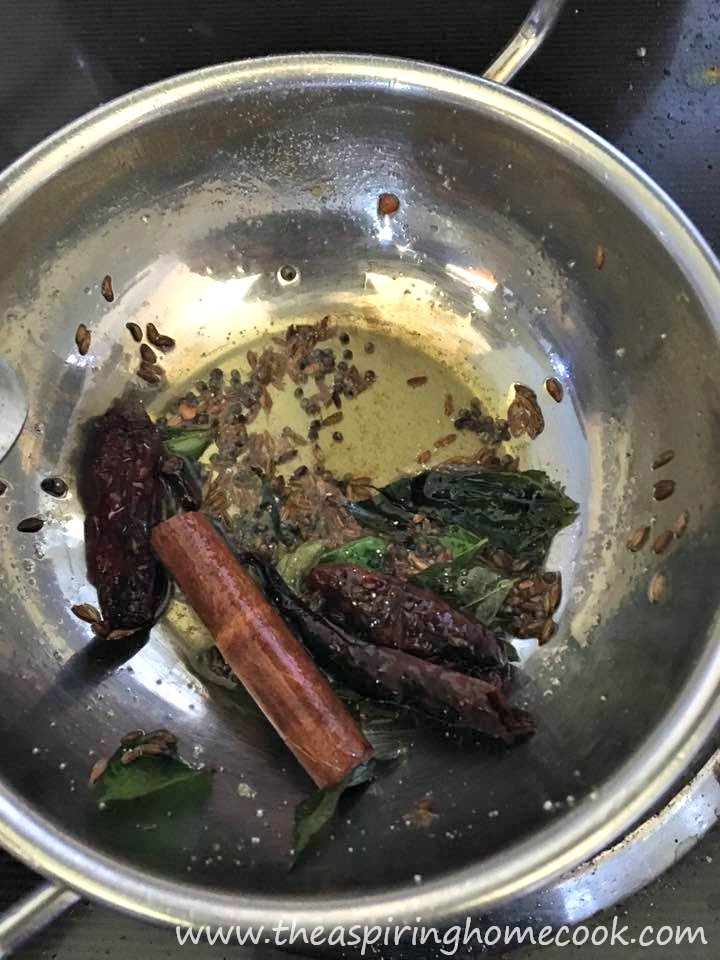 Immediately add these tempered spices and all the ghee used for tempering to the pot of simmering kadhi.
Stir well.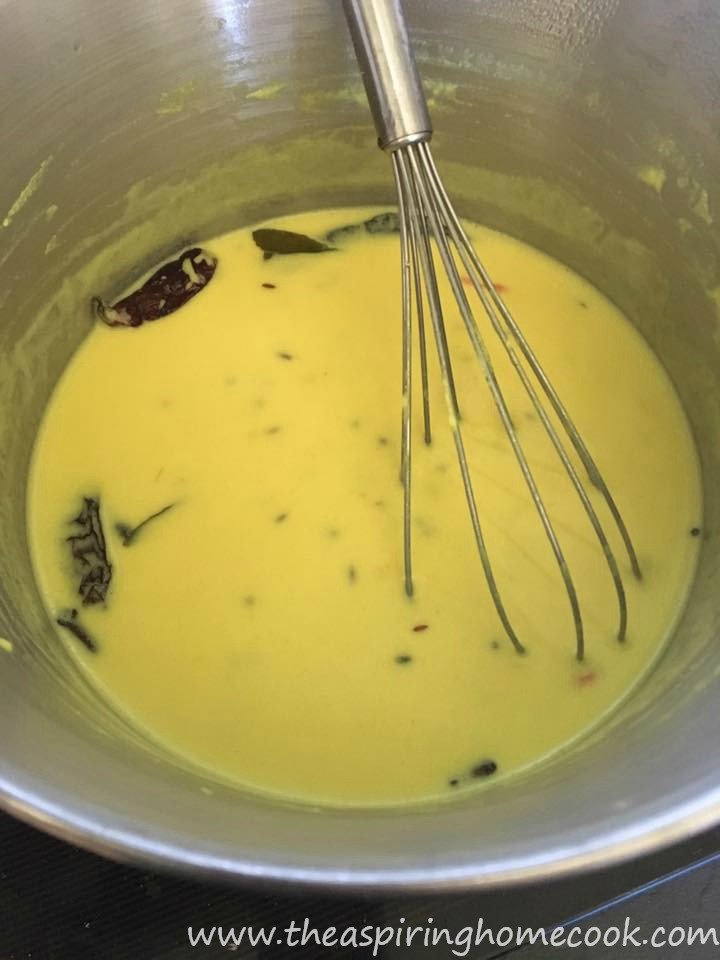 Let the kadhi continue to simmer for another 5 minutes, stirring every now and then.
Serve hot.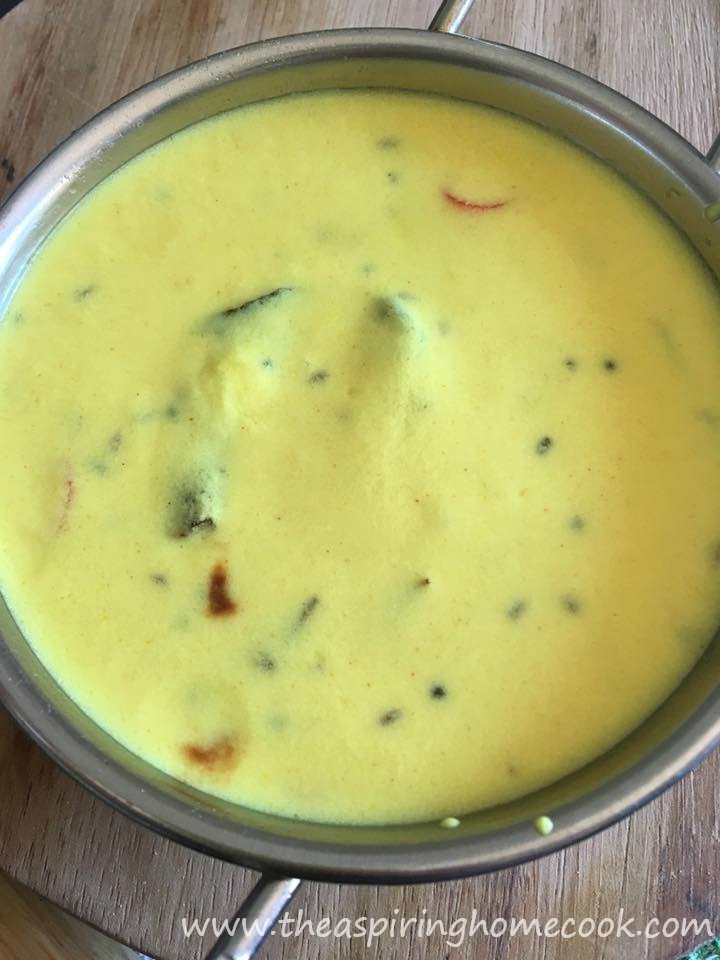 If you need some Pakora / Bhajiya inspiration to serve alongside this kadhi and rice, here you go –
Potato and Onion Bhajias