Have you had a glass of chilled sweet lassi before? If you have, you know how unbelievably yummy it is. If you haven't, you should try it. Its sweet, creamy, cold and have I mentioned yummy. And the best part is, you don't even have to plan a trip to an Indian restaurant to have a glass. If you have some plain, unflavored, unsweetened yogurt you can whip up a glass in minutes.
I fancied this glass up with some strands of saffron and some chopped pistachio. But even without it, this sweet lassi is just as good. Its a perfect way to cool down on a hot summer day. A glass of it is quite filling too, so it makes a nice snack by itself.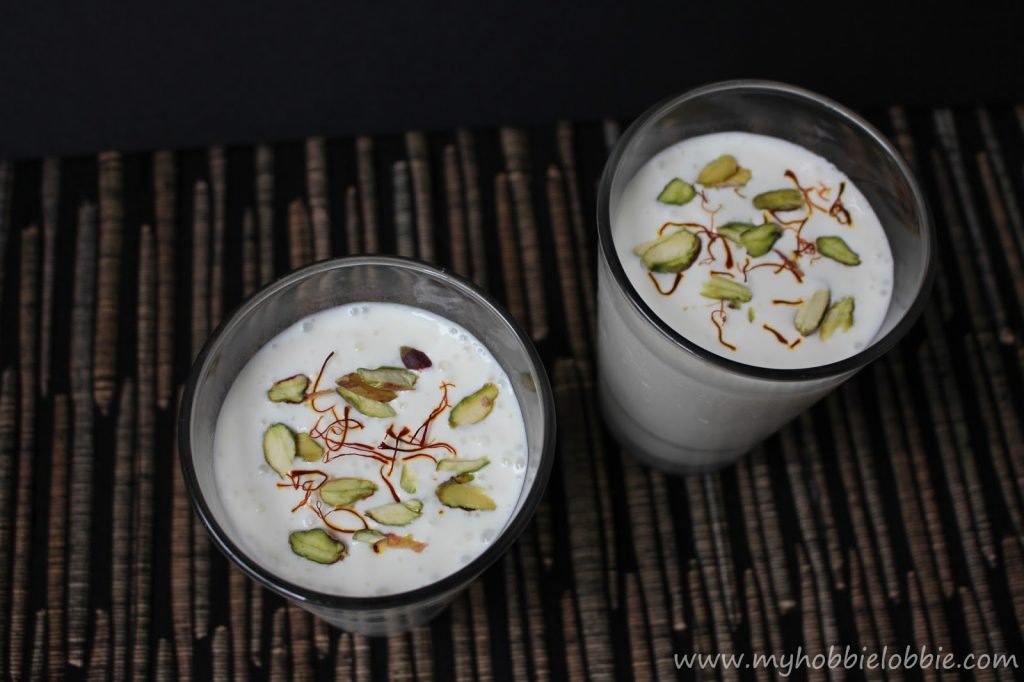 Sweet Lassi
Makes 2 glasses
1 3/4 cup of plain, unflavored, unsweetened yogurt
1/4 cup chilled water
2-3 tsp sugar (or to taste)
4-5 pistachios, sliced (optional)
A few strands of saffron (optional)
Put the yogurt, water and sugar in a blender and blitz till smooth and slightly frothy.
Pour into glasses.
If desired, sprinkle the saffron strands and sliced pistachio on top to garnish.
Serve chilled.
Here are some other lassi versions –
Strawberry Lassi
I don't know if I've admitted it before, but I love my snacks. I'd rather have a couple of light meals that one big one. Back in Bombay, this is very easy to do. We have such a wide variety of snacks from various parts of India. Most of them are readily available at street food carts or other grocery stores and they don't cost the earth. Most of these snacks are savory. After coming to Australia, I often find myself craving this ever so delicious street food. And here, its almost impossible to find these treats as easily as you find it Bombay. If you do find them, they are ridiculously expensive and a lot of times they disappoint. Given these reasons, I try to make some of these delicious snacks at home. Some I am familiar with making, the others I'm trying to learn.
Today's post is about one such recipe. Its a cake recipe, but not your regular, run of the mill cake. This is a savory one. And it is made with chickpea flour. It is called Khaman Dhokla and happens to be one of my favorite street foods. Even though I enjoy this recipe, I didn't know how to make this one. I had to do some reading before I could find a recipe I was happy with. And when I saw this instant recipe, I knew I had found the one. Traditionally, this cake is steamed, but this is a microwave recipe.
This beautiful snack comes together in less than 30 minutes from start to finish. It is absolutely delicious. The cake itself is light and super fluffy. The flavors are well balanced and in all, very moreish. If you've had dhokla before, you probably love it as much as I do. If you haven't, you really should give it a try. It is a unique treat and you won't be disappointed. This treat is served with some Green Mint Chutney and some Tamarind & Date Chutney. You can buy little bottles of the chutneys at any Indian store or click on the links to find the recipes, if you'd like to make some at home. They are very easy to make and taste so much better. Either way, these chutneys are an important part of the dish and not just an accompaniment. Serving it without the chutneys doesn't do the the dhokla justice.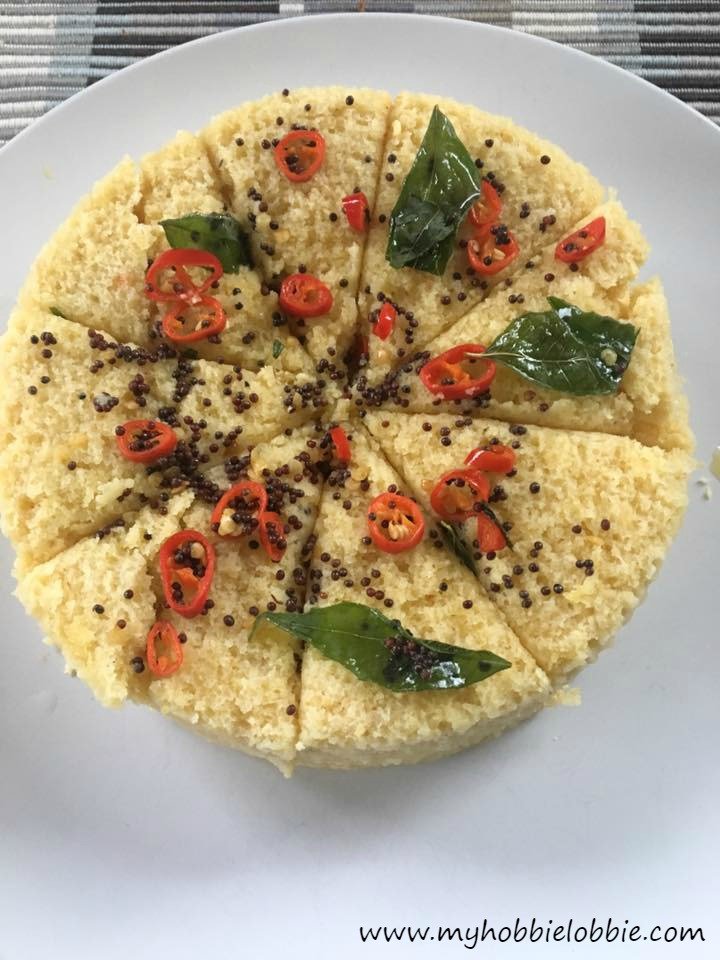 Instant (Microwave) Khaman Dhokla
Recipe from: Ruchi's Kitchen
1 cup besan (chickpea flour)
1 1/2 tbsp semolina
A pinch of asafoetida
1 tbsp sugar
Salt, to taste
1 tsp. crushed ginger and green chillies
1 1/2 tsp Eno (fruit salts – available at any Indian store)
1/2 tsp Citric acid
2 1/2 tbsp Oil
3/4 – 1 cup water (depending on how much is needed to achieve pouring consistency)
For tempering –
1 tsp mustard seeds
10-12 curry leaves
1 tsp sugar
2-3 tbsp water
2-3 green / red chillies, sliced
1 tbsp oil
In a large mixing bowl, mix the besan, semolina, asafortida, sugar and salt.
In a mortar and pestle, pound the ginger and green chilly to a fine paste. (You can leave the chillies out or deseed the chilly if you don't want too much heat from the chilly.)
Add the chilly and ginger paste to the mixing bowl. Add the oil and citric acid.
Add the water and mix everything till well blended.
Whisk the batter well to incorporate air into it. It will make a light and fluffy dhokla.
Add the eno (fruit salts) and whisk the batter till it is well incorporated. The batter will get light and frothy. The batter should be of thick dropping / pouring consistency.
Pour the batter in a greased microwave bowl. (I used an 8″ bowl)
Cook for 5-6 minutes. It may take longer depending on the microwave.
Take it out and insert a toothpick to check if it is done, just like you would a regular cake. If the toothpick comes out clean, it is cooked and if it doesn't microwave for another 30 seconds.
Allow it to cool.
Traditionally, it is cut into squares. But I tried cutting it into wedges this time and it looks much prettier this way.
Now prepare the tempering.
For the tempering –
In a pan, heat the oil.
Lower the flame and add the mustard seeds and green / red chillies and let it sputter.
Add the curry leaves and let it fry up on low heat till crisp.
When they are crisp, add the sugar and water. Mix well.
Pour the hot tempering over the dhokla.
Serve with the Green Mint Chutney and Tamarind & Date Chutney.
Enjoy!!!
Bananas – probably one of my favorite fruits around. Any of you out there as crazy about your Nanas as I am. I have them in the house almost every week. That being said, every once in a while, I end up with bananas getting a little over ripe. Have you had that happen to you? Stop! Don't throw it away. I always try and find ways to use up over ripe bananas too. Waste not, want not, right?
I'm always on the look out for new ways to use up these over ripe bananas. You may have noticed I have more than a few recipes on the blog that you can try out, if you need to use up some bananas. But this time, I wanted something a little more indulgent. On my recent trip to Costco, I bought a bag (a fairly large one) of bittersweet chocolate chips, so I thought why not use some chocolate chips in a good banana bread recipe. After a little looking around, I found one I knew was going to be great.
A little mashing, a few whisks and a very short while later, I was ready to pop this Chocolate Chip Banana Bread in the oven. Just one large mixing bowl needed. You don't even need to break out the heavy duty equipment to whip up this batter. After baking and probably doing the hardest part of this recipe – waiting for it to cool down, I ended up with a pillowy soft loaf of Banana bread studded with chocolate chips, some still a little melted from the baking, lending a beautiful, but not too sweet, chocolatey (Wait! is that even a word?) element to this bread. I know this recipe is a keeper. Try it out for yourself and see,
Chocolate Chip Banana Bread
Yields: 1 Loaf
Recipe from: Something Swanky
4 medium over ripe bananas
1 egg
3/4 cup sugar
1 tsp vanilla
1/4 cup vegetable oil
1 1/2 cups all purpose flour
1 1/4 tsp baking powder
1/2 tsp baking soda
1/2 tsp cinnamon powder
1/8 tsp salt
1/2 cup bittersweet chocolate chips (plus extra to sprinkle on top)
Preheat your oven to 180ºC.
Line a loaf tray with greaseproof paper and spray with cooking spray. I used my olive oil spray.
In a large mixing bowl, mash the bananas till they are mostly smooth.
Add the egg, sugar, vanilla and oil and whisk to mix well.
Next, add the flour, baking powder, baking soda, cinnamon powder and salt and mix till a batter forms. Do not over mix.
Fold in the chocolate chips using a rubber / silicone spatula.
Pour the batter into the prepared loaf tin.
Sprinkle a few more chocolate chips on top if you like. At this stage, I would recommend slightly pressing these chocolate chips into the batter. It will look better this way. I didn't do that but will definitely do it the next time.
Bake for about 40-45 minutes or till a skewer pierced though the centre comes out clean. Try and avoid piercing any of the chocolate chips. If you hit a chocolate chip, wipe the skewer down and check again.
When it is done, take it out of the oven and leave to cool for about 10-15 minutes.
Slice and enjoy with a hot cuppa tea of coffee or even some milk.
Here's what the inside looks like. Yummmm!
Need more ideas to use up some over ripe bananas? Try these —
1) Banana Bread
2) Mini Eggless Banana Walnut Muffins
3) Chocolate Chip Banana Bread Scones
4) Banana Oat Blueberry Pancakes
5) Mango Smoothie Bowl (Peel the over ripe bananas, put in freezer friendly zip lock bags and use anytime to make this smoothie bowl)
6) Blueberry Smoothie Bowl (Again, peel the over ripe bananas, put in freezer friendly zip lock bags and use anytime to make this smoothie bowl)
Today I have a very humble treat lined up for you. I happen to be a huge fan of beans. Fresh, dried, kidney beans, snakes beans, butter beans the whole lot, really. Growing up, every summer, the family would go to our ancestral home in Goa. We'd look forward to it. Our home had a massive edible garden. Back when I was too little to remember and even before I was born, the family grew a lot of vegetables and fruit. When my grandmother was little, they also had cattle and goats on the property.But in more recent times they had plenty of fruit trees. We had mangoes (a few varities), cashews, coconuts, chickoos, guavas and jackfruits growing. The only vegetables we had was some tapioca, dumsticks (moringa), tamarind and kokum. I have very fond memories of those summers and hope I can someday go back to something like this again. Though I may seem like I've digressed, I haven't, not much. I had to build a setting of sorts 🙂
Every summer, snake beans were at the peak of their season. We didn't grow this but there was a local farmer in the village who did. And he did a fantastic job of it. I loved and to this day love snake beans. We cook this up in a very simple way, a traditional Goan fugad. A fugad has its roots in Portuguese food. It is a stir fry of vegetables with some spices and seasonings and a sprinkling of fresh grated coconut. Most Goan households still cook their vegetables this way. The snake bean version was my favorite. I volunteered to prep 2 massive bundles every single day. Yes, I managed to convince my mother and aunt that I wanted to eat this every single day while I was there and that I would clean it and get it ready to be cooked myself. Thankfully, they obliged and so someone from that good old farmers household would graciously drop off a couple of bundles at the house on their way to the market. The simplicity of the dish may fool you. But the end result is fantastic. In my humble opinion, it is delicious. The beans turn out tender and sweet I'm sure kids would love it too. I could eat it by itself or with steamed rice or chapatis.
I recently managed to get some gorgeous bundles of snake beans and had to make this fugad again and I thought it was a perfect opportunity to share it with you. So if you can find some good, fresh snake beans or if you grow them yourself, I hope you try this out.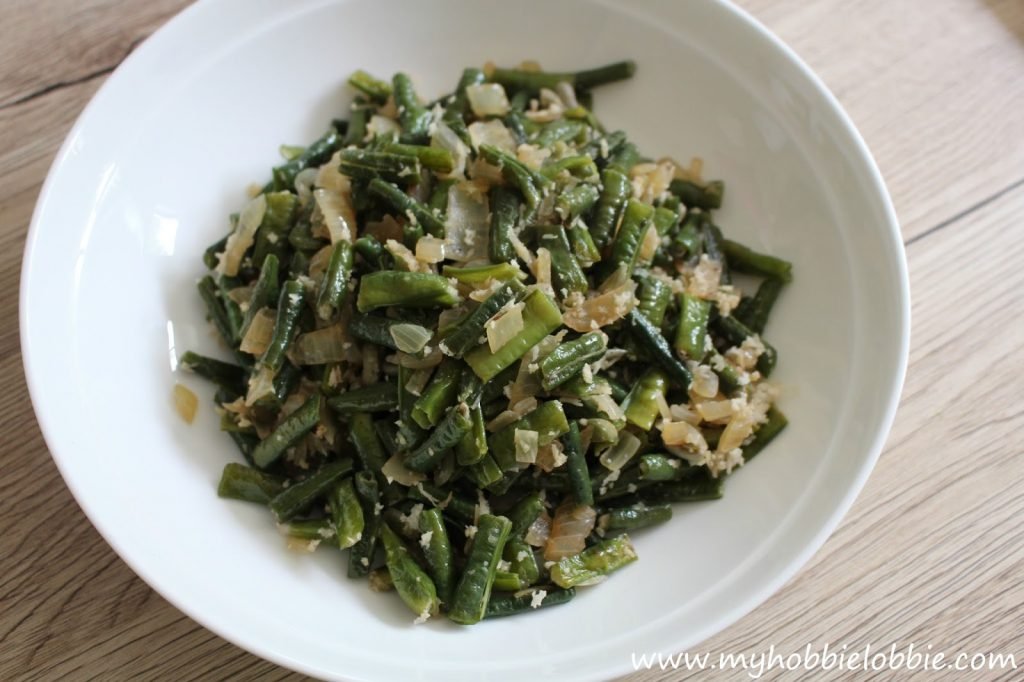 Eeril Fugad / Goan Snake Beans Stir Fry


3 small bundles of snake beans, the fresher the better
1 large onion, diced
2 fresh green / red chillies
Salt, to taste
1/4 cup freshly grated coconut
1 tbsp olive oil
Break off the ends of the snake beans and break off into inch sized pieces. Rinse through and drain and keep aside.
Heat the oil in a pan over medium heat.
Slit the chillies in length, but not all the way through. This way you get all the flavor but not much of the heat.
Let the chillies fry up for a few seconds till they get fragrant.
Add the chopped onions and saute till the onions have softened and get slightly brown on the edges.
Add the snake beans and stir them in for a while. You will see the green color of the beans turn a darker shade.
Add the salt and let the bean stir fry for about 2 minutes.
Add a splash of water, a very small amount to prevent the beans from burning and help them cook through.
Cover the pan and let it cook. Add more water, if needed.
When the beans are almost cooked, add the freshly grated coconut and stir through.
Serve hot as a side dish with some Goan fish curry or prawn curry and rice or with some chapatis.
Some other Fugad recipes –
Cabbage Fugad
Black Channa (Chickpeas) Fugad
Ever so often, life gets busy for everyone. When that happens in our home, I love having quick and easy recipes that I can fall back on even if I haven't had the time to cook dinner. My tolerance for take away and ready meals has steadily fallen in the last few years to the point where its non existent now. I do prefer home cooked food, even if its something as simple as breakfast for dinner.
Actually, I really like breakfast for dinner. This breakfast hash is a nice way to fancy things up. What I love about this hash is its made from scratch. That being said, it comes together so quick and easy and all in one pan. If you're using an oven proof skillet, you can crack the eggs right in and let them cook off in the oven. I didn't want to switch the oven on, so I used a second pan to fry the eggs. You could use poached eggs or scambled eggs too. This hash obviously uses potato. The addition of red peppers and kale makes it so colorful, not to mention, delicious. And kale in a recipe must definitely make it healthier.
So if you're ever in a situation where you need a meal on the table in under 30 minutes or if you feel like a fancier breakfast, or for that matter, breakfast for dinner option, try this hash out. You'll love it. We certainly did. And leftovers keep quite well, refrigerated. Simple heat it up the next day and serve with an egg, if desired.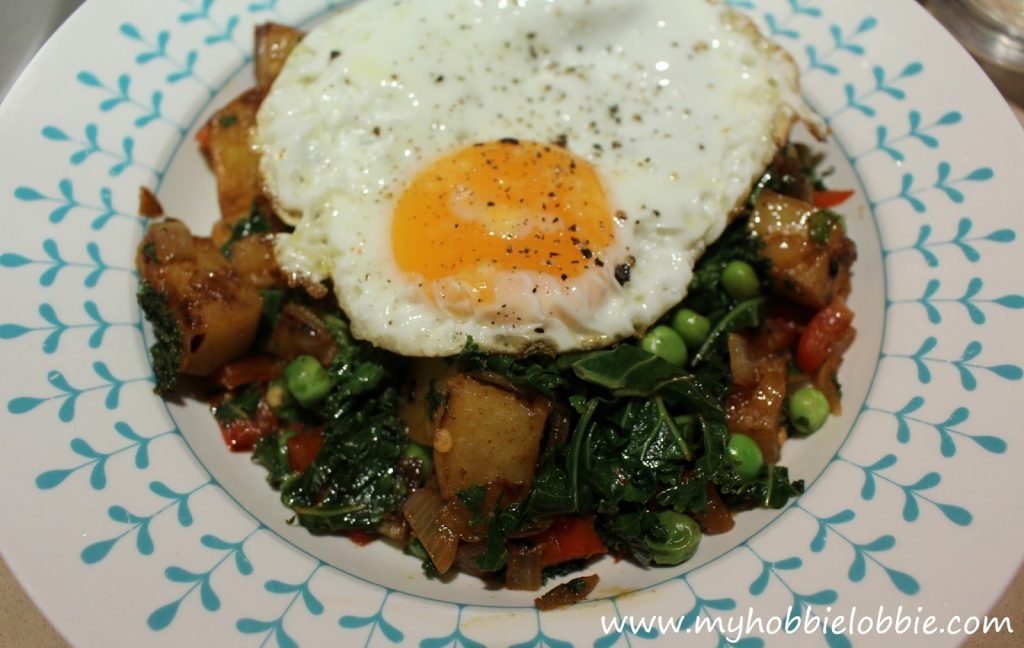 Breakfast Hash with Potatoes, Kale, Peppers and Green Peas


2 potatoes, peeled and diced (the smaller the cubes, the quicker it will cook)
1 medium onion, chopped
1 red pepper, chopped
2 cups kale, roughly chopped
1 cup green peas
1 tbsp olive oil
1/2 tsp smoked paprika
1/2 tsp cumin powder
Salt, to taste
Freshly cracked black pepper, to taste
1 egg per serving (You could use 2 eggs per serve, if desired)
Heat the oil in a pan over medium heat.
Add the potato to the pan and let it cook, stir every now and then to ensure even cooking and avoid any burning.
When its half cooked, add the onion and red pepper.
Saute and let the onion and pepper soften.
Add the paprika, cumin, salt and pepper.
Add the green peas and the chopped kale.
Let it cook for about a minute till the kale and the peas have warmed through.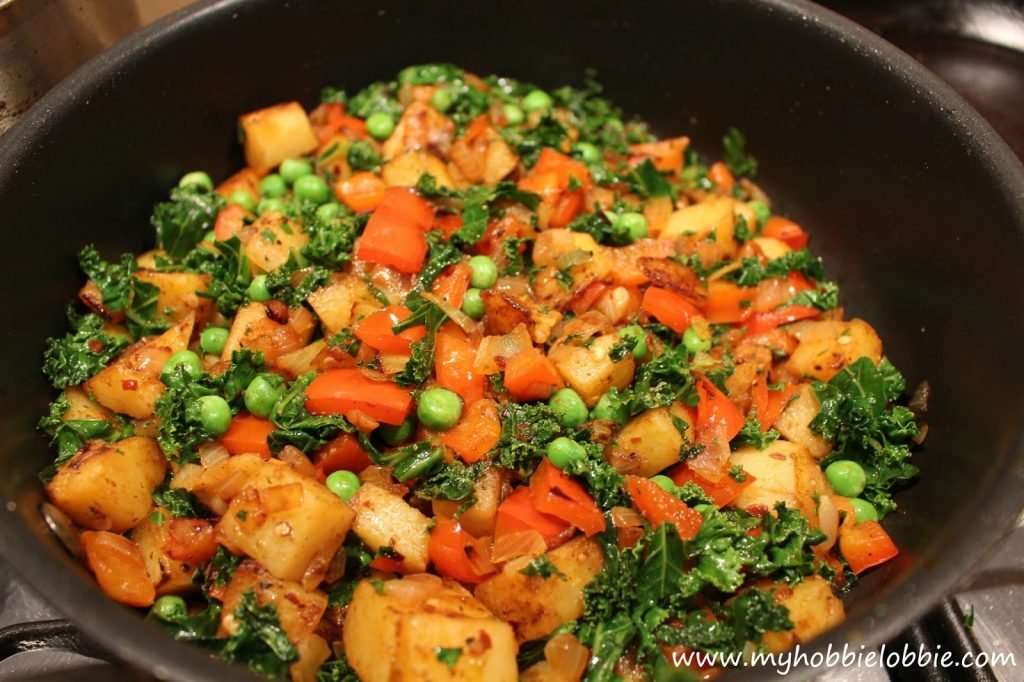 Serve hot, topped with an egg (or two) cooked to your liking.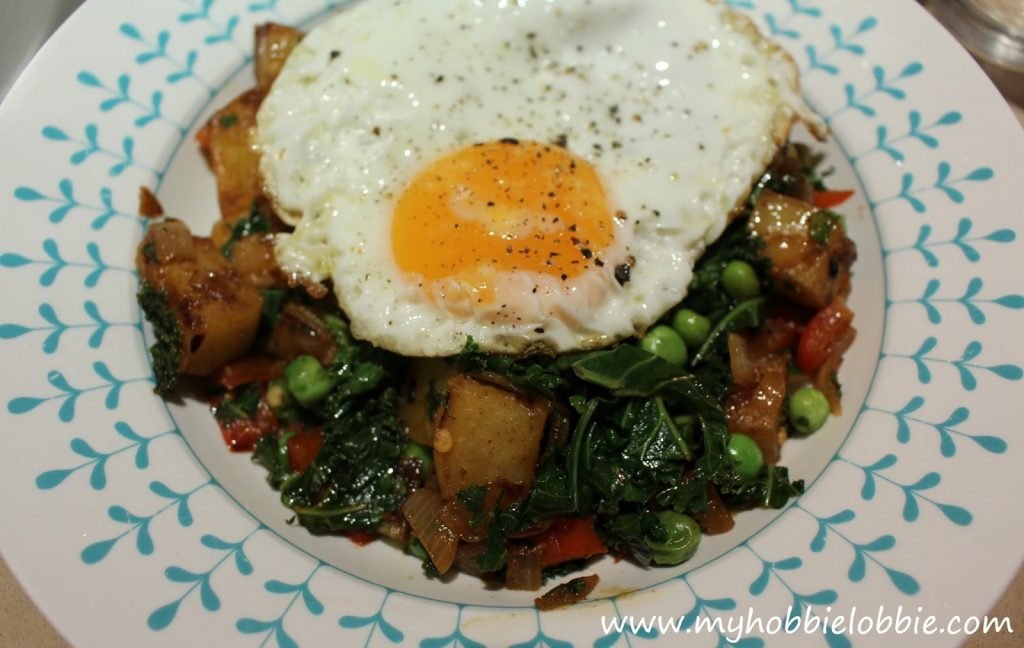 I've always been in awe of Costco outlets. Back in India, we had nothing even close to those kind of outlets. When we moved to Australia, I was eager to get into one. I had also heard that shopping at Costco meant buying huge quantities and it was a while before I had the space for larger quantities. But a few months ago, when we moved, we finally had the space needed and we made our first trip to Costco.
For someone like me, who loves grocery shopping (There, I said it. Please don't hate me), Costco was a grocery shopper's heaven. From the time I set foot in it, I loved it. Fortunately for me, my husband enjoys our trips there too. On our last trip, I found some crab meat there and picked some up.
I've been longing to try some recipes for crab cakes, crab dip and crab rangoon, to name a few crab dishes. And while we always have fresh crabs available, I have been on the look out for some crab meat. It quickens the process and makes it easier. So buying crab meat was a no-brainer for me.
Recently, after a busy day of flower making, I found myself looking for a quick and easy dinner option and decided to make some crab cakes. I found a recipe I thought would be really nice and decided to try it out.
In a few minutes, I was frying up some gorgeous crab cakes. I served these crab cakes up with some sweet chilly sauce, some salad greens and bread. I loved how these crab cakes turned out. They were full of flavor and I had a delicious meal on the table in about 30 minutes. That's a winner of a dish for me. You wanna hear a little secret? They would make fantastic burgers.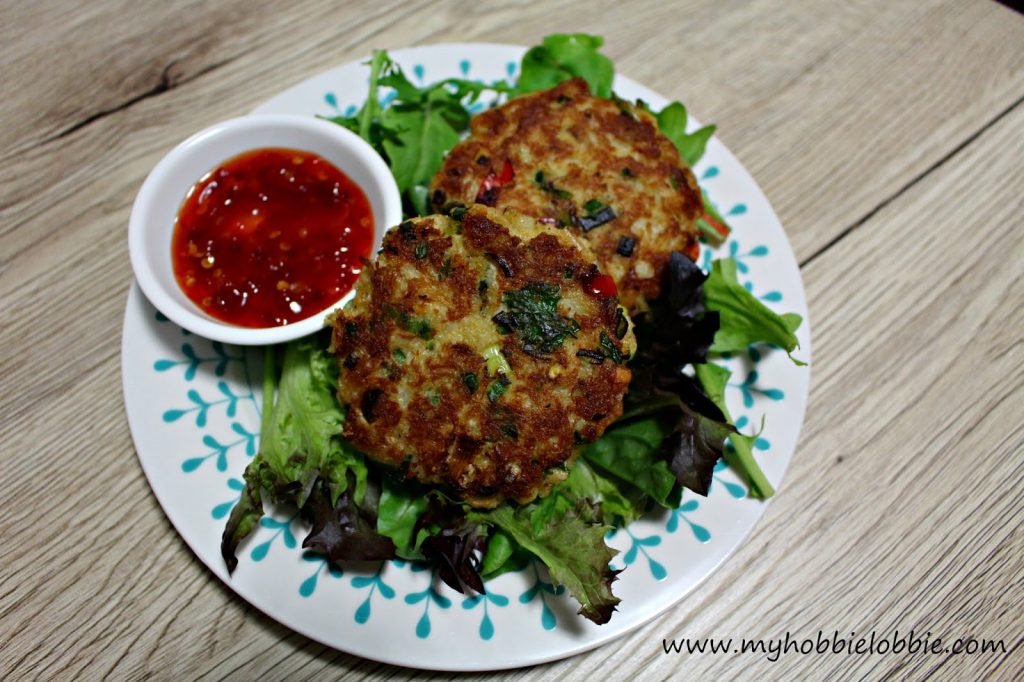 Quick & Easy Crab Cakes
Yields: 10-12 patties (depending on size)
Adapted from: Jo Cooks
12 oz crab meat
3 green onions, finely sliced
1 red birds eye chilli, finely chopped
1 egg
2 tsp lemon juice
3 tbsp mayonnaise
1 tsp Sriracha sauce
2 tbsp fresh coriander leaves and stems, finely chopped
1/2 cup Panko breadcrumbs
Salt, to taste
Freshly crushed black pepper, to taste
A couple of spoons of olive oil, to pan fry the patties.
Salad leaves, to serve with
Sweet chilli sauce, to serve alongside
In a large mixing bowl, place all the ingredients, except the olive oil, salad leaves and sweet chilli sauce.
Mix it all together till everything is evenly distributed. Mix thoroughly but gently.
Heat a spoon of olive oil in a pan on medium heat.
Form the mix into crab cakes and place on the pan. You may need to do this in batches.
Let the crab cakes fry till golden brown, about 3-4 minutes.
Carefully flip the crab cakes and fry on the other side till golden brown as well.
Serve them up with some salad leaves, sweet chilly sauce and some bread, if desired.