Finally, finally I got around to making these beauties. I've wanted to make these for a few years now. Yes, you heard me, a few years. See, here's something I have to admit. I have a 'must try' list of recipes that gets longer with time and I can barely decide which one to make first. So finally, while juggling with all of what life has to throw at me, I got around to make these cookies.
See, here's the thing. I've sorta lost my baking mojo recently. But, I'm glad to say that has changed with these cookies. I just woke up one day and decided that I was going to make them. They were really easy to make. I stuck to the recipe, or atleast that was the intention, but as luck would have it I didn't have the light brown sugar that this recipe calls for. I thought I did, but what I had was 2 packets of dark brown sugar. I was dead set on making these cookies and I wasn't going to let the brownness of the sugar get in the way 🙂 That is why these cookies don't look like the typical Snickerdoodles, but I'm sure that had no impact on the taste. These cookies were really good. I'm so happy that I finally got around to trying them out. They outer crust was perfect and cinnamony (pretty sure I just made that word up) while the inside was light and pillowy soft. Go ahead and try it out. It is a recipe that's perfect for the holidays.
I had almost forgotten how good it is to bake at home. Nothing compares to home baked goodies. Having found my absconding baking mojo, I hope to bake a few more yummies soon.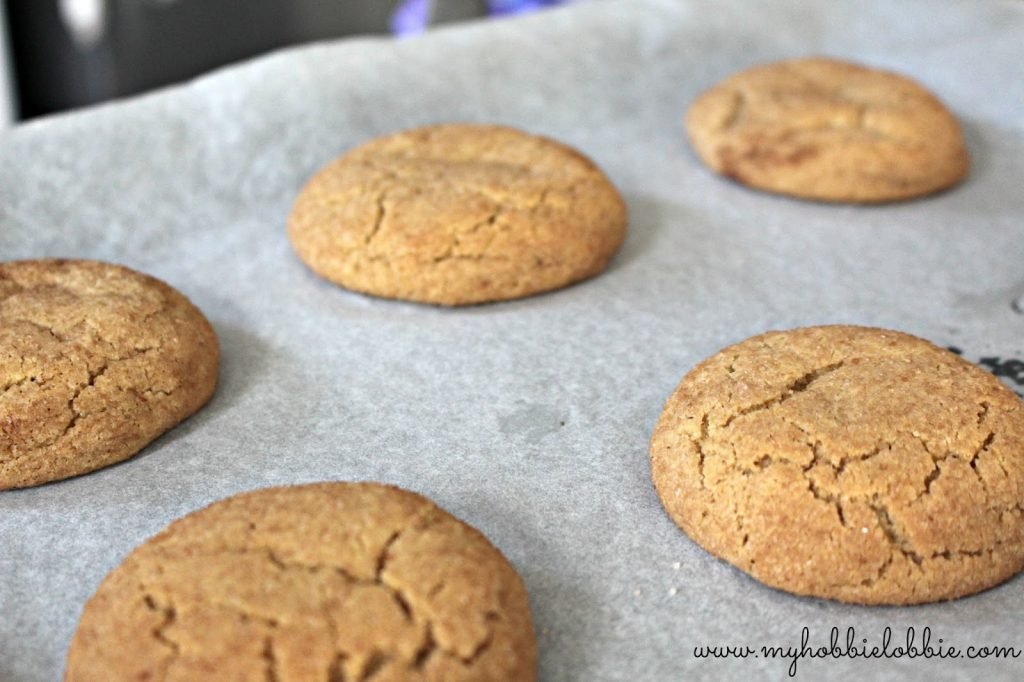 Snickerdoodles
Yields 20
1 cup butter, at room temperature
3/4 cup granulated sugar
1/2 cup dark brown sugar (the original recipe calls for light brown sugar)
1 egg
1 egg yolk
1 tbsp vanilla extract
1 tsp baking soda
1 tsp cream of tartar
1/2 tsp salt (I just added a pinch since I used salted butter)
1 tsp cinnamon powder
2 3/4 cup flour
Cinnamon Sugar –
1/4 cup granulated sugar
1 tbsp cinnamon powder
Preheat the oven to 180ºC.
Line a cookie sheet with some parchment paper and set aside. You could use a silicone mat if you have one.
Beat the butter and sugars till light and fluffy.
Add the egg, egg yolk and vanilla and beat again. Scrape down the sides while you're mixing the dough.
Add in the baking soda, cream of tartar, salt and 1 tsp cinnamon powder and mix well.
Add the flour and mix it slowly only till just combined.
In another small bowl mix the sugar and cinnamon powder to make the cinnamon sugar and stir till well combined.
Using a cookie scoop or a spoon, measure about 2 tbsp of the cookie dough and roll into a ball.
Roll the ball in the cinnamon sugar mix and place on the prepared cookie tray. Place the balls about 2 inches apart on the tray.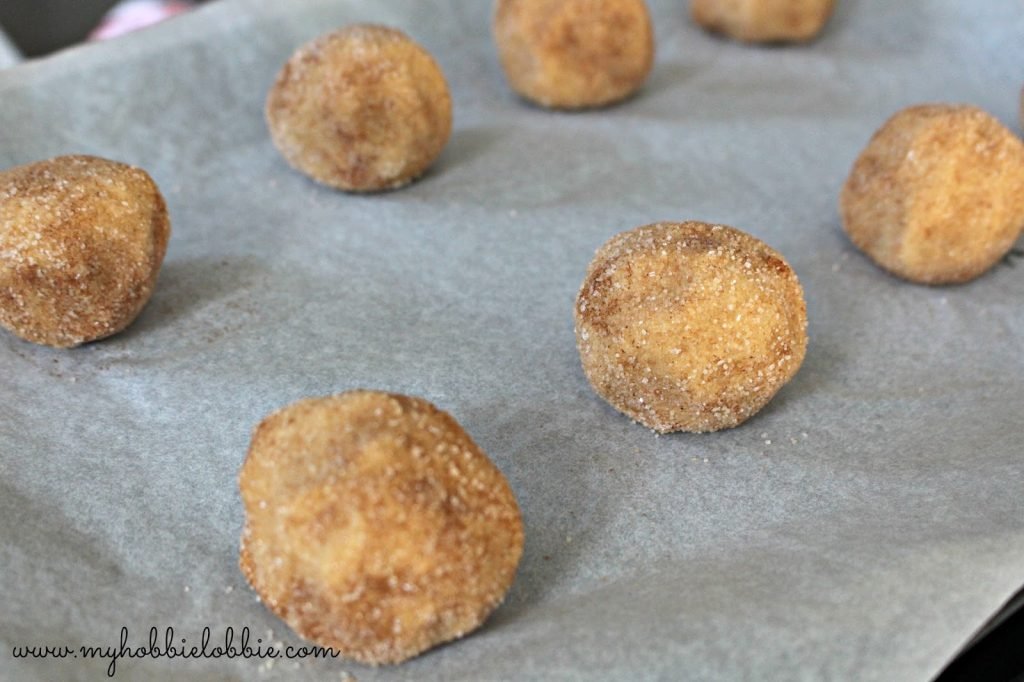 Bake for 10 minutes or till the edges are slightly golden. The centers may seem undercooked but they will set as the cookies cool.
If you like your cookies crisper then bake for an additional 2 minutes.
I baked them for 10 minutes and the cookies were perfect.
Back when I was in Bombay, Christmas time was always pretty hectic. Who am I kidding? Hectic doesn't even start to describe it. It used to be insanely manic. See I used to run a home based business and take orders for Christmas sweets. And come December, activity levels in the kitchen would kick into overdrive. Okay so you're probably wondering why I'm headed with this. Well during these insanely busy periods, I was fortunate enough to have my parents cook for us and on one such day my Dad brought over a bunch of yumminess and this Black Chana Fugad was one such dish.
A Black Chana Fugad is simple and humble dish. That being said, I loved it. What is this Black Chana Fugad? Black Channa is just Black (dark) chickpeas. Fugad is a Goan version of a stir fry with grated coconut. Now, I haven't been able to get the recipe that my Dad used, but with a little help from the internet, I found a recipe that actually came quite close. Maybe when I visit my parents next, I will get my Dad's version of the recipe, but for now, I'm happy to use this recipe.
You could use canned black chickpeas if you can find any. I use the dried version.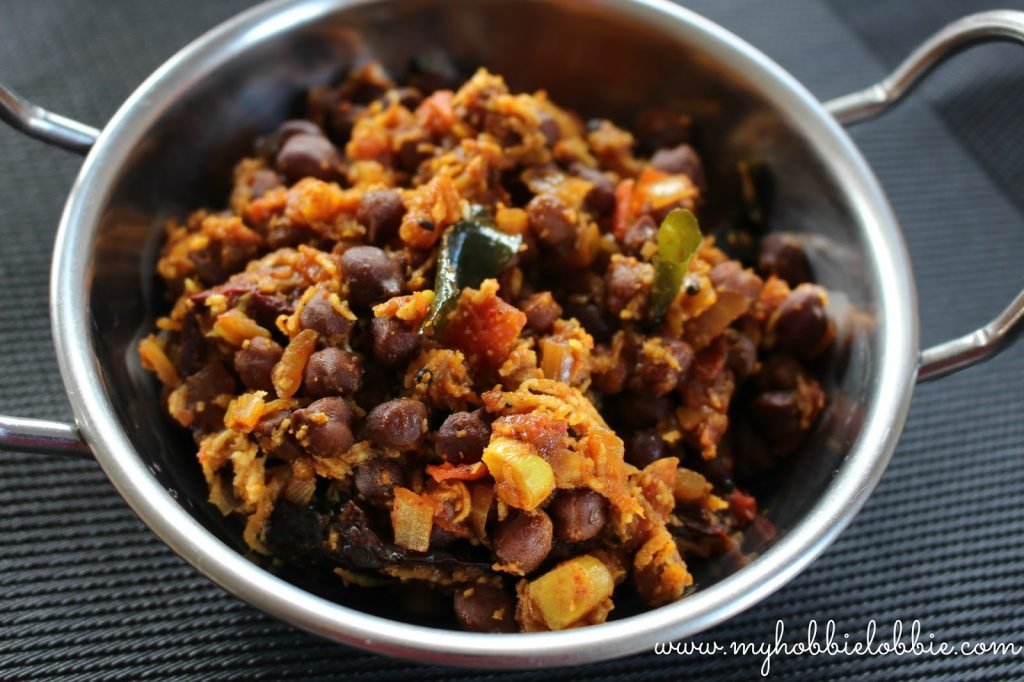 Black Chana Fugad / Black Chana Sukkhe
1 cup (dried) black chickpeas
1 tbsp vegetable oil
1/2 tsp mustard seeds
8 curry leaves
5 cloves of garlic
1 large onion, finely chopped
1 large tomato, finely chopped
1 tbsp Kashmiri Chilly powder (this is a mild red chilly powder, if you don't have access to this use a smaller quantity of red chilly powder, to taste)
1 tbsp coriander powder
1 tsp cumin powder
1/4 tsp black pepper powder
1/4 tsp turmeric powder
1 tsp tamarind extract
1 tsp jaggery / palm sugar
1/4 cup grated coconut
Salt, to taste
Wash the black chickpeas in water and drain a couple of times.
Soak the dried chickpeas in water overnight (or about 8 hours). Make sure the water is about 2 inches over the chickpeas and use a large bowl because the chickpeas will expand in size.
Drain the water and rinse the chickpeas fresh water and drain again.
Place the chickpeas in the pressure cooker with the water level about 1 inch over the chickpeas. Add 1 tsp of salt and 2 whole dried red chillies (preferable Kashmiri chillies) and pressure cook till tender.
**Every pressure cooker is different so I can't give you an accurate amount of time it will need to cook. I use a WMF pressure cooker and when the pressure builds to the gentle cooking pressure point, I turn it down to a simmer and leave it to cook for about 4 minutes. If you do not have a pressure cooker, just cook the chickpeas in ample amount of salted water till tender. Use your manufacturers instructions to gauge how long to pressure cook the chickpeas.
Release the pressure and after the pressure has completely died down, carefully open the cooker.
Drain the chickpeas and reserve about a cup of the stock.
To make the fugad –


Heat the oil in a pan on a medium heat.
Add the mustard seeds and let them sputter.
Now add the curry leaves and crushed garlic cloves. (You just want the cloves bruised and popped open, you do not want to mince it or make a paste.)
Now add the onion and saute till soft and translucent.
Add the chilly, coriander, cumin, black pepper and turmeric powders and stir well.
Now add the chopped tomato and stir well. Cook this till the tomato has softened a little.
Add the drained chickpeas and stir well.
Add the tamarind paste gradually and to taste. (You may or may not need all of it, depending on the tartness of the tomato you have used.)
Add a couple of tablespoons of the stock and let it all cook down for a minute or so.
Check for salt and add more, if needed.
Add the grated coconut and stir well. If you want more gravy you could add a little more stock.
We usually have this dish on the dry side, so we let the stock cook down completely.
Once the coconut has cooked for a couple of minutes, take off the heat and serve hot.
This dish goes beautifully with chapatis or rotis.
Enjoy!
I have a little confession. A few years ago, I used to not like Oreo biscuits very much. There!!! I said it. But wait, I must also say this. A few months ago, I sorta flipped a switch. I happened to try one again, and I must say, I didn't mind it at all. Don't ask me what happened or how it did, but I can now say I actually like Oreo biscuits. So it was time that I reworked what was originally a recipe that used Oreos, which, when I first made, I actually substituted with another biscuit. But recently, I made them again using the real thing.
Sometime in August, we were celebrating a couple of birthdays at work and I decided I was going to bring a batch of these to the celebration. I was a little skeptical of how they would be received, but I shouldn't have been. They disappeared. Not everyone had an opportunity to grab one, but some clever ones managed to get seconds, maybe thirds 😉 Those that had a chance to try them out, absolutely loved them. So turns out I didn't have to worry about these at all. I've had a few people ask me for the recipe more than once. So I'm actually doing another post for it.
This is one of the easier treats I've made and if you have to take something sweet to a potluck, may I recommend making these. They will be an instant hit. Be warned, they are really moreish. You wont be able to stop at one.
Oreo Truffles
(Makes 1 dozen)
200g Oreo cookies (each packet is 137g, I just used 2 packets)
60g cream cheese
200g chocolate (I used 100g milk chocolate and 100g dark chocolate but you could use all milk or all dark or any ratio you prefer)
1/4 cup Candy melts (I used Yellow melts)
Blitz the cookies in a food processor till it reaches a fine crumb state. (If you don't have a food processor, place the cookies in a ziplock bag and pound on them using a rolling pin.)
Stir in the cream cheese and mix thoroughly.
Roll them into balls. Refrigerate them for an hour so that the firm up.
Chop the chocolate into small pieces. Melt the chocolate in a microwave safe bowl for 30 seconds and stir. Then as needed microwave in 30 second increments stirring inbetween till the chocolate melts. The stirring helps the chocolate melt.
Line a cookie sheet tray with parchment paper.
Dip the cookie balls in the melted chocolate. Using a fork, let the excess chocolate drip off and leave them to set on the parchment lined tray. You can serve them up as they are or decorate them with sprinkles or chocolate then do that at this stage and leave it to set.
If you want to use sprinkles to decorate them, sprinkle them on the truffles just after you dip them in chocolate.
If you want to drizzle some chocolate or candy melts over, microwave them in a microwave safe bowl according to the package instructions. Pour it into an icing bag or a small ziplock bag, snip off the tip of the bag and drizzle the chocolate over the truffles. Leave to set.
Enjoy!!!
2
SRC
posts in 2 weeks! You must think I've lost my marbles. But no, I haven't, not yet atleast 😉 Last week was a bonus themed SRC reveal but this post today is my regular Group A reveal. For this month I was assigned Sid's blog,
Sid's Sea Palm Cooking
. I've been watching this blog for a while now and when I received my assignment, I was quite excited to be cooking from this blog. I almost fell off my chair when I read Sid's tagline from her "About" page. Turns out we are kindred sisters at heart. In her own words, this is what she has to say,
"Sid cooks, entertains, plays with food, and hates to clean the kitchen after a marathon cooking/baking session."
I feel ya Sid. I love the prepping, the cooking and the serving and all that. But absolutely hate the cleaning up after. OMG, I can't believe I have said that out loud. Fortunately, I have an absolutely amazing husband, who almost always helps with the clean up. And that makes me one lucky and extremely happy girl.
Back to Sid and her blog. She hosts Tapas night once a month and her friends bring along a dish each to share. That is a wonderful idea for a potluck and they put together some pretty impressive spreads month after month. While I was perusing her blog, a few posts caught my attention. I loved the look of these Game Day Wings, and her Za'atar Pita Crisps looked intriguing. I had also shortlisted her recipe for Tonkatsu and her Candied Ginger and Lime Cookies. In the end I went with her Breakfast Salad.
I was so pleased I picked Sid's Breakfast Salad recipe. Though it is a simple recipe, for me it was a first. I have never poached an egg before. And until now, I have always found or made excuses and put off trying my hand at poaching eggs. To be honest, I always found it a little intimidating. Today I decided to bite the bullet and give it a shot. I'm so happy that I did. Turns out, poaching eggs is actually really easy. I wonder why I waited this long to try it out. It is a really healthy way to enjoy an egg for breakfast too, because there is absolutely no oil / butter involved. I even managed to get a runny yolk and all. This might just be my new favorite way to eat an egg now. Thank you so much Sid for the much need nudge. If you haven't tried poaching an egg yet, do give it a try.
The salad itself, makes the dish a very wholesome breakfast. I didn't have any mushrooms in the kitchen when I set out to make this, so I left out the mushrooms. But because my husband looked and the salad leaves and then looked at me thinking I had lost my mind, I decided to coax him with a few sausages. I fried up some cheese kransky sausages and sliced them up. With some croutons and salad dressing, this makes a super yummy and hearty breakfast. You don't feel heavy or overwhelmed with grease after sitting down to this salad. Though this was my first attempt at a breakfast salad, I know for sure this wont be the last. I really enjoyed this for breakfast. I probably enjoyed this a little more than I thought I would.
I have made this a couple of times now, once using store bought French Salad Dressing and once with my go to dressing comprising of a squirt of lemon juice and a sprinkle of salt and freshly cracked black pepper to taste. Both were really good.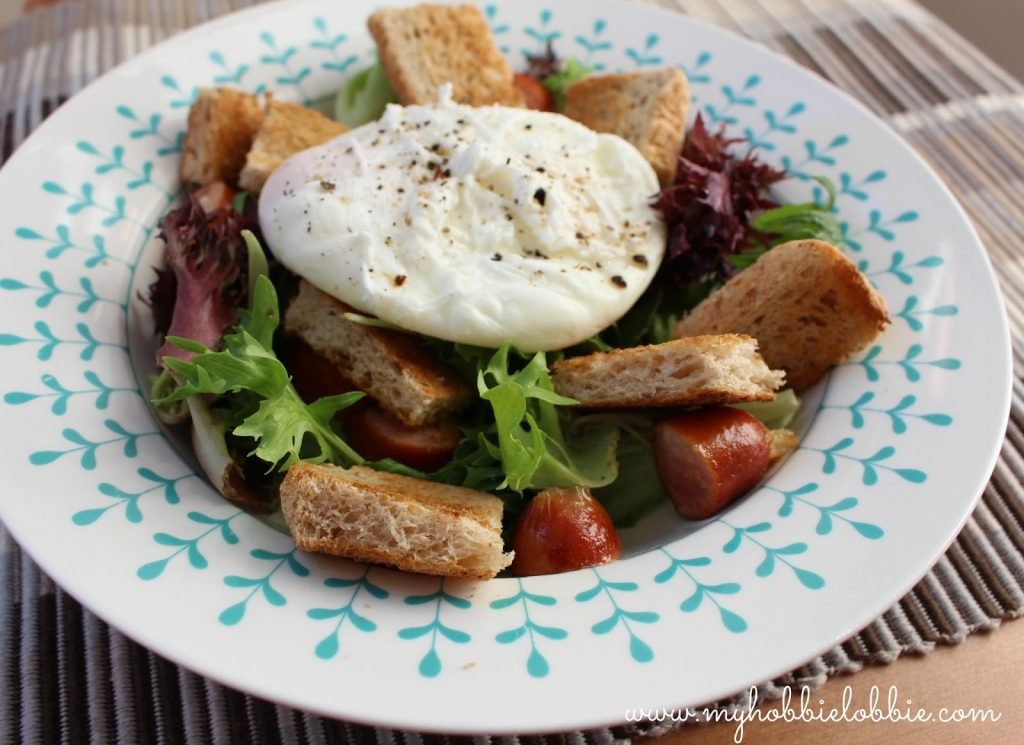 Breakfast Salad
Serves 1
To poach the egg –
Bring about a liter of water to a boil in a pot.
Add 2 tbsp vinegar to the boiling water.
Crack an egg into a ramekin.
Using a spoon, stir the water a few times till you have a little whirlpool going in the pot.
At this stage, gently pour the egg from the ramekin into the water. Cook of medium heat for about 2-3 minutes or till the egg whites have just set.
Drain using a slotted spoon and place on a paper towel to drain off any excess water.
For the salad –


A handful of salad leaves (I used the 4 leaf mix from Coles)
1 slice of bread
2 cocktail sized cheese kransky sausages
1 tsp olive oil
Salt, to taste
Freshly cracked, black pepper to taste
Salad dressing (of your choice), to taste
I turned the sliced of bread into croutons the lazy easy way. Simply toast it up in the toaster till browned and crunchy. Cut up into pieces and croutons are done.
Heat the oil in a pan and fry up the sausages till cooked. Carefully slice the sausages.
In the serving plate, place the salad leaves and drizzle a little salad dressing over.
Sprinkle the sliced sausages and crouton pieces over.
Place the poached egg on top and sprinkle some salt and pepper on the egg.
Enjoy!!!
Here's a peak at the runny yolk I managed to get 🙂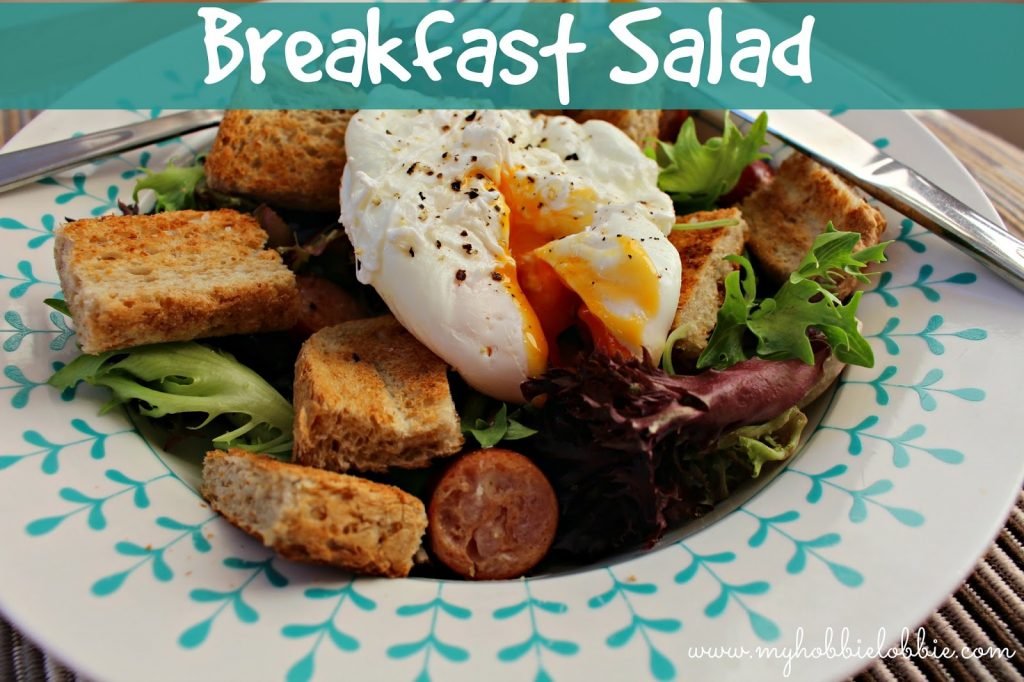 Don't forget to check what the others in Group A have whipped up this month.
**Disclaimer: This is NOT a sponsored post. I have just mentioned what type of salad leaves I've used here.