Oh yes, here's a second
SRC
reveal for the month of August. This is not my usual reveal with Group A. That still happens on the first Monday of every month. This month the Club has decided to have a little extra fun. The entire club comes together across all Groups for a Themed Reveal Day. The theme this month was Back to School. In this reveal, you can expect to see quick breakfast or dinner recipes, after school snacks and even creative lunchbox ideas.
For this reveal, I was assigned Michaela's blog – An Affair from the Heart. Michaela is a girl after my own heart. She doesn't just cook up some amazing food, she used to have an online scrapbooking business. She enjoys family time and loves having extended family around. Her latest creative outlet is in the form of entertaining. You will find loads of ideas on her blog. I was tossing between these Pizza monster sandwiches, Double Chocolate Banana Muffins, S'mores Yogurt and a Pineapple Kiwi Smoothie. I went with the smoothie. It will be perfect as a quick, delicious and nutritious breakfast or an after school snack. When its hot outside, nothings better than a nice tropical smoothie. Or if you are like me and live in the Southern Hemisphere and are waiting eagerly for Spring to get here, this smoothie is bound to take you straight to summer atleast for a few minutes.
This smoothie is easy to make and is full of fruity goodness and only used natural honey as a sweetener. That's a win in my book. It was a glassful of deliciousness and I was truly amazed at how thick it turned out. I must admit, in my house it is usually my husband who whips up smoothies for us. Irrespective of what he puts in them, he always manages to make a perfect smoothie and I usually dont have results as good as he does, so I just leave it to him. But after making this smoothie all by my lonesome, I am eager to try out new combinations now. Thank you Michaela for my new found smoothie mojo. I couldn't wait to use my new milkshake glasses and though I know this is a smoothie and not technically a milkshake, I still wanted to use them.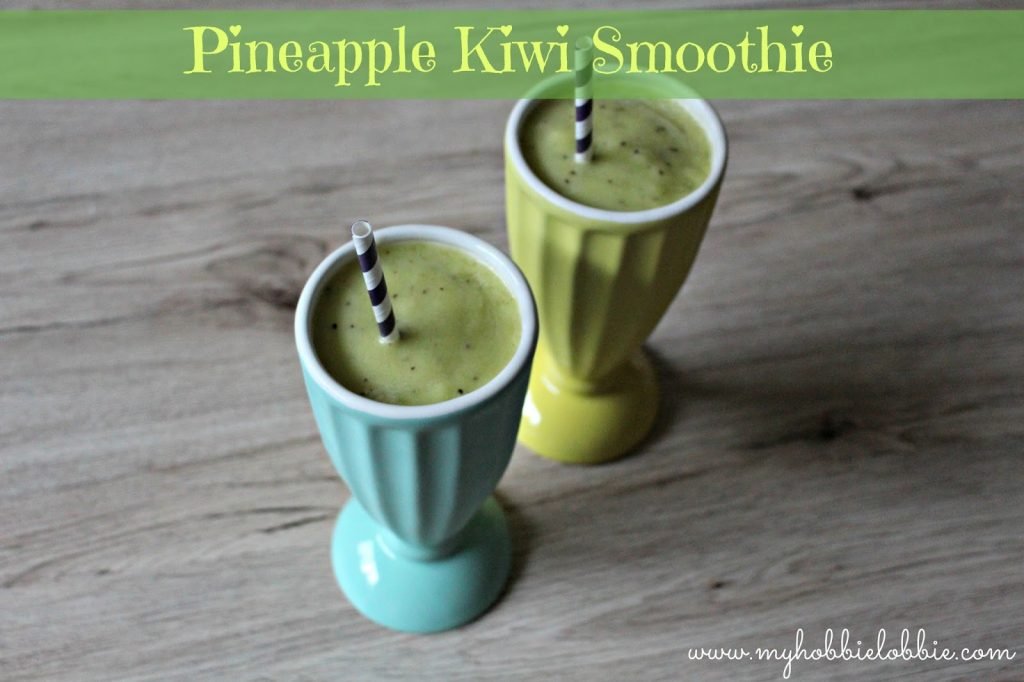 Pineapple Kiwi Smoothie
Serves 3
2 cups frozen pineapple chunks
2 kiwis
1/2 – 1 cup of pineapple juice (depending on how thick you want the smoothie)
2 tbsp raw honey
Blitz everything in a blender.
Use the pineapple juice to get everything started. Start with about half a cup and add more depending on how thick you want the smoothie.
If you are using fresh pineapple pineapple, add some ice to the blender.
Serve up in some pretty glasses.
Enjoy!
Today I'm going to share with you a much loved recipe. This one packs a lot of flavour and comes together easily. Most of the work involved actually is prepping the veggies. And yes, this fried rice has more than its fair share of veggies, which makes it quite nutritious. If you've never made fried rice at home before, I urge you to try it out. You'll ditch the take-out version for the home made one instantly.
What I also like about this fried rice is you can pretty much use whatever you have on hand. You can switch up the veggies. I almost always use onion, spring onion, capsicum and carrot. I also add zucchini, snow peas, cabbage and baby corn if I have any of them on hand. The same is the case with the protein. Almost always I use a little bacon for flavour and some egg. Then I either use prawns, shredded chicken and sometimes even ham depending on what I have available at the time. So like you see, this fried rice is one of those meals you can put together almost any day of the week, even when your grocery run is due the next day. Apart from cooking the rice, it comes together in one pan – I now use my wok and love it.
This is the quickest way I find to get this on the plate. Soak my rice and when the rice is soaking and cooking, I prep my protien and veggies. When everything is ready, the final dish takes about 10 minutes tops to put together. Its one of my favourite quick and easy weeknight meal options. I tend to add a lot of vegetables and I like it that way, you could drop the quantity of vegetables to suit your liking. This is just a guide to making this fried rice and the quantities are suggestions. Go with what you think you'll enjoy and adjust to your liking.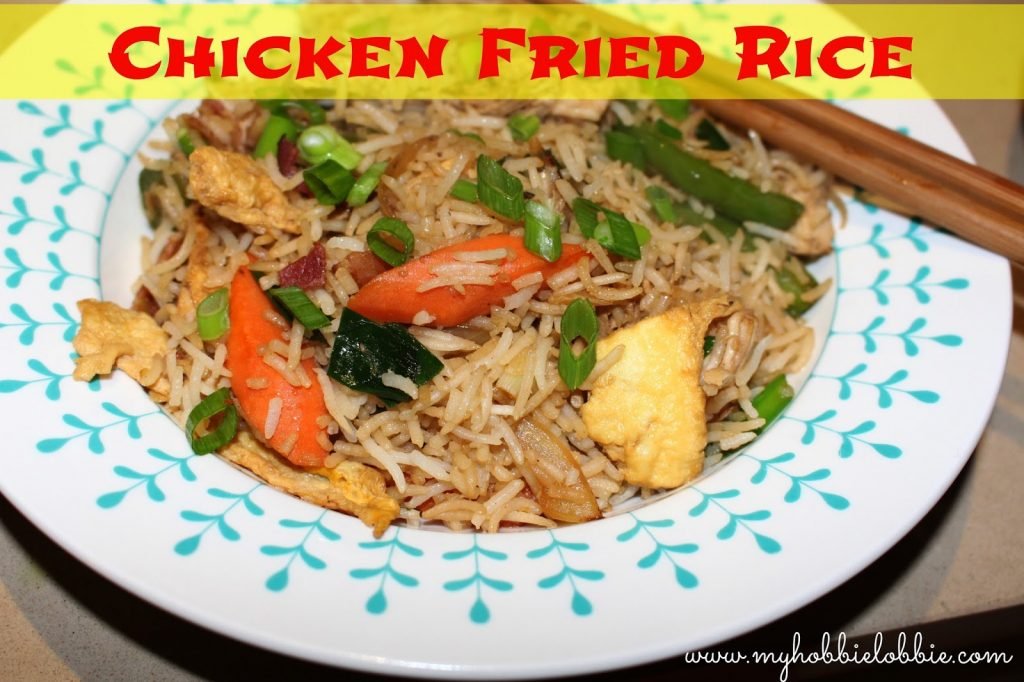 Chicken Fried Rice
Serves 3 (as mains)


1 cup basmati rice
2 cloves garlic, finely chopped
1 birdseye chilly (optional – we enjoy hot food but you can leave it out if you dont)
3 spring onions
1 red pepper
2 carrots
6-8 green beans
A handful of finely sliced cabbage (about a cups worth)
2 eggs
3 rashers of bacon (I used streaky bacon)
A cup of shredded chicken (you could used poached, roast, or rotisserie chicken)
A couple of tablespoons of oil (vegetable, olive or sunflower or any other cooking oil of your choice)
1 tsp sesame oil
Salt, to taste
Freshly cracked black pepper, to taste
Approx. 1 tbsp soy sauce (I use salt reduced soy)
1 tsp rice wine vinegar
Rinse the rice a couple of times and drain. Soak in fresh water at room temperature for about 20-30 minutes.
Bring a pot of water to the boil (just like you would for pasta). Add a spoon of salt to the water and carefully add the rice. Cook the rice till almost done (al dente). Don't cook the rice through as it will turn mushy once you add it to the wok.
Drain the cook rice and using a fork lightly loosen the grains and leave to cool.
In the meanwhile, clean and chop all your vegetables. I like to chop mine in like sized pieces. You could julienne everything or slice it on the diagonal into little chunks. (I will try and get a picture of the chopped up veggies when I make this next, I was in a hurry this time and forgot.)
Dice the bacon rashers and keep aside.
Keep all your ingredients handy. The trick to cooking a delicious fried rice is to cook it on a high heat and cook it quickly.
Heat your wok or pan. Add a little cooking oil to the pan. Crack 2 eggs in a bowl, add a little salt and lightly whisk. Now either make a plain omlette and cut into chunks or a plain scramble. Take the egg off the pan and keep aside.
Next step is to fry off the bacon. Add a little oil if needed and tip the cut bacon into the work and let it cook a little and add some flavor to the pan. Dont cook till crisp. You just want the ends to start changing to a light brown. Now add the garlic and chilly and saute till it gets fragrant.
Add the sesame oil and then tip in the diced pepper and the rest of the veggies and stir fry on high heat till they cook off a little. You still want them to have a little bite.
Add the chopped spring onions.
Add a light sprinkle of salt and some freshly cracked black pepper.
Add the soy sauce and rice wine vinegar and stir to let it coat the veggies. Please adjust the sauce to suit your liking.
Tip in the chicken and egg and stir well to incorporate.
At this stage add the rice to the wok and gently mix everything but mix thoroughly. I use a spatula and a pair of chopsticks to do this.
Once the rice has warmed through, serve hot and top with finely sliced spring onion greens to garnish and if you're feeling particularly adventurous, some finely sliced fresh chilly.
Enjoy piping hot.
**Leftovers warm up really well the next day too.
So like I promised on SRC reveal day
here
, here is the bonus post from my assigned blog.
We recently moved houses and while I didn't have a microwave in the previous place, this place came with a microwave. I've have wanted to add a few microwave recipes on the blog for some time now, but I really didn't want to buy one to do this. Now microwave cooking is not my method of choice. But I believe that anyone should be able to enjoy home made food. I know that there are folks out there that don't own an oven so here's how you can make small portions of cake at home without an oven. I have shared one recipe before for a 2 minute chocolate mug cake. We enjoyed it a lot. And looks like you did too. It is one of the most popular posts on the blog. I know, right? Who would've thought that a humble microwave cake recipe would be this popular. Certainly not me. So while I was looking at posts on Burnt Apple, I spotted this 2-minute mug cake recipe.
Now this may come as a little bit of a surprise to you, but this was also meant to be a chocolate cake recipe. The original recipe uses chocolate chips and I followed the recipe to the letter but I didn't end up with a chocolate cake but something more like a layered cake. The top was a plain sponge but as you dig in you see little specks of chocolate from the chocolate chips and right at the base of the mug you will find this ooey-gooey molten chocolate. Totally not intentional, but pretty darn amazing. Also, did I mention that this is like an instant cake fix. That's the part I really love. Another plus is the portion control. These are individual serves, so you really can't go overboard. I was very pleased with this happy little accident. I think I might have to look for a few more such recipes.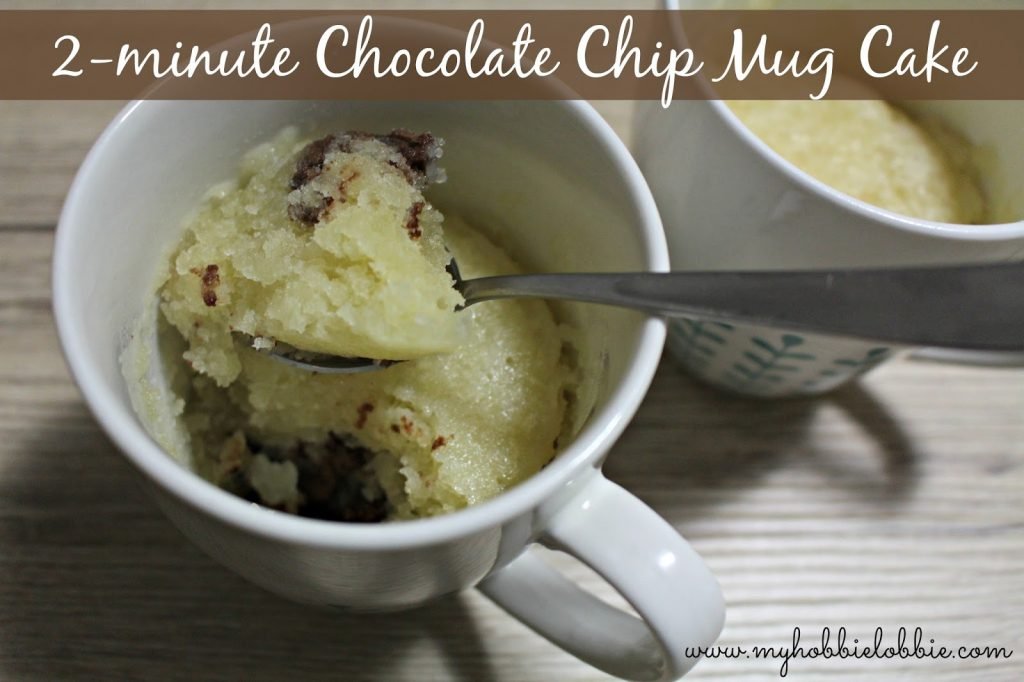 2-minute Chocolate Chip Mug Cake
(This makes one portion. Feel free to double the recipe to make two portions.)


3 tbsp all purpose flour
3 tbsp sugar
1/4 tsp baking powder
3 tbsp milk
3 tbsp vegetable oil
3 tbsp chocolate chips
Place all the ingredients in a microwave safe mug.
Stir the mix till smooth.
Microwave on high for 90 seconds. (This was the recommendation of the original recipe. I had to keep mine in for another 60 seconds. Every microwave is different, so please check at the 90 seconds mark and use 30 second increments, if needed.)
The cake will be scalding hot. Let it stand for 2-3 minutes before eating.
For a slightly more indulgent treat, serve with a scoop of ice cream or with some whipped cream.
Enjoy!
The deeper your spoon goes, the more chocolate you find 🙂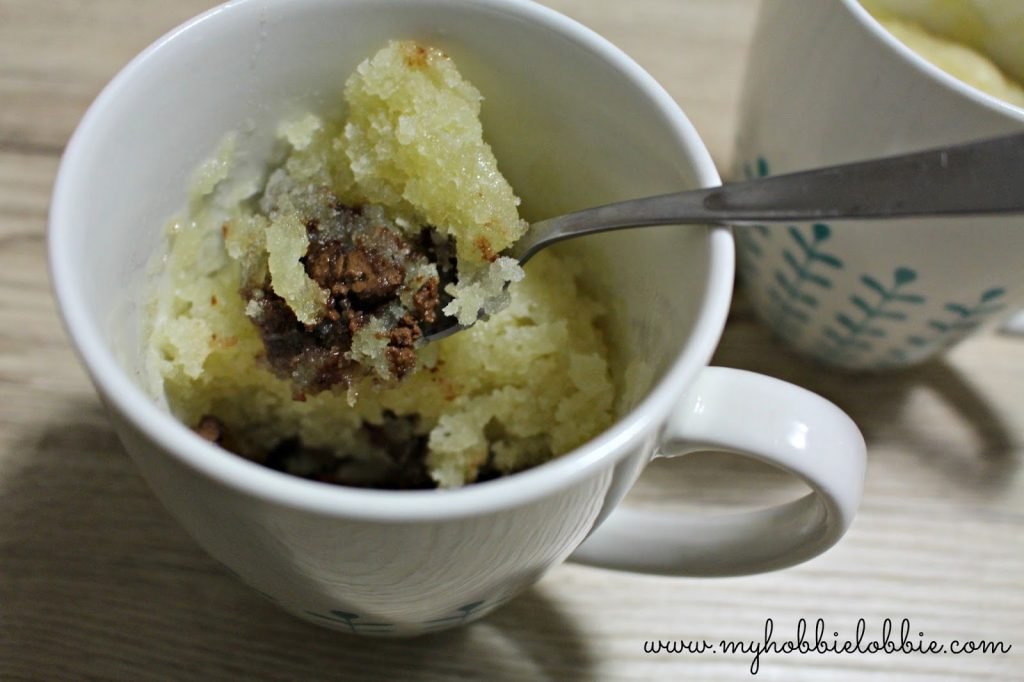 Hello everyone and welcome to our August installment of the
Secret Recipe Club
. This month I was assigned Traci's blog,
Burnt Apple
. What a fun adventure looking through her blog was. She has so many recipes I want to try; and so many ingredients I've never worked with before. A lot of her recipes are healthier versions because Traci strongly believes in using whole foods and natural sweeteners, from what I've seen. That being said, it doesn't mean she doesn't have some fun recipes in there – check out these
Bacon Cheddar Fries
,
Baked Churros
,
Crispy Cinnamon Raisin French Toast
and this
Baked Blueberry French Toast
. I'm hoping to try these out sometime soon. But after a month of packing, moving, unpacking and settling in, while working full time. I needed something comforting and super simple. Something warm would be a bonus, because we are smack bang in the middle of winter. So, I decided to try out her
Healthy Hot Cocoa Mix
for reveal day. But that's not all. I have a bonus recipe, yup I made a second treat from Traci's blog that I will share later in the week.
So back to this mix. You wouldn't believe how easy this was. 3 ingredients in a bowl, mix everything together and store. Then you simply store as needed. Traci used a healthier sweetener for her mix, but I used her basic version, using what I had on hand, which is why I'm calling it simply a Homemade Hot Chocolate Mix. I'm thinking this would make a fantastic present for Christmas, all dressed up – atleast for those of you who have a wintery Christmas. As for me and my husband, we are going to enjoy this right now. **slurrp**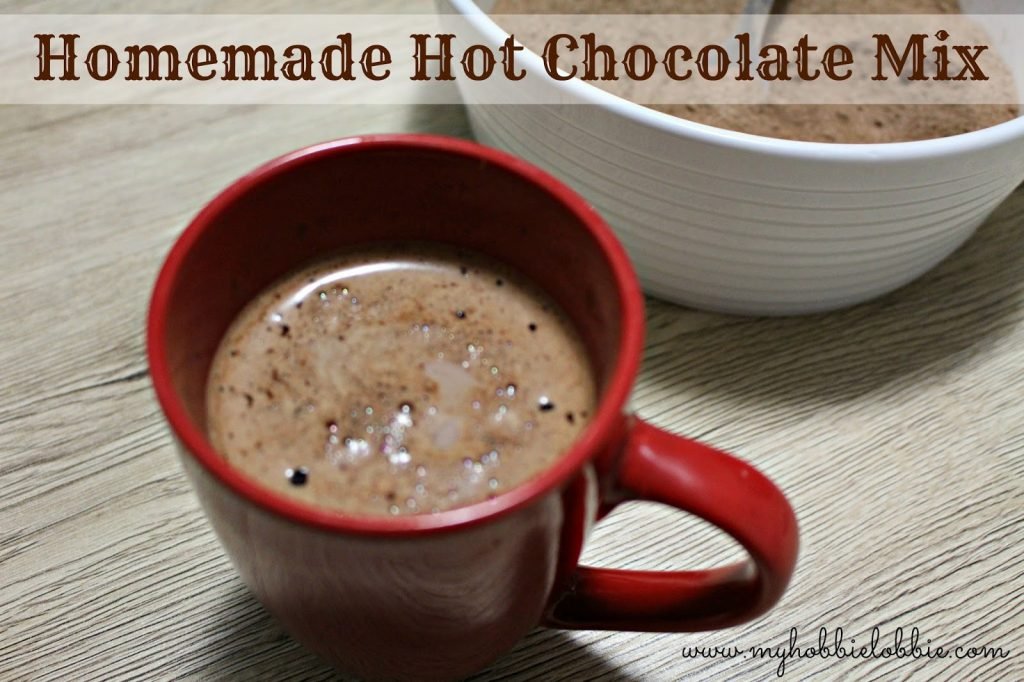 Homemade Hot Chocolate Mix


3/4 cup cocoa
1 cup sugar (I will cut this down to 3/4 cup next time) (Adjust to your liking)
1 tbsp cornstarch
Combine all the ingredients in a bowl thoroughly.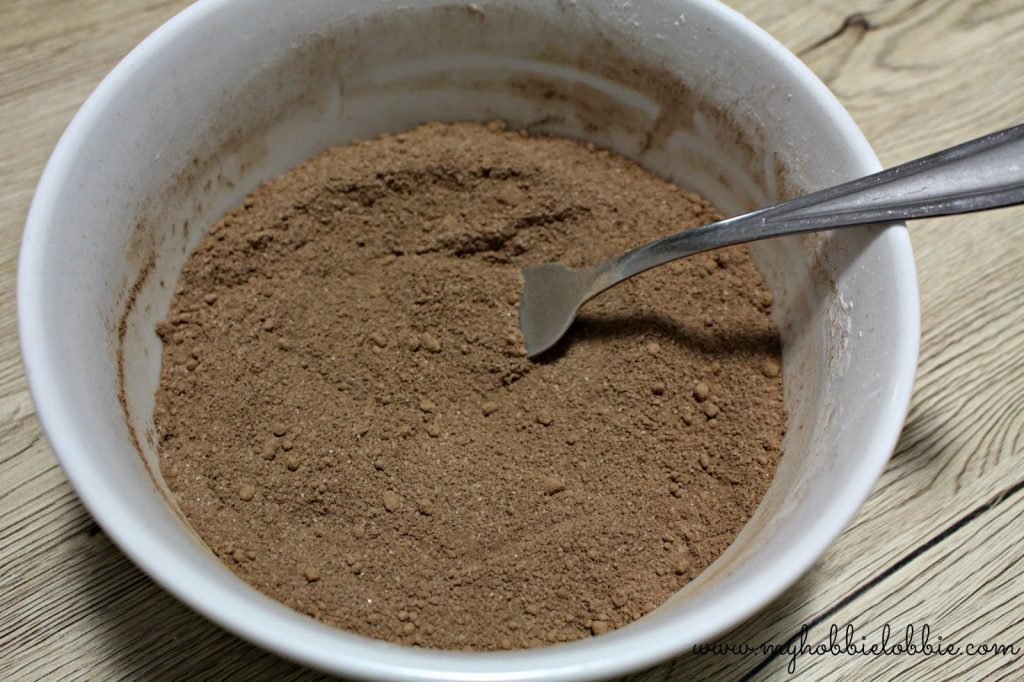 Store in an airtight container.
To use, simply place 2 tbsp of the mix in a mug and top off with milk.
Either heat in the microwave for 60 seconds and then in 30 second increments till it is hot enough for you. Or simply heat in a saucepan on the stovetop on a low heat, till it is hot enough for you.
… and ofcourse, every hot chocolate is better with some marshmallows 🙂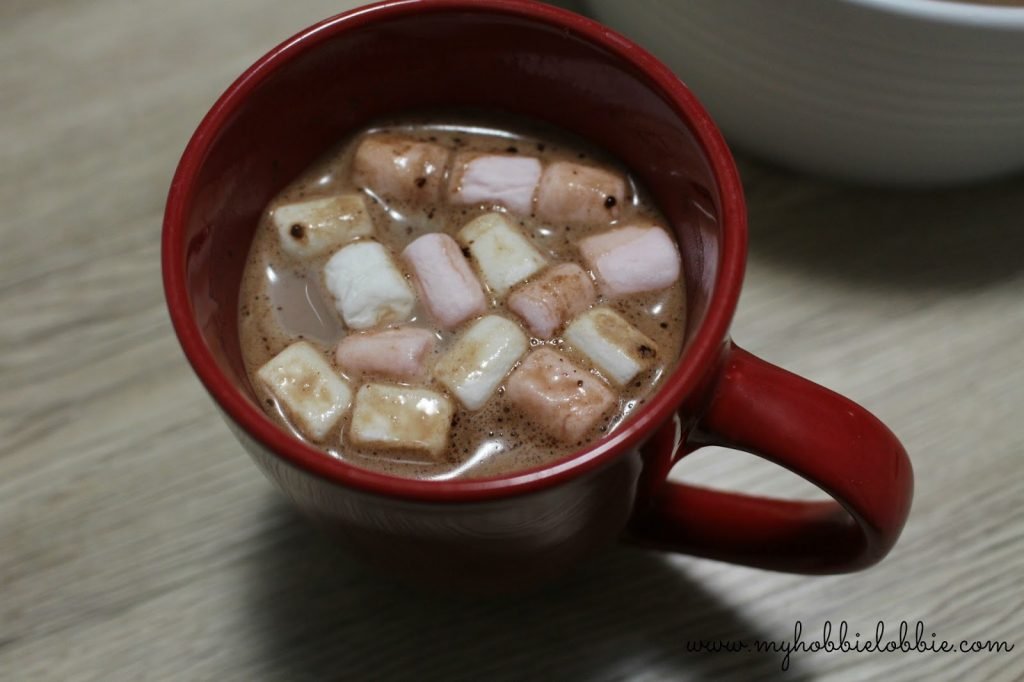 Don't forget to check out what other bloggers in Group A have whipped up for this reveal!