Okay, so it's time for the July edition of
SRC
. The last month has just whizzed by. Its been a huge whirlwind of activity. We've had to hunt and finalize another place to move into as our current lease is almost done. That, along with a full time job that sometimes feels more than a full time job has taken over the last month. I haven't had time to do much else. But I did do this assignment for today's reveal. And it was so very good.
For this month's SRC assignment I had Karen's blog, Lavender and Lovage. If you haven't visited Karen's blog yet, you should, you really should. Karen is a freelance writer and recipe developer who toggles between Yorkshire and France. These influences on her food is evident. Her blog is gorgeous and she has one of the most delicious recipe lists I've come across. I literally wanted to make every second recipe I saw, if not every single one. I was torn between these perfect Scotch Eggs, these super comforting Beer Battered Fish and Chips and this gorgeous Dark Sticky Double Gingerbread. I still intend trying all of these but I needed something that was not too fussy, but was still delicious and comforting. So when I saw Karen's recipe for the Carrot, Cumin and Tomato Soup, I knew I had found a winner. I had the carrots and tomatoes on hand. All I had to do was pick up a little cream and croutons of some sort. I got some bagel crisps and they were beyond perfect. This soup is so easy to make and with just a few basic ingredients, its hard to believe how delicious and hearty it turned out. Thanks Karen, this is a soup I know I will make often.
I stuck with the original recipe, except I halved it, since I was cooking for just the two of us .The only tiny change I made was I used fresh coriander leaves as a garnish instead of the parsley used in the original recipe.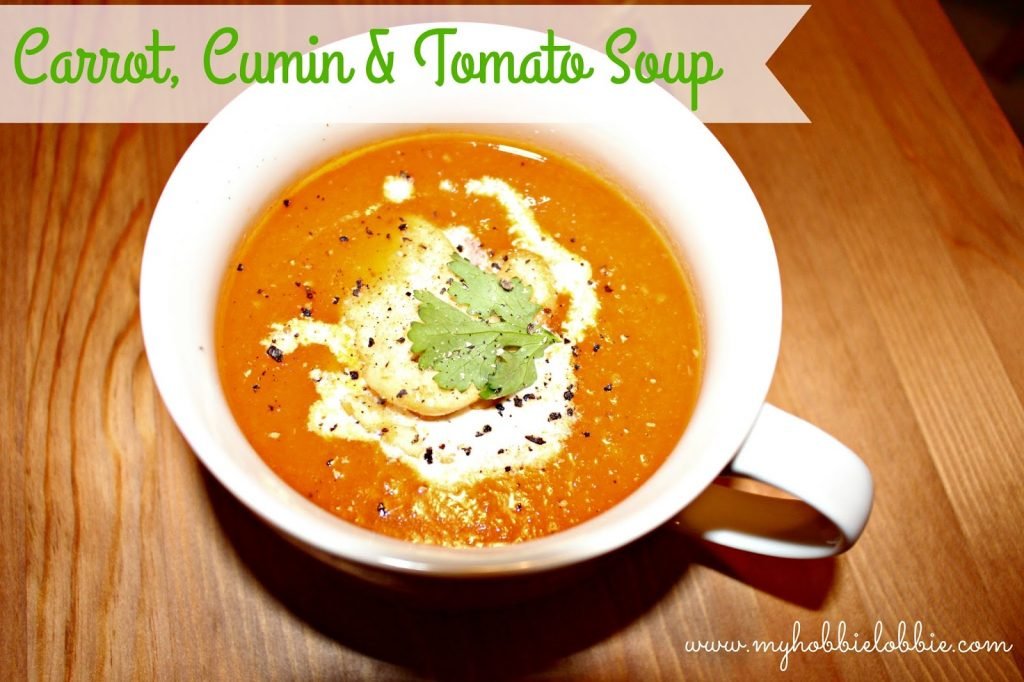 Carrot, Cumin & Tomato Soup
Serves 3-4
1 tbsp olive oil
1 onion, chopped
2 cloves of garlic, peeled and finely chopped
3 carrots, diced
4 tomatoes, sliced
1 tsp cumin powder
1/2 litre of vegetable / chicken stock
Salt, to taste
Freshly cracked black pepper, to taste
A couple of tbsps. cream, to top of the soup bowl (optional)
Fresh coriander leaves, for garnish
Bagel crisps, or any other croutons of your choice
Heat the olive oil in a pan and add the garlic and onion and stir fry till the onions have softened and slightly browned.
Add the cumin powder, tomatoes and carrot and saute for a minute.
Cover the pot and let it all cook for about 5 minutes till the tomatoes get a little mushy and the cumin is nice and fragrant.
Add the hot stock and stir well.
Season with salt and pepper.
Cover the pot and let it simmer for about 30 minutes or till the carrots are cooked through and are nice and tender.
Let it cool a little and then carefully blitz the soup using an immersion blender or a regular blender.
Serve up with some croutons and garnish with a drizzle of about a tablespoon of cream and fresh coriander leaves.
Enjoy!!!
Don't forget to check out what the other blogger's in Group A whipped up for today's reveal.