The last couple of months have somehow seemed to sneak past. It is hard to believe that it is May 2016 already. The good part about coming into a new month is the
SRC
reveal day. This month, I was assigned Sally's blog,
Bewitching Kitchen
. I was so excited when I got this assignment. I've always been a huge fan of Sally's blog. Sally is a fascinating person. By day, she is a Biochemist. She also is an exercise fanatic. Originally born in Brazil, she has spent time living in Paris and now is in the USA. You can see delicious influences from all these places in her cooking and on her blog. If you love bread like I do, you are in for a treat. Go and have a look at Sally's blog. She has a plethora of bread recipes. While you are there, don't forget to check out the antics of 3 of the most adorable little doggies you have ever seen. I had an amazing time getting to know Sally a little better. And there are so many recipes I can't wait to try, like this
Baked Coconut
, these
Coconut Brigadeiros
, a delicious
Cappuccino Panna Cotta
and a savoury Brazilian delicacy called
Coxinha De Galinha
, just to name a few. The Bewitching Kitchen is one blog where you want to try out pretty much every recipe you see. I finally settled on a savoury one this month.
The weather has started cooling down here and when that happens, I find myself longing for soup. In the past, I have to admit, I've almost always ripped open a packet of instant soup and made do with that. In the last couple of years though, I have tried out a couple of homemade soups and I've enjoyed them so much, I have decided to make a few more this year and to get that started I picked Sally's Zucchini Spinach Soup for this month's reveal. Oh what a recipe this is – delicious, warm and hearty. It is hard to believe that a recipe this simple can be so comforting. I'm enjoying the discovery that making soups at home, from scratch is not as complicated as I thought it would be. Thanks Sally, for a beautiful soup, which will make an appearance on our dinner table on many more occasions.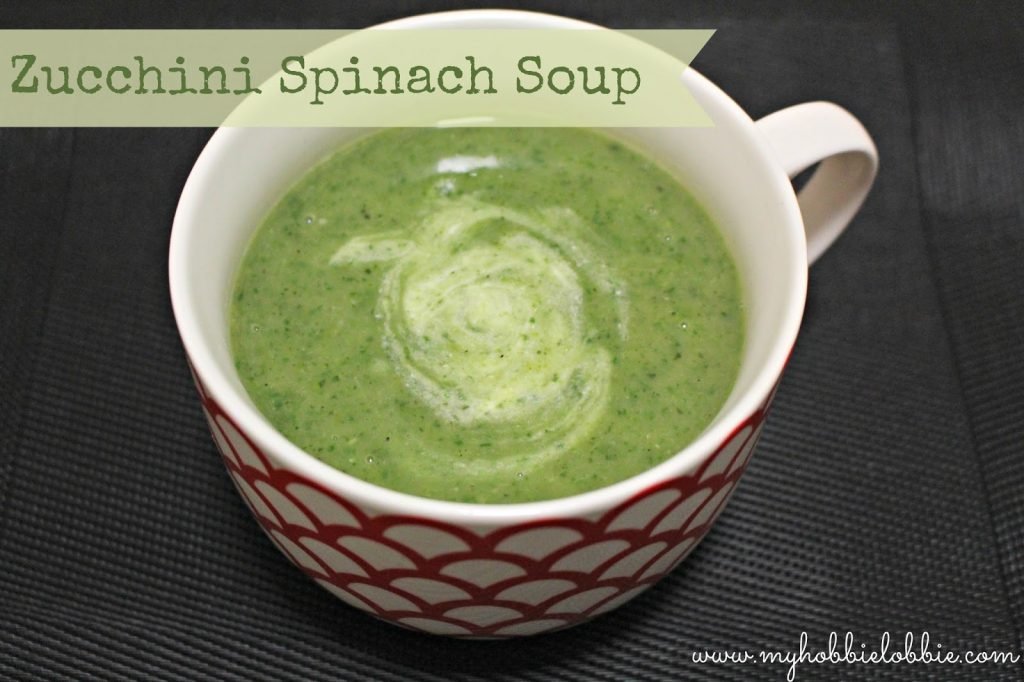 Zucchini Spinach Soup


1 tbsp olive oil
1 leek (white part finely sliced)
3 medium sized zucchini, slice thickly
1 can butter beans
4 cups water
2 cups baby spinach
Salt, to taste
Black pepper powder to taste
A dollop of yogurt
A squeeze of lemon juice
In a pot, heat the olive oil and add the sliced leek. '
Saute till the leek turns golden.
Add the zucchini slices.
Season with salt and pepper and saute till the slices get some colour on them, stirring every now and then.


Add the beans and let it cook for a couple of minutes.
Add the water (you could also use vegetable stock if you like).
Cover the pot and let it come to a boil over high heat.
Lower the heat and let it simmer for about 15 minutes or till the zucchini slices are tender.
Add the baby spinach leaves and stir. When the leaves wilt, you can take the soup off the stovetop.
I used an immersion blender to blitz this into a nice luscious soup. You could also use a blender if you don't have an immersion blender. Irrespective of what gadget you use, please, please, please be cautious while blending the soup, because it is scalding hot.
Serve up hot with a squirt of lemon juice and a little dollop of yogurt.
Enjoy!!!